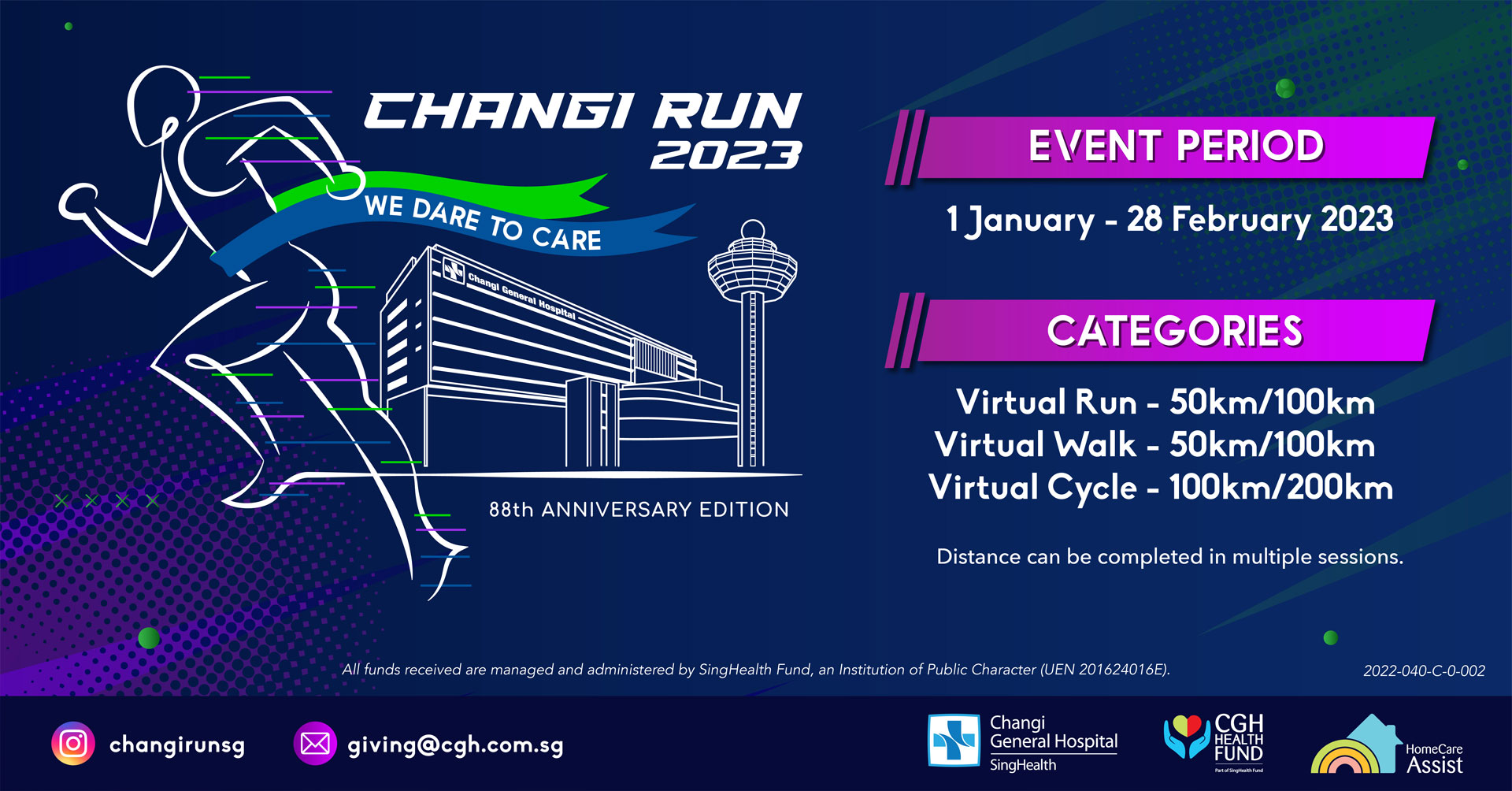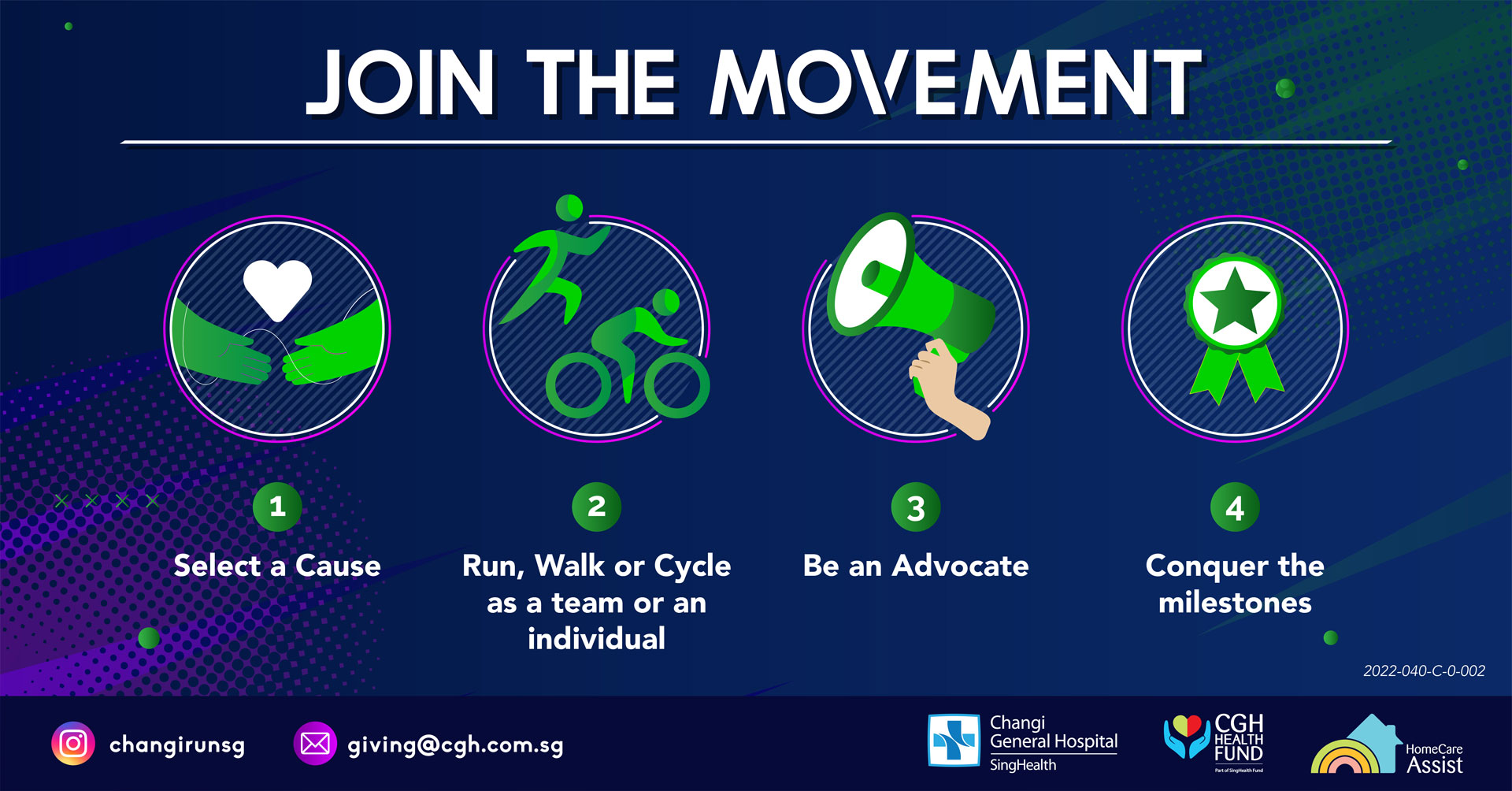 Registration
Thank you for your interest and support. Registration has closed on 20 February 2023.
Event Info
Entitlements
ENTITLEMENTS

Changi Run 2023 Running Tee
Finisher Medal
E-Certificate
Running Tee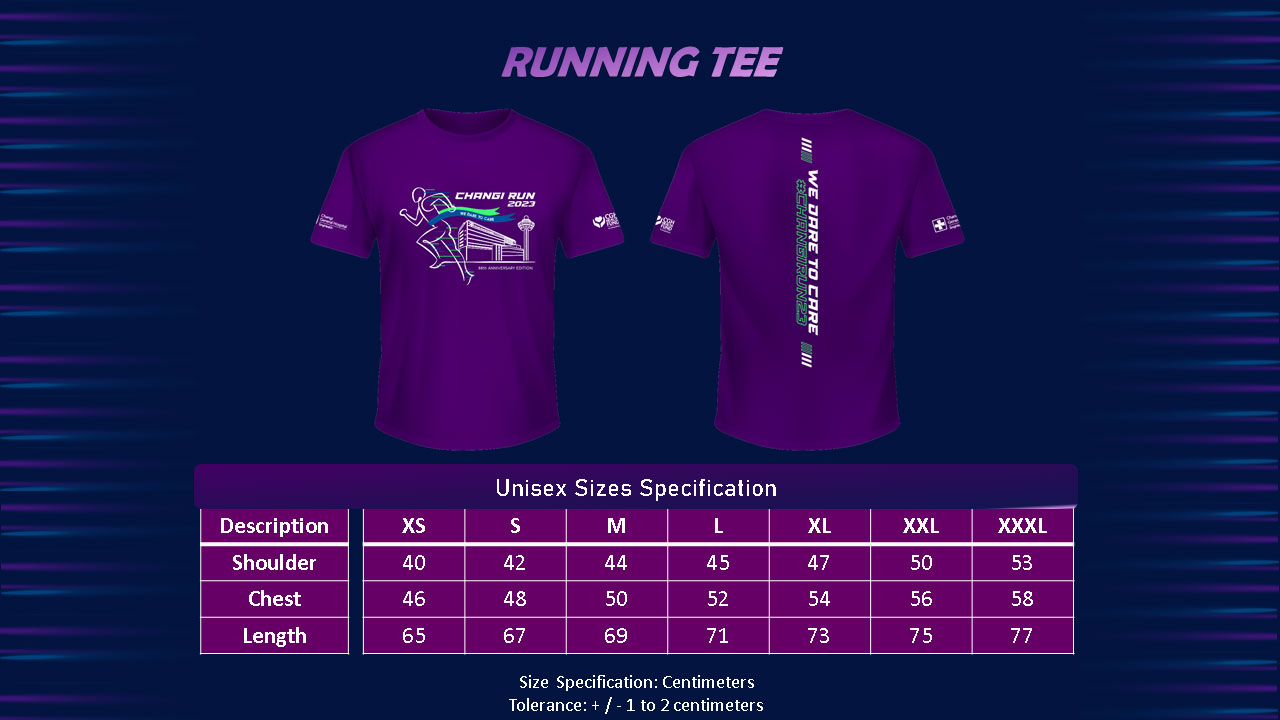 Finisher Medal
The design will be availed soon.
Upload

* Please only start your activity and upload from 1 January to 28 February 2023. Upload closes on 28 February 23:59hrs SGT
T & Cs
Event
1. Changi Run 2023 is organised by Changi General Hospital (hereinafter referred to as the 'Organiser').
2. Participants take part in this event at their own risk and are responsible for their own safety when choosing their run/walk/cycle routes. Participants are encouraged to wear high-visibility clothes when running in dim lighting for their safety. The Organiser accepts no responsibility for any accident, incident of any nature or injury sustained whilst taking part in the virtual event. The Organiser excludes any liability for personal injury or death that may arise due to your participation in this event.
3. By participating in this virtual challenge, you accept that JustRunLah! (the appointed event partner) can contact you to confirm your entry and keep you updated on the progress of your participation.
4. After completing your daily run/walk/cycle, take a screenshot of the run/walk/cycle statistics (via a tracking app) and upload it onto the JustRunLah! online portal. If your upload cannot be validated, it will be deemed as incomplete and will not be clocked. If you experience any difficulty in uploading your run/walk/cycle details, please contact JustRunLah! at support@justrunlah.com.
5. Run/walk/cycle clocked from 1 January 2023 to 28 February 2023 will be accepted in the submission. All submission to be upload to the website (instructions in the registration email) by 28 February 2022, 11.59pm. If you are unable to complete your run/walk/cycle and upload by the deadline, please write to support@justrunlah.com for assistance.
6. Finisher entitlements will be awarded to all participants who complete the distance in their respective category during the challenge period. The organizer has the rights to use the uploaded photos and videos for publicity or sharing in social media.
Others
1. The Organizer shall have the right to reproduce and distribute your Submission for promotional purposes in broadcast, print and or other media as the Organizer may determine in their sole discretion. You agree that the Organizer owns all rights, title and interests in any compilation, collective work, or other derivative work created by the Organizer using or incorporating your submission.
2. If for any reason, all or part of the event and/ or contest is not capable of being executed as planned, or infection by computer virus, bugs, tampering, unauthorized intervention, fraud, action of entrants, technical failures or any other causes beyond the control of the Organizer, corrupt or affect the administration, security, fairness, integrity, or proper conduct of this event, the Organizer reserves the right in their sole discretion to disqualify any entry or entrant and to cancel, terminate, modify or suspend the contest (in whole or in part)and/or award the prize(s) from among all eligible entries received as of the date of the termination, as the Organizer determine in their sole discretion.
3. Participation in the event and/ or contest constitutes consent for the Organizer to obtain your name, email, and contact number and other information for the purpose of administering this Promotion. In addition, entering the event and/ or contest constitutes your consent for the Organizer to use your information to send you marketing and campaign communication they feel may be of interest to you. You may opt-out of the following by following the opt-out instructions in each marketing and campaign communication.
4. Photographs/videos/artwork uploaded by participants should not infringe on the copyrights, trademarks, moral rights, rights of privacy/publicity or intellectual property rights of any person or entity, and that no other party has any right, title, claim, or interest in the photograph.
5. All personal particulars furnished are meant for identification purposes and will not be sold or given to any third parties.
FAQs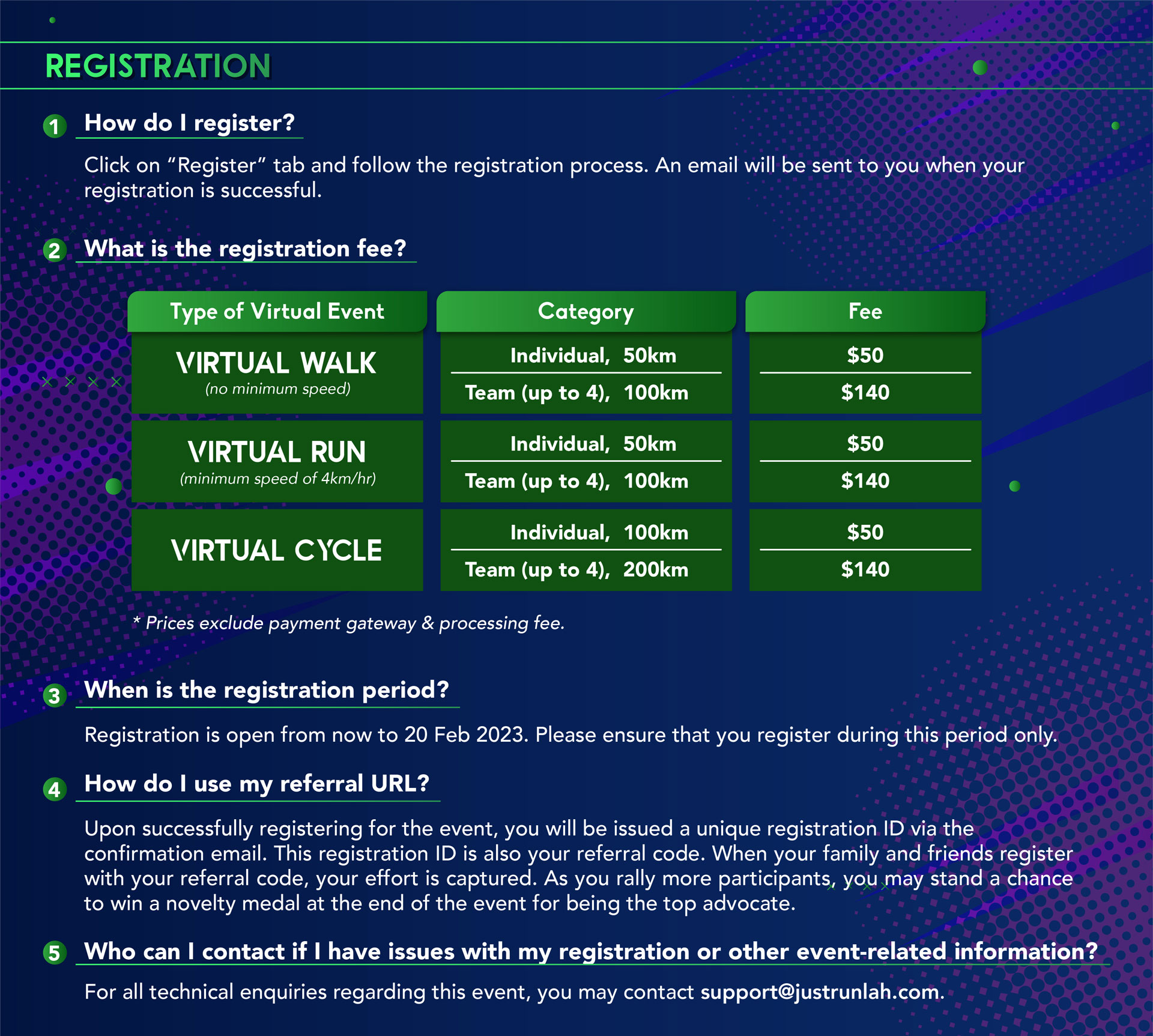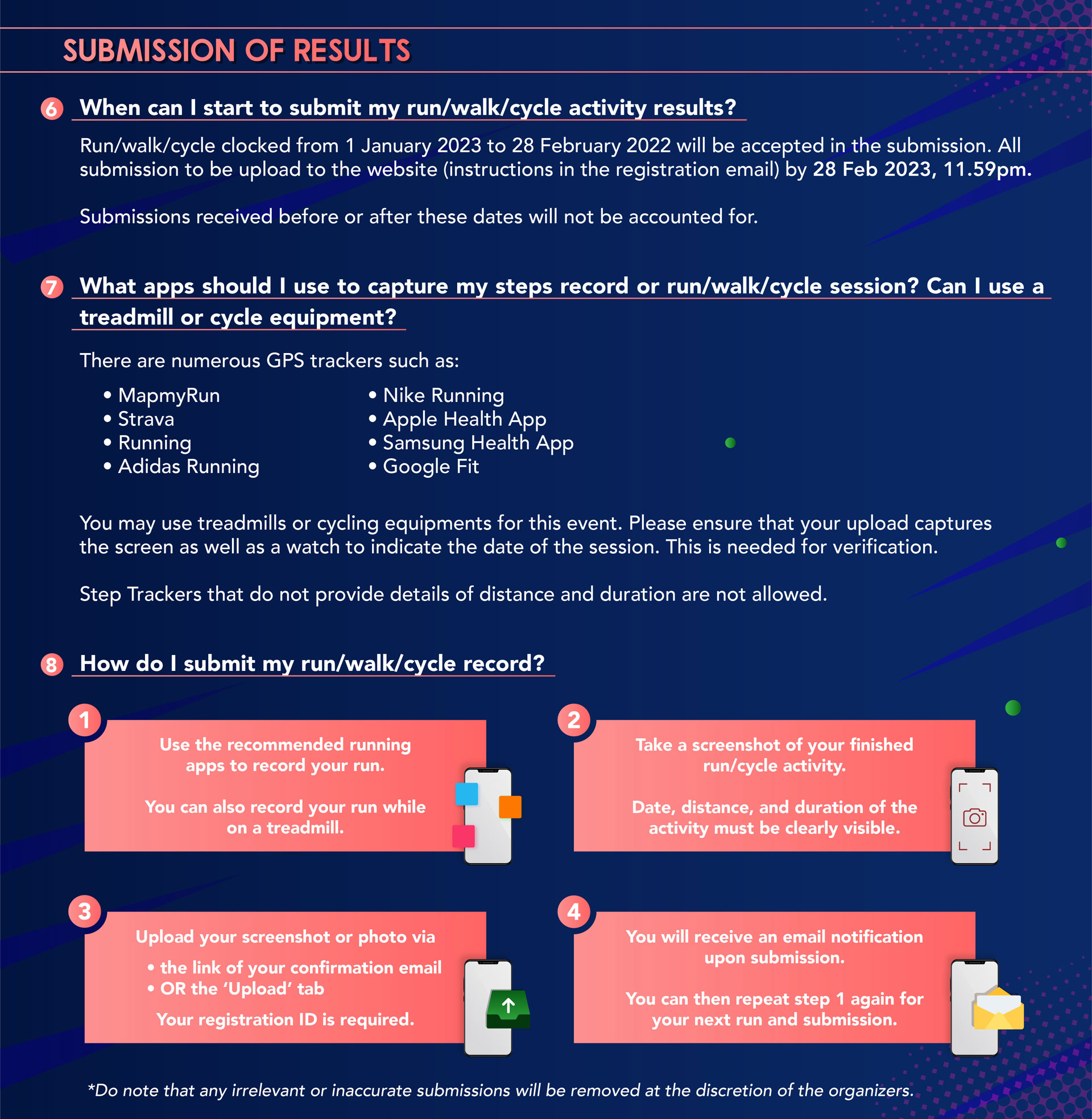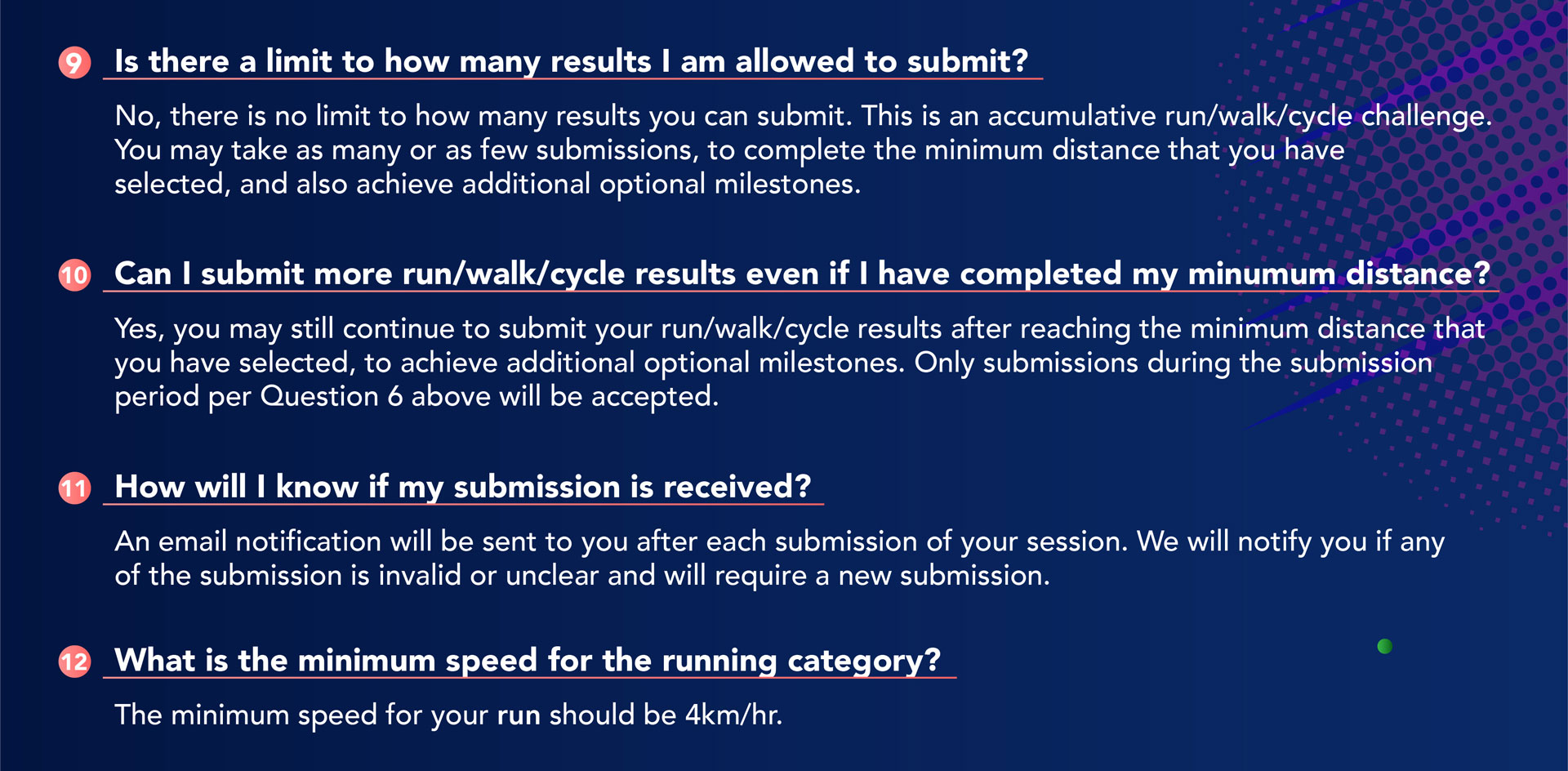 Gallery
Participants have shared the gorgeous views that make their hard-earned miles. Share your scenic trails and your exercise moments to encourage more to adopt a healthy lifestyle!
Advocates
Achievements
* Do note that any irrelevant or inaccurate submissions will be removed at the discretion of the organisers.
Run Category
50 km Individual
| First Name | theregid | Last Name | Category | kmsupload | Total KMs Uploaded |
| --- | --- | --- | --- | --- | --- |
| Genevieve | 1l2mn | Antono | runind 50 | 4.55 | 180.99 |
| Karimah | 1m5yl | Abdul karim | runind 50 | 5.00 | 59.27 |
| Suyue | 2ltfi | Liao | runind 50 | 4.35 | 51.14 |
| TURN NEE | 2va4f | JIAW | runind 50 | 6.25 | 14.25 |
| Yan Ling | 2x6k | Phang | runind 50 | 10.25 | 128.23 |
| Samuel | 3ezw0 | Ee | runind 50 | 9.90 | 237.27 |
| Andy | 50giu | Yeo | runind 50 | 2.91 | 44.79 |
| Hu | 68o2y | Hui ling | runind 50 | 5.01 | 50.23 |
| Cheehow | 6g5vb | Tan | runind 50 | 4.00 | 79.00 |
| Yu Ping | 6gdis | Low | runind 50 | 14.17 | 50.28 |
| Jian Hao | 6qbl9 | Tan | runind 50 | 7.23 | 64.35 |
| Life | 7f2yc | InProcess | runind 50 | 5.12 | 51.90 |
| Yeo | 7fd0q | Leng | runind 50 | 1.20 | 54.23 |
| Ai Ling | 7fo1v | Him | runind 50 | 6.32 | 56.60 |
| Colin | 7mbcl | Yeo | runind 50 | 9.54 | 467.57 |
| Muhammad Yazid | 7nk2b | M | runind 50 | 5.11 | 54.48 |
| Mang | 7w8u7 | Lun Cing | runind 50 | 4.48 | 50.92 |
| Muhammad Riduwan | 8eibr | Mislam | runind 50 | 0.46 | 49.59 |
| Wai Hoe | 8lia7 | Ng | runind 50 | 18.20 | 424.10 |
| Hao | 9hqwo | Yuanyuan | runind 50 | 10.00 | 50.00 |
| Adilah | 9rx8s | Othman | runind 50 | 3.08 | 60.91 |
| KWOK FAI | 9uiz2 | LAI | runind 50 | 22.00 | 355.00 |
| Vanessa | 9whay | Ranjiv | runind 50 | 3.45 | 50.62 |
| YIMING | a1lqq | BAI | runind 50 | 23.02 | 65.59 |
| Lee Nor | ax8ko | Lim | runind 50 | 3.86 | 70.01 |
| Chai | bcin7 | Yi | runind 50 | 5.00 | 50.40 |
| Maverick | bg7bo | Uy | runind 50 | 6.04 | 84.66 |
| Weisi | bze9v | Chow | runind 50 | 47.23 | 90.62 |
| YOSHINOSUKE | c26h7 | MATSUMOTO | runind 50 | 10.02 | 226.92 |
| Loke Yee | crnw | Yeoh | runind 50 | 10.01 | 112.15 |
| Siti Hajar | cthuq | Teo | runind 50 | 5.75 | 55.77 |
| Samantha | cy8u2 | Foo | runind 50 | 5.11 | 178.78 |
| SK | d04ao | Fong | runind 50 | 5.91 | 69.69 |
| Hafizah | d93bx | Pauzi | runind 50 | 13.92 | 13.92 |
| P K | delz2 | O | runind 50 | 22.60 | 168.17 |
| Jonathan | elk9g | Seah | runind 50 | 2.20 | 57.71 |
| Santhi | f033 | Anandan | runind 50 | 8.00 | 20.00 |
| Gary | fdwdy | Lum | runind 50 | 10.07 | 53.74 |
| Anwar | fwz2t | Basri | runind 50 | 5.52 | 17.25 |
| Chee Keen | fxmge | Woo | runind 50 | 11.11 | 58.25 |
| Jansen | ginp5 | Koh | runind 50 | 10.73 | 300.91 |
| Anson | gkoxq | Aroza | runind 50 | 15.03 | 191.54 |
| Gary | hesmf | Yap | runind 50 | 7.86 | 680.40 |
| Victoria | hqdde | Ng Yun Ru | runind 50 | 8.41 | 57.51 |
| Foo Rong | hsp82 | Ho | runind 50 | 5.75 | 52.11 |
| Jennifer | hu3tn | Joseph | runind 50 | 0.86 | 1.26 |
| WAN | i4h16 | ENG BEE | runind 50 | 11.05 | 261.90 |
| Sookmei | ivz0p | Chang | runind 50 | 2.40 | 44.97 |
| Zen | j0lwf | Goh | runind 50 | 87.40 | 87.40 |
| Millicent | j9r1e | Poh | runind 50 | 4.84 | 54.32 |
| Meghan | je0xm | Choo | runind 50 | 3.51 | 128.69 |
| Mindy | k98zm | Chiang | runind 50 | 5.52 | 58.69 |
| Lily | kdsy7 | Yong | runind 50 | 10.21 | 51.01 |
| Mirielle | kfp8d | Teo | runind 50 | 34.23 | 50.53 |
| Gaik-Hong | khrww | Soon | runind 50 | 10.10 | 68.84 |
| Lee | kjznn | Xuan Ting | runind 50 | 6.00 | 186.82 |
| Edmund | ltygr | Neo | runind 50 | 4.62 | 50.20 |
| Vern Hsen | mioxh | Tan | runind 50 | 8.40 | 478.80 |
| Chiun How | mitcf | Teng | runind 50 | 5.11 | 59.83 |
| Aidil | mlim9 | Bin Buyong | runind 50 | 3.00 | 58.00 |
| Weng | n114p | Ruilian | runind 50 | 11.10 | 11.10 |
| Sew Hyong | ohubm | Lim | runind 50 | 11.10 | 54.16 |
| Mohamad Farid | osolu | Ibrahim | runind 50 | 6.00 | 75.92 |
| PAULINE SIAW HUNG | ov12a | WONG | runind 50 | 5.12 | 55.69 |
| POH GEIK | oxwcb | TOH | runind 50 | 16.80 | 648.60 |
| Chu Hui | p1tcq | Ong | runind 50 | 1.30 | 53.95 |
| Shu Hao | ppqlr | Lee | runind 50 | 54.98 | 550.58 |
| Jeslyn | pxic8 | Tan | runind 50 | 11.80 | 29.60 |
| Li | q85uq | Jie | runind 50 | 16.70 | 598.00 |
| Herman | qcyvm | Loh | runind 50 | 3.07 | 49.51 |
| Ryan | ro3vz | Anggriawan | runind 50 | 5.08 | 52.84 |
| Muhammad Ghair | sm0gj | Muhsin | runind 50 | 4.25 | 108.49 |
| Fesa | t4s40 | Wibawa | runind 50 | 11.50 | 50.25 |
| Raghuram | tudrw | Jagadesan | runind 50 | 4.89 | 4.89 |
| Raghuram | turdw | Jagadesan | runind 50 | 8.20 | 315.84 |
| Dayne Kathryn | twd4o | Catalonia | runind 50 | 4.70 | 23.91 |
| Mark | u8a3p | Yong | runind 50 | 4.86 | 146.17 |
| Henry | ukvfj | Chia | runind 50 | 10.00 | 50.30 |
| Chuin | uos9l | Siau | runind 50 | 5.01 | 54.78 |
| Benedict | uv1t2 | Tan | runind 50 | 10.01 | 309.90 |
| Francis Carl | vlxp1 | Gimson | runind 50 | 4.42 | 51.16 |
| Ming Hong | vtfq4 | Yee | runind 50 | 57.98 | 57.98 |
| Eng Hwee | vyn3h | Teo | runind 50 | 20.00 | 54.00 |
| Eugene | x49mk | Yong | runind 50 | 16.35 | 62.62 |
| Suriya | x56ic | Prakaash | runind 50 | 4.50 | 458.86 |
| AJ | x7cua | GOH | runind 50 | 7.40 | 65.15 |
| Sharifah Fadilah | xavyh | AA | runind 50 | 6.00 | 47.80 |
| MOHAMED | xr2f3 | ABDULLAH | runind 50 | 12.12 | 86.31 |
| Weien | xt6is | Chow | runind 50 | 4.00 | 51.00 |
| Kian Liang (Jianliang) | yc447 | Tan (Chen) | runind 50 | 58.14 | 58.14 |
| Angeleen | ysshp | Magpayo | runind 50 | 10.22 | 50.61 |
| Mark Jason | zc3ni | Almadin | runind 50 | 5.72 | 51.26 |
| Lynda | zsfay | Yew | runind 50 | 13.14 | 245.66 |
| First Name | theregid | Last Name | Category | kmsupload | Total KMs Uploaded |
100 km Team (up to 4)
| Team Name | theregid | Last Name | Category | kmsupload | Total KMs Uploaded |
| --- | --- | --- | --- | --- | --- |
| Saikang Warriors | 2tcuk | Saikang Warriors | runteam 140 | 5.34 | 68.78 |
| Quarter Life Crisis | 3b541 | Quarter Life Crisis | runteam 140 | 2.97 | 155.53 |
| Teamicu | 4mzo4 | Teamicu | runteam 140 | 4.90 | 144.98 |
| CP,ORM,DMI&HSR Walking Team 1 | 5knmg | CP,ORM,DMI&HSR Walking Team 1 | runteam 140 | 8.36 | 8.36 |
| OLD BIRDS | 7je6a | OLD BIRDS | runteam 140 | 18.61 | 691.24 |
| Team R3I | 82gvp | Team R3I | runteam 140 | 2.10 | 370.40 |
| GR2C | 9ov98 | GR2C | runteam 140 | 3.89 | 306.24 |
| Run for Right Kidney | C2v5f | Run for Right Kidney | runteam 140 | 4.13 | 4.13 |
| Run for Right Kidney | c5v2f | Run for Right Kidney | runteam 140 | 10.12 | 336.52 |
| Captain Marvellous | dq53n | Captain Marvellous | runteam 140 | 7.67 | 7.67 |
| CP, ORM, DMI and HSR. | f7rkv | CP, ORM, DMI and HSR. | runteam 140 | 7.54 | 153.36 |
| Running bugs | g2wf1 | Running bugs | runteam 140 | 2.02 | 124.40 |
| Team Bananas 🍌 | gse7a | Team Bananas 🍌 | runteam 140 | 4.00 | 108.19 |
| The nuns | het14 | The nuns | runteam 140 | 3.01 | 105.71 |
| Sharecalories | l6wm2 | Sharecalories | runteam 140 | 10.00 | 447.59 |
| Forrest 1A Runners | l8gn1 | Forrest 1A Runners | runteam 140 | 9.97 | 1,138.62 |
| DGI running club | mxl1 | DGI running club | runteam 140 | 4.36 | 118.40 |
| OTOR5 | pdhyw | OTOR5 | runteam 140 | 7.70 | 60.30 |
| Community Runners | pxwd4 | Community Runners | runteam 140 | 5.00 | 158.66 |
| IPCRunner | rjydg | IPCRunner | runteam 140 | 24.50 | 523.21 |
| Left kidney | rsv2m | Left kidney | runteam 140 | 6.42 | 391.79 |
| Wonder girls | rug7w | Wonder girls | runteam 140 | 4.64 | 4.64 |
| IPC Runner | ryydg | IPC Runner | runteam 140 | 23.57 | 23.57 |
| XP, ORM, DMI & HSR Walking Team 2 | ugavb | XP, ORM, DMI & HSR Walking Team 2 | runteam 140 | 6.35 | 44.57 |
| GastroGo | uyc2x | GastroGo | runteam 140 | 2.34 | 91.77 |
| Mitsui chemicals group | wtr2 | Mitsui chemicals group | runteam 140 | 6.10 | 303.44 |
| LDL < 3.4 | wycmr | LDL < 3.4 | runteam 140 | 4.13 | 175.39 |
| Makkari | x1qt | Makkari | runteam 140 | 2.98 | 118.93 |
| Santai Runners | xigoe | Santai Runners | runteam 140 | 45.00 | 102.93 |
| Team Name | theregid | Last Name | Category | kmsupload | Total KMs Uploaded |
Walk Category
50 km Individual
| First Name | theregid | Last Name | Category | kmsupload | Total KMs Uploaded |
| --- | --- | --- | --- | --- | --- |
| Carie | 1880j | Tan | walkind 50 | 2.78 | 494.35 |
| Genevieve | 1l2mn | Antono | walkind 50 | 3.90 | 50.00 |
| Catherine | 26zi4 | yan | walkind 50 | 5.26 | 157.63 |
| Nadiah | 2sbo6 | Esa | walkind 50 | 9.10 | 241.10 |
| Chunli | 373a0 | Meng | walkind 50 | 3.00 | 50.00 |
| Wardah Hanim | 4h5id | Mohd Kamil | walkind 50 | 6.88 | 55.00 |
| Bee Lan | 54gg9 | Tng | walkind 50 | 0.69 | 81.36 |
| Melisa | 5jr1e | Sanicolas | walkind 50 | 3.72 | 190.34 |
| Edwin | 63jzn | Nugroho | walkind 50 | 5.74 | 52.62 |
| Robin | 65dny | Low | walkind 50 | 6.99 | 76.13 |
| Siti | 6jhj | Zubaidah | walkind 50 | 5.02 | 85.34 |
| Siti | 6jhjc | Zubaidah | walkind 50 | 5.06 | 5.06 |
| Hong Eng | 6rh6o | Chan | walkind 50 | 5.96 | 71.45 |
| Boon Seng | 7doz3 | Lee | walkind 50 | 8.10 | 416.20 |
| Ong | 7h02v | Yet Yin | walkind 50 | 7.44 | 1,025.71 |
| Nadiah | 8qz8i | Dzuraimy | walkind 50 | 34.72 | 50.84 |
| Suhayla | 9981l | Rawi | walkind 50 | 0.82 | 79.39 |
| Noor Ashraf | 9enf5 | Kamaludin | walkind 50 | 0.72 | 252.50 |
| Ivy | 9jkq4 | Lim | walkind 50 | 9.00 | 317.56 |
| Stephanie | 9rr4t | Ng | walkind 50 | 6.20 | 447.40 |
| Nazirah | a4xge | Kader Maideen | walkind 50 | 3.70 | 174.53 |
| JEREMY | aeb38 | SEE | walkind 50 | 2.00 | 11.00 |
| Ong | as34t | San San | walkind 50 | 5.26 | 158.88 |
| Mardianah | asrxh | Ishak | walkind 50 | 9.04 | 58.97 |
| Priyalatha | bufll | Ravindran | walkind 50 | 8.20 | 72.29 |
| Sasikala | c8v78 | Doraisamy | walkind 50 | 1.23 | 136.28 |
| Boon Kee | cs8d0 | Lim | walkind 50 | 6.50 | 417.70 |
| Santhi | f033 | Anandan | walkind 50 | 10.00 | 97.00 |
| San San | flwlh | Tay | walkind 50 | 3.11 | 87.69 |
| Qasim | g5y0e | Bhatti | walkind 50 | 0.48 | 69.13 |
| Ho Heng | giqwd | Tian | walkind 50 | 6.10 | 553.47 |
| Justin | gvxq5 | Lu | walkind 50 | 1.81 | 51.36 |
| Novina | hflrr | Tan | walkind 50 | 10.20 | 51.70 |
| Wei Ling | ir1sj | Mu | walkind 50 | 5.29 | 21.22 |
| Nurmasyitah | j6q0f | Othman | walkind 50 | 7.75 | 97.15 |
| Rozanna | jwl9v | Mustaffa | walkind 50 | 2.29 | 53.46 |
| Tharshini | k3ajq | Lokanathan | walkind 50 | 2.86 | 251.90 |
| Kok wee willis | kyujm | Ang | walkind 50 | 0.79 | 59.78 |
| Sri Nur Aidah | kz1pk | Roslan | walkind 50 | 2.40 | 7.24 |
| Tan | l9ev5 | Chai Geok, Shirley | walkind 50 | 7.67 | 1,108.21 |
| Maragatham | lang2 | Ramany | walkind 50 | 182.00 | 182.00 |
| Zhi Yeun | lse6f | Chin | walkind 50 | 10.10 | 71.96 |
| Audrey | me8t5 | Lim | walkind 50 | 0.55 | 68.04 |
| Weng | n114p | Ruilian | walkind 50 | 89.90 | 213.10 |
| Jinsi | nxbcc | Woo | walkind 50 | 1.80 | 11.80 |
| Teck Wee | oau46 | Ang | walkind 50 | 1.05 | 54.70 |
| Beatrice | oc0um | Lee | walkind 50 | 5.80 | 60.17 |
| Shuhua | ozysz | Cheng | walkind 50 | 3.86 | 50.57 |
| Vimala | p9j8l | Selvarasu | walkind 50 | 5.08 | 80.95 |
| Li Yi | pkvx4 | Tan | walkind 50 | 2.65 | 184.41 |
| Beulah | ponnl | Puglathren | walkind 50 | 2.50 | 50.02 |
| Cecilia | ppat0 | Fu | walkind 50 | 40.69 | 73.43 |
| Corina | pqpf0 | Heng | walkind 50 | 2.00 | 216.87 |
| Yan Qing | ptfv4 | Lee | walkind 50 | 1.20 | 51.47 |
| Mashithah | q54ju | Mansor | walkind 50 | 5.15 | 50.48 |
| Murni | qzcge | Atiqah | walkind 50 | 4.00 | 4.00 |
| Siew Ling | r0cv1 | Yap | walkind 50 | 4.25 | 244.46 |
| Raj Babu | rpy5c | Gunaseelan | walkind 50 | 5.00 | 211.27 |
| Diana Yuen Lan | rwrra | Tan | walkind 50 | 8.87 | 371.41 |
| Athena | v1vwu | Ng | walkind 50 | 4.25 | 126.86 |
| Norha Yati | w6zz6 | Baharin | walkind 50 | 3.47 | 255.04 |
| Lee | wldhi | Constance | walkind 50 | 6.81 | 238.49 |
| Li | xdtv8 | Zhang | walkind 50 | 2.60 | 222.40 |
| MAHASH KUMAAR | xki2u | BADRAGIRI | walkind 50 | 4.53 | 695.26 |
| Ivy | yv46v | Ng | walkind 50 | 51.70 | 296.00 |
| Ong | z7fhp | Teck Leong Simon | walkind 50 | 2.65 | 152.23 |
| First Name | theregid | Last Name | Category | kmsupload | Total KMs Uploaded |
100 km Team (up to 4)
| Team Name | theregid | Last Name | Category | kmsupload | Total KMs Uploaded |
| --- | --- | --- | --- | --- | --- |
| TPians | 2g130 | TPians | walkteam 140 | 5.00 | 297.20 |
| TPians | 2gl30 | TPians | walkteam 140 | 5.11 | 320.58 |
| Step Up Mummies | 3ilu7 | Step Up Mummies | walkteam 140 | 2.77 | 152.27 |
| IPC Angels | 48bdq | IPC Angels | walkteam 140 | 11.50 | 366.99 |
| CP, ORM, DMI & HSR Walking Team 3 | 4vhby | CP, ORM, DMI & HSR Walking Team 3 | walkteam 140 | 7.00 | 72.78 |
| Peanut Butter Nutella Loaf | 51dsg | Peanut Butter Nutella Loaf | walkteam 140 | 3.50 | 2,300.04 |
| CP, ORM, DMI | 5knmg | CP, ORM, DMI | walkteam 140 | 8.47 | 13.90 |
| Yuan yang peng | 5r51s | Yuan yang peng | walkteam 140 | 6.90 | 736.35 |
| Kpop Cardio | 6ge6e | Kpop Cardio | walkteam 140 | 6.10 | 1,114.43 |
| Wonder Women | 6j3i0 | Wonder Women | walkteam 140 | 7.70 | 482.25 |
| FAS | 7yadf | FAS | walkteam 140 | 1.02 | 492.81 |
| Sunshine | 80tit | Sunshine | walkteam 140 | 2.42 | 726.15 |
| Anyhowwalk | 86lsh | Anyhowwalk | walkteam 140 | 4.25 | 175.83 |
| Breathe Easy | 8mvu2 | Breathe Easy | walkteam 140 | 8.38 | 485.65 |
| Walking Sole Sisters | 9angm | Walking Sole Sisters | walkteam 140 | 2.78 | 1,195.65 |
| Run 4 Good | 9qyhe | Run 4 Good | walkteam 140 | 4.88 | 119.11 |
| The Missing B | a3uck | The Missing B | walkteam 140 | 2.69 | 147.00 |
| IP WhaTevaLah | a4951 | IP WhaTevaLah | walkteam 140 | 1.79 | 186.65 |
| SA SA DE | ansf7 | SA SA DE | walkteam 140 | 2.28 | 195.86 |
| Walk4life2 | aog49 | Walk4life2 | walkteam 140 | 3.48 | 451.35 |
| MORE than bugs and such | c1qza | MORE than bugs and such | walkteam 140 | 3.04 | 1,039.48 |
| Just Go! | cvml2 | Just Go! | walkteam 140 | 0.77 | 942.74 |
| Just Go! | cvml3 | Just Go! | walkteam 140 | 2.60 | 2.60 |
| IP YAM Seng | d40uc | IP YAM Seng | walkteam 140 | 9.16 | 140.80 |
| Captain Marvellous | dq53n | Captain Marvellous | walkteam 140 | 29.00 | 1,507.13 |
| Bugs and such | eqct9 | Bugs and such | walkteam 140 | 3.78 | 1,101.63 |
| Hearty Bones | er78f | Hearty Bones | walkteam 140 | 5.41 | 490.20 |
| Johnnie Walker | f80z6 | Johnnie Walker | walkteam 140 | 2.56 | 296.75 |
| Cookie Monster | kcc8i | Cookie Monster | walkteam 140 | 14.43 | 816.62 |
| The Blues | ljhmg | The Blues | walkteam 140 | 5.80 | 131.94 |
| Walkaholics | lwtae | Walkaholics | walkteam 140 | 5.30 | 244.13 |
| AHHM! | m1bzt | AHHM! | walkteam 140 | 10.15 | 317.19 |
| TPIANS II | mveg8 | TPIANS II | walkteam 140 | 7.83 | 618.43 |
| Walkaholics | o8zlz | Walkaholics | walkteam 140 | 10.09 | 144.51 |
| 2 squares | ocxh1 | 2 squares | walkteam 140 | 1.00 | 175.67 |
| Funtastic Divas | p5v1k | Funtastic Divas | walkteam 140 | 2.24 | 447.54 |
| White Pink | petq | White Pink | walkteam 140 | 2.49 | 1,055.72 |
| Doraemon Jalan | Qbsni | Doraemon Jalan | walkteam 140 | 1.80 | 1,769.55 |
| Fitness Fun | rj59p | Fitness Fun | walkteam 140 | 4.30 | 17.86 |
| IPCRunner | rjydg | IPCRunner | walkteam 140 | 4.00 | 4.00 |
| Walking on Sunshine | ro8hn | Walking on Sunshine | walkteam 140 | 14.54 | 113.13 |
| Wonder Girls | rug7w | Wonder Girls | walkteam 140 | 9.96 | 1,728.79 |
| Walk4life1 | tfk0x | Walk4life1 | walkteam 140 | 4.05 | 354.55 |
| The lazy meows | tmy78 | The lazy meows | walkteam 140 | 3.43 | 563.64 |
| SESY | ty7rm | SESY | walkteam 140 | 7.39 | 155.90 |
| CP, ORM, DMI | ugavb | CP, ORM, DMI | walkteam 140 | 1.06 | 40.44 |
| Walking Dead | vmcb | Walking Dead | walkteam 140 | 2.52 | 328.66 |
| Walk here walk there | x1pgo | Walk here walk there | walkteam 140 | 1.23 | 833.70 |
| KFFR | xejla | KFFR | walkteam 140 | 5.73 | 1,135.40 |
| Santai Runners | xigoe | Santai Runners | walkteam 140 | 0.60 | 0.60 |
| Sofa Gantangs | xshvd | Sofa Gantangs | walkteam 140 | 16.76 | 1,747.59 |
| WAKANDA-4EVAH | ybqql | WAKANDA-4EVAH | walkteam 140 | 4.58 | 277.46 |
| IP JEMS | yzvun | IP JEMS | walkteam 140 | 2.16 | 433.30 |
| FLAN | zsmj4 | FLAN | walkteam 140 | 144.00 | 503.50 |
| Team Name | theregid | Last Name | Category | kmsupload | Total KMs Uploaded |
Cycle Category
100 km Individual
| First Name | theregid | Last Name | Category | kmsupload | Total KMs Uploaded |
| --- | --- | --- | --- | --- | --- |
| Zar Chi | 41jx6 | Lin | bikeind 50 | 20.00 | 100.50 |
| Stephen | 6e158a | Tan | bikeind 50 | 22.21 | 167.24 |
| Kenneth | 8ovqd | Koh | bikeind 50 | 18.99 | 74.66 |
| Zaw Myo | 9vkp2 | Min | bikeind 50 | 14.69 | 520.64 |
| Kai Koon | bez6n | Ng | bikeind 50 | 46.55 | 108.15 |
| Lester | cbyo5 | Tang | bikeind 50 | 8.94 | 132.94 |
| Muhammad | ddjhn | Fadly | bikeind 50 | 6.99 | 340.64 |
| Hock Leng | fkuai | Chiang | bikeind 50 | 13.53 | 101.33 |
| Grace | h2od1 | Palatino | bikeind 50 | 36.65 | 95.34 |
| Andrew | i3o2f | Goh | bikeind 50 | 38.62 | 297.25 |
| Hwee Jin | i6045 | Goh | bikeind 50 | 10.04 | 143.58 |
| Nur Syarylla | icdeq | Safarudin | bikeind 50 | 1.40 | 1.40 |
| Celerino | js8l7 | Mercado | bikeind 50 | 63.32 | 117.44 |
| Randy | l2dty | Mojado | bikeind 50 | 53.50 | 143.78 |
| Grace | n3lkf | Ho | bikeind 50 | 4.47 | 53.42 |
| Thandar | narjk | Lynn | bikeind 50 | 12.00 | 246.00 |
| SPENCER | po23t | SOH | bikeind 50 | 127.53 | 1,294.27 |
| Diana | qut3n | Tan Chou Ya | bikeind 50 | 41.99 | 933.45 |
| Kumar | rxiqc | Himanshu | bikeind 50 | 30.00 | 128.00 |
| Jia Chi | whfgz | Lim | bikeind 50 | 2.93 | 33.78 |
| Myo Thiha | wo6d3 | Htun | bikeind 50 | 27.88 | 73.01 |
| POON SHENG | xgnpf | YEO | bikeind 50 | 60.57 | 102.97 |
| Juliana | ytswy | Tan | bikeind 50 | 108.24 | 108.24 |
| First Name | theregid | Last Name | Category | kmsupload | Total KMs Uploaded |
200 km Team (up to 4)
| Team Name | theregid | Last Name | Category | kmsupload | Total KMs Uploaded |
| --- | --- | --- | --- | --- | --- |
| Furry chinchillas | 5tqfp | Furry chinchillas | biketeam 140 | 24.43 | 121.68 |
| Walk4life2 | aog49 | Walk4life2 | biketeam 140 | 2.30 | 2.30 |
| SPIN 4 FUN | c70vr | SPIN 4 FUN | biketeam 140 | 13.63 | 303.47 |
| Lady Blockbuster | e9j4v | Lady Blockbuster | biketeam 140 | 33.13 | 1,103.67 |
| Cobra 'Sebastian' Cinnamon | pthn2 | Cobra 'Sebastian' Cinnamon | biketeam 140 | 18.35 | 248.30 |
| ISD Cycling Kakis | s6k95 | ISD Cycling Kakis | biketeam 140 | 2.30 | 2,835.63 |
| Team Name | theregid | Last Name | Category | kmsupload | Total KMs Uploaded |