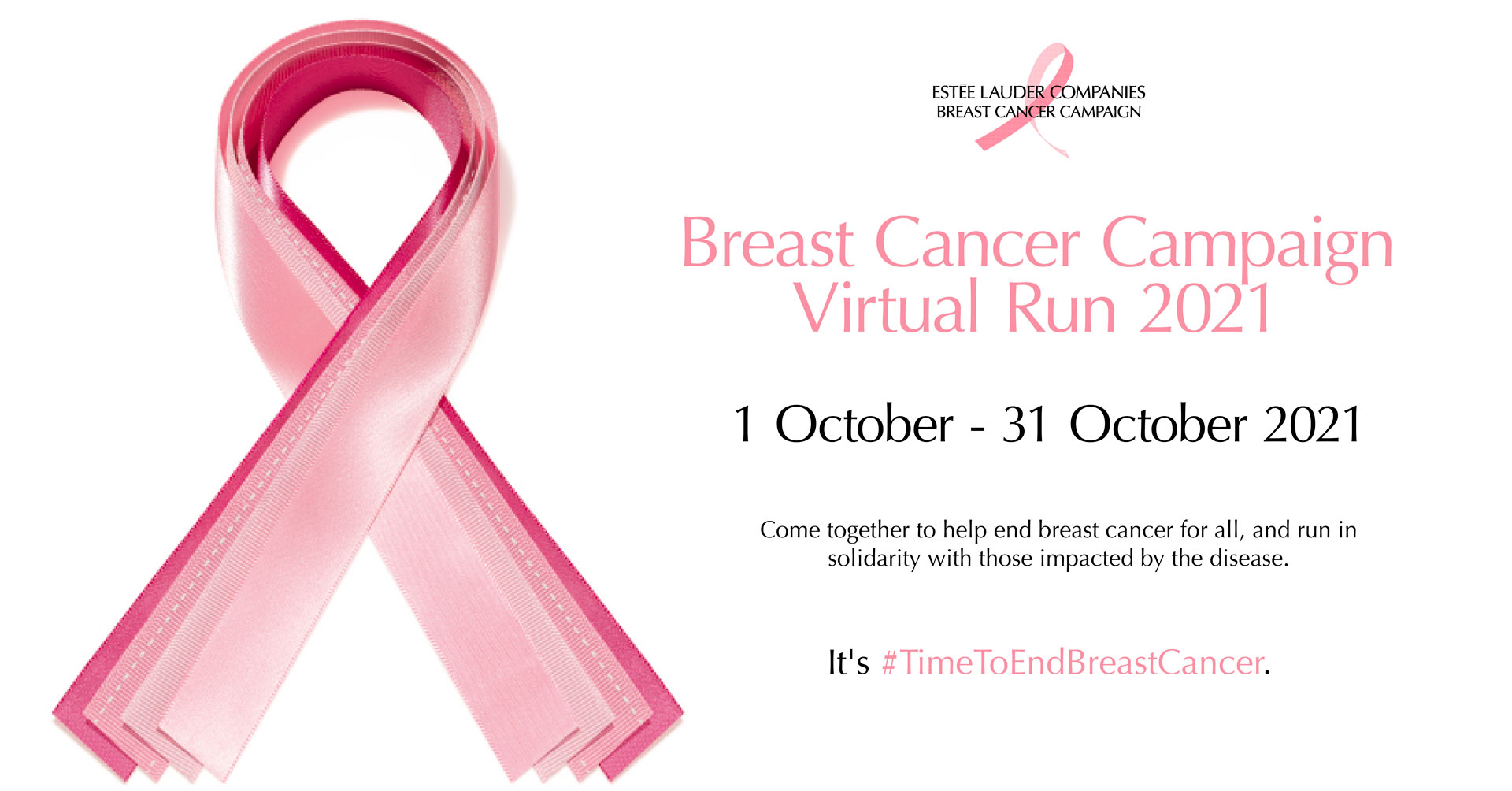 Registration
Registration period:

1 October – 31 October 2021


Event period: 1 October – 31 October 2021
Upload closes:

31 October 2021
Thank you for your support. The registration has closed on 31 October 2021.
Event Info
General Information
This Breast Cancer Awareness Month, run or walk in solidarity with those impacted by breast cancer. Join us in the inaugural Breast Cancer Campaign Virtual Run 2021 led by The Estée Lauder Companies in Singapore, to accelerate progress towards a more equitable and beautiful future for the breast cancer community and beyond. Proceeds raised will go towards supporting the Breast Cancer Foundation.
The Estée Lauder Companies has been the leader in the global breast cancer movement since the start of The Breast Cancer Campaign in 1993 by Evelyn H. Lauder. While great strides have been made against the disease, the work is not done yet and the call to help end breast cancer is more urgent today than ever.A corporation that is largely inspired by the beauty of women, and driven by uncompromising values of ethics, integrity, generosity of spirit and fearless persistence, the commitment of The Estée Lauder Companies towards the mission of the Campaign has remained unwavering throughout the years. Be united in hope with The Estée Lauder Companies by supporting its mission to create a breast cancer-free world and raise funds for the Breast Cancer Foundation this year.
For more information, please visit ELCompanies.com/BreastCancerCampaign.
How does a Virtual Event work?
A virtual challenge is a race that you can complete at your own pace and time.
Virtual challenge works exactly the same as any other type of sports events (e.g. running or cycling) but the difference is that the entered race can be completed at any location, either outdoors or indoors on a machine.
All you have to do is register for a race and provide evidence that you have done it. The evidence can be a screenshot of your running/fitness app, a photo of the machine screen etc. Do check out specific instructions of the event you join for more information.

Categories and Fees
75km (Cumulative over 1 – 31 October 2021)
Entitlements:
1) T-Shirt only: S$25
2) T-Shirt + Tote Bag + Beauty Kit: S$50
Entitlements
Event T-Shirt
Exclusive Tote Bag (Optional add-on)
Beauty Kit worth S$80 (Optional add-on)
Entitlements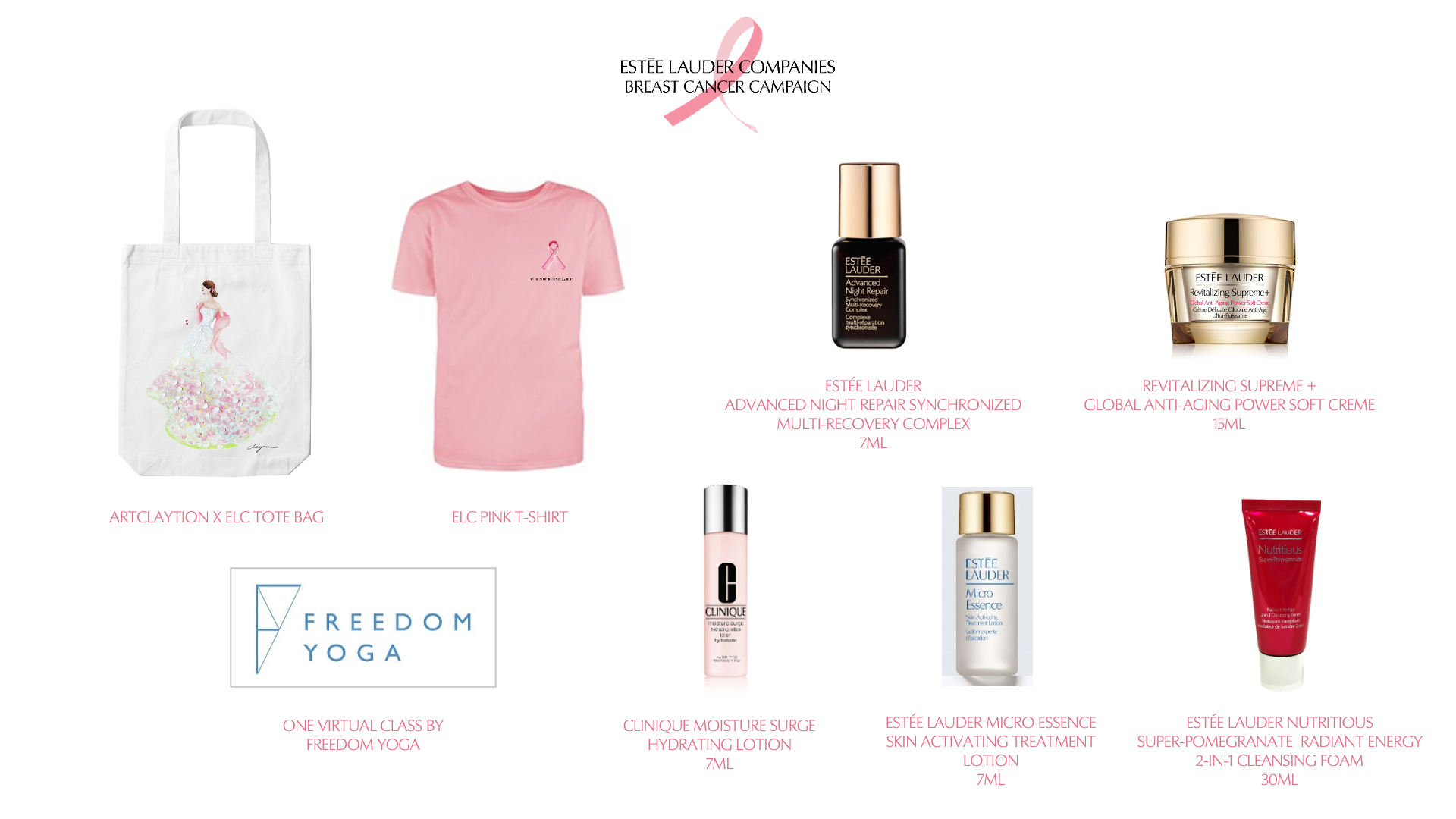 Event T-Shirt Size chart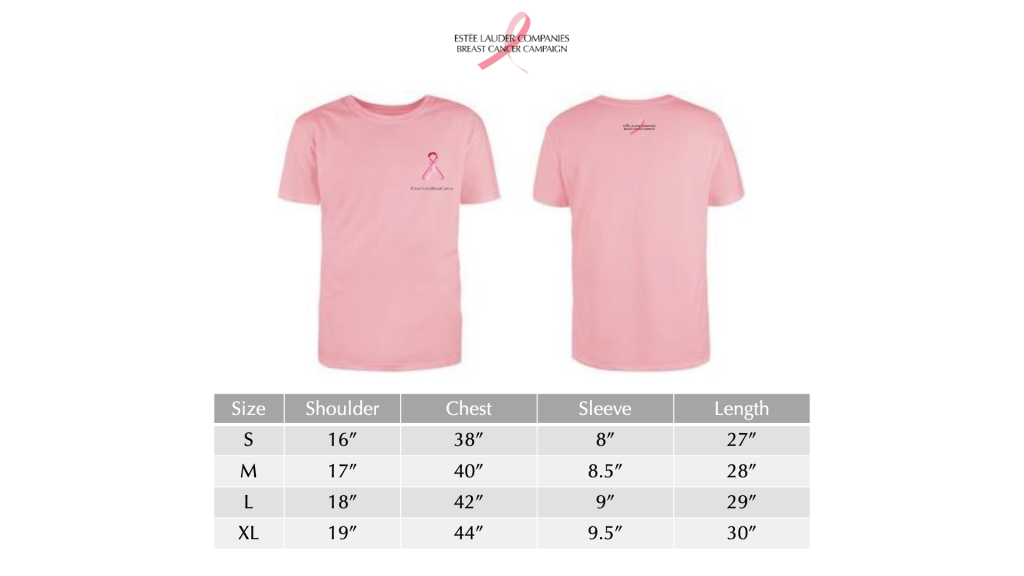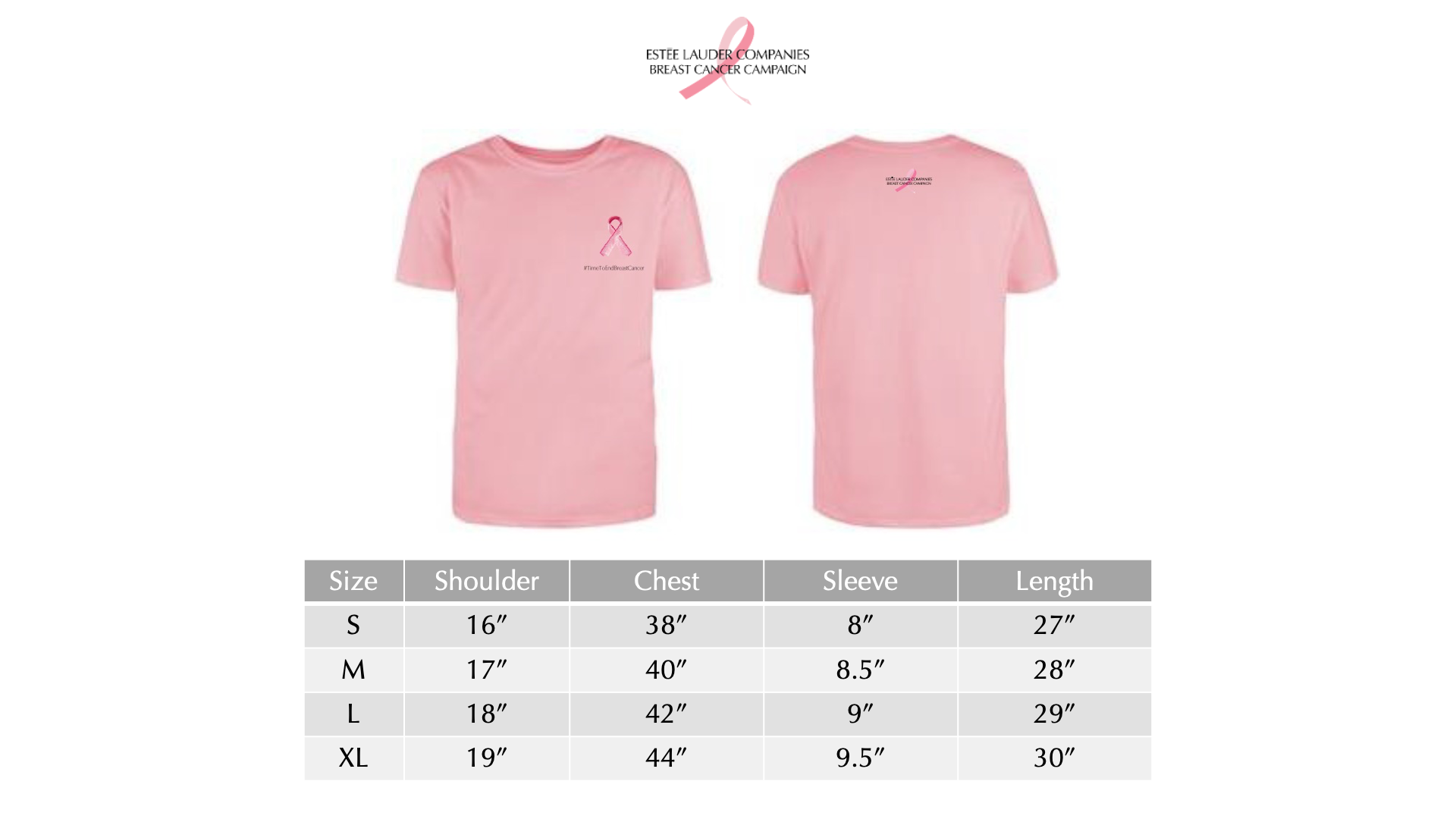 Prizes
3 Lucky participants who have completed 75km will stand a chance to win prizes from brands from The Estée Lauder Companies.
1st – Products from The Estée Lauder Companies worth S$ 1,000
2nd – Products from The Estée Lauder Companies worth S$ 700
3rd – Products from The Estée Lauder Companies worth S$ 500
Upload
Terms & Conditions
1. Participants take part in this event at their own risk and are responsible for their own safety when choosing their run route. As a participant, you are encouraged to wear high visibility clothes when running in dim lighting conditions for safety reasons. Estée Lauder Cosmetics Pte Ltd (ELC) and JustRunLah (service provider) accept no responsibility for any accident, incident of any nature or injury sustained whilst taking part in the virtual event. ELC excludes any liability for personal injury or death that may arise due to your participation in this event.
2. This event is opened to all.
3. By participating in this virtual challenge, you are accepting that JustRunLah! will contact you to confirm your entry and keep you updated on the progress of your participation. Please note that you will be added to the JustRunLah! mailing list and you will receive updates on future events. You can unsubscribe from the JustRunLah! mailing list at any time.
4. After completing your daily run/walk, take a screenshot of the run/walk statistics (via a tracking app) and upload it onto the JustRunLah! online portal. If your upload cannot be validated, your challenge will be deemed as incomplete. As such, you will not be entitled to the entitlements. In such circumstances, you will need to re-run and upload a new record (within the challenge period). If you experience any difficulty in uploading your run/walk details, please contact JustRunLah! at support@justrunlah.com.
5. Uploading of run/walk records will be from 1 to 31 October 2021. If you are unable to complete your run/walk and upload by the deadline, please write to us at support@justrunlah.com for assistance.
6. Entitlements will be presented to all participants, and three lucky participants who complete 75km during the challenge period will stand to win prizes from brands from The Estée Lauder Companies. The organiser has the rights to use the uploaded photos for publicity or sharing in social media.
FAQs
Registration
1. How do I register?
Click on "Registeration" tab and follow the registration process. An email will be sent to you when your registration is successful.
2. What is the registration fee?
Entitlements:
1) T-Shirt only: S$25
2) T-Shirt + Tote Bag + Beauty Kit: S$50
3. When is the registration period?
Registration is open from 1st to 31st October 2021. Please ensure that you register during this period only.
4. Who can I contact if I have issues with my registration or other event-related information?
For all enquires regarding this event, you may contact support@justrunlah.com.
Submission of results
5. When can I start to submit my Run/Walk results?
Run/Walk submissions can only be allowed to be uploaded from 1st – 31st October 2021.
Submissions received before or after these dates will not be accounted for.
6. What mobile application should I use to capture my run/walk session? Can I use a treadmill?
There are numerous GPS Running trackers such as:
• MapmyRun
• Strava
• Running
• Adidas Running
• Nike Running
For those using treadmills, please take a photo of your distance covered from the dashboard with a date and time reference of the activity. This can be done via a watch or another phone.
7. How do I submit my Activity record?
Step 1:
Use the recommended GPS Running Tracker Apps or Treadmill or personal step tracker to record your Run/Walk within the stipulated event period.
Step 2:
Take a screenshot of your finished activity, making sure that the date, distance, time and duration of the session are clearly visible. If you are using a treadmill, please take a photo of the dashboard with the distance and time, and a reference to the date, ie. from a watch or another phone.
Step 3:
Upload your screenshot or photo via the link of your confirmation email or the 'Upload' tab.
Please have your registration ID available and fill in the details accordingly.
For ease of uploading, please access via the link from your confirmation email.
Step 4:
Once submitted, you will receive a notification email. You can then repeat step 1 again for your next run and submission.
*Do note that any irrelevant or inaccurate submissions will be removed at the discretion of the organizers.
8. Is there a limit to how many results I am allowed to submit?
No, there is no limit to how many results you can submit. This is an accumulative challenge. You may take as many or as few submissions, to complete the minimum distance that you have selected.
9. How will I know if my submission is received?
An email notification will be sent to you after each submission of your activity. We will notify you if any of your submission is invalid or unclear. You can do a new submission within the stipulated duration.
Entitlements
10. When will I receive my entitlements?

You will be reminded via email nearer to the date.
11. What if for whatever reason I am unable to complete my minimum distance, do I still get my finisher entitlements?

No, please note that only participants that complete their required minimum distance will be provided with their Finisher entitlements.
Leaderboard
* Do note that any irrelevant or inaccurate submissions will be removed at the discretion of the organisers.
| First Name | theregid | Last Name | Category | kmsupload | Total KMs Uploaded |
| --- | --- | --- | --- | --- | --- |
| Brenda | 108656-ZXE | Lee | 75km | 82.00 | 82.00 |
| Calin | 15xrc | Tan | 75km | 9.61 | 305.00 |
| Clarissa | 1bina | Millado | 75km | 3.05 | 11.30 |
| Yanny | 1lr1q | Li | 75km | 3.44 | 124.18 |
| Victoria | 1nt9g | Yong | 75km | 4.00 | 35.82 |
| Bee | 1yp4y | Ong | 75km | 5.29 | 80.25 |
| Sherrie | 2wrlh | Koh | 75km | 6.42 | 75.98 |
| Tina | 359y3 | Lee | 75km | 10.38 | 24.04 |
| Serene | 3minu | Sorensen | 75km | 19.40 | 246.14 |
| Pamela | 3pm26 | Biswas | 75km | 3.76 | 75.39 |
| Terry | 4exki | Ramos | 75km | 11.00 | 31.78 |
| Min Meng | 4FT57436BD808090E | Foo | 75km | 32.96 | 32.96 |
| Ada | 5hbis | Sim | 75km | 98.48 | 98.48 |
| MING JUAN | 5limb | LOO | 75km | 5.06 | 75.47 |
| Siew Hui | 5vfls | Tan | 75km | 10.49 | 137.22 |
| Min Meng | 62atq | Foo | 75km | 28.85 | 95.97 |
| Nidhi | 6d4sn | Gupta | 75km | 6.90 | 78.27 |
| Felicia | 6eiys | Chong | 75km | 47.28 | 118.66 |
| Ivy | 6hymc | Tan | 75km | 34.00 | 100.00 |
| Hugo | 6jg3l | Bart | 75km | 3.58 | 9.31 |
| Jennie | 6k3uu | Frois | 75km | 8.24 | 149.28 |
| Shanyu | 6oip4 | Zhou | 75km | 76.89 | 76.89 |
| Xiu Ping | 6stbg | Lin | 75km | 13.70 | 77.29 |
| Felicia | 7da9l | Foong | 75km | 6.54 | 34.91 |
| Archara | 7wjau | Rojanapraparn | 75km | 35.01 | 35.01 |
| Maria Theresa Luna | 82ai1 | LUMAIN | 75km | 13.95 | 90.22 |
| Mandy | 8bnop | Leung | 75km | 7.20 | 179.10 |
| Susan | 8yh5b | Yeo | 75km | 1.85 | 307.24 |
| Jo | 92kuq | Kiew | 75km | 21.48 | 37.47 |
| Anthea | 9j48p | Ling | 75km | 5.20 | 114.60 |
| Charlie | 9vob2 | Teo | 75km | 8.53 | 200.97 |
| AJ | a2szj | GOH | 75km | 10.40 | 91.91 |
| Vicki | avf3f | Chng | 75km | 5.66 | 82.43 |
| mark | b4tg9 | lim | 75km | 5.44 | 32.24 |
| Casurina | bexdo | Yan | 75km | 5.12 | 84.78 |
| Hui Yi | bkzfw | Tee | 75km | 75.00 | 75.00 |
| Shahrom | bm3q6 | Rashid | 75km | 8.07 | 214.68 |
| Valerie | bp48i | Koh | 75km | 10.06 | 74.34 |
| Shin Yong | chf3d | Wong | 75km | 8.03 | 136.83 |
| COCO | cmap4 | TAN | 75km | 9.04 | 34.11 |
| Carolyn | cpkrh | Chong | 75km | 2.41 | 20.05 |
| Serene | d2tfe | Pang | 75km | 2.98 | 8.75 |
| Sharon | d8vo2 | Poh | 75km | 11.34 | 130.67 |
| Charlermpon | ddq5v | Tamarree | 75km | 140.68 | 140.68 |
| Annie | dhc7 | Chong | 75km | 5.04 | 78.12 |
| Leanne | evifu | Ho | 75km | 3.06 | 90.11 |
| Wen Qing | ewb30 | Ong | 75km | 19.21 | 133.80 |
| Anna | f8xec | Tan | 75km | 14.30 | 81.13 |
| Stephanie | fc8vp | Lee | 75km | 28.33 | 89.75 |
| Sofie | gohf0 | Chandra | 75km | 4.02 | 54.77 |
| Ferlyn | gprrm | Goh | 75km | 14.19 | 142.49 |
| Yenn | hf223 | Lagapa | 75km | 6.00 | 87.30 |
| Alene | hoyvv | Breddemann | 75km | 3.60 | 39.12 |
| Seet Ting | hvpii | Siow | 75km | 10.65 | 77.60 |
| Shuqing | i3we5 | Cai | 75km | 3.95 | 12.54 |
| Annabel | i4wmi | Loh | 75km | 27.56 | 127.06 |
| Angeline | imor5 | Tan | 75km | 6.35 | 190.04 |
| Kim | ji4r9 | Teo | 75km | 9.10 | 76.61 |
| Serene | joysr | Leong | 75km | 11.72 | 42.50 |
| Amber | jy2ee | Chen | 75km | 3.06 | 88.83 |
| Kian Chuan | jz7z9 | Tiew | 75km | 7.28 | 455.14 |
| Eileen | k2qus | Lew | 75km | 22.41 | 75.59 |
| Ying Yi | k4peq | Foong | 75km | 3.90 | 76.90 |
| SARIFAH RUZANNA | kjjy2 | ZAINAL | 75km | 12.60 | 86.90 |
| Siti Sabariah | kkfy7 | Binte Abdul Jalil | 75km | 2.80 | 34.40 |
| TY | kus73 | Low | 75km | 5.10 | 89.70 |
| Melia | lev14 | Jalani | 75km | 44.69 | 44.69 |
| Angela | m06ol | Liew | 75km | 31.10 | 98.18 |
| Nicholas | mkw6g | Lim | 75km | 7.37 | 75.84 |
| Jaslyn | mqtu1 | Tan | 75km | 4.80 | 117.90 |
| Lily | n0ex4 | Teo | 75km | 8.03 | 362.74 |
| Jia Xing | n5l4b | Tai | 75km | 97.00 | 172.00 |
| Deanna | nwc7f | Teo | 75km | 6.97 | 95.54 |
| Linda | nwcnu | Teo | 75km | 5.13 | 203.35 |
| Figin | nyuhh | Seng | 75km | 11.55 | 56.84 |
| Iris Yuet Chiau | o1c1b | Tan | 75km | 3.50 | 109.78 |
| Nicole | o40pv | Khoo | 75km | 9.94 | 66.59 |
| Toshiko | o45n2 | Kodama | 75km | 5.00 | 113.72 |
| Alicia | o7uxk | Foo | 75km | 82.40 | 82.40 |
| Jennifer | o8cu7 | Goh | 75km | 5.38 | 126.57 |
| Crystal | obnip | Loh | 75km | 15.54 | 75.36 |
| Angela | ognvz | Cheong | 75km | 13.23 | 79.64 |
| Fion | p3y1n | Lim | 75km | 3.50 | 31.60 |
| Siew Yee | pj1qo | Chan | 75km | 35.09 | 35.09 |
| Margaret | q7v3n | Chooi | 75km | 6.15 | 102.42 |
| Lin Hui | qdu6 | Quek | 75km | 23.61 | 79.77 |
| Wu | qivuj | Xuemei | 75km | 1.80 | 109.10 |
| Florence | r7dgs | Tan | 75km | 5.06 | 78.14 |
| Chris | r8i6s | Chua | 75km | 13.60 | 13.60 |
| Serene | rcibm | Kwek | 75km | 11.26 | 82.68 |
| Luke | rili2 | Phang | 75km | 6.78 | 24.62 |
| Jacqueline | rqpwu | Oon | 75km | 75.00 | 75.00 |
| Joni | rr427 | Lee | 75km | 79.00 | 79.00 |
| Violet | ryv6t | Chan | 75km | 9.66 | 9.66 |
| Jo-Joan | s46px | Cheng | 75km | 4.45 | 146.91 |
| Dze | smqrh | Abd | 75km | 113.00 | 113.00 |
| Myat Know | sttkf | Htut | 75km | 7.50 | 94.00 |
| Meisi | sxw2p | Lin | 75km | 48.07 | 79.84 |
| Michelle | tt6hz | Kwa | 75km | 4.41 | 53.83 |
| Purna | tyw5l | Dhara | 75km | 5.00 | 90.70 |
| Jolin | ul53c | Teo | 75km | 2.99 | 53.35 |
| Wai Loon | ulgdj | Wong | 75km | 4.59 | 18.31 |
| Katherine | unqqh | Lim | 75km | 4.03 | 108.59 |
| CW | uol14 | HONG | 75km | 10.36 | 96.86 |
| Hung | usa10 | Nguyen | 75km | 57.90 | 57.90 |
| Michelle | v268j | Ho | 75km | 56.34 | 96.34 |
| Syaifudean | vnitef30d5fd75e | Selamat | 75km | 5.00 | 42.50 |
| Pat | vpziy | Yeo | 75km | 6.10 | 80.40 |
| Gordon | vvtcr | Pinto | 75km | 15.29 | 84.46 |
| Chris | w6qcc | Tan | 75km | 9.40 | 75.13 |
| Jean | w8out | Yang | 75km | 80.00 | 80.00 |
| SEIL | wgz6c | SONG | 75km | 3.80 | 81.08 |
| Henry | wsw7b | Sianada | 75km | 5.67 | 46.10 |
| Thao | wu8vy | Doan | 75km | 5.45 | 34.82 |
| Wee | x3dd4 | Kim | 75km | 53.70 | 78.00 |
| Rebecca | xhd5j | Soong | 75km | 5.10 | 146.39 |
| Thanniyaphar | xo14f | Tamarree | 75km | 69.48 | 69.48 |
| Norhidayati | xo4tt | Mohd Noor | 75km | 1.84 | 76.73 |
| Eduardo | xpqnx | Altares | 75km | 6.01 | 92.27 |
| Juliana | y2gp5 | Latif | 75km | 8.15 | 265.45 |
| Regine Goh Hui Yin | ylbrw | Goh | 75km | 5.32 | 72.57 |
| Nathalie | yqqbt | Xia | 75km | 4.22 | 23.84 |
| Susan | ysxny | Tan | 75km | 9.99 | 204.68 |
| Kristyn | z2zi5 | Teo | 75km | 7.73 | 45.17 |
| Shiela Grace | z6z28 | Cagaanan | 75km | 3.50 | 161.10 |
| MAVIS | zzge9 | TONG | 75km | 51.90 | 130.40 |
| First Name | theregid | Last Name | Category | kmsupload | Total KMs Uploaded |