Malaysia Action Asia 50 Janda Baik Pahang 2019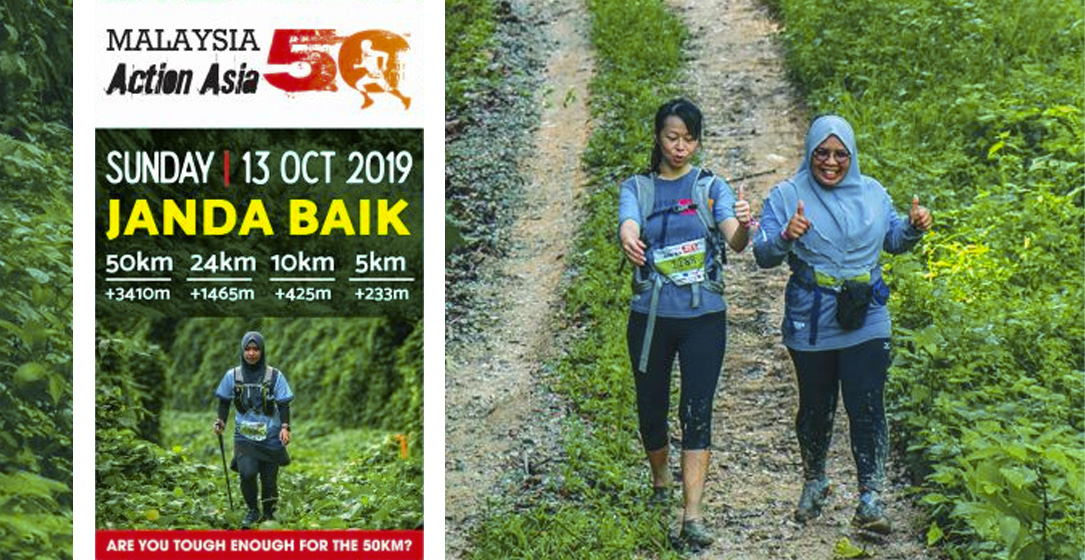 Register
Registration is no longer available. Thank you.
Event Info
General information
Event date:
13 Oct 2019
Location:
Cherengin Hills Convention & Spa Resort, Janda Baik, Pahang, Malaysia
Categories:

Offline

Trail

10 KM

5 KM

24 km

50 km

Registration has closed
Mark Oct 13, 2019 calendar as we love Malaysia trails.
Are you tough enough? 
50Km (48Km) – elevation gain 3410m & elevation loss 3421m (Max elev 588m)  – 13 hour cut-off
24Km (23.8Km) – elevation gain 1465m & elevation loss 1476m (Max elev 588m) – 6 hour cut-off
10Km (10.2Km) – elevation gain 554m & elevation loss 555m (Max elev 532m) – 5 hour cut-off
5Km (5.4Km) – elevation gain 233m & elevation loss 233m (Max elev 491m) – 3 hour cut-off
International runners or those living more than 2 hours driving outside KLcan pick up race packs race morning before 45min before start with RM 50 extra fee paid race morning. We encourage you to contact your friends to pick up for you to save this extra fee and to save our staff transporting your pack to the venue.
OVERSEAS PARTICIPANTS – See Cheringhill Resort option as start/finish is at this resort and very reasonable cost. Homestay options near start location, but have to search on TripAdvisor. Cheringhill Resort booking – reservation@cherenginhills.com or fo@cherenginhills.com
Event Schedule
To be updated.
Categories and Fees

Routes / Maps
Start & Finish Location: Cherengin Hills Convention & Spa resort – Janda Baik (1 hr drive from Kuala Lumpur, Malaysia) – Google map link how to get to Start Cherengin Hill Resort
Four Distances
50 km – (48km) 3410m+ elevation gain 3421 elevation loss. Expect a very tough hilly course to push your heart to the limit as this will not be a walk in the park and will need a good training plan before the event to finish the 50km within the 13 hour cut-off. The course will follow the 20km route until the river crossing and then a 25km new section following quiet gorgeous valley with dirt track and single track with almost 100% pristine rain forest with monkey leaping from trees, sound of very loud crickets and just absolute ideal running conditions to put you in that zone you have long lived for until Lentang turn around. You will come back on the same route to the river crossing (bridge now) so try to cheer on the others coming in the opposite direction. Back at the river crossing bridge checkpoint you will continue on the same 24k route with a new dirt track we found and an additional beautiful loop at the plantation section before your last check point. A lot has gone into this course and we trust you will appreciate every bit of it. Yes there are plenty of hills, but most are short steep hills that you can overcome mentally if you train with a positive mind with a cando attitude. No pain no gain as they say. (47k dirt tracks and 2k cement road)
UTMB Qualify race – Finisher of 50Km race can get 2 points for ITRA Endurance Point
24km –  1465m+ elevation gain,  1476m elevation loss, 588m highest point (22 km dirt roads & 2 km cement road)
UTMB Qualify race – Finisher of 24Km race can get 1 point for ITRA Endurance Point
10 km – (10.2k) 554m elevation gain, 555m elevation loss, 532m highest point (7.2 km dirt roads & 2.8 km cement road)
5 km (5.4km) – elevation gain 233m & elevation loss 233m (Max elev 491m)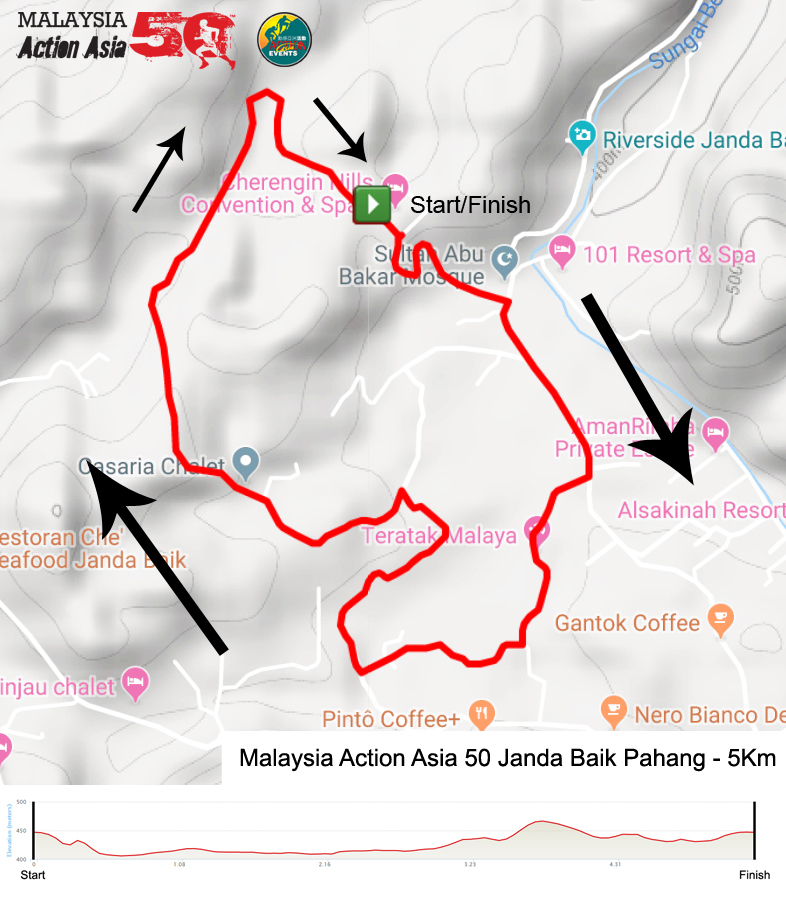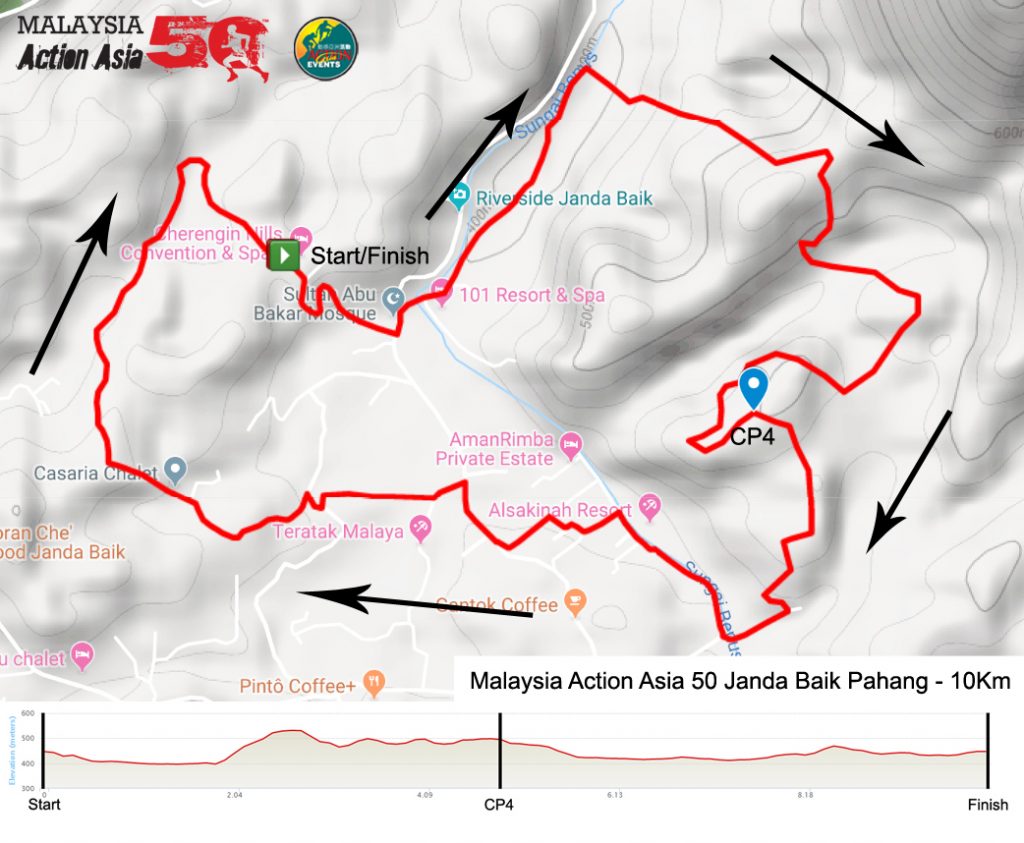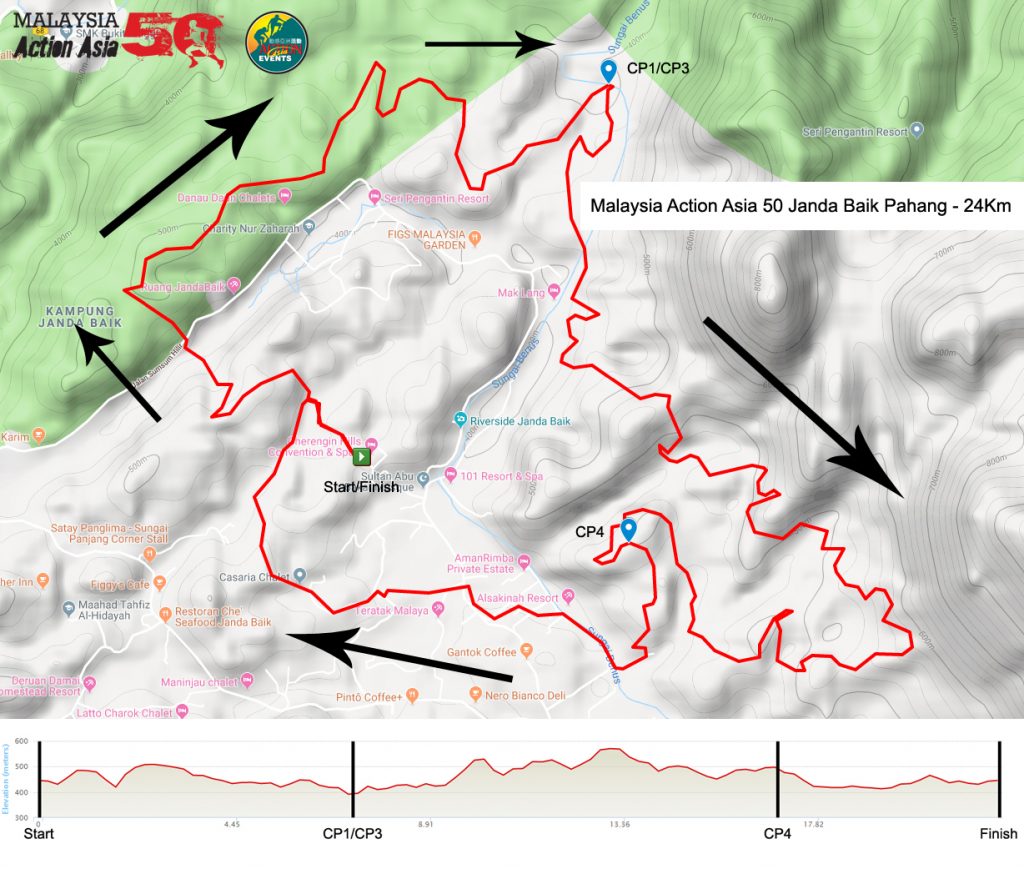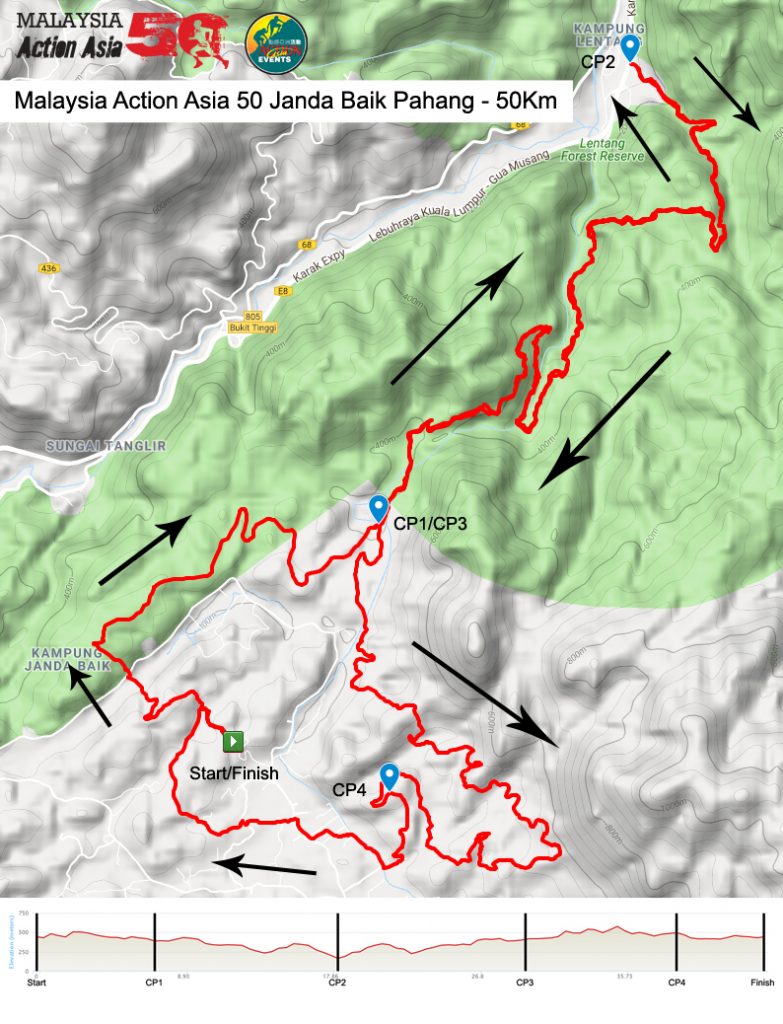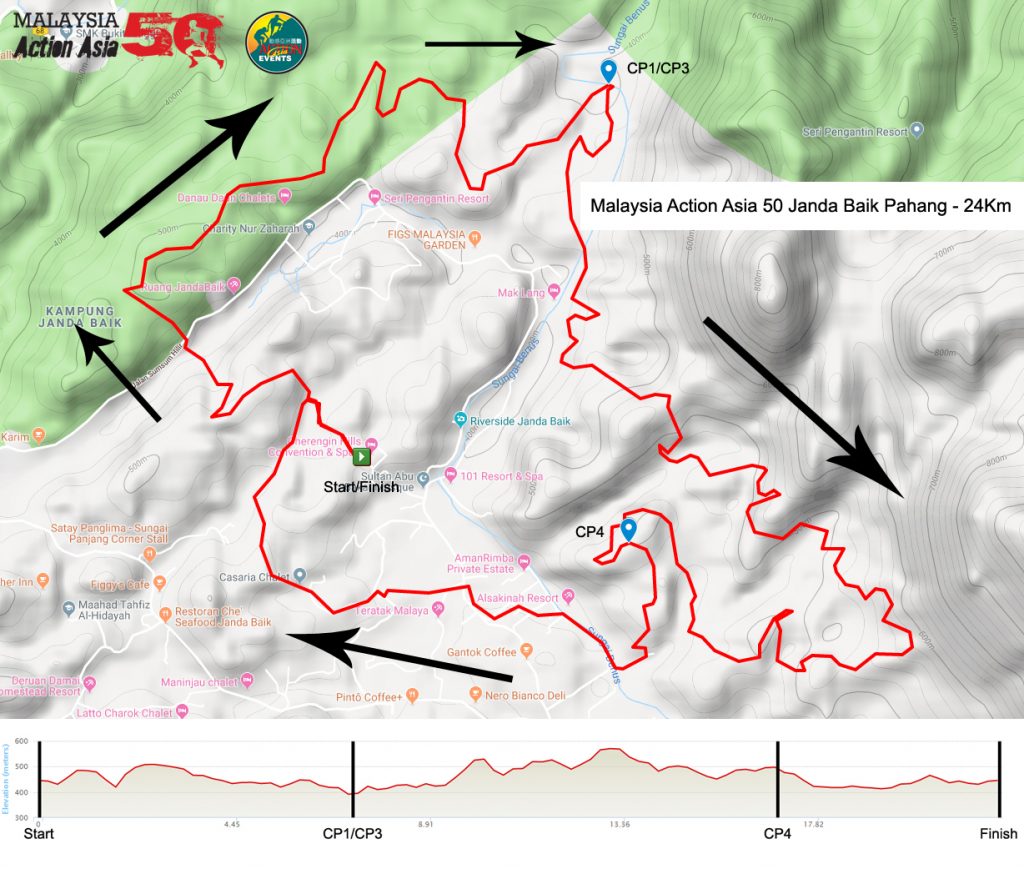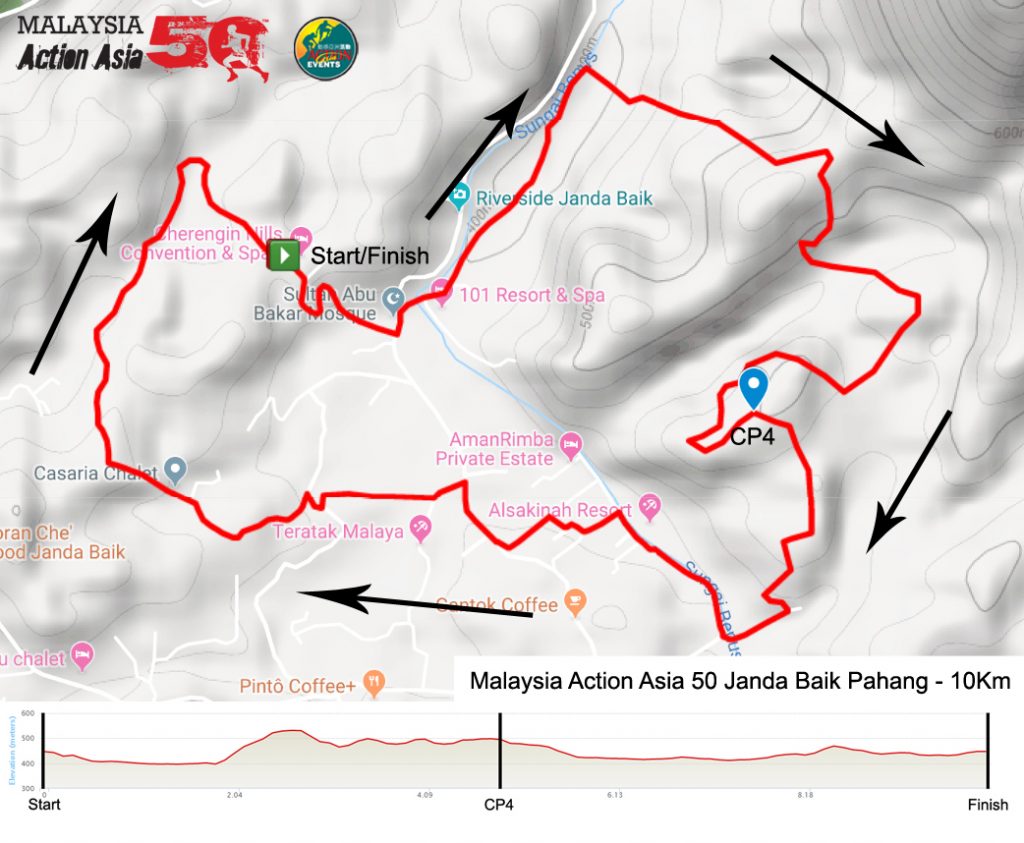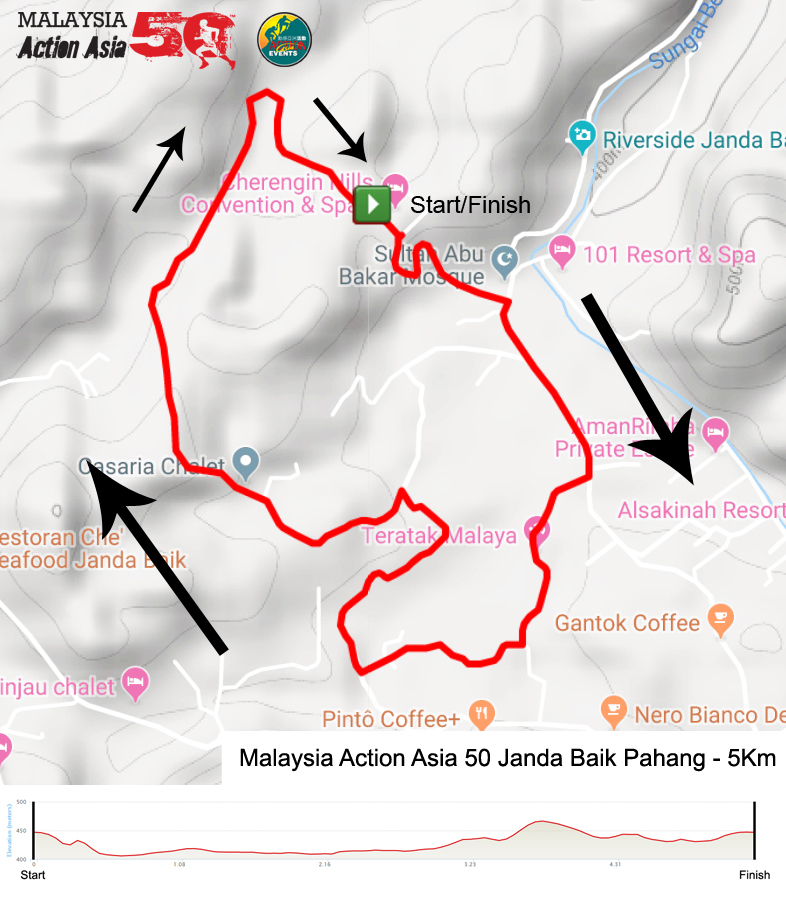 Entitlements
Runner's entitlements
Race Apparel
Finisher Medal
Event apparel
High-quality dry tech material.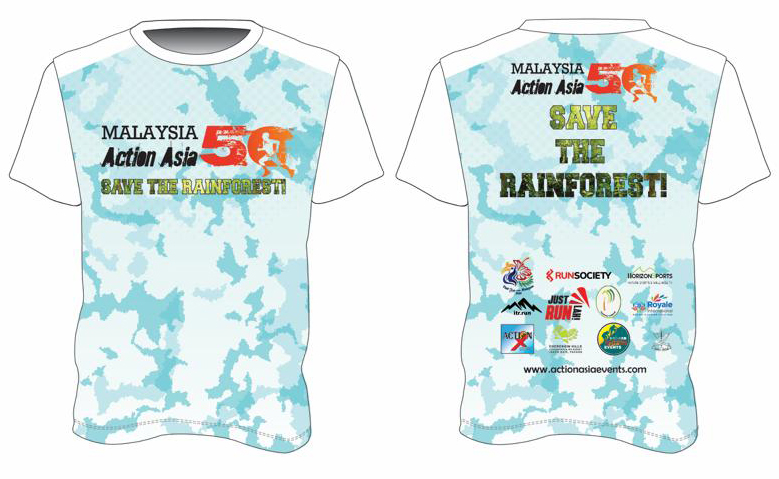 Finisher medals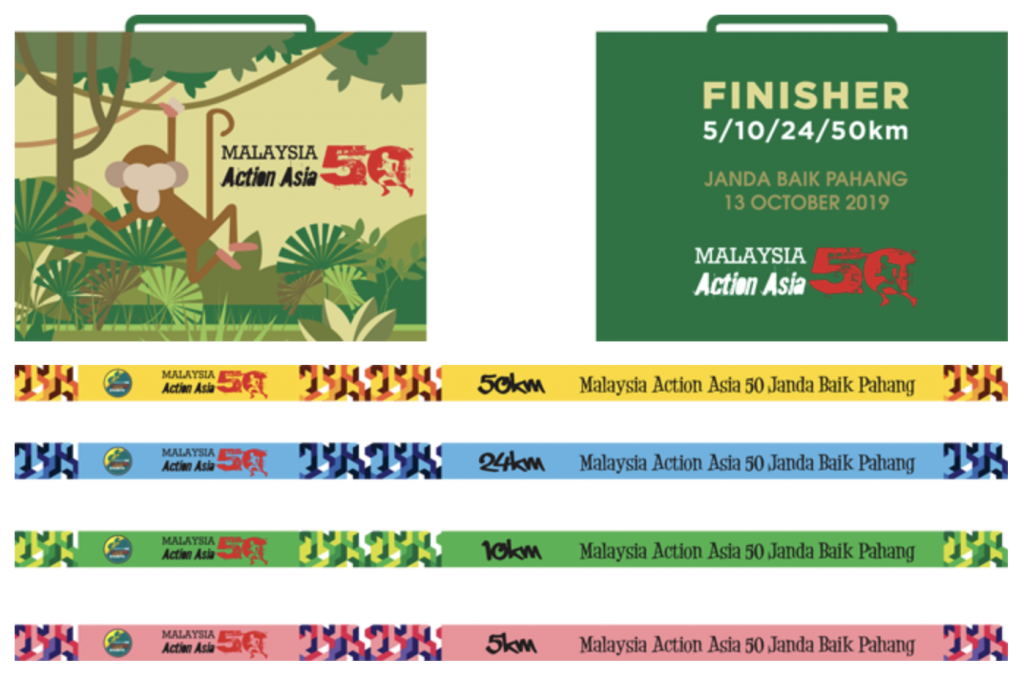 For questions regarding this event, please contact the organiser at: enquiry@actionasiaevents.com