Mongolia Sunrise to Sunset (3-9 August 2019)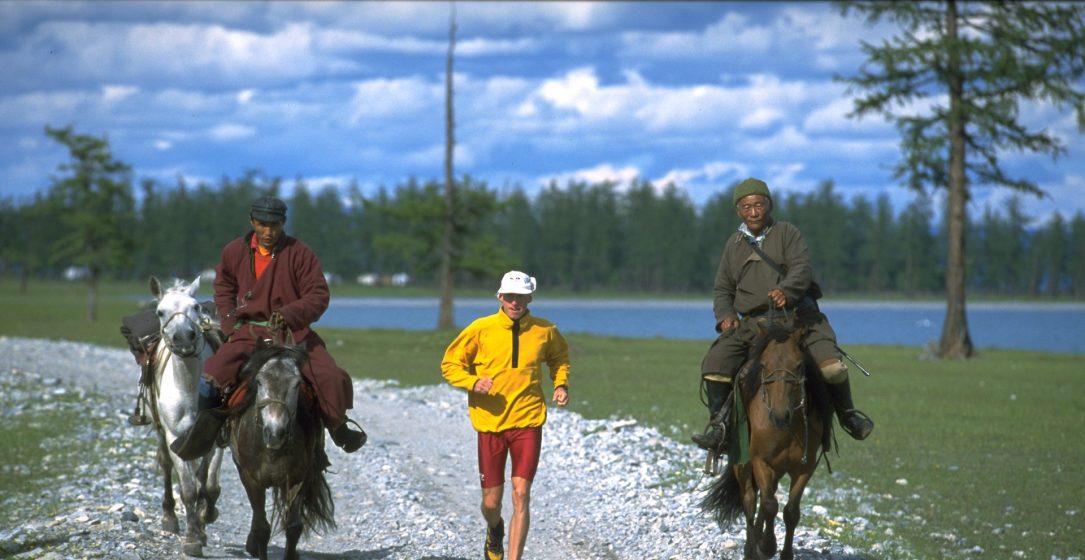 Register
Registration is no longer available. Thank you.
Event Info
General information
Event date:
7 Aug 2019
Location:
Toilogt camp, Hovsgol Lake, Hatgal village, Hovsgol Province, Mongolia
Categories:

Offline

Trail

Ultramarathon

Marathon

100 km

Registration has closed

Notes:

Prices will increase at the end of month
Join the Mongolian adventure! In early August 2019, runners from all around the world will meet on the shores of gorgeous Lake Hovsgol in Northern Mongolia to take part in Mongolia Sunrise to Sunset (MS2S), a breathtaking 42km and 100km trail run. Hike or run this spectacular course in one of the world's most pristine National Parks and explore Mongolia's unique nature and culture!
Mongolia Sunrise to Sunset takes place in Hovsgol National Park, one of the world's most remote and beautiful National Parks in Northern Mongolia, 700km from Mongolia's capital Ulaanbaatar. It is a week full of exploration and adventure: In the 'ger camp' at the shores of stunning Lake Hovsgol, participants experience Mongolia-style living in the cozy gers with environmentally friendly 'western' comforts including hot showers and electricity. They explore the raw beauty of Mongolia and get in touch with the culture of the nomadic population – a truly unique experience.
The course is as challenging as it is beautiful: Trail hiking and running through a fairy-tail countryside and pristine wilderness. A mix of horse trails and jeep tracks along lakeside meadows, through seas of wildflowers, steep mountain treks, alpine forests of taiga and lush green hills. Elevation: Race start: 1,625m; 42km race: 2,255m elevation gain/loss; 100km race: 3,365m elevation gain/loss. Cut-off times: 18 hours for both marathon and 100K distances. 8 hours at 42K mark for 100K runners. Aid-stations: Manned aid-stations with local doctor every 12-15km. Western race doctor on call at race HQ.
Mongolia Sunrise to Sunset is a non-profit event. All profits are donated to ecoLeap foundation, registered in Geneva, Switzer-land. ecoLeap is supporting and sponsoring Hovsgol National Park's development and protection in an environmentally minded way, promoting it as a travel destination and ensuring that the local inhabitants can keep – and be proud of – their cultural identity.
Event Schedule
The schedule of each participant will vary depending on their choice of travel package and from where they arrive.
This itinerary may be changed without advanced notice should scheduled flights, chartered flights or unsuitable weather conditions or other Force Majeure cases arise. The means of transport may also be changed should it be necessary to reach destinations on time and as comfortably as possible. We shall do all that is in our power to respect the schedule. However, what makes Mongolia so appealing is that Nature still rules over people and we are committed to ensure your security first.
Saturday Day 1
Meeting point details will be announced late June 2019
Arrival in Ulaanbaatar (UB) of participants travelling directly to UB or via Beijing (departure the day before from Europe). After arrival in UB, departure of scheduled flight to Khatgal/Moron on the Southern tip of Lake Hovsgol. Transfer via jeep and vans to Camp Toilogt. Evening arrival in Camp Toilogt. Assignment of gers and welcome dinner.
Sunday Day 2
Acclimatization day for participants in Camp Toilogt. Possibilities include horseback riding, fishing, trekking and familiarization with the course.
Monday Day 3
Acclimatization day. Possibilities include horseback riding, fishing, trekking and familiarization with the course.
Tuesday Day 4
Acclimatization day. Possibilities include horseback riding, fishing, trekking and familiarization with the course.
Wednesday Day 5
RACE DAY.
Thursday Day 6
Rest day. Award Ceremony and party in the evening. Preparation for add-on horse trek for those who stay on.
Friday Day 7
Return to UB via jeep/van and aircraft. Dinner with whole group and transfer to hotel
Saturday Day 8
Departure of participants from Mongolia and end of the Package.
Categories and Fees
The following travel packages are available for participants, companions and children. All packages start and finish in UB (Ulaanbaatar) International Airport.
Race Week Package* – (3rd -9th August 2019)
Accommodation in a comfortable ger camp by Hovsgol Lake with horse riding, trekking, kayaking and fishing opportunities before and after the race "Mongolia Sunrise to Sunset 2019″ (Race day is 7th August 2019)
US$ 1920 (adult + see below possible preferential discounts)
US$ 1020 (children from 2-12 years)
US$ 620 (children under 2 years)
Preferential package prices for adults
Repeat participant minus US$ 200 /package/person
Companions minus US$ 200 /package/person
Volunteers minus US$ 300 /package/person
* We are sorry but except for special cases (repeat participants for example), we do not offer a "race fee only" that would be separate from travel and room and board.
There are no other flight connections that would get you to from the race in a shorter amount of time, and the logistics challenges and ecological challenges of travelling overland would be prohibitive (for us and for you). Although the race is on one day only, the event is really a multi-day experience that includes course inspections, briefings, relaxation and socialising in the days before the race, and of course blowing off some steam together in the days after.
Cancellation Terms
Up to March 31st, 2019 the cancellation of your registration is free
From April 1st, 2019 to May 31st, 2019 the cancellation of your registration will cost US$ 200
After May 31st, 2019 the cancellation of your registration will cost US$ 500
After June 30th, 2019 the cancellation of your registration will equal 100% of the paid package
Disclaimer
The above packages include all flights/chartered flights/boats etc. between Ulaanbaatar International Airport and the race course at Camp Toilogt in Lake Hovsgol National Park in northern Mongolia and back to Ulaanbaatar International Airport, as well as all hotels/sleeping arrangements and meals in Mongolia.
The packages do not include any visas required (Mongolia or other i.e. the People's Republic of China where double-entry may be necessary for transit through Beijing); flights to the departure location (Ulaanbaatar International Airport); any airport taxes incurred during the trip to departure location; or any add-on travel options.
Accommodation will be at a good Mongolian quality hotel in Ulaanbaatar and in comfortable triple or quadruple-occupancy gers or wood cabins at Camp Toilogt. Single occupancy accommodation is also available in UB for an additional charge. Full meals will be provided, including western-style breakfast, packed lunches and dinner, tea and coffee. Alcoholic beverages and soft drinks are available in UB and in Camp Toilogt for purchase for an additional charge.
Routes / Maps
The event course (see Course Map for details) follows a lakeside single track north of Camp Toilogt through woods and over windblown lowlands for the first 12km (7.5 miles). In the next 5 km, the course departs the lake and heads up over 700 meters (2,400 feet) into the mountains to spectacular views and 2,300 meter (7,550 ft) Chichee Pass. From this first pass, the route heads south along a ridge, descends steeply into a river valley, follows along the river bed through sometimes marshy sections, returns up another river valley, and climbs steeply through a mossy forest to Khirvesteg Pass. From the second pass, runner's descend steeply again to another valley and return to the lakeshore to make their way back to Camp Toilogt and the 42km mark – the finish of the marathon and Aid-station No. 4 for 100 km runners.
For the 100 km course, the route continues along the lake to the south-west, following a mostly flat dirt trail for 15 km, then ascends Jankhai Pass at just under 2,000 meter elevation. From Jankhai Pass, the course is primarily a gentle downhill over trails and unpaved single-track roads, with the final 25 km (15 miles) level along the lakeshore. The accumulated elevation gain/loss (see the Elevation Chart) for the marathon distance is around 2,255 meters (7,400 ft) and for the 100 km it is around 3,365 meters (11,040 ft). Lowest elevation is 1645 meters (5,400 ft) and highest elevation is 2,300 meters (7,550 ft). The cut-off time for the ultra-marathon is 18 hours.
Cut-off times (see Race regulations for details) at key aid stations will be enforced so that the last runner finishes the Mongolia Sunrise to Sunset before last light (Sunset!). Cut-off times are arranged to ensure that any runners that miss cut-offs can be shuttled to the finish area by last light. Local volunteers assist in relaying supplies and manning the aid stations. Doctors will be able to reach all sections of the course on horseback.
Course Map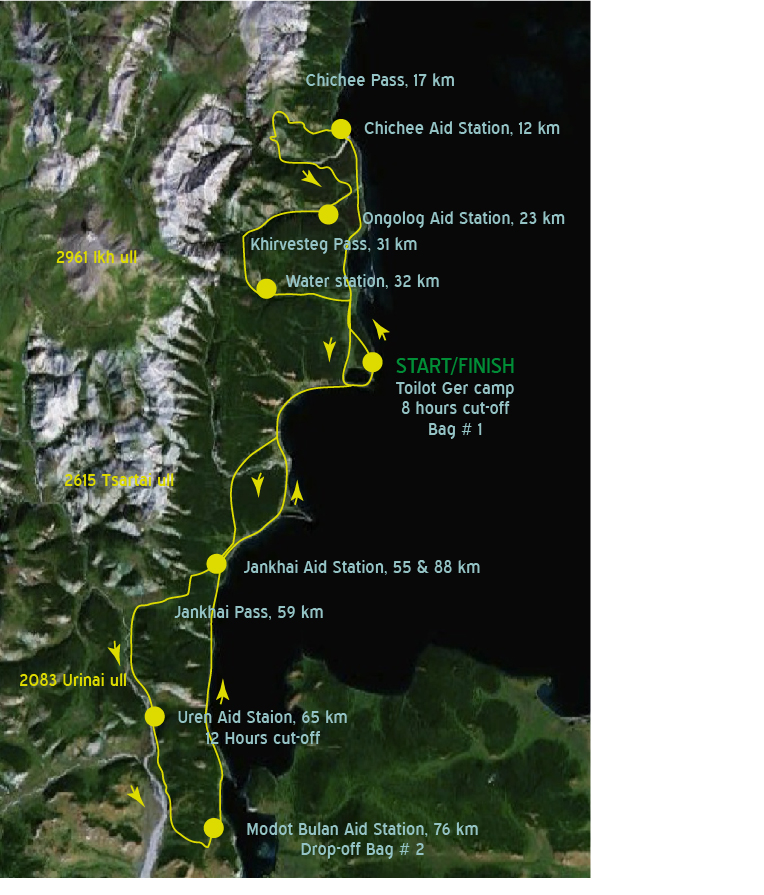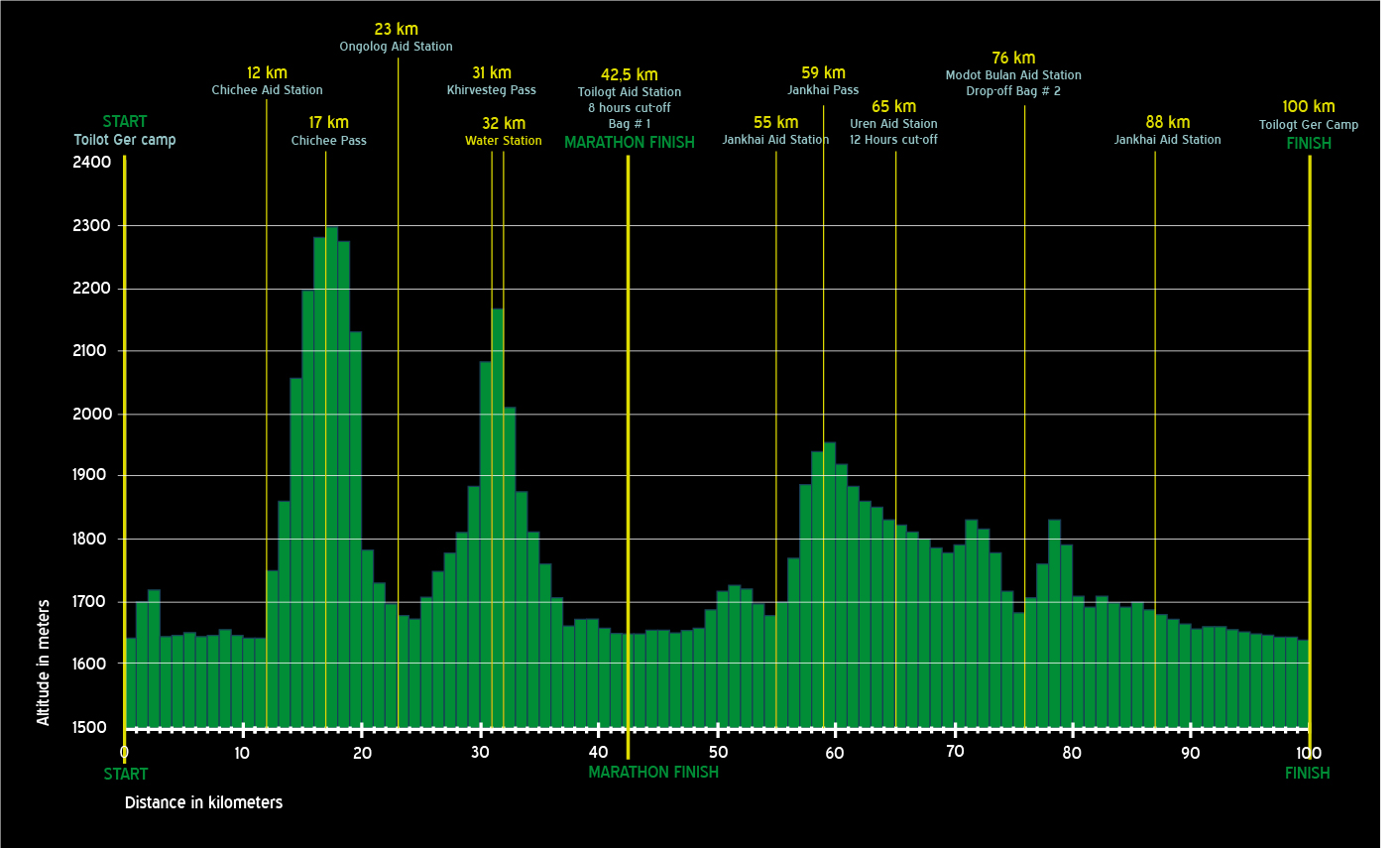 Entitlements
Photo Gallery
For questions regarding this event, please contact the organiser at: Shuree.sukhbaatar@ultramongolia.org