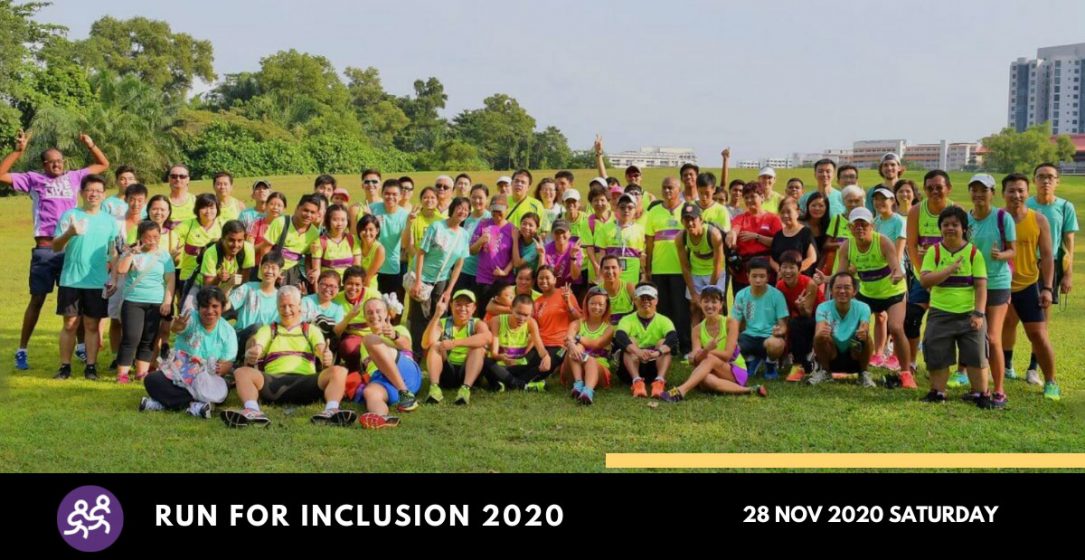 Register
Registration is no longer available. Thank you.
Event Info
General information
Event date:
28 Nov 2020, from: 07.00 am
Location:
Sports Hub 100PLUS Promenade (To Be Confirmed), Singapore
Categories:

Offline

Road Run

Multi-sport

Fun Run

10 KM

5 KM

3 km

Personalised Distance

20km Cycling

Registration has closed

Notes:

Wheelchair Friendly; Event was postponed from 15 Aug 2020 due to COVID-19
Run for Inclusion is a national event that aims to use mainstream sports as a platform to promote integration and nurture an inclusive Singapore for people with special needs. This is the only race in Singapore where participants run alongside other runners with special needs.
In support of the cause, Runninghour is offering free entries for all people with special needs and caregiver/guide on a 1:1 ratio. This is a Wheelchair Friendly event. Run for Inclusion will be a rallying call for Singaporeans to come together and show their support towards integrating people with special needs.
To note that participants of the event will have to leave the event premises at the end of the allocated timing to ensure safe distancing and smooth transition of the entry of the next group of participants.
In the event of any unforeseen circumstances, the event, Run for Inclusion 2020, will be converted to a Virtual Event format, so that everyone can still join in on this meaningful cause regardless of the situation. We will be refunding the difference in the ticket price as according to the event's virtual ticket price.
For any concerns and questions regarding the event, you may contact raceinfo@runninghour.com
On Event Day
FREE On-Site Testing required by runners and cyclists:
Antigen Testing process: Watch video here
Participants under the age of 13 need to undergo a PCR test (at your own cost) at a clinic prior to the event and present the results for admission.
Event Schedule
Between 7am – 8pm
To ensure the safety of all participants, the event will be organised in smaller rotations with several flag off timings over the event day. The specific time slot allocated to each participant will be issued during the race pack collection. Generally, participants of the same race category will be flagged off in the same session.
Categories and Fees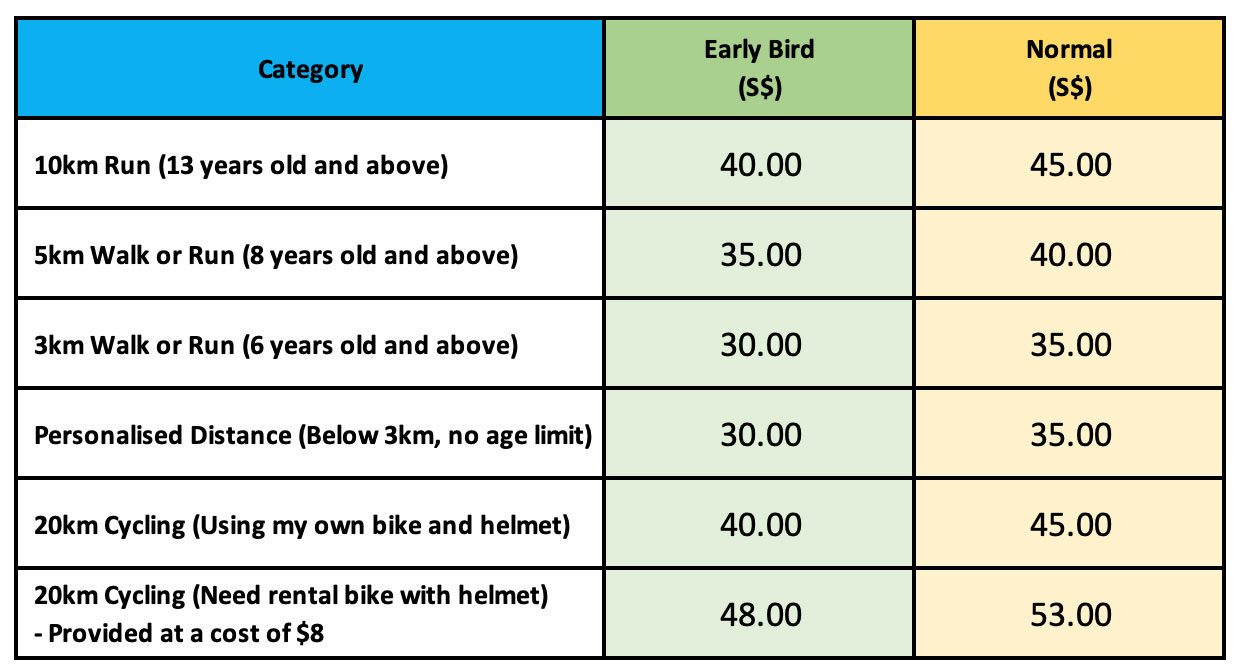 *Early bird rate is until 1 October 2020
Tandem Cycling (For PWSN only) - Bike Captain will be assigned: Free Entry
Race Pack Collection Info
Dates: 21 & 22 November 2020
Time: 9am – 6pm
Venue: T-Hall.sg (464 Crawford Lane, #01-464, Singapore 190464)
Entitlements
For questions regarding this event, please contact the organiser at: raceinfo@runninghour.com