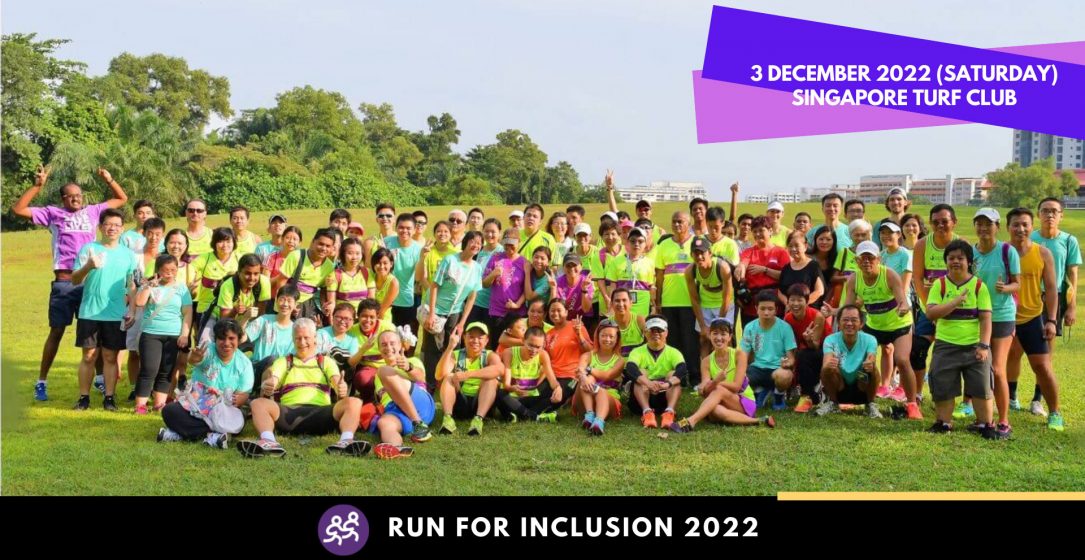 Register
Registration is no longer available. Thank you.
Event Info
General information
Event date:
3 Dec 2022, from: 04.30 pm
Location:
Singapore Turf Club, Singapore
Categories:

Offline

Personalized Distance

3km / 5km / 10km

Walk or Run

20km Cycling

Registration has closed

Notes:

Thank you for your support. The event is sold out.
Run For Inclusion is organised annually to promote integration and nurture an inclusive Singapore for the people with special needs.
Run For Inclusion 2022 is one of Singapore's only mass running events where participants run alongside hearing, intellectually, physically and visually-challenged runners. Since 2015, the event has been held annually by Runninghour Co-operative Limited, seeking to empower Persons with Special Needs(PWSN) to participate in mainstream activities and events, and to promote awareness towards the PWSN community through sports.
Run For Inclusion will be a rallying call for Singaporeans to come together and show their support towards integrating people with special needs.
Event Schedule
3:00 pm: Registration Opens1
4:30 pm: Event Start (Warm-up activities)
5:00 pm: Flag Off2
8.00 pm: Event Ends
1. Cyclists are advised to report for early registration at 3pm, so as to ensure sufficient time to test out the bikes.
2. Participants will be flagged off in waves of 100pax with 15-minute intervals between each wave
Note:
* Flag-off timing is subject to change, and all participants will be informed of any changes during race day.
* Information is accurate as of the date of publishing on 09 June 2022.
Categories and Fees
Personalised Distance: $30* (Normal rate: $35)
3km Walk or Run: $30* (Normal rate: $35)
5km Walk or Run: $35* (Normal rate: $40)
10km Run: $40* (Normal rate: $45)
20km Cycling (Using Own Bike): $40* (Normal rate: $45)
20km Cycling (Incl. Bike): $48* (Normal rate: $53)
* Early bird rate ends on 31 August 2022
Routes / Maps
Race Pack Collection Info
Dates: 19 & 20 November 2022 (Saturday & Sunday)
Time: 11 am to 5 pm
Venue: SportsHub Library, 4 Stadium Walk, Singapore 397697
Entitlements
Runner's entitlements
Race Apparel
Finisher Medal
Goodie bag with Sports Towel
Event apparel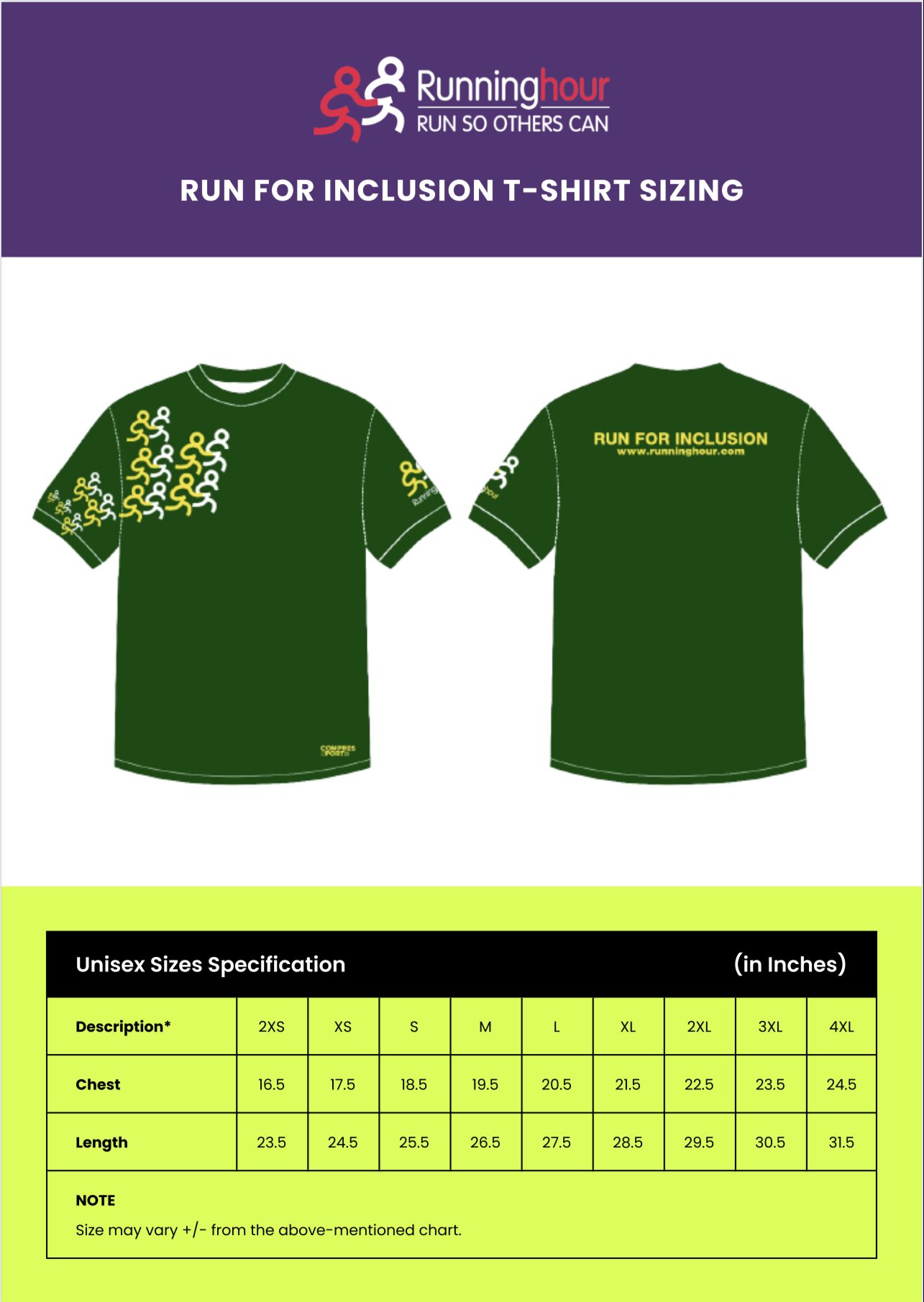 Finisher medals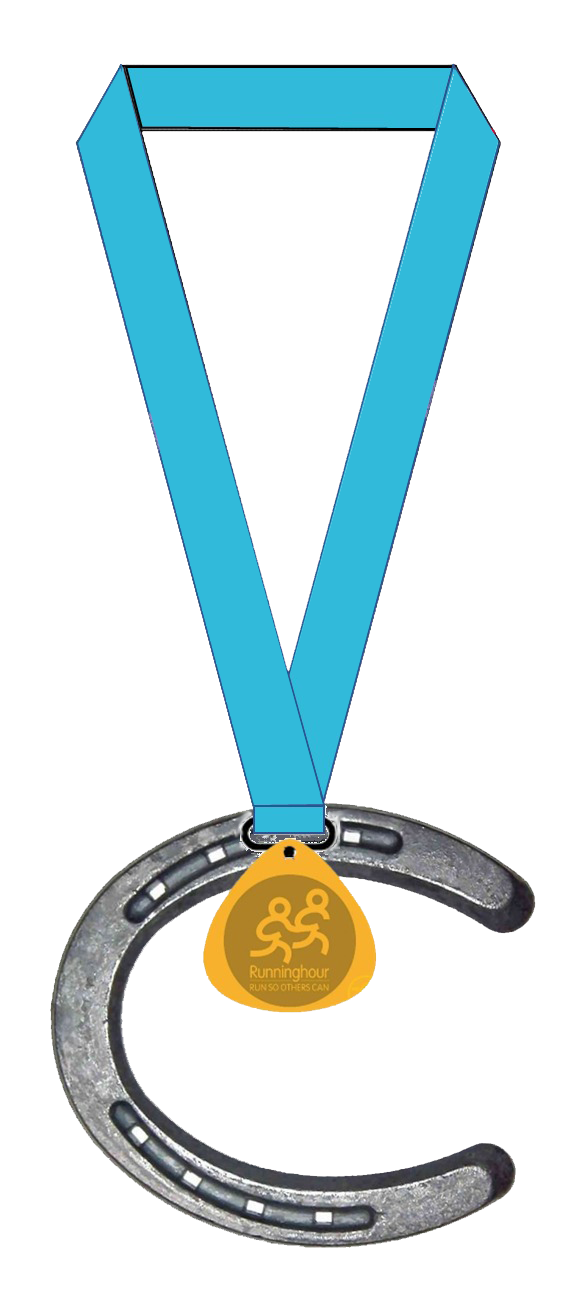 FAQs
FREQUENTLY ASKED QUESTIONS (FAQ)
The Run
1. When and where will "Run For Inclusion 2022" be held?
3 December 2022 Saturday, 4.30pm to 8pm, at Singapore Turf Club.
2. What time does the run start?
The flag-off of the first event is at 5pm. Refer to the Event Schedule for more details.
3. What entitlements will participants receive?
Medal, Event T-shirt, Drawstring bag, Sports Towel, etc.
4. What if I am unable to collect my race pack?
You may assign someone to collect your race pack on your behalf, but do download and complete the Authorisation Letter for the person who will be collecting on your behalf.
5. Is there a cut-off time for the running and cycling categories?
All events will stop by 8pm.
6. If I cannot attend the race even though I have registered for it, can my friend take over?
No, the race category is strictly non-transferable.
7. Can I skate or cycle during the run?
For the safety of all running participants, skating or cycling is prohibited during the run.
8. Can I bring my pet?
Pets are strictly not allowed, except for guide dogs.
9. Where can I leave my belongings?
The baggage deposit area will be open (timing to be advised). Participants are reminded not to bring any valuables along to the event. Organisers will not be responsible for lost items. Please deposit your baggage early to avoid any delay in your start time.
10. What if I am injured during the run or otherwise unable to finish the run?
Participants can approach any of our route marshals or medical personnel en route to seek assistance.
11. Are there any lane or road closures?
The run is inside the premise of Singapore Turf Club. It will not affect the public road to Singapore Turf Club.
12. What is the personalised route for below 3km run?
For participants who want to do shorter routes, the Event organiser will contact them personally to discuss further.
The Registration
1. What is the mode of registration and payment?
All registrations must be done online. For special corporate or group registration requests, please write in to raceinfo@runninghour.com.
2. When is the closing date for registration?
TBC.
3. How do I know if my registration is successful?
Upon successful payment and registration, participants will receive a confirmation slip via email. Please check your spam or junk inbox.
4. What if I do not receive any confirmation slip after my registration?
Please ensure upon successful submission, you will see the message that your registration has been successfully submitted and payment has been made. Please check your spam and junk inbox for emails. Otherwise, you may contact raceinfo@runninghour.com.
5. Can I get a refund if I have registered and am unable to participate?
No, all registration is non-refundable.
6. Can I amend my particulars after submitting my registration?
Yes, please email raceinfo@runninghour.com to inform us of the changes.
7. Can I request to change the event t-shirt size?
No, we seek your understanding that changing sizes will not be entertained via email request or on race pack collection day. Please refer to the size chart for measurements before ordering.
8. How do I register as a group?
Please email raceinfo@runninghour.com to inform of your interest to register as a group. However, please note that you need 20 participants or more for group registration.
Important Notes
1. Getting there
Please refer to the link here for directions to Singapore Turf Club
2. Before arriving at the venue
2.1. Registration
All participants of Run For Inclusion 2022 need to register for their preferred race
category.
2.2. Vaccination status
● To ensure the safety of all runners, all participants must be fully vaccinated prior to the
event.
2.3. Race-Pack Collection
● Race-packs will be available for collection on the 19th & 20th of November at the
Singapore SportsHub. More details on the location and collection time slots will be
posted online closer to the date.
● The race-pack will include your Race-Tag, which you will be required to bring during RFI 2022.
2.4. Integration Workshop
● Integration workshop will be held on the 19th & 20th of November at the Singapore
SportsHub. Participants who wish to learn more about Persons With Special Needs may
indicate your availability in the registration form. More details on the location and time
will be posted online closer to the date.
3. Upon arriving at the venue
3.1. Runners registration
● Participants will need to show their Race-Tag and Proof of Vaccination.
3.2. Bag Deposit
● Please proceed to the bag deposit counters if you would like to store your bags during
the run.
3.3. Cyclists
● Cyclists will be guided to the Marquee, where they can collect and test their bikes.
4. Event day
4.1. At the start line
● The flag off for the event will be a 'rolling start'.
● Participants will be released in waves of 100pax instead of the traditional mass start.
There will be a 15 minute time interval between each wave. Participants will be directed
by the race marshals to the start line from the holding pen.
4.2. During the run
● Directional signage and route marshals will be deployed at different parts of the
racecourse to provide support and directions. There will also be aid stations and a
medical team placed around the route for support. Should any participants require any
assistance during the run, he/she can approach any of the Event Team or volunteers
who will assist to provide support. Water points are also available along the route.
4.2.1. First responders
● Medical first-responders will be stationed across the event venue to attend to any
immediate medical situations. In the situation where the participant feels unwell
before, during, or after his/her run, he/she may locate the first-responders at the
medical tents or the first-responders who are dressed in attire that is marked with
a first-aid sign.
4.2.2. Locating a family member or friend receiving medical assistance
● If a participant is seeking information on a runner's whereabouts or on a runner
receiving medical attention, please proceed to the central information booth at
the event venue. The event staff will assist him/her.
4.2.3. Medical fees
● All medical services applied by the event's first-responders will be fully covered
by the event organiser. In situations where medical services from other service
providers are required, including but not limited to hospitals, any fees or charges
will be arranged directly between the participant and service provider.
4.3. Lost & found
● Lost and Found items will be located at the Event Information Booth. Participants may
report any items lost or found there. After the conclusion of the event, please contact the
race office to locate any missing items and schedule returns. All unclaimed items will be
disposed of 30 days after the event. Postage fees will apply for all returns.
5. Inclement Weather Plan
In the event of inclement weather (Heavy rain/ Lightning risk alert):
● The event will be first postponed by 1 hour, from the flag-off timing.
● Should weather conditions remain unfavourable 1 hour after the flag-off timing,
the event will be cancelled.
For questions regarding this event, please contact the organiser at: raceinfo@runninghour.com