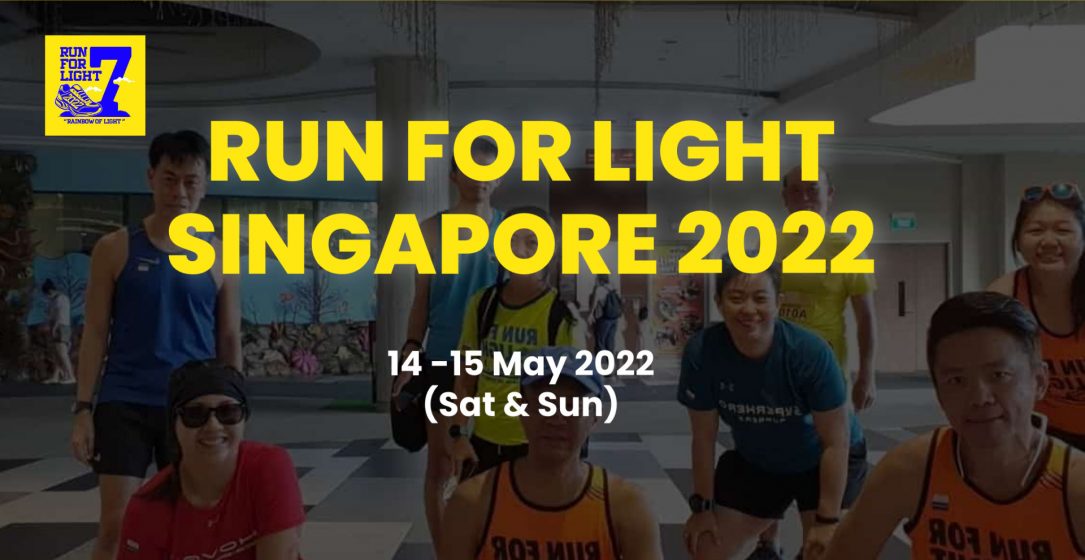 Register
Registration is no longer available. Thank you.
Event Info
General information
Event date:
14 May 2022, from: 05.00 pm
Location:
Punggol Waterway Park, Singapore
Categories:

Offline

Road Run

10 KM

5 KM

Registration has closed

Notes:

Final registration closing extended to 12 May 2022, or when all slots are filled, whichever comes first
Rainbow Of Light
Seven colours form a rainbow and this is the 7th edition of Run For Light. Befittingly, the theme for this year is Rainbow of Light which signifies HOPE emerging from a very challenging period the world has seen. The annual run event did not beat a hasty retreat when the pandemic struck but pressed on with virtual runs in the previous two editions. The 7th edition run will return with an on-site race scheduled on 14th May 2022, Saturday at Punggol Waterway Park and a virtual race from 14th to 15th May 2022, Saturday & Sunday.
Let the seven colours in the "Rainbow of Light" shine bright in the 7th edition of Run For Light. Live Well, Race Well & All Will be Well!
The Hybrid Run
RFL2022 will go the hybrid way which incorporates both on-site and virtual run at the same time. There are two race distances in 5KM and 10KM. The on-site run and hybrid run will kick off on 14 May, Saturday. Exception is virtual run which will be over 2-day duration and runners get to run anywhere & anytime within the stipulated timeframe. The official timekeeper is Sportsplits.
Given the current restriction, total 600 on-site runners get to compete in 5KM and 10KM category on a controlled flag-off basis. It is important to note that runners must be fully vaccinated before they are allowed in the zone on race day. For virtual race, the onus is on the runners to choose a safe route using the event tracker app.
There are 300 runners for 5KM fun run (non-competitive) and 300 runners for 10KM competitive run for the on-site race. Registration is based on first-come-first-served until all allotted slots are filled. For virtual run, there is no cap in participation number. However, there are podium prizes in the virtual run for 5KM and 10KM which incorporates with Qooline Run Challenge – Tiger Series June bi-monthly race.
Important Note: Runners must be fully vaccinated if they are doing the on-site race and proof of vaccination status must be presented to duty personnel on race day. They will be flagged off in waves and safe management measures (SMM) are to be strictly adhered to.
Event Schedule
Race Day Program @ Punggol Waterway Park, Lawn Area Near SAFRA
                     14 May 2022, Saturday – 1630 hrs to 2100 hrs
1630 hrs: Arrival of 10KM runners & ushered to the respective zones
1700 hrs: 10KM flag-off for every 5 runners at 1-min interval
1730 hrs: Arrival of 5KM runners & ushered to zone
1759 hrs: End of 10KM flag-off
1830 hrs: 5KM flag-off for every 5 runners at 1-min interval
1929 hrs: End of 5KM flag-off
2100 hrs: End of event
Note:
Flag-off window for 10KM runners is from 1700 hrs to 1800 hrs.
Flag-off window for 5KM runners is from 1830 hrs to 1930 hrs.
Holding area will have 6 zones and in each zone, there are 50 runners.
Runners will be ushered to the zones on a first-come-first-served basis.
Finisher medals will be given upon completion.
No mingling allowed after the race.
No locker service provided at race site.
How To Get There:
If you are taking MRT, head to Punggol Station and transfer to Sam Kee LRT Station
Bus number 39 & 82 if you are taking public bus.
If you are driving, please park at SAFRA Punggol and walk a short distance
Categories and Fees

Routes / Maps
5KM Route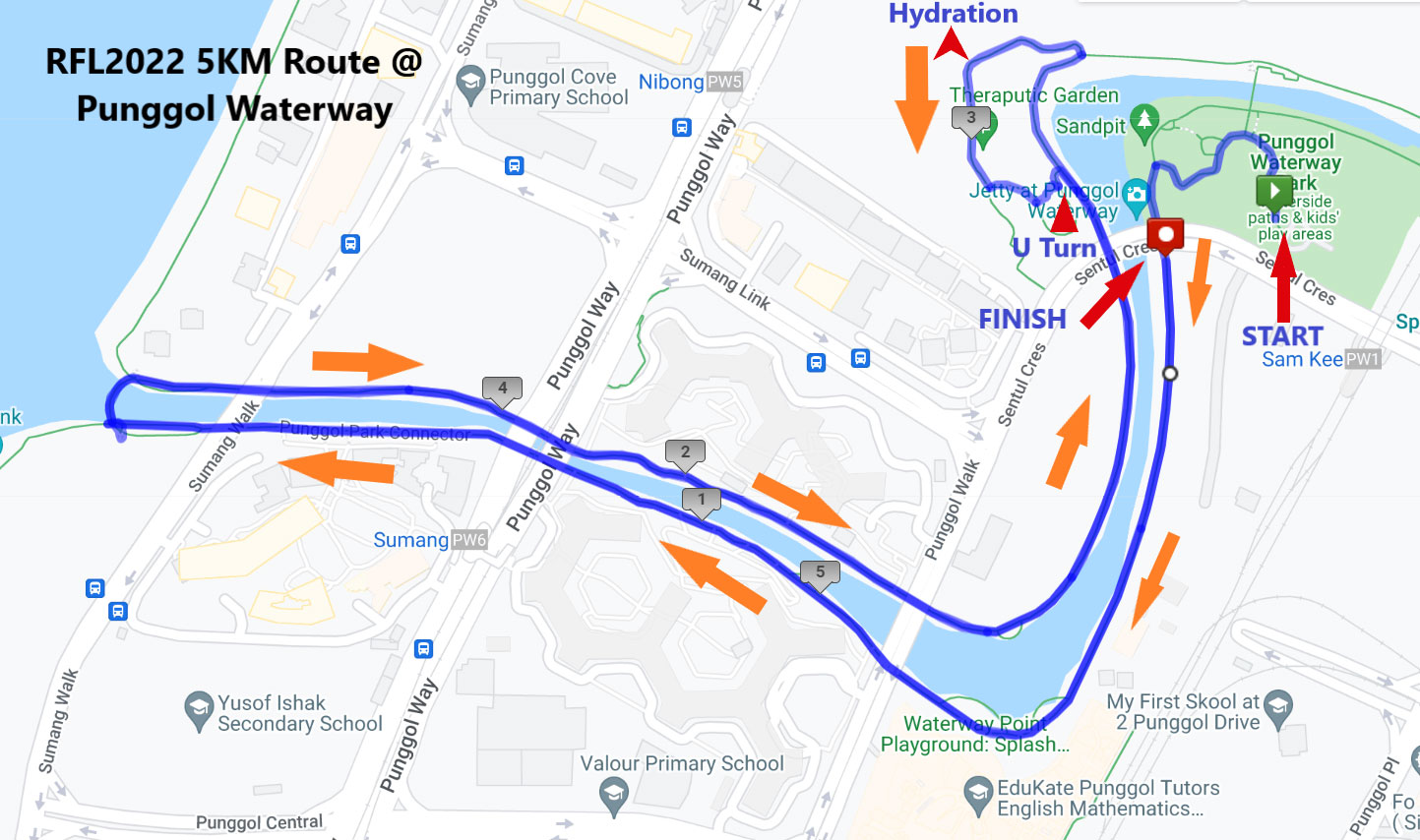 10KM Route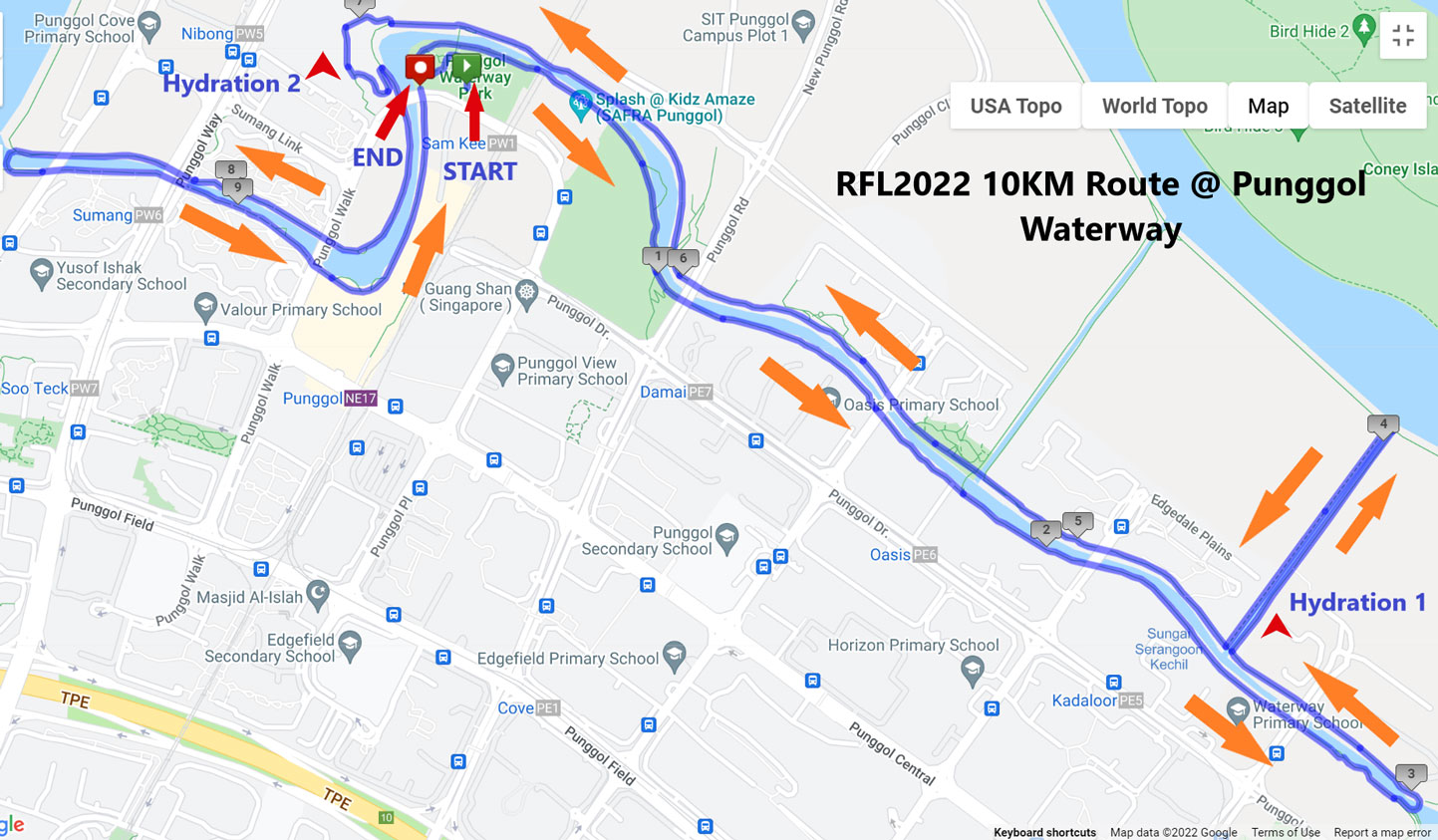 Prizes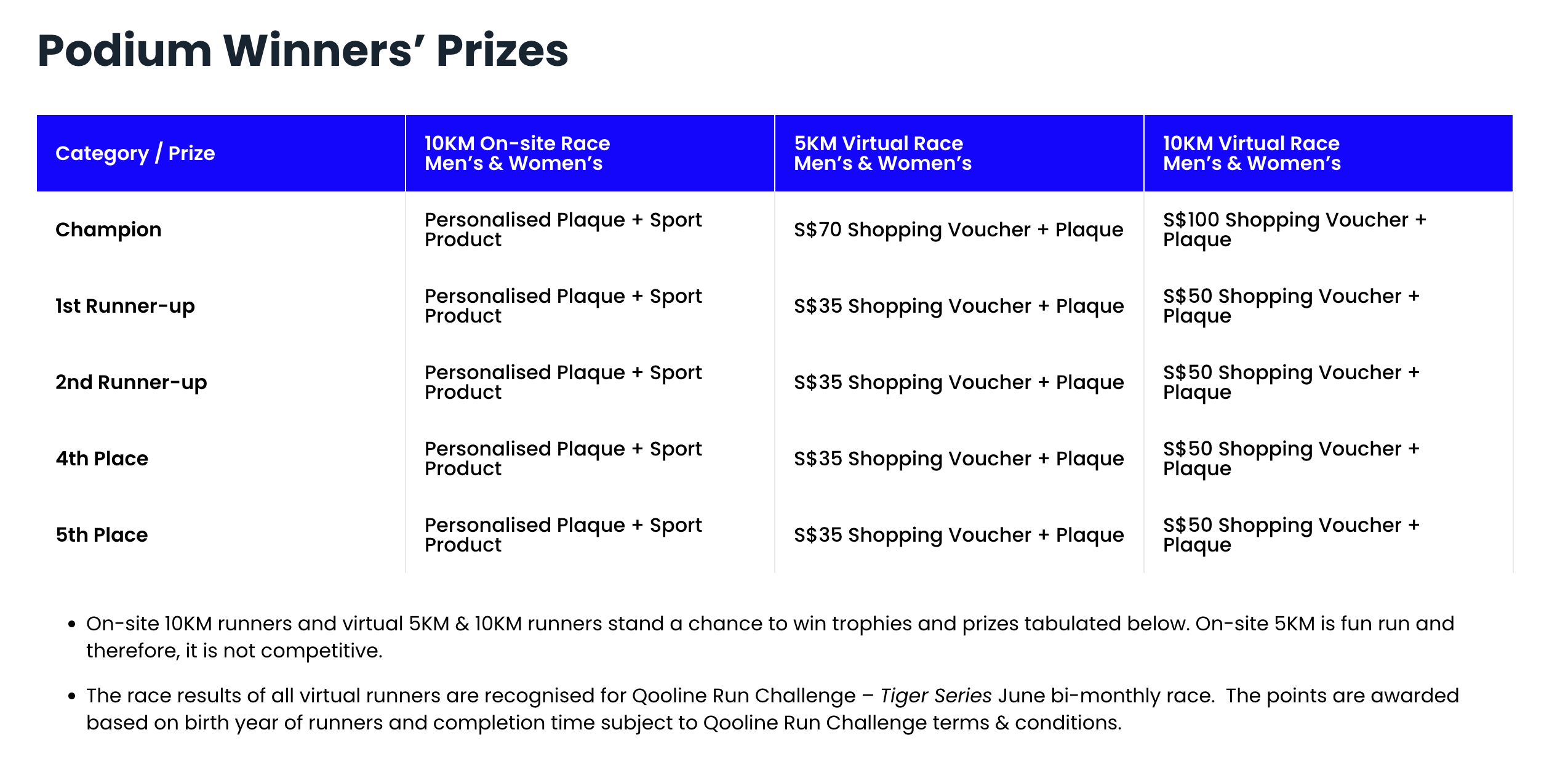 Race Pack Collection Info
On-site participants
On-site participants will receive race bibs and event tees via courier to the mailing addresses provided while race medals will be presented upon completion of the run on race day.
Virtual run participants
Virtual runners will receive race entitlements including race medals via courier to the addresses provided at time of sign up.
Entitlements
Runner's entitlements
Finisher Medal
e-Certificate
A special 7th edition event tee (for all on-site participants only)
A digital copy of Run Magazine
Event apparel
Special 7th edition event tee (for all on-site participants only)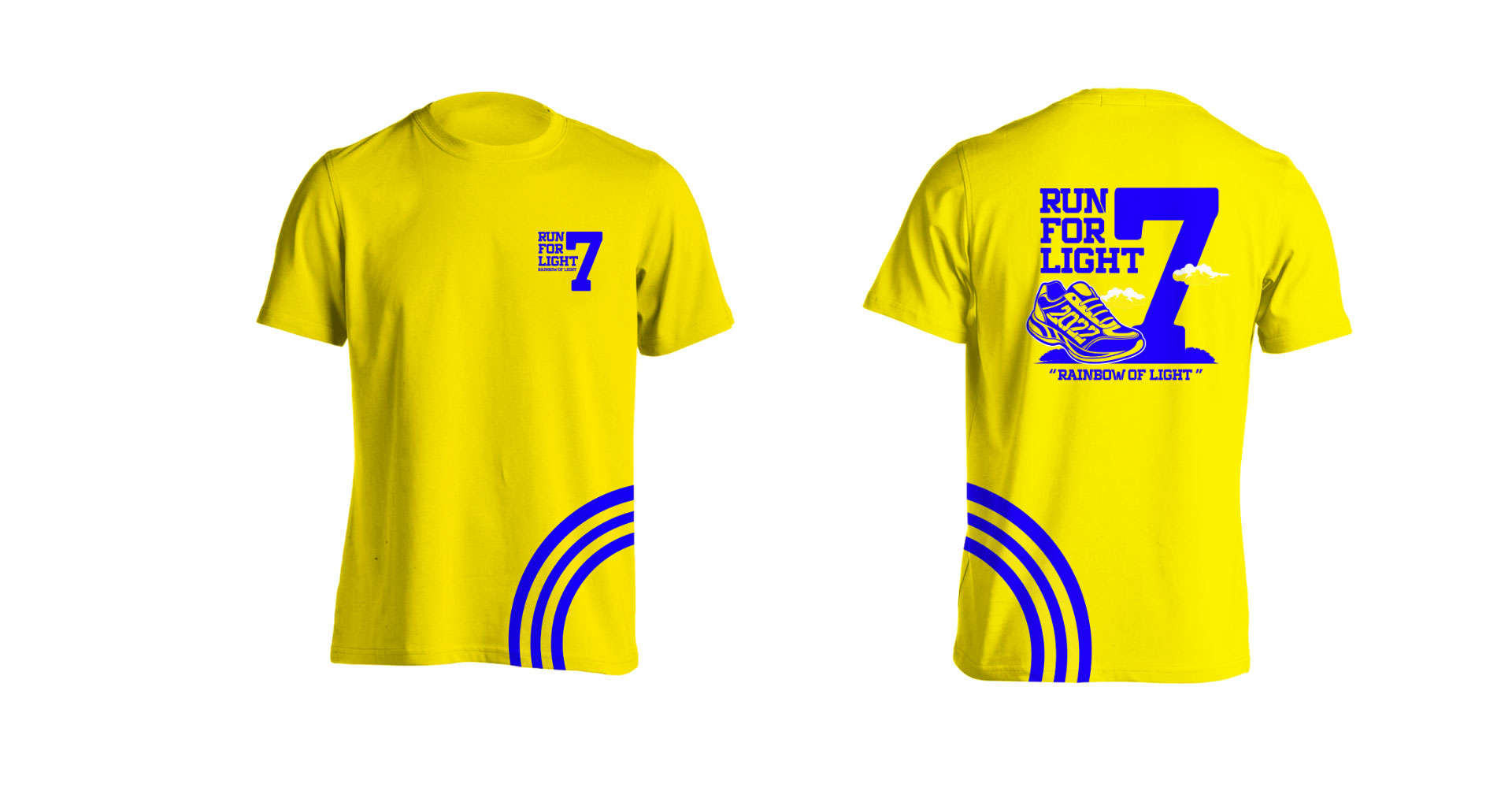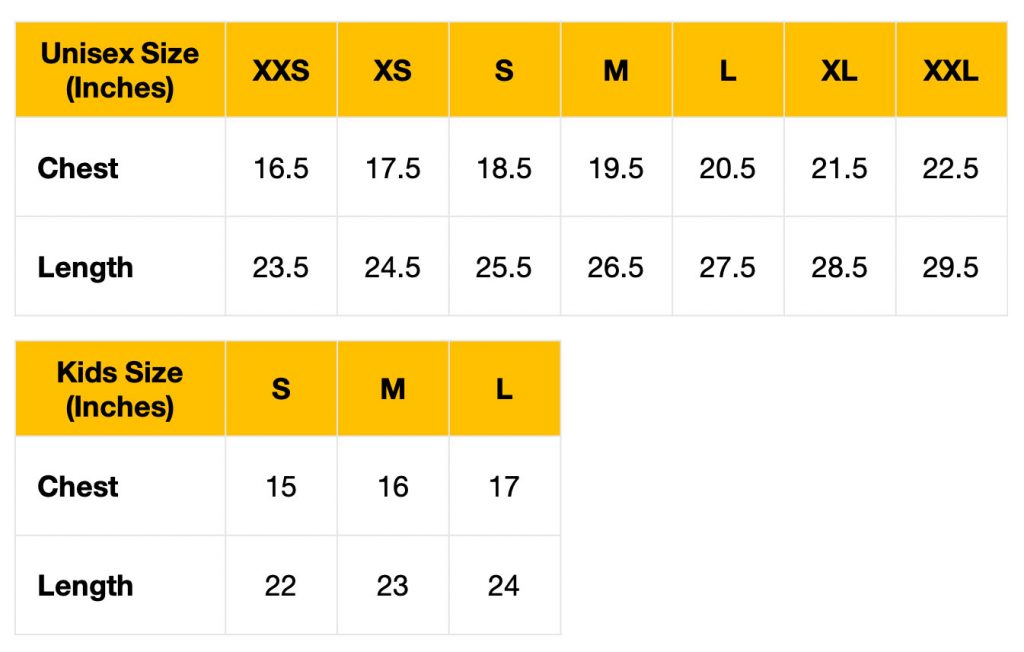 Finisher medals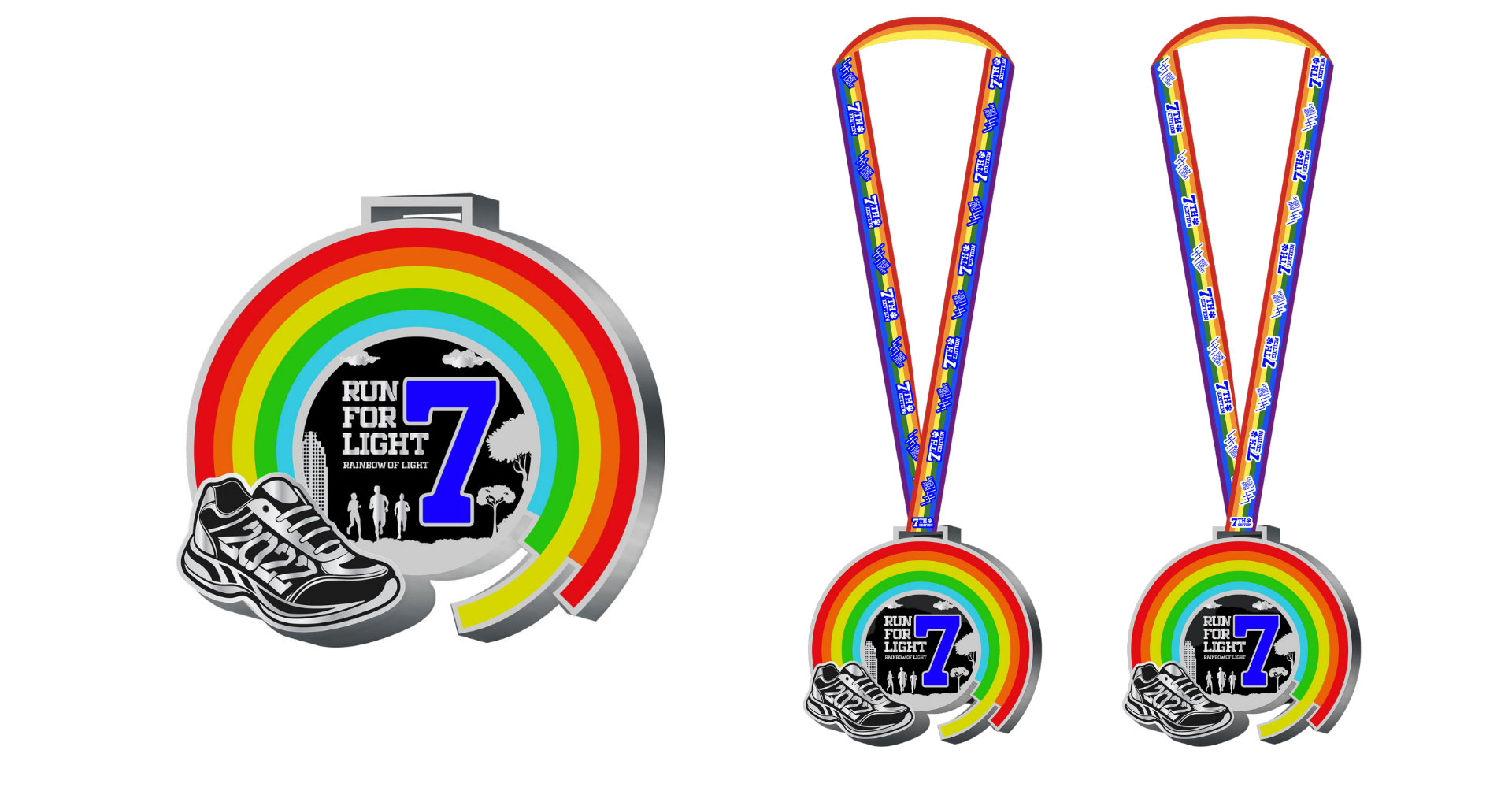 FAQs
1. What is the difference between on-site run and virtual run?
On-site run requires presence of runners on race day whereas virtual run only needs runners to choose their own run route and run at their own time. As the flag off is scheduled on 14 May, Saturday at 1700 hrs, all on-site and virtual run will commence at the same time. For virtual run, the duration to complete is over 2 days from 14 to 15 May powered by event official timekeeper tracker app.
Podium finishers for on-site 10KM run will be declared on race day and they will walk away with trophies and sport products. On-site 5KM fun run is non-competitive. For virtual runners, their results will be recognised for Qooline Run Challenge – Tiger Series June bi-monthly race (www.qoolinerun.com) which will be based on birth year of runner and completion time. Podium finishers for virtual run will walk away with trophies and shopping vouchers.
Sign up for virtual run does not include event tee which can be purchased at S$12 per tee.
2. Can I use my own GPS device for my virtual run?
Though it is a virtual run but it is still a competition race. All runners who have signed for either 5KM or 10KM virtual race must claim their profiles from our event timekeeper's tracker app, Sportsplits prior to commencement of their run. Only results captured on the tracker app is recognised. For the physical on-site run, the results are determined on race day.
3. Can I walk instead of run?
Yes, participants can choose to walk or run which is solely up to them. As mentioned, virtual runners have to download our event tracker app to start the walk or run.
4. How do I sign up for the race?
You can go to www.runforlight.com to sign up where relevant information to the vent proper will be provided for ease of your understanding. Any update will also be uploaded on the website.
5. When and how do I collect my race entitlement?
All race entitlements will be mailed to participants via door-to-door service and the fee is S$2.80 payable upon completion of sign up. Full mailing address has to be provided at the time of registration.
6. Must I be fully vaccinated before I can sign up?
If you have signed up for the physical race, you need to be fully vaccinated and proof of your vaccination status via TraceTogether app has to be shown at point of race entry. However, for virtual race, there is no need to provide vaccination status but you have to observe safe distancing from others during the run. We urge everyone to have their vaccination if they are medically fit to do so to keep everyone safe. No one is safe until everyone is safe.
For questions regarding this event, please contact the organiser at: info@ideas-room.com