Sembawang West CSN Biathlon Challenge 2023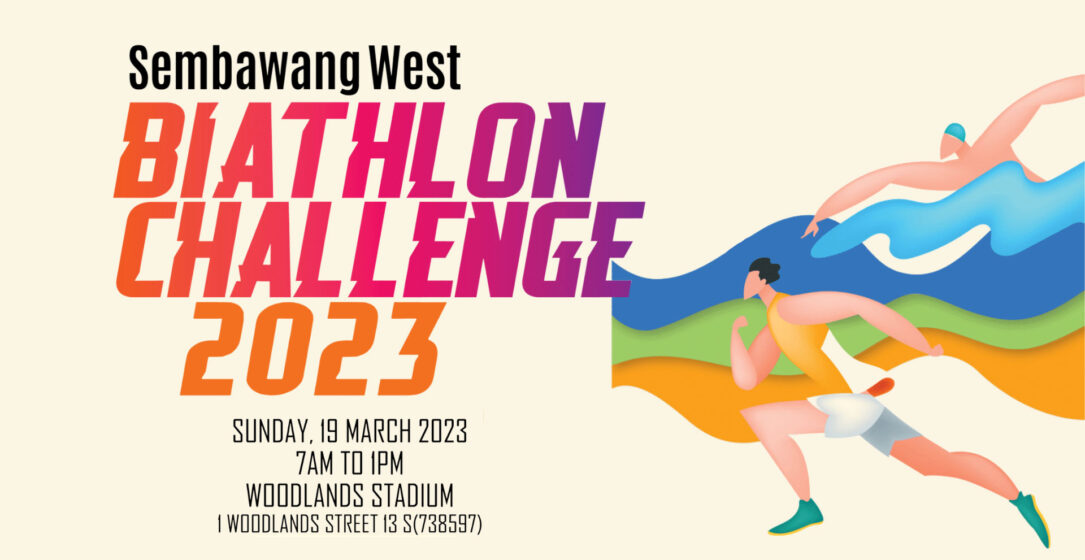 Register
Registration is no longer available. Thank you.
Event Info
General information
Event date:
19 Mar 2023, from: 07.00 am
Location:
Woodlands Stadium (1 Woodlands Street 13, Singapore 738597), Singapore
Categories:

Offline

Aquathlon

Swim 800m + Run 5,000m

Elite

Youth (below 20yo)

Open

Registration has closed

Notes:

Event will be closed for registration when slots are sold out.
Sembawang West CSN Biathlon Challenge 2023 is organised by Sembawang West Community Sports Network. This event would be held at Woodlands Stadium and Biathletes will need to complete a 800m swim in the swimming pool followed by a 5km run in the stadium. The top 3 finishers of each category will each receive a $100 voucher from the organiser.
Event Schedule
Reporting Time
Elite Category: 06.30am
Youth (below 20yo) Category: 07.30am
Open Category: 08.30am
Categories and Fees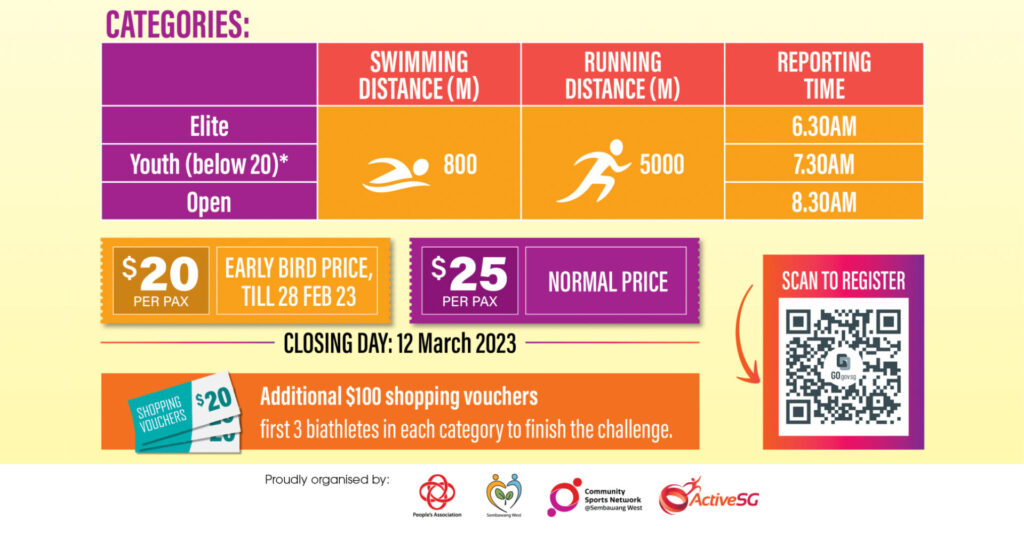 Race Pack Collection Info
Date: 19 March 2023
Time: 6.00am to 8.00am
Venue: Woodlands Stadium
Address: 1 Woodlands Street 13, Singapore 738597
Entitlements
Runner's entitlements
Finisher T-Shirt
Finisher Medal
Towel
Shoe Bag
Event apparel
Finisher T-Shirt
Design to be availed soon.
Sizechart

Finisher medals
Design to be availed soon.
Rules & Regulations
1. General
1.1 Sembawang West Community Sports Network ("the Organiser"), reserve the right to use any photographs, motion pictures, recording, or any other record of this race and its participants for any legitimate purpose(s).
1.2 Biathletes are required to report punctually at the stadium for registration. Any late comers would not be entertained.
1.3 The organisers reserve the right to cancel or postpone the event without prior notification.
1.4 Once the registration has been processed, there will be no refunds of the registration fee.
1.5 In the event of any dispute arising over any participant, the organiser shall be the final authority in adjudicating the dispute upon receipt of the protest.
1.6 Upon completion of registration, payment of completed races, the biathlete is assumed to have read the Rules and Regulations of Sembawang West Community Sports Club. Failure to observe the Rules and Regulations will result in their disqualification.
1.7 The organisers reserve the right to amend the rules and regulations without prior notification.
2. Registration and Payment
2.1 Race registration will only be completed when full payment is made. Biathletes below 18 years old as of the date of event would to seek parental consent.
2.2 Registration closing date is on Sunday, 12 March 2023, 23:59 or earlier if the maximum number of pax is reached.
3. Attire
3.1. Swim goggles may be worn.
3.2 Fins, paddles, pool buoys, snorkels or any other swimming aids are NOT allowed.
4. Race
4.1 The organisers will not be liable, in any way, for any death, disability, personal injury, loss of property or any other loss arising from any cause at any time during the biathlon.
4.2 Biathletes are to store their belongings at the designated area. The organisers will not be held responsible for any loss of personal items during the event.
4.3 Race pack collection is held on Sunday, 19 March 2023 from 6am to 8am at Woodlands Stadium. Address: 1 Woodlands Street 13, Singapore 738597.
4.4 Biathletes are to collect their finisher pack at Woodlands Stadium Gate one after finishing the race.
5. Prize
5.1 Top three biathletes of each category who complete the race who received an additional $100 vouchers on the event day.
6. Safety
6.1 Should any biathletes feel unwell at any point of the race, he/she should stop and seek immediate medical attention.
6.2 Ensure that you are well-rested and well-hydrated prior to the race.
6.3 When in doubt, please consult a doctor before participating.
6.4 To minimise injuries, always do at least 15 minutes of warm-up/stretching before the start and at the end of your training.
For questions regarding this event, please contact the organiser at: pa.sembawangwestcsc@gmail.com