Sesame Street Run Singapore 2019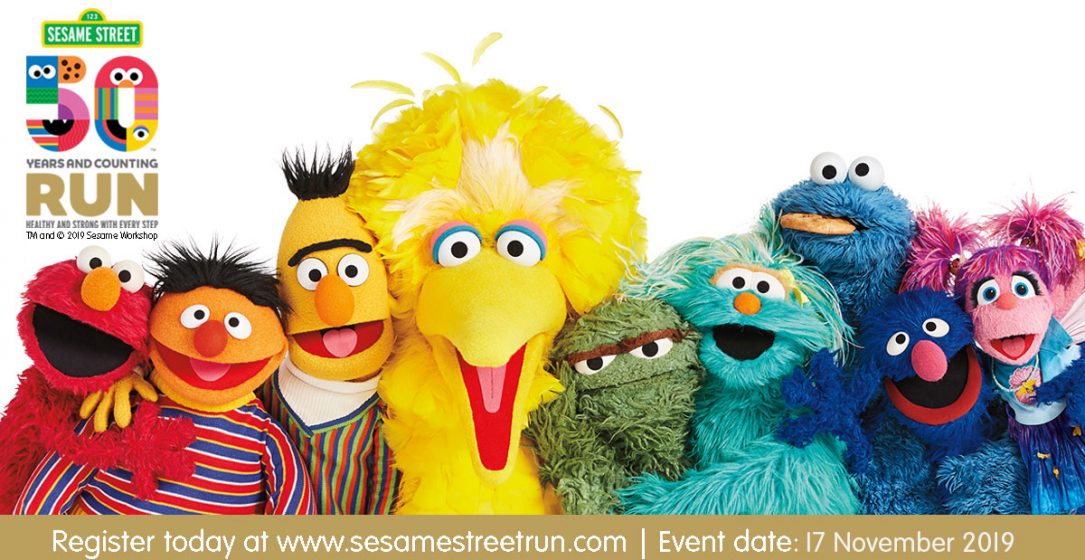 Register
Registration is no longer available. Thank you.
Event Info
General information
Event date:
17 Nov 2019, from: 07.00 am
Location:
Our Tampines Hub, Singapore
Categories:

Offline

Fun Run

5 KM

Registration has closed

Notes:

Participants who register after 5 November will not be issued customised bibs.
Please note: This event is brought to you by the organiser: Heroes Pte Ltd.
For any questions or concerns regarding this event, please contact the event organiser, Heroes Pte Ltd (2CONNECTT@TS, 2 Pereira Road #06-01 (S)368024) via email hello@sesamestreetrun.com or event@heroes.com.sg or via http://heroes.com.sg/contact-us/ 
JustRunLah! is the registration portal and digital partner of this event.
JustRunLah! is not involved in the organisation of the event, staff management, logistics, entitlements distribution or in any other way.
Event Brought To You By: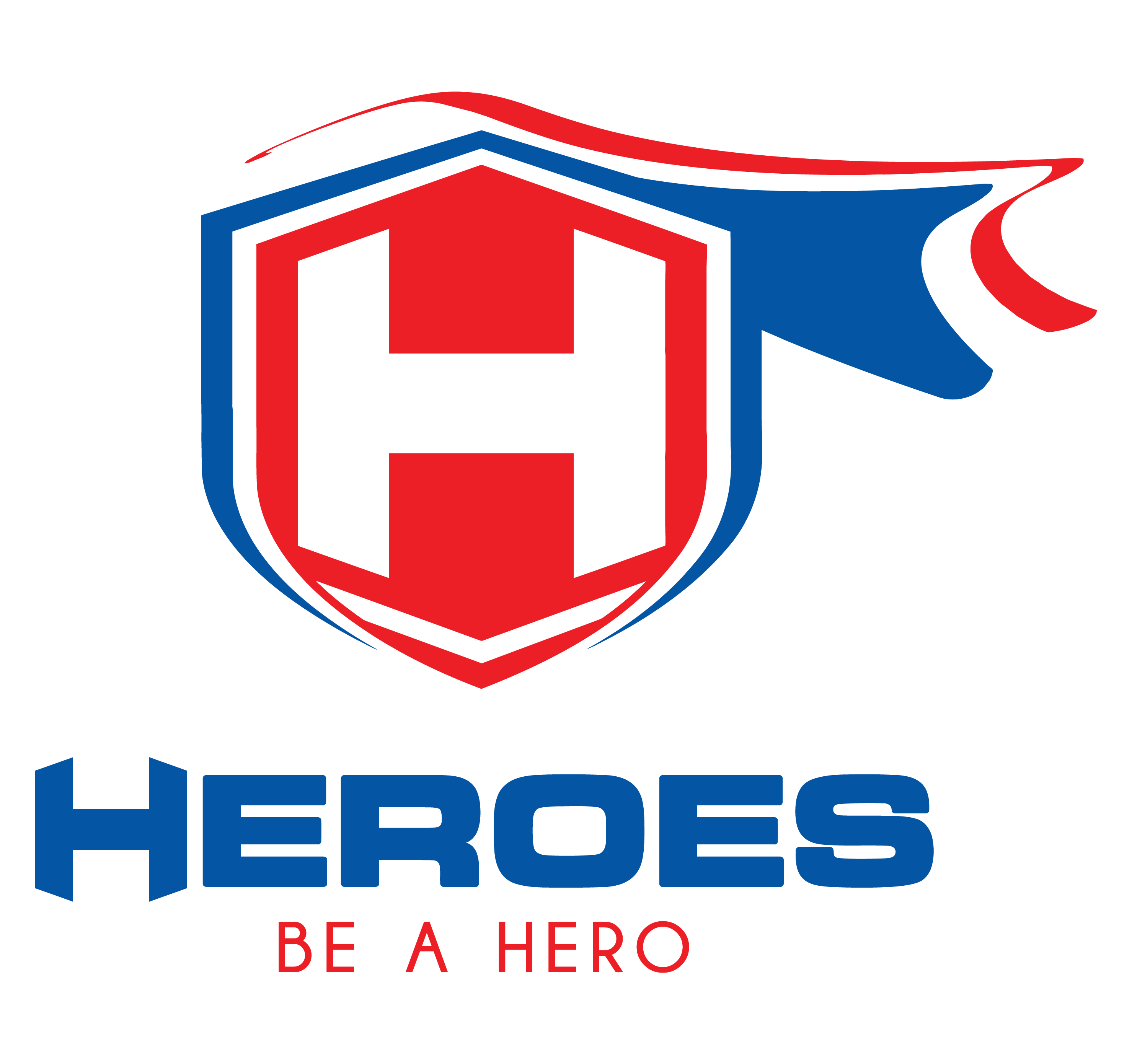 Heroes Pvt Ltd
2CONNECTT@TS,
2 Pereira Road #06-01 (S)368024
---
With enthusiasm, we are excited to announce that Heroes has partnered with Sesame Workshop to launch the very first Sesame Street Run Tour starting this August 2019.
This is not just any run, but a run to celebrate 50 years of Sesame Street and Counting! This five-kilometre family fun run caters to all ages, from first timers to seasoned athletes. Join Big Bird, Elmo, and the gang as they kick start the tour in the Philippines. Then the fun continues as the Sesame Street Run travels to Thailand, Malaysia, Indonesia, and Singapore.
Don't miss the Sesame Street Giant Birthday cake Blowout before the flag off, special countdown by Count Von Count and get showered with Abby's Magic Dust before running into a fun-filled 5KM Sesame Street.
Join the celebration after the Sesame Street Run! Dance, play and learn with your family and friends at our interactive booths featuring your favourite characters like Elmo and Cookie Monster & more!
Event Brought To You By: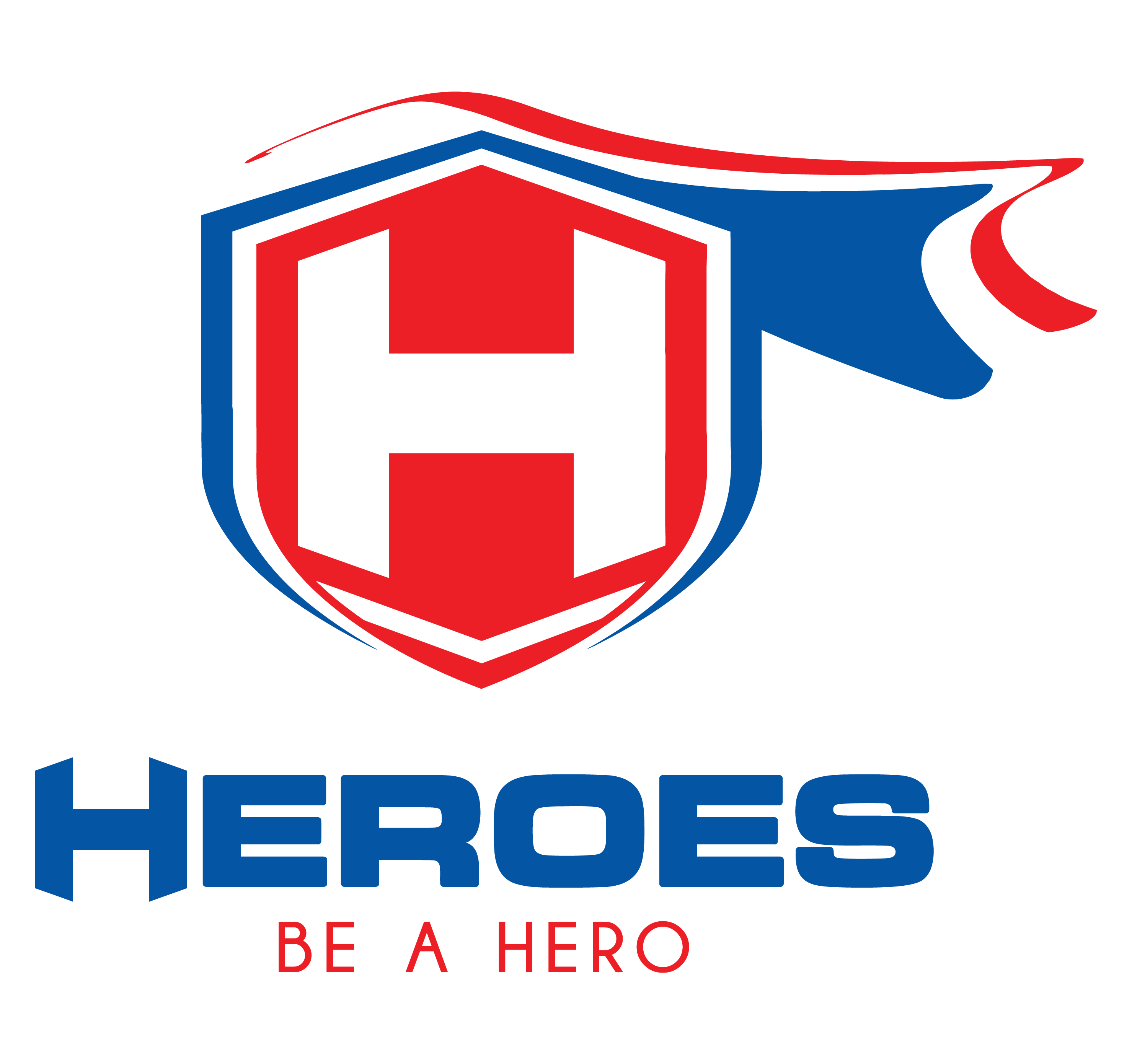 Heroes Pvt Ltd
2CONNECTT@TS,
2 Pereira Road #06-01 (S)368024
Event Schedule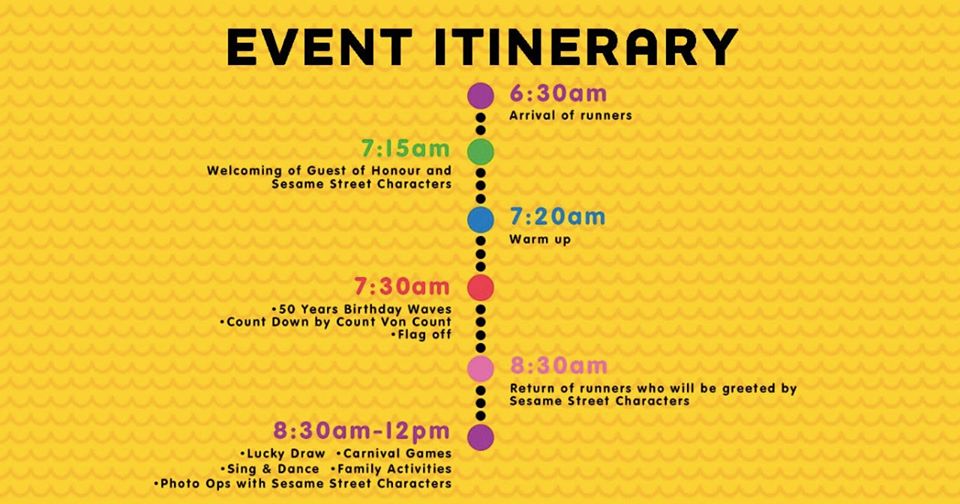 Categories and Fees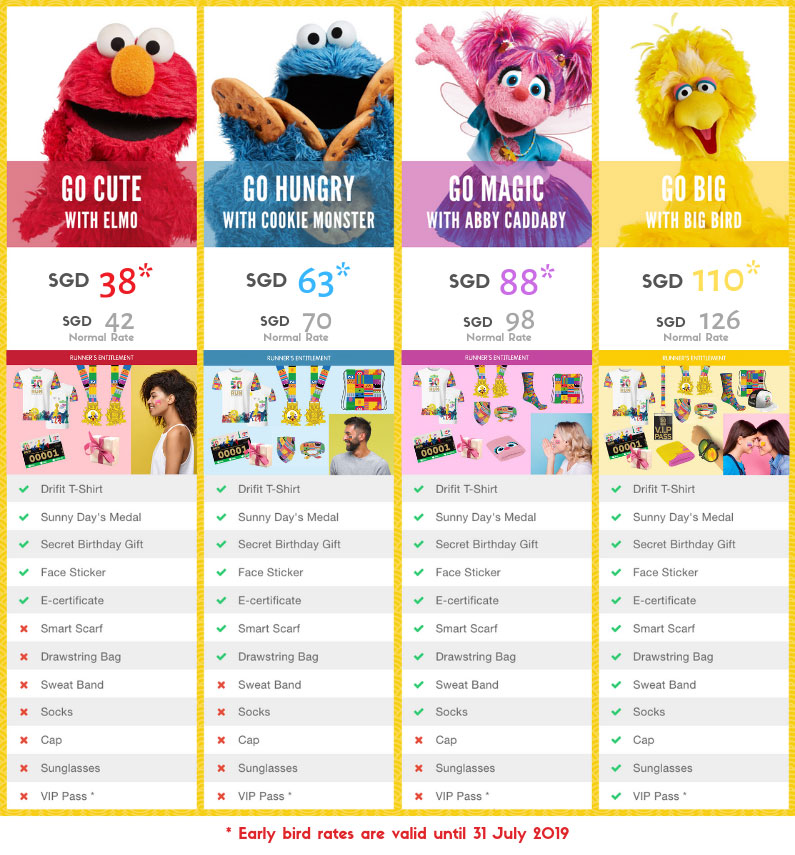 Routes / Maps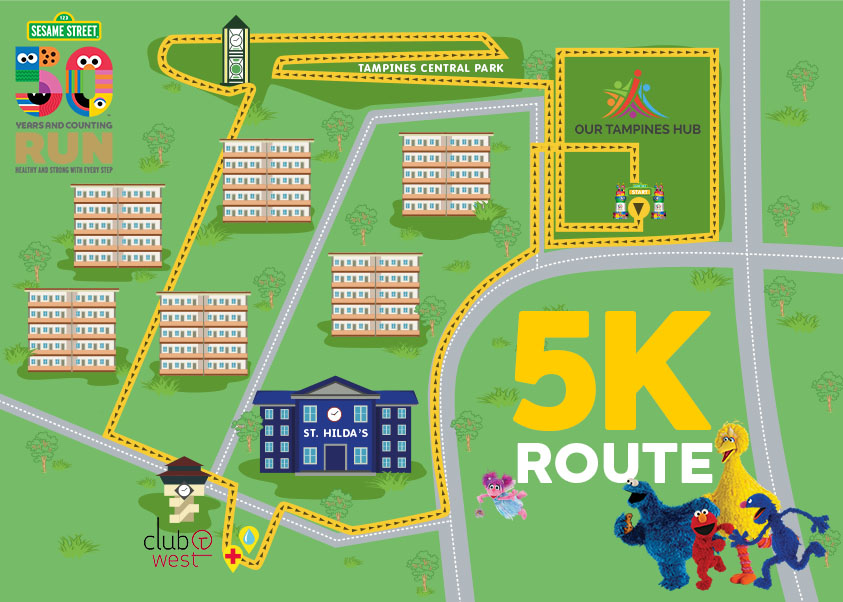 For participants who are experiencing difficulty to complete the 5km course on event day, there will be an alternative course available as below: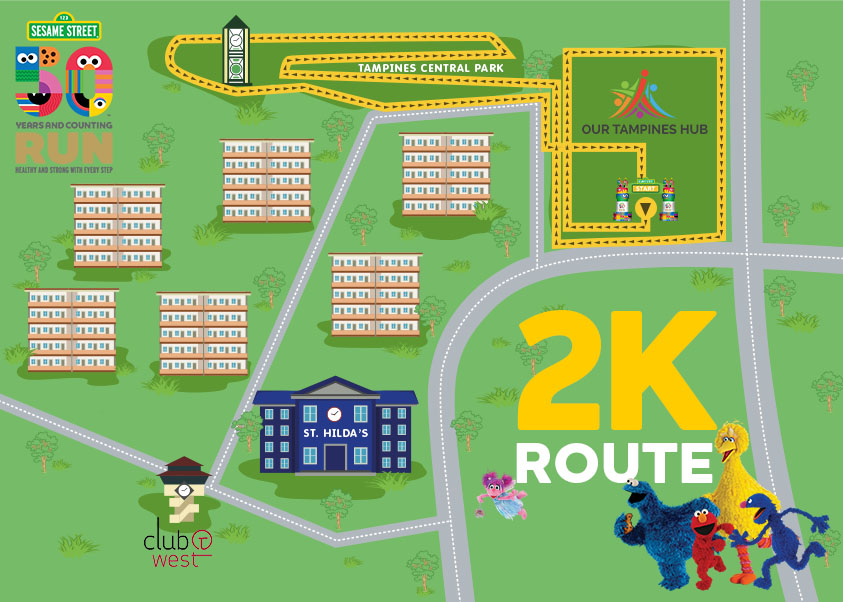 Race Pack Collection Info
*** TAKE NOTE OF THE NEW DATES FOR REPC ***
Date and times:
– 15th Nov (12pm-9pm)
– 16th Nov (10am-8pm)

Venue: Central Plaza, Our Tampines Hub
* For participants who are unable to collect your race packs in person, you may authorise another person to collect on your behalf by completing and bringing along the following documents:
1. Authorisation Letter signed by you (Click here to download Authorisation Letter)
2. Copy of email confirmation showing Reg ID

The Organisers reserve the rights to refuse any collection of race pack if the appropriate documents are not provided.
Entitlements
Runner's entitlements
Race Apparel
Finisher Medal
Limited edition 50 years wristband (Register during Early Bird Period)
Secret Birthday Gift
Face Sticker
E-certificate
Smart Scarf
Drawstring Bag
Sweat Band
Socks
Cap
Sunglasses
Bib
Free access to carnival area
VIP Pass*
Event apparel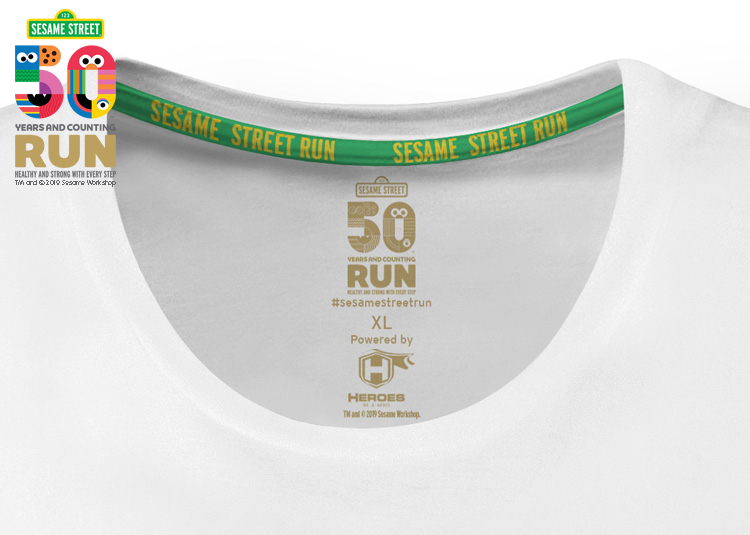 Size Chart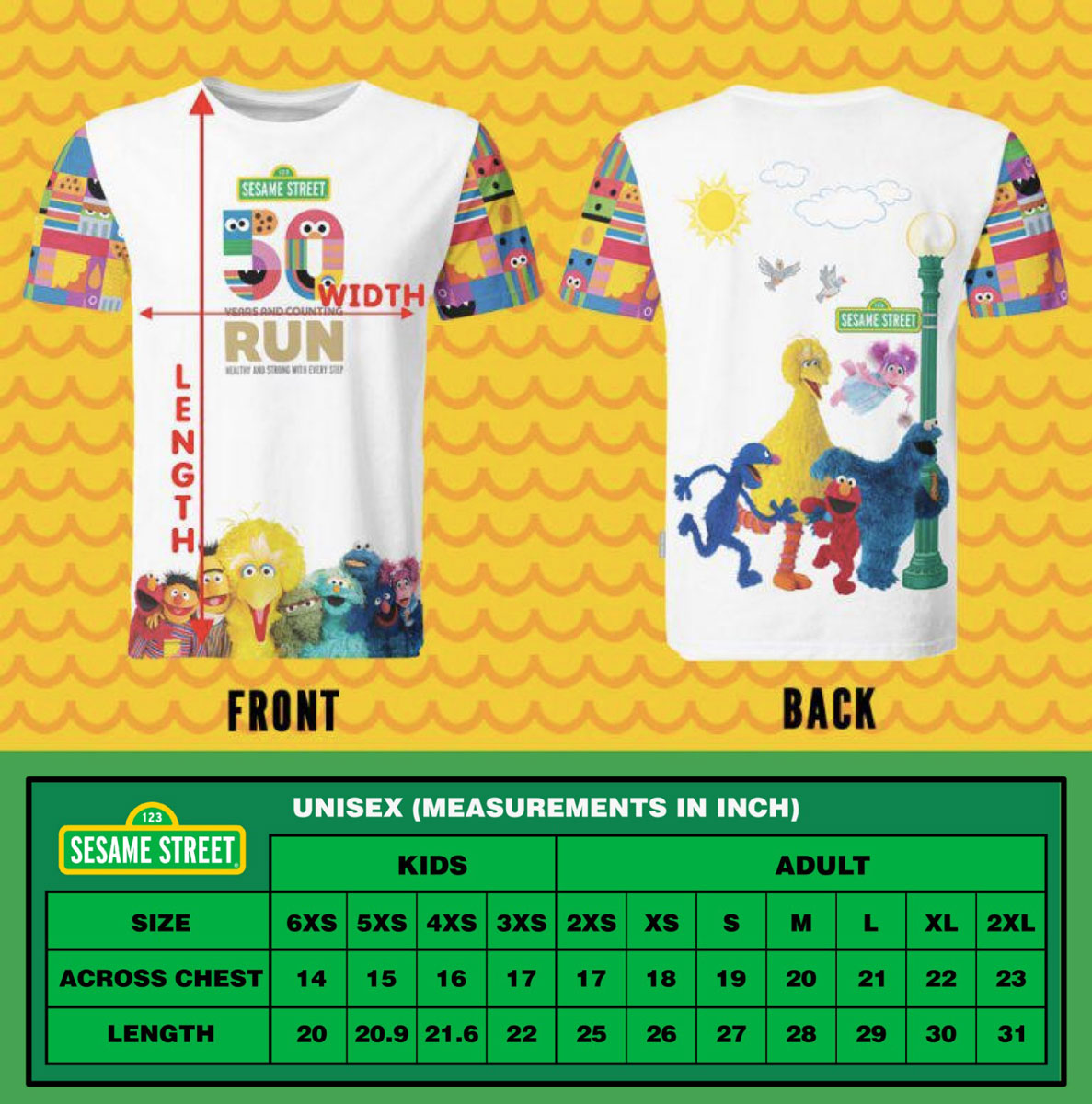 Finisher medals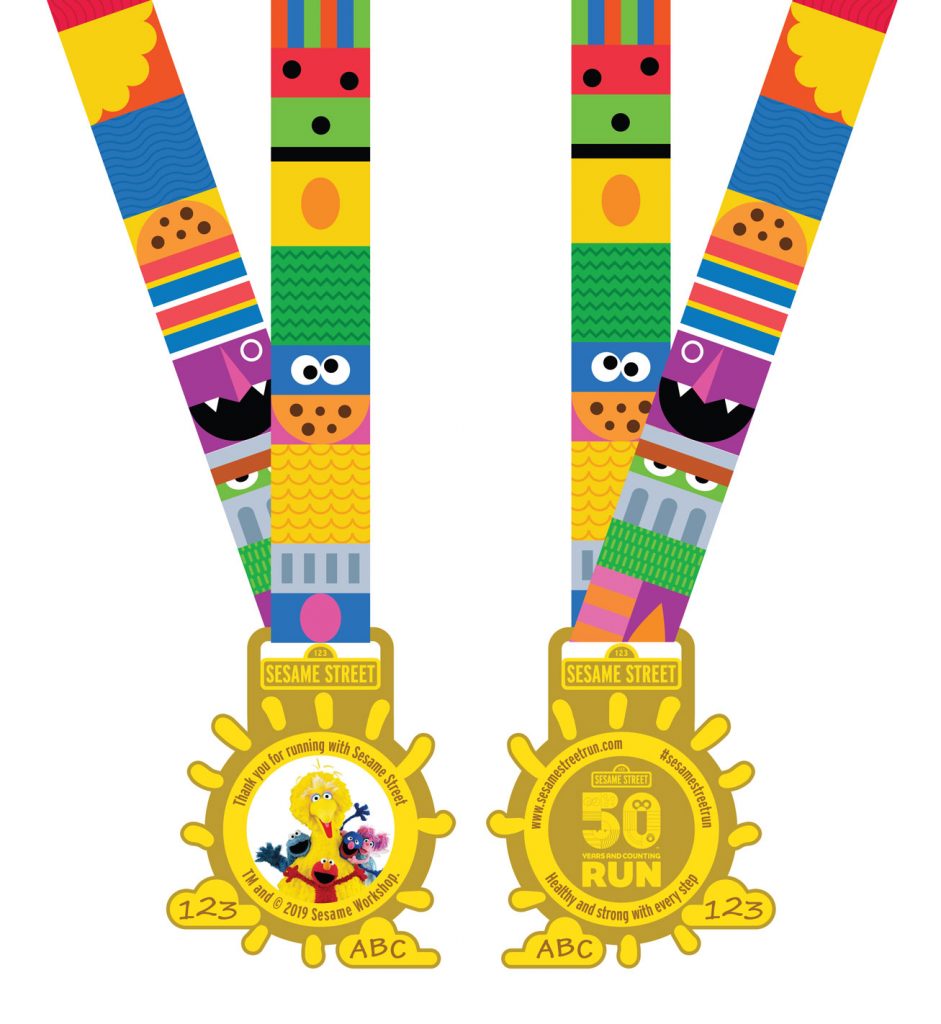 Other entitlements
Limited edition 50 years wristband
** If you register during the Early Bird Period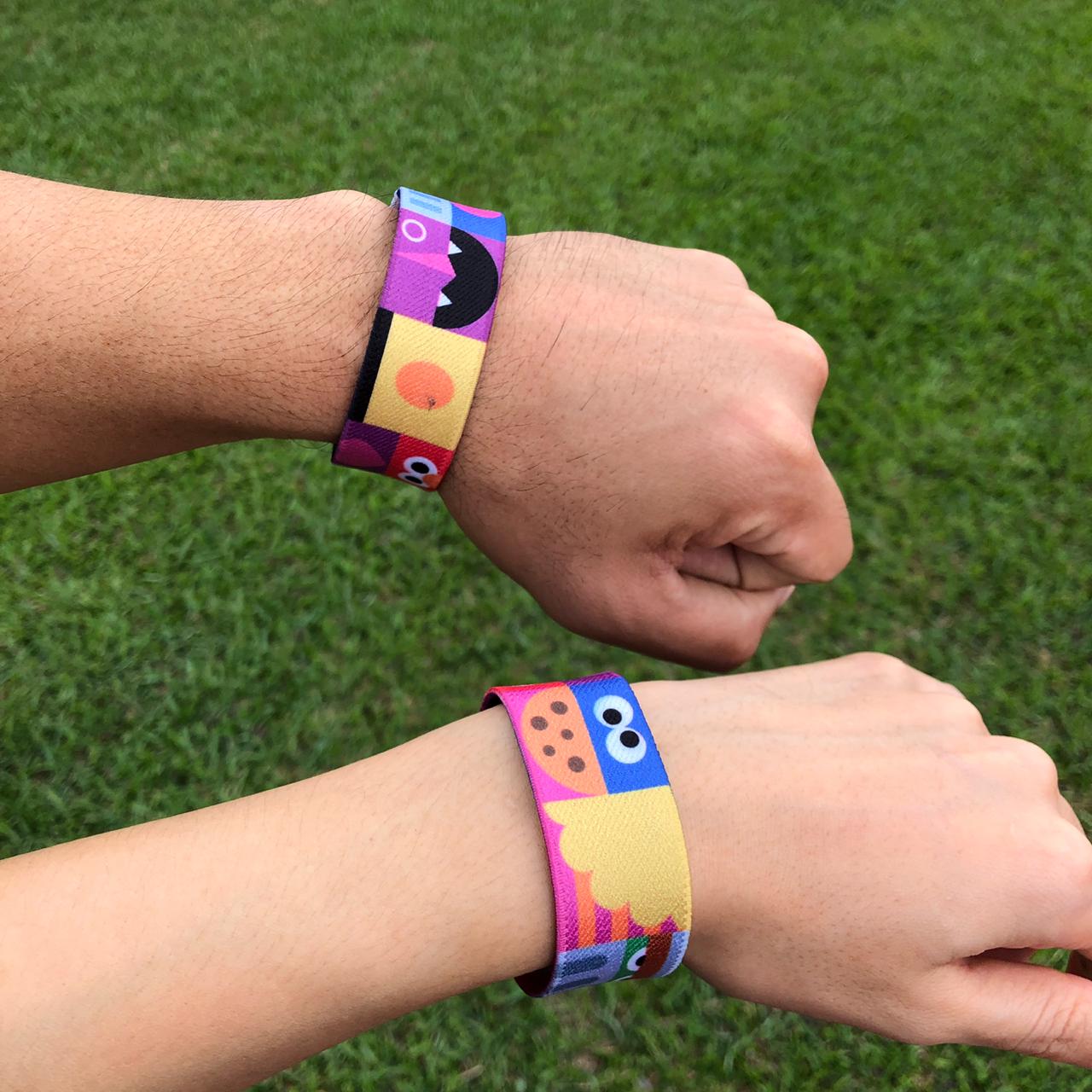 Face Sticker
Smart Scarf
Drawstring Bag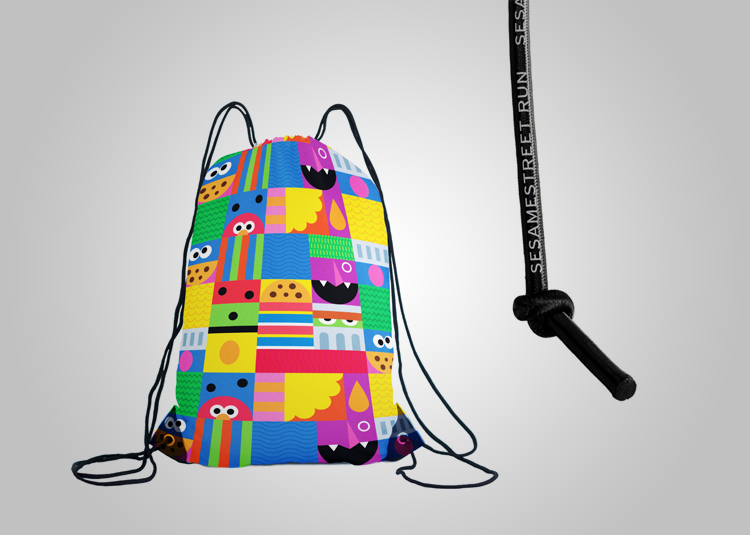 Sweat Band
Socks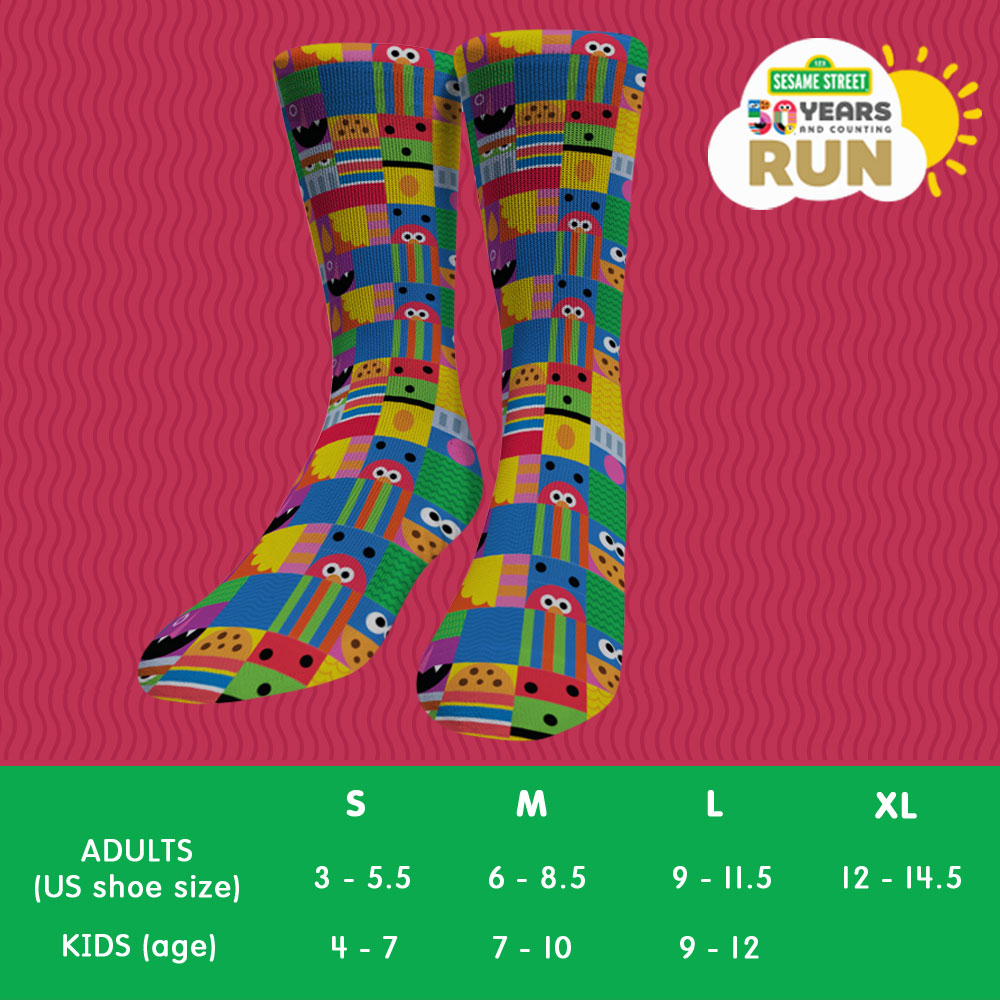 Cap
Sunglasses
Bib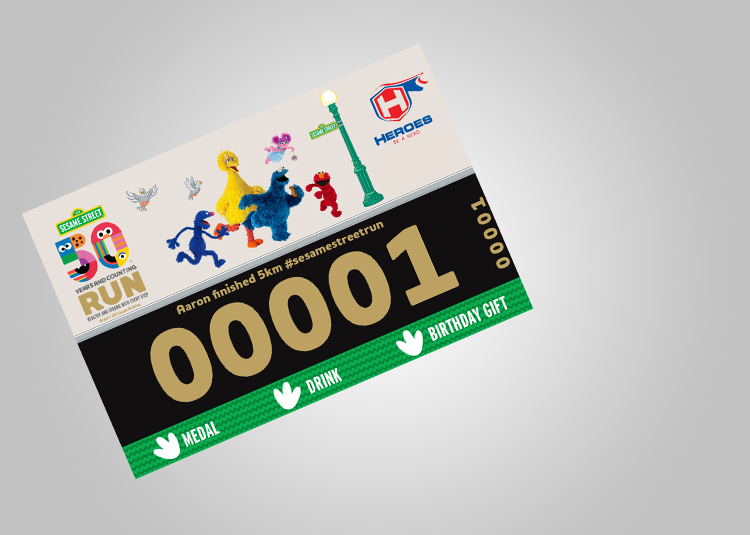 VIP Pass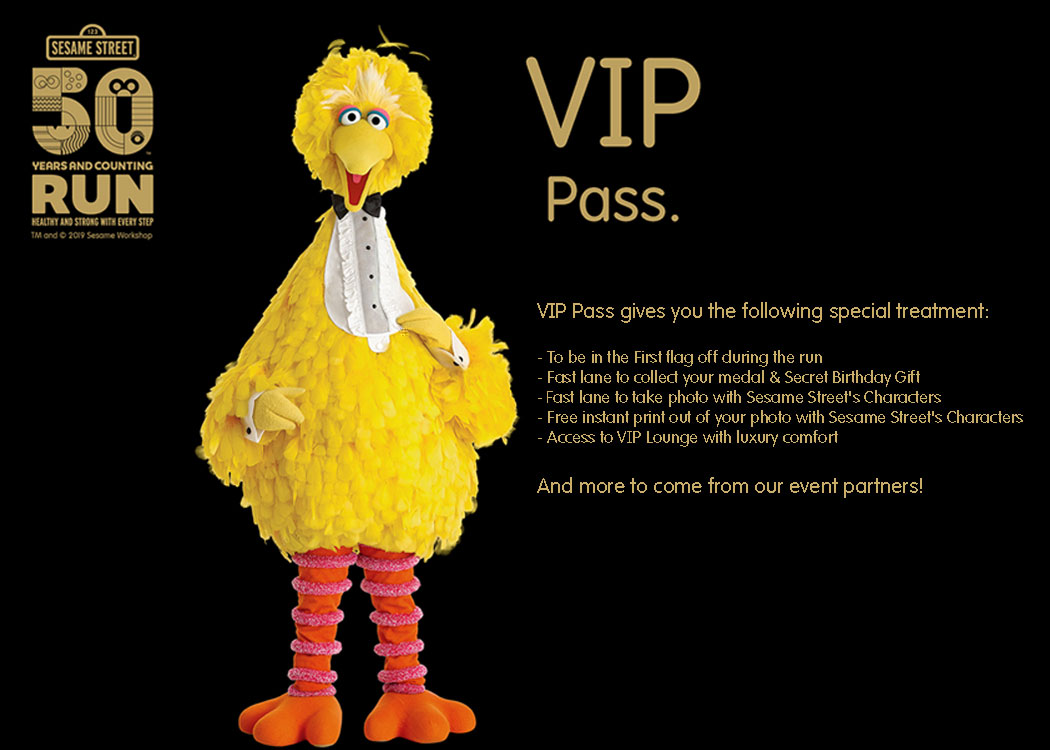 For questions regarding this event, please contact the organiser at: event@heroes.com.sg