TRI 2019: Climb, Swim, Run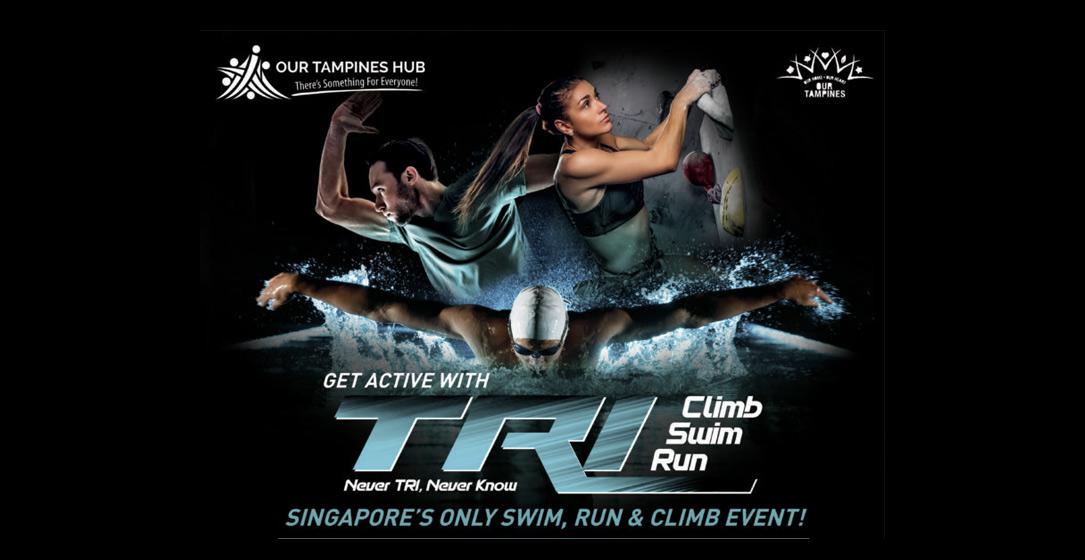 Register
Registration is no longer available. Thank you.
Event Info
General information
Event date:
4 Aug 2019, from: 12:00 pm
Location:
Our Tampines Hub, Singapore
Categories:

Offline

Road Run

Multi-sport

Climb

Swim

Registration has closed

Things to bring
1) Receipt or Confirmation Slip
2) Small Backpack (To keep your towels and/or swimwear)
3) Big Towel (To dry yourself up after the swim)
4) Goggles (Optional)
5) Swim Cap (Optional)
6) Running Shoes (To be placed at the end of your swimming endpoint)
7) Water Bottle
8) Swimming Costume / Trunks
Bag Deposit Area (Free) or Pool Lockers (Charges apply)
You can deposit your belongings at our Bag Deposit Area or use the pool lockers however additional charges applies.
Frequently Asked Questions (FAQ)
Qn: Can I still participate if I can't swim?
Ans: Yes! For non-swimmers, you can skip the swim segment. Unfortunately however you won't get the finisher medal.
Qn: What's the minimum age required? 
Ans: For individuals category, they must be at least 13 years of age from the date of event. For doubles category, minimum is 7 years old for the first participant, while the other must be 13 years old & above.
Qn: Can I climb in the gym / swim / run after the session?
Ans: After 4pm, all race participants can stay on to climb for $10. Gym rules still apply. However the pool will not allow re-retry. Jogging track is open for public at all times!
Qn: Can I get the medal & t-shirt if I miss the race?
Ans: No, finisher medal and tees are only for participants who has successfully completed the race.
Qn: Can I make payment over the counter?
Ans: We prefer online payment which can be done with VISA/MASTER. However you can make payment over the counter before registration closes on 31st July.
Qn: What if I am sick on event day? Can I get a refund?
Ans: Unfortunately we will not be able to provide a refund. Stay healthy and we hope to see you!
Qn: Is there a transition area for me to change to?
Ans: Yes there will be a designated area to place your Towel, shoes & water bottle before you start your swim. However do note that you will need to collect all your items when leaving the pool for your run. All other belongings are to be kept in the lockers provided in the pool. Additional charges for the lockers apply.
Qn: Do I have to climb the lanes consecutively? What if I am tired?
Ans: You can climb at your own pace, meaning you can take rest in between your climbs. However you will need to climb before your wave's cut off time.
Qn: How hard are the Climbs? I've never climbed before!
Ans: Don't worry! The climbing walls will mostly be beginner friendly. However! If you are up for a challenge, let our Wall Race Officials know, and we will be glad to show you to our challenging lanes! You got to TRI!
Qn: Can my family members enter the pool to support and cheer me on?
Ans: Yes! However regular pool entry fees will apply.
Event Schedule
From 12:00pm to 4:00pm
Categories and Fees
Early Bird Discount: TRI Race - Individual Sprint (S$ 28)
Early Bird Discount: TRI Race - Doubles Sprint (S$ 40)
Early Bird Discount: TRI Race - Individual Extended (S$ 38)
Tampines Resident Discount: TRI Race - Individual Sprint (S$ 28)
Tampines Resident Discount: TRI Race - Doubles Sprint (S$ 40)
Tampines Resident Discount: TRI Race - Individual Extended(S$ 38)
Entitlements
Runner's entitlements
Finisher T-Shirt
Finisher Medal
Goodie bag
For questions regarding this event, please contact the organiser at: support@justrunlah.com