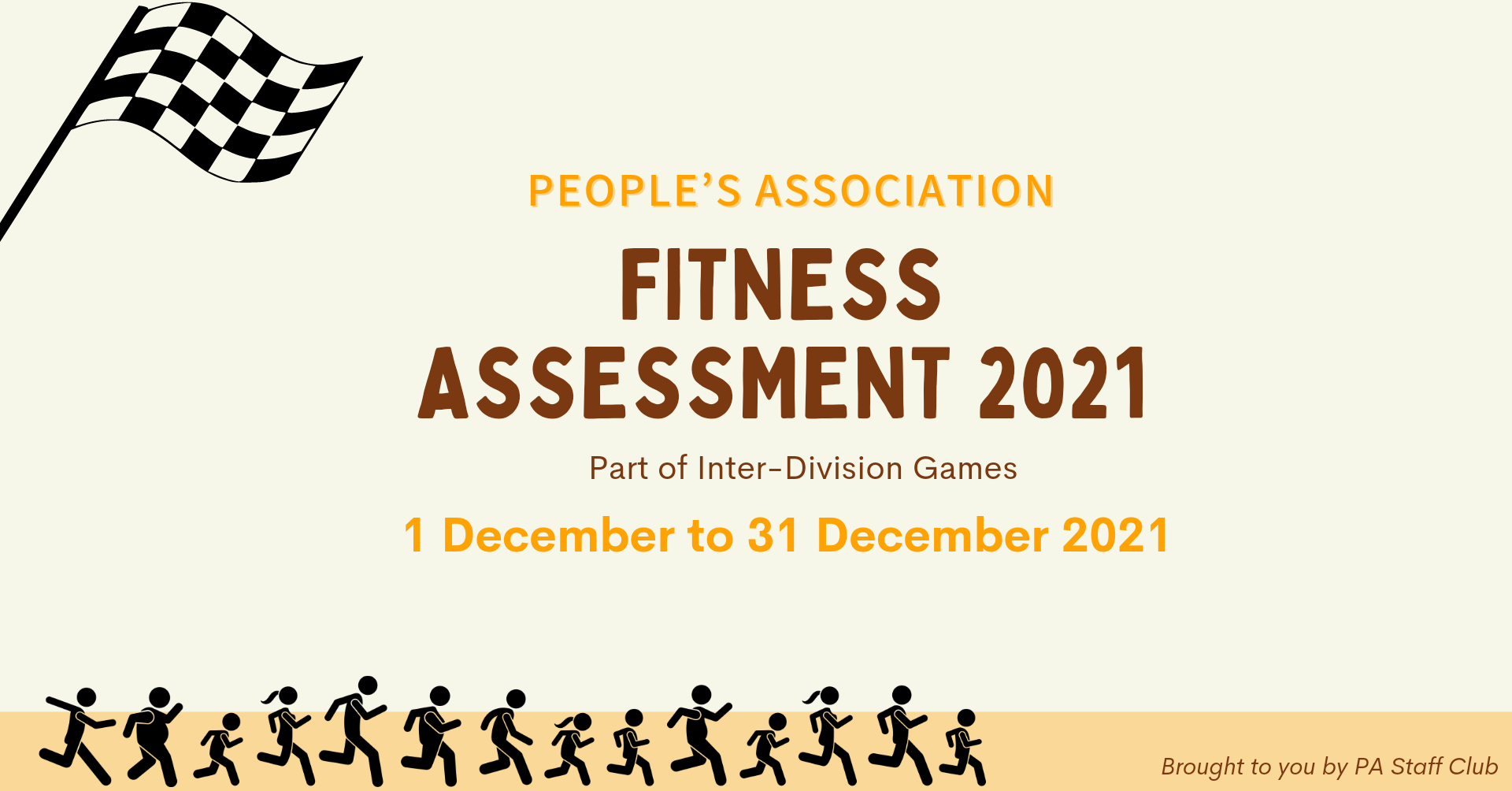 Registration Period: 18 November – 30 November 2021
Virtual Race Period: 1 December – 31 December 2021
Upload closes: 31 December 2021
Registration
Event Info
General Information
PA Staff Club presents you PA Fitness Assessment 2021! Help your IDG Team by participating in the Category A (2 Km walk or 2.4 Km run).
After completing your Category A session, you can also take part in Category B (Individual event) and Category C (Team event). Each participant can join up to 3 different categories.
To encourage staff to exercise regularly in a safer and simpler platform, the PA Fitness Assessment will be conducted virtually. All you have to do is to register for the assessment and provide evidence that you have done it. The evidence can be a screenshot of your fitness app, a photo of the gym treadmill screen etc. Check out the subsequent tabs for more information.
PA Fitness Assessment
Complete your Category A assessment, Category B and/or Category C anytime and anywhere between 1 and 31 December 2021.
Note that the distance clocked must be completed in one session.
Submit your race result by taking screenshot/s* of your date, distance, and duration on the virtual platform (under the 'Upload' tab) by 31 December 2021.
Only one result submission per staff per category may be uploaded onto the platform, do not upload more than one. Please choose your best timing before submission.
* You can use any GPS-enabled fitness apps such as Strava, Runtastic, Runkeeper, Fitbit and many more to track your distance and timing.
How the PA Fitness Assessment Works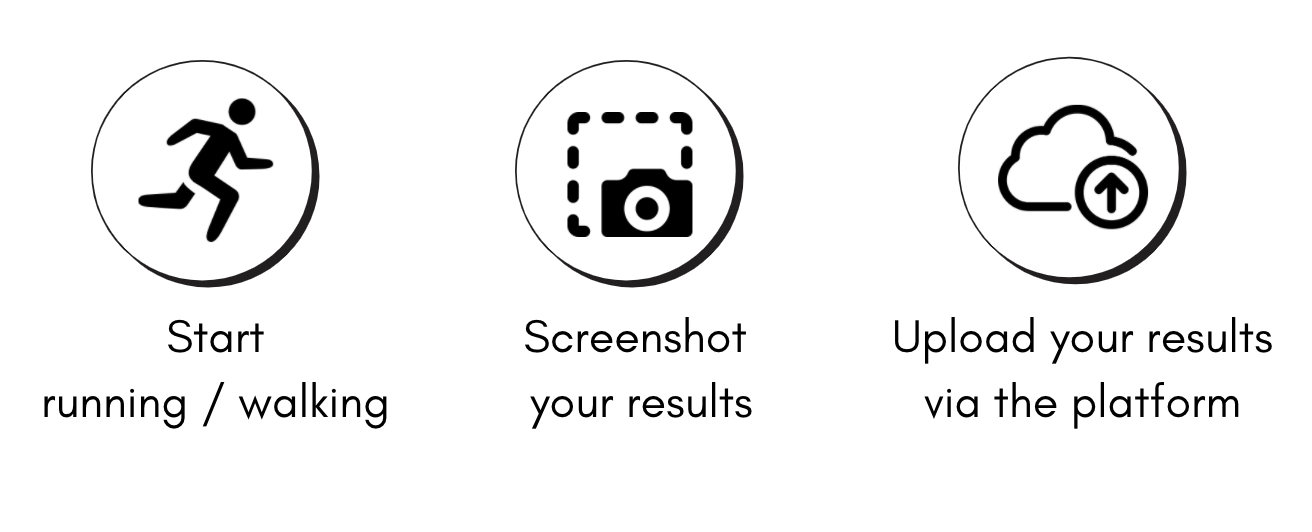 Assessment Chart
Entitlements
Individual (2 Km Walk or 2.4 Km Run)
For Category A- $20 voucher for high timings, $10 voucher for average timings
For Category A- $200 voucher for Top 10 Divisions, $150 voucher for Next 10 divisions
Individual (5 Km Walk or 5 Km Run)
For Category B- $30 voucher for Top 5 individual of different gender and age groups

Team (65 Km Walk/ Run , Min 5 pax Max 12 pax per Team)
For Category C- $200 for Top 10 Teams with best timings
Upload
You can complete your session indoor or outdoor, and upload a screenshot or photo showing the following details;
Date / Distance / Duration.
Here are some of the suggested apps / distance capturing device you can use –
Strava, Runtastic, Runkeeper, Nike Run Club
Treadmill
For Team's Submission –
1 rep from each team to compile all screenshots
No. of screenshots should tally to the number of registered team members (i.e. if there are 5 team members, there should only be 5 screenshots)
For verification purposes, screenshot must be renamed to 'Team Member Name'
The rep to compress and zip the folder for uploading to the virtual platform
Please submit your activity between 1 - 31 December 2021
Terms & Conditions
Comply with all safe distancing measures in force at the different venues
Have a proper warm-up and cool down before and after the activity
Stay hydrated and be properly attired for your activity
Wear your mask unless you are in the midst of strenuous activity. Put it on before and after your activity
Ensure that you are medically fit and ready to take part in any physical activity

Avoid touching common public objects with your hands or any part of your body
Postpone or cancel your run/walk if you are feeling unwell
FAQs
Registration
1. How do I register?
For individuals, click on 'Registration' tab and follow the process.
An email will be sent to you when your registration is successful
2. Who can I contact if I have issues with my registration or other event related information?
Submission
3. When can I start to submit my Run results?
•You can start to submit your results as soon as you've successfully registered for the race, from 1 Dec to 31 Dec 2021. Submissions received after 31 Dec 2021 will be considered invalid.
4. What Apps should I use to capture my steps record or run session?
You can use any fitness apps that are GPS-enabled, which include but are not limited to the following: MapmyRun / Strava / Running / Adidas Running / Nike Running / Apple Health App / Samsung Health App / Google Fit
5. Can I use a treadmill to complete the assessment?
Yes, please take a photo of the distance covered from the dashboard to the date of the session (e.g. a watch)
6. How do I submit my assessment results?
Step 1:
Use the suggested GPS-enabled fitness apps or treadmill to record your activity from 1 December 2021 to 31 December 2021
Step 2:
Take a screenshot of your completed session. Ensure that the date, distance and time of the session/s are clearly visible.
Step 3:
Upload your screenshot or photo via the link of your confirmation email or the 'Upload' tab
Step 4:
Upon successful submission, you will receive a notification email. Any irrelevant or inaccurate submissions will be deemed as invalid
*For Team submission, 1 representative will compile and submit the screenshots on behalf of the entire team
7. Is there a limit to how many results I am allowed to submit?
You can only submit once individually for Category A and B, please submit your best timing screenshots or photo between 1 and 31 Dec 2021.
Submit your distance clocked for the team event in Category C to your team leader for submission. The team leader will submit for all on behalf.
Any subsequent submission after the first submission will be void.
8. How will I know if my submission is received?
An email notification will be sent to you after the submission. The team will notify you if the submission is considered invalid/unclear, and will require a new submission
Leaderboard