You are registering for: The Lucky Cat Virtual Run 2018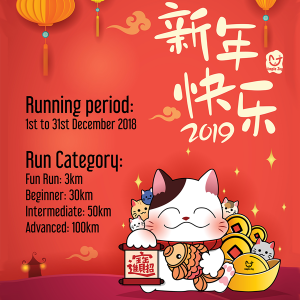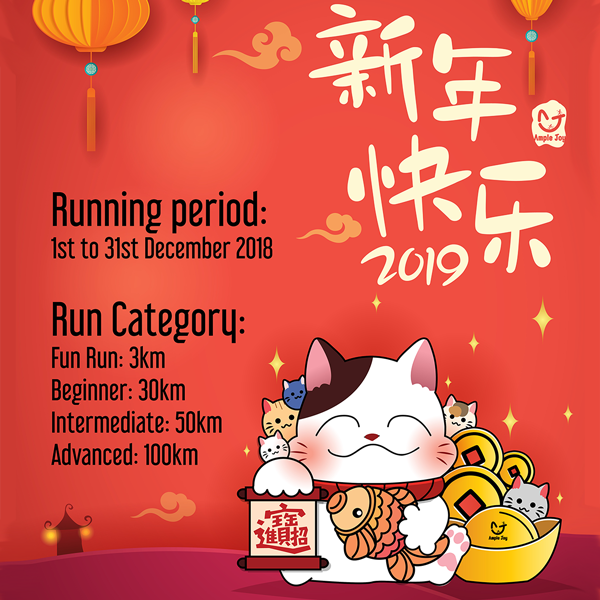 Dates:
Running Period: 1st to 31st Dec 2018


Registration Close: 16 Dec 2018


Race kits delivery period in January 2019 before CNY.
Venue:
Any route you wish as long as the distance is covered
Categories:
3km, 30km, 50km, 100km
Remarks:

Run(s) must be uploaded by 31 December 2018 and distance can be accumulated by running/walking/hiking, treadmill and with other runs.
Register
Event Info
About the Event
The Maneki-neko (Japanese: 招き猫, literally "beckoning cat") is a Lucky Cat charm that's very popular in Japanese and Chinese cultures. It's a talisman that is believed to attract good fortune for its owners, and has always been loved as a guardian of good luck. People love cats, they think cats represent good luck. People generally consider cats as independent, free-minded and smart.
The Golden Lucky Cat represents the prosperity of the fortune, the gold coins,gold bar and the golden carp symbolizes wealth and prosperity. The plum blossoms symbolize the joy of the late winter and early spring.
The lucky cats can be worn as accessories, can be placed on the car, and you can also hang the lucky cat on the phone, which can bring you good luck.
招财猫是我们日常生活中最常见的摆件吉祥物了,英语译为"Lucky cat"(幸运之猫)的招财猫,一直以来被当做招来好运的守护符而受到人们的喜爱。 招财猫名字的由来是因为其前脚举起的动作好像在招手一样,所以才有招财猫之称。金色招财猫代表财运亨通,招财进宝,金币金宝鲤鱼等象征财富和繁荣,梅花盛开象征冬末初春的喜气洋洋。
招财猫可以作为饰品佩戴在身上,可以摆放在汽车上,还可以将招财猫挂在手机上,都可以为你带来好运。
Entitlements
Upload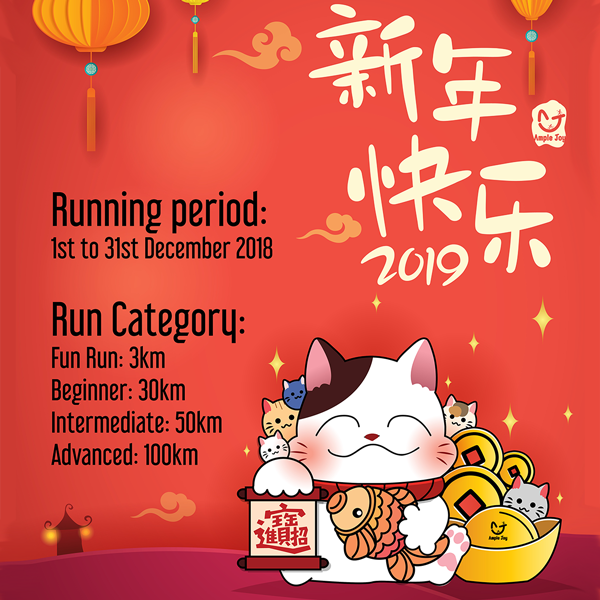 For more inquiries, please contact: [email protected]
For technical issues with registration, please click here to contact us.