You are registering for: Virtual Run 1: The Performance Series 2018 edition

Dates:
– Registrations will close on 30 Nov 2018 or when all slots are sold-out.
– Run must be completed and uploaded any time between 15 Oct and 31 Dec 2018.
– Medals will be mailed from 1 Nov 2018 onwards.
Venue:
Any route you wish as long as the distance is covered
Categories:
10km, 5km
Register
Event Info
About the Event
The Performance Series is created for individuals, families, and communities to have an opportunity to advance, excel and experience the joy of living better through running. With this series, we hope to create a national movement for running and healthy lifestyle.
This series is first of its kind by encouraging individuals of all levels, from non-active to leisure to competitive, to have a schedule of races to work towards and progress along with the series.
Entitlements
Upload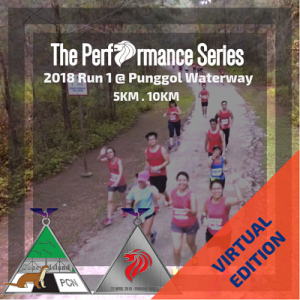 For more inquiries, please contact: [email protected]
For technical issues with registration, please click here to contact us.