NOW AVAILABLE IN ALL STATES OF MALAYSIA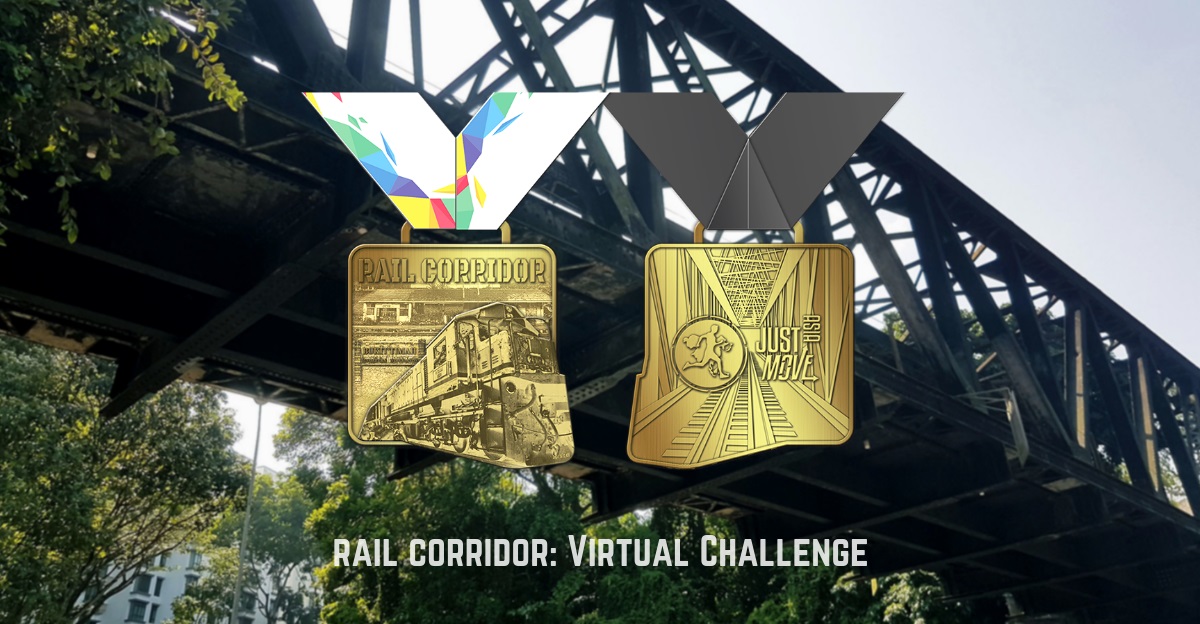 The most pretty landmarks of Singapore can now be yours by completing 5km run or walk at your own route, pace and time.
Pingat mercu-mercu tanda di Singapura kini boleh menjadi milik anda. Jalan atau lari sekurang-kurangnya 5km mengikut kadar kemajuan dan masa anda tersendiri dan dapat pingat-pingat tersebut
新加坡最美麗的地標獎牌現在可以是您的。您只需要按照自己想要的地點或路線,步伐和時間完成5公里的跑步或步行。

You are registering for: Rail Corridor Virtual Run
Dates:
– Registrations will close on 28 February 2019 or when all slots are sold-out.
– Run(s) must be completed between 15 January and 28 February 2019.
– Medals will be mailed from  28 February 2019 onwards.
Venue:

Any route you wish, in any city and country

, as long as the distance is covered
Categories:
5KM (Multiple uploads are allowed)
Remarks:

Run(s) must be uploaded by 15 March 2019.
Register
Event Info
About the Event
Run at your own place, own time and own pace. Get rewarded with a piece of an iconic landmark.
You can complete these challenges in any country and any route you wish.
Semua jalan laluan akan diterima. Selesaikan acara larian virtual ini dan dapatkan pingat mercu-mercu tanda di Singapura.
全球任何地點或路線均可接受。完成虛擬步行/跑步挑戰並獲得新加坡的地標獎牌。
WHAT IS VIRTUAL RUN?
A virtual run is a race that you can complete at your own pace and time. Virtual running works exactly the same as any other type of running but the difference is that the entered race can be run at any location, either outside or inside on a treadmill.
All you have to do is register for a race and provide evidence that you have done it. The evidence can be a screenshot of your running app, a photo of the treadmill screen etc. After you register, instructions on how to upload your run will be sent to your email.
Larian Virtual adalah sebuah acara larian di mana anda boleh selesaikan pada kadar kemajuan dan masa anda sendiri. Ia berfungsi sama seperti acara berlari dan maraton biasa tetapi perbezaannya ialah anda boleh lari di mana-mana lokasi (sama ada di luar atau di treadmill) dan pada bila-bila masa anda inginkan.
Apa yang perlu anda harus lakukan ialah daftarkan diri anda untuk Larian Virtual dan hantar bukti bahawa anda telah melakukannya. Bukti tersebut boleh menjadi tangkapan skrin aplikasi larian, foto skrin treadmill anda atau lain lain. Setiap aplikasi larian diterima. Sebaik sahaja anda memuat-naikkan bukti larian anda, anda akan menerima pingat dan habuan acara!
虚拟步行/跑步挑战是一项您可以按自己的节奏和时间完成的活动。 它与户外跑步活动和马拉松完全相同,但区别在于您可以在任何地点(室外或室内跑步机)以及您希望的任何速度和时间完成步行/跑步活动。
您所需要做的只是注册虚拟挑战并提供您已完成活动的证据。 证据可以是您正在使用步行/跑步应用程序的屏幕截图,跑步机屏幕的照片等。所有步行/跑步应用程序均可接受! 当您上传已完成活动的证据后,您将会收到您的完成者奖牌和奖励品。

Entitlements
Upload