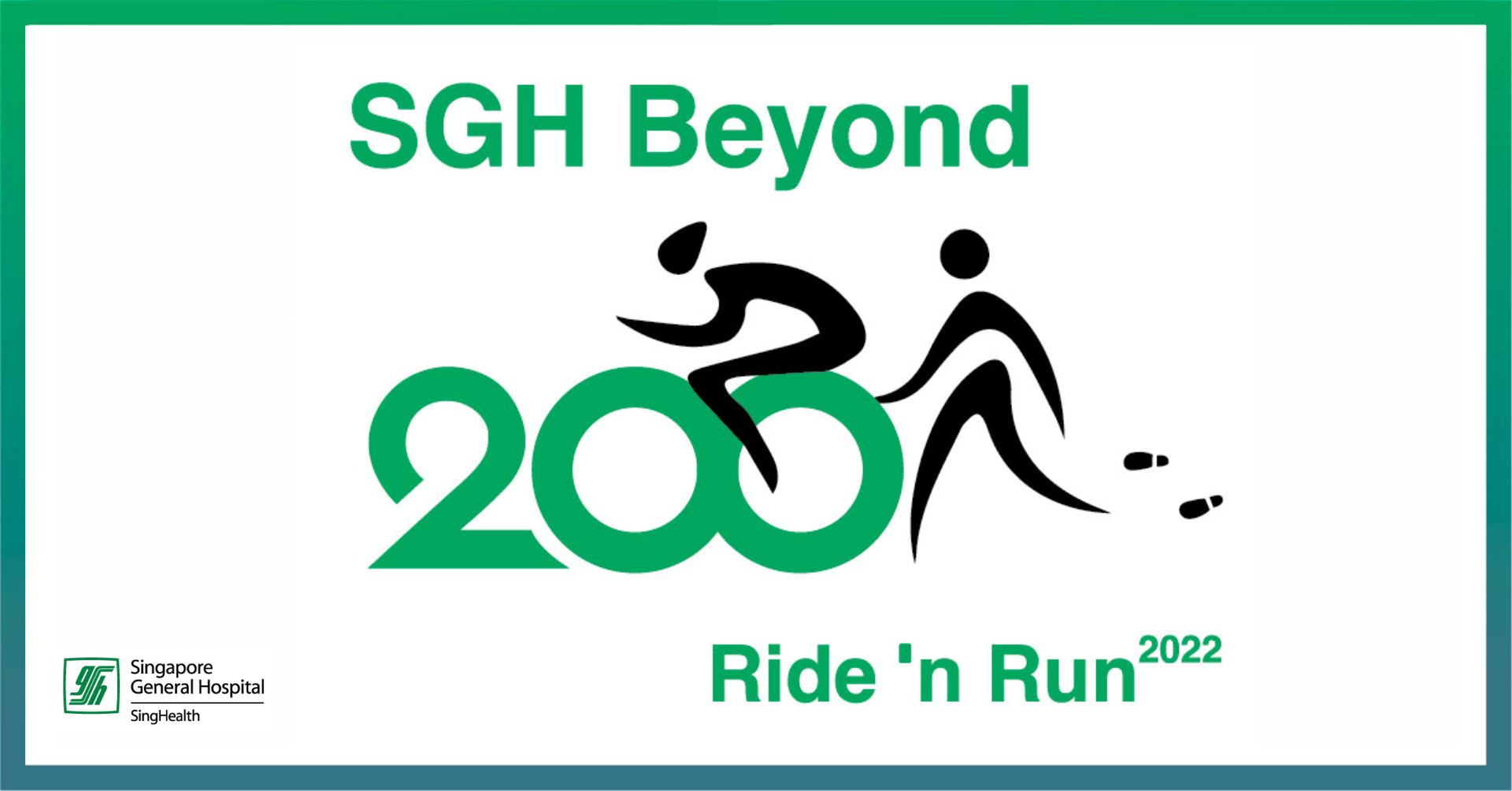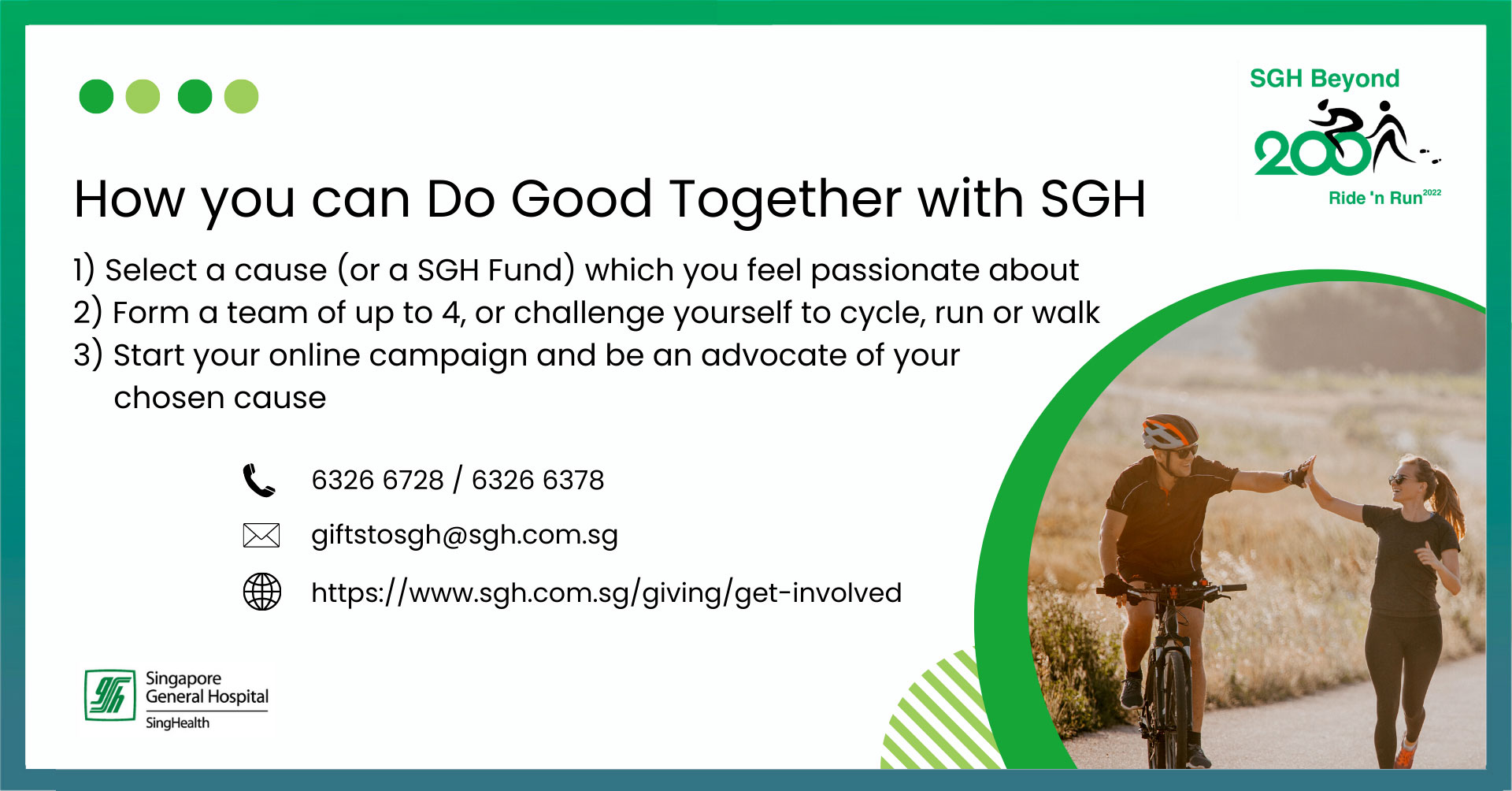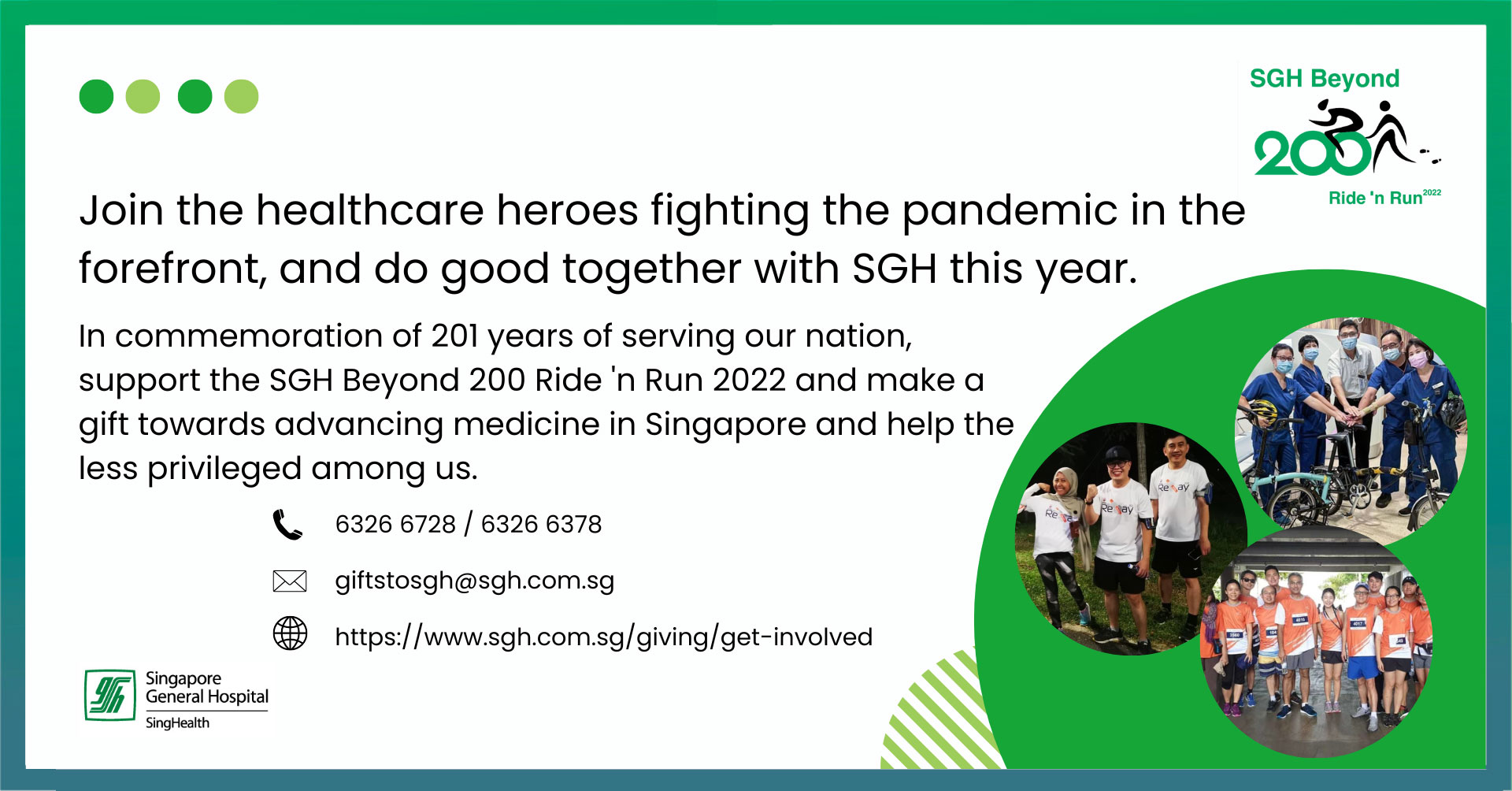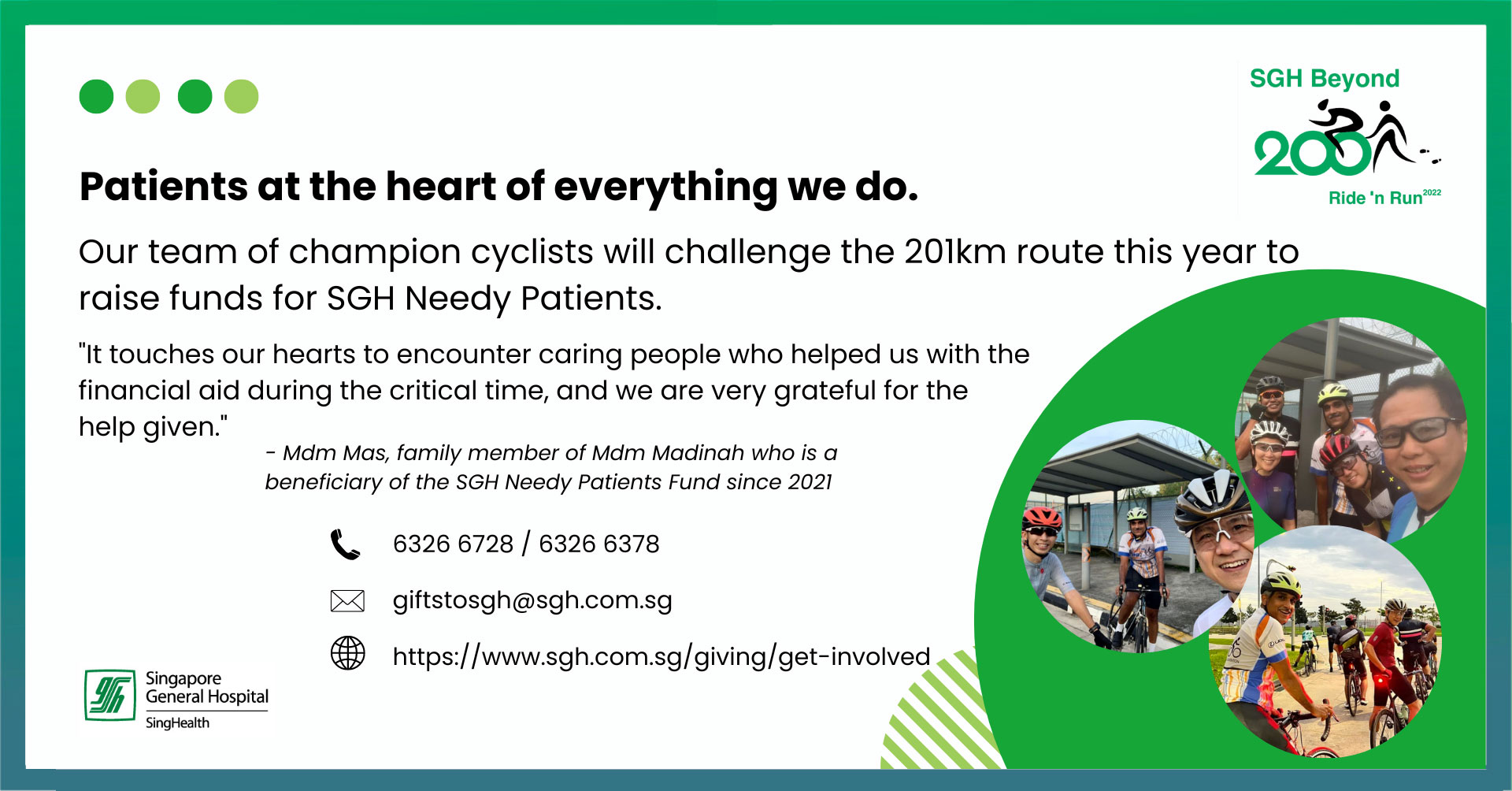 Registration
Registration Period: 15 August to 10 October 2022
Event Period: 10 September to 10 October 2022, 23:59hrs (SGT)
Participation is free. Please consider doing good with SGH by making a donation to support needy patients and advance academic medicine in Singapore with our Advocates. Thank you for giving hope to patients.
Event Info
General Information
Lead by SGH CEO and CMB, a group of cyclists will kick-start the 201km ride around Singapore on 3 September 2022. They have chosen to support needy patients and their fundraising campaigns start from 1 August 2022.You can support their endeavour today by making a gift to SGH Needy Patients Fund.
Join our healthcare heroes fighting the pandemic in the forefront, and do good together with SGH this year to mark SGH serving our nation for 201 years. You can join us in this virtual ride and run from 10 September to 10 October, and fundraise for a good cause too.
From now till 31 October 2022, support SGH Beyond 200 Ride 'n Run and make a 250% tax-deductible gift towards advancing medicine in Singapore, finding cures or helping the less privileged among us. No amount is too small. Likewise, every small step can move us on to greater positive impact.
Categories
Virtual Run
Individual – 20km;
Team (Up to 4) – 100km
Virtual Cycle
Individual – 50km;
Team (Up to 4) – 201km
Entitlements
Upload
T & Cs
Event
1. SGH Beyond 200 Ride 'n Run 2022 is organised by Singapore General Hospital (hereinafter referred to as the 'Organiser').
2. Participants take part in this event at their own risk and are responsible for their own safety when choosing their run/walk/cycle routes. Participants are encouraged to wear high-visibility clothes when running in dim lighting for their safety. The Organiser accepts no responsibility for any accident, incident of any nature or injury sustained whilst taking part in the virtual event. The Organiser excludes any liability for personal injury or death that may arise due to your participation in this event.
3. By participating in this virtual challenge, you accept that JustRunLah! (the appointed event partner) can contact you to confirm your entry and keep you updated on the progress of your participation.
4. After completing your daily run/walk/cycle, take a screenshot of the run/walk/cycle statistics (via a tracking app) and upload it onto the JustRunLah! online portal. If your upload cannot be validated, it will be deemed as incomplete and will not be clocked. If you experience any difficulty in uploading your run/walk/cycle details, please contact JustRunLah! at support@justrunlah.com.
5. For participants who are in multiple teams, each completed run can only be counted as one unique uploaded entry. It cannot be used for multiple entries in multiple teams.
6. Run/walk/cycle clocked from 10 September 2022 to 10 October 2022 will be accepted in the submission. All submission to be upload to the website (instructions in the registration email) by 10 October 2022, 11.59pm. If you are unable to complete your run/walk/cycle and upload by the deadline, please write to support@justrunlah.com for assistance.
7. Finisher entitlements will be awarded to all participants who complete the distance in their respective category during the challenge period. The organiser has the right to use the uploaded photos and videos for publicity or sharing on social media.
Others
1. The Organiser shall have the right to reproduce and distribute your submission for promotional purposes in broadcast, print and or other media as the Organiser may determine in their sole discretion. You agree that the Organiser owns all rights, title and interests in any compilation, collective work, or other derivative work created by the Organiser using or incorporating your submission.
2. If for any reason, all or part of the event and/ or contest is not capable of being executed as planned, or infection by computer virus, bugs, tampering, unauthorized intervention, fraud, action of entrants, technical failures or any other causes beyond the control of the Organiser, corrupt or affect the administration, security, fairness, integrity, or proper conduct of this event, the Organiser reserves the right in their sole discretion to disqualify any entry or entrant and to cancel, terminate, modify or suspend the contest (in whole or in part)and/or award the prize(s) from among all eligible entries received as of the date of the termination, as the Organiser determines in their sole discretion.
3. Participation in the event and/ or contest constitutes consent for the Organiser to obtain your name, email, and contact number and other information for the purpose of administering this Promotion. In addition, entering the event and/ or contest constitutes your consent for the Organiser to use your information to send you marketing and campaign communication they feel may be of interest to you. You may opt-out of the following by following the opt-out instructions in each marketing and campaign communication.
4. Photographs/videos/artwork uploaded by participants should not infringe on the copyrights, trademarks, moral rights, rights of privacy/publicity or intellectual property rights of any person or entity, and that no other party has any right, title, claim, or interest in the photograph.
5. All personal particulars furnished are meant for identification purposes and will not be sold or given to any third parties.
FAQs
Registration
1. How do I register?
Click on "Register" tab and follow the registration process. An email will be sent to you when your registration is successful.
2. What is the registration fee?
This event is free for all.
3. When is the registration period?
Registration is open from 15 August to 10 October 2022. Please ensure that you register during this period only.
4. Who can I contact if I have issues with my registration or other event-related information?
For all technical enquiries regarding this event, you may contact support@justrunlah.com.
Submission of results
5. When can I start to submit my Run/Walk/Cycle results?
Run/Walk/Cycle submissions can only be allowed to be uploaded from 10th September – 10th October 2022.
Run/Walk/Cycle submissions received before or after these dates will not be accounted for.
6. What Apps should I use to capture my activity record(s)? Can I use a treadmill or indoor cycling equipment?
There are numerous GPS trackers such as:
• MapmyRun
• Strava
• Running
• Adidas Running
• Nike Running
• Apple Health App
• Samsung Health App
• Google Fit
You may use treadmills or indoor cycling equipment for this event. Please ensure that your upload captures the screen as well as a watch to indicate the date of the activity. This is needed for verification.
Step Trackers that do not provide details of distance and duration are not allowed.
7. How do I submit my Activity record?
Step 1:
Use the recommended GPS Tracker Apps or treadmill to record your Activity based on the submission dates per Question 6 above.
Step 2:
Take a screenshot of your Finished Activity, making sure that the date, distance, and duration of activity is clearly visible.
Step 3:
Upload your screenshot or photo via the link of your confirmation email or the 'Upload' tab.
Please have your registration ID available and fill in the details accordingly.
For ease of uploading, please access via the link from your confirmation email.
Step 4:
Once submitted, you will receive a notification email. You can then repeat step 1 again for your next activity and submission.
*Do note that any irrelevant or inaccurate submissions will be removed at the discretion of the organizers.
8. Is there a limit to how many results I am allowed to submit?
No, there is no limit to how many results you can submit. This is an accumulative run & cycle challenge. You may take as many or as few submissions, to complete the minimum distance that you have selected.
9. Can I submit more activity results even if I have completed my minimum distance?
Yes, you may still continue to submit your activity results after reaching the minimum distance that you have selected. Only submissions during the submission period per Question 5 above will be accepted.
10. How will I know if my submission is received?
An email notification will be sent to you after each submission of your activity. We will notify you, if any of the submission is invalid or unclear and will require a new submission.
11. If I have joined 2 teams (or 1 team as well as individual), can I use the same run/cycle to upload the screenshots of my run for both teams?
No, you cannot. Each run/cycle is considered as one unique run. It cannot be used twice as we are encouraging more running/cycling and fairness. No 'double dipping'.
Finishers' entitlements
12. When will I receive my Finisher entitlements?
You will be reminded via email nearer to the date.
13. What if for whatever reason I am unable to complete my minimum distance, do I still get my finisher entitlements?
No, please note that only participants that complete their required minimum distance will be provided with their Finisher entitlements.
Partners
Presenting Partners
Advocates

Collaborators
Ivy Lim Swee Lian
Supporters
Anne Chia Seong Yoon
Ben Kwok
Chan Lai Peng
Chuah Yen Seong Benjamin
Hesed Love Foundation
Hwa Koon Engineering Pte Ltd
Ong Boon Hwee William
Phoon Kwong Yun Ian
Professor Julian Thumbo
Advocates
Please give your full support to our advocates. Click on their icons to pledge your support for them!
Join SGH Healthcare Heroes to help needy patients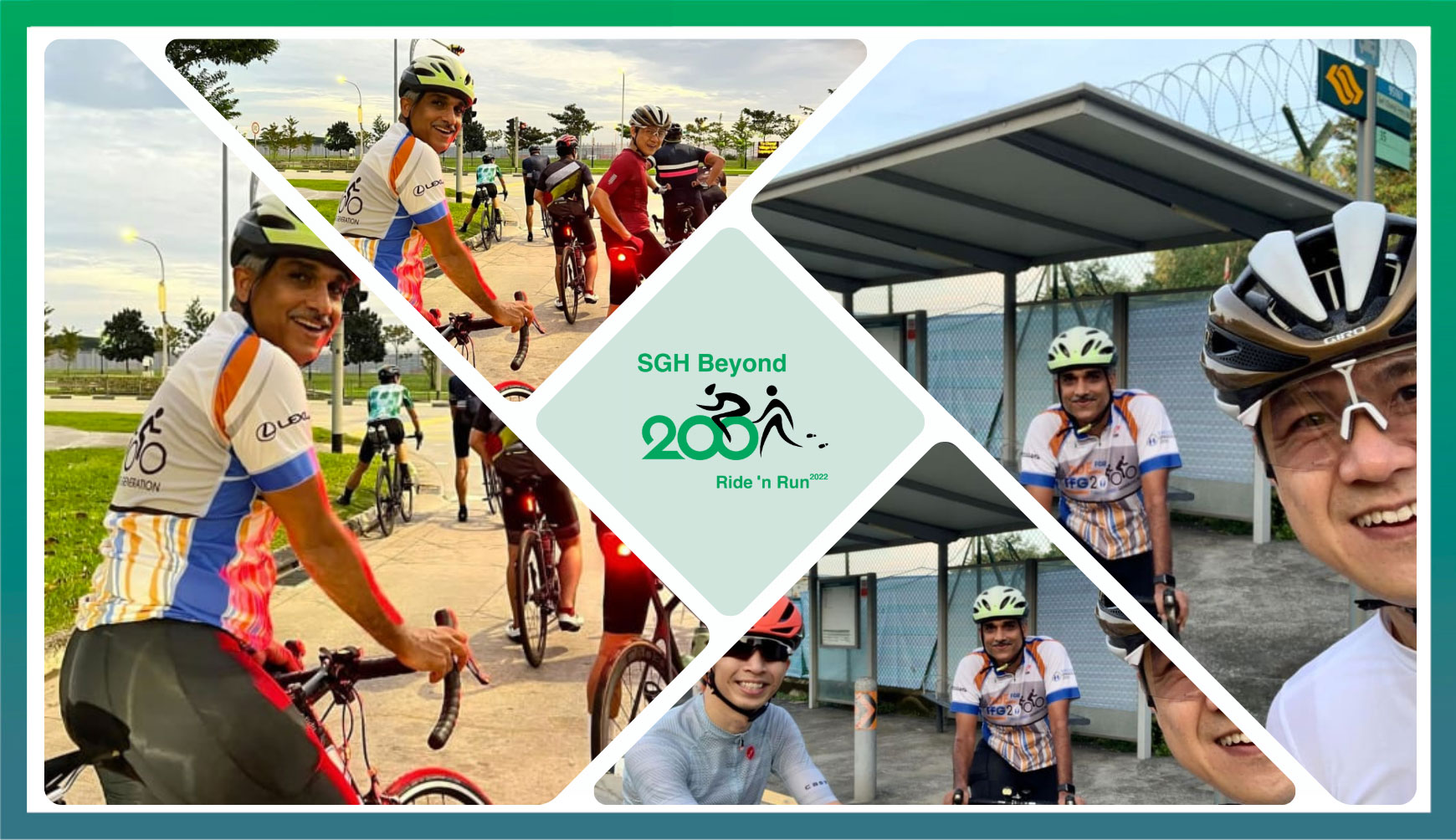 Click here to show your support!
Join Changtong and the DNMMI team in advancing Nuclear Medicine in Singapore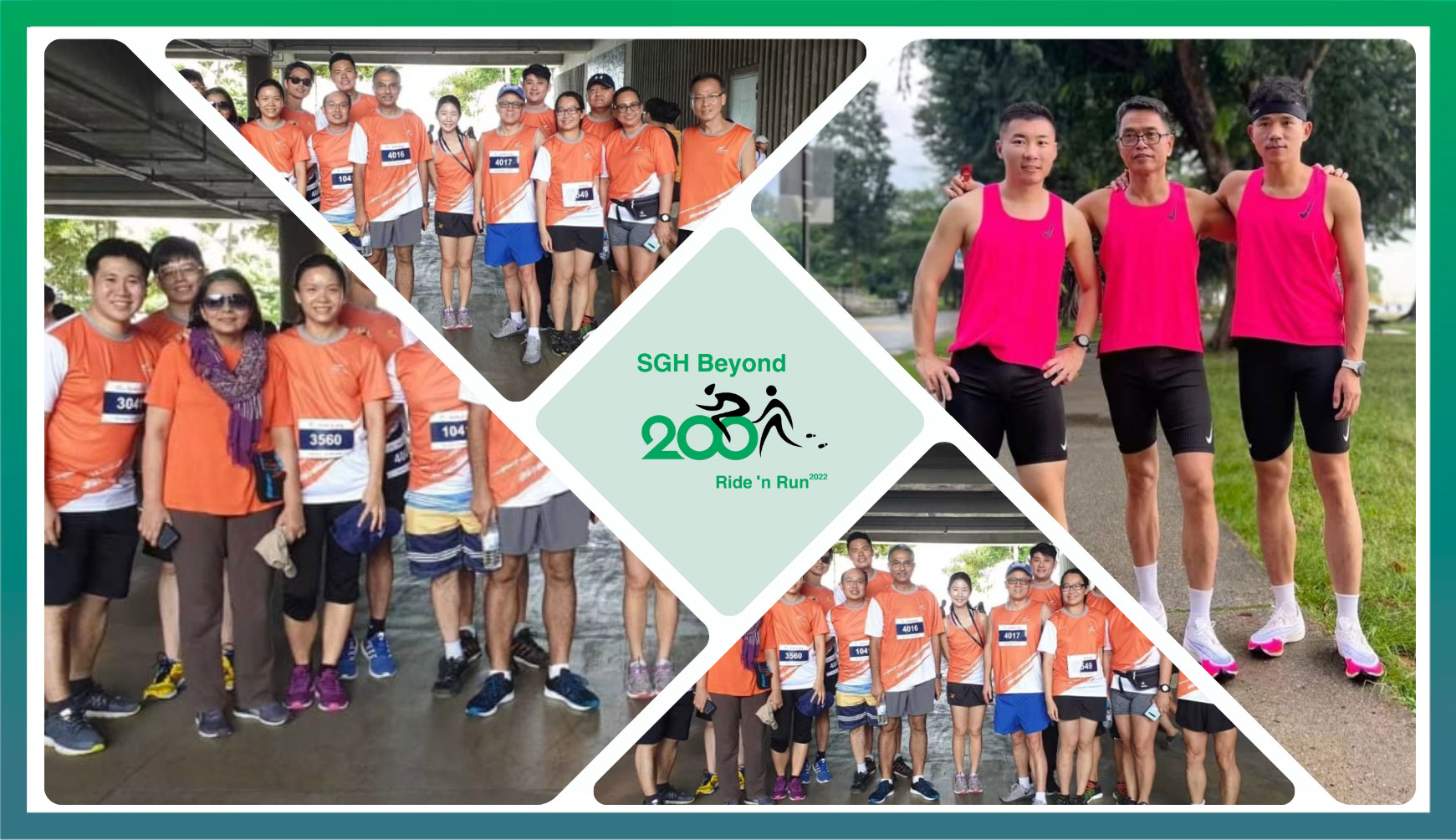 Click here to show your support!
Ride with our radiographers to support the Tan Kim Ping Academic Fund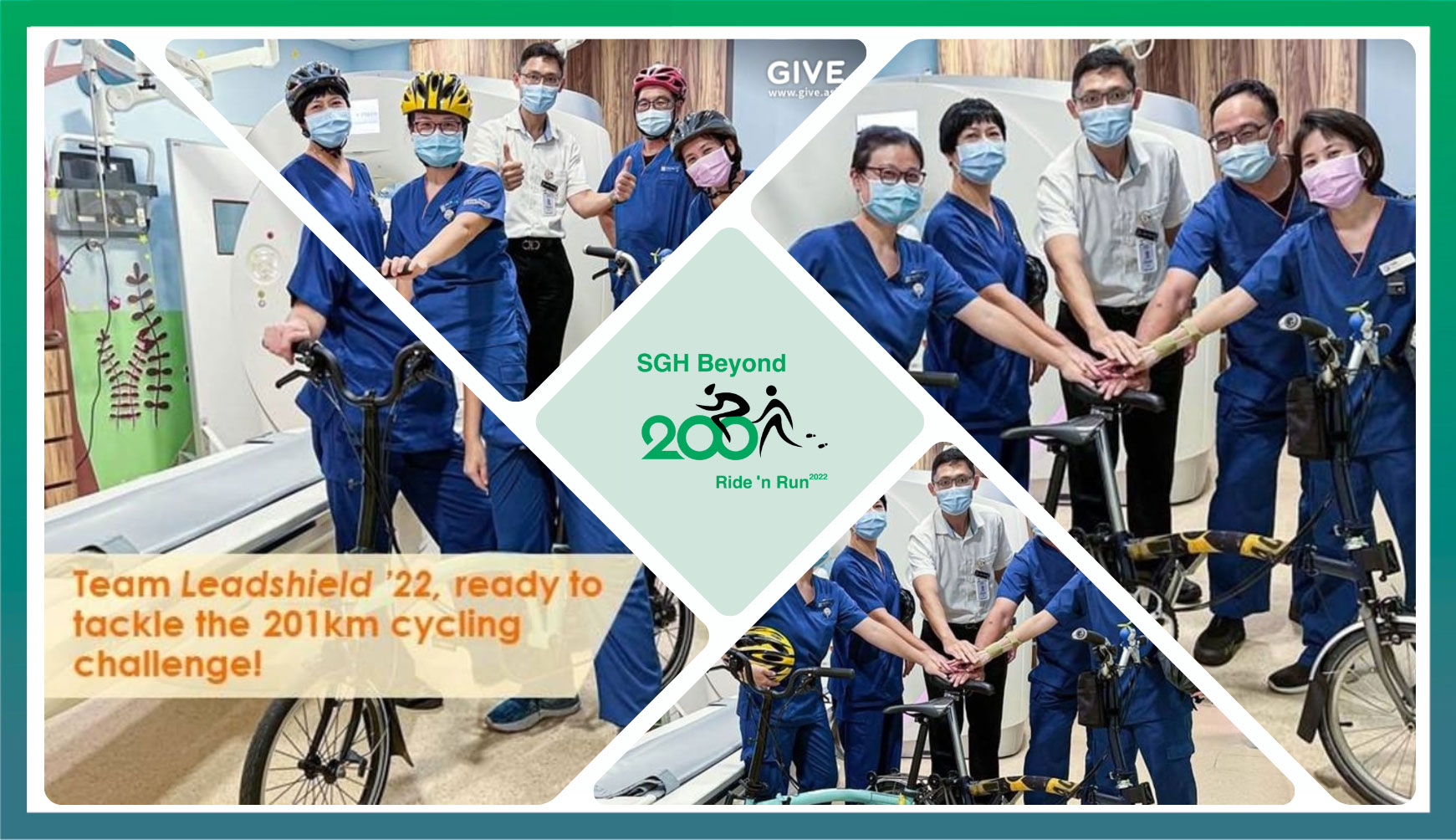 Click here to show your support!
Join our Pathology heroes to transform patient care from behind the scene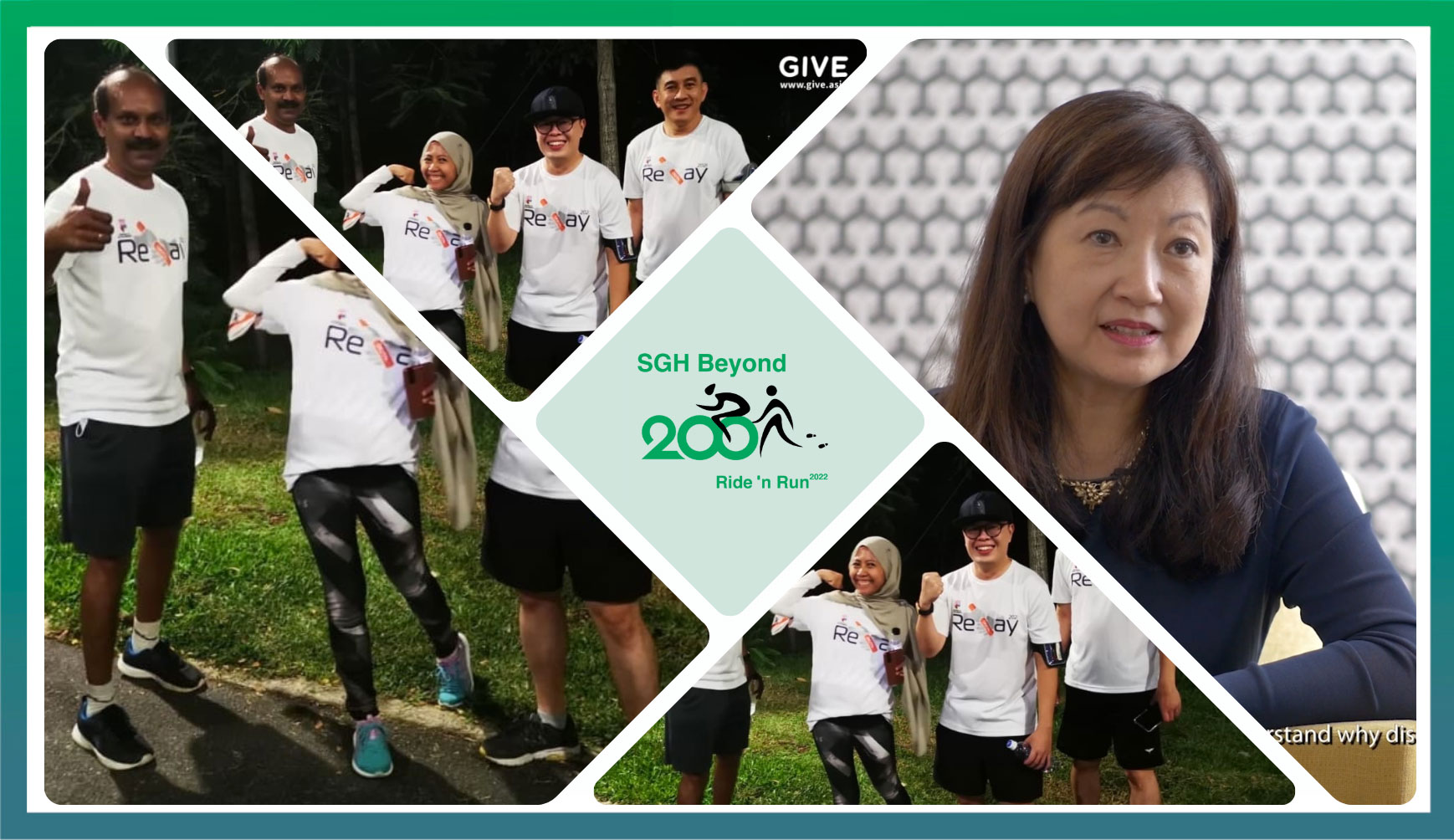 Click here to show your support!
Stronger Together with Dex and SGH Cycling team!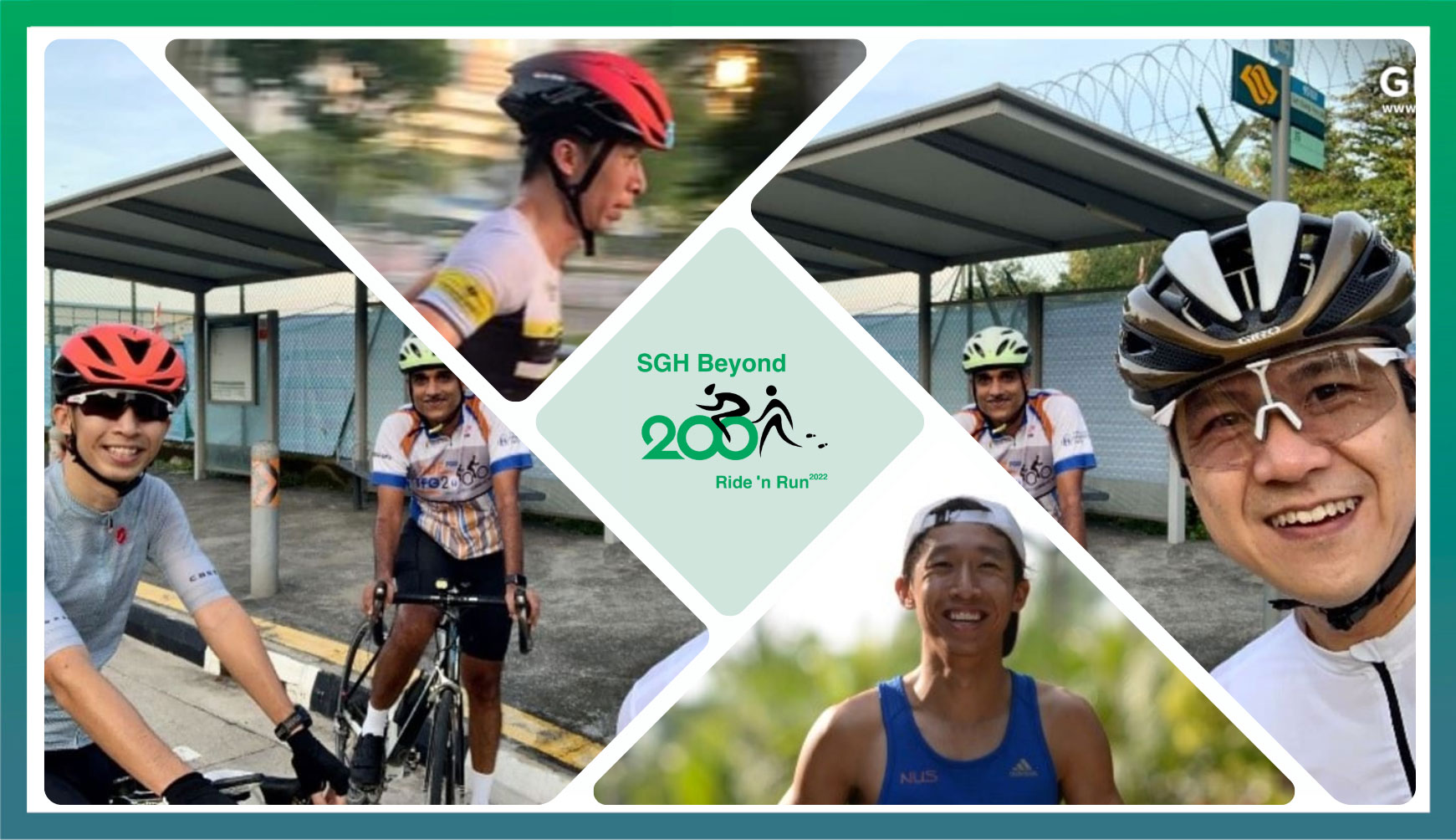 Click here to show your support!
Join Chye Chung to share your love to the less privileged patients!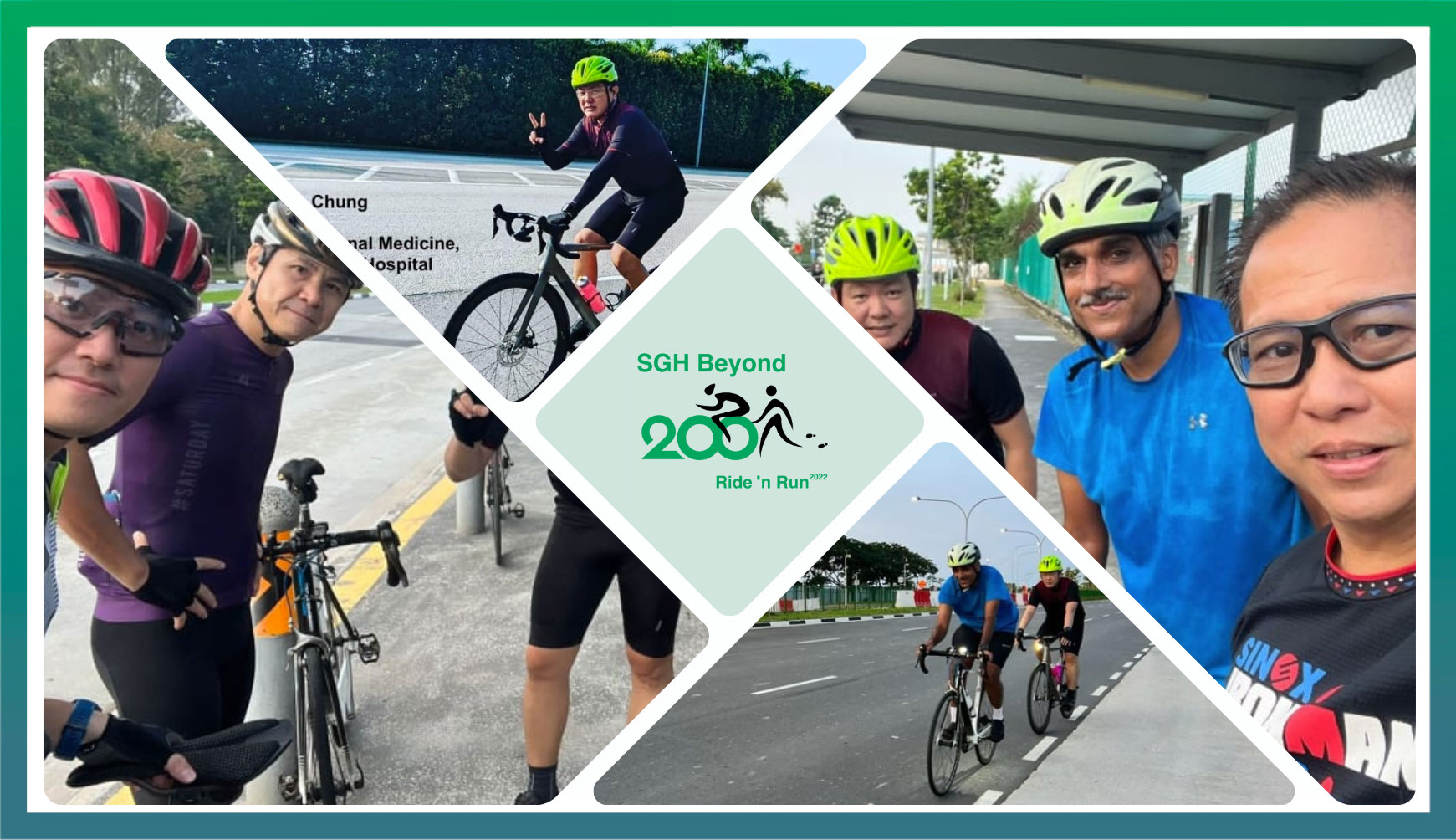 Click here to show your support!
Join Tunggal to cycle for a good cause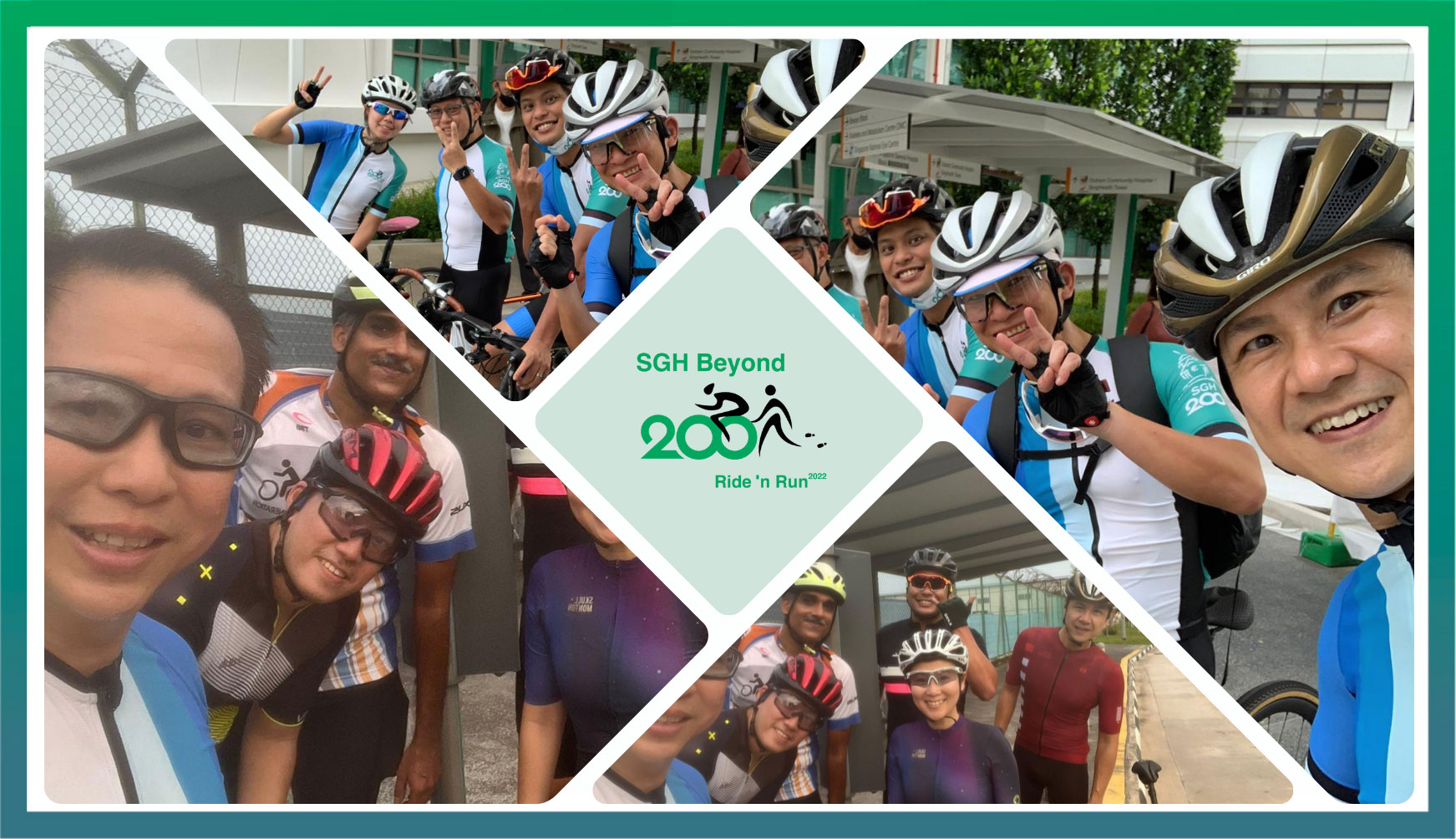 Click here to show your support!
Join Jessica in supporting needy patients today!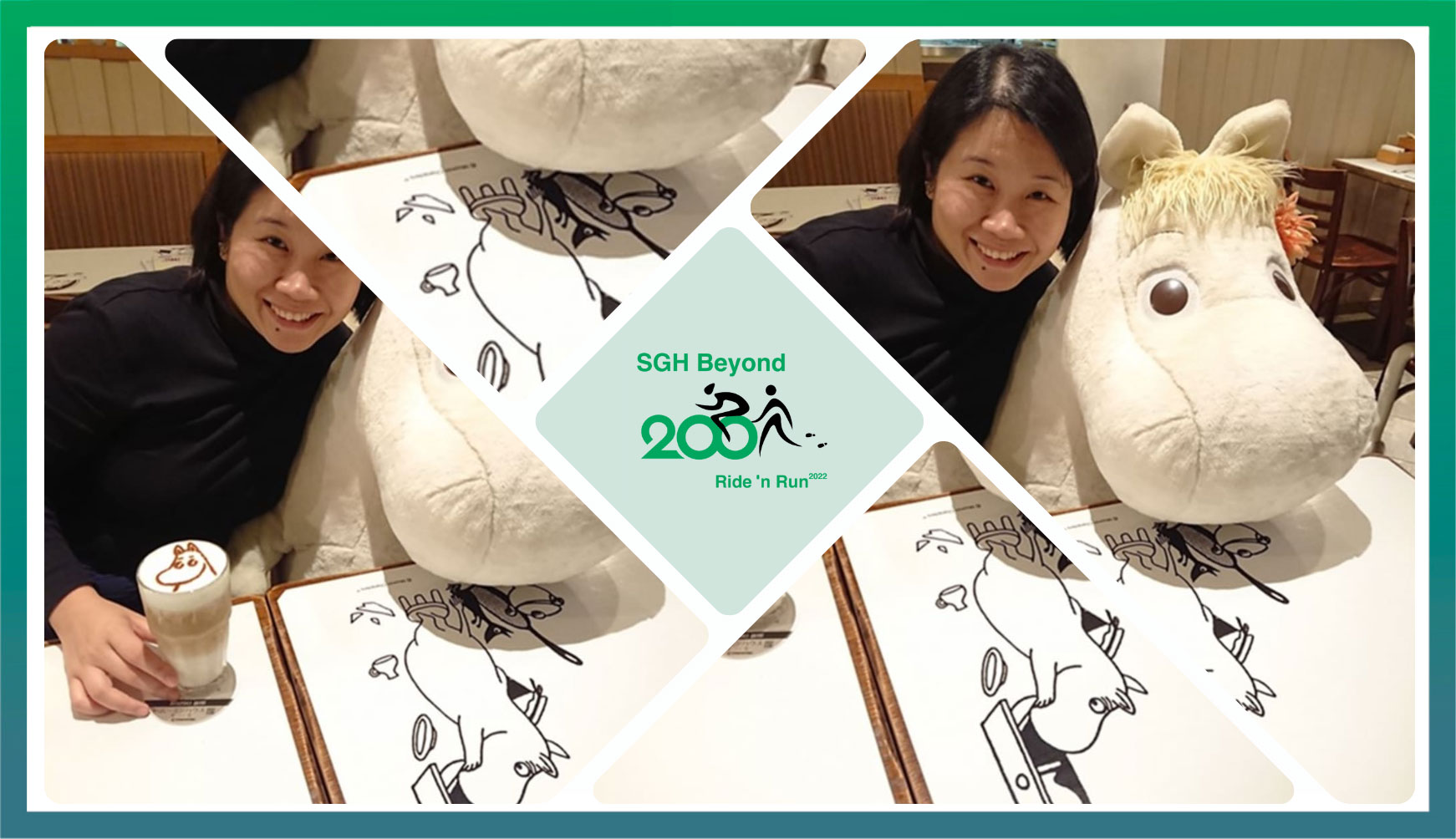 Click here to show your support!
Join Dr Kee and the SGH healthcare heroes to do good today.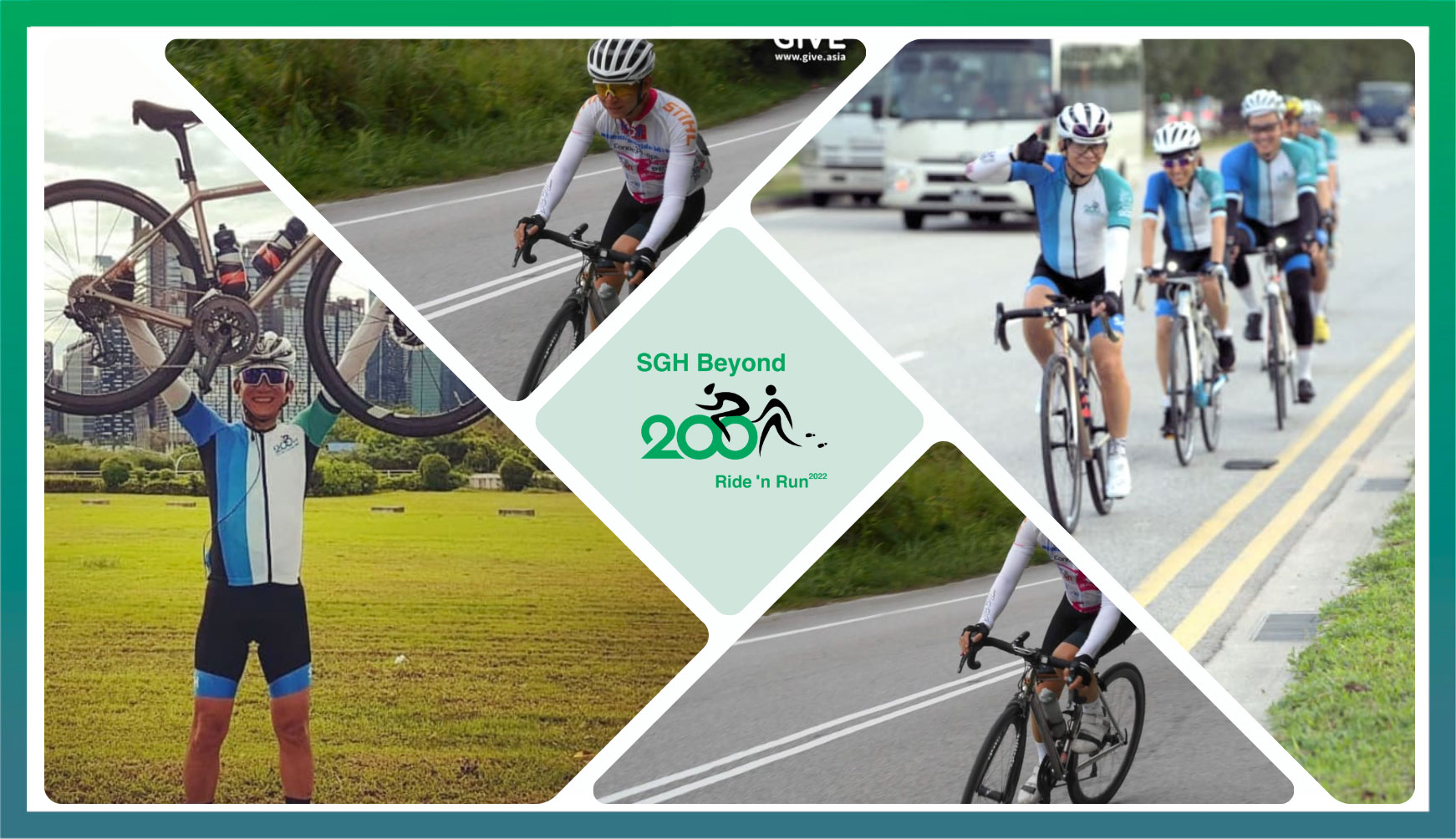 Click here to show your support!
Join the team of lupus warriors. Find a cure, Fight lupus!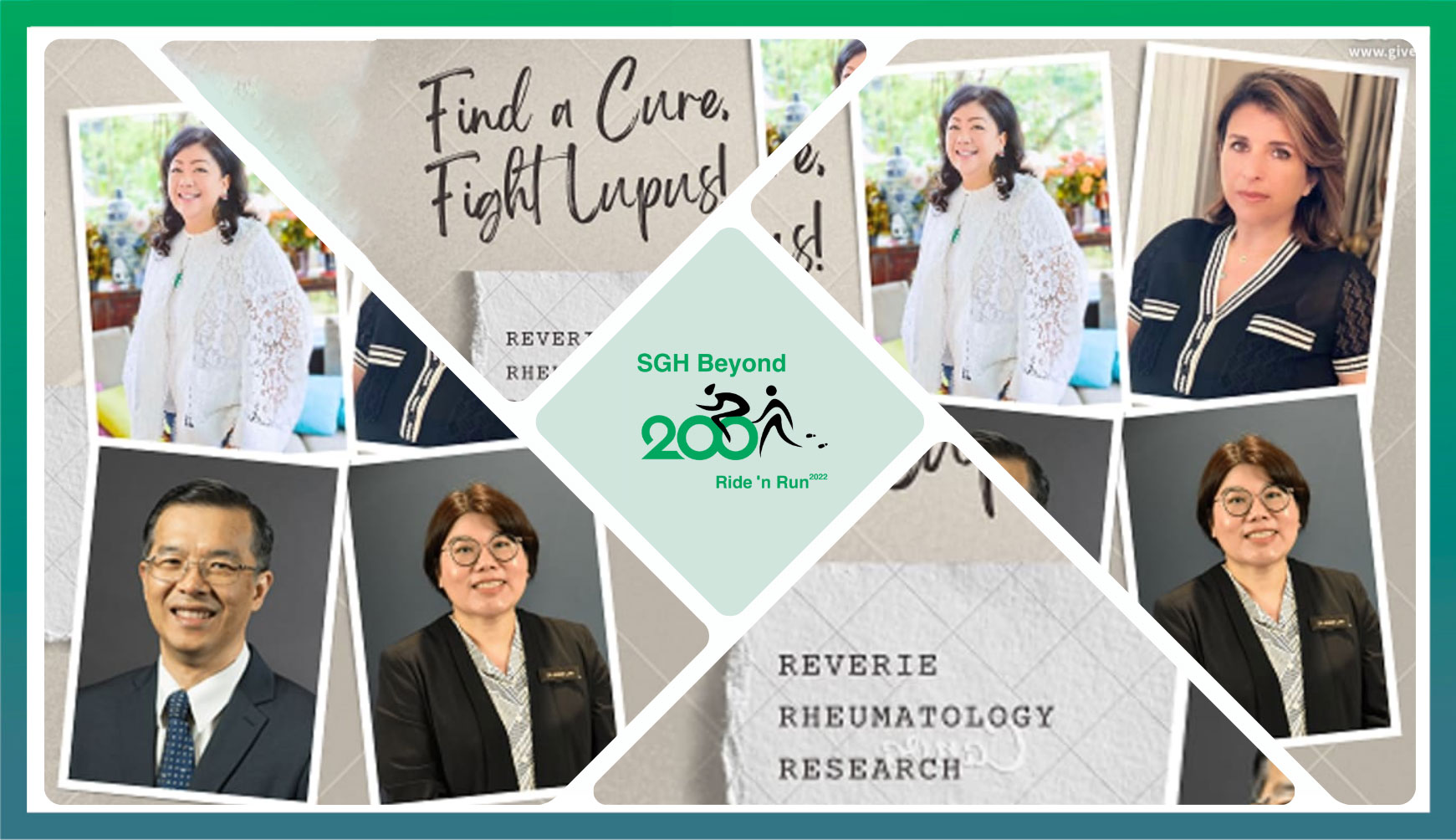 Click here to show your support!
Fight spondyloarthritis with TeamRHI.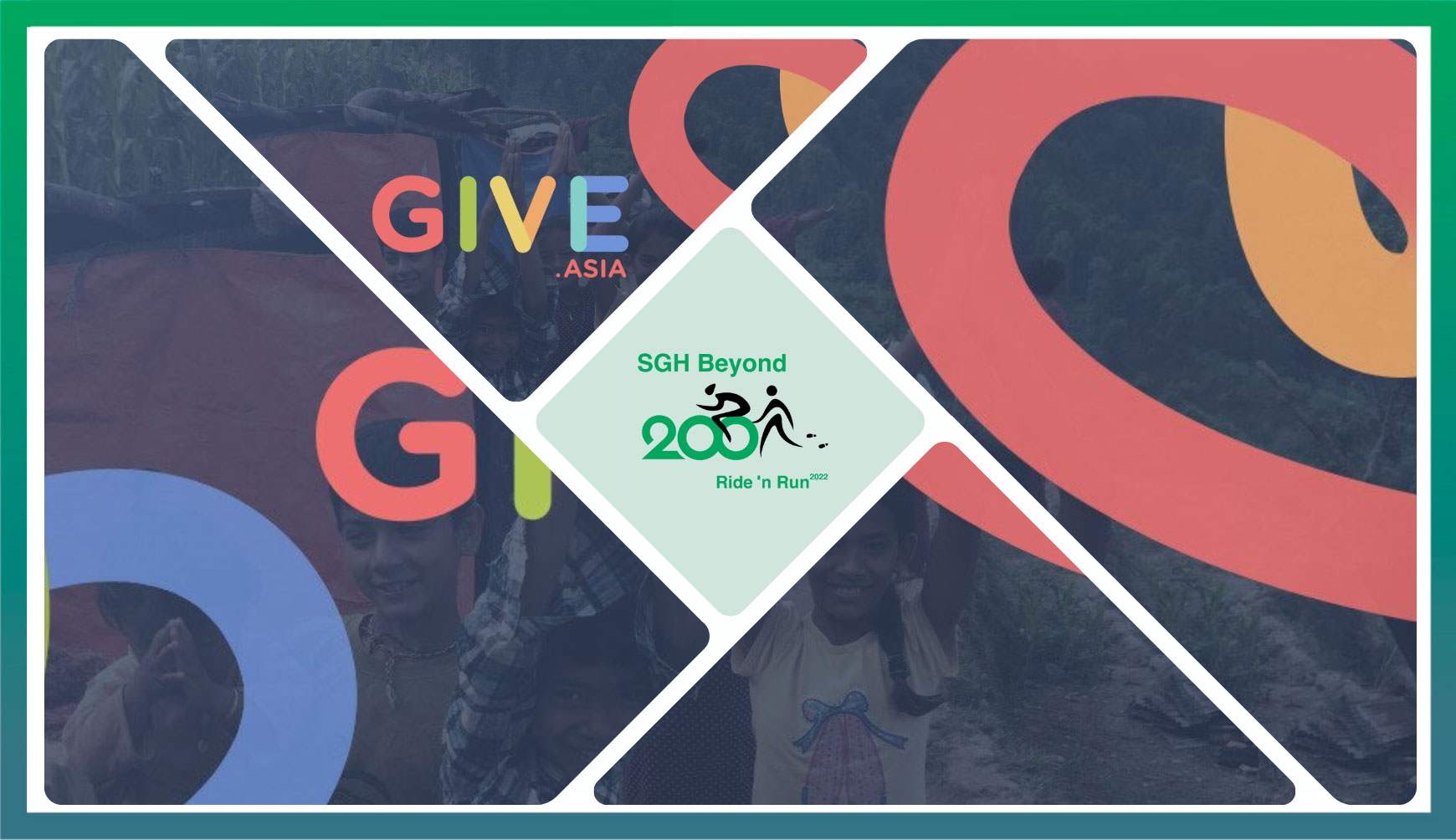 Click here to show your support!
Fight systemic sclerosis with Team #Chase the Blues Away.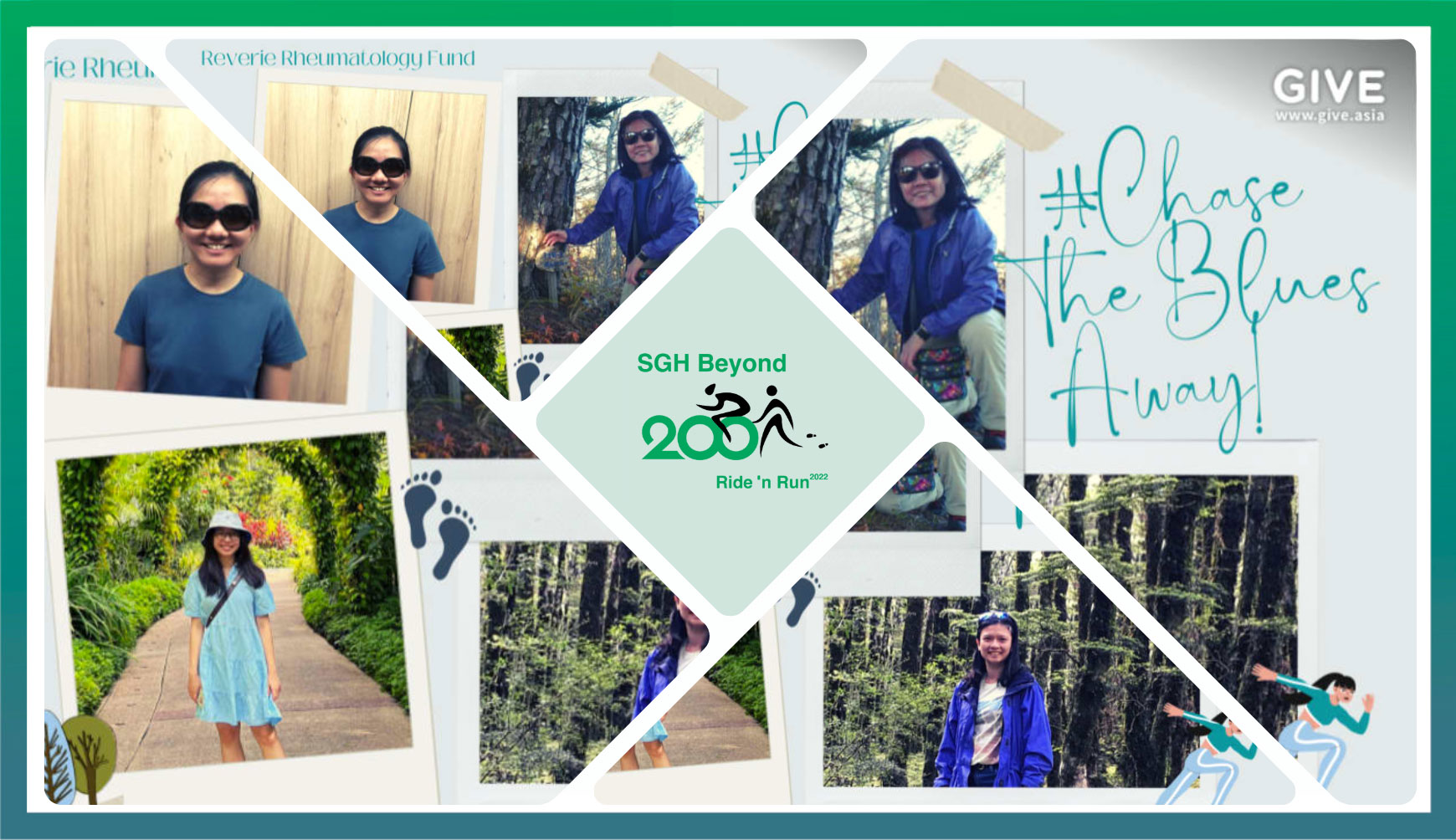 Click here to show your support!
Join Run4RA Run4Friends in supporting Rheumatology patients with Rheumatoid Arthritis.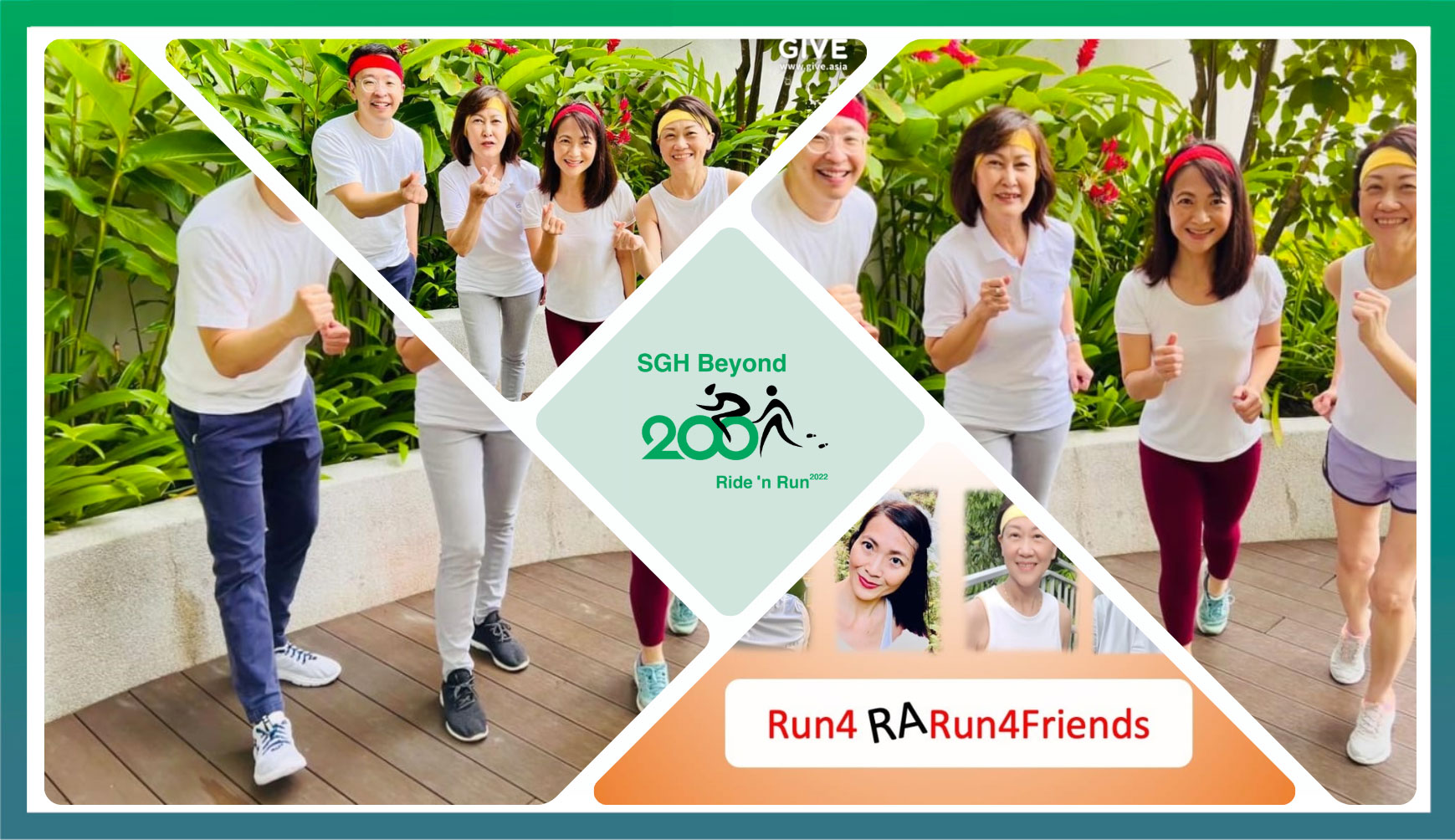 Click here to show your support!
Join us in supporting Rheumatology patients with Osteoarthritis.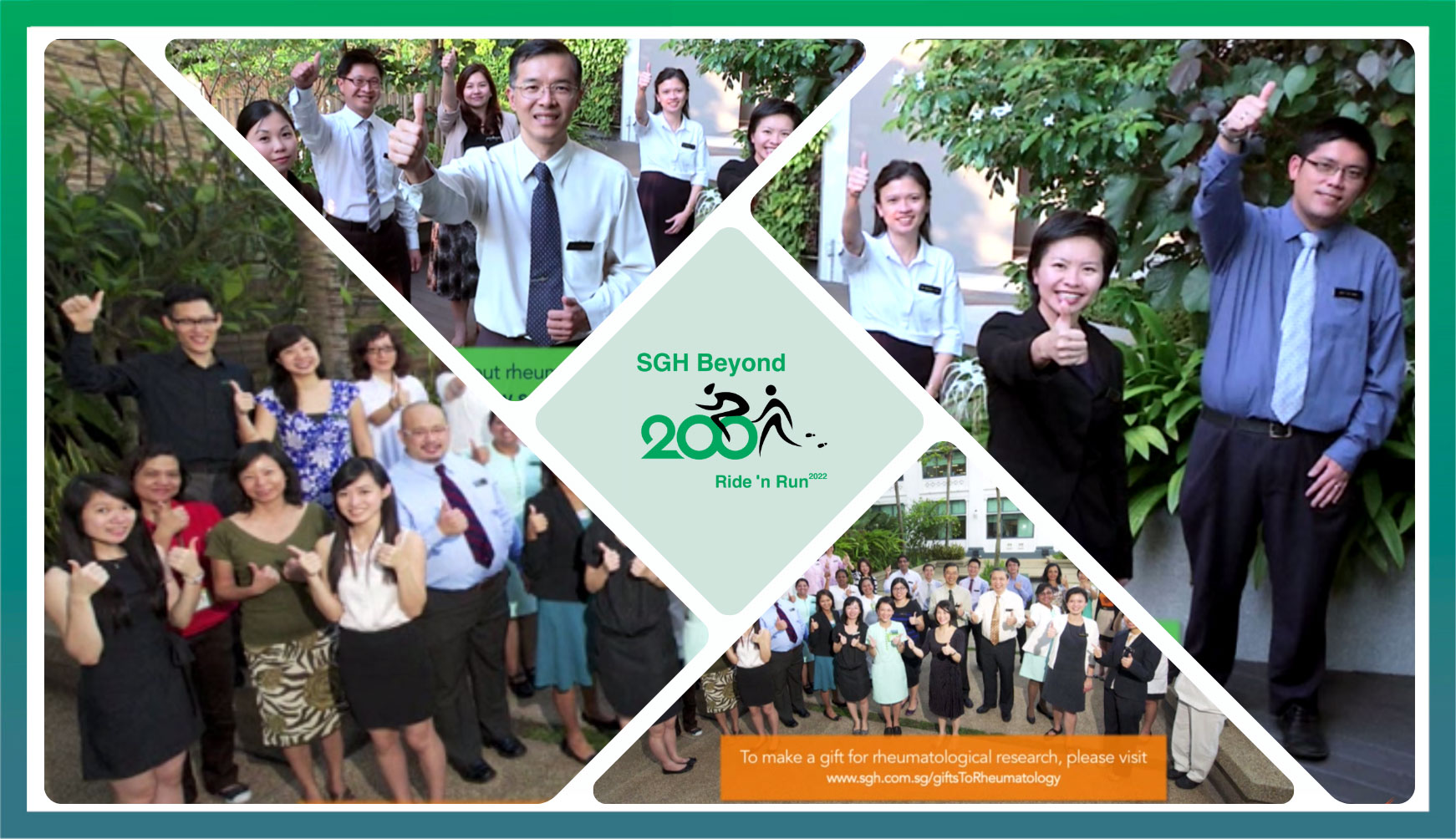 Click here to show your support!
Join our Anaesthesia superheroes in saving the earth.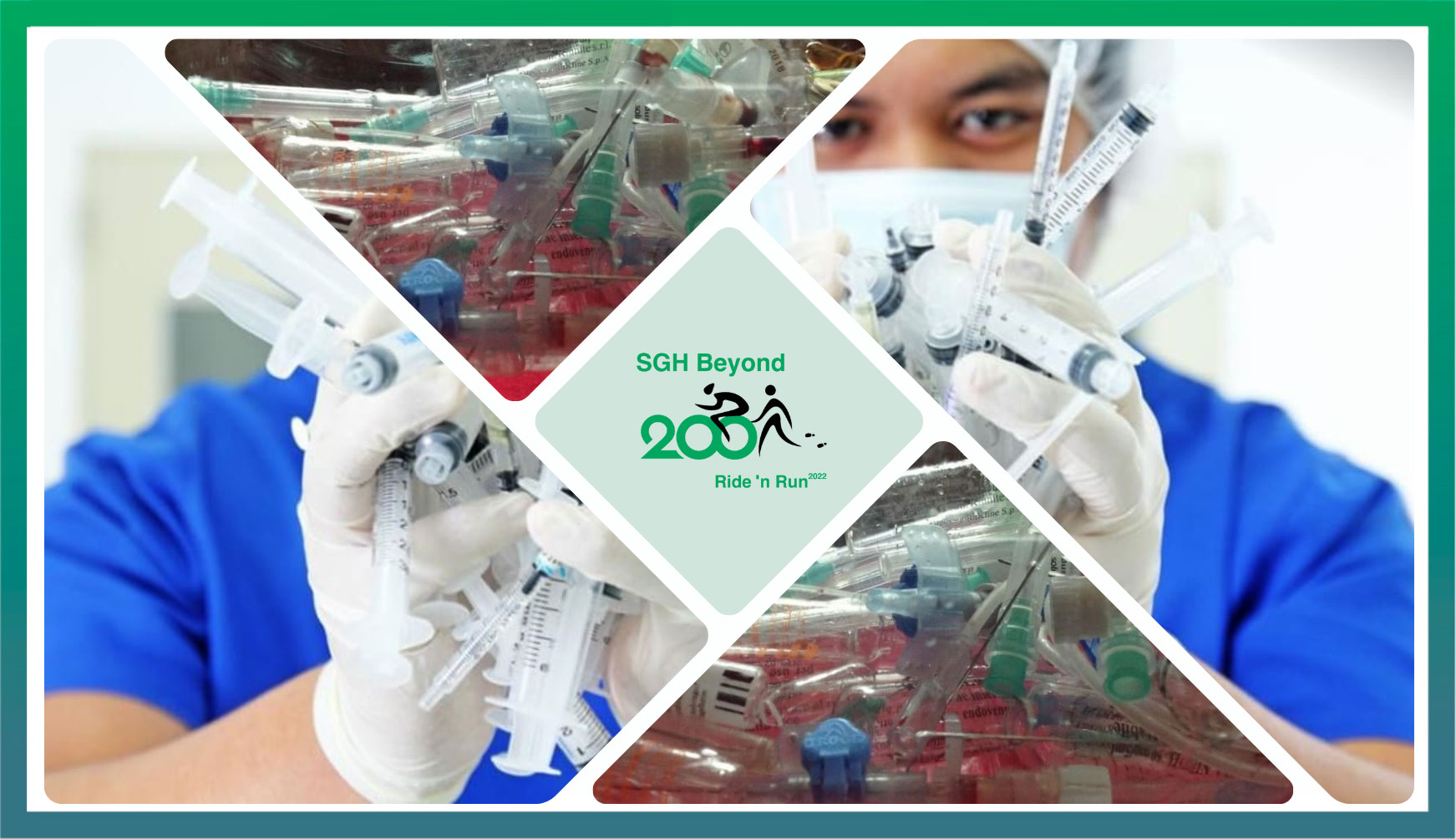 Click here to show your support!
Join JC Yip and SGH to help needy patients.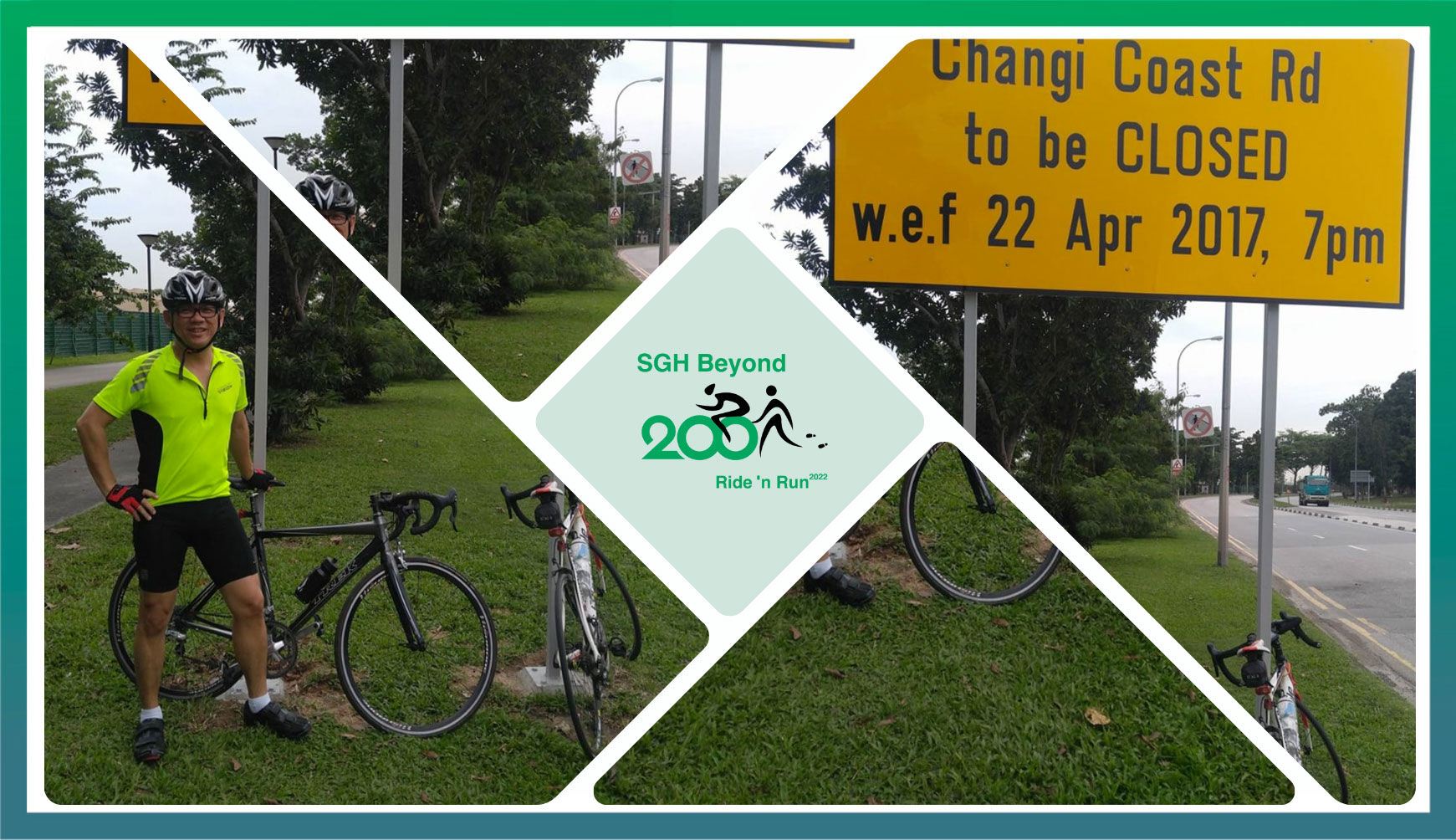 Click here to show your support!
Join Esmond to help needy patients. A kidney transplant has given him a new life and he wants to help others.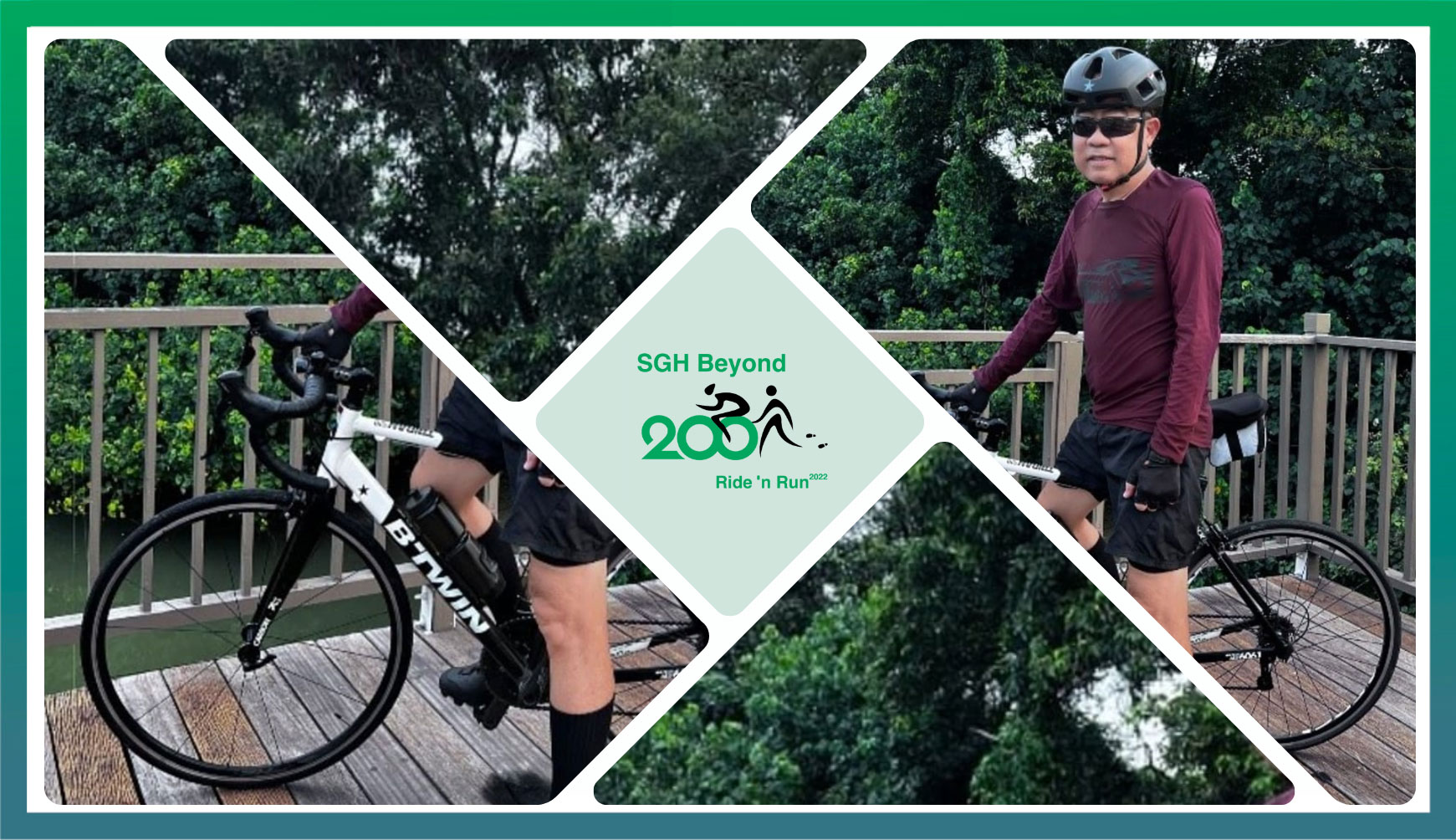 Gallery
Participants share scenic trails and their exercise moments to encourage more to adopt a healthy lifestyle.
Leaderboard
* Do note that any irrelevant or inaccurate submissions will be removed at the discretion of the organisers.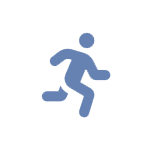 Virtual Run
20 km Individual
| First Name | theregid | Last Name | Category | kmsupload | Total KMs Uploaded |
| --- | --- | --- | --- | --- | --- |
| Jason | 113wm | How | Individual 20km | 21.00 | 136.00 |
| Wai Peng | 1a0m9 | Tan | Individual 20km | 8.13 | 20.46 |
| Sue Ping | 20831720 | Thang | Individual 20km | 7.45 | 57.29 |
| Joseph | 2fpcg | Chee | Individual 20km | 10.96 | 22.60 |
| Loke | 2rwwx | Yeow Hoong | Individual 20km | 2.41 | 163.19 |
| Jean | 351s3 | Koh | Individual 20km | 8.03 | 20.36 |
| Redemtor | 3atrf | Diaz | Individual 20km | 21.00 | 21.00 |
| May Po | 3mw7v | Lai | Individual 20km | 8.06 | 28.11 |
| Lawrence | 464rq | Tan | Individual 20km | 3.49 | 40.14 |
| Raymond | 48w7z | Tang | Individual 20km | 3.53 | 20.69 |
| Lim Hee | 4oqg0 | Goh | Individual 20km | 11.84 | 21.42 |
| Ya Hui | 5fr6r | Xia | Individual 20km | 6.20 | 23.28 |
| Chiew Meng Johnny | 5pzml | Wong | Individual 20km | 10.55 | 22.83 |
| Qing Li | 5wawv | Chan | Individual 20km | 1.80 | 51.45 |
| Sara | 69rlm | Cheung | Individual 20km | 2.50 | 2.50 |
| Derrick | 6k9k0 | Ling | Individual 20km | 6.00 | 32.25 |
| Wee Nar | 8c7dg | Lee | Individual 20km | 11.00 | 57.63 |
| Ramuluammah | 8ext1 | P Narsaiah | Individual 20km | 24.49 | 24.49 |
| Siti | 8masi | Nuraini | Individual 20km | 8.02 | 8.02 |
| Ariane | 8pdvd | Duncil | Individual 20km | 4.09 | 40.42 |
| Junjie | 8slye | Ye | Individual 20km | 10.11 | 23.49 |
| Chang tong | 92vfj | Yang | Individual 20km | 5.56 | 190.79 |
| Iskandar | 9btdo | Shah | Individual 20km | 3.00 | 22.00 |
| Jia Wei | 9diz2 | Tan | Individual 20km | 3.53 | 30.02 |
| Teck Cheng Grace | 9j0zu | Kwek | Individual 20km | 8.30 | 76.05 |
| Siok Ting | a0xt2 | Loo | Individual 20km | 3.00 | 9.00 |
| Soo Bee | a6my8 | Tan | Individual 20km | 3.00 | 21.50 |
| Love | afv5j | Running | Individual 20km | 3.00 | 19.00 |
| RongFang | al81r | Lye | Individual 20km | 3.08 | 19.40 |
| Natalie | amck9 | Khoo | Individual 20km | 5.80 | 5.80 |
| Lay Suan | avqhq | Tan | Individual 20km | 1.16 | 22.58 |
| Li Ting | avt21 | Sim | Individual 20km | 7.10 | 20.42 |
| Si Jia | b3e13 | Tan | Individual 20km | 2.44 | 29.32 |
| Leonida | bdn57 | Gomez | Individual 20km | 10.63 | 75.28 |
| Alvin | bgutc | Ng | Individual 20km | 10.30 | 40.37 |
| Kim Huat | bhuvi | Koon | Individual 20km | 1.46 | 21.64 |
| Carin | bljiz | Wong | Individual 20km | 7.17 | 25.75 |
| Geok Lan | bo3mx | Lim | Individual 20km | 10.95 | 10.95 |
| Brandon | br5xs | Loi | Individual 20km | 10.78 | 20.23 |
| Matthew | c83wr | Chia | Individual 20km | 3.19 | 9.92 |
| Ee xuan | Clvnz | Yau | Individual 20km | 9.31 | 74.24 |
| Chee Keong | crrve | Wong | Individual 20km | 5.05 | 20.64 |
| Jonathan | d3tte | Chng | Individual 20km | 13.60 | 68.54 |
| Renumathi | dqqbv | Thirumaran | Individual 20km | 8.04 | 21.65 |
| Sufyan Tsuri | eb5fk | Chik Latif | Individual 20km | 2.13 | 79.82 |
| Lim | f9okz | Ciu Fung | Individual 20km | 3.33 | 39.56 |
| Sherine | gousa | Lim | Individual 20km | 5.35 | 149.75 |
| Fiona | h109b | Liaw | Individual 20km | 4.38 | 50.76 |
| Hock Beng | hqa0w | Lee | Individual 20km | 15.10 | 93.85 |
| Desiree | ieues | Lim | Individual 20km | 3.16 | 89.82 |
| Mohamed Razali | ig1qu | Ismail | Individual 20km | 4.14 | 39.50 |
| Mohammad | inige | Jamaludin | Individual 20km | 9.42 | 9.42 |
| William | j1e60 | Chin | Individual 20km | 10.69 | 20.97 |
| Alexander | j3dip | Lee | Individual 20km | 2.01 | 20.06 |
| Waih Khuen | jj6r0 | Seah | Individual 20km | 6.79 | 20.17 |
| Bernard | jpey1 | Tham | Individual 20km | 21.10 | 21.10 |
| Wei Jie | k5lee | Lim | Individual 20km | 6.28 | 12.31 |
| Adeline | kn5a7 | Sng | Individual 20km | 2.12 | 20.30 |
| Ming Tjong | kx0vk | Chia | Individual 20km | 20.22 | 20.22 |
| Pang Keng Maxx | mngyo | Ong | Individual 20km | 12.96 | 91.28 |
| Nadrah | muucf | Hamzah | Individual 20km | 20.00 | 20.00 |
| Sheena | mvaqe | Tan | Individual 20km | 4.08 | 25.76 |
| Eugene | ndet7 | Wong | Individual 20km | 4.00 | 26.00 |
| Allen | nli8u | Ang | Individual 20km | 5.81 | 19.33 |
| Low | npu9z | CHOON KIT | Individual 20km | 10.44 | 59.93 |
| Tan | nuvp4 | Ken Ting | Individual 20km | 11.16 | 23.18 |
| Darryl | o102e | Cheong | Individual 20km | 5.38 | 21.90 |
| Daniel | oiphu | Gan | Individual 20km | 10.16 | 43.04 |
| Nelson | ovry3 | Lee | Individual 20km | 2.23 | 14.93 |
| Man Hua | p3kat | Aw | Individual 20km | 11.00 | 30.52 |
| Rafert Ram | piznr | Dina | Individual 20km | 3.39 | 8.45 |
| Cecilia | plmtz | Ngan | Individual 20km | 11.89 | 158.63 |
| Sng Chee Keong | ptq4z | . | Individual 20km | 5.20 | 23.02 |
| Jenson | pvarn | Lim | Individual 20km | 8.40 | 31.41 |
| Lorena | q85ht | Goh | Individual 20km | 6.22 | 33.42 |
| Weng Yew | qdhi6 | Low | Individual 20km | 0.97 | 3.63 |
| Dennis | qejiv | Weng | Individual 20km | 9.07 | 52.14 |
| Hee Loong | qwhyb | How | Individual 20km | 7.74 | 15.59 |
| keng kai | r2ji8 | yoong | Individual 20km | 5.80 | 32.07 |
| Nah | srj45 | Kah Wei | Individual 20km | 30.00 | 30.00 |
| Winnie | t2icn | Lam | Individual 20km | 4.21 | 4.21 |
| Anthony | tdlj3 | Koh | Individual 20km | 4.50 | 19.61 |
| Mohamed | tn4ul | Abdullah | Individual 20km | 10.09 | 47.48 |
| Danilyn | tub2e | Dina | Individual 20km | 4.90 | 19.12 |
| Shanwei | tytz0 | Huang | Individual 20km | 10.58 | 27.05 |
| Ruiyi | ujh6e | Tay | Individual 20km | 3.80 | 13.38 |
| Soba Sathya Sai | uob6m | M Suresh | Individual 20km | 3.79 | 160.99 |
| Vince | v02vx | Koo | Individual 20km | 21.08 | 31.88 |
| Wen Tang | v77hv | Choo | Individual 20km | 10.00 | 60.03 |
| Minyi | v7onu | Lau | Individual 20km | 3.80 | 145.90 |
| Tiffany | v90i9 | Wong | Individual 20km | 3.58 | 3.58 |
| James | vcuu0 | Boen | Individual 20km | 8.19 | 99.09 |
| Watt | vmidl | Yim Pheng | Individual 20km | 6.86 | 26.16 |
| Fitri | vq02u | Ardani | Individual 20km | 3.56 | 245.40 |
| Smitha | wb70g | Sheshadri | Individual 20km | 2.00 | 17.15 |
| Anand | wo512 | Krishnasamy | Individual 20km | 2.90 | 7.49 |
| Gaik Hooi | y8pe7 | Liang | Individual 20km | 8.17 | 25.39 |
| Yong Chiang | zkj5x | Neo | Individual 20km | 3.73 | 78.83 |
| Dennis | zlnwn | Chan | Individual 20km | 11.31 | 22.32 |
| First Name | theregid | Last Name | Category | kmsupload | Total KMs Uploaded |
100 km Team (up to 4)
| Team Name | theregid | Last Name | Category | kmsupload | Total KMs Uploaded |
| --- | --- | --- | --- | --- | --- |
| TeamClot | 16x6y | Yap | Team (up to 4) 100km | 7.89 | 110.53 |
| Big50run | 1f1ji | Tan | Team (up to 4) 100km | 4.00 | 118.53 |
| Blood warriors | 2g546 | Lee | Team (up to 4) 100km | 5.50 | 25.75 |
| HHCB | 532g8 | Kok Han | Team (up to 4) 100km | 6.10 | 96.97 |
| Team Platelet | 5mhp0 | Chew | Team (up to 4) 100km | 10.69 | 135.06 |
| TeamTransplant | 6lmyt | Hwang | Team (up to 4) 100km | 7.03 | 109.49 |
| SpA | 7ixsx | Fong | Team (up to 4) 100km | 5.30 | 429.08 |
| Run4RARun4Friends | 9j49v | Yee | Team (up to 4) 100km | 3.53 | 392.38 |
| Janssen Immunology Singapore | ecs1i | Khail | Team (up to 4) 100km | 13.49 | 13.49 |
| Chase the blues away | g43i6 | Low | Team (up to 4) 100km | 5.54 | 295.55 |
| Asthma Beauties | g8tkw | Tiang | Team (up to 4) 100km | 1.06 | 182.86 |
| Team Haemophilia | h55po | Ng | Team (up to 4) 100km | 14.36 | 121.93 |
| All for ONE | hwpfw | Lam | Team (up to 4) 100km | 2.81 | 90.27 |
| Lup-ing | i7vk7 | Lee | Team (up to 4) 100km | 8.56 | 187.22 |
| Lupus Warriors | inocl | Law | Team (up to 4) 100km | 8.20 | 182.19 |
| Team Touch | jlxnr | Teo | Team (up to 4) 100km | 12.00 | 119.30 |
| Der & Dar | kj3io | Ang | Team (up to 4) 100km | 21.11 | 561.28 |
| TeamMyeloma | m391i | Wei Liang | Team (up to 4) 100km | 2.80 | 184.50 |
| 4 beauties | nr972 | Heng | Team (up to 4) 100km | 1.03 | 613.60 |
| Leadshield '22 | p1qcq | Toh | Team (up to 4) 100km | 6.70 | 6.70 |
| TeamLymphoma | pvff9 | To | Team (up to 4) 100km | 5.03 | 114.66 |
| Path runners | ql890 | Lim | Team (up to 4) 100km | 4.00 | 406.99 |
| The 4 MSKeteers | qziun | Mohan | Team (up to 4) 100km | 11.50 | 482.29 |
| Kevin and Lim | r8697 | Lim | Team (up to 4) 100km | 7.58 | 111.38 |
| TeamThalassemia | smtur | Montialto | Team (up to 4) 100km | 6.80 | 231.80 |
| RadSc Wheelers | sqfdc | Tan | Team (up to 4) 100km | 40.51 | 40.51 |
| Dx4Ki | u9c4u | Mohammad | Team (up to 4) 100km | 5.26 | 173.30 |
| Running Men | uol5x | Timothy | Team (up to 4) 100km | 3.27 | 92.66 |
| Sole Survivors | uuyrd | Lim | Team (up to 4) 100km | 3.18 | 207.00 |
| RHI Joint Warriors | x5wij | Ong | Team (up to 4) 100km | 17.79 | 122.13 |
| Team Leukemia | z1njb | Hein | Team (up to 4) 100km | 5.07 | 68.24 |
| Team Name | theregid | Last Name | Category | kmsupload | Total KMs Uploaded |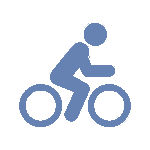 Virtual Cycle
50 km Individual
| First Name | theregid | Last Name | Category | kmsupload | Total KMs Uploaded |
| --- | --- | --- | --- | --- | --- |
| Leonida | 11r4f | Gomez | Individual 50km | 31.87 | 57.62 |
| Nelson | 2v8hw | Lee | Individual 50km | 4.26 | 17.81 |
| Lawrence | 464rq | Tan | Individual 50km | 15.31 | 30.53 |
| Hamidah | 4b2ap | Bte Haron | Individual 50km | 57.55 | 57.55 |
| Gabriel | 4iu2e | Ng | Individual 50km | 19.28 | 143.94 |
| ALVIN | 4rd6j | NG | Individual 50km | 63.50 | 109.62 |
| Mikey | 7grwk | Cruise | Individual 50km | 228.75 | 228.75 |
| Cindy | 8mo4p | Kwek | Individual 50km | 18.68 | 34.68 |
| Jessica | 8yi37 | Soo | Individual 50km | 12.14 | 181.60 |
| Changtong | 92vfj | Yang | Individual 50km | 21.36 | 21.36 |
| Arghya B | buomd | Mazumder | Individual 50km | 9.68 | 30.38 |
| Kush | c1m88 | Madia | Individual 50km | 28.39 | 40.62 |
| Stephen | e5se9 | Ng | Individual 50km | 61.81 | 111.81 |
| MADHAVAN | ebw06 | KRISHNAN | Individual 50km | 50.12 | 1,182.11 |
| Raymond | fkp0t | Cheow | Individual 50km | 104.75 | 128.50 |
| Daniel | gnt59 | Gan | Individual 50km | 4.89 | 163.59 |
| Sam | h9kij | Tan | Individual 50km | 64.00 | 209.00 |
| Kathy | h9ttl | Lee | Individual 50km | 71.68 | 238.06 |
| QUEK | hek0h | MONG SENG | Individual 50km | 41.47 | 164.62 |
| Mohamed Razali | ig1qu | Ismail | Individual 50km | 0.65 | 0.65 |
| John | j7zpk | Yeong | Individual 50km | 20.82 | 585.56 |
| Junie | kffv7 | Chan | Individual 50km | 26.91 | 39.54 |
| Sean | nhfm1 | Chong | Individual 50km | 113.00 | 113.00 |
| Hero Allan | ouqs1 | Andal | Individual 50km | 65.00 | 196.90 |
| Winnie | p0q5k | Tan | Individual 50km | 21.19 | 114.28 |
| Wilson Gabriel Jia Wei | q5o8z | Wong | Individual 50km | 30.59 | 251.88 |
| Yvonne | r30tz | Tiang | Individual 50km | 39.04 | 101.21 |
| Anthony | semti | Koh | Individual 50km | 4.78 | 4.78 |
| Sean | tne8h | Chong | Individual 50km | 112.41 | 112.41 |
| Hock Leng | ugmml | Chiang | Individual 50km | 10.86 | 50.13 |
| Wen Tang | v77hv | Choo | Individual 50km | 15.65 | 73.93 |
| Chin Chong | vhrhk | Tan | Individual 50km | 36.49 | 165.41 |
| Eng Huat | vt5w3 | Chng | Individual 50km | 100.60 | 364.29 |
| Lim | w0a8x | Chiew Guat | Individual 50km | 4.35 | 278.09 |
| Lucas | w3vhi | Wang | Individual 50km | 20.50 | 79.80 |
| Diobanny | w85ee | Chavez | Individual 50km | 46.98 | 62.47 |
| Christine | wipt0 | Lau | Individual 50km | 78.06 | 128.78 |
| Yu Wen | wwunq | Tan | Individual 50km | 228.00 | 228.00 |
| Eng Sheng | xdyv0 | Yeo | Individual 50km | 84.00 | 573.00 |
| Candice | yebe0 | Chan | Individual 50km | 171.21 | 526.05 |
| Zune | yk0kg | Tan | Individual 50km | 78.06 | 78.06 |
| Brandon | yprwj | Yong | Individual 50km | 24.93 | 47.94 |
| First Name | theregid | Last Name | Category | kmsupload | Total KMs Uploaded |
201 km Team (up to 4)
| Team Name | theregid | Last Name | Category | kmsupload | Total KMs Uploaded |
| --- | --- | --- | --- | --- | --- |
| Overachievers Inc | 6ej8h | Leong | Team (up to 4) 201km | 29.29 | 80.51 |
| YYGGF | g4icc | Lee | Team (up to 4) 201km | 14.23 | 123.39 |
| Team Haemophilia | h55po | Ng | Team (up to 4) 201km | 16.23 | 36.28 |
| CoCoCyle | h95qn | Uraya | Team (up to 4) 201km | 50.50 | 150.45 |
| RadSc Wheelers Team 2 | lxfsz | Wei Liang | Team (up to 4) 201km | 32.89 | 543.40 |
| Der & Dar | n8ryu | Ang | Team (up to 4) 201km | 66.77 | 250.38 |
| Leadshield '22 | p1qcq | Tan | Team (up to 4) 201km | 30.83 | 727.59 |
| Aunty Com-rider | rm0k2 | Fu | Team (up to 4) 201km | 140.03 | 798.20 |
| RadSc Wheelers | sqfdc | Soh | Team (up to 4) 201km | 34.58 | 878.92 |
| Chilled Cyclists | zc34g | Balasegaran | Team (up to 4) 201km | 9.91 | 25.39 |
| Team Name | theregid | Last Name | Category | kmsupload | Total KMs Uploaded |