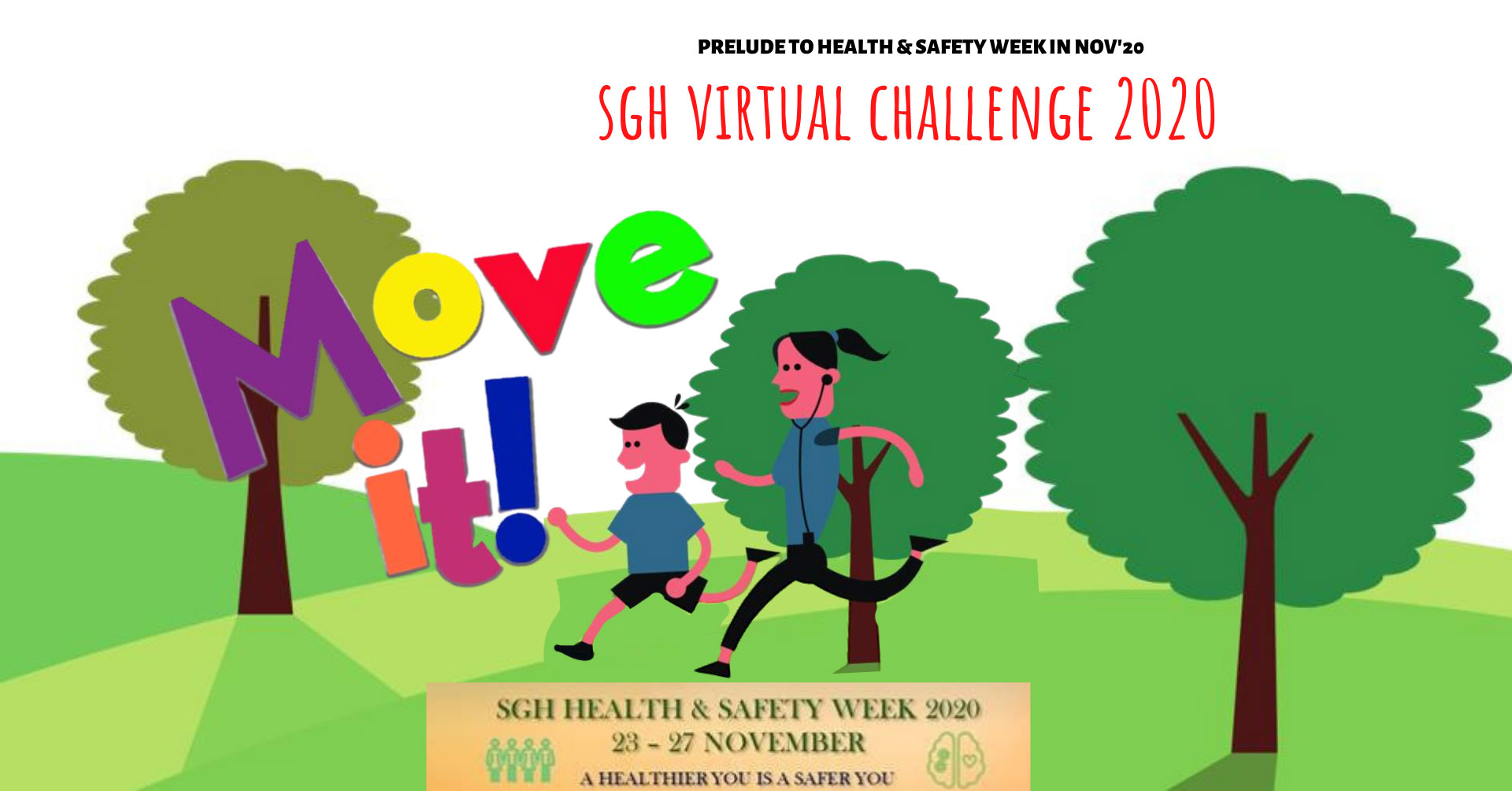 Registration
Registration closes: 16 October 2020
Event period: 12 October – 20 November 2020
Upload closes: 20 November 2020
Entitlements Distribution: November 2020
Registration is no longer available. Thank you.
Event Info
General Information
The SGH Virtual Challenge 2020 (SGHVC20) – MOVE IT!
We encourage you to take ownership of your health through exercising – be it walking, aerobic workout, daily chores, or running – throughout the 40 days challenge period at your own pace and time.
All you need is either a step tracker (MOVE IT! Challenge) or GPS-tracking app (RUN IT! Challenge) to start. Don't be "kancheong" to start immediately! The challenge starts from 12 Oct and ends on 20 Nov 2020. There are two (2) categories:
a. MOVE IT!
Challenge yourself to complete 300,000 steps in just 40 days! To claim your Finisher Medal, take a screenshot of your daily steps accumulated and upload it onto the online portal.
b. RUN IT!
Challenge yourself to complete either 10km, 20km or 50km run in just 40 days! To claim your Finisher Medal, you have to complete your registered distance. You can either complete it in a single run or multiple runs. Remember to take a screenshot of your distance clocked and upload it onto the online portal.
Leader Board – Wanting to keep track of your performance? Use our real-time Leader Board below, to track your performance or benchmark yourself against other participants! Keep uploading your records and stand a chance to be among the top 10 in each category to clock the longest distance or most steps accumulated to win a mystery prize!
All finishers will also stand a chance to win a prize in the Finishers Lucky Draw!
Event available in: Singapore
Important dates
Registration period: 25 September – 16 October 2020
Event period: 12 October – 20 November 2020 (You can upload any sessions done within this period)
Upload closes: 20 November 2020
Entitlements Distribution: November 2020
How to participate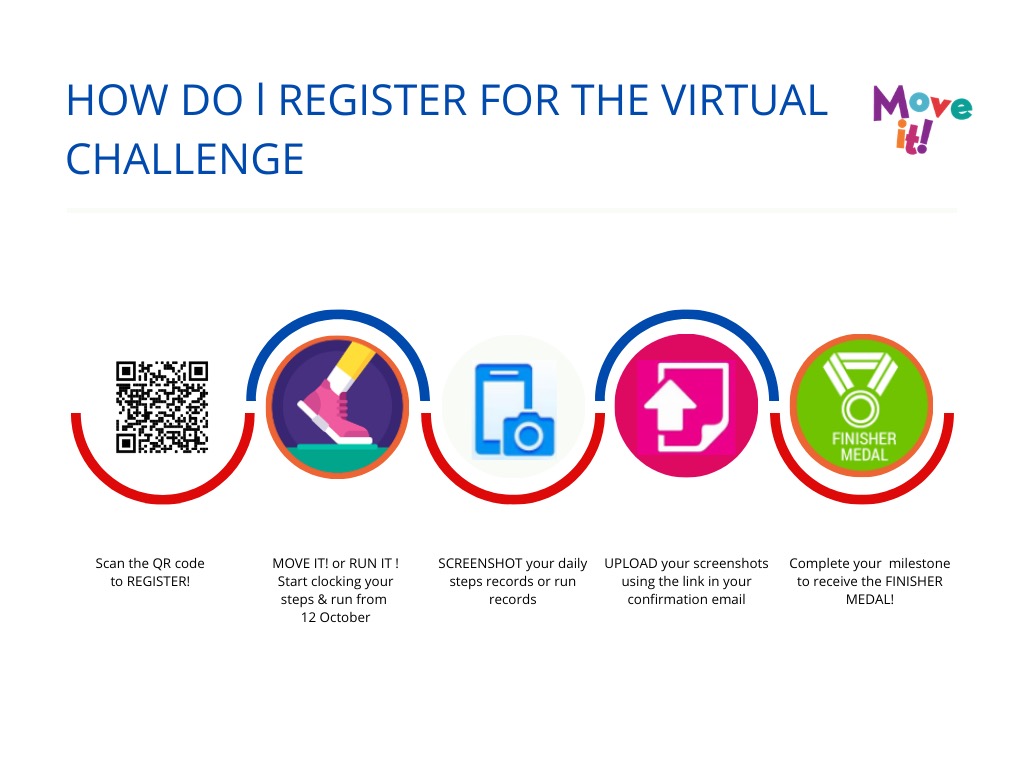 Entitlements
 
Finisher's Medal


Lucky Draw for all finishers
Upload
You can complete your session indoor or outdoor, and upload a screenshot or photo showing the date, distance and duration of your session by either:
1) Using any of your preferred GPS-tracking or Health app, such as Strava, Runtastic, Runkeeper, Garmin Connect etc
2) Using an indoor treadmill
* Upload submission has closed on 20 Nov 2020 23.59hrs.
Terms & Conditions
Participants take part in this event at their own risk and are responsible for their own safety when choosing their run route. As a participant, you are encouraged to wear high visibility clothes when running in dim lighting conditions for safety reasons. Singapore General Hospital (SGH) and JustRunLah (service provider) accept no responsibility for any accident, incident of any nature or injury sustained whilst taking part in the virtual event. SGH excludes any liability for personal injury or death that may arise due to your participation in this event.
This event is opened to all SGH employed staff.
By participating in this virtual challenge, you are accepting that JustRunLah! will contact you to confirm your entry and keep you updated on the progress of your participation. Please note that you will be added to the JustRunLah! mailing list and you will receive updates on future events. You can unsubscribe from the JustRunLah! mailing list at any time.
After completing your daily run/walk, take a screenshot of the run/walk statistics (via a tracking app) and upload it onto the JustRunLah! online portal. If your upload cannot be validated, your challenge will be deemed as incomplete. You will not be entitled to the finishers medal. In such circumstances, you will need to re-run and upload a new record (within the challenge period). If you experience any difficulty in uploading your run/walk details, please contact JustRunLah! at support@justrunlah.com.
Uploading of run/walk records will be from 12th October to 20th November 2020. If you are unable to complete your run/walk and upload by the dateline, please write to the Work-Life Unit at worklife@sgh.com.sg for assistance.
Finisher medals will be awarded to all participants who complete the distance in their respective category or achieved 300,000 steps during the challenge period. The top 10 participants with the highest mileage accumulated in each category, will receive a special prize.
The organizer has the rights to use the uploaded photos for publicity or sharing in social media.
FAQs
Registration
1. How do I register?
Click on "Register" tab and follow the registration process. An email will be sent to you when your registration is successful.
2. Is the registration free?
Registration for the Virtual Run is free for all SGH staffs. Please contact the SGH Work-Life Unit's personnel at worklife@sgh.com.sg for more information.
3. When is the registration period?
Registration is open from the 25th September to the 16th October 2020. Please ensure that you register during this period only.
4. Who can I contact if I have issues with my registration or other event related information?
For all technical enquires regarding this event, you may contact support@justrunlah.com. For other enquiries, you can contact worklife@sgh.com.sg
Submission of results
5. When can I start to submit my Run results?
Run submissions can only be allowed to be uploaded from the 12th October – 20th November.
Run submissions received before or after these dates will not be accounted for.
6. What Apps should I use to capture my steps record or run session? Can I use a treadmill?
There are numerous GPS Running trackers such as:
• MapmyRun
• Strava
• Running
• Adidas Running
• Nike Running
• Apple Health App
• Samsung Health App
• Google Fit
For those that are using treadmills, please take a photo of your distance covered from the dashboard with a reference to the date of the activity. (eg. a watch)
Personal step trackers can also be used, please take a photo of the steps clocked to submit as proof.
7. How do I submit my Run or Step record?
Step 1:
Use the recommended GPS Running Tracker Apps or Treadmill or personal step tracker to record your Run or Steps starting from 12th October – 20th November.
Step 2:
Move It! category
For steps, take a screenshot of your daily steps count via your personal step tracker, Apple Health, Google Fit or Samsung Health App.
Run It! categories
Take a screenshot of your Finished Run activity, making sure that the date, distance, and time of run is clearly visible. (if you are using a treadmill, please take a photo of the dashboard with the distance and time, and a reference to the date, ie. From a watch or another phone).
Step 3:
Upload your screenshot or photo via the link of your confirmation email or the 'Upload' tab.
Please have your registration ID available and fill in the details accordingly.
For ease of uploading, please access via the link from your confirmation email.
Step 4:
Once submitted, you will receive a notification email. You can then repeat step 1 again for your next run and submission.
*Do note that any irrelevant or inaccurate submissions will be removed at the discretion of the organizers.
8. Is there a limit to how many results I am allowed to submit?
No, there is no limit to how many results you can submit. This is an accumulative run challenge. You may take as many or as few submissions, to complete the minimum distance that you have selected.
9. Can I submit more run-results even if I have completed my minimum distance?
Yes, you may still continue to submit your run-results after reaching the minimum distance that you have selected. Only submissions during the submission period of 12th October – 20th November will be accounted for.
10. How will I know if my submission is received?
An email notification will be sent to you after each submission of your run. We will notify you, if any of the submission is invalid or unclear and will require a new submission.
Finisher entitlements
11. When will I receive my finisher medal and e-certificate?
E-certificates of completion will be given within 1 week of the last day of submission. Finisher Medals will be distributed in November 2020.
12. What if for whatever reason I am unable to complete my minimum distance, do I still get my finisher medal?-
No, please note that only participants that complete their required minimum distance will be provided with their Finisher Medal and E-certificate.
Leaderboard
* Do note that any irrelevant or inaccurate submissions will be removed at the discretion of the organisers.
Run It! 50km
| First Name | RegID | Last Name | Category | Gender | Age Group | Division | kmsupload | Total KMs Uploaded |
| --- | --- | --- | --- | --- | --- | --- | --- | --- |
| Wendy | 11dv7 | Phng | Run It! 50km | Female | Open | Estate Management | 41 | 70.20 |
| Siti Mardiyah | 175eq | Bte Sa'ed | Run It! 50km | Female | Open | Nursing | 5 | 84.14 |
| Charles | 1e39e | Goh | Run It! 50km | Male | Master | Radiological Science | 3 | 60.66 |
| Yan Mee | 1i332 | Law | Run It! 50km | Female | Master | Radiological Science | 8 | 311.24 |
| Kenneth | 1k1yz | Chin | Run It! 50km | Male | Open | Radiological Science | 54 | 54.76 |
| Valerie | 1p31z | Tan | Run It! 50km | Female | Open | Pre-Operative and Admitting Services | 10 | 51.35 |
| Limei | 1rgfj | Zu | Run It! 20km | Female | Open | Nursing | 47 | 47.00 |
| Monne Vincent | 1ui13 | Villas | Run It! 50km | Male | Open | Nursing | 14 | 57.62 |
| Hatijah | 1zsep | Tohid | Run It! 10km | Female | Master | Nursing | 10 | 20.77 |
| Shou Kit | 29va8 | Hang | Run It! 50km | Male | Open | Pathology | 5 | 84.07 |
| Diana | 2b55a | Sulaimi | Run It! 50km | Female | Open | Allied Health | 3 | 58.61 |
| Annie | 2bidf | Lau | Run It! 10km | Female | Veteran | Nursing | 1 | 21.26 |
| SANGIREDDY SRIHARI | 2g3px | REDDY | Run It! 50km | Male | Master | Nursing | 20 | 435.15 |
| Jack | 2iwtz | Wong | Run It! 50km | Male | Open | Human Resource | 5 | 5.00 |
| Edwin | 2nviu | Choo | Run It! 50km | Male | Open | Nursing | 5 | 135.87 |
| Candy | 2pv1h | Lee | Run It! 20km | Female | Open | Human Resource | 3 | 44.24 |
| Kimberly mae | 2qpqb | Belga | Run It! 50km | Female | Open | Nursing | 6 | 16.50 |
| Tony | 2s5gy | Chen Xi | Run It! 50km | Male | Open | Surgery & Surgical Oncology | 4 | 175.83 |
| Yan Hui | 2sn62 | Tan | Run It! 20km | Female | Open | Medical Board | 3 | 25.92 |
| Teng han | 2vb1q | Chok | Run It! 10km | Male | Open | Nursing | 11 | 11.10 |
| Su Fee | 300iw | Lim | Run It! 50km | Female | Master | Nursing | 5 | 83.11 |
| Nur Fidtria | 31sq6 | Sahat | Run It! 10km | Female | Open | Nursing | 10 | 10.04 |
| Joyce Anne | 32t87 | Verzosa | Run It! 50km | Female | Open | Allied Health | 8 | 59.40 |
| Kassia | 38b1o | Wu | Run It! 50km | Female | Master | Human Resource | 5 | 80.29 |
| Shimin | 3ahom | Ho | Run It! 20km | Female | Open | Nursing | 3 | 138.92 |
| Lim | 3g2mu | Yong Kean | Run It! 10km | Male | Open | Nursing | 14 | 14.46 |
| Salma | 3i29r | Ibrahim | Run It! 10km | Female | Open | Allied Health | 10 | 10.32 |
| Saranya | 3Idk7 | Panneerselvam | Run It! 10km | Female | Open | Medicine | 2 | 14.00 |
| Thiri Naing | 3kzro | Thin | Run It! 50km | Female | Open | Anaesthesiology | 9 | 244.56 |
| LOW | 3sgmv | AGNES | Run It! 10km | Female | Open | Allied Health | 3 | 63.74 |
| Wei Mian | 3w581 | Ang | Run It! 20km | Female | Open | Medicine | 5 | 20.33 |
| Weiliang | 40v2i | Zhang | Run It! 50km | Male | Open | Finance | 2 | 50.77 |
| Xiaofeng | 43kno | Huang | Run It! 10km | Female | Open | Nursing | 5 | 170.50 |
| Wee Hoe | 45am9 | Gan | Run It! 20km | Male | Master | Medicine | 5 | 21.50 |
| Amy | 47yix | Quah | Run It! 20km | Female | Veteran | COO Ambulatory | 5 | 63.54 |
| James | 4l1f7 | Toi | Run It! 50km | Male | Veteran | COO Ambulatory | 22 | 404.72 |
| Rui Lin | 4xd0f | Low | Run It! 10km | Female | Open | Human Resource | 2 | 13.69 |
| Wei Qi | 50pi8 | Suen | Run It! 50km | Female | Open | Nursing | 12 | 62.57 |
| Lim | 51doh | Mun Moon | Run It! 50km | Male | Veteran | Allied Health | 5 | 52.87 |
| Ee Lin | 572f7 | Woon | Run It! 50km | Female | Open | Allied Health | 5 | 67.90 |
| Alcey | 5kkuu | Ang | Run It! 10km | Female | Open | Medicine | 5 | 10.00 |
| Helen | 5tv0o | Law | Run It! 20km | Female | Open | Nursing | 4 | 23.00 |
| Irene | 60wqw | Wong | Run It! 50km | Female | Open | Anaesthesiology & Perioperative Med | 4 | 50.18 |
| Abdul | 64r10 | Muhaimin | Run It! 10km | Male | Open | COO Ambulatory | 4 | 10.73 |
| Han Bin | 65pw2 | Ong | Run It! 50km | Male | Open | Radiological Science | 4 | 64.20 |
| Joselito | 660qi | Felipe | Run It! 10km | Male | Master | Nursing | 3 | 159.39 |
| Sandy | 6kty | Lu | Run It! 50km | Female | Open | Finance | 5 | 58.51 |
| Han Guang | 6lpih | Chin | Run It! 20km | Male | Open | OSS Security | 6 | 23.94 |
| Lani | 6q9nd | Marcha | Run It! 50km | Female | Master | Nursing | 5 | 58.93 |
| Aziz | 6r28j | Bin Abdul Karim | Run It! 50km | Male | Master | Nursing | 12 | 66.80 |
| Yi Lin Lee | 6tgny | Lee | Run It! 50km | Female | Open | Anaesthesiology & Perioperative Med | 15 | 58.99 |
| Samsul | 6zktk | Kamar | Run It! 50km | Male | Master | Nursing | 6 | 71.33 |
| Nurhazwani | 763ox | Mohd Ya'akob | Run It! 10km | Female | Open | Nursing | 28 | 41.92 |
| Maria Jesusa | 77lh4 | Canuel | Run It! 50km | Female | Open | Nursing | 3 | 162.04 |
| Shu Ting Constance | 78x6w | Ng | Run It! 10km | Female | Open | Human Resource | 2 | 10.26 |
| Lai Yee | 7sqzy | Li | Run It! 20km | Female | Master | Human Resource | 5 | 5.50 |
| Jennifer | 7stzk | Yong | Run It! 20km | Female | Master | Finance | 14 | 20.53 |
| Hui Min | 7wtsc | Lee | Run It! 50km | Female | Open | Radiological Science | 4 | 56.64 |
| ChangTong | 8022917 | Yang | Run It! 50km | Male | Veteran | Radiological Science | 15 | 342.27 |
| Mohammad Rizuwan | 80u20 | Mustaffa | Run It! 10km | Male | Open | Nursing | 2 | 31.29 |
| alwin | 83rnv | Calantoc | Run It! 20km | Male | Open | Nursing | 4 | 23.90 |
| Muhammad Emmirul | 86xx2 | Norman | Run It! 50km | Male | Open | Nursing | 6 | 66.38 |
| MANOJ KUMAR | 87z8f | THANGARAJU | Run It! 20km | Male | Open | Radiological Science | 7 | 116.80 |
| Chuen Jye | 8dr8z | Yeoh | Run It! 50km | Male | Master | Anaesthesiology & Perioperative Med | 56 | 174.67 |
| Guat Cheng | 8dts4 | Koh | Run It! 50km | Female | Master | COO Ambulatory | 8 | 245.46 |
| Xinxin | 8e2as | Chu | Run It! 10km | Female | Open | Nursing | 11 | 11.03 |
| Muhd Imran | 8fv0n | Ahmad | Run It! 10km | Male | Open | Nursing | 4 | 6.69 |
| Florence | 8lkp4 | Chiang | Run It! 10km | Female | Master | Allied Health | 4 | 10.99 |
| TUN | 8mvly | HLAING | Run It! 10km | Male | Master | Radiological Science | 3 | 14.92 |
| Marilou | 8ozqo | Manalo | Run It! 50km | Female | Open | Nursing | 1 | 109.90 |
| Angie | 8xu3m | Lao | Run It! 50km | Female | Master | Nursing | 3 | 61.63 |
| Brenda | 8zjbx | See | Run It! 10km | Female | Open | Human Resource | 4 | 9.89 |
| Tuck Weng | 9imy5 | Woon | Run It! 10km | Male | Master | Human Resource | 10 | 30.05 |
| Amanda | 9r580 | Lee | Run It! 20km | Female | Open | Allied Health | 20 | 20.00 |
| Shairah | 9rojs | Ramazan | Run It! 50km | Female | Open | Allied Health | 3 | 53.77 |
| Wa Wa | aa3cp | Aung | Run It! 20km | Female | Open | Allied Health | 2 | 20.72 |
| Bai | abgz8 | Ying | Run It! 50km | Female | Open | Allied Health | 6 | 61.16 |
| Boon Hong | adnkx | See | Run It! 20km | Female | Master | Nursing | 3 | 25.05 |
| Muhammad Zulfadli | ahjsf | Bin Zainuddin | Run It! 20km | Male | Open | Allied Health | 4 | 4.00 |
| Hartini | ajtsq | Osman | Run It! 50km | Female | Master | Nursing | 5 | 71.08 |
| Dezarae | am4be | Ang | Run It! 20km | Female | Open | Nursing | 5 | 107.61 |
| Kaniyamparampil komalan | anhf6 | Subimol | Run It! 50km | Female | Open | Nursing | 2 | 60.44 |
| Lee | auave | Li Lern | Run It! 50km | Male | Master | Human Resource | 27 | 309.98 |
| Jia ying | Aup81 | Chua | Run It! 50km | Female | Open | Nursing | 3 | 3.40 |
| Dorothy | axxml | Ong | Run It! 20km | Female | Master | Nursing | 7 | 20.77 |
| Li Ting | ayqts | Quek | Run It! 10km | Female | Open | Nursing | 5 | 11.12 |
| May Un Sam | b0pw6 | Mok | Run It! 50km | Female | Master | Anaesthesiology | 4 | 149.05 |
| Lara Clariza Cariaga | b1ie6 | Germar | Run It! 10km | Female | Open | Nursing | 4 | 177.76 |
| Chilly | b37zb | Chen | Run It! 50km | Female | Master | Nursing | 2 | 50.60 |
| Eugene | b6p76 | Sim | Run It! 10km | Male | Master | COO Ambulatory | 3 | 10.32 |
| Nora Azwaj | ba0nl | A'Rusley | Run It! 10km | Female | Open | Nursing | 5 | 19.18 |
| Cassandra | ba7d1 | Chua | Run It! 20km | Female | Open | Patient Support | 22 | 44.92 |
| Syadad | bbqt8 | Sulaiman | Run It! 10km | Male | Open | Radiological Science | 4 | 72.22 |
| Jessica Jia Hao | be7ve | Soo | Run It! 20km | Female | Master | Patient Experience, Communications and Development | 10 | 40.16 |
| Racquel | bgin7 | Simeon | Run It! 20km | Female | Master | Nursing | 14 | 21.77 |
| Lily Hui Ling | bgn5i | Chin | Run It! 50km | Female | Open | Nursing | 5 | 78.41 |
| Shin Yin | bie2g | Chang | Run It! 20km | Female | Open | Allied Health | 4 | 317.64 |
| Jia Wei | bjcl8 | Leong | Run It! 20km | Male | Open | Patient Experience, Communications and Development | 6 | 46.02 |
| Chai Rick | bq5n5 | Soh | Run It! 50km | Male | Veteran | Anaesthesiology & Perioperative Med | 6 | 122.50 |
| loong-tat | brro3 | Wong | Run It! 50km | Male | Veteran | Anaesthesiology | 5 | 76.35 |
| Wei Wen | bwf6x | Kuan | Run It! 10km | Female | Open | Nursing | 7 | 31.14 |
| Jack Thian | bwqpd | Tan | Run It! 20km | Male | Veteran | COO's Office | 5 | 26.04 |
| Jerico | bz7tg | Gapasin | Run It! 50km | Male | Master | Sterile supply | 8 | 640.66 |
| Ivy | c1cv0 | Goh | Run It! 10km | Female | Open | Nursing | 5 | 10.19 |
| Siew Huay, Winnie | c4jz5 | Khaw | Run It! 10km | Female | Veteran | Finance | 11 | 15.90 |
| Jie Ru | c7z5m | Ong | Run It! 50km | Female | Open | Nursing | 16 | 16.00 |
| Juliana | c9jba | Shariq Mujtaba | Run It! 50km | Female | Open | Allied Health | 23 | 120.14 |
| JIA JING | cb0f | LUI | Run It! 50km | Male | Open | Pre-Operative and Admitting Services | 4 | 140.34 |
| Poh lin | ce2j5 | koh | Run It! 50km | Female | Master | Allied Health | 28 | 63.35 |
| Sin Yee | ce79a | Goh | Run It! 50km | Female | Master | Anaesthesiology | 5 | 93.18 |
| Izza Firhana | cel73 | Md Arzanjani | Run It! 10km | Female | Open | Nursing | 15 | 15.01 |
| Shawn | cf2ts | Poh | Run It! 20km | Male | Open | COO Ambulatory | 3 | 34.87 |
| Ng | chs8f | Hui Sin | Run It! 50km | Female | Open | Allied Health | 7 | 60.87 |
| Lim | ckow4 | Jia Hui | Run It! 10km | Female | Open | COO Ambulatory | 3 | 10.90 |
| LinLin | cl0w8 | Hu | Run It! 50km | Female | Open | Nursing | 9 | 62.54 |
| HUSSEIN | clzjb | TRINIO | Run It! 50km | Male | Master | Ancillary | 5 | 51.90 |
| Kelvin | cpz43 | Loke | Run It! 50km | Male | Master | Radiological Science | 4 | 75.51 |
| Pamela | cqsbz | Alipio | Run It! 50km | Female | Open | Nursing | 6 | 31.50 |
| Clement | cutd7 | Ching | Run It! 20km | Male | Open | Nursing | 5 | 5.41 |
| Darren | cws4r | Tay | Run It! 50km | Male | Master | Musculoskeletal Sciences | 50 | 50.50 |
| Alvin | czbab | Chua | Run It! 50km | Male | Master | Musculoskeletal Sciences | 7 | 7.34 |
| GAN | d0h1o | YEE LIN | Run It! 50km | Female | Open | Nursing | 5 | 37.40 |
| Tan | d1wbb | Yoke Chang | Run It! 50km | Male | Veteran | Human Resource | 10 | 540.85 |
| KISHEN KUMAR | d3det | MURUGA | Run It! 50km | Male | Open | Nursing | 7 | 20.57 |
| NALAYANI | d41i3 | KURUMBIAN | Run It! 10km | Female | Open | Nursing | 10 | 10.75 |
| Francis | dacxd | Cruz | Run It! 50km | Male | Open | Nursing | 5 | 10.05 |
| Kam Fei | df61 | Cheng | Run It! 10km | Male | Master | Postgraduate Medical Institute (PGMI) | 3 | 17.00 |
| Mary Ann | dfq2i | Morrondoz | Run It! 50km | Female | Master | Nursing | 5 | 20.43 |
| Harminder Singh | dnqr0 | Olikh | Run It! 50km | Male | Open | Nursing | 2 | 7.00 |
| Mohamad Zaki Khan | dtphb | Zulkafri | Run It! 50km | Male | Open | Nursing | 8 | 28.60 |
| Ariane | dzfru | Duncil | Run It! 20km | Female | Open | Surgery | 20 | 265.79 |
| Cheryl | e3ywo | Lee | Run It! 20km | Female | Open | Radiological Science | 3 | 35.34 |
| Sarah | e59zf | Lim | Run It! 20km | Female | Open | Allied Health | 5 | 9.00 |
| Ihsan | e9we9 | Md | Run It! 50km | Male | Open | Nursing | 11 | 50.98 |
| Michelle | eazxe | Tan | Run It! 50km | Female | Master | Anaesthesiology | 5 | 226.57 |
| Kee | efebf | Yong han adam | Run It! 50km | Male | Open | Radiological Science | 3 | 30.19 |
| Mavis | el5ej | Teo | Run It! 50km | Female | Master | Anaesthesiology | 4 | 76.76 |
| Nicholas | emjtm | Png | Run It! 50km | Male | Open | Radiological Science | 5 | 155.52 |
| Li Eng | emwef | Loo | Run It! 50km | Female | Master | Pathology | 10 | 503.93 |
| Haijun | eqwrx | Li | Run It! 50km | Female | Open | Nursing | 15 | 50.53 |
| Thinzar | es3kh | Wut Yee | Run It! 50km | Female | Open | Nursing | 3 | 9.22 |
| NOR FAIZAH | exevy | AHMAD KHAIZ | Run It! 20km | Female | Open | Nursing | 0 | 4.31 |
| Peik Yen | ey2eo | Teh | Run It! 10km | Female | Open | Radiological Science | 6 | 29.45 |
| Shu Ying | f0v03 | Loh | Run It! 20km | Female | Open | Human Resource | 6 | 30.22 |
| Mavis | f72q0 | Law | Run It! 50km | Male | Open | Allied Health | 51 | 51.30 |
| Siti khadijah | faz | Zainuddin | Run It! 10km | Female | Open | Nursing | 11 | 11.40 |
| Elizabeth | fc9k6 | Cheong | Run It! 20km | Female | Open | Radiological Science | 3 | 30.64 |
| Siew Hoon | fgyjn | Lim | Run It! 10km | Female | Master | Nursing | 10 | 10.90 |
| Fatima | fh20q | Pelipel | Run It! 50km | Female | Open | Nursing | 14 | 83.79 |
| Jun Jie | fhcd5 | Tan | Run It! 50km | Male | Open | Allied Health | 4 | 138.13 |
| Li-Ming | fhu0s | Teo | Run It! 50km | Female | Master | Anaesthesiology | 5 | 123.33 |
| Paul Kung Ngieng | fk2la | Lau | Run It! 10km | Male | Veteran | Finance | 11 | 15.27 |
| Kian Hian | fkntm | Tan | Run It! 50km | Male | Master | Anaesthesiology & Perioperative Med | 6 | 56.40 |
| Ching San | fs6vu | Teo | Run It! 50km | Male | Veteran | Allied Health | 4 | 153.60 |
| Wu | fu9th | Xiao Yuan | Run It! 50km | Female | Open | Allied Health | 5 | 50.51 |
| Lim Mei Qi | fwd8c | Ang | Run It! 50km | Female | Open | Nursing | 65 | 136.39 |
| Klarisse Mae | fyc3f | Esteban | Run It! 20km | Female | Open | Nursing | 4 | 20.26 |
| Tim Wei | fyps7 | Lee | Run It! 50km | Male | Open | COO Ambulatory | 10 | 50.00 |
| Nurul Fadhlina | g15bv | Binte Noorshah | Run It! 20km | Female | Open | Nursing | 5 | 20.81 |
| HuiShan | g2rbr | Chong | Run It! 20km | Female | Open | Nursing | 4 | 20.20 |
| Kok Kian | g4jpr | Lai | Run It! 50km | Male | Open | Finance | 1 | 17.93 |
| Xiaoyuan | gcii8 | Song | Run It! 10km | Female | Master | Nursing | 3 | 14.79 |
| Seok Khim | glb6m | Lim | Run It! 50km | Female | Veteran | Pre-Operative and Admitting Services | 14 | 266.80 |
| Catharine | gqza7 | Yong | Run It! 50km | Female | Master | Nursing | 18 | 75.51 |
| Tina | gtkb3 | Phua | Run It! 10km | Female | Master | COO Ambulatory | 5 | 53.90 |
| Yam Eng | gurn6 | Tan | Run It! 50km | Female | Master | Medicine | 5 | 89.79 |
| Shu Hao | gvbf8 | Lee | Run It! 50km | Male | Master | Projects | 11 | 408.68 |
| Dalpreet | h4aav | Kaur | Run It! 10km | Female | Open | Research Office | 1 | 1.30 |
| Jerald | h6wym | Lim | Run It! 50km | Male | Open | Finance | 10 | 257.98 |
| Jerald | h6ywm | Lim | Run It! 50km | Male | Open | Finance | 21 | 39.71 |
| Ann Julia | hbvk8 | Joseph | Run It! 50km | Female | Open | Nursing | 5 | 52.74 |
| Lee | hd79t | Chee Woei | Run It! 20km | Female | Master | Nursing | 5 | 80.30 |
| Louis | hd7j5 | McAdory | Run It! 50km | Male | Veteran | Radiological Science | 4 | 140.13 |
| Leonida | hdycn | Gomez | Run It! 50km | Female | Master | Nursing | 6 | 224.04 |
| Jessie | hfq0j | Ong | Run It! 50km | Female | Open | COO Ambulatory | 9 | 109.48 |
| Tricia | hl6f1 | Lang | Run It! 10km | Female | Open | Nursing | 10 | 10.00 |
| Wei Cong | hobl6 | Lim | Run It! 50km | Male | Open | Allied Health | 4 | 50.11 |
| Kee Wee | hvauh | Goh | Run It! 50km | Male | Open | COO Ambulatory | 2 | 368.05 |
| Audrey | hvhv4 | Chia | Run It! 50km | Female | Open | Radiological Science | 9 | 52.32 |
| Nur syafinah | i0df1 | Azmi | Run It! 10km | Female | Open | Nursing | 4 | 12.16 |
| mark ivan | i697d | gavino | Run It! 20km | Male | Open | Nursing | 6 | 61.64 |
| Josephine | i7hh6 | Wang | Run It! 50km | Female | Open | Allied Health | 10 | 73.59 |
| Ho Ping | iapx0 | Kho | Run It! 50km | Female | Master | Medicine | 3 | 61.96 |
| Wanying | ij07f | Xie | Run It! 10km | Female | Master | Radiological Science | 3 | 27.75 |
| Pearline | ipwlt | Koe | Run It! 10km | Female | Open | Allied Health | 3 | 3.76 |
| Elizabeth | iyjm4 | Ong | Run It! 50km | Female | Open | Human Resource | 5 | 108.80 |
| Stella | iz8mo | Ong | Run It! 50km | Female | Open | Nursing | 6 | 53.10 |
| NURHAZIRAH | j0mea | MOHD YA'AKOB | Run It! 10km | Female | Open | Pathology | 32 | 32.93 |
| Jing | j4trr | Zhang | Run It! 50km | Female | Open | Nursing | 5 | 91.70 |
| jonathan | jamdz | montalbo | Run It! 20km | Male | Open | Nursing | 6 | 22.53 |
| Natassha | je5as | Golan | Run It! 20km | Female | Open | Human Resource | 6 | 151.59 |
| Sid | jh0qm | Maguillo | Run It! 20km | Male | Open | Nursing | 4 | 380.51 |
| Er | jh3hn | Boon Hui | Run It! 10km | Female | Open | Nursing | 4 | 10.17 |
| Ngai Yee | jk7to | Chua | Run It! 50km | Female | Master | Finance | 6 | 123.56 |
| Jeffrey | jlr97 | Fong | Run It! 50km | Male | Master | Radiological Science | 5 | 71.64 |
| Wenjia | jp3hf | Hao | Run It! 10km | Female | Open | Nursing | 4 | 4.20 |
| Lynn | jq5p | Yap | Run It! 10km | Female | Master | Radiological Science | 2 | 10.67 |
| Ying ci | js207 | Ho | Run It! 50km | Female | Open | Anaesthesiology | 75 | 213.63 |
| Hui Xin | jv9ut | Tan | Run It! 10km | Female | Open | Nursing | 10 | 10.00 |
| Jasmine | jw76u | Choo | Run It! 20km | Female | Open | Nursing | 3 | 18.00 |
| JiaYi | jz2gr | DONG | Run It! 10km | Female | Master | COO Ambulatory | 48 | 119.89 |
| Heng | k1ah6 | Ghin ee | Run It! 50km | Female | Veteran | Allied Health | 52 | 52.20 |
| Pei Ying | k98t6 | Lee | Run It! 10km | Female | Open | Human Resource | 2 | 11.34 |
| Sue Ping | knjsb | Thang | Run It! 50km | Female | Master | Radiological Science | 4 | 121.04 |
| Limin | kprzt | wijaya | Run It! 20km | Female | Master | Medicine | 7 | 21.00 |
| Xin Yi | kywkb | Fong | Run It! 20km | Female | Open | Radiological Science | 11 | 32.94 |
| Liwen | l90ad | Huang | Run It! 50km | Female | Master | Nursing | 5 | 100.83 |
| Mei Huei | lap1m | Liew | Run It! 10km | Female | Open | Nursing | 10 | 10.04 |
| Chong | leqbb | Mei Yen | Run It! 50km | Female | Open | Nursing | 7 | 101.68 |
| Mei Qi | li9p1 | Koh | Run It! 50km | Female | Open | COO Ambulatory | 3 | 103.59 |
| SHU YI | liqod | LIM | Run It! 50km | Female | Open | Nursing | 3 | 144.62 |
| Navreen | lktf7 | Kaur | Run It! 20km | Female | Open | Medicine | 3 | 26.93 |
| Trish | ll0fn | Tan | Run It! 50km | Female | Master | Nursing | 13 | 59.29 |
| Joon Guan | lqh2v | Choo | Run It! 50km | Male | Open | Nursing | 6 | 83.92 |
| Emelyn | lvdqe | Gerarman | Run It! 10km | Female | Open | Nursing | 4 | 13.50 |
| Serena | lxcl | Chua | Run It! 50km | Female | Master | Patient Experience, Communications and Development | 5 | 68.63 |
| Siti Umaira | mbzza | Su'aidi | Run It! 10km | Female | Open | Radiological Science | 2 | 4.00 |
| Shirlena | miu5m | Wong | Run It! 50km | Female | Master | Surgery & Surgical Oncology | 5 | 168.87 |
| renn cedric | mu2ar | Salonga | Run It! 20km | Male | Open | Radiological Science | 5 | 20.02 |
| Reynaldo Jr. | n38ex | Lapuz | Run It! 50km | Male | Open | Nursing | 9 | 63.52 |
| Fei | n4lgq | Yang | Run It! 50km | Female | Master | Finance | 5 | 50.97 |
| Muniswamy | n9go6 | Gayathri | Run It! 10km | Female | Master | Nursing | 3 | 219.18 |
| Narayan | narayan.lath@singhealth.com.sg | Lath | Run It! 50km | Male | Master | Radiological Science | 9 | 9.41 |
| Athens | nel74 | Junio | Run It! 50km | Female | Master | Nursing | 6 | 68.43 |
| lydee | norpr | almeyda | Run It! 20km | Female | Open | Nursing | 0 | 3.43 |
| Elizabeth | np2yf | Neo | Run It! 20km | Female | Open | Organisation Planning | 5 | 133.31 |
| Andy | ns2e0 | Goh | Run It! 50km | Male | Open | Nursing | 3 | 20.03 |
| Tan | o1djt | Meng Kwan | Run It! 50km | Male | Master | Nursing | 5 | 718.03 |
| Wee wee | o5r7f | Goh | Run It! 50km | Female | Open | Radiological Science | 5 | 5.38 |
| Thajudeen Mohammed | oa345 | Zuhary | Run It! 50km | Male | Master | Medicine | 7 | 105.39 |
| tan | odjkc | boon chong | Run It! 50km | Male | Open | Estate Management | 17 | 73.53 |
| Yamin Yuper | ojw39 | Zin | Run It! 50km | Female | Open | Estate Management | 10 | 76.81 |
| Nisha | olsxw | Muthi | Run It! 50km | Female | Open | Nursing | 7 | 51.03 |
| Pei Si | oowdq | Heng | Run It! 10km | Female | Open | Patient Experience, Communications and Development | 4 | 52.53 |
| Junjie | op7q7 | Ye | Run It! 20km | Male | Master | Operations | 37 | 37.06 |
| Wen Hui | opgu8 | Ng | Run It! 50km | Female | Open | Nursing | 57 | 107.07 |
| Wei Yow | ouj21 | Sim | Run It! 50km | Male | Master | Radiological Science | 4 | 4.60 |
| Sandra | ouqk3 | Masalunga | Run It! 50km | Female | Master | Nursing | 17 | 444.32 |
| Michele | ow9t6 | Uy | Run It! 10km | Female | Master | Nursing | 6 | 40.79 |
| Emily | ozjwh | Lim | Run It! 10km | Female | Master | Medical Board | 5 | 16.32 |
| Bao Xin eugene | p114I | Wong | Run It! 50km | Male | Open | Pathology | 10 | 10.00 |
| Bao Xin Eugene | p114l | Wong | Run It! 50km | Male | Open | Pathology | 10 | 60.00 |
| Wei li | p3goq | Lee | Run It! 50km | Male | Open | Finance | 5 | 104.16 |
| Pamelyn | p445m | Tan | Run It! 20km | Female | Open | Allied Health | 2 | 63.52 |
| Robin | p6at5 | Hua | Run It! 50km | Male | Open | Anaesthesiology | 50 | 50.14 |
| Yadanar | pei45 | Ye Yint | Run It! 50km | Female | Open | Nursing | 5 | 105.40 |
| Victoria | pf6pj | Teoh | Run It! 50km | Female | Open | Nursing | 5 | 19.82 |
| Romano Samarita | pksef | Uy | Run It! 50km | Male | Master | Service Support | 25 | 116.13 |
| Johnathan | po6yg | Lim | Run It! 20km | Male | Open | Pathology | 28 | 28.14 |
| Alvin | ptivk | Lim | Run It! 50km | Male | Veteran | Pathology | 5 | 509.27 |
| Hwee Shan | pxlgs | Yeo | Run It! 50km | Female | Open | Musculoskeletal Sciences | 7 | 50.51 |
| Mala | pxust | SREE | Run It! 50km | Female | Veteran | Service Support | 8 | 111.15 |
| Mumtaj | q26g4 | Ibrahim | Run It! 10km | Female | Master | Patient Experience, Communications and Development | 71 | 71.00 |
| Andrea | q8m8r | Yong | Run It! 50km | Female | Open | Medicine | 9 | 244.83 |
| Muhammad Nurfikri | qa5oc | Juma'at | Run It! 50km | Male | Open | Medical Board | 4 | 545.45 |
| Zhen wei | qgh2x | Lim | Run It! 10km | Male | Open | Anaesthesiology | 5 | 92.80 |
| KAREN | qjk50 | CHAN | Run It! 20km | Female | Master | COO Ambulatory | 5 | 251.01 |
| Amos | ql76h | Lim | Run It! 50km | Male | Open | Allied Health | 5 | 258.25 |
| Seow | qnx6m | Yuan Ling | Run It! 20km | Female | Open | Allied Health | 2 | 28.72 |
| Priya Dharshini | qsa01 | Mogan | Run It! 20km | Female | Open | Nursing | 2 | 25.02 |
| Yang Noi | r84g1 | Tan | Run It! 10km | Female | Veteran | Human Resource | 7 | 12.27 |
| Oh | rdk7 | Li Li | Run It! 10km | Female | Master | Medicine | 10 | 10.14 |
| Liew | rfgf | Min Jia | Run It! 10km | Female | Master | Medical Board | 5 | 6.00 |
| ai wei | rikfj | Cheng | Run It! 10km | Female | Open | Radiological Science | 4 | 10.34 |
| Rachel | rv7hc | ho | Run It! 20km | Female | Open | Finance | 20 | 45.86 |
| Ma Marecel | rvmd2 | Hernando | Run It! 10km | Female | Master | Nursing | 2 | 20.70 |
| Kheng Choon | rzj13 | Lim | Run It! 50km | Male | Master | Radiological Science | 56 | 56.37 |
| Nasrifudin | rzp6g | Najumudin | Run It! 10km | Male | Master | Medical Board | 9 | 13.00 |
| Meera | s0bka | Kanthasamy | Run It! 50km | Female | Master | Nursing | 5 | 53.60 |
| Xin Hwee | S0ciq | Kok | Run It! 20km | Female | Open | Finance | 11 | 32.00 |
| Siew Keong | s2hbi | Kwok | Run It! 50km | Male | Open | Allied Health | 31 | 80.68 |
| Cheryl | s6ey1 | Sim | Run It! 50km | Female | Open | Allied Health | 6 | 41.59 |
| Loretta | s7fek | Dimus | Run It! 50km | Female | Open | Nursing | 5 | 58.97 |
| Tun Tun | s8ekc | Kyaw | Run It! 20km | Male | Veteran | Medical Board | 3 | 111.83 |
| Nadrah | sbs5p | Hamzah | Run It! 50km | Female | Master | Nursing | 11 | 82.52 |
| Steffi | sc299 | Chan | Run It! 50km | Female | Open | Anaesthesiology | 13 | 52.90 |
| JOSHEN | si1s3 | OW | Run It! 50km | Male | Open | Pre-Operative and Admitting Services | 5 | 9.60 |
| Yoke Ling | sjfpd | Chan | Run It! 20km | Female | Master | Nursing | 7 | 30.73 |
| Raymond | snf4x | Teo | Run It! 50km | Male | Master | Organisation Planning | 10 | 60.19 |
| Norshahiman | t074l | Bin Ahmad Shah | Run It! 20km | Male | Master | Human Resource | 4 | 20.16 |
| Ayulestari | t11jq | Harsono | Run It! 50km | Female | Master | Finance | 1 | 27.12 |
| Khir | t65p7 | Khairi | Run It! 50km | Male | Open | Nursing | 6 | 70.80 |
| DE SILVA | tdhv4 | SAMITHA | Run It! 50km | Female | Open | Nursing | 5 | 53.70 |
| Hwei ling | tkvni | Lee | Run It! 50km | Female | Veteran | Nursing | 6 | 186.59 |
| Suat Nee | toi3s | Wei | Run It! 20km | Female | Veteran | Projects | 4 | 50.46 |
| Elisabeth | Tq9ta | Angelina | Run It! 10km | Female | Open | Medical Board | 6 | 61.86 |
| Jean Leslie | tvl7o | Tan | Run It! 50km | Female | Open | Nursing | 4 | 19.44 |
| Jessaline | txqfs | Pormento | Run It! 10km | Female | Open | Nursing | 147 | 147.40 |
| Zeus | u18zb | Lim | Run It! 50km | Male | Open | Research Office | 2 | 6.72 |
| YU-CHIN | u2in8 | LIN | Run It! 50km | Female | Open | Radiological Science | 4 | 8.44 |
| Xin Ting | u2pc8 | Koh | Run It! 20km | Female | Open | Radiological Science | 1 | 135.01 |
| Narayan | U7kky | Lath | Run It! 50km | Male | Master | Radiological Science | 19 | 157.87 |
| Nur Zakiah | u7vn3 | Sidek | Run It! 50km | Female | Open | Radiological Science | 3 | 50.55 |
| Chew Theng | ub1pb | Yap | Run It! 50km | Female | Master | Nursing | 7 | 50.05 |
| Vince | uf1ed | Koo | Run It! 10km | Male | Open | Finance | 24 | 35.06 |
| Ivy | uf3zn | Tay | Run It! 50km | Female | Master | Nursing | 7 | 66.36 |
| Wai Yan | uha0c | Wong | Run It! 20km | Female | Open | Organisation Planning & Performance | 7 | 21.47 |
| Brenda | uouso | Lim | Run It! 10km | Female | Open | COO Ambulatory | 3 | 10.10 |
| Charisse | upyx6 | Perez | Run It! 20km | Female | Open | Nursing | 7 | 66.90 |
| Sozhavalavan | uq1m0 | Sozhavalavan | Run It! 10km | Male | Veteran | Nursing | 15 | 53.89 |
| Keat Yeng | urawg | Lau | Run It! 10km | Female | Master | Nursing | 10 | 10.00 |
| Pang | us4fc | Lee | Run It! 50km | Male | Veteran | Anaesthesiology | 10 | 510.77 |
| Freda | uxgut | Jawan | Run It! 50km | Female | Open | Radiological Science | 6 | 64.72 |
| Si Xuan | v5mi2 | Chua | Run It! 50km | Female | Open | Nursing | 1 | 5.95 |
| Felicia | v5vn9 | Goh | Run It! 50km | Female | Master | Finance | 6 | 106.72 |
| Li Peng | v5y2o | Ng | Run It! 50km | Female | Master | Nursing | 8 | 119.73 |
| Ma Isabel | vcwp8 | Navato | Run It! 50km | Male | Master | Nursing | 55 | 90.90 |
| Nur raudhah | vs39s | Azimat | Run It! 10km | Female | Master | Nursing | 3 | 11.95 |
| John | vs9ca | Lee | Run It! 50km | Male | Open | Anaesthesiology | 8 | 110.69 |
| Kristine Bernadette | w1a3t | Camaya | Run It! 50km | Female | Open | Nursing | 5 | 87.48 |
| Sock Teng | w49hs | Tan | Run It! 50km | Female | Open | Nursing | 6 | 72.96 |
| Emily siu li | w7y7f | Chiam | Run It! 50km | Female | Open | Nursing | 12 | 646.15 |
| Yi Wen | wm5xf | Lim | Run It! 20km | Female | Open | Medical Board | 8 | 23.00 |
| Kwok Ann | wrcae | Ang | Run It! 50km | Male | Veteran | Finance | 35 | 218.21 |
| Margarita | wsiik | Reyes | Run It! 50km | Female | Master | Nursing | 0 | 66.33 |
| Haryati | x2qmy | Abdul Malek | Run It! 20km | Female | Master | COO Ambulatory | 10 | 17.52 |
| Saleem | x4ctb | Abdul Rahim | Run It! 50km | Male | Open | Research Office | 2 | 63.00 |
| John | x91le | Bagomboy | Run It! 50km | Male | Open | Surgery | 15 | 85.37 |
| Pindar | xfagb | Yu | Run It! 50km | Female | Master | Allied Health | 14 | 96.40 |
| Jerusalaine | xgdgo | Alde | Run It! 20km | Female | Open | Nursing | 5 | 29.95 |
| Arica | xh3eo | Gan | Run It! 50km | Female | Open | Pathology | 4 | 50.61 |
| Kah Kuei | xiqt3 | Wong | Run It! 10km | Male | Master | COO Ambulatory | 10 | 272.00 |
| Meiyi | xisss | Kwek | Run It! 20km | Female | Open | Nursing | 0 | 1.48 |
| Weiliang | xmtmp | Soh | Run It! 20km | Male | Open | Nursing | 5 | 26.73 |
| Jocelyn | xo16t | Teo | Run It! 20km | Female | Master | Allied Health | 4 | 65.40 |
| Jeremy | xon9s | Sim | Run It! 50km | Male | Open | Allied Health | 75 | 202.60 |
| Sarimah | xxklf | Rahmat | Run It! 10km | Female | Veteran | Finance | 7 | 17.41 |
| Rene Cesar Jr | xywqw | Ascalon | Run It! 20km | Male | Master | Nursing | 5 | 26.28 |
| Boon Leng | y4v5v | Lim | Run It! 50km | Male | Veteran | Anaesthesiology | 40 | 311.86 |
| Julian | y654e | Lee | Run It! 50km | Female | Master | Nursing | 0 | 76.19 |
| Xercis | yeuhg | Barbosa | Run It! 50km | Female | Master | Nursing | 6 | 36.82 |
| Caleb | yfrfc | Lee | Run It! 20km | Male | Master | Allied Health | 3 | 159.56 |
| Keith | yo54f | Yeo | Run It! 20km | Male | Open | Human Resource | 3 | 28.03 |
| Siti Fatimmah | yocxt | Muhammad | Run It! 20km | Female | Master | Radiological Science | 21 | 21.96 |
| Muhammad Hazziq Bin | ysrdw | Adnan | Run It! 20km | Male | Open | Finance | 4 | 36.30 |
| Chua | yuezd | Shen Yie | Run It! 10km | Female | Open | Nursing | 6 | 17.59 |
| Nur Ain Salleha | yvzkp | Binte Abdul Razak | Run It! 20km | Female | Open | Medicine | 20 | 20.89 |
| Ma | yyrwu | Shijing | Run It! 10km | Female | Master | Nursing | 5 | 5.00 |
| Alvin | z24qr | De Guia | Run It! 20km | Male | Open | Nursing | 3 | 14.26 |
| Kannagi | z73mr | Govindasamy | Run It! 10km | Female | Veteran | Service Support | 2 | 28.64 |
| Mohamad Sharan | z916 | Mohamad Osman | Run It! 50km | Male | Master | Nursing | 6 | 6.40 |
| Lai Ching | zb427 | Lau | Run It! 10km | Female | Veteran | Allied Health | 4 | 67.46 |
| Ban Hock | zcah | Tan | Run It! 10km | Male | Veteran | Medicine | 3 | 6.00 |
| Jing Xuan | zd23f | Ng | Run It! 20km | Female | Open | Allied Health | 2 | 27.00 |
| Shin Yi | zj5d1 | Ng | Run It! 50km | Male | Master | Anaesthesiology & Perioperative Med | 6 | 168.53 |
| Selena | zlohx | Chan | Run It! 50km | Female | Open | Medical Board | 16 | 51.17 |
| Eileen | zyxb5 | Peng Ya | Run It! 50km | Female | Master | Nursing | 5 | 81.61 |
| First Name | RegID | Last Name | Category | Gender | Age Group | Division | kmsupload | Total KMs Uploaded |
Run It! 20km
| First Name | RegID | Last Name | Category | Gender | Age Group | Division | kmsupload | Total KMs Uploaded |
| --- | --- | --- | --- | --- | --- | --- | --- | --- |
| Wendy | 11dv7 | Phng | Run It! 50km | Female | Open | Estate Management | 41 | 70.20 |
| Siti Mardiyah | 175eq | Bte Sa'ed | Run It! 50km | Female | Open | Nursing | 5 | 84.14 |
| Charles | 1e39e | Goh | Run It! 50km | Male | Master | Radiological Science | 3 | 60.66 |
| Yan Mee | 1i332 | Law | Run It! 50km | Female | Master | Radiological Science | 8 | 311.24 |
| Kenneth | 1k1yz | Chin | Run It! 50km | Male | Open | Radiological Science | 54 | 54.76 |
| Valerie | 1p31z | Tan | Run It! 50km | Female | Open | Pre-Operative and Admitting Services | 10 | 51.35 |
| Limei | 1rgfj | Zu | Run It! 20km | Female | Open | Nursing | 47 | 47.00 |
| Monne Vincent | 1ui13 | Villas | Run It! 50km | Male | Open | Nursing | 14 | 57.62 |
| Hatijah | 1zsep | Tohid | Run It! 10km | Female | Master | Nursing | 10 | 20.77 |
| Shou Kit | 29va8 | Hang | Run It! 50km | Male | Open | Pathology | 5 | 84.07 |
| Diana | 2b55a | Sulaimi | Run It! 50km | Female | Open | Allied Health | 3 | 58.61 |
| Annie | 2bidf | Lau | Run It! 10km | Female | Veteran | Nursing | 1 | 21.26 |
| SANGIREDDY SRIHARI | 2g3px | REDDY | Run It! 50km | Male | Master | Nursing | 20 | 435.15 |
| Jack | 2iwtz | Wong | Run It! 50km | Male | Open | Human Resource | 5 | 5.00 |
| Edwin | 2nviu | Choo | Run It! 50km | Male | Open | Nursing | 5 | 135.87 |
| Candy | 2pv1h | Lee | Run It! 20km | Female | Open | Human Resource | 3 | 44.24 |
| Kimberly mae | 2qpqb | Belga | Run It! 50km | Female | Open | Nursing | 6 | 16.50 |
| Tony | 2s5gy | Chen Xi | Run It! 50km | Male | Open | Surgery & Surgical Oncology | 4 | 175.83 |
| Yan Hui | 2sn62 | Tan | Run It! 20km | Female | Open | Medical Board | 3 | 25.92 |
| Teng han | 2vb1q | Chok | Run It! 10km | Male | Open | Nursing | 11 | 11.10 |
| Su Fee | 300iw | Lim | Run It! 50km | Female | Master | Nursing | 5 | 83.11 |
| Nur Fidtria | 31sq6 | Sahat | Run It! 10km | Female | Open | Nursing | 10 | 10.04 |
| Joyce Anne | 32t87 | Verzosa | Run It! 50km | Female | Open | Allied Health | 8 | 59.40 |
| Kassia | 38b1o | Wu | Run It! 50km | Female | Master | Human Resource | 5 | 80.29 |
| Shimin | 3ahom | Ho | Run It! 20km | Female | Open | Nursing | 3 | 138.92 |
| Lim | 3g2mu | Yong Kean | Run It! 10km | Male | Open | Nursing | 14 | 14.46 |
| Salma | 3i29r | Ibrahim | Run It! 10km | Female | Open | Allied Health | 10 | 10.32 |
| Saranya | 3Idk7 | Panneerselvam | Run It! 10km | Female | Open | Medicine | 2 | 14.00 |
| Thiri Naing | 3kzro | Thin | Run It! 50km | Female | Open | Anaesthesiology | 9 | 244.56 |
| LOW | 3sgmv | AGNES | Run It! 10km | Female | Open | Allied Health | 3 | 63.74 |
| Wei Mian | 3w581 | Ang | Run It! 20km | Female | Open | Medicine | 5 | 20.33 |
| Weiliang | 40v2i | Zhang | Run It! 50km | Male | Open | Finance | 2 | 50.77 |
| Xiaofeng | 43kno | Huang | Run It! 10km | Female | Open | Nursing | 5 | 170.50 |
| Wee Hoe | 45am9 | Gan | Run It! 20km | Male | Master | Medicine | 5 | 21.50 |
| Amy | 47yix | Quah | Run It! 20km | Female | Veteran | COO Ambulatory | 5 | 63.54 |
| James | 4l1f7 | Toi | Run It! 50km | Male | Veteran | COO Ambulatory | 22 | 404.72 |
| Rui Lin | 4xd0f | Low | Run It! 10km | Female | Open | Human Resource | 2 | 13.69 |
| Wei Qi | 50pi8 | Suen | Run It! 50km | Female | Open | Nursing | 12 | 62.57 |
| Lim | 51doh | Mun Moon | Run It! 50km | Male | Veteran | Allied Health | 5 | 52.87 |
| Ee Lin | 572f7 | Woon | Run It! 50km | Female | Open | Allied Health | 5 | 67.90 |
| Alcey | 5kkuu | Ang | Run It! 10km | Female | Open | Medicine | 5 | 10.00 |
| Helen | 5tv0o | Law | Run It! 20km | Female | Open | Nursing | 4 | 23.00 |
| Irene | 60wqw | Wong | Run It! 50km | Female | Open | Anaesthesiology & Perioperative Med | 4 | 50.18 |
| Abdul | 64r10 | Muhaimin | Run It! 10km | Male | Open | COO Ambulatory | 4 | 10.73 |
| Han Bin | 65pw2 | Ong | Run It! 50km | Male | Open | Radiological Science | 4 | 64.20 |
| Joselito | 660qi | Felipe | Run It! 10km | Male | Master | Nursing | 3 | 159.39 |
| Sandy | 6kty | Lu | Run It! 50km | Female | Open | Finance | 5 | 58.51 |
| Han Guang | 6lpih | Chin | Run It! 20km | Male | Open | OSS Security | 6 | 23.94 |
| Lani | 6q9nd | Marcha | Run It! 50km | Female | Master | Nursing | 5 | 58.93 |
| Aziz | 6r28j | Bin Abdul Karim | Run It! 50km | Male | Master | Nursing | 12 | 66.80 |
| Yi Lin Lee | 6tgny | Lee | Run It! 50km | Female | Open | Anaesthesiology & Perioperative Med | 15 | 58.99 |
| Samsul | 6zktk | Kamar | Run It! 50km | Male | Master | Nursing | 6 | 71.33 |
| Nurhazwani | 763ox | Mohd Ya'akob | Run It! 10km | Female | Open | Nursing | 28 | 41.92 |
| Maria Jesusa | 77lh4 | Canuel | Run It! 50km | Female | Open | Nursing | 3 | 162.04 |
| Shu Ting Constance | 78x6w | Ng | Run It! 10km | Female | Open | Human Resource | 2 | 10.26 |
| Lai Yee | 7sqzy | Li | Run It! 20km | Female | Master | Human Resource | 5 | 5.50 |
| Jennifer | 7stzk | Yong | Run It! 20km | Female | Master | Finance | 14 | 20.53 |
| Hui Min | 7wtsc | Lee | Run It! 50km | Female | Open | Radiological Science | 4 | 56.64 |
| ChangTong | 8022917 | Yang | Run It! 50km | Male | Veteran | Radiological Science | 15 | 342.27 |
| Mohammad Rizuwan | 80u20 | Mustaffa | Run It! 10km | Male | Open | Nursing | 2 | 31.29 |
| alwin | 83rnv | Calantoc | Run It! 20km | Male | Open | Nursing | 4 | 23.90 |
| Muhammad Emmirul | 86xx2 | Norman | Run It! 50km | Male | Open | Nursing | 6 | 66.38 |
| MANOJ KUMAR | 87z8f | THANGARAJU | Run It! 20km | Male | Open | Radiological Science | 7 | 116.80 |
| Chuen Jye | 8dr8z | Yeoh | Run It! 50km | Male | Master | Anaesthesiology & Perioperative Med | 56 | 174.67 |
| Guat Cheng | 8dts4 | Koh | Run It! 50km | Female | Master | COO Ambulatory | 8 | 245.46 |
| Xinxin | 8e2as | Chu | Run It! 10km | Female | Open | Nursing | 11 | 11.03 |
| Muhd Imran | 8fv0n | Ahmad | Run It! 10km | Male | Open | Nursing | 4 | 6.69 |
| Florence | 8lkp4 | Chiang | Run It! 10km | Female | Master | Allied Health | 4 | 10.99 |
| TUN | 8mvly | HLAING | Run It! 10km | Male | Master | Radiological Science | 3 | 14.92 |
| Marilou | 8ozqo | Manalo | Run It! 50km | Female | Open | Nursing | 1 | 109.90 |
| Angie | 8xu3m | Lao | Run It! 50km | Female | Master | Nursing | 3 | 61.63 |
| Brenda | 8zjbx | See | Run It! 10km | Female | Open | Human Resource | 4 | 9.89 |
| Tuck Weng | 9imy5 | Woon | Run It! 10km | Male | Master | Human Resource | 10 | 30.05 |
| Amanda | 9r580 | Lee | Run It! 20km | Female | Open | Allied Health | 20 | 20.00 |
| Shairah | 9rojs | Ramazan | Run It! 50km | Female | Open | Allied Health | 3 | 53.77 |
| Wa Wa | aa3cp | Aung | Run It! 20km | Female | Open | Allied Health | 2 | 20.72 |
| Bai | abgz8 | Ying | Run It! 50km | Female | Open | Allied Health | 6 | 61.16 |
| Boon Hong | adnkx | See | Run It! 20km | Female | Master | Nursing | 3 | 25.05 |
| Muhammad Zulfadli | ahjsf | Bin Zainuddin | Run It! 20km | Male | Open | Allied Health | 4 | 4.00 |
| Hartini | ajtsq | Osman | Run It! 50km | Female | Master | Nursing | 5 | 71.08 |
| Dezarae | am4be | Ang | Run It! 20km | Female | Open | Nursing | 5 | 107.61 |
| Kaniyamparampil komalan | anhf6 | Subimol | Run It! 50km | Female | Open | Nursing | 2 | 60.44 |
| Lee | auave | Li Lern | Run It! 50km | Male | Master | Human Resource | 27 | 309.98 |
| Jia ying | Aup81 | Chua | Run It! 50km | Female | Open | Nursing | 3 | 3.40 |
| Dorothy | axxml | Ong | Run It! 20km | Female | Master | Nursing | 7 | 20.77 |
| Li Ting | ayqts | Quek | Run It! 10km | Female | Open | Nursing | 5 | 11.12 |
| May Un Sam | b0pw6 | Mok | Run It! 50km | Female | Master | Anaesthesiology | 4 | 149.05 |
| Lara Clariza Cariaga | b1ie6 | Germar | Run It! 10km | Female | Open | Nursing | 4 | 177.76 |
| Chilly | b37zb | Chen | Run It! 50km | Female | Master | Nursing | 2 | 50.60 |
| Eugene | b6p76 | Sim | Run It! 10km | Male | Master | COO Ambulatory | 3 | 10.32 |
| Nora Azwaj | ba0nl | A'Rusley | Run It! 10km | Female | Open | Nursing | 5 | 19.18 |
| Cassandra | ba7d1 | Chua | Run It! 20km | Female | Open | Patient Support | 22 | 44.92 |
| Syadad | bbqt8 | Sulaiman | Run It! 10km | Male | Open | Radiological Science | 4 | 72.22 |
| Jessica Jia Hao | be7ve | Soo | Run It! 20km | Female | Master | Patient Experience, Communications and Development | 10 | 40.16 |
| Racquel | bgin7 | Simeon | Run It! 20km | Female | Master | Nursing | 14 | 21.77 |
| Lily Hui Ling | bgn5i | Chin | Run It! 50km | Female | Open | Nursing | 5 | 78.41 |
| Shin Yin | bie2g | Chang | Run It! 20km | Female | Open | Allied Health | 4 | 317.64 |
| Jia Wei | bjcl8 | Leong | Run It! 20km | Male | Open | Patient Experience, Communications and Development | 6 | 46.02 |
| Chai Rick | bq5n5 | Soh | Run It! 50km | Male | Veteran | Anaesthesiology & Perioperative Med | 6 | 122.50 |
| loong-tat | brro3 | Wong | Run It! 50km | Male | Veteran | Anaesthesiology | 5 | 76.35 |
| Wei Wen | bwf6x | Kuan | Run It! 10km | Female | Open | Nursing | 7 | 31.14 |
| Jack Thian | bwqpd | Tan | Run It! 20km | Male | Veteran | COO's Office | 5 | 26.04 |
| Jerico | bz7tg | Gapasin | Run It! 50km | Male | Master | Sterile supply | 8 | 640.66 |
| Ivy | c1cv0 | Goh | Run It! 10km | Female | Open | Nursing | 5 | 10.19 |
| Siew Huay, Winnie | c4jz5 | Khaw | Run It! 10km | Female | Veteran | Finance | 11 | 15.90 |
| Jie Ru | c7z5m | Ong | Run It! 50km | Female | Open | Nursing | 16 | 16.00 |
| Juliana | c9jba | Shariq Mujtaba | Run It! 50km | Female | Open | Allied Health | 23 | 120.14 |
| JIA JING | cb0f | LUI | Run It! 50km | Male | Open | Pre-Operative and Admitting Services | 4 | 140.34 |
| Poh lin | ce2j5 | koh | Run It! 50km | Female | Master | Allied Health | 28 | 63.35 |
| Sin Yee | ce79a | Goh | Run It! 50km | Female | Master | Anaesthesiology | 5 | 93.18 |
| Izza Firhana | cel73 | Md Arzanjani | Run It! 10km | Female | Open | Nursing | 15 | 15.01 |
| Shawn | cf2ts | Poh | Run It! 20km | Male | Open | COO Ambulatory | 3 | 34.87 |
| Ng | chs8f | Hui Sin | Run It! 50km | Female | Open | Allied Health | 7 | 60.87 |
| Lim | ckow4 | Jia Hui | Run It! 10km | Female | Open | COO Ambulatory | 3 | 10.90 |
| LinLin | cl0w8 | Hu | Run It! 50km | Female | Open | Nursing | 9 | 62.54 |
| HUSSEIN | clzjb | TRINIO | Run It! 50km | Male | Master | Ancillary | 5 | 51.90 |
| Kelvin | cpz43 | Loke | Run It! 50km | Male | Master | Radiological Science | 4 | 75.51 |
| Pamela | cqsbz | Alipio | Run It! 50km | Female | Open | Nursing | 6 | 31.50 |
| Clement | cutd7 | Ching | Run It! 20km | Male | Open | Nursing | 5 | 5.41 |
| Darren | cws4r | Tay | Run It! 50km | Male | Master | Musculoskeletal Sciences | 50 | 50.50 |
| Alvin | czbab | Chua | Run It! 50km | Male | Master | Musculoskeletal Sciences | 7 | 7.34 |
| GAN | d0h1o | YEE LIN | Run It! 50km | Female | Open | Nursing | 5 | 37.40 |
| Tan | d1wbb | Yoke Chang | Run It! 50km | Male | Veteran | Human Resource | 10 | 540.85 |
| KISHEN KUMAR | d3det | MURUGA | Run It! 50km | Male | Open | Nursing | 7 | 20.57 |
| NALAYANI | d41i3 | KURUMBIAN | Run It! 10km | Female | Open | Nursing | 10 | 10.75 |
| Francis | dacxd | Cruz | Run It! 50km | Male | Open | Nursing | 5 | 10.05 |
| Kam Fei | df61 | Cheng | Run It! 10km | Male | Master | Postgraduate Medical Institute (PGMI) | 3 | 17.00 |
| Mary Ann | dfq2i | Morrondoz | Run It! 50km | Female | Master | Nursing | 5 | 20.43 |
| Harminder Singh | dnqr0 | Olikh | Run It! 50km | Male | Open | Nursing | 2 | 7.00 |
| Mohamad Zaki Khan | dtphb | Zulkafri | Run It! 50km | Male | Open | Nursing | 8 | 28.60 |
| Ariane | dzfru | Duncil | Run It! 20km | Female | Open | Surgery | 20 | 265.79 |
| Cheryl | e3ywo | Lee | Run It! 20km | Female | Open | Radiological Science | 3 | 35.34 |
| Sarah | e59zf | Lim | Run It! 20km | Female | Open | Allied Health | 5 | 9.00 |
| Ihsan | e9we9 | Md | Run It! 50km | Male | Open | Nursing | 11 | 50.98 |
| Michelle | eazxe | Tan | Run It! 50km | Female | Master | Anaesthesiology | 5 | 226.57 |
| Kee | efebf | Yong han adam | Run It! 50km | Male | Open | Radiological Science | 3 | 30.19 |
| Mavis | el5ej | Teo | Run It! 50km | Female | Master | Anaesthesiology | 4 | 76.76 |
| Nicholas | emjtm | Png | Run It! 50km | Male | Open | Radiological Science | 5 | 155.52 |
| Li Eng | emwef | Loo | Run It! 50km | Female | Master | Pathology | 10 | 503.93 |
| Haijun | eqwrx | Li | Run It! 50km | Female | Open | Nursing | 15 | 50.53 |
| Thinzar | es3kh | Wut Yee | Run It! 50km | Female | Open | Nursing | 3 | 9.22 |
| NOR FAIZAH | exevy | AHMAD KHAIZ | Run It! 20km | Female | Open | Nursing | 0 | 4.31 |
| Peik Yen | ey2eo | Teh | Run It! 10km | Female | Open | Radiological Science | 6 | 29.45 |
| Shu Ying | f0v03 | Loh | Run It! 20km | Female | Open | Human Resource | 6 | 30.22 |
| Mavis | f72q0 | Law | Run It! 50km | Male | Open | Allied Health | 51 | 51.30 |
| Siti khadijah | faz | Zainuddin | Run It! 10km | Female | Open | Nursing | 11 | 11.40 |
| Elizabeth | fc9k6 | Cheong | Run It! 20km | Female | Open | Radiological Science | 3 | 30.64 |
| Siew Hoon | fgyjn | Lim | Run It! 10km | Female | Master | Nursing | 10 | 10.90 |
| Fatima | fh20q | Pelipel | Run It! 50km | Female | Open | Nursing | 14 | 83.79 |
| Jun Jie | fhcd5 | Tan | Run It! 50km | Male | Open | Allied Health | 4 | 138.13 |
| Li-Ming | fhu0s | Teo | Run It! 50km | Female | Master | Anaesthesiology | 5 | 123.33 |
| Paul Kung Ngieng | fk2la | Lau | Run It! 10km | Male | Veteran | Finance | 11 | 15.27 |
| Kian Hian | fkntm | Tan | Run It! 50km | Male | Master | Anaesthesiology & Perioperative Med | 6 | 56.40 |
| Ching San | fs6vu | Teo | Run It! 50km | Male | Veteran | Allied Health | 4 | 153.60 |
| Wu | fu9th | Xiao Yuan | Run It! 50km | Female | Open | Allied Health | 5 | 50.51 |
| Lim Mei Qi | fwd8c | Ang | Run It! 50km | Female | Open | Nursing | 65 | 136.39 |
| Klarisse Mae | fyc3f | Esteban | Run It! 20km | Female | Open | Nursing | 4 | 20.26 |
| Tim Wei | fyps7 | Lee | Run It! 50km | Male | Open | COO Ambulatory | 10 | 50.00 |
| Nurul Fadhlina | g15bv | Binte Noorshah | Run It! 20km | Female | Open | Nursing | 5 | 20.81 |
| HuiShan | g2rbr | Chong | Run It! 20km | Female | Open | Nursing | 4 | 20.20 |
| Kok Kian | g4jpr | Lai | Run It! 50km | Male | Open | Finance | 1 | 17.93 |
| Xiaoyuan | gcii8 | Song | Run It! 10km | Female | Master | Nursing | 3 | 14.79 |
| Seok Khim | glb6m | Lim | Run It! 50km | Female | Veteran | Pre-Operative and Admitting Services | 14 | 266.80 |
| Catharine | gqza7 | Yong | Run It! 50km | Female | Master | Nursing | 18 | 75.51 |
| Tina | gtkb3 | Phua | Run It! 10km | Female | Master | COO Ambulatory | 5 | 53.90 |
| Yam Eng | gurn6 | Tan | Run It! 50km | Female | Master | Medicine | 5 | 89.79 |
| Shu Hao | gvbf8 | Lee | Run It! 50km | Male | Master | Projects | 11 | 408.68 |
| Dalpreet | h4aav | Kaur | Run It! 10km | Female | Open | Research Office | 1 | 1.30 |
| Jerald | h6wym | Lim | Run It! 50km | Male | Open | Finance | 10 | 257.98 |
| Jerald | h6ywm | Lim | Run It! 50km | Male | Open | Finance | 21 | 39.71 |
| Ann Julia | hbvk8 | Joseph | Run It! 50km | Female | Open | Nursing | 5 | 52.74 |
| Lee | hd79t | Chee Woei | Run It! 20km | Female | Master | Nursing | 5 | 80.30 |
| Louis | hd7j5 | McAdory | Run It! 50km | Male | Veteran | Radiological Science | 4 | 140.13 |
| Leonida | hdycn | Gomez | Run It! 50km | Female | Master | Nursing | 6 | 224.04 |
| Jessie | hfq0j | Ong | Run It! 50km | Female | Open | COO Ambulatory | 9 | 109.48 |
| Tricia | hl6f1 | Lang | Run It! 10km | Female | Open | Nursing | 10 | 10.00 |
| Wei Cong | hobl6 | Lim | Run It! 50km | Male | Open | Allied Health | 4 | 50.11 |
| Kee Wee | hvauh | Goh | Run It! 50km | Male | Open | COO Ambulatory | 2 | 368.05 |
| Audrey | hvhv4 | Chia | Run It! 50km | Female | Open | Radiological Science | 9 | 52.32 |
| Nur syafinah | i0df1 | Azmi | Run It! 10km | Female | Open | Nursing | 4 | 12.16 |
| mark ivan | i697d | gavino | Run It! 20km | Male | Open | Nursing | 6 | 61.64 |
| Josephine | i7hh6 | Wang | Run It! 50km | Female | Open | Allied Health | 10 | 73.59 |
| Ho Ping | iapx0 | Kho | Run It! 50km | Female | Master | Medicine | 3 | 61.96 |
| Wanying | ij07f | Xie | Run It! 10km | Female | Master | Radiological Science | 3 | 27.75 |
| Pearline | ipwlt | Koe | Run It! 10km | Female | Open | Allied Health | 3 | 3.76 |
| Elizabeth | iyjm4 | Ong | Run It! 50km | Female | Open | Human Resource | 5 | 108.80 |
| Stella | iz8mo | Ong | Run It! 50km | Female | Open | Nursing | 6 | 53.10 |
| NURHAZIRAH | j0mea | MOHD YA'AKOB | Run It! 10km | Female | Open | Pathology | 32 | 32.93 |
| Jing | j4trr | Zhang | Run It! 50km | Female | Open | Nursing | 5 | 91.70 |
| jonathan | jamdz | montalbo | Run It! 20km | Male | Open | Nursing | 6 | 22.53 |
| Natassha | je5as | Golan | Run It! 20km | Female | Open | Human Resource | 6 | 151.59 |
| Sid | jh0qm | Maguillo | Run It! 20km | Male | Open | Nursing | 4 | 380.51 |
| Er | jh3hn | Boon Hui | Run It! 10km | Female | Open | Nursing | 4 | 10.17 |
| Ngai Yee | jk7to | Chua | Run It! 50km | Female | Master | Finance | 6 | 123.56 |
| Jeffrey | jlr97 | Fong | Run It! 50km | Male | Master | Radiological Science | 5 | 71.64 |
| Wenjia | jp3hf | Hao | Run It! 10km | Female | Open | Nursing | 4 | 4.20 |
| Lynn | jq5p | Yap | Run It! 10km | Female | Master | Radiological Science | 2 | 10.67 |
| Ying ci | js207 | Ho | Run It! 50km | Female | Open | Anaesthesiology | 75 | 213.63 |
| Hui Xin | jv9ut | Tan | Run It! 10km | Female | Open | Nursing | 10 | 10.00 |
| Jasmine | jw76u | Choo | Run It! 20km | Female | Open | Nursing | 3 | 18.00 |
| JiaYi | jz2gr | DONG | Run It! 10km | Female | Master | COO Ambulatory | 48 | 119.89 |
| Heng | k1ah6 | Ghin ee | Run It! 50km | Female | Veteran | Allied Health | 52 | 52.20 |
| Pei Ying | k98t6 | Lee | Run It! 10km | Female | Open | Human Resource | 2 | 11.34 |
| Sue Ping | knjsb | Thang | Run It! 50km | Female | Master | Radiological Science | 4 | 121.04 |
| Limin | kprzt | wijaya | Run It! 20km | Female | Master | Medicine | 7 | 21.00 |
| Xin Yi | kywkb | Fong | Run It! 20km | Female | Open | Radiological Science | 11 | 32.94 |
| Liwen | l90ad | Huang | Run It! 50km | Female | Master | Nursing | 5 | 100.83 |
| Mei Huei | lap1m | Liew | Run It! 10km | Female | Open | Nursing | 10 | 10.04 |
| Chong | leqbb | Mei Yen | Run It! 50km | Female | Open | Nursing | 7 | 101.68 |
| Mei Qi | li9p1 | Koh | Run It! 50km | Female | Open | COO Ambulatory | 3 | 103.59 |
| SHU YI | liqod | LIM | Run It! 50km | Female | Open | Nursing | 3 | 144.62 |
| Navreen | lktf7 | Kaur | Run It! 20km | Female | Open | Medicine | 3 | 26.93 |
| Trish | ll0fn | Tan | Run It! 50km | Female | Master | Nursing | 13 | 59.29 |
| Joon Guan | lqh2v | Choo | Run It! 50km | Male | Open | Nursing | 6 | 83.92 |
| Emelyn | lvdqe | Gerarman | Run It! 10km | Female | Open | Nursing | 4 | 13.50 |
| Serena | lxcl | Chua | Run It! 50km | Female | Master | Patient Experience, Communications and Development | 5 | 68.63 |
| Siti Umaira | mbzza | Su'aidi | Run It! 10km | Female | Open | Radiological Science | 2 | 4.00 |
| Shirlena | miu5m | Wong | Run It! 50km | Female | Master | Surgery & Surgical Oncology | 5 | 168.87 |
| renn cedric | mu2ar | Salonga | Run It! 20km | Male | Open | Radiological Science | 5 | 20.02 |
| Reynaldo Jr. | n38ex | Lapuz | Run It! 50km | Male | Open | Nursing | 9 | 63.52 |
| Fei | n4lgq | Yang | Run It! 50km | Female | Master | Finance | 5 | 50.97 |
| Muniswamy | n9go6 | Gayathri | Run It! 10km | Female | Master | Nursing | 3 | 219.18 |
| Narayan | narayan.lath@singhealth.com.sg | Lath | Run It! 50km | Male | Master | Radiological Science | 9 | 9.41 |
| Athens | nel74 | Junio | Run It! 50km | Female | Master | Nursing | 6 | 68.43 |
| lydee | norpr | almeyda | Run It! 20km | Female | Open | Nursing | 0 | 3.43 |
| Elizabeth | np2yf | Neo | Run It! 20km | Female | Open | Organisation Planning | 5 | 133.31 |
| Andy | ns2e0 | Goh | Run It! 50km | Male | Open | Nursing | 3 | 20.03 |
| Tan | o1djt | Meng Kwan | Run It! 50km | Male | Master | Nursing | 5 | 718.03 |
| Wee wee | o5r7f | Goh | Run It! 50km | Female | Open | Radiological Science | 5 | 5.38 |
| Thajudeen Mohammed | oa345 | Zuhary | Run It! 50km | Male | Master | Medicine | 7 | 105.39 |
| tan | odjkc | boon chong | Run It! 50km | Male | Open | Estate Management | 17 | 73.53 |
| Yamin Yuper | ojw39 | Zin | Run It! 50km | Female | Open | Estate Management | 10 | 76.81 |
| Nisha | olsxw | Muthi | Run It! 50km | Female | Open | Nursing | 7 | 51.03 |
| Pei Si | oowdq | Heng | Run It! 10km | Female | Open | Patient Experience, Communications and Development | 4 | 52.53 |
| Junjie | op7q7 | Ye | Run It! 20km | Male | Master | Operations | 37 | 37.06 |
| Wen Hui | opgu8 | Ng | Run It! 50km | Female | Open | Nursing | 57 | 107.07 |
| Wei Yow | ouj21 | Sim | Run It! 50km | Male | Master | Radiological Science | 4 | 4.60 |
| Sandra | ouqk3 | Masalunga | Run It! 50km | Female | Master | Nursing | 17 | 444.32 |
| Michele | ow9t6 | Uy | Run It! 10km | Female | Master | Nursing | 6 | 40.79 |
| Emily | ozjwh | Lim | Run It! 10km | Female | Master | Medical Board | 5 | 16.32 |
| Bao Xin eugene | p114I | Wong | Run It! 50km | Male | Open | Pathology | 10 | 10.00 |
| Bao Xin Eugene | p114l | Wong | Run It! 50km | Male | Open | Pathology | 10 | 60.00 |
| Wei li | p3goq | Lee | Run It! 50km | Male | Open | Finance | 5 | 104.16 |
| Pamelyn | p445m | Tan | Run It! 20km | Female | Open | Allied Health | 2 | 63.52 |
| Robin | p6at5 | Hua | Run It! 50km | Male | Open | Anaesthesiology | 50 | 50.14 |
| Yadanar | pei45 | Ye Yint | Run It! 50km | Female | Open | Nursing | 5 | 105.40 |
| Victoria | pf6pj | Teoh | Run It! 50km | Female | Open | Nursing | 5 | 19.82 |
| Romano Samarita | pksef | Uy | Run It! 50km | Male | Master | Service Support | 25 | 116.13 |
| Johnathan | po6yg | Lim | Run It! 20km | Male | Open | Pathology | 28 | 28.14 |
| Alvin | ptivk | Lim | Run It! 50km | Male | Veteran | Pathology | 5 | 509.27 |
| Hwee Shan | pxlgs | Yeo | Run It! 50km | Female | Open | Musculoskeletal Sciences | 7 | 50.51 |
| Mala | pxust | SREE | Run It! 50km | Female | Veteran | Service Support | 8 | 111.15 |
| Mumtaj | q26g4 | Ibrahim | Run It! 10km | Female | Master | Patient Experience, Communications and Development | 71 | 71.00 |
| Andrea | q8m8r | Yong | Run It! 50km | Female | Open | Medicine | 9 | 244.83 |
| Muhammad Nurfikri | qa5oc | Juma'at | Run It! 50km | Male | Open | Medical Board | 4 | 545.45 |
| Zhen wei | qgh2x | Lim | Run It! 10km | Male | Open | Anaesthesiology | 5 | 92.80 |
| KAREN | qjk50 | CHAN | Run It! 20km | Female | Master | COO Ambulatory | 5 | 251.01 |
| Amos | ql76h | Lim | Run It! 50km | Male | Open | Allied Health | 5 | 258.25 |
| Seow | qnx6m | Yuan Ling | Run It! 20km | Female | Open | Allied Health | 2 | 28.72 |
| Priya Dharshini | qsa01 | Mogan | Run It! 20km | Female | Open | Nursing | 2 | 25.02 |
| Yang Noi | r84g1 | Tan | Run It! 10km | Female | Veteran | Human Resource | 7 | 12.27 |
| Oh | rdk7 | Li Li | Run It! 10km | Female | Master | Medicine | 10 | 10.14 |
| Liew | rfgf | Min Jia | Run It! 10km | Female | Master | Medical Board | 5 | 6.00 |
| ai wei | rikfj | Cheng | Run It! 10km | Female | Open | Radiological Science | 4 | 10.34 |
| Rachel | rv7hc | ho | Run It! 20km | Female | Open | Finance | 20 | 45.86 |
| Ma Marecel | rvmd2 | Hernando | Run It! 10km | Female | Master | Nursing | 2 | 20.70 |
| Kheng Choon | rzj13 | Lim | Run It! 50km | Male | Master | Radiological Science | 56 | 56.37 |
| Nasrifudin | rzp6g | Najumudin | Run It! 10km | Male | Master | Medical Board | 9 | 13.00 |
| Meera | s0bka | Kanthasamy | Run It! 50km | Female | Master | Nursing | 5 | 53.60 |
| Xin Hwee | S0ciq | Kok | Run It! 20km | Female | Open | Finance | 11 | 32.00 |
| Siew Keong | s2hbi | Kwok | Run It! 50km | Male | Open | Allied Health | 31 | 80.68 |
| Cheryl | s6ey1 | Sim | Run It! 50km | Female | Open | Allied Health | 6 | 41.59 |
| Loretta | s7fek | Dimus | Run It! 50km | Female | Open | Nursing | 5 | 58.97 |
| Tun Tun | s8ekc | Kyaw | Run It! 20km | Male | Veteran | Medical Board | 3 | 111.83 |
| Nadrah | sbs5p | Hamzah | Run It! 50km | Female | Master | Nursing | 11 | 82.52 |
| Steffi | sc299 | Chan | Run It! 50km | Female | Open | Anaesthesiology | 13 | 52.90 |
| JOSHEN | si1s3 | OW | Run It! 50km | Male | Open | Pre-Operative and Admitting Services | 5 | 9.60 |
| Yoke Ling | sjfpd | Chan | Run It! 20km | Female | Master | Nursing | 7 | 30.73 |
| Raymond | snf4x | Teo | Run It! 50km | Male | Master | Organisation Planning | 10 | 60.19 |
| Norshahiman | t074l | Bin Ahmad Shah | Run It! 20km | Male | Master | Human Resource | 4 | 20.16 |
| Ayulestari | t11jq | Harsono | Run It! 50km | Female | Master | Finance | 1 | 27.12 |
| Khir | t65p7 | Khairi | Run It! 50km | Male | Open | Nursing | 6 | 70.80 |
| DE SILVA | tdhv4 | SAMITHA | Run It! 50km | Female | Open | Nursing | 5 | 53.70 |
| Hwei ling | tkvni | Lee | Run It! 50km | Female | Veteran | Nursing | 6 | 186.59 |
| Suat Nee | toi3s | Wei | Run It! 20km | Female | Veteran | Projects | 4 | 50.46 |
| Elisabeth | Tq9ta | Angelina | Run It! 10km | Female | Open | Medical Board | 6 | 61.86 |
| Jean Leslie | tvl7o | Tan | Run It! 50km | Female | Open | Nursing | 4 | 19.44 |
| Jessaline | txqfs | Pormento | Run It! 10km | Female | Open | Nursing | 147 | 147.40 |
| Zeus | u18zb | Lim | Run It! 50km | Male | Open | Research Office | 2 | 6.72 |
| YU-CHIN | u2in8 | LIN | Run It! 50km | Female | Open | Radiological Science | 4 | 8.44 |
| Xin Ting | u2pc8 | Koh | Run It! 20km | Female | Open | Radiological Science | 1 | 135.01 |
| Narayan | U7kky | Lath | Run It! 50km | Male | Master | Radiological Science | 19 | 157.87 |
| Nur Zakiah | u7vn3 | Sidek | Run It! 50km | Female | Open | Radiological Science | 3 | 50.55 |
| Chew Theng | ub1pb | Yap | Run It! 50km | Female | Master | Nursing | 7 | 50.05 |
| Vince | uf1ed | Koo | Run It! 10km | Male | Open | Finance | 24 | 35.06 |
| Ivy | uf3zn | Tay | Run It! 50km | Female | Master | Nursing | 7 | 66.36 |
| Wai Yan | uha0c | Wong | Run It! 20km | Female | Open | Organisation Planning & Performance | 7 | 21.47 |
| Brenda | uouso | Lim | Run It! 10km | Female | Open | COO Ambulatory | 3 | 10.10 |
| Charisse | upyx6 | Perez | Run It! 20km | Female | Open | Nursing | 7 | 66.90 |
| Sozhavalavan | uq1m0 | Sozhavalavan | Run It! 10km | Male | Veteran | Nursing | 15 | 53.89 |
| Keat Yeng | urawg | Lau | Run It! 10km | Female | Master | Nursing | 10 | 10.00 |
| Pang | us4fc | Lee | Run It! 50km | Male | Veteran | Anaesthesiology | 10 | 510.77 |
| Freda | uxgut | Jawan | Run It! 50km | Female | Open | Radiological Science | 6 | 64.72 |
| Si Xuan | v5mi2 | Chua | Run It! 50km | Female | Open | Nursing | 1 | 5.95 |
| Felicia | v5vn9 | Goh | Run It! 50km | Female | Master | Finance | 6 | 106.72 |
| Li Peng | v5y2o | Ng | Run It! 50km | Female | Master | Nursing | 8 | 119.73 |
| Ma Isabel | vcwp8 | Navato | Run It! 50km | Male | Master | Nursing | 55 | 90.90 |
| Nur raudhah | vs39s | Azimat | Run It! 10km | Female | Master | Nursing | 3 | 11.95 |
| John | vs9ca | Lee | Run It! 50km | Male | Open | Anaesthesiology | 8 | 110.69 |
| Kristine Bernadette | w1a3t | Camaya | Run It! 50km | Female | Open | Nursing | 5 | 87.48 |
| Sock Teng | w49hs | Tan | Run It! 50km | Female | Open | Nursing | 6 | 72.96 |
| Emily siu li | w7y7f | Chiam | Run It! 50km | Female | Open | Nursing | 12 | 646.15 |
| Yi Wen | wm5xf | Lim | Run It! 20km | Female | Open | Medical Board | 8 | 23.00 |
| Kwok Ann | wrcae | Ang | Run It! 50km | Male | Veteran | Finance | 35 | 218.21 |
| Margarita | wsiik | Reyes | Run It! 50km | Female | Master | Nursing | 0 | 66.33 |
| Haryati | x2qmy | Abdul Malek | Run It! 20km | Female | Master | COO Ambulatory | 10 | 17.52 |
| Saleem | x4ctb | Abdul Rahim | Run It! 50km | Male | Open | Research Office | 2 | 63.00 |
| John | x91le | Bagomboy | Run It! 50km | Male | Open | Surgery | 15 | 85.37 |
| Pindar | xfagb | Yu | Run It! 50km | Female | Master | Allied Health | 14 | 96.40 |
| Jerusalaine | xgdgo | Alde | Run It! 20km | Female | Open | Nursing | 5 | 29.95 |
| Arica | xh3eo | Gan | Run It! 50km | Female | Open | Pathology | 4 | 50.61 |
| Kah Kuei | xiqt3 | Wong | Run It! 10km | Male | Master | COO Ambulatory | 10 | 272.00 |
| Meiyi | xisss | Kwek | Run It! 20km | Female | Open | Nursing | 0 | 1.48 |
| Weiliang | xmtmp | Soh | Run It! 20km | Male | Open | Nursing | 5 | 26.73 |
| Jocelyn | xo16t | Teo | Run It! 20km | Female | Master | Allied Health | 4 | 65.40 |
| Jeremy | xon9s | Sim | Run It! 50km | Male | Open | Allied Health | 75 | 202.60 |
| Sarimah | xxklf | Rahmat | Run It! 10km | Female | Veteran | Finance | 7 | 17.41 |
| Rene Cesar Jr | xywqw | Ascalon | Run It! 20km | Male | Master | Nursing | 5 | 26.28 |
| Boon Leng | y4v5v | Lim | Run It! 50km | Male | Veteran | Anaesthesiology | 40 | 311.86 |
| Julian | y654e | Lee | Run It! 50km | Female | Master | Nursing | 0 | 76.19 |
| Xercis | yeuhg | Barbosa | Run It! 50km | Female | Master | Nursing | 6 | 36.82 |
| Caleb | yfrfc | Lee | Run It! 20km | Male | Master | Allied Health | 3 | 159.56 |
| Keith | yo54f | Yeo | Run It! 20km | Male | Open | Human Resource | 3 | 28.03 |
| Siti Fatimmah | yocxt | Muhammad | Run It! 20km | Female | Master | Radiological Science | 21 | 21.96 |
| Muhammad Hazziq Bin | ysrdw | Adnan | Run It! 20km | Male | Open | Finance | 4 | 36.30 |
| Chua | yuezd | Shen Yie | Run It! 10km | Female | Open | Nursing | 6 | 17.59 |
| Nur Ain Salleha | yvzkp | Binte Abdul Razak | Run It! 20km | Female | Open | Medicine | 20 | 20.89 |
| Ma | yyrwu | Shijing | Run It! 10km | Female | Master | Nursing | 5 | 5.00 |
| Alvin | z24qr | De Guia | Run It! 20km | Male | Open | Nursing | 3 | 14.26 |
| Kannagi | z73mr | Govindasamy | Run It! 10km | Female | Veteran | Service Support | 2 | 28.64 |
| Mohamad Sharan | z916 | Mohamad Osman | Run It! 50km | Male | Master | Nursing | 6 | 6.40 |
| Lai Ching | zb427 | Lau | Run It! 10km | Female | Veteran | Allied Health | 4 | 67.46 |
| Ban Hock | zcah | Tan | Run It! 10km | Male | Veteran | Medicine | 3 | 6.00 |
| Jing Xuan | zd23f | Ng | Run It! 20km | Female | Open | Allied Health | 2 | 27.00 |
| Shin Yi | zj5d1 | Ng | Run It! 50km | Male | Master | Anaesthesiology & Perioperative Med | 6 | 168.53 |
| Selena | zlohx | Chan | Run It! 50km | Female | Open | Medical Board | 16 | 51.17 |
| Eileen | zyxb5 | Peng Ya | Run It! 50km | Female | Master | Nursing | 5 | 81.61 |
| First Name | RegID | Last Name | Category | Gender | Age Group | Division | kmsupload | Total KMs Uploaded |
Run It! 10km
| First Name | RegID | Last Name | Category | Gender | Age Group | Division | kmsupload | Total KMs Uploaded |
| --- | --- | --- | --- | --- | --- | --- | --- | --- |
| Wendy | 11dv7 | Phng | Run It! 50km | Female | Open | Estate Management | 41 | 70.20 |
| Siti Mardiyah | 175eq | Bte Sa'ed | Run It! 50km | Female | Open | Nursing | 5 | 84.14 |
| Charles | 1e39e | Goh | Run It! 50km | Male | Master | Radiological Science | 3 | 60.66 |
| Yan Mee | 1i332 | Law | Run It! 50km | Female | Master | Radiological Science | 8 | 311.24 |
| Kenneth | 1k1yz | Chin | Run It! 50km | Male | Open | Radiological Science | 54 | 54.76 |
| Valerie | 1p31z | Tan | Run It! 50km | Female | Open | Pre-Operative and Admitting Services | 10 | 51.35 |
| Limei | 1rgfj | Zu | Run It! 20km | Female | Open | Nursing | 47 | 47.00 |
| Monne Vincent | 1ui13 | Villas | Run It! 50km | Male | Open | Nursing | 14 | 57.62 |
| Hatijah | 1zsep | Tohid | Run It! 10km | Female | Master | Nursing | 10 | 20.77 |
| Shou Kit | 29va8 | Hang | Run It! 50km | Male | Open | Pathology | 5 | 84.07 |
| Diana | 2b55a | Sulaimi | Run It! 50km | Female | Open | Allied Health | 3 | 58.61 |
| Annie | 2bidf | Lau | Run It! 10km | Female | Veteran | Nursing | 1 | 21.26 |
| SANGIREDDY SRIHARI | 2g3px | REDDY | Run It! 50km | Male | Master | Nursing | 20 | 435.15 |
| Jack | 2iwtz | Wong | Run It! 50km | Male | Open | Human Resource | 5 | 5.00 |
| Edwin | 2nviu | Choo | Run It! 50km | Male | Open | Nursing | 5 | 135.87 |
| Candy | 2pv1h | Lee | Run It! 20km | Female | Open | Human Resource | 3 | 44.24 |
| Kimberly mae | 2qpqb | Belga | Run It! 50km | Female | Open | Nursing | 6 | 16.50 |
| Tony | 2s5gy | Chen Xi | Run It! 50km | Male | Open | Surgery & Surgical Oncology | 4 | 175.83 |
| Yan Hui | 2sn62 | Tan | Run It! 20km | Female | Open | Medical Board | 3 | 25.92 |
| Teng han | 2vb1q | Chok | Run It! 10km | Male | Open | Nursing | 11 | 11.10 |
| Su Fee | 300iw | Lim | Run It! 50km | Female | Master | Nursing | 5 | 83.11 |
| Nur Fidtria | 31sq6 | Sahat | Run It! 10km | Female | Open | Nursing | 10 | 10.04 |
| Joyce Anne | 32t87 | Verzosa | Run It! 50km | Female | Open | Allied Health | 8 | 59.40 |
| Kassia | 38b1o | Wu | Run It! 50km | Female | Master | Human Resource | 5 | 80.29 |
| Shimin | 3ahom | Ho | Run It! 20km | Female | Open | Nursing | 3 | 138.92 |
| Lim | 3g2mu | Yong Kean | Run It! 10km | Male | Open | Nursing | 14 | 14.46 |
| Salma | 3i29r | Ibrahim | Run It! 10km | Female | Open | Allied Health | 10 | 10.32 |
| Saranya | 3Idk7 | Panneerselvam | Run It! 10km | Female | Open | Medicine | 2 | 14.00 |
| Thiri Naing | 3kzro | Thin | Run It! 50km | Female | Open | Anaesthesiology | 9 | 244.56 |
| LOW | 3sgmv | AGNES | Run It! 10km | Female | Open | Allied Health | 3 | 63.74 |
| Wei Mian | 3w581 | Ang | Run It! 20km | Female | Open | Medicine | 5 | 20.33 |
| Weiliang | 40v2i | Zhang | Run It! 50km | Male | Open | Finance | 2 | 50.77 |
| Xiaofeng | 43kno | Huang | Run It! 10km | Female | Open | Nursing | 5 | 170.50 |
| Wee Hoe | 45am9 | Gan | Run It! 20km | Male | Master | Medicine | 5 | 21.50 |
| Amy | 47yix | Quah | Run It! 20km | Female | Veteran | COO Ambulatory | 5 | 63.54 |
| James | 4l1f7 | Toi | Run It! 50km | Male | Veteran | COO Ambulatory | 22 | 404.72 |
| Rui Lin | 4xd0f | Low | Run It! 10km | Female | Open | Human Resource | 2 | 13.69 |
| Wei Qi | 50pi8 | Suen | Run It! 50km | Female | Open | Nursing | 12 | 62.57 |
| Lim | 51doh | Mun Moon | Run It! 50km | Male | Veteran | Allied Health | 5 | 52.87 |
| Ee Lin | 572f7 | Woon | Run It! 50km | Female | Open | Allied Health | 5 | 67.90 |
| Alcey | 5kkuu | Ang | Run It! 10km | Female | Open | Medicine | 5 | 10.00 |
| Helen | 5tv0o | Law | Run It! 20km | Female | Open | Nursing | 4 | 23.00 |
| Irene | 60wqw | Wong | Run It! 50km | Female | Open | Anaesthesiology & Perioperative Med | 4 | 50.18 |
| Abdul | 64r10 | Muhaimin | Run It! 10km | Male | Open | COO Ambulatory | 4 | 10.73 |
| Han Bin | 65pw2 | Ong | Run It! 50km | Male | Open | Radiological Science | 4 | 64.20 |
| Joselito | 660qi | Felipe | Run It! 10km | Male | Master | Nursing | 3 | 159.39 |
| Sandy | 6kty | Lu | Run It! 50km | Female | Open | Finance | 5 | 58.51 |
| Han Guang | 6lpih | Chin | Run It! 20km | Male | Open | OSS Security | 6 | 23.94 |
| Lani | 6q9nd | Marcha | Run It! 50km | Female | Master | Nursing | 5 | 58.93 |
| Aziz | 6r28j | Bin Abdul Karim | Run It! 50km | Male | Master | Nursing | 12 | 66.80 |
| Yi Lin Lee | 6tgny | Lee | Run It! 50km | Female | Open | Anaesthesiology & Perioperative Med | 15 | 58.99 |
| Samsul | 6zktk | Kamar | Run It! 50km | Male | Master | Nursing | 6 | 71.33 |
| Nurhazwani | 763ox | Mohd Ya'akob | Run It! 10km | Female | Open | Nursing | 28 | 41.92 |
| Maria Jesusa | 77lh4 | Canuel | Run It! 50km | Female | Open | Nursing | 3 | 162.04 |
| Shu Ting Constance | 78x6w | Ng | Run It! 10km | Female | Open | Human Resource | 2 | 10.26 |
| Lai Yee | 7sqzy | Li | Run It! 20km | Female | Master | Human Resource | 5 | 5.50 |
| Jennifer | 7stzk | Yong | Run It! 20km | Female | Master | Finance | 14 | 20.53 |
| Hui Min | 7wtsc | Lee | Run It! 50km | Female | Open | Radiological Science | 4 | 56.64 |
| ChangTong | 8022917 | Yang | Run It! 50km | Male | Veteran | Radiological Science | 15 | 342.27 |
| Mohammad Rizuwan | 80u20 | Mustaffa | Run It! 10km | Male | Open | Nursing | 2 | 31.29 |
| alwin | 83rnv | Calantoc | Run It! 20km | Male | Open | Nursing | 4 | 23.90 |
| Muhammad Emmirul | 86xx2 | Norman | Run It! 50km | Male | Open | Nursing | 6 | 66.38 |
| MANOJ KUMAR | 87z8f | THANGARAJU | Run It! 20km | Male | Open | Radiological Science | 7 | 116.80 |
| Chuen Jye | 8dr8z | Yeoh | Run It! 50km | Male | Master | Anaesthesiology & Perioperative Med | 56 | 174.67 |
| Guat Cheng | 8dts4 | Koh | Run It! 50km | Female | Master | COO Ambulatory | 8 | 245.46 |
| Xinxin | 8e2as | Chu | Run It! 10km | Female | Open | Nursing | 11 | 11.03 |
| Muhd Imran | 8fv0n | Ahmad | Run It! 10km | Male | Open | Nursing | 4 | 6.69 |
| Florence | 8lkp4 | Chiang | Run It! 10km | Female | Master | Allied Health | 4 | 10.99 |
| TUN | 8mvly | HLAING | Run It! 10km | Male | Master | Radiological Science | 3 | 14.92 |
| Marilou | 8ozqo | Manalo | Run It! 50km | Female | Open | Nursing | 1 | 109.90 |
| Angie | 8xu3m | Lao | Run It! 50km | Female | Master | Nursing | 3 | 61.63 |
| Brenda | 8zjbx | See | Run It! 10km | Female | Open | Human Resource | 4 | 9.89 |
| Tuck Weng | 9imy5 | Woon | Run It! 10km | Male | Master | Human Resource | 10 | 30.05 |
| Amanda | 9r580 | Lee | Run It! 20km | Female | Open | Allied Health | 20 | 20.00 |
| Shairah | 9rojs | Ramazan | Run It! 50km | Female | Open | Allied Health | 3 | 53.77 |
| Wa Wa | aa3cp | Aung | Run It! 20km | Female | Open | Allied Health | 2 | 20.72 |
| Bai | abgz8 | Ying | Run It! 50km | Female | Open | Allied Health | 6 | 61.16 |
| Boon Hong | adnkx | See | Run It! 20km | Female | Master | Nursing | 3 | 25.05 |
| Muhammad Zulfadli | ahjsf | Bin Zainuddin | Run It! 20km | Male | Open | Allied Health | 4 | 4.00 |
| Hartini | ajtsq | Osman | Run It! 50km | Female | Master | Nursing | 5 | 71.08 |
| Dezarae | am4be | Ang | Run It! 20km | Female | Open | Nursing | 5 | 107.61 |
| Kaniyamparampil komalan | anhf6 | Subimol | Run It! 50km | Female | Open | Nursing | 2 | 60.44 |
| Lee | auave | Li Lern | Run It! 50km | Male | Master | Human Resource | 27 | 309.98 |
| Jia ying | Aup81 | Chua | Run It! 50km | Female | Open | Nursing | 3 | 3.40 |
| Dorothy | axxml | Ong | Run It! 20km | Female | Master | Nursing | 7 | 20.77 |
| Li Ting | ayqts | Quek | Run It! 10km | Female | Open | Nursing | 5 | 11.12 |
| May Un Sam | b0pw6 | Mok | Run It! 50km | Female | Master | Anaesthesiology | 4 | 149.05 |
| Lara Clariza Cariaga | b1ie6 | Germar | Run It! 10km | Female | Open | Nursing | 4 | 177.76 |
| Chilly | b37zb | Chen | Run It! 50km | Female | Master | Nursing | 2 | 50.60 |
| Eugene | b6p76 | Sim | Run It! 10km | Male | Master | COO Ambulatory | 3 | 10.32 |
| Nora Azwaj | ba0nl | A'Rusley | Run It! 10km | Female | Open | Nursing | 5 | 19.18 |
| Cassandra | ba7d1 | Chua | Run It! 20km | Female | Open | Patient Support | 22 | 44.92 |
| Syadad | bbqt8 | Sulaiman | Run It! 10km | Male | Open | Radiological Science | 4 | 72.22 |
| Jessica Jia Hao | be7ve | Soo | Run It! 20km | Female | Master | Patient Experience, Communications and Development | 10 | 40.16 |
| Racquel | bgin7 | Simeon | Run It! 20km | Female | Master | Nursing | 14 | 21.77 |
| Lily Hui Ling | bgn5i | Chin | Run It! 50km | Female | Open | Nursing | 5 | 78.41 |
| Shin Yin | bie2g | Chang | Run It! 20km | Female | Open | Allied Health | 4 | 317.64 |
| Jia Wei | bjcl8 | Leong | Run It! 20km | Male | Open | Patient Experience, Communications and Development | 6 | 46.02 |
| Chai Rick | bq5n5 | Soh | Run It! 50km | Male | Veteran | Anaesthesiology & Perioperative Med | 6 | 122.50 |
| loong-tat | brro3 | Wong | Run It! 50km | Male | Veteran | Anaesthesiology | 5 | 76.35 |
| Wei Wen | bwf6x | Kuan | Run It! 10km | Female | Open | Nursing | 7 | 31.14 |
| Jack Thian | bwqpd | Tan | Run It! 20km | Male | Veteran | COO's Office | 5 | 26.04 |
| Jerico | bz7tg | Gapasin | Run It! 50km | Male | Master | Sterile supply | 8 | 640.66 |
| Ivy | c1cv0 | Goh | Run It! 10km | Female | Open | Nursing | 5 | 10.19 |
| Siew Huay, Winnie | c4jz5 | Khaw | Run It! 10km | Female | Veteran | Finance | 11 | 15.90 |
| Jie Ru | c7z5m | Ong | Run It! 50km | Female | Open | Nursing | 16 | 16.00 |
| Juliana | c9jba | Shariq Mujtaba | Run It! 50km | Female | Open | Allied Health | 23 | 120.14 |
| JIA JING | cb0f | LUI | Run It! 50km | Male | Open | Pre-Operative and Admitting Services | 4 | 140.34 |
| Poh lin | ce2j5 | koh | Run It! 50km | Female | Master | Allied Health | 28 | 63.35 |
| Sin Yee | ce79a | Goh | Run It! 50km | Female | Master | Anaesthesiology | 5 | 93.18 |
| Izza Firhana | cel73 | Md Arzanjani | Run It! 10km | Female | Open | Nursing | 15 | 15.01 |
| Shawn | cf2ts | Poh | Run It! 20km | Male | Open | COO Ambulatory | 3 | 34.87 |
| Ng | chs8f | Hui Sin | Run It! 50km | Female | Open | Allied Health | 7 | 60.87 |
| Lim | ckow4 | Jia Hui | Run It! 10km | Female | Open | COO Ambulatory | 3 | 10.90 |
| LinLin | cl0w8 | Hu | Run It! 50km | Female | Open | Nursing | 9 | 62.54 |
| HUSSEIN | clzjb | TRINIO | Run It! 50km | Male | Master | Ancillary | 5 | 51.90 |
| Kelvin | cpz43 | Loke | Run It! 50km | Male | Master | Radiological Science | 4 | 75.51 |
| Pamela | cqsbz | Alipio | Run It! 50km | Female | Open | Nursing | 6 | 31.50 |
| Clement | cutd7 | Ching | Run It! 20km | Male | Open | Nursing | 5 | 5.41 |
| Darren | cws4r | Tay | Run It! 50km | Male | Master | Musculoskeletal Sciences | 50 | 50.50 |
| Alvin | czbab | Chua | Run It! 50km | Male | Master | Musculoskeletal Sciences | 7 | 7.34 |
| GAN | d0h1o | YEE LIN | Run It! 50km | Female | Open | Nursing | 5 | 37.40 |
| Tan | d1wbb | Yoke Chang | Run It! 50km | Male | Veteran | Human Resource | 10 | 540.85 |
| KISHEN KUMAR | d3det | MURUGA | Run It! 50km | Male | Open | Nursing | 7 | 20.57 |
| NALAYANI | d41i3 | KURUMBIAN | Run It! 10km | Female | Open | Nursing | 10 | 10.75 |
| Francis | dacxd | Cruz | Run It! 50km | Male | Open | Nursing | 5 | 10.05 |
| Kam Fei | df61 | Cheng | Run It! 10km | Male | Master | Postgraduate Medical Institute (PGMI) | 3 | 17.00 |
| Mary Ann | dfq2i | Morrondoz | Run It! 50km | Female | Master | Nursing | 5 | 20.43 |
| Harminder Singh | dnqr0 | Olikh | Run It! 50km | Male | Open | Nursing | 2 | 7.00 |
| Mohamad Zaki Khan | dtphb | Zulkafri | Run It! 50km | Male | Open | Nursing | 8 | 28.60 |
| Ariane | dzfru | Duncil | Run It! 20km | Female | Open | Surgery | 20 | 265.79 |
| Cheryl | e3ywo | Lee | Run It! 20km | Female | Open | Radiological Science | 3 | 35.34 |
| Sarah | e59zf | Lim | Run It! 20km | Female | Open | Allied Health | 5 | 9.00 |
| Ihsan | e9we9 | Md | Run It! 50km | Male | Open | Nursing | 11 | 50.98 |
| Michelle | eazxe | Tan | Run It! 50km | Female | Master | Anaesthesiology | 5 | 226.57 |
| Kee | efebf | Yong han adam | Run It! 50km | Male | Open | Radiological Science | 3 | 30.19 |
| Mavis | el5ej | Teo | Run It! 50km | Female | Master | Anaesthesiology | 4 | 76.76 |
| Nicholas | emjtm | Png | Run It! 50km | Male | Open | Radiological Science | 5 | 155.52 |
| Li Eng | emwef | Loo | Run It! 50km | Female | Master | Pathology | 10 | 503.93 |
| Haijun | eqwrx | Li | Run It! 50km | Female | Open | Nursing | 15 | 50.53 |
| Thinzar | es3kh | Wut Yee | Run It! 50km | Female | Open | Nursing | 3 | 9.22 |
| NOR FAIZAH | exevy | AHMAD KHAIZ | Run It! 20km | Female | Open | Nursing | 0 | 4.31 |
| Peik Yen | ey2eo | Teh | Run It! 10km | Female | Open | Radiological Science | 6 | 29.45 |
| Shu Ying | f0v03 | Loh | Run It! 20km | Female | Open | Human Resource | 6 | 30.22 |
| Mavis | f72q0 | Law | Run It! 50km | Male | Open | Allied Health | 51 | 51.30 |
| Siti khadijah | faz | Zainuddin | Run It! 10km | Female | Open | Nursing | 11 | 11.40 |
| Elizabeth | fc9k6 | Cheong | Run It! 20km | Female | Open | Radiological Science | 3 | 30.64 |
| Siew Hoon | fgyjn | Lim | Run It! 10km | Female | Master | Nursing | 10 | 10.90 |
| Fatima | fh20q | Pelipel | Run It! 50km | Female | Open | Nursing | 14 | 83.79 |
| Jun Jie | fhcd5 | Tan | Run It! 50km | Male | Open | Allied Health | 4 | 138.13 |
| Li-Ming | fhu0s | Teo | Run It! 50km | Female | Master | Anaesthesiology | 5 | 123.33 |
| Paul Kung Ngieng | fk2la | Lau | Run It! 10km | Male | Veteran | Finance | 11 | 15.27 |
| Kian Hian | fkntm | Tan | Run It! 50km | Male | Master | Anaesthesiology & Perioperative Med | 6 | 56.40 |
| Ching San | fs6vu | Teo | Run It! 50km | Male | Veteran | Allied Health | 4 | 153.60 |
| Wu | fu9th | Xiao Yuan | Run It! 50km | Female | Open | Allied Health | 5 | 50.51 |
| Lim Mei Qi | fwd8c | Ang | Run It! 50km | Female | Open | Nursing | 65 | 136.39 |
| Klarisse Mae | fyc3f | Esteban | Run It! 20km | Female | Open | Nursing | 4 | 20.26 |
| Tim Wei | fyps7 | Lee | Run It! 50km | Male | Open | COO Ambulatory | 10 | 50.00 |
| Nurul Fadhlina | g15bv | Binte Noorshah | Run It! 20km | Female | Open | Nursing | 5 | 20.81 |
| HuiShan | g2rbr | Chong | Run It! 20km | Female | Open | Nursing | 4 | 20.20 |
| Kok Kian | g4jpr | Lai | Run It! 50km | Male | Open | Finance | 1 | 17.93 |
| Xiaoyuan | gcii8 | Song | Run It! 10km | Female | Master | Nursing | 3 | 14.79 |
| Seok Khim | glb6m | Lim | Run It! 50km | Female | Veteran | Pre-Operative and Admitting Services | 14 | 266.80 |
| Catharine | gqza7 | Yong | Run It! 50km | Female | Master | Nursing | 18 | 75.51 |
| Tina | gtkb3 | Phua | Run It! 10km | Female | Master | COO Ambulatory | 5 | 53.90 |
| Yam Eng | gurn6 | Tan | Run It! 50km | Female | Master | Medicine | 5 | 89.79 |
| Shu Hao | gvbf8 | Lee | Run It! 50km | Male | Master | Projects | 11 | 408.68 |
| Dalpreet | h4aav | Kaur | Run It! 10km | Female | Open | Research Office | 1 | 1.30 |
| Jerald | h6wym | Lim | Run It! 50km | Male | Open | Finance | 10 | 257.98 |
| Jerald | h6ywm | Lim | Run It! 50km | Male | Open | Finance | 21 | 39.71 |
| Ann Julia | hbvk8 | Joseph | Run It! 50km | Female | Open | Nursing | 5 | 52.74 |
| Lee | hd79t | Chee Woei | Run It! 20km | Female | Master | Nursing | 5 | 80.30 |
| Louis | hd7j5 | McAdory | Run It! 50km | Male | Veteran | Radiological Science | 4 | 140.13 |
| Leonida | hdycn | Gomez | Run It! 50km | Female | Master | Nursing | 6 | 224.04 |
| Jessie | hfq0j | Ong | Run It! 50km | Female | Open | COO Ambulatory | 9 | 109.48 |
| Tricia | hl6f1 | Lang | Run It! 10km | Female | Open | Nursing | 10 | 10.00 |
| Wei Cong | hobl6 | Lim | Run It! 50km | Male | Open | Allied Health | 4 | 50.11 |
| Kee Wee | hvauh | Goh | Run It! 50km | Male | Open | COO Ambulatory | 2 | 368.05 |
| Audrey | hvhv4 | Chia | Run It! 50km | Female | Open | Radiological Science | 9 | 52.32 |
| Nur syafinah | i0df1 | Azmi | Run It! 10km | Female | Open | Nursing | 4 | 12.16 |
| mark ivan | i697d | gavino | Run It! 20km | Male | Open | Nursing | 6 | 61.64 |
| Josephine | i7hh6 | Wang | Run It! 50km | Female | Open | Allied Health | 10 | 73.59 |
| Ho Ping | iapx0 | Kho | Run It! 50km | Female | Master | Medicine | 3 | 61.96 |
| Wanying | ij07f | Xie | Run It! 10km | Female | Master | Radiological Science | 3 | 27.75 |
| Pearline | ipwlt | Koe | Run It! 10km | Female | Open | Allied Health | 3 | 3.76 |
| Elizabeth | iyjm4 | Ong | Run It! 50km | Female | Open | Human Resource | 5 | 108.80 |
| Stella | iz8mo | Ong | Run It! 50km | Female | Open | Nursing | 6 | 53.10 |
| NURHAZIRAH | j0mea | MOHD YA'AKOB | Run It! 10km | Female | Open | Pathology | 32 | 32.93 |
| Jing | j4trr | Zhang | Run It! 50km | Female | Open | Nursing | 5 | 91.70 |
| jonathan | jamdz | montalbo | Run It! 20km | Male | Open | Nursing | 6 | 22.53 |
| Natassha | je5as | Golan | Run It! 20km | Female | Open | Human Resource | 6 | 151.59 |
| Sid | jh0qm | Maguillo | Run It! 20km | Male | Open | Nursing | 4 | 380.51 |
| Er | jh3hn | Boon Hui | Run It! 10km | Female | Open | Nursing | 4 | 10.17 |
| Ngai Yee | jk7to | Chua | Run It! 50km | Female | Master | Finance | 6 | 123.56 |
| Jeffrey | jlr97 | Fong | Run It! 50km | Male | Master | Radiological Science | 5 | 71.64 |
| Wenjia | jp3hf | Hao | Run It! 10km | Female | Open | Nursing | 4 | 4.20 |
| Lynn | jq5p | Yap | Run It! 10km | Female | Master | Radiological Science | 2 | 10.67 |
| Ying ci | js207 | Ho | Run It! 50km | Female | Open | Anaesthesiology | 75 | 213.63 |
| Hui Xin | jv9ut | Tan | Run It! 10km | Female | Open | Nursing | 10 | 10.00 |
| Jasmine | jw76u | Choo | Run It! 20km | Female | Open | Nursing | 3 | 18.00 |
| JiaYi | jz2gr | DONG | Run It! 10km | Female | Master | COO Ambulatory | 48 | 119.89 |
| Heng | k1ah6 | Ghin ee | Run It! 50km | Female | Veteran | Allied Health | 52 | 52.20 |
| Pei Ying | k98t6 | Lee | Run It! 10km | Female | Open | Human Resource | 2 | 11.34 |
| Sue Ping | knjsb | Thang | Run It! 50km | Female | Master | Radiological Science | 4 | 121.04 |
| Limin | kprzt | wijaya | Run It! 20km | Female | Master | Medicine | 7 | 21.00 |
| Xin Yi | kywkb | Fong | Run It! 20km | Female | Open | Radiological Science | 11 | 32.94 |
| Liwen | l90ad | Huang | Run It! 50km | Female | Master | Nursing | 5 | 100.83 |
| Mei Huei | lap1m | Liew | Run It! 10km | Female | Open | Nursing | 10 | 10.04 |
| Chong | leqbb | Mei Yen | Run It! 50km | Female | Open | Nursing | 7 | 101.68 |
| Mei Qi | li9p1 | Koh | Run It! 50km | Female | Open | COO Ambulatory | 3 | 103.59 |
| SHU YI | liqod | LIM | Run It! 50km | Female | Open | Nursing | 3 | 144.62 |
| Navreen | lktf7 | Kaur | Run It! 20km | Female | Open | Medicine | 3 | 26.93 |
| Trish | ll0fn | Tan | Run It! 50km | Female | Master | Nursing | 13 | 59.29 |
| Joon Guan | lqh2v | Choo | Run It! 50km | Male | Open | Nursing | 6 | 83.92 |
| Emelyn | lvdqe | Gerarman | Run It! 10km | Female | Open | Nursing | 4 | 13.50 |
| Serena | lxcl | Chua | Run It! 50km | Female | Master | Patient Experience, Communications and Development | 5 | 68.63 |
| Siti Umaira | mbzza | Su'aidi | Run It! 10km | Female | Open | Radiological Science | 2 | 4.00 |
| Shirlena | miu5m | Wong | Run It! 50km | Female | Master | Surgery & Surgical Oncology | 5 | 168.87 |
| renn cedric | mu2ar | Salonga | Run It! 20km | Male | Open | Radiological Science | 5 | 20.02 |
| Reynaldo Jr. | n38ex | Lapuz | Run It! 50km | Male | Open | Nursing | 9 | 63.52 |
| Fei | n4lgq | Yang | Run It! 50km | Female | Master | Finance | 5 | 50.97 |
| Muniswamy | n9go6 | Gayathri | Run It! 10km | Female | Master | Nursing | 3 | 219.18 |
| Narayan | narayan.lath@singhealth.com.sg | Lath | Run It! 50km | Male | Master | Radiological Science | 9 | 9.41 |
| Athens | nel74 | Junio | Run It! 50km | Female | Master | Nursing | 6 | 68.43 |
| lydee | norpr | almeyda | Run It! 20km | Female | Open | Nursing | 0 | 3.43 |
| Elizabeth | np2yf | Neo | Run It! 20km | Female | Open | Organisation Planning | 5 | 133.31 |
| Andy | ns2e0 | Goh | Run It! 50km | Male | Open | Nursing | 3 | 20.03 |
| Tan | o1djt | Meng Kwan | Run It! 50km | Male | Master | Nursing | 5 | 718.03 |
| Wee wee | o5r7f | Goh | Run It! 50km | Female | Open | Radiological Science | 5 | 5.38 |
| Thajudeen Mohammed | oa345 | Zuhary | Run It! 50km | Male | Master | Medicine | 7 | 105.39 |
| tan | odjkc | boon chong | Run It! 50km | Male | Open | Estate Management | 17 | 73.53 |
| Yamin Yuper | ojw39 | Zin | Run It! 50km | Female | Open | Estate Management | 10 | 76.81 |
| Nisha | olsxw | Muthi | Run It! 50km | Female | Open | Nursing | 7 | 51.03 |
| Pei Si | oowdq | Heng | Run It! 10km | Female | Open | Patient Experience, Communications and Development | 4 | 52.53 |
| Junjie | op7q7 | Ye | Run It! 20km | Male | Master | Operations | 37 | 37.06 |
| Wen Hui | opgu8 | Ng | Run It! 50km | Female | Open | Nursing | 57 | 107.07 |
| Wei Yow | ouj21 | Sim | Run It! 50km | Male | Master | Radiological Science | 4 | 4.60 |
| Sandra | ouqk3 | Masalunga | Run It! 50km | Female | Master | Nursing | 17 | 444.32 |
| Michele | ow9t6 | Uy | Run It! 10km | Female | Master | Nursing | 6 | 40.79 |
| Emily | ozjwh | Lim | Run It! 10km | Female | Master | Medical Board | 5 | 16.32 |
| Bao Xin eugene | p114I | Wong | Run It! 50km | Male | Open | Pathology | 10 | 10.00 |
| Bao Xin Eugene | p114l | Wong | Run It! 50km | Male | Open | Pathology | 10 | 60.00 |
| Wei li | p3goq | Lee | Run It! 50km | Male | Open | Finance | 5 | 104.16 |
| Pamelyn | p445m | Tan | Run It! 20km | Female | Open | Allied Health | 2 | 63.52 |
| Robin | p6at5 | Hua | Run It! 50km | Male | Open | Anaesthesiology | 50 | 50.14 |
| Yadanar | pei45 | Ye Yint | Run It! 50km | Female | Open | Nursing | 5 | 105.40 |
| Victoria | pf6pj | Teoh | Run It! 50km | Female | Open | Nursing | 5 | 19.82 |
| Romano Samarita | pksef | Uy | Run It! 50km | Male | Master | Service Support | 25 | 116.13 |
| Johnathan | po6yg | Lim | Run It! 20km | Male | Open | Pathology | 28 | 28.14 |
| Alvin | ptivk | Lim | Run It! 50km | Male | Veteran | Pathology | 5 | 509.27 |
| Hwee Shan | pxlgs | Yeo | Run It! 50km | Female | Open | Musculoskeletal Sciences | 7 | 50.51 |
| Mala | pxust | SREE | Run It! 50km | Female | Veteran | Service Support | 8 | 111.15 |
| Mumtaj | q26g4 | Ibrahim | Run It! 10km | Female | Master | Patient Experience, Communications and Development | 71 | 71.00 |
| Andrea | q8m8r | Yong | Run It! 50km | Female | Open | Medicine | 9 | 244.83 |
| Muhammad Nurfikri | qa5oc | Juma'at | Run It! 50km | Male | Open | Medical Board | 4 | 545.45 |
| Zhen wei | qgh2x | Lim | Run It! 10km | Male | Open | Anaesthesiology | 5 | 92.80 |
| KAREN | qjk50 | CHAN | Run It! 20km | Female | Master | COO Ambulatory | 5 | 251.01 |
| Amos | ql76h | Lim | Run It! 50km | Male | Open | Allied Health | 5 | 258.25 |
| Seow | qnx6m | Yuan Ling | Run It! 20km | Female | Open | Allied Health | 2 | 28.72 |
| Priya Dharshini | qsa01 | Mogan | Run It! 20km | Female | Open | Nursing | 2 | 25.02 |
| Yang Noi | r84g1 | Tan | Run It! 10km | Female | Veteran | Human Resource | 7 | 12.27 |
| Oh | rdk7 | Li Li | Run It! 10km | Female | Master | Medicine | 10 | 10.14 |
| Liew | rfgf | Min Jia | Run It! 10km | Female | Master | Medical Board | 5 | 6.00 |
| ai wei | rikfj | Cheng | Run It! 10km | Female | Open | Radiological Science | 4 | 10.34 |
| Rachel | rv7hc | ho | Run It! 20km | Female | Open | Finance | 20 | 45.86 |
| Ma Marecel | rvmd2 | Hernando | Run It! 10km | Female | Master | Nursing | 2 | 20.70 |
| Kheng Choon | rzj13 | Lim | Run It! 50km | Male | Master | Radiological Science | 56 | 56.37 |
| Nasrifudin | rzp6g | Najumudin | Run It! 10km | Male | Master | Medical Board | 9 | 13.00 |
| Meera | s0bka | Kanthasamy | Run It! 50km | Female | Master | Nursing | 5 | 53.60 |
| Xin Hwee | S0ciq | Kok | Run It! 20km | Female | Open | Finance | 11 | 32.00 |
| Siew Keong | s2hbi | Kwok | Run It! 50km | Male | Open | Allied Health | 31 | 80.68 |
| Cheryl | s6ey1 | Sim | Run It! 50km | Female | Open | Allied Health | 6 | 41.59 |
| Loretta | s7fek | Dimus | Run It! 50km | Female | Open | Nursing | 5 | 58.97 |
| Tun Tun | s8ekc | Kyaw | Run It! 20km | Male | Veteran | Medical Board | 3 | 111.83 |
| Nadrah | sbs5p | Hamzah | Run It! 50km | Female | Master | Nursing | 11 | 82.52 |
| Steffi | sc299 | Chan | Run It! 50km | Female | Open | Anaesthesiology | 13 | 52.90 |
| JOSHEN | si1s3 | OW | Run It! 50km | Male | Open | Pre-Operative and Admitting Services | 5 | 9.60 |
| Yoke Ling | sjfpd | Chan | Run It! 20km | Female | Master | Nursing | 7 | 30.73 |
| Raymond | snf4x | Teo | Run It! 50km | Male | Master | Organisation Planning | 10 | 60.19 |
| Norshahiman | t074l | Bin Ahmad Shah | Run It! 20km | Male | Master | Human Resource | 4 | 20.16 |
| Ayulestari | t11jq | Harsono | Run It! 50km | Female | Master | Finance | 1 | 27.12 |
| Khir | t65p7 | Khairi | Run It! 50km | Male | Open | Nursing | 6 | 70.80 |
| DE SILVA | tdhv4 | SAMITHA | Run It! 50km | Female | Open | Nursing | 5 | 53.70 |
| Hwei ling | tkvni | Lee | Run It! 50km | Female | Veteran | Nursing | 6 | 186.59 |
| Suat Nee | toi3s | Wei | Run It! 20km | Female | Veteran | Projects | 4 | 50.46 |
| Elisabeth | Tq9ta | Angelina | Run It! 10km | Female | Open | Medical Board | 6 | 61.86 |
| Jean Leslie | tvl7o | Tan | Run It! 50km | Female | Open | Nursing | 4 | 19.44 |
| Jessaline | txqfs | Pormento | Run It! 10km | Female | Open | Nursing | 147 | 147.40 |
| Zeus | u18zb | Lim | Run It! 50km | Male | Open | Research Office | 2 | 6.72 |
| YU-CHIN | u2in8 | LIN | Run It! 50km | Female | Open | Radiological Science | 4 | 8.44 |
| Xin Ting | u2pc8 | Koh | Run It! 20km | Female | Open | Radiological Science | 1 | 135.01 |
| Narayan | U7kky | Lath | Run It! 50km | Male | Master | Radiological Science | 19 | 157.87 |
| Nur Zakiah | u7vn3 | Sidek | Run It! 50km | Female | Open | Radiological Science | 3 | 50.55 |
| Chew Theng | ub1pb | Yap | Run It! 50km | Female | Master | Nursing | 7 | 50.05 |
| Vince | uf1ed | Koo | Run It! 10km | Male | Open | Finance | 24 | 35.06 |
| Ivy | uf3zn | Tay | Run It! 50km | Female | Master | Nursing | 7 | 66.36 |
| Wai Yan | uha0c | Wong | Run It! 20km | Female | Open | Organisation Planning & Performance | 7 | 21.47 |
| Brenda | uouso | Lim | Run It! 10km | Female | Open | COO Ambulatory | 3 | 10.10 |
| Charisse | upyx6 | Perez | Run It! 20km | Female | Open | Nursing | 7 | 66.90 |
| Sozhavalavan | uq1m0 | Sozhavalavan | Run It! 10km | Male | Veteran | Nursing | 15 | 53.89 |
| Keat Yeng | urawg | Lau | Run It! 10km | Female | Master | Nursing | 10 | 10.00 |
| Pang | us4fc | Lee | Run It! 50km | Male | Veteran | Anaesthesiology | 10 | 510.77 |
| Freda | uxgut | Jawan | Run It! 50km | Female | Open | Radiological Science | 6 | 64.72 |
| Si Xuan | v5mi2 | Chua | Run It! 50km | Female | Open | Nursing | 1 | 5.95 |
| Felicia | v5vn9 | Goh | Run It! 50km | Female | Master | Finance | 6 | 106.72 |
| Li Peng | v5y2o | Ng | Run It! 50km | Female | Master | Nursing | 8 | 119.73 |
| Ma Isabel | vcwp8 | Navato | Run It! 50km | Male | Master | Nursing | 55 | 90.90 |
| Nur raudhah | vs39s | Azimat | Run It! 10km | Female | Master | Nursing | 3 | 11.95 |
| John | vs9ca | Lee | Run It! 50km | Male | Open | Anaesthesiology | 8 | 110.69 |
| Kristine Bernadette | w1a3t | Camaya | Run It! 50km | Female | Open | Nursing | 5 | 87.48 |
| Sock Teng | w49hs | Tan | Run It! 50km | Female | Open | Nursing | 6 | 72.96 |
| Emily siu li | w7y7f | Chiam | Run It! 50km | Female | Open | Nursing | 12 | 646.15 |
| Yi Wen | wm5xf | Lim | Run It! 20km | Female | Open | Medical Board | 8 | 23.00 |
| Kwok Ann | wrcae | Ang | Run It! 50km | Male | Veteran | Finance | 35 | 218.21 |
| Margarita | wsiik | Reyes | Run It! 50km | Female | Master | Nursing | 0 | 66.33 |
| Haryati | x2qmy | Abdul Malek | Run It! 20km | Female | Master | COO Ambulatory | 10 | 17.52 |
| Saleem | x4ctb | Abdul Rahim | Run It! 50km | Male | Open | Research Office | 2 | 63.00 |
| John | x91le | Bagomboy | Run It! 50km | Male | Open | Surgery | 15 | 85.37 |
| Pindar | xfagb | Yu | Run It! 50km | Female | Master | Allied Health | 14 | 96.40 |
| Jerusalaine | xgdgo | Alde | Run It! 20km | Female | Open | Nursing | 5 | 29.95 |
| Arica | xh3eo | Gan | Run It! 50km | Female | Open | Pathology | 4 | 50.61 |
| Kah Kuei | xiqt3 | Wong | Run It! 10km | Male | Master | COO Ambulatory | 10 | 272.00 |
| Meiyi | xisss | Kwek | Run It! 20km | Female | Open | Nursing | 0 | 1.48 |
| Weiliang | xmtmp | Soh | Run It! 20km | Male | Open | Nursing | 5 | 26.73 |
| Jocelyn | xo16t | Teo | Run It! 20km | Female | Master | Allied Health | 4 | 65.40 |
| Jeremy | xon9s | Sim | Run It! 50km | Male | Open | Allied Health | 75 | 202.60 |
| Sarimah | xxklf | Rahmat | Run It! 10km | Female | Veteran | Finance | 7 | 17.41 |
| Rene Cesar Jr | xywqw | Ascalon | Run It! 20km | Male | Master | Nursing | 5 | 26.28 |
| Boon Leng | y4v5v | Lim | Run It! 50km | Male | Veteran | Anaesthesiology | 40 | 311.86 |
| Julian | y654e | Lee | Run It! 50km | Female | Master | Nursing | 0 | 76.19 |
| Xercis | yeuhg | Barbosa | Run It! 50km | Female | Master | Nursing | 6 | 36.82 |
| Caleb | yfrfc | Lee | Run It! 20km | Male | Master | Allied Health | 3 | 159.56 |
| Keith | yo54f | Yeo | Run It! 20km | Male | Open | Human Resource | 3 | 28.03 |
| Siti Fatimmah | yocxt | Muhammad | Run It! 20km | Female | Master | Radiological Science | 21 | 21.96 |
| Muhammad Hazziq Bin | ysrdw | Adnan | Run It! 20km | Male | Open | Finance | 4 | 36.30 |
| Chua | yuezd | Shen Yie | Run It! 10km | Female | Open | Nursing | 6 | 17.59 |
| Nur Ain Salleha | yvzkp | Binte Abdul Razak | Run It! 20km | Female | Open | Medicine | 20 | 20.89 |
| Ma | yyrwu | Shijing | Run It! 10km | Female | Master | Nursing | 5 | 5.00 |
| Alvin | z24qr | De Guia | Run It! 20km | Male | Open | Nursing | 3 | 14.26 |
| Kannagi | z73mr | Govindasamy | Run It! 10km | Female | Veteran | Service Support | 2 | 28.64 |
| Mohamad Sharan | z916 | Mohamad Osman | Run It! 50km | Male | Master | Nursing | 6 | 6.40 |
| Lai Ching | zb427 | Lau | Run It! 10km | Female | Veteran | Allied Health | 4 | 67.46 |
| Ban Hock | zcah | Tan | Run It! 10km | Male | Veteran | Medicine | 3 | 6.00 |
| Jing Xuan | zd23f | Ng | Run It! 20km | Female | Open | Allied Health | 2 | 27.00 |
| Shin Yi | zj5d1 | Ng | Run It! 50km | Male | Master | Anaesthesiology & Perioperative Med | 6 | 168.53 |
| Selena | zlohx | Chan | Run It! 50km | Female | Open | Medical Board | 16 | 51.17 |
| Eileen | zyxb5 | Peng Ya | Run It! 50km | Female | Master | Nursing | 5 | 81.61 |
| First Name | RegID | Last Name | Category | Gender | Age Group | Division | kmsupload | Total KMs Uploaded |
Move It! Step Challenge (300,000 steps)
| First Name | RegID | Last Name | Category | Gender | Division | stepsupload | Total Steps Uploaded |
| --- | --- | --- | --- | --- | --- | --- | --- |
| Le Le | 110ae | Cheah | Move It! Step Challenge (300,000 steps) | Female | Nursing | 2,976 | 22,729 |
| Vir Kaur | 115hh | gill | Move It! Step Challenge (300,000 steps) | Female | COO Ambulatory | 37,023 | 654,150 |
| Khine | 11amd | Zar Thwe | Move It! Step Challenge (300,000 steps) | Female | Medicine | 14,151 | 330,263 |
| Annie | 12gyr | Liew | Move It! Step Challenge (300,000 steps) | Female | Nursing | 8,755 | 392,612 |
| Ziyan | 1734n | Ng | Move It! Step Challenge (300,000 steps) | Female | Finance | 9,410 | 20,344 |
| Girija | 1a8qq | Prabha | Move It! Step Challenge (300,000 steps) | Female | Estate Management | 16,072 | 532,627 |
| Ma. Alelei | 1b2br | Balajadia | Move It! Step Challenge (300,000 steps) | Female | Nursing | 13,813 | 419,281 |
| Chuah | 1f9pc | Ai Ai | Move It! Step Challenge (300,000 steps) | Female | Estate Management | 8,907 | 466,431 |
| Ka Yee | 1g740 | Chen | Move It! Step Challenge (300,000 steps) | Male | Surgery | 14,608 | 351,512 |
| Paik shia | 1hjqo | Lim | Move It! Step Challenge (300,000 steps) | Female | Allied Health | 10,936 | 319,743 |
| avon faith | 1kmrr | napoles | Move It! Step Challenge (300,000 steps) | Female | Nursing | 8,556 | 76,525 |
| Gan | 1pgnd | Boon Her | Move It! Step Challenge (300,000 steps) | Male | Estate Management | 7,015 | 77,777 |
| Ma Gemma | 1vff4 | Pamintuan | Move It! Step Challenge (300,000 steps) | Female | Nursing | 88,000 | 842,398 |
| SIM MOY | 1wl3s | Koh | Move It! Step Challenge (300,000 steps) | Female | Sr Patient Experience Manager | 10,126 | 887,792 |
| Giam | 1y3xk | Huiying | Move It! Step Challenge (300,000 steps) | Female | Nursing | 9,808 | 77,973 |
| Hema | 23ach | V | Move It! Step Challenge (300,000 steps) | Female | Nursing | 11,960 | 11,960 |
| Mui Kin | 2480x | Lim | Move It! Step Challenge (300,000 steps) | Female | Finance | 92,520 | 317,354 |
| Annie | 2bidf | Lau | Move It! Step Challenge (300,000 steps) | Female | Nursing | 9,761 | 9,761 |
| nur | 2co2s | natasha | Move It! Step Challenge (300,000 steps) | Female | COO Ambulatory | 155,433 | 282,390 |
| Venus | 2eevl | Catibog | Move It! Step Challenge (300,000 steps) | Female | Nursing | 6,195 | 14,787 |
| EWE CHOON | 2f6at | LEE | Move It! Step Challenge (300,000 steps) | Female | Estate Management | 99,387 | 720,238 |
| Chih Yin | 2irfn | Teo | Move It! Step Challenge (300,000 steps) | Female | Human Resource | 70 | 4,397 |
| Mary ann | 2jikp | Marinduque | Move It! Step Challenge (300,000 steps) | Female | Nursing | 16,015 | 358,615 |
| Ong | 2jpti | Soon Lan | Move It! Step Challenge (300,000 steps) | Female | Nursing | 4,380 | 298,937 |
| Poh Ching | 2kww4 | Guok | Move It! Step Challenge (300,000 steps) | Female | COO Ambulatory | 10,909 | 618,790 |
| Imjelyn | 2lud1 | Resoles | Move It! Step Challenge (300,000 steps) | Female | Nursing | 10,976 | 361,062 |
| Chor Kien | 2lw67 | Tan | Move It! Step Challenge (300,000 steps) | Female | Nursing | 4,437 | 217,241 |
| Koh | 2mdax | Jacqueline | Move It! Step Challenge (300,000 steps) | Female | Nursing | 10,751 | 435,997 |
| Lan Huay | 2obk9 | Ong | Move It! Step Challenge (300,000 steps) | Female | Pathology | 86,620 | 650,642 |
| Junfang | 2okj8 | Yang | Move It! Step Challenge (300,000 steps) | Female | Nursing | 8,510 | 496,289 |
| Ismawati | 2q7q4 | Mohd Amin | Move It! Step Challenge (300,000 steps) | Female | Medical Board | 10,216 | 525,199 |
| Heng Yee | 2q8nw | Cheah | Move It! Step Challenge (300,000 steps) | Female | Allied Health | 5,114 | 190,132 |
| Kimberly mae | 2qpqb | Belga | Move It! Step Challenge (300,000 steps) | Female | Nursing | 7,108 | 7,108 |
| Yee Mui | 2qqdl | Koh | Move It! Step Challenge (300,000 steps) | Female | Patient Experience, Communications and Development | 10,729 | 606,387 |
| Weiling | 2tt8x | Ng | Move It! Step Challenge (300,000 steps) | Female | Pathology | 14,498 | 467,272 |
| Jasmine | 32sae | Pook | Move It! Step Challenge (300,000 steps) | Female | Nursing | 12,097 | 146,439 |
| MAZLIN | 39zdm | SARIF | Move It! Step Challenge (300,000 steps) | Female | Finance | 21,851 | 170,526 |
| Zulhelmy | 3arp0 | Muhammad | Move It! Step Challenge (300,000 steps) | Male | Patient Experience, Communications and Development | 105,814 | 105,814 |
| Kiat Boon | 3fqb1 | See | Move It! Step Challenge (300,000 steps) | Male | Finance | 43,945 | 296,138 |
| Chua | 3gv98 | Wee Lian | Move It! Step Challenge (300,000 steps) | Female | Nursing | 9,121 | 403,507 |
| Christine Gan | 3hkjo | Siew Gek | Move It! Step Challenge (300,000 steps) | Female | Patient Experience, Communications and Development | 10,533 | 1,013,140 |
| Evangeline | 3hxy8 | Tan | Move It! Step Challenge (300,000 steps) | Female | Allied Health | 19,285 | 318,438 |
| Yvette Yee Shan | 3jgvn | Yeap | Move It! Step Challenge (300,000 steps) | Female | Pathology | 10,443 | 438,256 |
| Kai ling | 3ryr3 | Tay | Move It! Step Challenge (300,000 steps) | Female | Nursing | 5,081 | 180,486 |
| Nur Syuhrah | 3v63d | Mohamed Sadan | Move It! Step Challenge (300,000 steps) | Female | Nursing | 10,883 | 10,883 |
| William | 3x8pa | Koh | Move It! Step Challenge (300,000 steps) | Male | Nursing | 30,309 | 1,547,955 |
| Eng eng | 3y92r | Lim | Move It! Step Challenge (300,000 steps) | Female | Estate Management | 8,556 | 348,126 |
| MEI YIN | 3yos9 | WONG | Move It! Step Challenge (300,000 steps) | Female | Nursing | 10,153 | 433,209 |
| Belinda Chai Ying | 44ftp | Ngui | Move It! Step Challenge (300,000 steps) | Female | Nursing | 20,280 | 378,853 |
| Nurulain | 4699e | Abdul Wahab | Move It! Step Challenge (300,000 steps) | Female | Allied Health | 11,697 | 43,802 |
| Amy | 488ma | Mah | Move It! Step Challenge (300,000 steps) | Female | Finance | 128,328 | 755,095 |
| Felicia | 4cgul | Loo | Move It! Step Challenge (300,000 steps) | Female | Medicine | 378,844 | 378,844 |
| Giat Yeng | 4cnum | Khee | Move It! Step Challenge (300,000 steps) | Female | Allied Health | 10,643 | 19,652 |
| Tay | 4fur1 | Yong Bee | Move It! Step Challenge (300,000 steps) | Female | Nursing | 8,257 | 8,257 |
| Mee Juan | 4hnrt | Chua | Move It! Step Challenge (300,000 steps) | Female | Nursing | 5,207 | 336,038 |
| ANN YI | 4ibzq | NG | Move It! Step Challenge (300,000 steps) | Female | Nursing | 16,710 | 305,140 |
| Aye Too | 4mapj | Chang | Move It! Step Challenge (300,000 steps) | Female | Nursing | 12,464 | 635,891 |
| Lee | 4oabu | Soo Liang | Move It! Step Challenge (300,000 steps) | Female | COO Ambulatory | 11,126 | 502,658 |
| Sin Wei | 4yegc | Ong | Move It! Step Challenge (300,000 steps) | Female | Allied Health | 6,840 | 290,709 |
| Chui Lien | 51z2n | Yap | Move It! Step Challenge (300,000 steps) | Female | Estate Management | 466,475 | 636,259 |
| Yuting Kathlyn | 53exx | Wang | Move It! Step Challenge (300,000 steps) | Female | Nursing | 14,302 | 14,302 |
| Rodel | 54svv | Anuma | Move It! Step Challenge (300,000 steps) | Male | Nursing | 16,140 | 449,869 |
| Christina | 56l05 | Tan | Move It! Step Challenge (300,000 steps) | Female | COO Ambulatory | 51,667 | 235,202 |
| Kevin | 5a6r1 | Magadia | Move It! Step Challenge (300,000 steps) | Male | Nursing | 10,269 | 10,269 |
| Sweety | 5cs4t | John | Move It! Step Challenge (300,000 steps) | Male | Nursing | 32,114 | 177,433 |
| Siti Suhaili | 5dcjd | Sadali | Move It! Step Challenge (300,000 steps) | Female | Nursing | 10,553 | 10,553 |
| Kwek | 5ecro | Poi Wah | Move It! Step Challenge (300,000 steps) | Female | Pathology | 406,207 | 406,207 |
| Nurhafiza | 5ff7h | Abdul Karim | Move It! Step Challenge (300,000 steps) | Female | Nursing | 11,671 | 133,496 |
| Lim Ang Geok Lan | 5i25i | Susie | Move It! Step Challenge (300,000 steps) | Female | Pathology | 11,619 | 591,332 |
| Patricia | 5i72h | Yong Yueh Li | Move It! Step Challenge (300,000 steps) | Female | Nursing | 10,463 | 377,909 |
| Ha | 5iaq3 | Truong | Move It! Step Challenge (300,000 steps) | Female | Anaesthesiology | 18,743 | 669,896 |
| Sri ratina wati | 5jgv1 | Abdul razak | Move It! Step Challenge (300,000 steps) | Female | Medical Board | 21,734 | 48,101 |
| Sophia | 5jkl6 | Cheah | Move It! Step Challenge (300,000 steps) | Female | Allied Health | 13,350 | 451,566 |
| Nur Maisarah | 5lftv | Mohamed Morsid | Move It! Step Challenge (300,000 steps) | Female | Nursing | 7,177 | 7,177 |
| Chong | 5lio | Huiwen Gladys | Move It! Step Challenge (300,000 steps) | Female | Nursing | 13,276 | 1,173,486 |
| Irene | 5ll3n | Sin | Move It! Step Challenge (300,000 steps) | Female | Nursing | 7,930 | 318,386 |
| Han Seng | 5p5ad | Yeo | Move It! Step Challenge (300,000 steps) | Male | Allied Health | 49,210 | 382,284 |
| Cyril May | 5rrt8 | Senados | Move It! Step Challenge (300,000 steps) | Female | Nursing | 5,438 | 24,987 |
| Huey | 5said | Yiing | Move It! Step Challenge (300,000 steps) | Female | Nursing | 10,660 | 363,073 |
| Ameer | 5vdwf | Jamaluddin | Move It! Step Challenge (300,000 steps) | Male | Nursing | 10,966 | 10,966 |
| MANJIT | 5zyk5 | Kaur | Move It! Step Challenge (300,000 steps) | Female | COO Ambulatory | 8,472 | 181,393 |
| Nenny Suzanah | 60i09 | Sellamat | Move It! Step Challenge (300,000 steps) | Female | COO Ambulatory | 10,163 | 374,455 |
| Swee Eng | 62yet | Tay | Move It! Step Challenge (300,000 steps) | Female | Medicine | 11,308 | 541,015 |
| Ei Mon | 62z0j | Thein Zan | Move It! Step Challenge (300,000 steps) | Female | Nursing | 13,396 | 69,482 |
| Haslinda | 65rmr | Hassan | Move It! Step Challenge (300,000 steps) | Female | Nursing | 17,187 | 119,092 |
| Kellyn | 6739r | Lim | Move It! Step Challenge (300,000 steps) | Female | Nursing | 13,218 | 171,067 |
| Jung Gu | 69a3e | Tan | Move It! Step Challenge (300,000 steps) | Male | Nursing | 18,150 | 375,349 |
| Kian Hwee Roy | 69xcz | Tan | Move It! Step Challenge (300,000 steps) | Male | Finance | 29,406 | 404,207 |
| Xin Xiu | 6af8 | Sam | Move It! Step Challenge (300,000 steps) | Female | Allied Health | 10,840 | 315,461 |
| Chek Wai | 6bkvm | Bok | Move It! Step Challenge (300,000 steps) | Male | Medicine | 6,886 | 123,805 |
| Teh | 6gj3j | Nguan Kheng | Move It! Step Challenge (300,000 steps) | Female | Nursing | 11,414 | 951,873 |
| Li | 6hv6n | Lee | Move It! Step Challenge (300,000 steps) | Female | Nursing | 15,668 | 106,839 |
| Sahara | 6jp8s | Abu Bakar | Move It! Step Challenge (300,000 steps) | Female | Nursing | 20,638 | 20,638 |
| Jasmine | 6lo4d | Chua | Move It! Step Challenge (300,000 steps) | Female | Medicine | 1,999 | 124,824 |
| Soi Heong | 6nm89 | Ong | Move It! Step Challenge (300,000 steps) | Female | Nursing | 11,724 | 338,660 |
| Pak Wai | 6rrx | Low | Move It! Step Challenge (300,000 steps) | Male | Pathology | 25,573 | 898,215 |
| Tan | 6sq7v | Zoe | Move It! Step Challenge (300,000 steps) | Female | Nursing | 10,595 | 384,352 |
| Juliana | 6uopz | Jasman | Move It! Step Challenge (300,000 steps) | Female | Nursing | 2,573 | 35,721 |
| Angelina | 6wece | Foo | Move It! Step Challenge (300,000 steps) | Female | Nursing | 19,634 | 484,410 |
| Jessalene | 6xllt | Hanna | Move It! Step Challenge (300,000 steps) | Female | Radiological Science | 289,919 | 408,817 |
| Cheryl | 700b5 | Lee | Move It! Step Challenge (300,000 steps) | Female | Allied Health | 51,901 | 366,783 |
| Bridget Hsu | 70fbj | Hsu | Move It! Step Challenge (300,000 steps) | Female | Nursing | 67,957 | 67,957 |
| fe | 71sys | de leon | Move It! Step Challenge (300,000 steps) | Female | Nursing | 9,318 | 295,542 |
| Quah | 74z10 | Way Fang | Move It! Step Challenge (300,000 steps) | Female | COO Ambulatory | 27,496 | 59,056 |
| Leong | 75ghe | Siew Teing | Move It! Step Challenge (300,000 steps) | Female | Nursing | 11,108 | 375,220 |
| Melissa | 772fd | Fun | Move It! Step Challenge (300,000 steps) | Female | COO Ambulatory | 4,877 | 195,729 |
| Nur | 7czoc | Faizah | Move It! Step Challenge (300,000 steps) | Female | Nursing | 4,076 | 11,370 |
| Kansiah | 7gfb1 | Jaafar | Move It! Step Challenge (300,000 steps) | Female | Nursing | 3,069 | 82,464 |
| Cheong | 7grrf | Nian Er | Move It! Step Challenge (300,000 steps) | Female | Allied Health | 12,525 | 569,415 |
| Lay Choon | 7huvn | Yeo | Move It! Step Challenge (300,000 steps) | Female | Nursing | 5,135 | 70,359 |
| Tang | 7jyw | Jia Jie | Move It! Step Challenge (300,000 steps) | Male | Finance | 10,805 | 427,150 |
| KOK SHEONG | 7ng5h | FUM | Move It! Step Challenge (300,000 steps) | Male | Radiological Science | 10,022 | 311,052 |
| Amelia | 7nw1m | Rajenthiran | Move It! Step Challenge (300,000 steps) | Female | Nursing | 236,261 | 650,562 |
| Lee | 7pnws | Min | Move It! Step Challenge (300,000 steps) | Female | Nursing | 16,328 | 439,844 |
| Ng | 7yw32 | Peishi | Move It! Step Challenge (300,000 steps) | Female | Nursing | 10,498 | 482,986 |
| Charis | 83jid | Chang | Move It! Step Challenge (300,000 steps) | Female | Estate Management | 10,222 | 352,844 |
| Hui Kun | 87220a | Tan | Move It! Step Challenge (300,000 steps) | Female | Nursing | 49,963 | 306,758 |
| Jia Qing | 88xb5 | Goh | Move It! Step Challenge (300,000 steps) | Male | Medical Board | 8,436 | 273,826 |
| Lionel | 8fuec | Cheng | Move It! Step Challenge (300,000 steps) | Male | Radiological Science | 68,615 | 1,065,469 |
| Eunice | 8jnps | Wong | Move It! Step Challenge (300,000 steps) | Female | Estate Management | 8,096 | 114,161 |
| Tracy | 8kzjl | Ayre | Move It! Step Challenge (300,000 steps) | Female | Nursing | 61,675 | 281,197 |
| Hwee Koon Susan | 8ledb | Quek | Move It! Step Challenge (300,000 steps) | Female | Patient Experience, Communications and Development | 6,272 | 611,799 |
| Christine | 8pn4j | Neoh | Move It! Step Challenge (300,000 steps) | Female | Anaesthesiology | 73,494 | 425,673 |
| Sor Thang | 8q5zw | Koh | Move It! Step Challenge (300,000 steps) | Female | Pathology | 176,159 | 176,159 |
| Cindy | 8r3xs | Loh | Move It! Step Challenge (300,000 steps) | Female | COO Ambulatory | 10,433 | 376,954 |
| Vieon | 8slse | Wu | Move It! Step Challenge (300,000 steps) | Female | Medicine | 18,129 | 510,267 |
| Salimah | 8wa51 | Mohd Ayoob | Move It! Step Challenge (300,000 steps) | Female | Nursing | 8,630 | 86,861 |
| Phuah | 94ypy | Gaik Kheng | Move It! Step Challenge (300,000 steps) | Female | Patient Experience, Communications and Development | 10,084 | 836,988 |
| Pushpa | 98odf | Moses | Move It! Step Challenge (300,000 steps) | Female | Nursing | 16,129 | 16,129 |
| Jane | 9bdnf | Ching yee | Move It! Step Challenge (300,000 steps) | Female | Pathology | 12,991 | 174,389 |
| Thirvchelvi | 9i3d5 | Palaniappan Kaliappan | Move It! Step Challenge (300,000 steps) | Female | Pre-Operative and Admitting Services | 111,726 | 578,483 |
| John Wah | 9lk9e | Lim | Move It! Step Challenge (300,000 steps) | Male | Medicine | 18,280 | 549,616 |
| Precy | 9rn90 | Medina | Move It! Step Challenge (300,000 steps) | Female | Estate Management | 32,632 | 613,484 |
| Wong | 9t2ix | Yuk Meng | Move It! Step Challenge (300,000 steps) | Female | Nursing | 13,387 | 73,387 |
| Habibah | 9ta0u | Syed Osman | Move It! Step Challenge (300,000 steps) | Female | Nursing | 7,063 | 347,624 |
| Mei Fang | 9ti0d | Tay | Move It! Step Challenge (300,000 steps) | Female | Radiological Science | 12,380 | 483,402 |
| Paul | 9xc7u | Chua | Move It! Step Challenge (300,000 steps) | Male | COO Ambulatory | 14,043 | 619,564 |
| Jaybee | 9yqph | De Jesus | Move It! Step Challenge (300,000 steps) | Male | Nursing | 15,978 | 82,859 |
| Wan Ru | 9yytm | Liau | Move It! Step Challenge (300,000 steps) | Female | Allied Health | 6,842 | 311,225 |
| Choo | 9zm3q | Shi Fong | Move It! Step Challenge (300,000 steps) | Female | Nursing | 8,060 | 300,617 |
| Jiayi | a04f4 | Teng | Move It! Step Challenge (300,000 steps) | Female | Nursing | 8,522 | 64,752 |
| Ng | a0gjg | Gaik Nai | Move It! Step Challenge (300,000 steps) | Female | Nursing | 2,139 | 72,296 |
| Goh | a9cqf | Irene | Move It! Step Challenge (300,000 steps) | Female | Nursing | 18,219 | 505,872 |
| Yanwen | a9jmr | Lee | Move It! Step Challenge (300,000 steps) | Female | Nursing | 8,409 | 405,367 |
| Rajula | aa9r | Sudar Singh | Move It! Step Challenge (300,000 steps) | Female | Nursing | 14,203 | 416,262 |
| Juat Lan | aaqgu | Chiang | Move It! Step Challenge (300,000 steps) | Female | Nursing | 8,826 | 356,651 |
| Sheylene | aexfs | Heah | Move It! Step Challenge (300,000 steps) | Female | Allied Health | 8,588 | 344,918 |
| Bao yin | aft1p | Sow | Move It! Step Challenge (300,000 steps) | Female | Allied Health | 317,519 | 317,519 |
| Noemi Teresa | aqn6i | Sirilan | Move It! Step Challenge (300,000 steps) | Female | Nursing | 4,173 | 323,000 |
| May | au3jv | Zin Oo | Move It! Step Challenge (300,000 steps) | Female | Medicine | 11,926 | 313,018 |
| Nur Raudhah | axxd8 | Binte Athim | Move It! Step Challenge (300,000 steps) | Female | Medical Board | 76,471 | 133,262 |
| Lim | Ayzmq | Jie bin | Move It! Step Challenge (300,000 steps) | Female | Nursing | 15,123 | 15,123 |
| Ma Femmie | azni9 | Muzones | Move It! Step Challenge (300,000 steps) | Female | Nursing | 15,249 | 32,523 |
| Lee Ping | b5l2c | Ng | Move It! Step Challenge (300,000 steps) | Female | Patient Experience, Communications and Development | 19,235 | 884,016 |
| Jolene | b5v66 | Tan | Move It! Step Challenge (300,000 steps) | Female | Radiological Science | 12,343 | 81,719 |
| Valerie | baiff | Koh | Move It! Step Challenge (300,000 steps) | Female | Pathology | 73,453 | 356,778 |
| Lian Ping | bd3om | Aw | Move It! Step Challenge (300,000 steps) | Female | Radiological Science | 78,117 | 294,893 |
| Qian Ying | be05y | Foo | Move It! Step Challenge (300,000 steps) | Female | Nursing | 9,309 | 204,151 |
| Chew Theng | bef1n | Yap | Move It! Step Challenge (300,000 steps) | Female | Nursing | 23,758 | 305,319 |
| Lee | bfb94 | Xue Qin | Move It! Step Challenge (300,000 steps) | Female | Nursing | 59,317 | 411,682 |
| Ranice | bi5n6 | Tan | Move It! Step Challenge (300,000 steps) | Female | Nursing | 6,189 | 245,804 |
| Siew Hoon | bkcd2 | Lim | Move It! Step Challenge (300,000 steps) | Female | Pathology | 8,116 | 390,877 |
| Daniel | bpsl2 | Wong Yong Yao | Move It! Step Challenge (300,000 steps) | Male | Nursing | 371,262 | 371,262 |
| Nur suhaifah | bsmaw | Salikin | Move It! Step Challenge (300,000 steps) | Female | Nursing | 4,663 | 141,784 |
| Xueling | buj31 | Koh | Move It! Step Challenge (300,000 steps) | Female | Surgery | 13,764 | 622,029 |
| Kan | bvy7b | Foong Ming | Move It! Step Challenge (300,000 steps) | Female | Nursing | 11,000 | 215,680 |
| Nian Chih | bwx4k | Hwang | Move It! Step Challenge (300,000 steps) | Male | Anaesthesiology | 8,348 | 369,153 |
| Brando | bzkho | Canto Jr. | Move It! Step Challenge (300,000 steps) | Male | Nursing | 6,750 | 303,264 |
| Xiaoping | c4k13 | Zhang | Move It! Step Challenge (300,000 steps) | Female | Nursing | 8,997 | 136,523 |
| Wang | c6jr7 | Shu Juan | Move It! Step Challenge (300,000 steps) | Female | Nursing | 9,513 | 400,115 |
| Nur Adleene | c9i5o | Binte Samat | Move It! Step Challenge (300,000 steps) | Female | Nursing | 4,832 | 160,537 |
| Elizabeth | c9jb2 | Ulan | Move It! Step Challenge (300,000 steps) | Female | Nursing | 16 | 227,665 |
| Tan | cekta | Ee Hiang | Move It! Step Challenge (300,000 steps) | Female | Finance | 10,125 | 356,480 |
| Jia ying | Chua.jia.ying@sgh.com.sg | Chua | Move It! Step Challenge (300,000 steps) | Female | Nursing | 8,900 | 8,900 |
| Shaniszah | ckfx4 | Jamaruddin | Move It! Step Challenge (300,000 steps) | Female | Radiological Science | 4,598 | 40,196 |
| Danilyn | cnpc5 | Busayong | Move It! Step Challenge (300,000 steps) | Female | Nursing | 11,500 | 408,939 |
| Khin Shunn Lei | cp03u | Wai | Move It! Step Challenge (300,000 steps) | Female | Nursing | 19,824 | 82,090 |
| Ai Ling | cp62z | Choo | Move It! Step Challenge (300,000 steps) | Female | Finance | 13,722 | 490,025 |
| Mardhiyah | cr2as | Anwar | Move It! Step Challenge (300,000 steps) | Female | Nursing | 18,000 | 18,000 |
| Michelle | cs66u | Lim | Move It! Step Challenge (300,000 steps) | Female | Anaesthesiology & Perioperative Med | 15,821 | 309,271 |
| Kum Mei | cu5sv | Siaw | Move It! Step Challenge (300,000 steps) | Female | Finance | 16,607 | 1,094,691 |
| Patricia | cujh5 | Koh | Move It! Step Challenge (300,000 steps) | Female | COO Ambulatory | 4,757 | 375,679 |
| Faridah | cvepb | Burherm | Move It! Step Challenge (300,000 steps) | Female | Nursing | 5,307 | 5,307 |
| Sri Sukarti | cy09g | Mostafa | Move It! Step Challenge (300,000 steps) | Female | Nursing | 2,360 | 165,601 |
| Noraini | cy6f7 | Sahaat | Move It! Step Challenge (300,000 steps) | Female | Nursing | 3,185 | 69,803 |
| Pierre | d79nm | Ip yam | Move It! Step Challenge (300,000 steps) | Male | Anaesthesiology | 13,712 | 566,067 |
| Panpan | d96h7 | Wang | Move It! Step Challenge (300,000 steps) | Female | Nursing | 2,699 | 235,458 |
| Winnie Yuen Ling | d9gd7 | Wong | Move It! Step Challenge (300,000 steps) | Female | Allied Health | 9,253 | 340,407 |
| Eugene | dhhkh | Huang | Move It! Step Challenge (300,000 steps) | Male | Human Resource | 85,498 | 364,159 |
| Lim | Did not receive | Khar Eng | Move It! Step Challenge (300,000 steps) | Female | COO Ambulatory | 20,057 | 20,057 |
| Yang | dlcg9 | Mingwen | Move It! Step Challenge (300,000 steps) | Female | Nursing | 9,000 | 9,000 |
| Tang | dm44o | Ah Moy | Move It! Step Challenge (300,000 steps) | Female | Patient Experience, Communications and Development | 8,338 | 473,112 |
| Chan | dmg4d | Sook Mei | Move It! Step Challenge (300,000 steps) | Female | Allied Health | 50,929 | 925,295 |
| Qing Li | dnjnc | Chan | Move It! Step Challenge (300,000 steps) | Female | Pathology | 16,846 | 560,710 |
| Meiling | do7kt | Ong | Move It! Step Challenge (300,000 steps) | Female | Finance | 91,240 | 560,676 |
| Karen | do8ht | Perera | Move It! Step Challenge (300,000 steps) | Female | Patient Experience, Communications and Development | 6,515 | 157,167 |
| Paulina | dp34r | Erika | Move It! Step Challenge (300,000 steps) | Female | Nursing | 14,194 | 496,644 |
| Yit fong dorothy | dp9av | kwok | Move It! Step Challenge (300,000 steps) | Female | Finance | 90,974 | 1,038,676 |
| Joel | dwgok | Wong | Move It! Step Challenge (300,000 steps) | Male | Nursing | 13,515 | 22,198 |
| Jhovelyn | dymqv | Ignacio | Move It! Step Challenge (300,000 steps) | Female | Nursing | 11,271 | 329,406 |
| Gemma Lyn | dyxy7 | Daluz | Move It! Step Challenge (300,000 steps) | Female | Nursing | 8,068 | 293,515 |
| Tow | e6nix | Jingthung | Move It! Step Challenge (300,000 steps) | Female | Nursing | 13,234 | 404,468 |
| Rozita | e9gla | Khamis | Move It! Step Challenge (300,000 steps) | Female | Estate Management | 33,929 | 520,656 |
| Chia Qi | eaq3s | Tan | Move It! Step Challenge (300,000 steps) | Female | Nursing | 10,577 | 320,872 |
| LIANG CHUAN | eb2pz | TAN | Move It! Step Challenge (300,000 steps) | Male | Finance | 258,723 | 370,855 |
| Shevir | ecxv3 | Tan | Move It! Step Challenge (300,000 steps) | Female | Finance | 118,494 | 354,527 |
| Hong Hock | ed8ff | Png | Move It! Step Challenge (300,000 steps) | Female | Nursing | 25,528 | 2,359,599 |
| Jazreel | Edpwk | Thian Hui Min | Move It! Step Challenge (300,000 steps) | Female | Nursing | 6,421 | 19,333 |
| Magdalene Ng | eezn8 | Choo | Move It! Step Challenge (300,000 steps) | Female | Nursing | 12,847 | 460,453 |
| Charmaine | eftcu | De Guzman | Move It! Step Challenge (300,000 steps) | Female | Housekeeping | 1,148 | 211,414 |
| Liu | eggdy | Na | Move It! Step Challenge (300,000 steps) | Female | Nursing | 11,573 | 363,307 |
| Jyy Lee | eh7we | Juan | Move It! Step Challenge (300,000 steps) | Female | Service Support | 52,677 | 197,707 |
| Norhayati | emwog | Ahmad | Move It! Step Challenge (300,000 steps) | Female | Nursing | 11,000 | 400,124 |
| Cheong | f0tca | Lai Chun | Move It! Step Challenge (300,000 steps) | Female | COO Ambulatory | 4,000 | 4,000 |
| Nur Akidah | f116m | Abu Bakar | Move It! Step Challenge (300,000 steps) | Female | Nursing | 50,728 | 109,584 |
| Thaqif | f3wwx | Aiman | Move It! Step Challenge (300,000 steps) | Male | Estate Management | 17,531 | 434,099 |
| Sharonjit | f59rq | Kaur | Move It! Step Challenge (300,000 steps) | Female | Nursing | 6,822 | 25,158 |
| Linda | f7yfr | Guo | Move It! Step Challenge (300,000 steps) | Female | Nursing | 7,352 | 45,432 |
| Vanessa | f8w8c | Quek | Move It! Step Challenge (300,000 steps) | Female | Estate Management | 12,913 | 424,943 |
| Yongkun | fefni | Koh | Move It! Step Challenge (300,000 steps) | Male | Organisation Planning & Performance | 381,390 | 467,462 |
| Yong Siang | fs23k | Koh | Move It! Step Challenge (300,000 steps) | Male | Nursing | 85,749 | 444,355 |
| Linda | fsq3e | Chan | Move It! Step Challenge (300,000 steps) | Female | Nursing | 7,542 | 577,336 |
| Alyssa | fvxf7 | Ledesma | Move It! Step Challenge (300,000 steps) | Female | Nursing | 10,721 | 25,939 |
| Zhu | fxdtu | Wenyu | Move It! Step Challenge (300,000 steps) | Female | Nursing | 6,165 | 507,391 |
| Nur Zakiah | fxm8z | Sidek | Move It! Step Challenge (300,000 steps) | Female | Radiological Science | 17,091 | 30,951 |
| Ho | fyo0u | Ai Lian | Move It! Step Challenge (300,000 steps) | Female | Nursing | 65,251 | 411,298 |
| Tay | g2y2h | Yih Yann | Move It! Step Challenge (300,000 steps) | Female | Nursing | 488,920 | 488,920 |
| Jia Hao | g4b3z | Lim | Move It! Step Challenge (300,000 steps) | Female | COO Ambulatory | 7,267 | 117,169 |
| Mary Lee | g4skb | Kway May | Move It! Step Challenge (300,000 steps) | Female | Finance | 88,994 | 1,101,819 |
| Adeline | g7zk1 | Sng | Move It! Step Challenge (300,000 steps) | Female | Pathology | 5,997 | 227,885 |
| Fion | gafr7 | Lee | Move It! Step Challenge (300,000 steps) | Female | Allied Health | 80,599 | 113,533 |
| Suminar | gbvx | Wong | Move It! Step Challenge (300,000 steps) | Female | COO Ambulatory | 10,346 | 298,573 |
| Siok Bee | gbxae | Tan | Move It! Step Challenge (300,000 steps) | Female | Nursing | 73,753 | 427,001 |
| Tan | gfsah | Soon Hock | Move It! Step Challenge (300,000 steps) | Male | Nursing | 10,462 | 425,589 |
| Florence | ggf5b | Loh Yi Xuan | Move It! Step Challenge (300,000 steps) | Female | Nursing | 70,701 | 591,922 |
| Lanelle | ghnrw | TAI | Move It! Step Challenge (300,000 steps) | Female | Nursing | 14,320 | 240,053 |
| Betty | gi2jp | Sia Xue Bing | Move It! Step Challenge (300,000 steps) | Female | Nursing | 8,549 | 302,288 |
| Wee | gigde | Cindy | Move It! Step Challenge (300,000 steps) | Female | Radiological Science | 3,964 | 228,375 |
| Catherine | gnjfr | Yrauda | Move It! Step Challenge (300,000 steps) | Female | Nursing | 10,700 | 616,117 |
| Jing Hui | gnjp9 | Loh | Move It! Step Challenge (300,000 steps) | Female | Nursing | 15,345 | 486,933 |
| Umma Sali Mah | gpgha | Sheik Davood | Move It! Step Challenge (300,000 steps) | Female | Nursing | 15,694 | 15,694 |
| Yan Qin | gr8np | Chua | Move It! Step Challenge (300,000 steps) | Female | Human Resource | 56,027 | 271,687 |
| Lim | grqb5 | Shimin Cher | Move It! Step Challenge (300,000 steps) | Female | Nursing | 8,706 | 431,451 |
| Jing | gwuy7 | Shen | Move It! Step Challenge (300,000 steps) | Female | COO Ambulatory | 12,478 | 551,793 |
| Sharmila | h0fha | M Suppiah | Move It! Step Challenge (300,000 steps) | Female | Nursing | 6,681 | 202,791 |
| Lau | h2b4q | Sok cheng | Move It! Step Challenge (300,000 steps) | Female | Nursing | 25,362 | 42,661 |
| Neesa | h3t7t | Abdullah | Move It! Step Challenge (300,000 steps) | Female | Patient Experience, Communications and Development | 204,011 | 228,508 |
| Nuairani | h5ect | Ali | Move It! Step Challenge (300,000 steps) | Female | COO Ambulatory | 6,508 | 181,179 |
| Nazri | h64e3 | Johri | Move It! Step Challenge (300,000 steps) | Male | Nursing | 104,274 | 104,274 |
| Michael Kevin | h74ta | Glory | Move It! Step Challenge (300,000 steps) | Male | Nursing | 11,835 | 77,029 |
| Nuraidah | hf1jf | Nuraidah | Move It! Step Challenge (300,000 steps) | Female | Nursing | 28,177 | 275,680 |
| Jia ying | hgyq8 | Chua | Move It! Step Challenge (300,000 steps) | Female | Nursing | 20,538 | 334,299 |
| Roskalrinna | hipo | Mohamed Khalid | Move It! Step Challenge (300,000 steps) | Female | Nursing | 3,299 | 3,299 |
| Nur | hl1cr | Jannah | Move It! Step Challenge (300,000 steps) | Female | Medical Board | 59,319 | 188,931 |
| chin chew | hnl6c | Lee | Move It! Step Challenge (300,000 steps) | Female | Nursing | 7,453 | 432,087 |
| Suzanne | ht4kd | Lim | Move It! Step Challenge (300,000 steps) | Female | Nursing | 11,943 | 108,047 |
| Kheng Lee | hwkcz | Koh | Move It! Step Challenge (300,000 steps) | Male | COO Ambulatory | 11,111 | 570,875 |
| Farah Dhaniah | hxm88 | Yahya | Move It! Step Challenge (300,000 steps) | Female | Nursing | 13,409 | 349,523 |
| Maria Vanessa | hy3q8 | Manarang | Move It! Step Challenge (300,000 steps) | Female | Nursing | 13,573 | 153,543 |
| Zulailah | i07qh | Ayob | Move It! Step Challenge (300,000 steps) | Female | Nursing | 12,734 | 346,864 |
| SITHI JUNAIDHA | i0iv4 | junaidha | Move It! Step Challenge (300,000 steps) | Female | Allied Health | 4,872 | 4,872 |
| Huiyan | i1sc4 | Lu | Move It! Step Challenge (300,000 steps) | Female | Nursing | 10,545 | 311,838 |
| Celine | i2mf1 | Chiang | Move It! Step Challenge (300,000 steps) | Female | Nursing | 2,539 | 335,960 |
| Sin yan | i35lk | Wu | Move It! Step Challenge (300,000 steps) | Female | Nursing | 6,618 | 143,676 |
| Karen | i4gwl | Ooi | Move It! Step Challenge (300,000 steps) | Female | Nursing | 10,105 | 425,966 |
| Xiuru | i96s5 | Han | Move It! Step Challenge (300,000 steps) | Female | Nursing | 7,774 | 97,237 |
| Cheng Shi | idmiq | Tham | Move It! Step Challenge (300,000 steps) | Female | Anaesthesiology & Perioperative Med | 62,848 | 408,368 |
| Ivy Christelle | iewg7 | Lineses | Move It! Step Challenge (300,000 steps) | Female | Estate Management | 140,902 | 379,686 |
| Geok Hong | if1j | Goh | Move It! Step Challenge (300,000 steps) | Female | Human Resource | 44,052 | 321,775 |
| Estrella | ik0ns | Guilaran | Move It! Step Challenge (300,000 steps) | Female | Nursing | 9,182 | 9,182 |
| Meiyun | Ikjw2 | Wong | Move It! Step Challenge (300,000 steps) | Female | Estate Management | 5,193 | 345,152 |
| Joe Ey | iky16 | Chong | Move It! Step Challenge (300,000 steps) | Female | Nursing | 9,558 | 9,558 |
| Anna | iltwo | Goh | Move It! Step Challenge (300,000 steps) | Female | Finance | 11,854 | 146,020 |
| Jumaiah | ilwul | Jumari | Move It! Step Challenge (300,000 steps) | Female | Nursing | 42,351 | 42,351 |
| Quah | inrd1 | Way Fang | Move It! Step Challenge (300,000 steps) | Female | COO Ambulatory | 10,368 | 703,106 |
| Nurafifah Zahidah | iuui0 | Saharom | Move It! Step Challenge (300,000 steps) | Female | Nursing | 60,238 | 189,764 |
| Wang | iy7yb | Regina | Move It! Step Challenge (300,000 steps) | Female | Nursing | 32,328 | 181,194 |
| Jeanne | j0dxq | Lim | Move It! Step Challenge (300,000 steps) | Female | Nursing | 16,085 | 864,265 |
| Yin Khay | j4feh | Leong | Move It! Step Challenge (300,000 steps) | Female | Nursing | 7,999 | 91,976 |
| Poh Ling | j4fkk | Ong | Move It! Step Challenge (300,000 steps) | Female | Patient Experience, Communications and Development | 9,802 | 427,986 |
| Maheswari | j77iw | Angusamy | Move It! Step Challenge (300,000 steps) | Female | Nursing | 9,141 | 399,573 |
| Pei Pei | j7xk9 | Chiew | Move It! Step Challenge (300,000 steps) | Female | COO Ambulatory | 40,558 | 148,418 |
| Geoffrey | j9qpc | Gui | Move It! Step Challenge (300,000 steps) | Male | COO's Office | 247,170 | 741,510 |
| Zhang | jad8p | Ai Min | Move It! Step Challenge (300,000 steps) | Female | Nursing | 5,313 | 108,209 |
| Chua | jaoej | Sze Yen | Move It! Step Challenge (300,000 steps) | Female | Nursing | 9,181 | 544,801 |
| JOSHUA | jciao | LOUIS | Move It! Step Challenge (300,000 steps) | Male | Nursing | 7,644 | 54,238 |
| Aye Aye | jdwe0 | Mon | Move It! Step Challenge (300,000 steps) | Female | Service Support | 25,306 | 466,427 |
| Bee Yen | jfr50 | Poh | Move It! Step Challenge (300,000 steps) | Female | Allied Health | 86,713 | 474,369 |
| Dionna | jgp0t | Long | Move It! Step Challenge (300,000 steps) | Female | Nursing | 6,030 | 300,191 |
| Nazrul Hisyam | jh4bg | Hamzah | Move It! Step Challenge (300,000 steps) | Male | Nursing | 46,692 | 46,692 |
| Sutha | jjfg1 | Chandrasekar | Move It! Step Challenge (300,000 steps) | Female | Nursing | 3,041 | 3,041 |
| Lai Chee | jkmfd | Lee | Move It! Step Challenge (300,000 steps) | Female | Nursing | 10,596 | 575,040 |
| Jeslyn | jlfqi | Pek | Move It! Step Challenge (300,000 steps) | Female | Radiological Science | 27,882 | 1,227,362 |
| Dandan | jmfnv | Zhang | Move It! Step Challenge (300,000 steps) | Female | Surgery | 9,960 | 19,920 |
| Revathy | jmkv1 | Purushothaman | Move It! Step Challenge (300,000 steps) | Female | Nursing | 7,466 | 300,371 |
| Siti fadzilla | jrz23 | Joraimi | Move It! Step Challenge (300,000 steps) | Female | Medical Board | 17,053 | 17,053 |
| Boyagoda | jspjv | Shermila | Move It! Step Challenge (300,000 steps) | Female | Service Support | 9,643 | 510,435 |
| Mc Richmond | jtjvw | Villarojo | Move It! Step Challenge (300,000 steps) | Male | Nursing | 15,358 | 748,578 |
| LIM | jx4jb | RONG EE | Move It! Step Challenge (300,000 steps) | Female | Nursing | 90,831 | 1,110,823 |
| Arfah | jzj19 | Bujang | Move It! Step Challenge (300,000 steps) | Female | Nursing | 6,345 | 167,562 |
| Yu Wei | jzyxh | Foo | Move It! Step Challenge (300,000 steps) | Female | Nursing | 7,019 | 488,970 |
| Jiong Yi | k1m09 | Oh | Move It! Step Challenge (300,000 steps) | Male | Surgery | 15,000 | 15,000 |
| Cheong | k1pwm | Chiu Peng | Move It! Step Challenge (300,000 steps) | Female | Nursing | 5,115 | 53,239 |
| Xunlin | k59ex | Ng | Move It! Step Challenge (300,000 steps) | Female | Nursing | 16,834 | 16,834 |
| Yi Mon | k7eds | Thant | Move It! Step Challenge (300,000 steps) | Female | Service Support | 7,515 | 124,067 |
| Anne | k82y8 | Goh | Move It! Step Challenge (300,000 steps) | Female | COO Ambulatory | 11,670 | 11,670 |
| Jovelyn | k9xem | Ty | Move It! Step Challenge (300,000 steps) | Female | Nursing | 19,182 | 509,300 |
| Farhana | kacp6 | Zainuddin | Move It! Step Challenge (300,000 steps) | Female | Nursing | 10,879 | 326,145 |
| Soba | kd7t5 | Suresh | Move It! Step Challenge (300,000 steps) | Female | Nursing | 12,886 | 352,436 |
| Chia | ke7v5 | Jia En Martha Mabel | Move It! Step Challenge (300,000 steps) | Female | Nursing | 10,012 | 169,180 |
| Teo | khdgd | Mui Huay | Move It! Step Challenge (300,000 steps) | Female | COO Ambulatory | 16,156 | 1,150,433 |
| YI BIN | khla9 | ANG | Move It! Step Challenge (300,000 steps) | Female | Estate Management | 102,132 | 314,780 |
| Yen san | khr4s | Kiew | Move It! Step Challenge (300,000 steps) | Female | Radiological Science | 79,181 | 386,494 |
| Shin Syuen | kkzy7 | Lee | Move It! Step Challenge (300,000 steps) | Female | Nursing | 16,717 | 234,029 |
| Biauw chi | kl9i | ong | Move It! Step Challenge (300,000 steps) | Female | Anaesthesiology | 467,059 | 467,059 |
| Suhitharan | klwwm | Thangavelautham | Move It! Step Challenge (300,000 steps) | Male | Anaesthesiology & Perioperative Med | 13,029 | 329,835 |
| Wee Boon | kof9b | Ng | Move It! Step Challenge (300,000 steps) | Male | Estate Management | 12,781 | 1,308,180 |
| Rou Hui | kqe0i | Seah | Move It! Step Challenge (300,000 steps) | Female | Nursing | 3,763 | 338,682 |
| Esther | krqvl | Ker Hui Ping | Move It! Step Challenge (300,000 steps) | Female | Nursing | 8,975 | 242,906 |
| Ying Xiu | ksj47 | Quek | Move It! Step Challenge (300,000 steps) | Female | Procurement (ALPS) | 392,030 | 392,030 |
| EI EI | ksxlt | Mon | Move It! Step Challenge (300,000 steps) | Female | Radiological Science | 162,463 | 638,199 |
| Racquel | Kx8m1 | Tumicua | Move It! Step Challenge (300,000 steps) | Female | Nursing | 83,740 | 456,462 |
| Brenda | kzrhf | Tan | Move It! Step Challenge (300,000 steps) | Female | Anaesthesiology | 16,869 | 380,446 |
| yilin | l0390 | kho | Move It! Step Challenge (300,000 steps) | Female | Nursing | 34,100 | 314,245 |
| Ting ting | l119l | Poh | Move It! Step Challenge (300,000 steps) | Female | Nursing | 6,879 | 124,326 |
| Ivy | l3lbm | Chan | Move It! Step Challenge (300,000 steps) | Female | Finance | 3,800 | 288,300 |
| Sing Yi | l7iem | Chia | Move It! Step Challenge (300,000 steps) | Female | Research Office | 7,828 | 305,483 |
| Joyce | l8jpr | Liu | Move It! Step Challenge (300,000 steps) | Female | Nursing | 9,020 | 274,430 |
| Dinah Diyanah | l9ofu | Dzulkifli | Move It! Step Challenge (300,000 steps) | Female | Nursing | 36,197 | 72,394 |
| Abe | laais | Dabocol | Move It! Step Challenge (300,000 steps) | Male | Nursing | 20,430 | 345,673 |
| Wang | lddxp | Li | Move It! Step Challenge (300,000 steps) | Female | Nursing | 5,258 | 302,337 |
| Chua | lisif | Choh sun | Move It! Step Challenge (300,000 steps) | Female | Nursing | 8,494 | 163,327 |
| Richelle Love | litjz | Mejias | Move It! Step Challenge (300,000 steps) | Female | Nursing | 11,357 | 88,470 |
| Sock Ching | llgfs | Loh | Move It! Step Challenge (300,000 steps) | Female | Nursing | 55,891 | 325,431 |
| Don subadra | lm82z | Wijendra | Move It! Step Challenge (300,000 steps) | Female | Nursing | 19,889 | 19,889 |
| Manisah Binte | lrsm6 | Somadi | Move It! Step Challenge (300,000 steps) | Female | Nursing | 2,815 | 41,362 |
| Emily Sin Hui | lui8x | Chai | Move It! Step Challenge (300,000 steps) | Female | Radiological Science | 16,398 | 158,382 |
| Dewi Hafifah | luumm | Bashri | Move It! Step Challenge (300,000 steps) | Female | COO Ambulatory | 12,461 | 373,552 |
| Tan | lym89 | Yi Hui | Move It! Step Challenge (300,000 steps) | Female | Nursing | 11,769 | 24,721 |
| Yang | lzl0c | Li | Move It! Step Challenge (300,000 steps) | Female | Nursing | 15,976 | 15,976 |
| Nurzaidah | m2ful | Mohammad Muzaeid | Move It! Step Challenge (300,000 steps) | Female | COO Ambulatory | 10,279 | 114,215 |
| Pamela Angela | m5hra | Masangcay | Move It! Step Challenge (300,000 steps) | Female | Nursing | 32,367 | 383,225 |
| Jialin | m6gpf | Chia | Move It! Step Challenge (300,000 steps) | Female | Nursing | 383,598 | 383,598 |
| Shalini | mdubs | Sri Kumaran | Move It! Step Challenge (300,000 steps) | Female | Medicine | 16,866 | 16,866 |
| Nur Hidayah | mf60b | Mohamed Noh | Move It! Step Challenge (300,000 steps) | Female | Nursing | 6,247 | 205,205 |
| Iraamira | ml0cv | Binte Mohamad Amin | Move It! Step Challenge (300,000 steps) | Female | Allied Health | 15,370 | 504,824 |
| Rathidevi | mmc8d | Thirunavu | Move It! Step Challenge (300,000 steps) | Female | Nursing | 7,224 | 361,470 |
| Rosie | mqawi | Khoo | Move It! Step Challenge (300,000 steps) | Female | Patient Experience, Communications and Development | 11,437 | 1,220,991 |
| Alagirisamy | mqk6s | sudha | Move It! Step Challenge (300,000 steps) | Female | Nursing | 6,695 | 36,819 |
| Jia Yi | mtpkv | Tan | Move It! Step Challenge (300,000 steps) | Female | Nursing | 21,420 | 480,410 |
| Usanee | mzyy8 | Chotphoksap | Move It! Step Challenge (300,000 steps) | Female | Nursing | 5,221 | 230,607 |
| Lay Eng | n8kwo | Lee | Move It! Step Challenge (300,000 steps) | Female | Nursing | 15,457 | 926,598 |
| Rui Fen | nasyn | Chang | Move It! Step Challenge (300,000 steps) | Female | COO Ambulatory | 186,790 | 186,790 |
| Abeysiriwardana | neio0 | Chathurendrika | Move It! Step Challenge (300,000 steps) | Female | Estate Management | 13,770 | 377,269 |
| Nurhidayah | ngcyq | Amran | Move It! Step Challenge (300,000 steps) | Female | Patient Support | 7,429 | 216,950 |
| Li zhen | nkj7y | Ye | Move It! Step Challenge (300,000 steps) | Female | Nursing | 10,071 | 429,386 |
| Fu | nlwwt | Yonghuang | Move It! Step Challenge (300,000 steps) | Male | Allied Health | 304,524 | 304,529 |
| Clara | nodcd | Lee | Move It! Step Challenge (300,000 steps) | Female | Nursing | 10,883 | 215,778 |
| lydee | norpr | almeyda | Move It! Step Challenge (300,000 steps) | Female | Nursing | 8,933 | 402,590 |
| Andy | ns2e0 | Goh | Move It! Step Challenge (300,000 steps) | Male | Nursing | 11,732 | 358,861 |
| Siaw Wei | nwqqd | Teng | Move It! Step Challenge (300,000 steps) | Female | Surgery | 40,731 | 403,759 |
| Suo Chin | nxcyy | Ng | Move It! Step Challenge (300,000 steps) | Female | Estate Management | 306,651 | 306,651 |
| Charmie | o0xxk | Lozada | Move It! Step Challenge (300,000 steps) | Female | Nursing | 15,917 | 83,751 |
| Ng | o3ca9 | Siew Keng | Move It! Step Challenge (300,000 steps) | Female | Patient Experience, Communications and Development | 11,037 | 508,888 |
| Chong | o5kwb | Kum Fatt | Move It! Step Challenge (300,000 steps) | Male | Finance | 36,196 | 451,768 |
| Chloe | o627e | Teoh | Move It! Step Challenge (300,000 steps) | Female | Human Resource | 14,353 | 763,036 |
| Peixin | o9qqa | chong | Move It! Step Challenge (300,000 steps) | Female | Nursing | 27,373 | 27,373 |
| Shuhui | oex7t | NG | Move It! Step Challenge (300,000 steps) | Female | Nursing | 6,434 | 163,784 |
| Muhammad Razzan Bin | oh2pk | Razaki | Move It! Step Challenge (300,000 steps) | Male | Nursing | 25,442 | 834,969 |
| Rasika | oii5u | Weerakoon | Move It! Step Challenge (300,000 steps) | Male | Estate Management | 16,388 | 532,734 |
| Muhammad mustaqim | oljxg | Komari | Move It! Step Challenge (300,000 steps) | Male | Nursing | 100,000 | 340,000 |
| Miller | omn1 | Palangyos | Move It! Step Challenge (300,000 steps) | Male | Nursing | 11,429 | 217,826 |
| Carol | oqajb | Tan | Move It! Step Challenge (300,000 steps) | Female | Anaesthesiology | 18,640 | 305,376 |
| Yi Xin | ox09i | Liow | Move It! Step Challenge (300,000 steps) | Female | Patient Experience, Communications and Development | 3,016 | 197,794 |
| Krismaine | p0l7l | Ng | Move It! Step Challenge (300,000 steps) | Female | Nursing | 11,694 | 331,174 |
| Saroja | p0v62 | Somasundram | Move It! Step Challenge (300,000 steps) | Female | Nursing | 29,267 | 822,263 |
| Yupar | p3m9r | Aung | Move It! Step Challenge (300,000 steps) | Female | Nursing | 135,291 | 425,479 |
| Elena | p3pw8 | Mohamed Ayob | Move It! Step Challenge (300,000 steps) | Female | Nursing | 7,166 | 37,371 |
| Idy Hang Wan | p45xi | Chung | Move It! Step Challenge (300,000 steps) | Female | Finance | 13,891 | 748,374 |
| Wei Ling | p64bv | Wong | Move It! Step Challenge (300,000 steps) | Female | Nursing | 6,442 | 352,444 |
| Shella Gay | p6f98 | Daquioag | Move It! Step Challenge (300,000 steps) | Female | Nursing | 5,542 | 108,630 |
| Xu | p73d6 | Yi | Move It! Step Challenge (300,000 steps) | Female | Medical Board | 8,139 | 43,110 |
| GOWRI | p8sqn | LOGANATHAN | Move It! Step Challenge (300,000 steps) | Female | Nursing | 8,895 | 8,895 |
| Cheu | pgdm6 | Su Thin | Move It! Step Challenge (300,000 steps) | Female | Patient Support | 6,295 | 211,619 |
| Maryanne | pheny | Guoc | Move It! Step Challenge (300,000 steps) | Female | Nursing | 10,553 | 173,025 |
| Grace | pilek | Shu | Move It! Step Challenge (300,000 steps) | Female | Nursing | 6,047 | 429,058 |
| Kenneth | pn1lf | Kwek | Move It! Step Challenge (300,000 steps) | Male | CEO's Office | 143,144 | 507,585 |
| Saroja | pOv 62 | Somadundram | Move It! Step Challenge (300,000 steps) | Female | Nursing | 34,972 | 56,379 |
| Saroja | pOv62 | Somasundram | Move It! Step Challenge (300,000 steps) | Female | Nursing | 36,096 | 178,265 |
| Fenecia | prc6z | Lee | Move It! Step Challenge (300,000 steps) | Female | Radiological Science | 10,534 | 400,096 |
| Chua | ps4nh | Lee Yan | Move It! Step Challenge (300,000 steps) | Female | Nursing | 60,766 | 367,998 |
| Miao Hui | psjez | Yon | Move It! Step Challenge (300,000 steps) | Female | Nursing | 56,896 | 56,896 |
| Grace | pwz6h | Ong | Move It! Step Challenge (300,000 steps) | Female | Human Resource | 12,622 | 164,968 |
| Jarojah | pxff3 | Narayanasamy | Move It! Step Challenge (300,000 steps) | Female | Patient Experience, Communications and Development | 16,519 | 335,578 |
| Houy Jing | q6wof | Lew | Move It! Step Challenge (300,000 steps) | Female | Nursing | 16,500 | 651,187 |
| Maybellene | q7ac2 | Munda | Move It! Step Challenge (300,000 steps) | Female | Nursing | 19,933 | 466,244 |
| Sumita | qevct | Mahata | Move It! Step Challenge (300,000 steps) | Female | Nursing | 10,213 | 195,321 |
| Chong | qfagx | Hui Ru | Move It! Step Challenge (300,000 steps) | Female | Nursing | 19,300 | 19,300 |
| Nanthakumahrie | qfloe | Gunasegaran | Move It! Step Challenge (300,000 steps) | Female | Nursing | 14,382 | 175,920 |
| Kelly | qihkk | Kang | Move It! Step Challenge (300,000 steps) | Female | COO Ambulatory | 38,118 | 808,728 |
| Myint | qlyqv | Kyaing | Move It! Step Challenge (300,000 steps) | Female | Nursing | 93,326 | 674,790 |
| Pravin | qny4m | Raj | Move It! Step Challenge (300,000 steps) | Male | Nursing | 11,564 | 54,411 |
| Irene Edith | qoanx | Leong | Move It! Step Challenge (300,000 steps) | Female | Finance | 11,097 | 406,528 |
| Sze Mine | qpmtu | Neo | Move It! Step Challenge (300,000 steps) | Female | Nursing | 9,047 | 9,047 |
| Siew ting | qxqgu | Wong | Move It! Step Challenge (300,000 steps) | Female | Nursing | 11,078 | 501,010 |
| Zi Hui | qziqa | Lee | Move It! Step Challenge (300,000 steps) | Female | Human Resource | 6,492 | 318,223 |
| Varun | r1qay | Raj | Move It! Step Challenge (300,000 steps) | Male | Nursing | 189,009 | 629,708 |
| Sandra | r23ph | Masalunga | Move It! Step Challenge (300,000 steps) | Female | Nursing | 22,840 | 542,338 |
| Xueke | r3m8d | Sun | Move It! Step Challenge (300,000 steps) | Female | Nursing | 48,749 | 48,749 |
| Clare | r5t7z | Kok | Move It! Step Challenge (300,000 steps) | Female | Nursing | 46,180 | 337,853 |
| Naw Susan | r6t4h | John | Move It! Step Challenge (300,000 steps) | Female | Nursing | 6,229 | 6,229 |
| Shannon | r84q1 | Ng | Move It! Step Challenge (300,000 steps) | Female | Human Resource | 11,969 | 200,514 |
| Jie Ying Jacqueline | r8d37 | Phua | Move It! Step Challenge (300,000 steps) | Female | Nursing | 26,395 | 26,395 |
| siti | r8h2b | izma | Move It! Step Challenge (300,000 steps) | Female | COO Ambulatory | 6,674 | 31,475 |
| Yan Fei | rb3kr | Ng | Move It! Step Challenge (300,000 steps) | Female | Pathology | 84,140 | 84,140 |
| Phoebe kate | rbt5b | Emnace | Move It! Step Challenge (300,000 steps) | Female | Nursing | 6,069 | 413,334 |
| Sharifah | rbt6q | Munauwwarah | Move It! Step Challenge (300,000 steps) | Female | Human Resource | 27,935 | 56,273 |
| Thu Thu | rbu4o | Naing | Move It! Step Challenge (300,000 steps) | Female | Nursing | 12,593 | 154,049 |
| Cheong Wai cheng | rd758 | Ivy | Move It! Step Challenge (300,000 steps) | Female | Finance | 11,913 | 595,067 |
| Sandy | rfmwb | Sam | Move It! Step Challenge (300,000 steps) | Female | Finance | 12,071 | 882,307 |
| Chuanfei | rgczm | Chen | Move It! Step Challenge (300,000 steps) | Male | Pathology | 47,213 | 348,060 |
| Swee | rhlgu | Ying Xin | Move It! Step Challenge (300,000 steps) | Female | COO Ambulatory | 58,572 | 355,872 |
| Sharon Rose | rn8i1 | Garcia | Move It! Step Challenge (300,000 steps) | Female | Nursing | 10,528 | 572,184 |
| Joo miang | rngy6 | Ng | Move It! Step Challenge (300,000 steps) | Male | Estate Management | 10,543 | 870,321 |
| Hamidah | rnsll | Ismail | Move It! Step Challenge (300,000 steps) | Female | Finance | 34,744 | 182,317 |
| Qinnan | ro3ct | Liu | Move It! Step Challenge (300,000 steps) | Female | Nursing | 11,974 | 147,867 |
| Sock lin | rrzfv | Lee | Move It! Step Challenge (300,000 steps) | Female | Nursing | 3,903 | 14,748 |
| Aina | rth0b | Chow | Move It! Step Challenge (300,000 steps) | Female | Nursing | 8,438 | 8,438 |
| Nurul Shafiqah | rtlvw | Muhamad Azman Abdul Karim | Move It! Step Challenge (300,000 steps) | Female | Nursing | 3,622 | 139,888 |
| Lim | rvfaw | Xinyi | Move It! Step Challenge (300,000 steps) | Female | Nursing | 10,485 | 1,562,708 |
| Bee Chin | rw1pk | Yeo | Move It! Step Challenge (300,000 steps) | Female | Nursing | 10,082 | 790,180 |
| Su | rwpyf | Wen Lin | Move It! Step Challenge (300,000 steps) | Female | Nursing | 10,032 | 300,464 |
| Pui San | rym5l | Liaw | Move It! Step Challenge (300,000 steps) | Female | Pathology | 7,816 | 373,278 |
| Yii | s07bz | Chuo Ying | Move It! Step Challenge (300,000 steps) | Male | Estate Management | 77,061 | 448,973 |
| Wei Peng | s233p | Tiong | Move It! Step Challenge (300,000 steps) | Female | Nursing | 1 | 451,158 |
| Stella | s27si | Wang | Move It! Step Challenge (300,000 steps) | Female | Nursing | 11,586 | 954,781 |
| Fong Chee | s32np | Lim | Move It! Step Challenge (300,000 steps) | Female | Nursing | 18,557 | 733,737 |
| Nurlina | s4znb | Rahmat | Move It! Step Challenge (300,000 steps) | Female | Nursing | 8,075 | 28,695 |
| LAM | s5oj9 | HUI SHAN | Move It! Step Challenge (300,000 steps) | Female | Nursing | 73,909 | 300,758 |
| Geraldine | s5qfs | Wu | Move It! Step Challenge (300,000 steps) | Female | Nursing | 30,099 | 258,249 |
| SURIYAMALA D/O | s9911 | MANI | Move It! Step Challenge (300,000 steps) | Female | Allied Health | 4,137 | 209,649 |
| Junaidah | s9yd | Jumadi | Move It! Step Challenge (300,000 steps) | Female | Patient Experience, Communications and Development | 40,694 | 40,694 |
| Yenny | Sewxm | Tan | Move It! Step Challenge (300,000 steps) | Female | Nursing | 11,807 | 280,805 |
| Siew Hoon | shhwz | Png | Move It! Step Challenge (300,000 steps) | Female | Finance | 10,560 | 274,494 |
| Ruyani | sjntl | Abu Yamin | Move It! Step Challenge (300,000 steps) | Female | Nursing | 33,613 | 54,745 |
| Wan Ting | skmzi | Chock | Move It! Step Challenge (300,000 steps) | Female | Nursing | 78,481 | 377,208 |
| Xiuping | skrsg | Chue | Move It! Step Challenge (300,000 steps) | Female | Medicine | 64,807 | 346,229 |
| Anthony | sm4cl | Santiago | Move It! Step Challenge (300,000 steps) | Male | Nursing | 15,590 | 338,249 |
| Wen chien | snyxc | Chang | Move It! Step Challenge (300,000 steps) | Female | Nursing | 7,506 | 343,500 |
| Nor | sqpn5 | Suhana | Move It! Step Challenge (300,000 steps) | Female | Nursing | 8,873 | 47,068 |
| Jia Hui | su0p | Lee | Move It! Step Challenge (300,000 steps) | Female | Nursing | 252,108 | 252,108 |
| Tan | sxnit | Ah Pang | Move It! Step Challenge (300,000 steps) | Female | Nursing | 4,698 | 440,531 |
| Esther | szy7l | Wan | Move It! Step Challenge (300,000 steps) | Female | Radiological Science | 8,330 | 316,398 |
| Mary jane | t0eqv | Bumangabang | Move It! Step Challenge (300,000 steps) | Female | Surgery | 13,570 | 43,000 |
| You Ching | t23cs | Choo | Move It! Step Challenge (300,000 steps) | Female | Radiological Science | 33,451 | 316,568 |
| Maricris | t2as7 | Mandap | Move It! Step Challenge (300,000 steps) | Female | Nursing | 5,462 | 522,068 |
| Panjavarman | t7mwz | Rangama(Leela) | Move It! Step Challenge (300,000 steps) | Female | COO Ambulatory | 4,529 | 197,131 |
| T Tamil | t90gm | Chellve | Move It! Step Challenge (300,000 steps) | Female | Allied Health | 10,468 | 276,643 |
| Seet | t9441 | Sor Kuan | Move It! Step Challenge (300,000 steps) | Female | Nursing | 5,107 | 117,616 |
| Su Keyau | tcw6l | Kee | Move It! Step Challenge (300,000 steps) | Female | Pathology | 14,818 | 836,881 |
| Amelia | te2bc | Tay | Move It! Step Challenge (300,000 steps) | Female | Nursing | 126,985 | 439,412 |
| Jennylyn | te4it | Baldos | Move It! Step Challenge (300,000 steps) | Female | Allied Health | 11,271 | 450,258 |
| Xu Hong | tgfym | Xu | Move It! Step Challenge (300,000 steps) | Female | Nursing | 14,667 | 327,746 |
| Hui Ying | thxws | Chuah | Move It! Step Challenge (300,000 steps) | Female | Nursing | 39,889 | 334,097 |
| Tracy | tq30h | Ong | Move It! Step Challenge (300,000 steps) | Female | Allied Health | 7,282 | 90,369 |
| Amanda | tvftz | Lam | Move It! Step Challenge (300,000 steps) | Female | CEO's Office | 23,860 | 149,183 |
| jonathan | ty1o1 | montalbo | Move It! Step Challenge (300,000 steps) | Male | Nursing | 11,899 | 11,899 |
| Mazlan Bin | ub4u | Ismail | Move It! Step Challenge (300,000 steps) | Male | Service Support | 5,930 | 16,933 |
| Sally | ubm9h | Lee | Move It! Step Challenge (300,000 steps) | Female | Radiological Science | 5,778 | 76,613 |
| Angelica Joy | ucf4w | Agcaoile | Move It! Step Challenge (300,000 steps) | Female | Nursing | 12,123 | 418,526 |
| Tan | umj0k | Hui Fen | Move It! Step Challenge (300,000 steps) | Female | Surgery | 8,799 | 328,718 |
| Charmaine | umnx1 | Tan san sze | Move It! Step Challenge (300,000 steps) | Female | COO Ambulatory | 6,404 | 443,444 |
| Zhiyi | uq0no | Tan | Move It! Step Challenge (300,000 steps) | Female | Human Resource | 105,617 | 105,617 |
| Karen | uq7qs | Shiu | Move It! Step Challenge (300,000 steps) | Female | COO Ambulatory | 13,488 | 110,388 |
| Keat Yeng | urawg | Lau | Move It! Step Challenge (300,000 steps) | Female | Nursing | 13,445 | 427,658 |
| Lim | uufb4 | Khar Eng | Move It! Step Challenge (300,000 steps) | Female | COO Ambulatory | 20,035 | 1,189,167 |
| maria dee | uv8e0 | looez | Move It! Step Challenge (300,000 steps) | Female | Nursing | 2,222 | 164,075 |
| Jennifer | uw7ff | Wee | Move It! Step Challenge (300,000 steps) | Female | Patient Experience, Communications and Development | 68,539 | 355,838 |
| Amanda | uz4r6 | Ong | Move It! Step Challenge (300,000 steps) | Female | Nursing | 16,390 | 48,471 |
| Janet | v1qip | Khoo | Move It! Step Challenge (300,000 steps) | Female | COO Ambulatory | 9,969 | 423,645 |
| Xian hua | v2p4 | Ooi | Move It! Step Challenge (300,000 steps) | Female | Allied Health | 45,507 | 435,207 |
| Teng | v4kwu | Chai Lian | Move It! Step Challenge (300,000 steps) | Female | Surgery | 10,494 | 509,695 |
| Catherine | v8lzw | Tayag | Move It! Step Challenge (300,000 steps) | Female | Nursing | 12,854 | 438,658 |
| Pei Yun | va1rf | Hsieh | Move It! Step Challenge (300,000 steps) | Female | Nursing | 342,450 | 342,450 |
| Al Fatimah | viw5z | Sheik Davood | Move It! Step Challenge (300,000 steps) | Female | Nursing | 1,648 | 73,498 |
| Tan | vjmll | Ai Muay | Move It! Step Challenge (300,000 steps) | Female | Nursing | 13,011 | 534,448 |
| Nursyazana | vmpih | Mohamed | Move It! Step Challenge (300,000 steps) | Female | Nursing | 9,234 | 56,297 |
| Gina | vqd1w | Loi | Move It! Step Challenge (300,000 steps) | Female | Nursing | 12,724 | 12,724 |
| Marienel | vtdvq | Sayco | Move It! Step Challenge (300,000 steps) | Female | Nursing | 19,689 | 308,180 |
| Sumathi | vtk8h | Ramalingam | Move It! Step Challenge (300,000 steps) | Female | Finance | 1,227 | 1,227 |
| Wendy | vuscc | Goh | Move It! Step Challenge (300,000 steps) | Female | COO Ambulatory | 7,232 | 360,966 |
| Yuan Longxia | vvm0f | Longxia | Move It! Step Challenge (300,000 steps) | Female | Nursing | 11,772 | 418,702 |
| Mary Ann | vxwm7 | Sze | Move It! Step Challenge (300,000 steps) | Female | Nursing | 12,280 | 72,639 |
| Lee | vzck | Wai Ching | Move It! Step Challenge (300,000 steps) | Female | Finance | 90,006 | 617,578 |
| Lee | w185r | Car Wang | Move It! Step Challenge (300,000 steps) | Female | Allied Health | 97,209 | 532,395 |
| Bee Khim | w1ve0 | Tan | Move It! Step Challenge (300,000 steps) | Female | COO Ambulatory | 117,773 | 716,515 |
| Saleena | w4v81 | Mohd Salleh | Move It! Step Challenge (300,000 steps) | Female | Nursing | 7,552 | 7,552 |
| Remelyn | w50no | Imperio | Move It! Step Challenge (300,000 steps) | Female | Nursing | 7,967 | 321,406 |
| Crystal | w6cbq | Nava | Move It! Step Challenge (300,000 steps) | Female | Nursing | 13,883 | 455,054 |
| Graciela | w8yto | Martinez | Move It! Step Challenge (300,000 steps) | Female | Patient Experience, Communications and Development | 10,040 | 143,068 |
| Yulenda | wb4qv | Tseng | Move It! Step Challenge (300,000 steps) | Female | Allied Health | 59,682 | 635,285 |
| Angeline | wb5w | Salita | Move It! Step Challenge (300,000 steps) | Female | Nursing | 11,449 | 321,826 |
| Sumarni | wbw9g | Soemarno | Move It! Step Challenge (300,000 steps) | Female | Nursing | 65,826 | 242,420 |
| Anlly | wcebs | Wong | Move It! Step Challenge (300,000 steps) | Female | Nursing | 22,127 | 339,542 |
| Tan | wcsps | Fong | Move It! Step Challenge (300,000 steps) | Female | Finance | 9,744 | 581,636 |
| Choo Eng | wdxsf | Tien | Move It! Step Challenge (300,000 steps) | Female | Nursing | 23,256 | 1,235,833 |
| Yang | wfgkq | Mingwen | Move It! Step Challenge (300,000 steps) | Female | Nursing | 10,396 | 407,567 |
| Lynn | wfm4o | Yap | Move It! Step Challenge (300,000 steps) | Female | Musculoskeletal Sciences | 5,194 | 336,719 |
| Sheryl | wig7d | Ciubal | Move It! Step Challenge (300,000 steps) | Female | Nursing | 6,923 | 257,629 |
| Minnie | wiml5 | Koh | Move It! Step Challenge (300,000 steps) | Female | Nursing | 5,784 | 78,674 |
| Evelyn | wisno | Heng | Move It! Step Challenge (300,000 steps) | Female | Pathology | 16,089 | 115,186 |
| Shi Wei | wn24o | Tan | Move It! Step Challenge (300,000 steps) | Female | Nursing | 365,673 | 365,673 |
| Seok Tiang | wp5iv | Koh | Move It! Step Challenge (300,000 steps) | Female | Nursing | 9,634 | 126,723 |
| Irene | wrtbr | Chea | Move It! Step Challenge (300,000 steps) | Female | COO Ambulatory | 10,063 | 324,518 |
| Abegail | wxv34 | Aguilera | Move It! Step Challenge (300,000 steps) | Female | Nursing | 12,218 | 372,868 |
| Sandy | wy579 | Sam | Move It! Step Challenge (300,000 steps) | Female | Finance | 13,030 | 48,439 |
| Lorie | wyy0i | Lucero | Move It! Step Challenge (300,000 steps) | Female | Nursing | 10,785 | 416,744 |
| Syed Abdullah Bin Hashim | wzq6h | Alhadad | Move It! Step Challenge (300,000 steps) | Male | Nursing | 14,824 | 55,852 |
| Yasar | x4xem | Arafat | Move It! Step Challenge (300,000 steps) | Male | Anaesthesiology | 59,306 | 506,613 |
| Ma Ivy Grace | x9mry | Nilo | Move It! Step Challenge (300,000 steps) | Female | Nursing | 10,490 | 260,990 |
| Nurulhuda | x9p92 | Mohd Eunos | Move It! Step Challenge (300,000 steps) | Female | Nursing | 172,696 | 518,703 |
| Kevin | xdztu | Low | Move It! Step Challenge (300,000 steps) | Male | Projects | 144,550 | 290,343 |
| katherine | xe7xh | lumibao | Move It! Step Challenge (300,000 steps) | Female | Nursing | 2,721 | 323,411 |
| Samantha | xf820 | Lee | Move It! Step Challenge (300,000 steps) | Female | Nursing | 10,774 | 140,173 |
| Jerusalaine | xgdgo | Alde | Move It! Step Challenge (300,000 steps) | Female | Nursing | 837 | 356,877 |
| Jeanet | xjqfp | Manliclic | Move It! Step Challenge (300,000 steps) | Female | Nursing | 14,402 | 14,402 |
| Thilagavathi | xqrlz | Muthukrishnan | Move It! Step Challenge (300,000 steps) | Female | COO Ambulatory | 6,896 | 19,642 |
| Ma Kristine Diane | xqsiv | Gonzales | Move It! Step Challenge (300,000 steps) | Female | Nursing | 10,764 | 172,738 |
| Thangammah | xs7h2 | Jane | Move It! Step Challenge (300,000 steps) | Female | Nursing | 1,630 | 175,854 |
| Sze Mine | xt9ka | Neo | Move It! Step Challenge (300,000 steps) | Female | Nursing | 54,913 | 423,275 |
| Shuang | xxkxd | Liu | Move It! Step Challenge (300,000 steps) | Female | Nursing | 47,400 | 94,800 |
| Ho Yin | y1uho | Chu | Move It! Step Challenge (300,000 steps) | Female | Nursing | 80,282 | 338,406 |
| Leah Bulan | y2l03 | Umali | Move It! Step Challenge (300,000 steps) | Female | Nursing | 4,442 | 401,948 |
| Emmalynn | y48i5 | Novenario | Move It! Step Challenge (300,000 steps) | Female | Patient Experience, Communications and Development | 5,468 | 490,164 |
| PWINT | y57s7 | THIT | Move It! Step Challenge (300,000 steps) | Female | Allied Health | 11,608 | 11,608 |
| Ong | ybfok | Zhen long | Move It! Step Challenge (300,000 steps) | Male | Surgery | 2,780 | 478,881 |
| Evangeline | ybqbw | Ng | Move It! Step Challenge (300,000 steps) | Female | Nursing | 9,681 | 125,817 |
| Jolene | ycpdh | Teo | Move It! Step Challenge (300,000 steps) | Female | Human Resource | 26,957 | 362,873 |
| Eng Ann | ygm58 | Ang | Move It! Step Challenge (300,000 steps) | Male | Nursing | 6,055 | 69,359 |
| Tay | ykejm | Ai Lian | Move It! Step Challenge (300,000 steps) | Female | Nursing | 4,808 | 10,325 |
| Lai Ling | yserc | chong | Move It! Step Challenge (300,000 steps) | Female | Nursing | 8,000 | 37,751 |
| Lim Muay Soon | yw7vi | Lim | Move It! Step Challenge (300,000 steps) | Female | Nursing | 7,598 | 397,840 |
| Goh | yyldy | Zhimin | Move It! Step Challenge (300,000 steps) | Female | Anaesthesiology | 23,329 | 352,041 |
| LIAN CHOO | yzjau | Wong | Move It! Step Challenge (300,000 steps) | Female | Estate Management | 102,499 | 668,871 |
| Agnes | z0tnl | Siboc | Move It! Step Challenge (300,000 steps) | Female | Nursing | 24,917 | 347,405 |
| Peishi | z1rdu | Lee | Move It! Step Challenge (300,000 steps) | Female | Estate Management | 31,047 | 132,921 |
| Yih Shan | z3a8n | Tan | Move It! Step Challenge (300,000 steps) | Female | Nursing | 24,151 | 38,220 |
| Wan Lin Angeline | z3w5a | Lai | Move It! Step Challenge (300,000 steps) | Female | Allied Health | 72,420 | 333,170 |
| Andrew Gee Seng | z6ca8 | Tan | Move It! Step Challenge (300,000 steps) | Male | Radiological Science | 35,937 | 309,211 |
| Zarifah | z9gnf | Mustapha | Move It! Step Challenge (300,000 steps) | Female | Nursing | 5,581 | 85,286 |
| Lau | zecmx | Kuan Ee | Move It! Step Challenge (300,000 steps) | Female | Nursing | 6,654 | 383,218 |
| JEANVY | zfhxp | DE GUIA | Move It! Step Challenge (300,000 steps) | Female | Nursing | 60,234 | 267,027 |
| Xi | zhangxi204@gmail.com | Zhang | Move It! Step Challenge (300,000 steps) | Female | Nursing | 11,526 | 457,320 |
| YONG | zj9z8 | PEILI | Move It! Step Challenge (300,000 steps) | Female | Surgery | 19,440 | 541,045 |
| Kai Xuan Kenneth | zjp2d | Lim | Move It! Step Challenge (300,000 steps) | Male | Nursing | 11,881 | 454,157 |
| Xunlin | zr91v | Ng | Move It! Step Challenge (300,000 steps) | Female | Surgery & Surgical Oncology | 78,488 | 157,133 |
| Rebekah | ztv8h | Loo | Move It! Step Challenge (300,000 steps) | Female | Pathology | 10,173 | 1,360,400 |
| Zhao Yuan | zz0ab | Lee | Move It! Step Challenge (300,000 steps) | Female | Nursing | 13,110 | 372,312 |
| Nuridah | zz3x5 | Musa | Move It! Step Challenge (300,000 steps) | Female | Nursing | 11,717 | 37,424 |
| First Name | RegID | Last Name | Category | Gender | Division | stepsupload | Total Steps Uploaded |