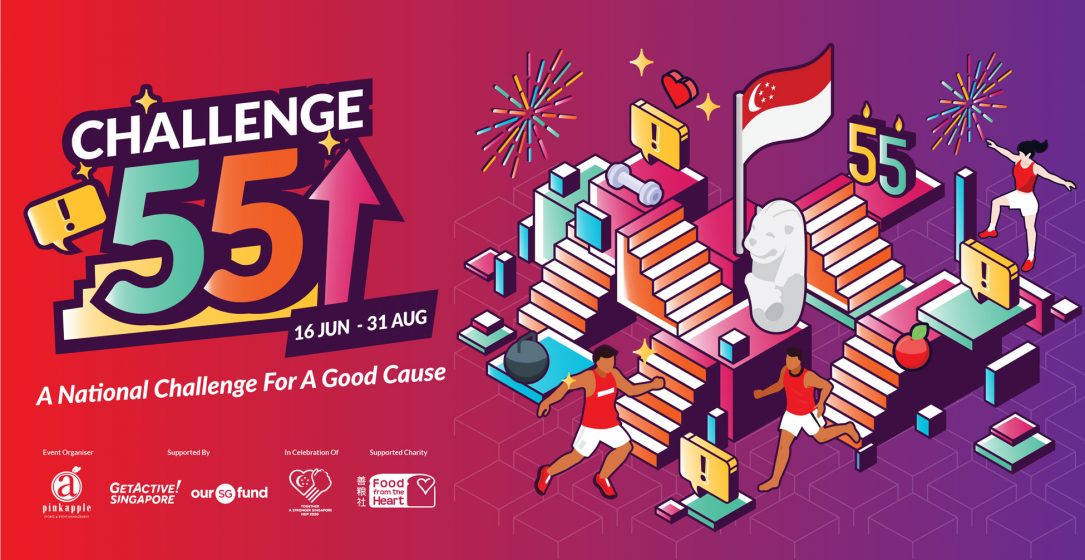 Register
Registration is no longer available. Thank you.
Event Info
General information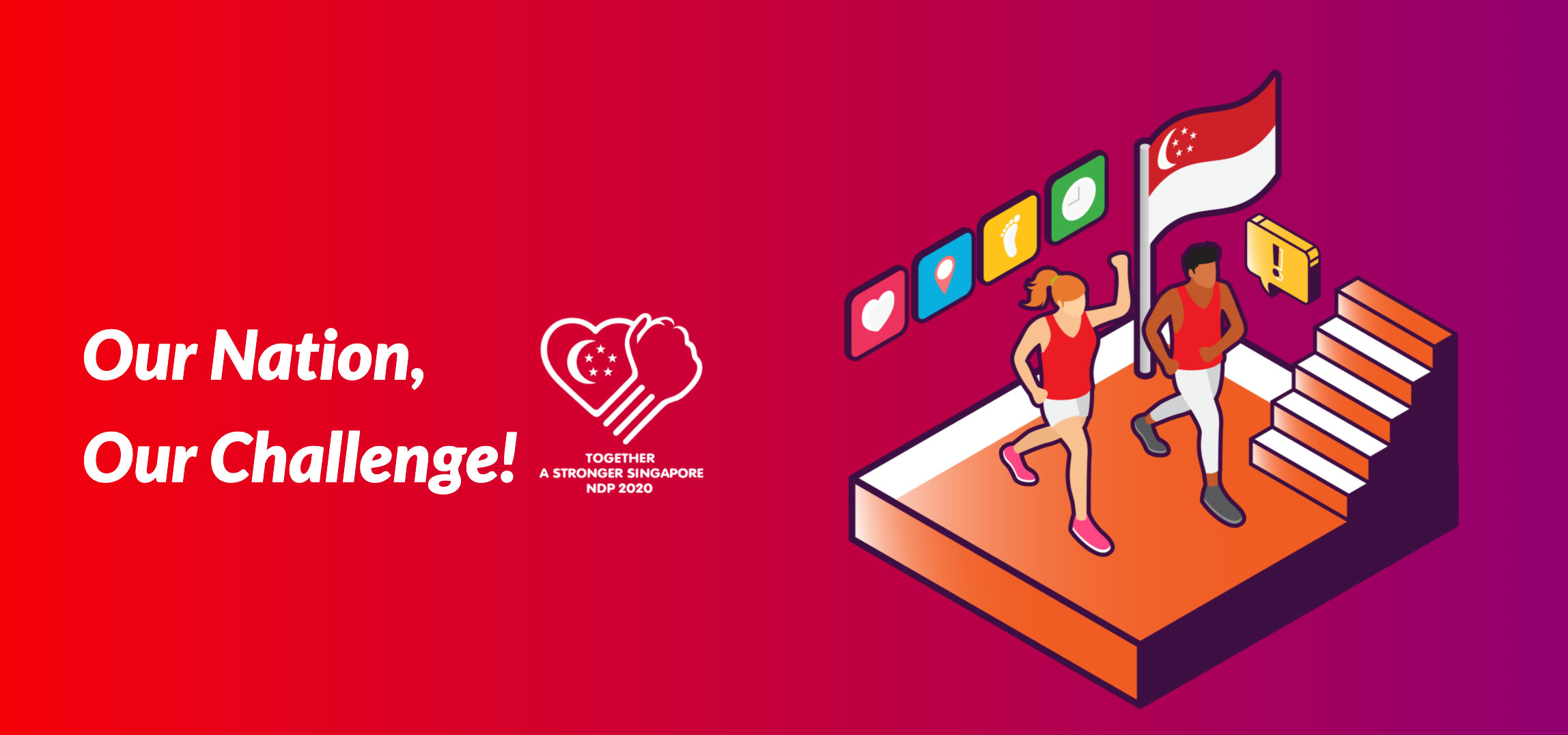 Challenge55SG is a national movement organised by Pink Apple Pte Ltd and supported by GetActive! Singapore. This unprecedented period sees a notable increase in beneficiaries at Food from the Heart, a charity organisation, whose mission is to reach out to beneficiaries and provide to the best of their ability. Thus, this movement aims for everyone to stay active and take proactive steps to alleviate hunger for the less fortunate.
Rise above this challenging period and clock 55,000 steps as a team or 5,500 steps individually anywhere anytime to pledge your unity and resilience. These steps you take will bring us closer as a nation and One Team Singapore. In conjunction with the nation 55th's birthday, #Challenge55SG is born.
Facebook: www.facebook.com/challenge55SG/
Instagram: www.instagram.com/challenge55sg/
Tik Tok: www.tiktok.com/@challenge55sg
Supported Charity

All proceeds from the registration (after GST) goes to the foundation.
Food from the Heart is a non-profit organisation that feeds the needy through its food distribution programme. It was established in February 2003 after Singapore-based Austrian couple Henry and Christine Laimer read a report in The Sunday Times about bakeries discarding their unsold bread. Stirred, they then decided to channel surplus food from bakeries to those in need. Food from the Heart started with 120 volunteers in 2003. As at the end of 2019, our volunteers multiplied to over 10,000, and together we reached 44,600 beneficiaries across Singapore.
Read more at: www.foodfromtheheart.sg
Event available in:
Singapore
Entitlements ship from: Singapore
Important dates
Registration has closed:
Event period: 16 June 2020 until 31 August 2020


You can upload any sessions done within this period, regardless the date of your registration.

Upload closes: 31 August 2020
Shipping starts on: 1 August 2020
Categories and Fees
Virtual
5,500 steps
55,000 steps

Completion:
What is a Virtual Challenge?
A virtual challenge is a race that you can complete at your own pace and time.
Virtual challenge works exactly the same as any other type of sports events (e.g. running or cycling) but the difference is that the entered race can be completed at any location, either outdoors or indoors on a machine.
All you have to do is register for a race and provide evidence that you have done it. The evidence can be a screenshot of your running/fitness app, a photo of the machine screen etc. Do check out specific instructions of the event you join for more information.

Virtual races are a great way to stay fit and active all year round, run for good causes and get awesome medals and other entitlements for your participation!
Entitlements
Runner's entitlements
e-Certificate
E-Badge
Collar Badge
Other entitlements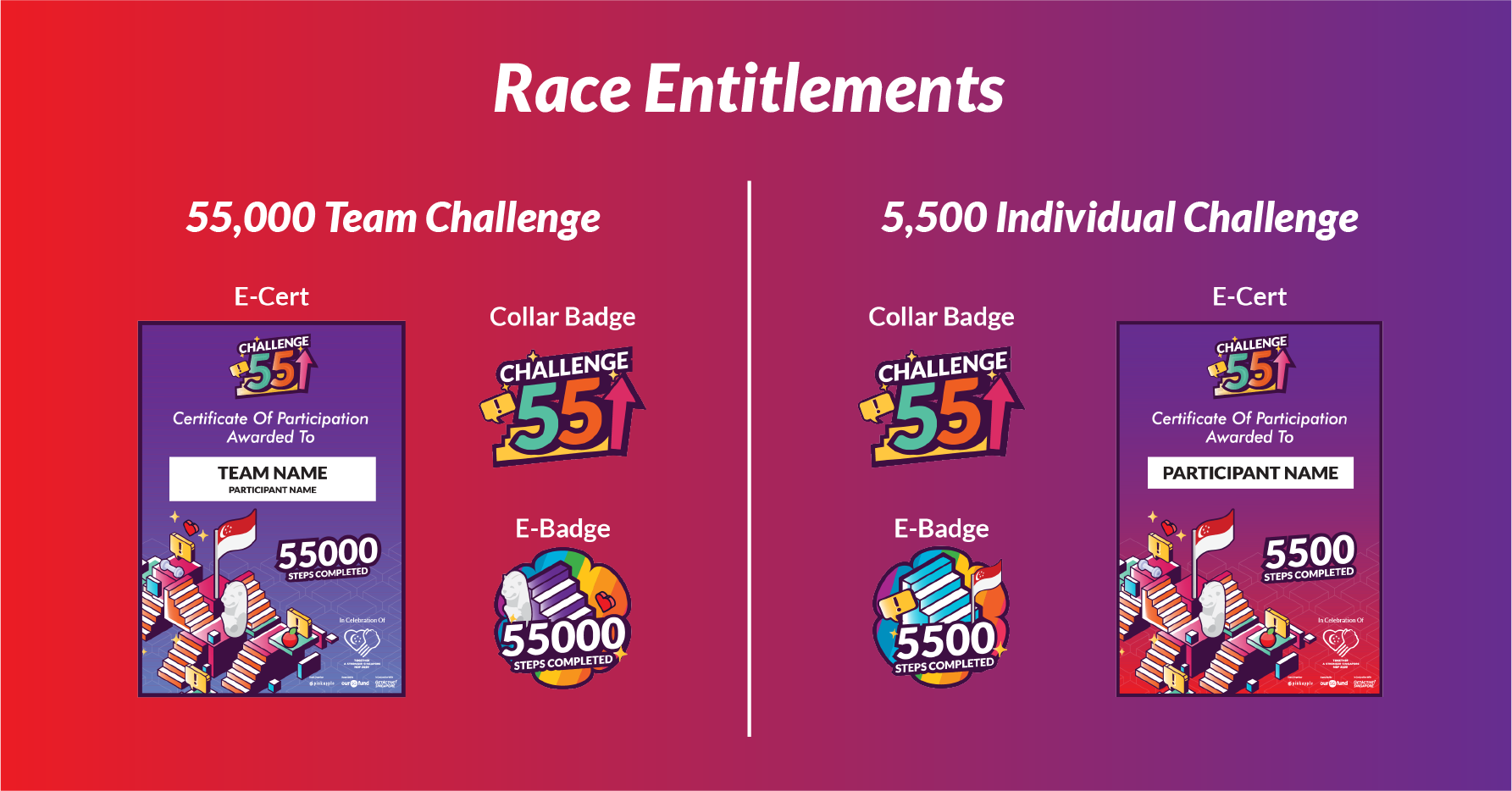 Upload
Uploading has closed.
You can contact the organiser at: info@pinkapple.com.sg
Thank you.
Leaderboard
wpDataTable with provided ID not found!
For questions regarding this event, please contact the organiser at: info@pinkapple.com.sg