Challenge Beijing Virtual Marathon 2023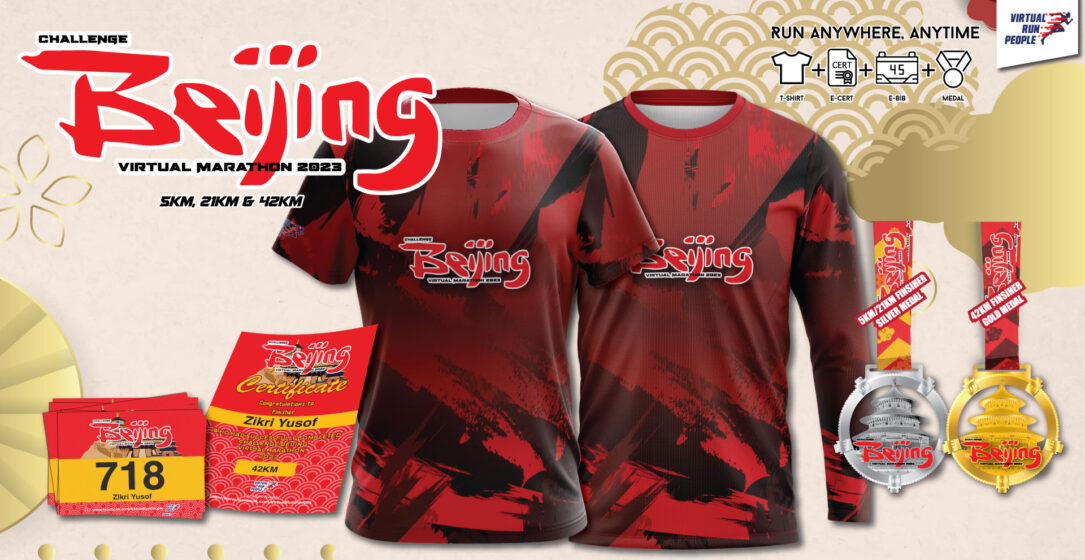 Register
Registration is no longer available. Thank you.
Event Info
General information
Beijing is the capital of the Middle Kingdom for hundreds of years. Hence it is not surprising to see lots of historical and cultural buildings in Beijing even today. As such, the medal design for the Challenge Beijing Virtual Marathon 2023 is one of these sites, the complex where the emperors of the Ming and Qing dynasties offered prayers for a good harvest. Join the Challenge Beijing Virtual Marathon 2023 and get the T-shirt, medal, electronic-Bib and electronic-certificate.
You may complete the distance registered at one go or accumulate them. Meaning if you run an average of 5km a day, you just need to submit 8.5 days of run results if you registered for the 42km category.
You may also use the same run results to submit for our other virtual runs as long as it is within the running period.
Event available in:
Singapore, Malaysia
Entitlements ship from: Malaysia
Important dates
Registration has closed:
Event period: 12 May 2023 until 25 October 2023


You can upload any sessions done within this period, regardless the date of your registration.

Upload closes: 25 October 2023
Shipping starts on: 15 November 2023
Categories and Fees
Virtual
42 KM
21 KM
5 KM
Run/Walk
Entitlements: Medal + T-Shirt + E-Bib + E-Cert
5km: S$18.50* (Usual rate: S$22.00)
21km: S$20.00* (Usual rate: S$23.50)
42km: S$21.50* (Usual rate: S$25.00)
* Early bird rates til 30 September 2023
** Excludes shipping and admin processing fee
Completion:
What is a Virtual Challenge?
A virtual challenge is a race that you can complete at your own pace and time.
Virtual challenge works exactly the same as any other type of sports events (e.g. running or cycling) but the difference is that the entered race can be completed at any location, either outdoors or indoors on a machine.
All you have to do is register for a race and provide evidence that you have done it. The evidence can be a screenshot of your running/fitness app, a photo of the machine screen etc. Do check out specific instructions of the event you join for more information.

Virtual races are a great way to stay fit and active all year round, run for good causes and get awesome medals and other entitlements for your participation!
Entitlements
Runner's entitlements
Race Apparel
Finisher Medal
e-Certificate
E-Bib
Event apparel
Optional upgrade to Long-Sleeve T-Shirt @ S$3.50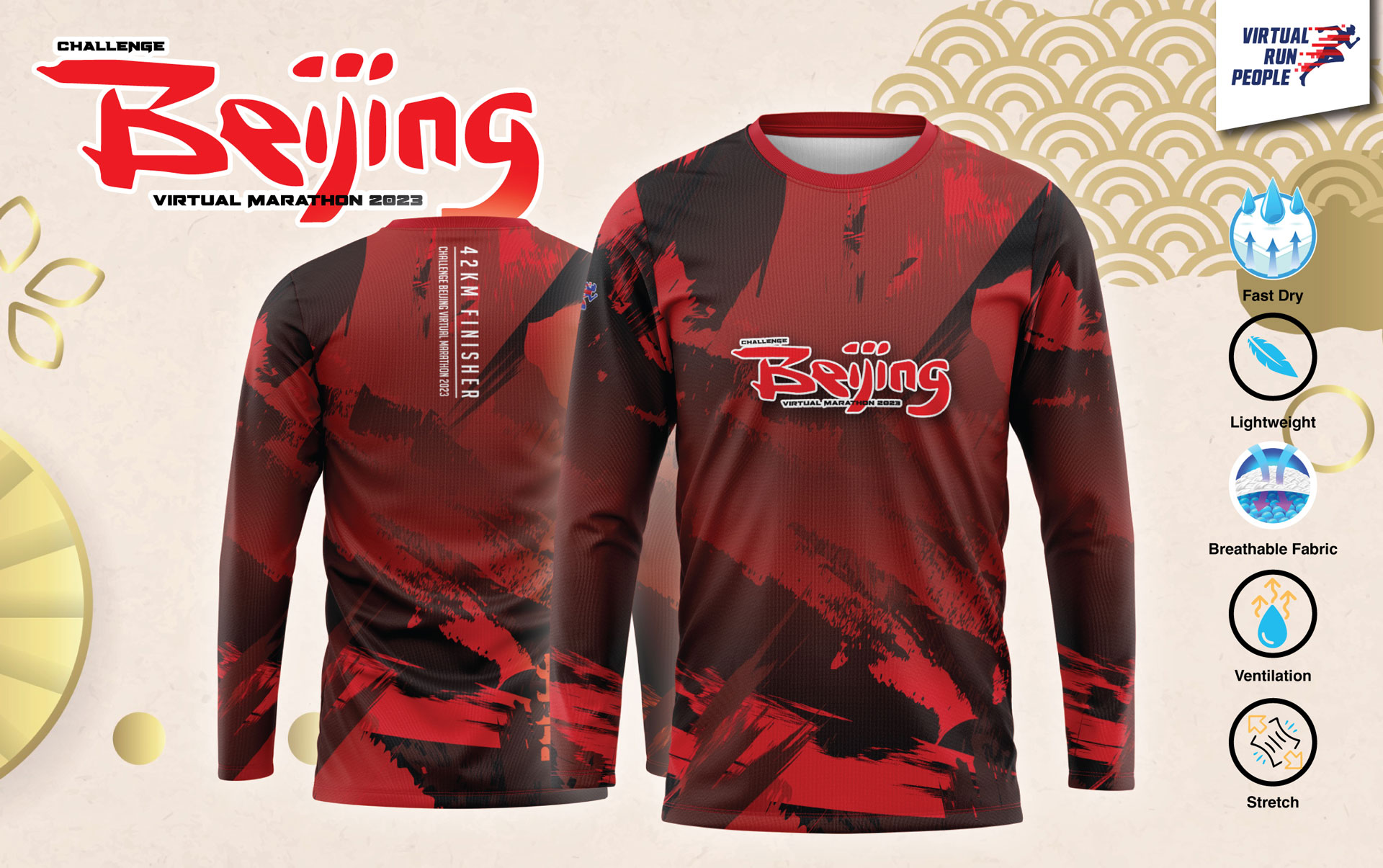 Finisher medals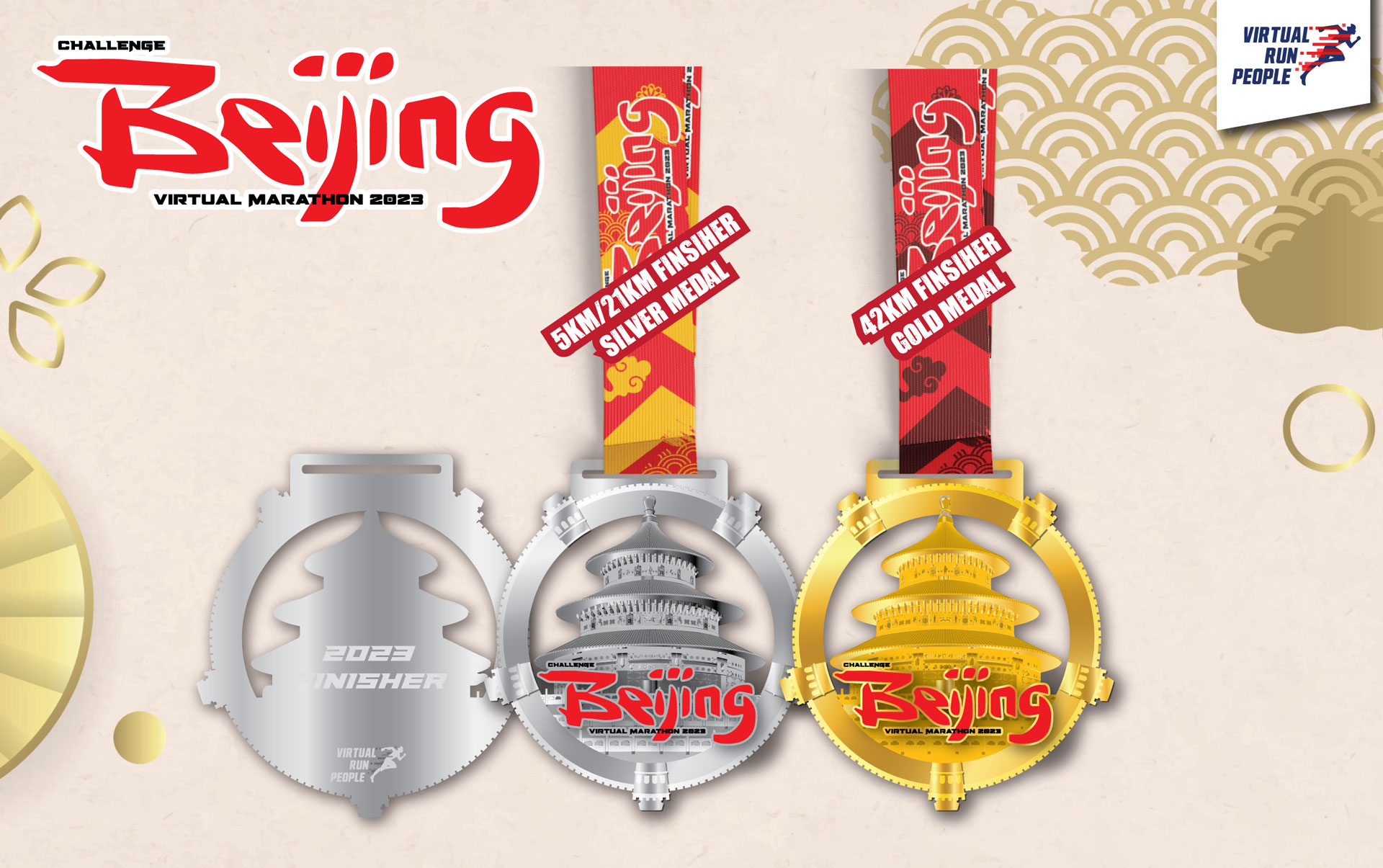 Other entitlements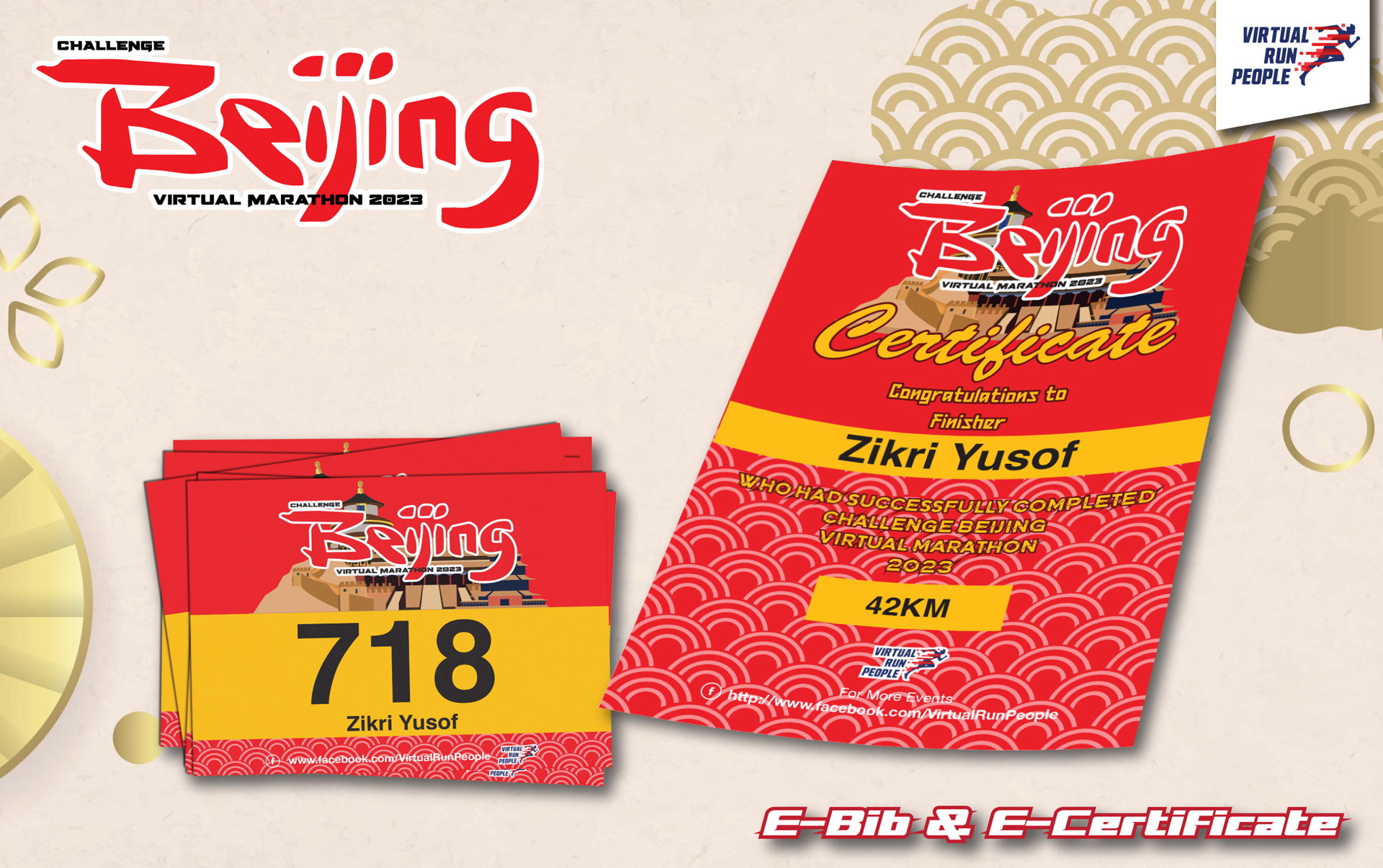 Upload
Uploading has closed.
You can contact the organiser at: BeijingVirtualMarathon@gmail.com
Thank you.
Leaderboard
42KM Category
| First Name | theregid | Last Name | Category | kmsupload | Total KMs Uploaded |
| --- | --- | --- | --- | --- | --- |
| Soh | 1i0r | Tze Aan | 42 km | 17.80 | 47.64 |
| Rafiah | 2fpzb | Ramlan | 42 km | 52.57 | 52.57 |
| Achmad | 63ako | Asghari | 42 km | 42.59 | 42.59 |
| Alvin | g01cs | Low | 42 km | 10.11 | 53.11 |
| Sasi | hmiwc | Kumar | 42 km | 8.00 | 42.00 |
| Tze Qi Josiah | pj4gm | Ong | 42 km | 8.55 | 46.05 |
| Yee | qdafj | Ming Hong | 42 km | 46.00 | 46.00 |
| Henry | tqnel | Cheah | 42 km | 10.00 | 50.11 |
| Feifei | yypvq | Hong | 42 km | 10.70 | 58.34 |
| Thomas | z7px6 | Chia | 42 km | 42.20 | 42.20 |
| First Name | theregid | Last Name | Category | kmsupload | Total KMs Uploaded |
21KM Category
| First Name | theregid | Last Name | Category | kmsupload | Total KMs Uploaded |
| --- | --- | --- | --- | --- | --- |
| Nancy | 4p3ow | Jennifer | 21 km | 21.00 | 21.00 |
| Rachel | 731z7 | Neo | 21 km | 2.67 | 10.68 |
| First Name | theregid | Last Name | Category | kmsupload | Total KMs Uploaded |
5KM Category
| First Name | theregid | Last Name | Category | kmsupload | Total KMs Uploaded |
| --- | --- | --- | --- | --- | --- |
| Syakimah | 6zzar | Ahmad | 5 km | 5.40 | 5.40 |
| Ching Wing | 8bug | Lo | 5 km | 5.08 | 5.08 |
| Wee | atkdt | Eng Siong | 5 km | 5.22 | 5.22 |
| Rolando | ljkkc | Gonzales | 5 km | 12.40 | 12.40 |
| NURUL IZZATI | y7upw | RAMLI | 5 km | 5.08 | 5.08 |
| First Name | theregid | Last Name | Category | kmsupload | Total KMs Uploaded |
For questions regarding this event, please contact the organiser at: BeijingVirtualMarathon@gmail.com