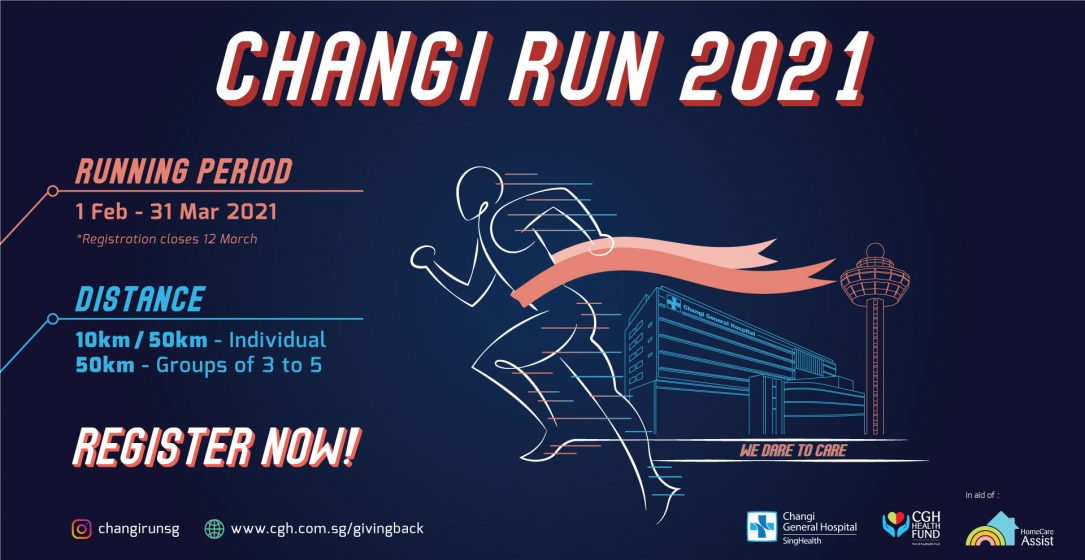 Register
Registration is no longer available. Thank you.
Event Info
General information
Organised by Changi General Hospital (CGH), Changi Run 2021 is an inaugural virtual running event. Themed "We Dare to Care", it aims to build on the solidarity of the eastern region in Singapore. While daring to care and going beyond to serve our community are the guiding principles of CGH, the Covid-19 pandemic continues to underscore the urgent need to help vulnerable groups in our society. This Run gives us the opportunity to bring people together to celebrate our unique Changi identity while creating a brighter future for those in need.
Changi Run will raise funds and awareness for CGH's needy patients, who are supported by HomeCare Assist, the CGH Health Fund's patient welfare programme. All net proceeds will be donated to HomeCare Assist, which provides interim assistance to needy patients after their discharge, ensuring that they receive the necessary medical care and services to continue with their recovery at home.
For more details on Changi Run 2021, click here for the e-guide.
All donations received from the CGH Health Fund: Changi Run 2021 are managed by SingHealth Fund, an Institution of Public Character (UEN 201624016E).
Collection of Finisher Entitlements
Date: To be advised
Method: By mail
Event available in:
Singapore
Entitlements ship from: Singapore
Important dates
Registration has closed:
Event period: 1 February 2021 until 31 March 2021


You can upload any sessions done within this period, regardless the date of your registration.

Upload closes: 31 March 2021
Shipping starts on: 26 April 2021
Categories and Fees
10 km (Individual): S$35.00
50 km (Individual): S$50.00
50 km (Group of 3-5 pax): S$130.00
Completion:
What is a Virtual Challenge?
A virtual challenge is a race that you can complete at your own pace and time.
Virtual challenge works exactly the same as any other type of sports events (e.g. running or cycling) but the difference is that the entered race can be completed at any location, either outdoors or indoors on a machine.
All you have to do is register for a race and provide evidence that you have done it. The evidence can be a screenshot of your running/fitness app, a photo of the machine screen etc. Do check out specific instructions of the event you join for more information.

Virtual races are a great way to stay fit and active all year round, run for good causes and get awesome medals and other entitlements for your participation!
Entitlements
Runner's entitlements
Race Apparel
Finisher Medal (50 km Individual Finishers)
Special Team Prize (50 km Group of 3-5 pax)
Event apparel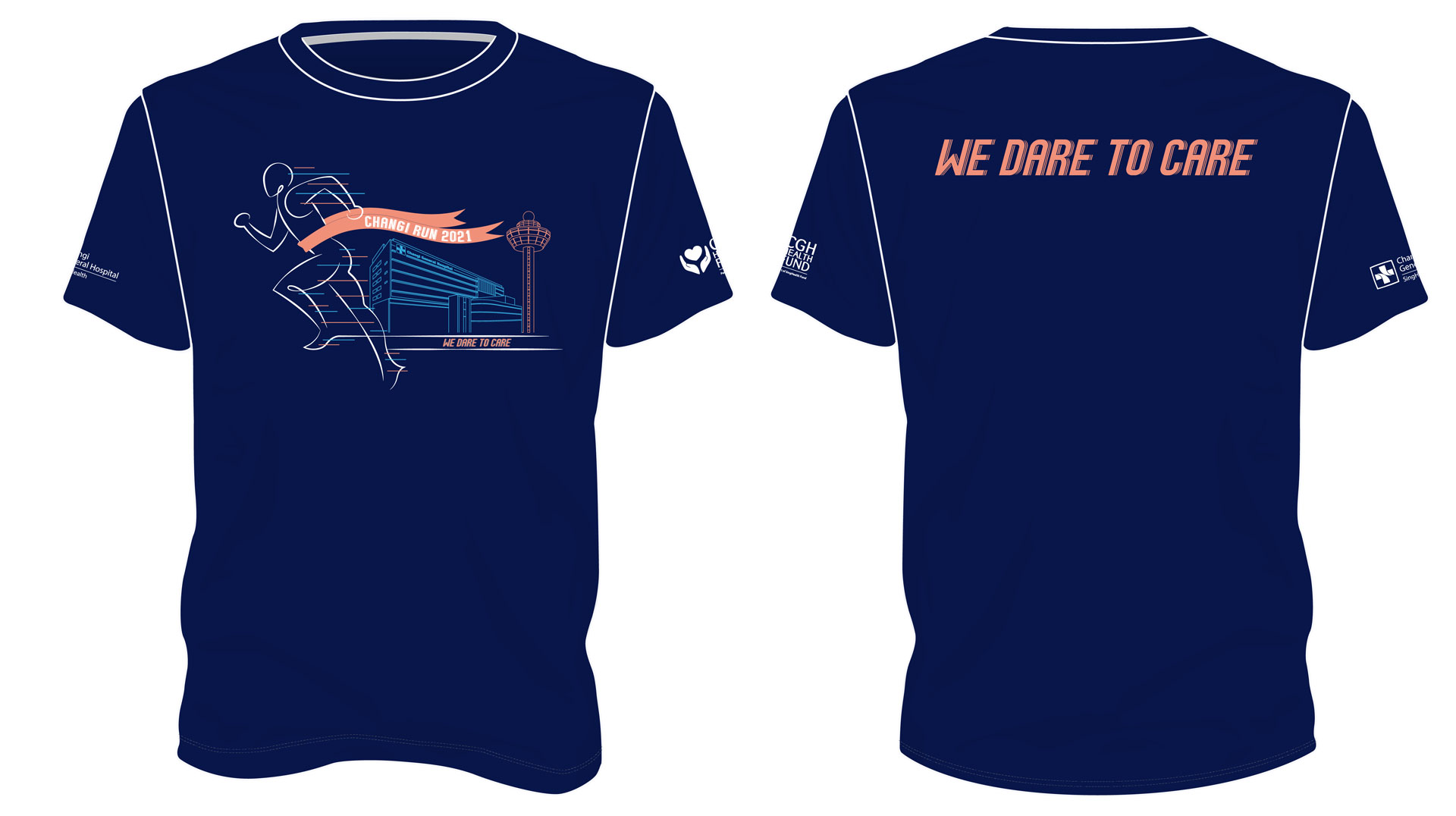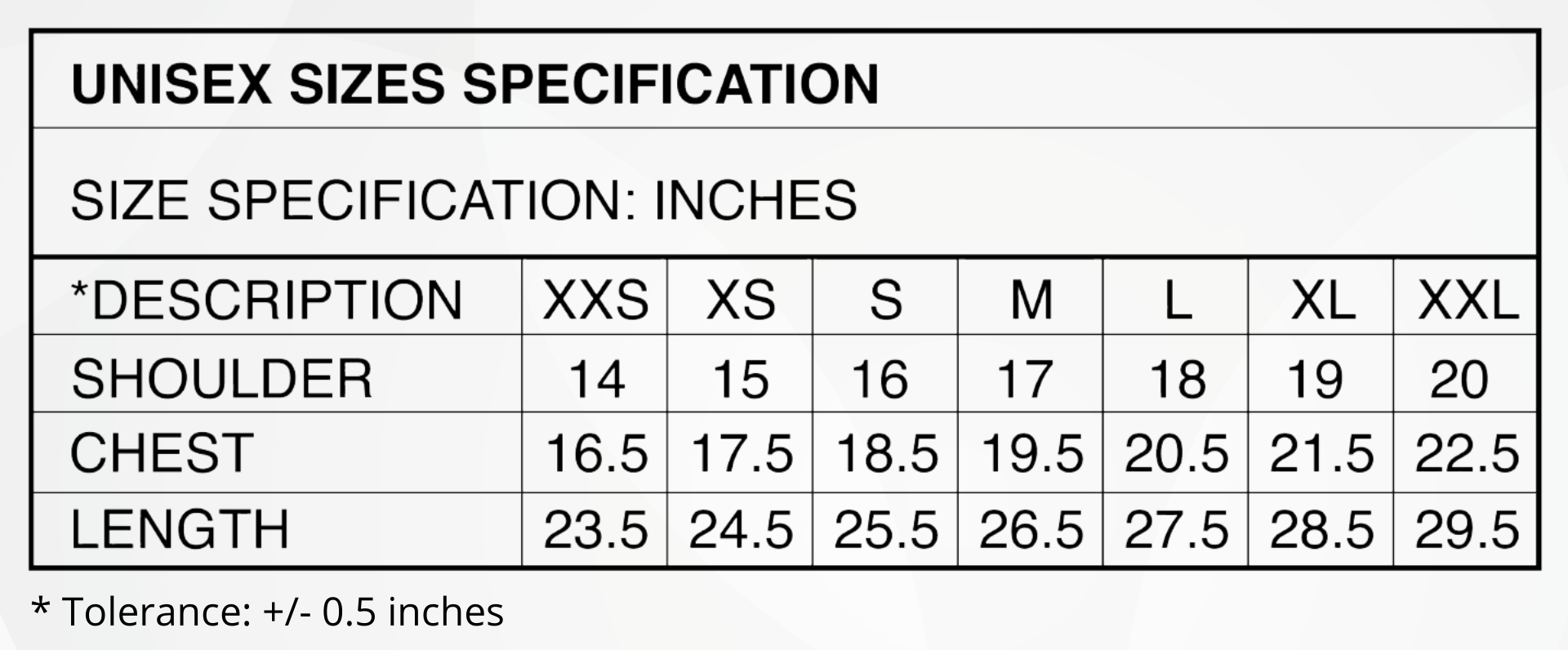 Finisher medals
(For 50 km Individual Finishers)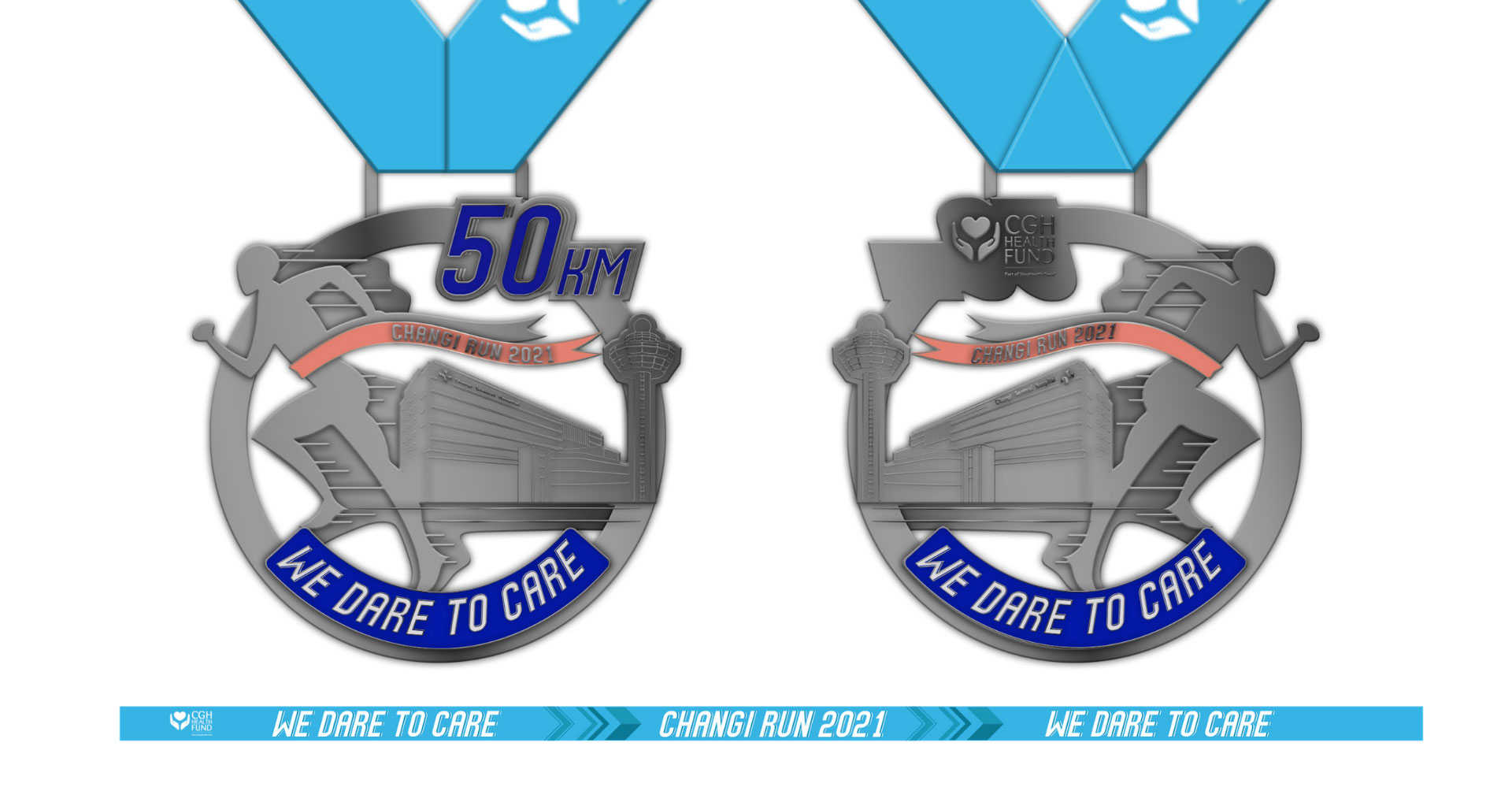 Upload
Uploading has closed.
You can contact the organiser at: support@justrunlah.com
Thank you.
T&Cs
1. Participants take part in this event at their own risk and are responsible for their own safety when choosing their run route. As a participant, you are encouraged to wear high visibility clothes when running in dim lighting conditions for safety reasons. Changi General Hospital and JustRunLah (service provider) accept no responsibility for any accident, incident of any nature or injury sustained whilst taking part in the virtual event. CGH excludes any liability for personal injury or death that may arise due to your participation in this event.
2. By participating in this virtual challenge, you are accepting that JustRunLah! will contact you to confirm your entry and keep you updated on the progress of your participation. Please note that you will be added to the JustRunLah! mailing list and you will receive updates on future events. You can unsubscribe from the JustRunLah! mailing list at any time.
3. After completing your daily run/walk, take a screenshot of the run/walk statistics (via a tracking app) and upload it onto the JustRunLah! online portal. If your upload cannot be validated, your challenge will be deemed as incomplete. As such, you will not be entitled to the finishers t-shirt or medal. In such circumstances, you will need to re-run and upload a new record (within the challenge period). If you experience any difficulty in uploading your run/walk details, please contact JustRunLah! at support@justrunlah.com.
4. Uploading of run/walk records will be from 1 February 2021 to 31 March 2021. If you are unable to complete your run/walk and upload by the dateline, please write to support@justrunlah.com for assistance.
5. Finisher t-shirts and medals will be awarded to all participants who complete the distance in their respective category during the challenge period. The organizer has the rights to use the uploaded photos for publicity or sharing in social media.
FAQs
Registration
1. How do I register?
Click on "Register" tab and follow the registration process. An email will be sent to you when your registration is successful.
2. What is the registration fee?
Registration for the Virtual Run is as such:
10 km (Individual): S$35.00
50 km (Individual): S$50.00
50 km (Group of 3-5 pax): S$130.00
3. When is the registration period?
Registration is open from the 12 January to 12 March 2021. Please ensure that you register during this period only.
4. Who can I contact if I have issues with my registration or other event-related information?
For all technical enquires regarding this event, you may contact support@justrunlah.com.
Submission of results
5. When can I start to submit my Run results?
Run submissions can only be allowed to be uploaded from the 1st February – 31st March 2021.
Run submissions received before or after these dates will not be accounted for.
6. What Apps should I use to capture my steps record or run session? Can I use a treadmill?
There are numerous GPS Running trackers such as:
• MapmyRun
• Strava
• Running
• Adidas Running
• Nike Running
• Apple Health App
• Samsung Health App
• Google Fit
You may use treadmills for this event. Please ensure that your upload captures the screen as well as a watch to indicate date of the run. This is needed for verification.
Step Trackers that do not provide details of distance and duration are not allowed.
7. How do I submit my Run or Step record?
Step 1:
Use the recommended GPS Running Tracker Apps or treadmill to record your Run based on the submission dates per Question 5 above.
Step 2:
Take a screenshot of your Finished Run activity, making sure that the date, distance, and time of run is clearly visible.
Step 3:
Upload your screenshot or photo via the link of your confirmation email or the 'Upload' tab.
Please have your registration ID available and fill in the details accordingly.
For ease of uploading, please access via the link from your confirmation email.
Step 4:
Once submitted, you will receive a notification email. You can then repeat step 1 again for your next run and submission.
*Do note that any irrelevant or inaccurate submissions will be removed at the discretion of the organizers.
8. Is there a limit to how many results I am allowed to submit?
No, there is no limit to how many results you can submit. This is an accumulative run challenge. You may take as many or as few submissions, to complete the minimum distance that you have selected.
9. Can I submit more run-results even if I have completed my minimum distance?
Yes, you may still continue to submit your run-results after reaching the minimum distance that you have selected. Only submissions during the submission period per Question 5 above will be accepted.
10. How will I know if my submission is received?
An email notification will be sent to you after each submission of your run. We will notify you, if any of the submission is invalid or unclear and will require a new submission.
Finishers' entitlements
11. When will I receive my Finisher entitlements?
You will be reminded via email nearer to the date.
12. What if for whatever reason I am unable to complete my minimum distance, do I still get my finisher entitlements?
No, please note that only participants that complete their required minimum distance will be provided with their Finisher entitlements.
For questions regarding this event, please contact the organiser at: support@justrunlah.com