Decathlon Virtual Run 2021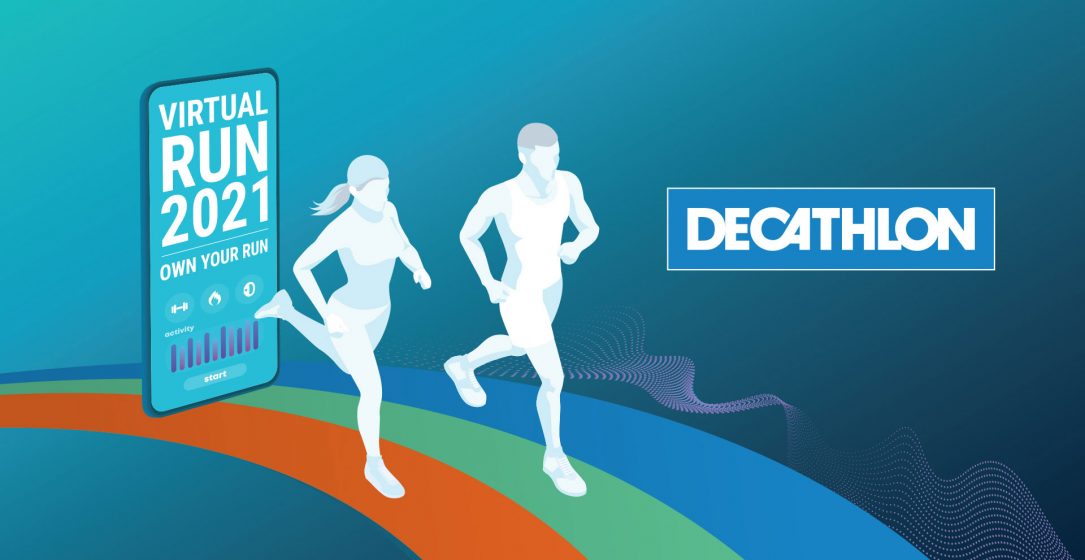 Register
Registration is no longer available. Thank you.
Event Info
General information
Virtual Race organised by Decathlon. Instead of independent categories, we have 3 legs of challenges for runners to experience & to take ownership of their runs.
For participants who wish to get ready for the race, they can browse the website here.
Race Pack Collection
Dates*: 25 February – 6 March 2021
* For registrations from 1st Jan – 23rd Feb: Collect from 25th – 28th Feb
* For registrations from 24th Feb – 28th Feb: Collect from 2nd March – 6th March 
Official Card Partner

Event available in:
Singapore
No shipping for this event. Refer to self-collection details above.
Registration is closed due to an overwhelming response and all T-Shirt sizes are out of stock.
Important dates
Registration has closed:
Event period: 1 March 2021 until 15 May 2021


You can upload any sessions done within this period, regardless the date of your registration.

Upload closes: 15 May 2021
Categories and Fees
Virtual
21 KM
10 KM
7 km
Anywhere
Trail/Track
Leg 1 – Starting Out (1 – 31 March 2021) – Complete 21km in one month anywhere
Leg 2 – Trail/Track Special (1 – 30 April 2021) – Complete 10km in one month in trail terrains or on a stadium track
Leg 3 – Finale Race (1 – 15 May 2021) – Complete a 7km run in one setting
* For Leg 2, suggested venues: Green Corridor, Macritchie, Ubin, any Stadium Track
* For Leg 3, express your creativity and run 7km anywhere! Bonus: End your route at any of our 5 Experience Stores (Singapore Lab, Joo Koon, City Square Mall, Bedok or Centrepoint) from 1st May to 15th May to redeem a free cereal bar whilst stocks last!
Registration Fee:
Early Bird Period: 1st – 15th January 2021
– For All: $1 off ($14)
– PAssion Card Members: $1.50 off ($13.50)
Normal Rate: S$15
– Group registration (8 pax and above): $3 off each pax ($12.00). Please send an email to support@justrunlah.com to complete your registration.
Completion:
Upload
Uploading has closed.
You can contact the organiser at: support@justrunlah.com / support-singapore@decathlon.com
Thank you.
Entitlements
Total Entitlements worth $45
RACE PACK

Event T-Shirt
Finisher Pin Plate
FINISHER

Soft Flask (1 per participant)
Hydration Belt (Completion of 3 legs)
Finisher Pin (1 for each leg, max of 3)
Event T-Shirt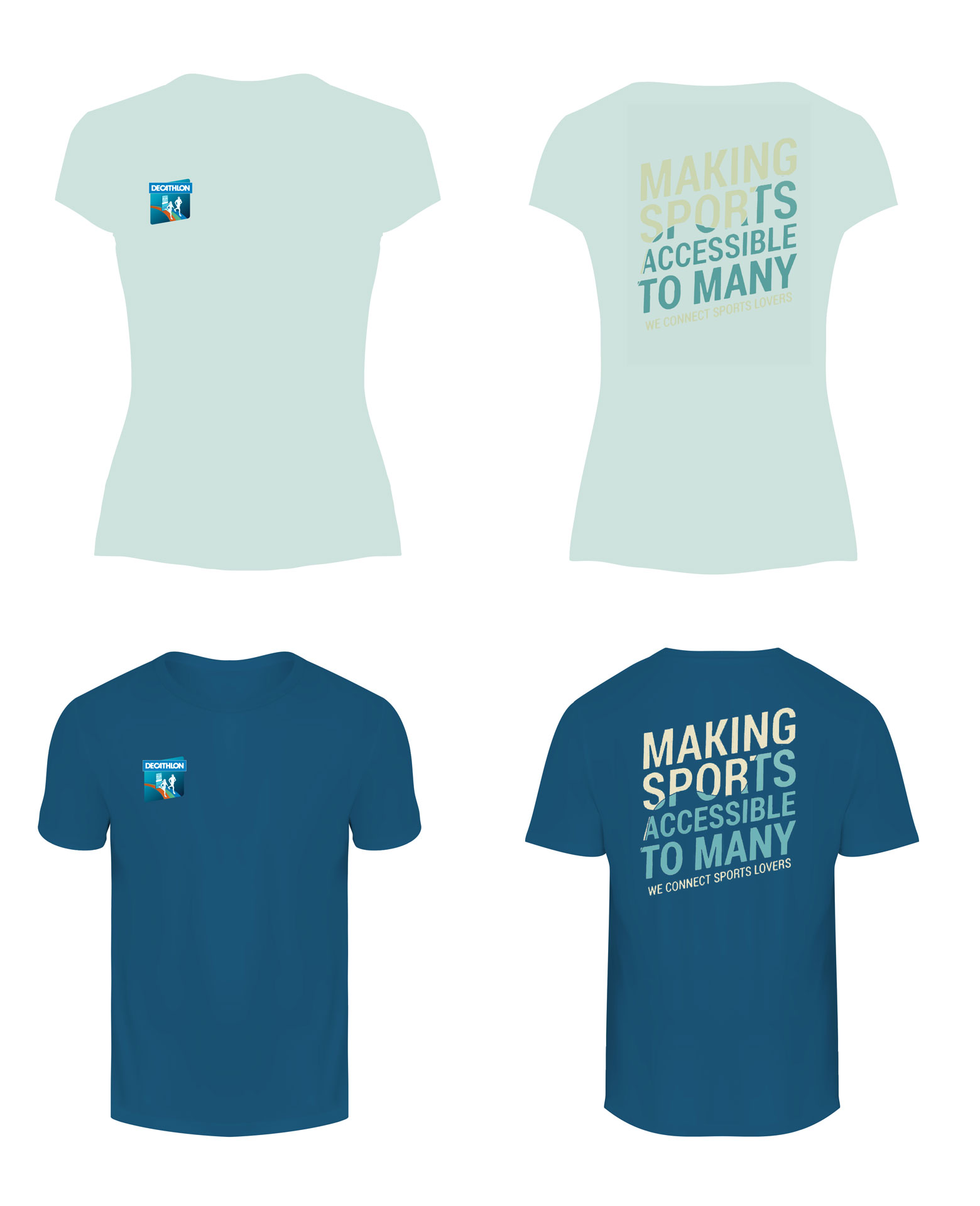 Size Chart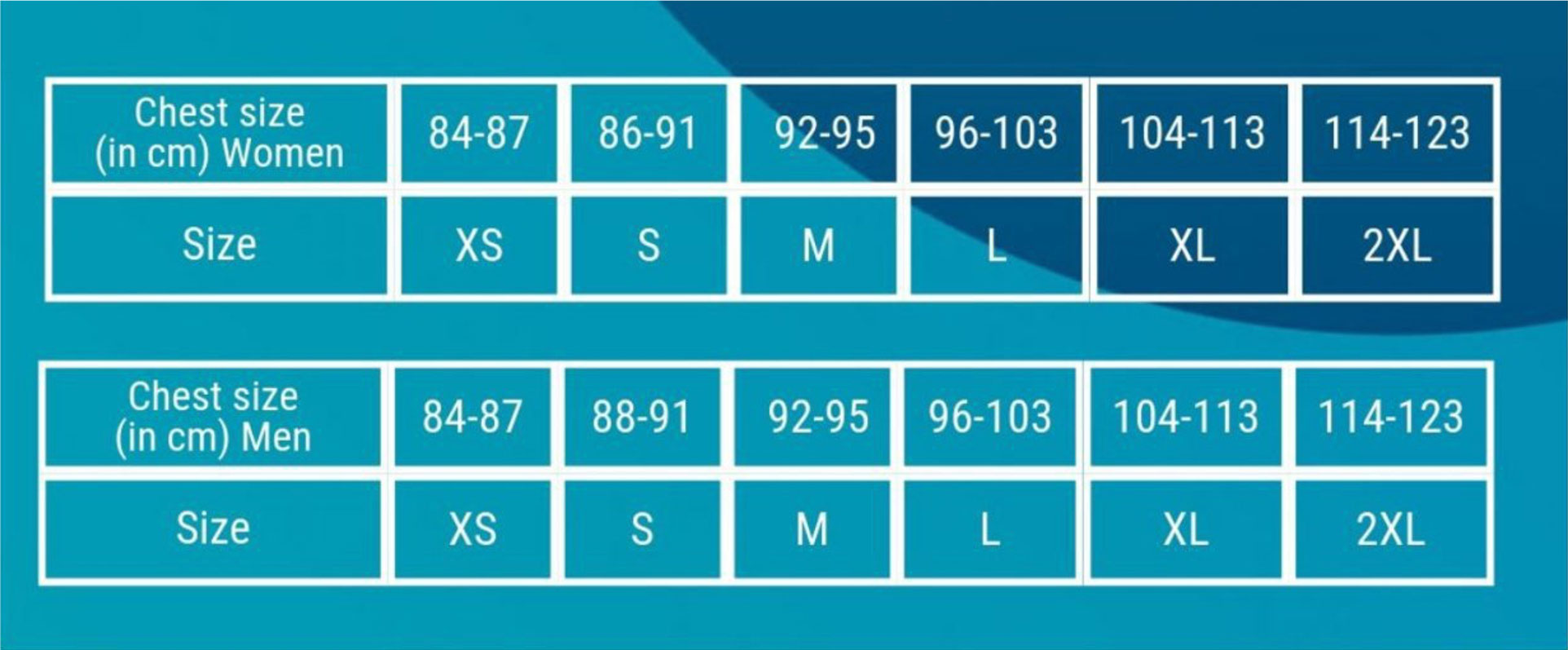 Finisher Pin Plate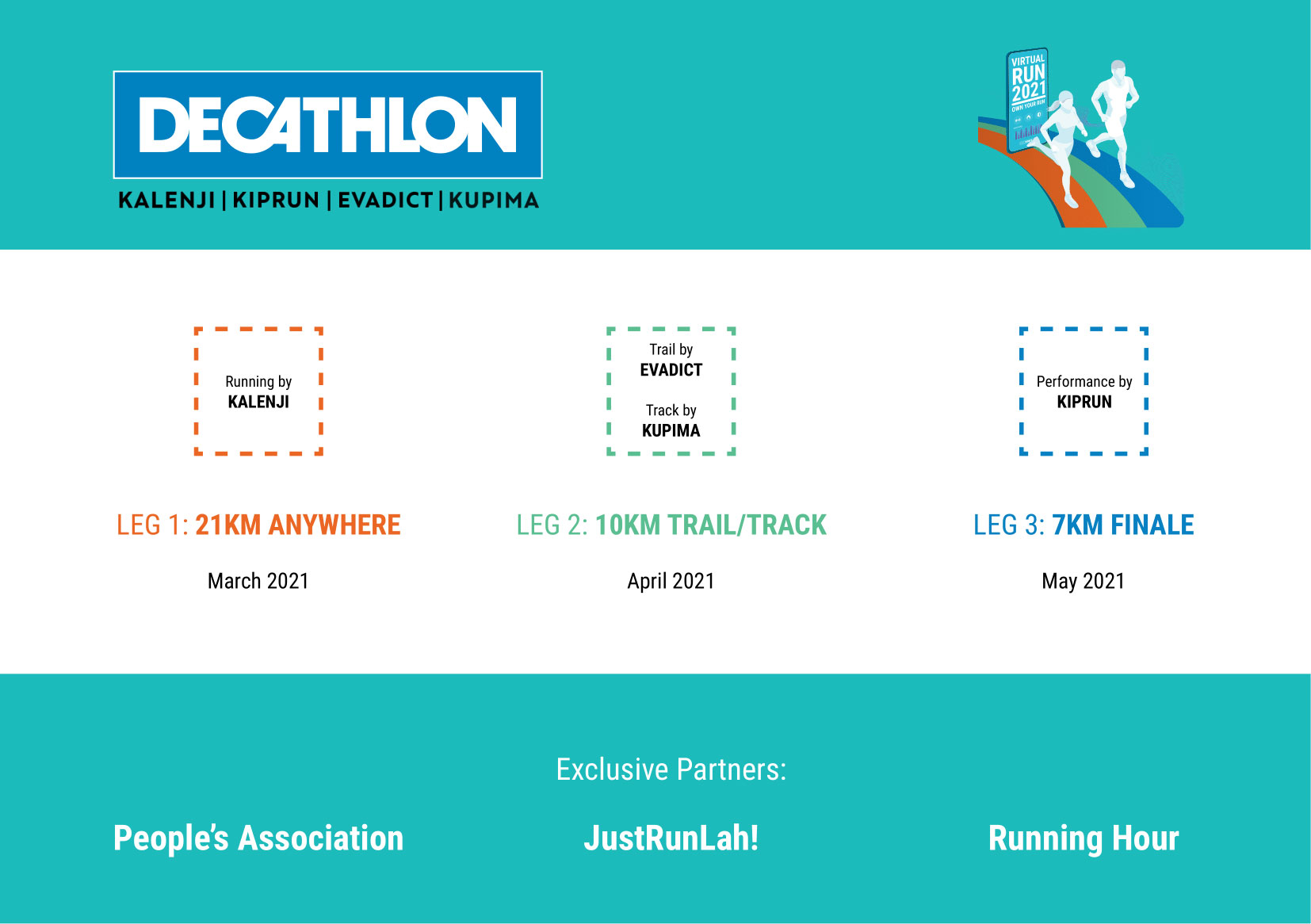 Finisher Entitlements
Finisher Pins
FAQs
1. Who can take part in Decathlon's Virtual Run 2021?
Decathlon's Virtual Run 2021 is a family-friendly event!
Everyone above the ages of 10 years and above is welcome to participate – round up your friends and family to join in on the fun today!
2. Can I register for the event in-store?
Registrations can only be made online.
However, feel free to approach our friendly teammates, who will gladly assist you in registration via devices available in-store.
3. When is the deadline for registration?
Registration is open from 1 January 2021.
The last day of registration for the Virtual Run is on 28 February 2021.
4. What is the minimum age requirement to participate in this run?
To promote inclusiveness, the minimum age requirement will be 10 years of age.
5. What is the participant fee?
Normal Price: $15
Early Bird Registration: $14 (For the first two weeks of registration only)
People's Association (PA) Members: $13.50 (10% Discount)
6. Will I be entitled to a refund if I decide not to participate in the event after registering?
Sorry, there will be no refunds if you choose to drop out of the event after registration.
7. How can I change my particulars if I have made a mistake during my registration?
Please contact support@justrunlah.com or our User Happiness Centre (UHC) at support-singapore@decathlon.com for any issues regarding registration.
8. Can I transfer my registration to someone else?
Sorry registrations are non-transferable.
9. What are the sizes and measurements of the running t-shirt?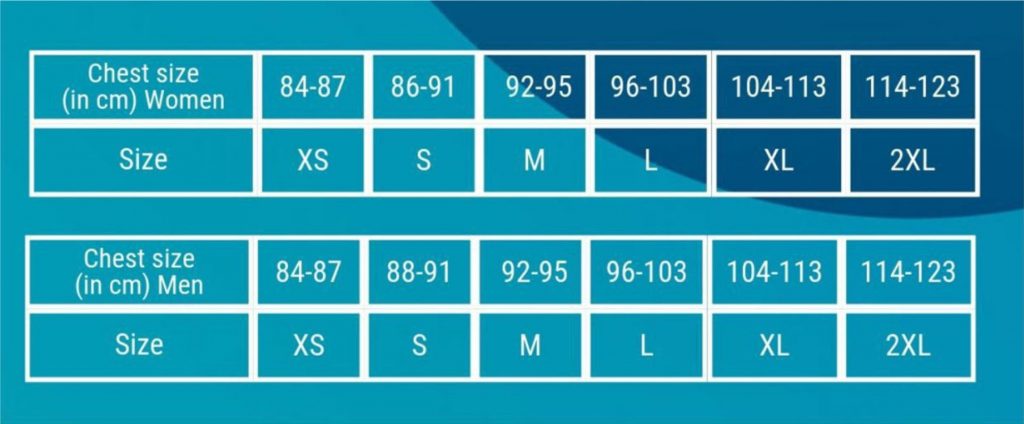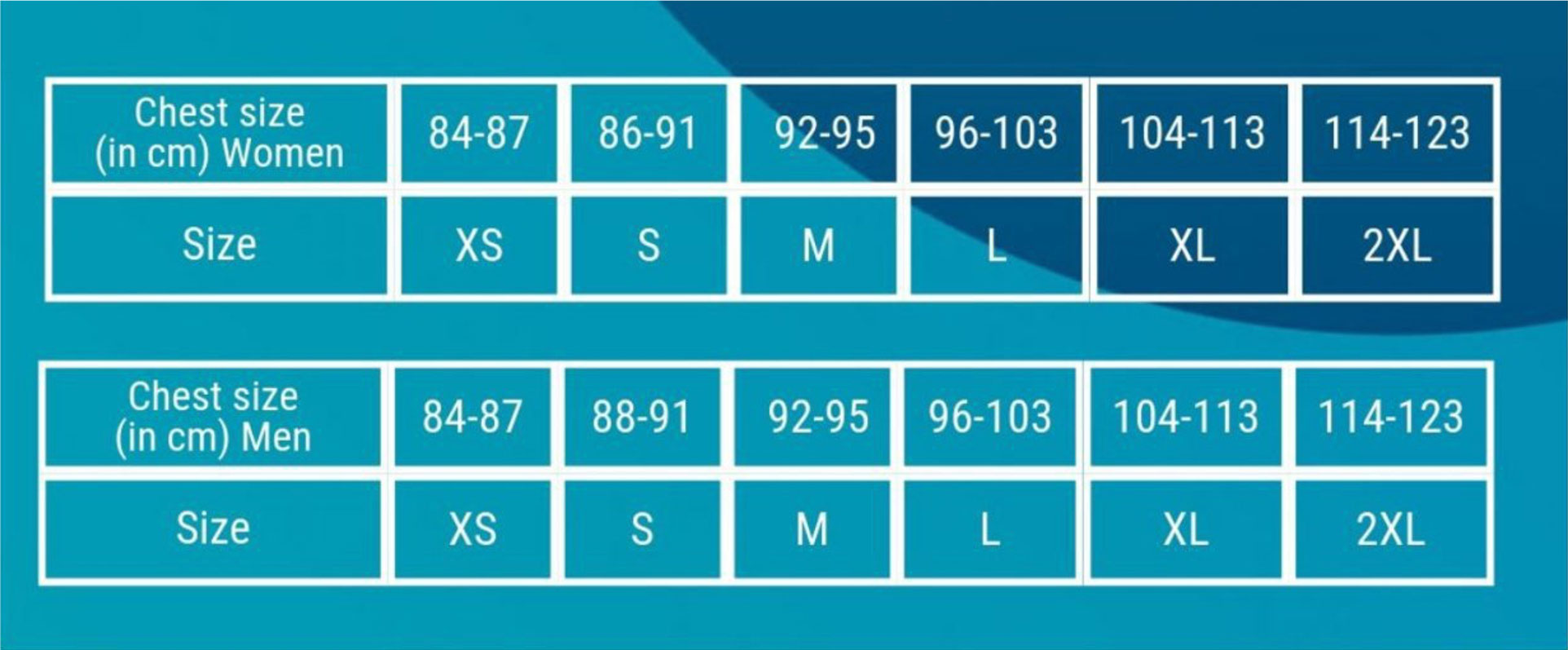 10. Can I change my t-shirt size after registering?
It is not possible to change your, t-shirt size after registering.
11. Will there be special prizes for the top runners in each category/leg?
Decathlon's Virtual Run 2021 is designed to be a non-competitive and inclusive event for all.
Therefore, there will not be any special prizes for the top performers in each category/leg of the challenge.
However, finishers of the event are entitled to our Finisher's Pack, as well as special memento pins for each leg of the run completed.
12. What entitlements do I get if I participate in this event?
Before the run, all participants will be entitled to an event t-shirt, and a runner's pin plate in their race pack.
After run, participants will be entitled to pick up a Finisher's Pack, comprising of a hydration belt (subject to completion of all 3 legs only), soft flask, finisher memento pins (one for each leg completed) and an E-certificate.
Additionally, if you end the 7km of the 3rd leg at any of our Decathlon Experience Stores (as listed below), you will be entitled to an additional treat of 2 cereal bars!
13. Where and when can I collect my race pack?
Based on the preference you indicated in the registration form, you can come down to our Decathlon stores to collect your race packs from 25 February till 6 March at the following stores:
– Decathlon Singapore Lab
– Decathlon Joo Koon
– Decathlon City Square Mall
– Decathlon Bedok
– Decathlon Centrepoint
Collection time will be in between 11am and 9pm for ALL stores (different from store opening hours).
For store opening hours, please refer to Our Stores page.
14. Can I authorise someone to collect the race pack on my behalf?
Yes you may, presenting the screenshot of the confirmation email during collection is sufficient.
15. How can I track my distances for the virtual run?
To take part in our event, all runs must be validated by an activity tracker, and we would highly encourage you to download the Decathlon Coach app to get started right away!
Other activity trackers such as (Runkeeper, Garmin, Polar, Nike+, Fitbit etc), are applicable for use as well.
16. Is there a cut-off time for each leg of the run?
Yes, please take note of the following periods for each leg:
Leg 1: 1 – 31 March 2021
Leg 2: 1 – 30 April 2021
Leg 3: 1 – 15 May 2021
17. What if I am unable to complete the run?
The completion of each leg of the run enables you to collect a specific memento pin, otherwise the pin will be forfeited.
18. Where can I collect my race entitlements after completing the virtual run?
Congrats on finishing all 3 legs of the run! You can head down to any of our Experience stores islandwide to collect your Finisher's pack.
The collection period is from 22 May to 6 June.
For questions regarding this event, please contact the organiser at: support@justrunlah.com / support-singapore@decathlon.com