GameBoy Virtual Challenge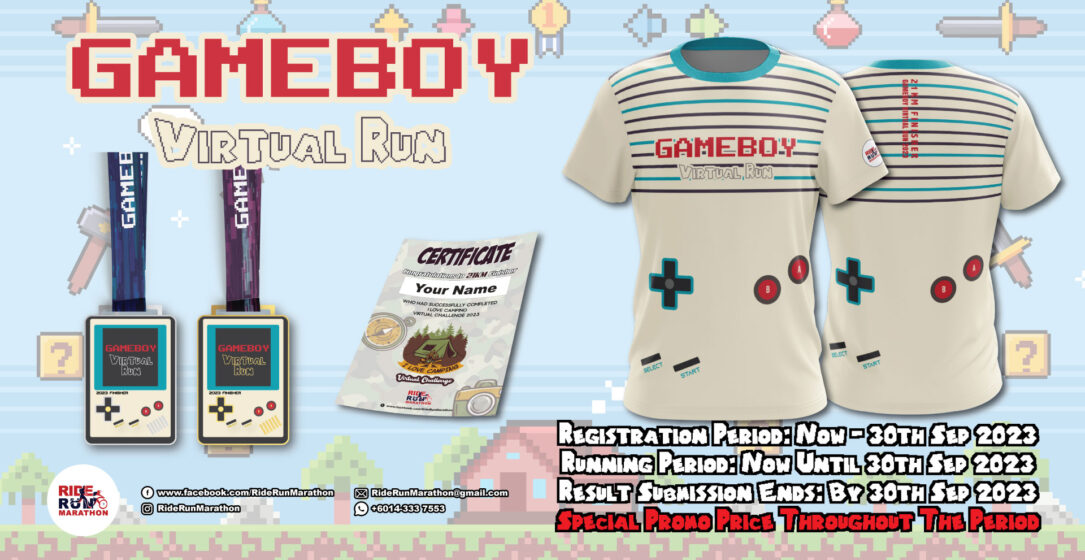 Register
Registration is no longer available. Thank you.
Event Info
General information
RideRun Marathon introduces the Gameboy Virtual Run Challenge. Remember games like Super Mario, Donkey Kong, Pokemon etc? Generations born in the 80s & 90s definitely got hooked on the 8-bit console back then. Join our run to get this medal to reminisce about those days.
You can run/ride anywhere at any time. The KM(distance) CAN BE accumulated multiple times or at one run. You can definitely do this at home and with your loved ones too.
STAY FIT & STAY SAFE
Event available in:
Singapore, Malaysia
Entitlements ship from: Malaysia
Important dates
Registration has closed:
Event period: 15 July 2023 until 30 September 2023


You can upload any sessions done within this period, regardless the date of your registration.

Upload closes: 30 September 2023
Shipping starts on: 10 October 2023
Categories and Fees
Virtual
Run/Walk - 8km / 21km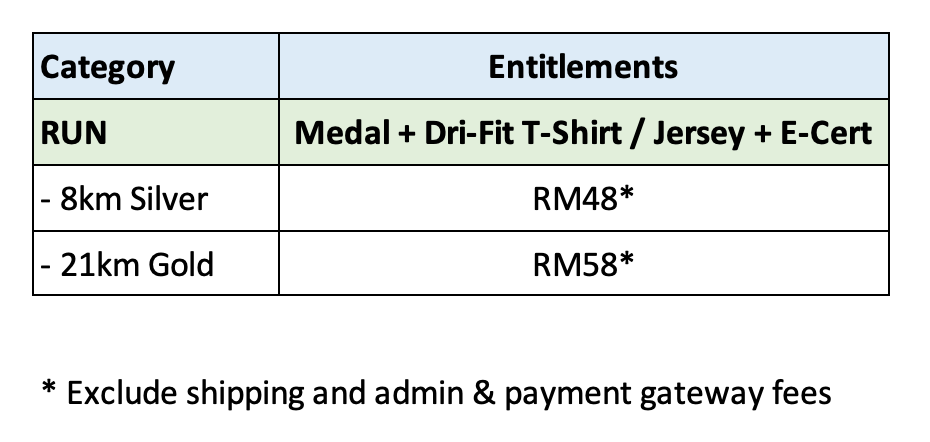 Completion:
What is a Virtual Challenge?
A virtual challenge is a race that you can complete at your own pace and time.
Virtual challenge works exactly the same as any other type of sports events (e.g. running or cycling) but the difference is that the entered race can be completed at any location, either outdoors or indoors on a machine.
All you have to do is register for a race and provide evidence that you have done it. The evidence can be a screenshot of your running/fitness app, a photo of the machine screen etc. Do check out specific instructions of the event you join for more information.

Virtual races are a great way to stay fit and active all year round, run for good causes and get awesome medals and other entitlements for your participation!
Entitlements
Runner's entitlements
Finisher T-Shirt
Finisher Medal
e-Certificate
E-Bib
Event apparel
Finisher T-Shirt
Finisher medals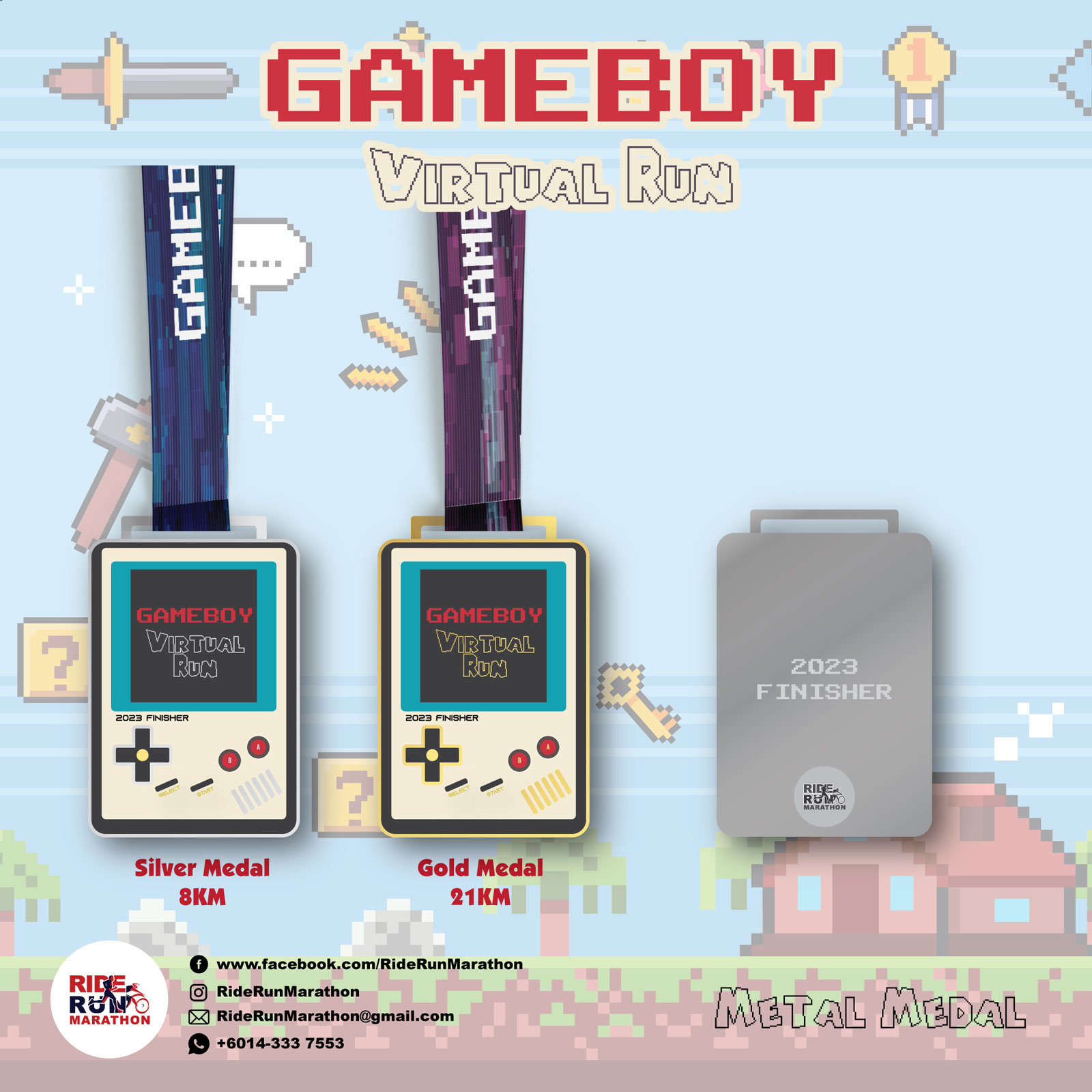 Other entitlements
Upload
Uploading has closed.
You can contact the organiser at: RideRunMarathon@gmail.com
Thank you.
Leaderboard
21km Gold Run
| First Name | theregid | Last Name | Category | kmsupload | Total KMs Uploaded |
| --- | --- | --- | --- | --- | --- |
| Lucas | 4y1zy | Tay | goldrun 58 | 3.00 | 21.46 |
| Seref | 537s5 | Isler | goldrun 58 | 40.00 | 40.00 |
| Ezra Lavanya | 5d4v | Ravi Chandran | goldrun 58 | 1.20 | 21.96 |
| Sharon | 6xvat | Ong | goldrun 58 | 3.95 | 51.41 |
| Muhammad Rajwa | 7a89w | Fatahillah | goldrun 58 | 21.02 | 21.02 |
| Gary | 8codn | Santiago | goldrun 58 | 10.13 | 22.29 |
| Faizal | 8nbz9 | Depp | goldrun 58 | 5.01 | 23.23 |
| Choo | al9k7 | Yong sheng | goldrun 58 | 25.96 | 25.96 |
| Eden | alc0w | Gutierrez | goldrun 58 | 5.39 | 31.00 |
| Darryl Pei Jiun | e6p06 | Tan | goldrun 58 | 2.94 | 22.76 |
| Yong | g52h1 | Sam | goldrun 58 | 6.60 | 26.70 |
| Ming Joo | giq7c | Yeo | goldrun 58 | 8.00 | 32.00 |
| Jennibeth | htlwv | Cabrera | goldrun 58 | 5.02 | 22.32 |
| Eugene | ih26h | Kong | goldrun 58 | 3.02 | 28.56 |
| Tan | ilidr | Rui | goldrun 58 | 6.00 | 21.16 |
| Han Wee | iwjf5 | Ang | goldrun 58 | 0.52 | 23.12 |
| SY | kfccm | Ang | goldrun 58 | 9.80 | 49.10 |
| Wilbur | mth94 | Chin | goldrun 58 | 6.25 | 27.65 |
| Cadence | n4fhh | Tay | goldrun 58 | 3.00 | 21.10 |
| Jessica | t4pp7 | YAP | goldrun 58 | 10.30 | 30.80 |
| Deanna | v5l19 | Mok | goldrun 58 | 6.10 | 90.11 |
| aween | wr6sr | syazwina | goldrun 58 | 22.38 | 44.76 |
| Huey Ching | yqi3l | Calistte Tee | goldrun 58 | 23.24 | 51.97 |
| Christian | zcix0 | Lee | goldrun 58 | 6.00 | 34.00 |
| Godwyn Ray | zexo7 | Tabac | goldrun 58 | 34.04 | 34.04 |
| Wee Woon | zfthr | Chua | goldrun 58 | 23.80 | 23.80 |
| First Name | theregid | Last Name | Category | kmsupload | Total KMs Uploaded |
8km Silver Run
| First Name | theregid | Last Name | Category | kmsupload | Total KMs Uploaded |
| --- | --- | --- | --- | --- | --- |
| MUHAMMAD FAKHRUL NAJMI JAAFAR | 22sub | JAAFAR | silverrun 48 | 8.24 | 8.24 |
| Sukhvinder | 94hbq | Singh | silverrun 48 | 8.44 | 8.44 |
| Rasyiqah | coh2 | Raqi | silverrun 48 | 5.00 | 15.00 |
| Andy | e5rjj | Sim | silverrun 48 | 10.36 | 10.36 |
| Jonathan | fzdtv | Fong | silverrun 48 | 2.00 | 4.00 |
| Azirah | GBVC23-R3E9FB406 | Mahmud | silverrun 48 | 9.01 | 9.01 |
| Saiful Shahrizal | GBVC23-RF202506A | Shudim | silverrun 48 | 8.00 | 8.00 |
| Peggy | gts4t | Seow | silverrun 48 | 0.47 | 16.72 |
| Divia | jpk4p | Raj | silverrun 48 | 13.00 | 13.00 |
| tan | l6dty | siew huang | silverrun 48 | 8.05 | 8.05 |
| Felice | lvkwq | Tay | silverrun 48 | 1.15 | 9.75 |
| Zahirul Haq | olk00 | Muhammad Hazriq | silverrun 48 | 8.00 | 8.00 |
| Gareth | q2jte | Wu | silverrun 48 | 6.21 | 20.58 |
| ADAM AKIL | qyr3f | MOHD HAFIZ | silverrun 48 | 9.46 | 9.46 |
| Max | s06k4 | Teo | silverrun 48 | 18.43 | 18.43 |
| Marina | sktdm | Khamarudin | silverrun 48 | 8.10 | 8.10 |
| MOHD.FUZI HADI | w6bn9 | ABD.LATIF | silverrun 48 | 8.00 | 8.00 |
| Marcus | w80e3 | Tay | silverrun 48 | 1.01 | 9.07 |
| Viet | yeook | Le | silverrun 48 | 15.00 | 15.00 |
| First Name | theregid | Last Name | Category | kmsupload | Total KMs Uploaded |
For questions regarding this event, please contact the organiser at: RideRunMarathon@gmail.com