GO Ride 5.0 2021 – Virtual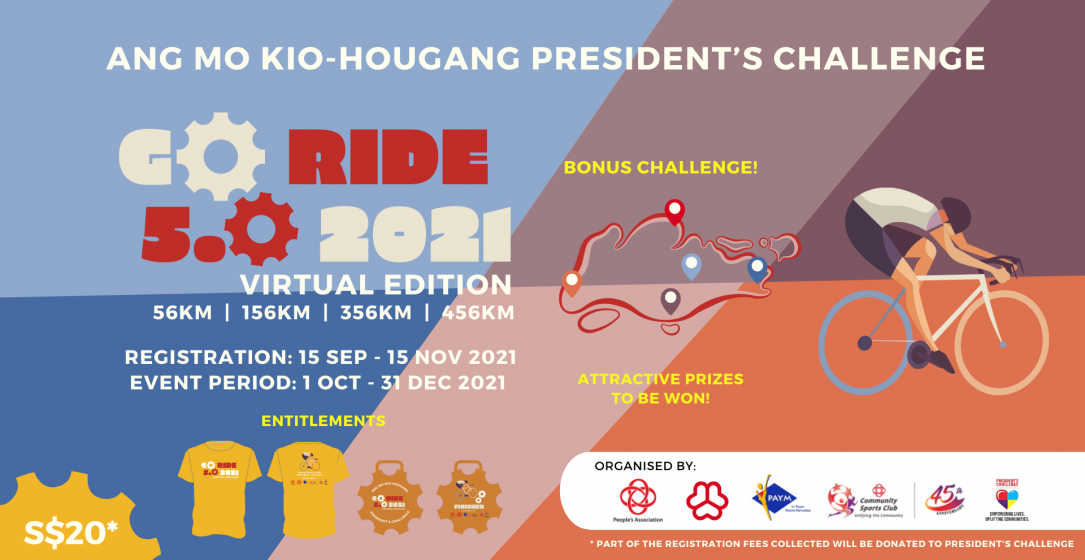 Register
Registration is no longer available. Thank you.
Event Info
General information
Ang Mo Kio-Hougang CSC's signature GO Ride activity is now online! Participants are encouraged to join the virtual event. GO Ride 5.0 2021 is planned to allow participants to clock their cycling mileage from 1 October to 31 December 2021. All age groups are welcome.
For self-collection of entitlements, you will receive a notification for collection nearer to the collection date. Details are as follow:
Date: 15 January to 28 February 2022 (except Public Holidays)
Time: 10am-6pm
Venue: Ci Yuan Community Club (51 Hougang Ave 9 Singapore 538776)
What is a Virtual Challenge?
A virtual challenge is a race that you can complete at your own pace and time.
Virtual challenge works exactly the same as any other type of sports events (e.g. running or cycling) but the difference is that the entered race can be completed at any location, either outdoors or indoors on a machine.
All you have to do is register for a race and provide evidence that you have done it. The evidence can be a screenshot of your running/fitness app, a photo of the machine screen etc. Do check out specific instructions of the event you join for more information.

Virtual races are a great way to stay fit and active all year round, run for good causes and get awesome medals and other entitlements for your participation!
Event available in:
Singapore
No shipping for this event. Refer to self-collection details above.
Shipping option is available at a fee
Important dates
Registration has closed:
Event period: 1 October 2021 until 31 December 2021


You can upload any sessions done within this period, regardless the date of your registration.

Upload closes: 31 December 2021
Categories and Fees
Virtual
56 km
156 km
356 km
456 km
S$20.00 per pax
Completion:
Entitlements
Runner's entitlements
Race Apparel
Finisher Medal
Event apparel
Event T-Shirt (For all participants)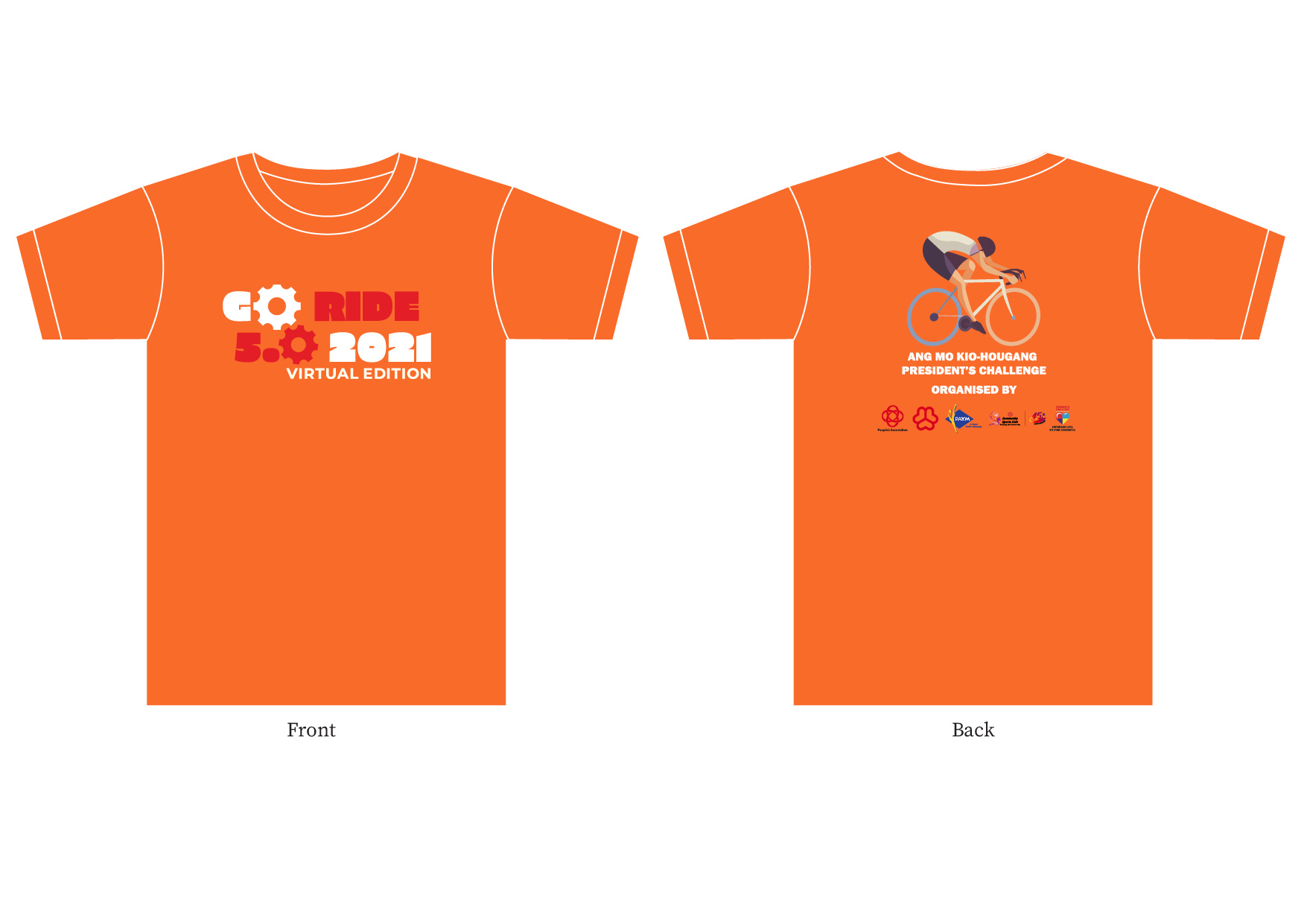 * Design subject to change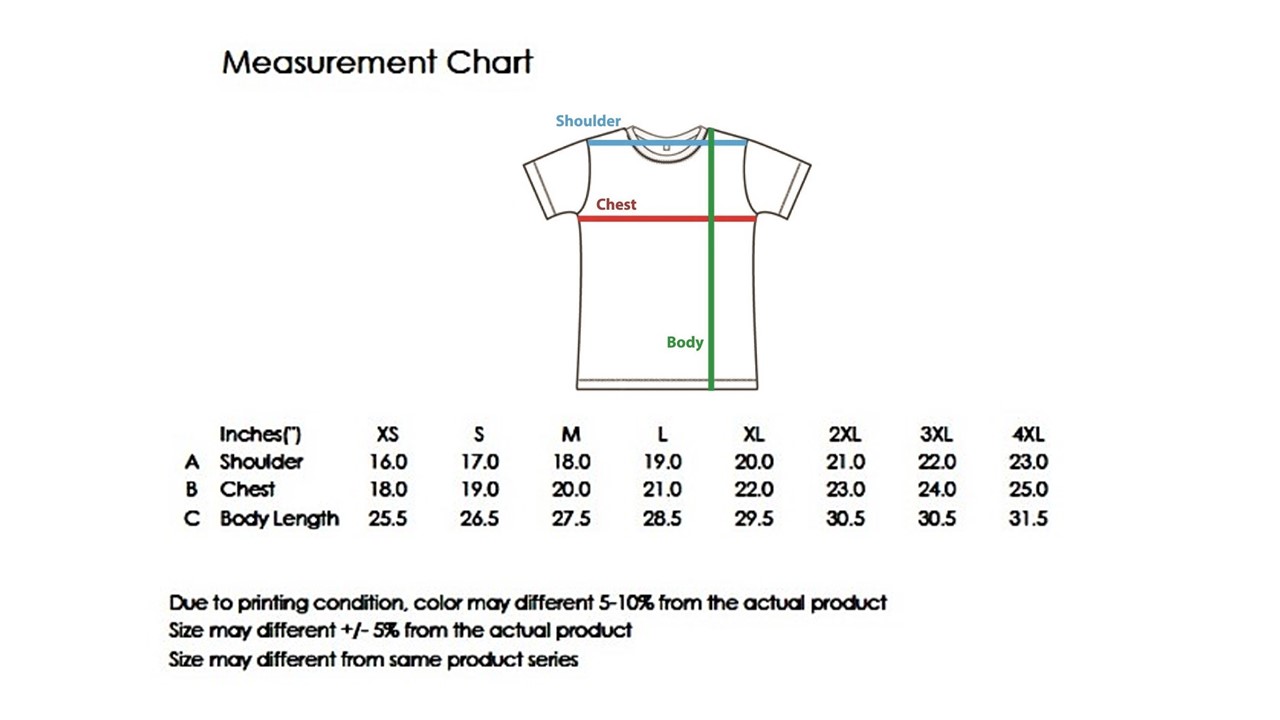 Finisher medals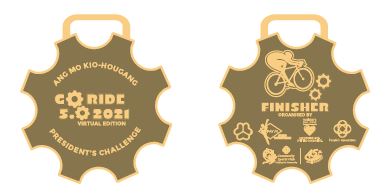 * Design subject to change
Upload
Leaderboard
456 km Category
| First Name | theregid | Last Name | Category | kmsupload | Total KMs Uploaded |
| --- | --- | --- | --- | --- | --- |
| Tan | 29kur | Soo Hui | 456 km | 127.10 | 1,242.22 |
| Cindy | 2b8kj | Chong | 456 km | 54.00 | 856.26 |
| Xiao | 2ne1s | Lao Ban | 456 km | 19.89 | 1,184.56 |
| Qian Ping | 2x2ba | Tan | 456 km | 138.69 | 442.91 |
| Edmund | 431vj | Ng | 456 km | 35.00 | 35.00 |
| Andy | 50992a | Lew | 456 km | 43.92 | 390.59 |
| SELVA | 5656t | M | 456 km | 50.76 | 306.30 |
| Kathy | 63yz | Ler | 456 km | 81.37 | 1,024.57 |
| jackie | 7NR641251T657343X | chen | 456 km | 203.48 | 203.48 |
| SZECHIE | 7zhtx | ONG | 456 km | 135.93 | 642.54 |
| Keith | 8yya5 | Liau | 456 km | 80.30 | 1,003.49 |
| Russ | 9hwa4 | Yee | 456 km | 100.47 | 473.49 |
| Kelvin | 9twg9 | Wong | 456 km | 90.80 | 514.60 |
| Erik | 9vo6f | Toh | 456 km | 209.77 | 445.23 |
| Cheuk Shan | a1n3 | Liu | 456 km | 16.93 | 44.05 |
| Gautam | b2xhv | Prakash | 456 km | 117.85 | 850.58 |
| Palaniappan | b72nq | Muthuraman | 456 km | 209.90 | 427.10 |
| Jia Heng | bk67h | Low | 456 km | 16.84 | 535.23 |
| Gavin | bvgm | Ng | 456 km | 85.80 | 576.20 |
| Sharon | cazop | Tan suping | 456 km | 126.17 | 1,037.85 |
| Nicolette | dl4wq | Cai | 456 km | 30.60 | 1,762.94 |
| Jayaraman | eh0bg | HARIRAM | 456 km | 21.00 | 834.49 |
| Choon Peng Willy | erk1c | Seah | 456 km | 207.04 | 584.04 |
| LIM | filpb | KOK HOONG | 456 km | 117.71 | 504.12 |
| Zoey | g68uo | Tan | 456 km | 52.22 | 842.82 |
| Chee Keng | izt58 | Gan | 456 km | 25.39 | 1,041.72 |
| Gerald | j8q7t | Lim | 456 km | 61.43 | 511.47 |
| Alvin | kpbkb | Wong | 456 km | 112.87 | 494.01 |
| ChengYe | lyijz | Huang | 456 km | 237.49 | 446.47 |
| Tay | m9zuq | Chong Buan | 456 km | 80.36 | 1,321.47 |
| LOK | mv68a | CHEE CHIANG | 456 km | 42.60 | 488.50 |
| Suhaimi | ntdkk | Ribot | 456 km | 115.60 | 616.99 |
| Noli | oxwl2 | Adan | 456 km | 100.00 | 100.00 |
| Kuo Choon | plxqb | Yong | 456 km | 25.83 | 476.16 |
| Wee ping | pvy0o | Chia | 456 km | 29.32 | 574.99 |
| Aileen | rq847 | Ho | 456 km | 50.59 | 1,248.89 |
| Gabriel | rrq6w | Neo | 456 km | 48.75 | 177.62 |
| Yi Qian | txbzp | Low | 456 km | 478.00 | 478.00 |
| ALEX | u1vt3 | SOH | 456 km | 41.00 | 780.69 |
| Ralph | uv6iu | Teo | 456 km | 80.49 | 167.46 |
| Mohammad Nizam | vgrg6 | Abdul Wahid | 456 km | 90.24 | 1,218.84 |
| Wai Meng | w64pa | Chia | 456 km | 36.40 | 1,012.40 |
| Kelvin | wg921 | Lim | 456 km | 34.94 | 477.23 |
| Edwin | wl31y | Ng | 456 km | 66.84 | 834.52 |
| Thean Thean | wvyjy | Song | 456 km | 32.31 | 503.56 |
| Hilda Natasha | xspdx | Chung | 456 km | 26.51 | 544.35 |
| Isaac | y0ce6 | Tan | 456 km | 15.32 | 876.08 |
| Edmund | ym5et | Wong | 456 km | 36.27 | 512.67 |
| Ang | yn8c3 | Kit | 456 km | 113.20 | 937.40 |
| Ramon | zd69r | Gulay | 456 km | 56.62 | 714.48 |
| First Name | theregid | Last Name | Category | kmsupload | Total KMs Uploaded |
356 km Category
| First Name | theregid | Last Name | Category | kmsupload | Total KMs Uploaded |
| --- | --- | --- | --- | --- | --- |
| Wytin | 44hy4 | Wong | 356 km | 4.38 | 92.32 |
| Suriani | 770cd | Sapuan | 356 km | 9.99 | 363.77 |
| Giin Mou | apvro | Leong | 356 km | 41.64 | 226.23 |
| Suzeyani | cnnao | Rashid | 356 km | 60.85 | 414.96 |
| Pushkar | gbby0 | Patil | 356 km | 369.00 | 369.00 |
| Nicholas | q12s6 | Eng | 356 km | 32.18 | 371.36 |
| Shankar Ganesh | uuc2x | Elangovan | 356 km | 21.38 | 368.98 |
| Gopalakrishnan | yl7j4 | Madhusudhanan | 356 km | 5.08 | 293.63 |
| First Name | theregid | Last Name | Category | kmsupload | Total KMs Uploaded |
156 km Category
| First Name | theregid | Last Name | Category | kmsupload | Total KMs Uploaded |
| --- | --- | --- | --- | --- | --- |
| Winny | 109491-MKO | Yap | 156 km | 12.44 | 250.78 |
| Yip | 1zqme | Jia Xuan, Shannon | 156 km | 40.03 | 97.20 |
| Samion | 2m9is | Raskin | 156 km | 12.54 | 1,088.03 |
| Shahrin | 3dx0z | Ahyok | 156 km | 51.43 | 51.43 |
| Wee Kang | 3f2Iz | Lim | 156 km | 53.00 | 198.00 |
| Sui Ling | 51nmd | Lee | 156 km | 10.41 | 125.74 |
| Patrick | 57 cat | Tan | 156 km | 5.00 | 25.00 |
| Patrick | 57cat | Tan | 156 km | 13.00 | 166.36 |
| Hock Leng | 6x8s9 | Chiang | 156 km | 9.56 | 214.82 |
| Ramesh | 74czu | Gangahanumaiah | 156 km | 38.34 | 973.28 |
| John | 78bzn | Chua | 156 km | 125.17 | 202.37 |
| Melissa | 7hery | Uy | 156 km | 38.69 | 585.50 |
| SIN YEE | 7ldb3 | LIM | 156 km | 28.66 | 211.06 |
| Desmond | 7wfnc | Tan | 156 km | 43.81 | 171.39 |
| Joel | 7xbf5 | Cheng | 156 km | 33.20 | 185.70 |
| Si Hpin | 8fsqc | Yan | 156 km | 53.00 | 187.00 |
| Michael | ahvzm | Uy | 156 km | 40.17 | 739.07 |
| Michael | ghvuw | Yap | 156 km | 60.00 | 172.00 |
| Owen | gx8ur | Gian | 156 km | 20.11 | 65.51 |
| Adeline | jxccd | Chng | 156 km | 7.42 | 178.90 |
| Aiman | o2ijd | Roza | 156 km | 23.17 | 129.18 |
| Ryan | oq8o7 | Tan | 156 km | 7.61 | 141.82 |
| Sabariah | osrfh | Noor | 156 km | 20.10 | 786.86 |
| Pamela | qrzp1 | Gao | 156 km | 16.00 | 127.50 |
| RUO CHENG | qt6kf | ANG | 156 km | 28.38 | 208.40 |
| Benson | qx5da | Lim | 156 km | 34.32 | 113.66 |
| Herwin | r60um | Hashim | 156 km | 35.00 | 135.23 |
| Zong Rui | six9y | Tan | 156 km | 27.78 | 140.96 |
| Jasmine | t73d5 | Tan | 156 km | 24.87 | 50.45 |
| Chit Yaw | tci1e | Fu | 156 km | 29.45 | 151.53 |
| Kishaloya | trliv | Roychowdhury | 156 km | 10.01 | 250.82 |
| Stephanies | u9lx9 | Long | 156 km | 25.61 | 140.82 |
| Nuramielia | x2199 | Satria | 156 km | 22.80 | 236.19 |
| Michelle | zlw16 | Oon | 156 km | 21.23 | 304.41 |
| First Name | theregid | Last Name | Category | kmsupload | Total KMs Uploaded |
56 km Category
| First Name | theregid | Last Name | Category | kmsupload | Total KMs Uploaded |
| --- | --- | --- | --- | --- | --- |
| Iqbal | 1qgaq | Firdaus | 56 km | 26.81 | 26.81 |
| Sen Lee | 1wdsc | Tan | 56 km | 76.08 | 76.08 |
| Wen Jun | 32hsn | Leong | 56 km | 27.61 | 54.12 |
| Jia Wen | 3cd3y | Nai | 56 km | 27.65 | 27.65 |
| Phoong | 4brhf | Lee Han | 56 km | 66.35 | 66.35 |
| Marcus | 4peef | Uy | 56 km | 25.12 | 60.29 |
| Ein Lit | 5vgtq | Koh | 56 km | 21.13 | 155.85 |
| Ramanathan | 6le3p | Nagarajan | 56 km | 106.96 | 139.96 |
| Lu'lu Aliesha | 7h64v | Samion | 56 km | 27.27 | 116.55 |
| Zhenghan | 8nzfp | Chen | 56 km | 22.00 | 94.00 |
| Phil | 9u90o | Chee | 56 km | 17.85 | 59.88 |
| SALEEM | a6qkl | LEU | 56 km | 65.60 | 131.20 |
| Maximillion | bll3s | Chang | 56 km | 14.48 | 26.91 |
| Ban Tian | bpko3 | Yeo | 56 km | 35.10 | 136.65 |
| Radhakrishnan | g8kkd | Krishnan Bothi | 56 km | 3.78 | 29.39 |
| sonny | gripr | andalis | 56 km | 26.89 | 64.01 |
| Parthipan | gu8ma | Radhakrishnan | 56 km | 7.66 | 58.53 |
| RAJARSHI | gyq9f | MANDAL | 56 km | 18.40 | 204.28 |
| LAU SONG HWEE | heajs | SAM | 56 km | 15.94 | 15.94 |
| Eve | ira8 | Cheng | 56 km | 10.28 | 61.66 |
| Jasmine | jc2b7 | Tan | 56 km | 76.79 | 76.79 |
| LI YING | l6fia | CHEN | 56 km | 1.50 | 37.60 |
| Mei Hong | lackc | Tan | 56 km | 24.66 | 24.66 |
| Lim | mb95c | Wendi | 56 km | 108.03 | 108.03 |
| Earl | mcl89 | Lim | 56 km | 109.52 | 109.52 |
| CHIN HWEE LING | mplrx | EUGENIA | 56 km | 15.94 | 81.45 |
| Yap | n3blj | Meng Whye | 56 km | 29.38 | 59.72 |
| Choon Heng | n7eiq | Phua | 56 km | 59.28 | 59.28 |
| Andy | ny138 | Chang | 56 km | 34.48 | 374.49 |
| Chee Yooi | oeunf | Quah | 56 km | 20.00 | 59.90 |
| Lexin | onyim | Lee | 56 km | 28.50 | 49.02 |
| Lim | p3nc8 | Keegan | 56 km | 2.44 | 33.43 |
| Ajesh | p6gns | Ramakrishnan | 56 km | 11.33 | 19.17 |
| Idah | pvw0q | Hussin | 56 km | 15.22 | 107.10 |
| Yong | qaytl | Lily | 56 km | 57.55 | 57.55 |
| Aditya | qw2oc | Golchha | 56 km | 12.97 | 75.29 |
| Vivien | scazn | Goh | 56 km | 20.19 | 77.26 |
| Quek | swmqy | MONG SENG | 56 km | 34.81 | 271.07 |
| Michael | t8q6 | Leong | 56 km | 70.38 | 70.38 |
| Junichi | tewp7 | Notoya | 56 km | 76.24 | 76.24 |
| Jacqueline | tizma | Teo | 56 km | 13.39 | 59.49 |
| Tan | tw5vp | Kar Yen | 56 km | 63.00 | 63.00 |
| Paulna | uzkgo | Tan | 56 km | 49.84 | 72.18 |
| LEE ZI RUI | wxec2 | MATTHEW | 56 km | 15.94 | 81.45 |
| Yi Hui | zxwnn | Yong | 56 km | 15.97 | 220.72 |
| First Name | theregid | Last Name | Category | kmsupload | Total KMs Uploaded |
For questions regarding this event, please contact the organiser at: support@justrunlah.com / pa_ciyuancc@pa.gov.sg