Majulah Walk & Run 2020 (Virtual)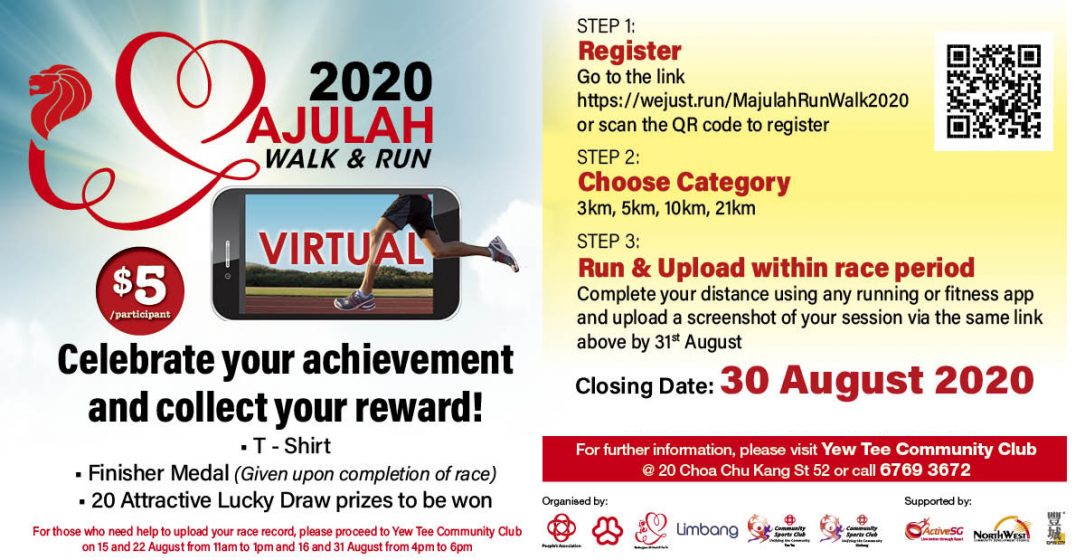 Register
Event Info
General information
To celebrate Singapore's National Day while keeping fit.
For participants who opted for self-collection of the entitlements, details are as such:
Date: 10 – 11 October 2020, Saturday and Sunday
Time: 11am to 6pm
Venue: Yew Tee Community Club (20 Choa Chu Kang St 52 #05-12 Singapore 689286)
日期: 2020年10月10日 至 11日(星期六至星期日)
时间: 从上午11点 至 下午6点
地点: 油池民众俱乐部 (20 Choa Chu Kang St 52 #05-12 Singapore 689286)
Available in:
Singapore
Entitlements ship from: Singapore
Option to choose self-collection of entitlements to save on postage charges
Important dates
Registration closes: 30 August 2020
Run period: Any time until 31 August 2020


You can upload any runs done within this period, regardless the date of your registration.

Upload closes: 31 August 2020
Shipping starts on: 10 October 2020
Categories and Fees
S$5* per pax
* Postage fee applies if option for shipping is selected
Distance validation:
What is a Virtual Run?
A virtual run is a race that you can complete at your own pace and time.
Virtual running works exactly the same as any other type of running but the difference is that the entered race can be run at any location, either outside or inside on a treadmill.
All you have to do is register for a race and provide evidence that you have done it. The evidence can be a screenshot of your running app, a photo of the treadmill screen etc. Do check out specific instructions of the event you join for more information.

Virtual races are a great way to stay fit and active all year round, run for good causes and get awesome medals and other entitlements for your participation!
Entitlements
Runner's entitlements
Race Apparel
Finisher Medal
Event apparel


Finisher medals

Upload
Leaderboard
| First Name | theregid | Last Name | Category | kmsupload | Total KM's Uploaded |
| --- | --- | --- | --- | --- | --- |
| Low | 023 | Swee Chin | 3 km | 8.75 | 24.28 |
| Chan | 024 | Mun Chai | 3 km | 4.03 | 4.03 |
| Ivor | 10ekw | Neo | 21 km | 15.25 | 33.25 |
| Lutfi | 12393a | Emir | 5 km | 7.50 | 7.50 |
| Ng | 12829a | Anne | 3 km | 11.22 | 11.22 |
| Gwek Beng | 12de9 | Tan | 3 km | 3.41 | 3.41 |
| Raman | 150rh | Ramasamy | 21 km | 21.01 | 21.01 |
| Jasmine | 17jgv | Tan | 10 km | 4.96 | 13.24 |
| Jennifer | 18njx | Leow | 21 km | 22.47 | 126.99 |
| Febe | 1k4gn | Ariente | 5 km | 5.50 | 5.50 |
| Lim | 1ksl6 | Sebastian | 21 km | 50.00 | 50.00 |
| Bok | 1oloq | Chik Yng | 10 km | 10.00 | 10.00 |
| Amanda | 1pjzv | Chee | 21 km | 6.11 | 36.24 |
| Hee Bock | 1tko | Chan | 21 km | 11.80 | 23.76 |
| Kelvin | 1uch4 | Seah | 21 km | 21.10 | 21.10 |
| Kelly | 1uvbb | Ng | 21 km | 26.60 | 26.60 |
| Mae | 1z2mo | Beldua | 21 km | 21.28 | 21.28 |
| Susan | 23lhj | Chai | 21 km | 5.34 | 31.07 |
| MUHADI | 28w3v | KAFFROWI | 21 km | 18.03 | 53.18 |
| Neha | 29fl0 | Jain | 21 km | 11.30 | 22.50 |
| Siew Choo | 2adyz | Tee | 10 km | 5.53 | 10.26 |
| Jimmy | 2f4re | Lim | 21 km | 7.04 | 147.07 |
| Boon Keong | 2fem9 | Tan | 21 km | 13.22 | 29.16 |
| Low | 2jjjz | Su Lian | 21 km | 21.27 | 21.27 |
| NG | 2nhle | HENG KIM | 21 km | 21.74 | 21.74 |
| Chye Seng | 2tk7t | Lee | 21 km | 25.51 | 25.51 |
| Paul | 2ycd8 | Tay | 21 km | 6.18 | 6.18 |
| Dakara | 2zhz1 | Albanna | 21 km | 5.25 | 24.30 |
| Charn | 37g6v | Ren Hui Ron | 5 km | 5.83 | 5.83 |
| Navpreet Kaur | 381c7 | Teji | 21 km | 2.24 | 24.18 |
| Vijaya Krishna | 3c108 | Maradana | 10 km | 12.70 | 12.70 |
| Steven | 3ih72 | Loo | 5 km | 8.61 | 8.61 |
| Johnson | 3mhi5 | Lee | 21 km | 29.31 | 29.31 |
| Ethan Lai | 3oba7 | Lai | 21 km | 6.09 | 24.66 |
| Gary | 3pwe9 | Wong | 21 km | 14.00 | 14.00 |
| Mayloon | 3v9av | Tan | 3 km | 3.28 | 3.28 |
| Pang | 3x0lo | Shan Shan | 21 km | 5.53 | 5.53 |
| Tayef | 4298-8410-4850-7636 | Quader | 5 km | 5.44 | 5.44 |
| Sixing | 43x9w | Ding | 5 km | 5.09 | 5.09 |
| Boong Kiau | 47h8t | Goh | 3 km | 3.01 | 3.01 |
| Valerie | 4aphe | Soh | 21 km | 1.55 | 21.54 |
| Jeyratnam | 4dgzh | Jeyaramanan | 21 km | 6.90 | 36.90 |
| Chee Ming | 4dxl1 | Tai | 21 km | 21.18 | 21.18 |
| Yu Jia | 4fmci | Ching | 10 km | 15.43 | 15.43 |
| Kwai Hoong | 4lbt0 | Puan | 3 km | 3.01 | 3.01 |
| Ton Hiang | 4nfnn | Lee | 3 km | 9.05 | 9.05 |
| Lim | 4qmm3 | Mui Yee | 21 km | 8.00 | 41.24 |
| Yan Peng | 4sysd | Lee | 10 km | 5.00 | 10.72 |
| Siti Nuraini | 4vrpc | Jumahat | 21 km | 6.60 | 28.50 |
| Nelson | 4w1ol | Leonardo | 21 km | 28.62 | 28.62 |
| Shrestha | 4wknt | Goswami | 5 km | 6.59 | 6.59 |
| Chee Wah | 4x0l5 | Wong | 21 km | 21.00 | 21.00 |
| Saravanan | 4x66 | Bala Supuru Maniam | 21 km | 10.00 | 50.00 |
| Edmund | 4y3g5 | Ong | 21 km | 24.13 | 24.13 |
| Raymond | 54k4n | Siatong | 10 km | 14.28 | 14.28 |
| HS | 59gel | TEJI | 21 km | 10.30 | 32.60 |
| Ian | 5aef5 | Tan | 21 km | 89.54 | 89.54 |
| ong | 5dudk | teng san | 21 km | 8.09 | 47.11 |
| Lawrence | 5jn3z | Gay | 21 km | 60.13 | 60.13 |
| Xin Yu | 5k0k5 | Neo | 21 km | 3.10 | 10.22 |
| Saw Wai | 5l0bb | Chee | 10 km | 10.40 | 10.40 |
| Xing | 5l7d8 | Meihua | 5 km | 5.50 | 5.50 |
| Patrick | 5l8ac | Koo | 5 km | 5.09 | 5.09 |
| Alfi | 5lod1 | Mohamed | 5 km | 5.49 | 5.49 |
| Beng Hock | 5lqb7 | Seow | 3 km | 8.16 | 8.16 |
| Pek | 5ot8a | Guan Meng | 10 km | 10.11 | 10.11 |
| Brenden Derrick | 5pkag | Nasol | 5 km | 7.70 | 7.70 |
| Johan | 5slzp | Tantono | 5 km | 5.66 | 5.66 |
| CHONG HENG | 5tqyd | LIM | 21 km | 21.99 | 21.99 |
| Ching Ling | 621tq | Ong | 3 km | 3.01 | 3.01 |
| Johnny | 62yk8 | Leong | 10 km | 7.23 | 22.93 |
| Rohaya | 63gcf | Samsi | 10 km | 11.04 | 11.04 |
| Woo | 646mq | Kum Leong | 10 km | 14.00 | 14.00 |
| Triffany | 66bti | Lim | 10 km | 8.08 | 8.08 |
| Danny | 67sw | Toh | 10 km | 10.03 | 10.03 |
| Joanne | 6axny | Tan | 5 km | 5.51 | 13.76 |
| Swee Kian | 6eb0q | Wong | 3 km | 3.01 | 3.01 |
| Stanley | 6jvsh | Kuan | 5 km | 6.06 | 6.06 |
| Ah Choose | 6kjl4 | Ann | 3 km | 3.01 | 3.01 |
| Chew | 6ojwq | Kong hooi | 3 km | 5.20 | 5.20 |
| Makarand | 6qlk7 | Kulkarni | 21 km | 21.96 | 21.96 |
| Cheng | 6v03j | Chin Hing | 5 km | 5.08 | 5.08 |
| Jolene | 6w2gu | Soo | 5 km | 5.48 | 5.48 |
| Siti Nuraishah | 71cpq | Abdul Malek Khan Suratte | 10 km | 6.91 | 6.91 |
| Chong | 75cid | Siew Chen | 5 km | 10.20 | 10.20 |
| Gabriel | 794j1 | Toh | 21 km | 5.00 | 55.00 |
| Soh | 7a5p3 | Angelin | 3 km | 3.50 | 3.50 |
| Chee Keen | 7ak53 | Yew | 10 km | 4.00 | 4.00 |
| Cai Nan | 7hbmk | Kwan | 21 km | 22.00 | 22.00 |
| JAGANNADHA RAO KONATHALA | 7k8a2 | SUBRAMANYA | 5 km | 6.50 | 6.50 |
| Trevor | 7kql9 | Tan | 10 km | 17.78 | 17.78 |
| Edmond | 7m5t6 | Looi | 3 km | 3.08 | 3.08 |
| Francis | 7mjgw | Goh | 21 km | 28.00 | 28.00 |
| Steven | 7nce7 | HUI | 21 km | 5.93 | 27.35 |
| Diana | 7pxy7 | Ang | 21 km | 5.00 | 25.00 |
| Eddie | 7qv73 | Rodriguez | 10 km | 11.10 | 11.10 |
| Anna | 7twnz | Khoo | 21 km | 10.31 | 10.31 |
| Jessie | 7ufro | Chong | 21 km | 10.45 | 23.75 |
| Wen zheng | 7vi66 | Soo | 3 km | 3.18 | 3.18 |
| Suneetha | 80wky | Abotula | 21 km | 6.41 | 62.39 |
| Rohaya | 81f5h | Samsi | 3 km | 5.20 | 5.20 |
| Deanna | 86qhf | Koh | 21 km | 24.93 | 24.93 |
| Danasundari | 883n5 | Karunamoorthy | 10 km | 11.01 | 14.00 |
| Muhammad | 88oec | Alfi | 5 km | 5.11 | 5.11 |
| Sor Chin | 8amz0 | Qwek | 21 km | 3.45 | 34.31 |
| Lai Pheng | 8dkx7 | Chee | 10 km | 6.97 | 20.21 |
| Alex | 8n5ia | Lee | 3 km | 5.00 | 5.00 |
| Darling | 8par6 | Murdijanto | 21 km | 5.76 | 14.62 |
| Sew Hyong | 8qh5v | Lim | 10 km | 15.80 | 15.80 |
| Rya | 8uhr0 | Rahman | 5 km | 4.48 | 8.41 |
| April | 8vkan | Cheong | 21 km | 7.50 | 23.00 |
| John | 8xevi | Yeong | 10 km | 15.10 | 15.10 |
| Jeffrey | 913ar | Baliad | 21 km | 10.41 | 65.17 |
| Salwa | 916jm | Abu Bakar | 10 km | 11.82 | 11.82 |
| huiying | 940ci | liu | 5 km | 5.00 | 5.00 |
| David | 9571n | Chong | 10 km | 10.02 | 30.72 |
| Teng Le Isaac | 96wcd | Yew | 3 km | 2.00 | 2.00 |
| Qiu Die | 97yue | Chen | 5 km | 5.00 | 5.00 |
| Ronald | 980cf | Deng | 21 km | 44.16 | 241.41 |
| Jenny | 9a53d | Yong | 5 km | 5.05 | 5.05 |
| Guoxiong | 9ab1u | Chen | 5 km | 7.57 | 7.57 |
| Wang | 9cj4b | Hong Chuang | 21 km | 6.31 | 28.18 |
| Sok Yee | 9ejsb | Yap | 5 km | 5.67 | 5.67 |
| Cun Ban | 9fntz | Lai | 5 km | 15.51 | 15.51 |
| Zaw Min | 9fy02 | Htike | 10 km | 10.03 | 10.03 |
| Goh | 9gvtj | Wee Teck | 10 km | 7.68 | 7.68 |
| Yaocheng | 9i42j | Ang | 21 km | 37.22 | 37.22 |
| Crispy | 9ia61 | Vallejo | 3 km | 4.70 | 4.70 |
| Pee Teck | 9j30b | Tan | 5 km | 8.26 | 8.26 |
| Vincent | 9o0cn | Lim | 10 km | 10.00 | 10.00 |
| Xuan Zheng | 9ry7y | Lim | 21 km | 24.00 | 24.00 |
| Jock Par | 9trgy | Tan | 5 km | 5.00 | 5.00 |
| Thomas | 9uob7 | Toh | 10 km | 4.50 | 9.00 |
| Haslina Eliza | a2777 | Hamzah | 21 km | 23.11 | 28.71 |
| Roger | a2c8w | Devadas | 5 km | 6.01 | 6.01 |
| Chan Myae | a35uf | Naing | 10 km | 14.50 | 14.50 |
| Chelsea | a4cfo | Lim | 21 km | 35.63 | 189.42 |
| Loo | a59oq | Kum Pang | 21 km | 45.00 | 45.00 |
| Muhd | a6f8j | Hidayat | 5 km | 6.00 | 6.00 |
| Chika | ac0ic | chix | 21 km | 65.19 | 65.19 |
| Giner | agr0e | Tan | 5 km | 5.02 | 5.02 |
| Clovis | agvt6 | Choo | 21 km | 5.02 | 15.29 |
| Heidi | ap6bl | Bayla | 5 km | 5.50 | 5.50 |
| Yuet Oi | ap882 | Chow | 21 km | 11.10 | 85.28 |
| Lin Chun | aqoe | Wong | 3 km | 4.98 | 4.98 |
| Chew | aqwed | Kok Hwa | 5 km | 5.50 | 5.50 |
| Azel | az223 | Khoo | 21 km | 4.20 | 31.78 |
| Alvin | b1zku | Teo | 21 km | 28.73 | 57.46 |
| Lorbert | b24pn | Tay | 21 km | 21.12 | 21.12 |
| William | b51ep | Koh | 5 km | 5.80 | 5.80 |
| Hiang mor | balop | Heng | 21 km | 37.01 | 37.01 |
| David | bj76k | Wang | 21 km | 17.32 | 28.46 |
| Ng | bl094 | Pei Din | 21 km | 18.02 | 135.10 |
| Joey | blm3w | Cho | 5 km | 5.41 | 5.41 |
| Eric | bphlt | Low | 21 km | 5.55 | 32.95 |
| Aarav | c1xkm | Mitra | 3 km | 3.09 | 3.09 |
| JULIA | c5r1y | TAN | 3 km | 1.14 | 4.71 |
| Leah | c9y7n | Aguilar | 10 km | 6.47 | 12.91 |
| Simon | ccooc | Koh | 21 km | 23.88 | 23.88 |
| TC | Cd91i | Chan | 5 km | 5.49 | 5.49 |
| Edmund | ckkz0 | Yiow | 5 km | 5.70 | 5.70 |
| Daniel | cklif | Gan | 21 km | 6.03 | 38.15 |
| Patrick | cleyx | Lee | 21 km | 5.11 | 16.74 |
| Simon | cmbau | khooni | 21 km | 22.28 | 22.28 |
| David | crb1m | Seah | 21 km | 6.00 | 6.00 |
| Swee Keow | crivi | Chen | 3 km | 3.01 | 3.01 |
| Usha | cslv5 | Ulaganathan | 21 km | 7.00 | 27.00 |
| TOH | ct5gc | CHIN HIN | 21 km | 23.33 | 59.71 |
| TAN | cuqb7 | AH TECK | 21 km | 21.36 | 21.36 |
| Benson | d09zp | Tan | 5 km | 7.32 | 7.32 |
| Dhivya | d15aa | Ulaganathan | 10 km | 10.00 | 10.00 |
| Nadia | d2l4h | Nasser | 21 km | 3.79 | 32.56 |
| Steven | d2qbk | Ong | 5 km | 5.87 | 5.87 |
| Winnie | d74bl | Tong | 10 km | 10.00 | 10.00 |
| Nilam | dadpl | Abdul Wahab | 3 km | 4.96 | 4.96 |
| Toh | dbju0 | Ban choon | 10 km | 9.24 | 11.50 |
| Rajesh Murali | ddfin | Rajan | 10 km | 6.71 | 13.62 |
| Ma. Theresa | df3yk | Adversalo | 21 km | 6.35 | 27.09 |
| William | dl5lw | Muk | 21 km | 10.01 | 102.39 |
| Badrul | dqdth | Hisham | 21 km | 21.60 | 21.60 |
| Suan Seng | dwcyj | Tan | 21 km | 72.81 | 72.81 |
| TANISHQ | dxjz | BATCHANABOYINA | 21 km | 2.80 | 51.90 |
| valeria | dymwn | choo | 5 km | 5.00 | 5.00 |
| chew Ming | e1n8k | Kho | 21 km | 28.35 | 50.91 |
| Lin seng | e8i7b | Wong | 5 km | 2.50 | 2.50 |
| Lizabeth | eaz3t | Dellosa | 10 km | 10.00 | 10.00 |
| Mei yee | eceje | Loke | 21 km | 29.10 | 29.10 |
| Doris | ecl6a | Lee | 21 km | 6.75 | 30.70 |
| JACKY | edmpt | Tan | 10 km | 10.30 | 10.30 |
| Evelyn | eh5xj | KHOO | 21 km | 26.26 | 26.26 |
| Keng Meng | ejr0e | Khoo | 21 km | 41.64 | 191.97 |
| Chung | ejw2c | Soon Sing | 21 km | 6.00 | 21.00 |
| Sui Siew | emnni | Chen | 3 km | 10.70 | 10.70 |
| Arnel | epprk | Aguilar | 10 km | 6.56 | 6.56 |
| Siew Moi | es3y3 | Lee | 5 km | 8.90 | 8.90 |
| Gaik Hooi | eujx9 | Liang | 21 km | 25.00 | 50.00 |
| Mary Jane | ey1kx | Javier | 21 km | 21.00 | 21.00 |
| Indukuri | f3jvv | Sravya | 21 km | 3.00 | 35.80 |
| SIVANNARAYANA | f8fdz | BATCHANABOYINA | 21 km | 4.47 | 31.92 |
| Jessie | Ff6cj | Looi yin mei | 5 km | 20.00 | 20.00 |
| Yee | fgx69 | Earn Chau | 21 km | 14.00 | 24.00 |
| Weisi | fjnf7 | Chow | 21 km | 29.30 | 29.30 |
| Kendrick | fjsvw | Seah | 21 km | 22.90 | 22.90 |
| Palusami | fkds0 | Navaneethak kannan | 10 km | 10.00 | 10.00 |
| Indukuri Venkata | fnx3d | Subba Raju | 21 km | 2.60 | 85.50 |
| Julia | fsewl | Tan | 10 km | 7.75 | 10.90 |
| Lay Kuan | fy0s0 | Sim | 5 km | 12.01 | 48.38 |
| Mee Lan | fzybq | Yow | 3 km | 3.01 | 3.01 |
| Emily | g1n84 | Choo | 5 km | 5.69 | 34.31 |
| Roi | g8uf3 | Tai | 21 km | 22.20 | 22.20 |
| Sirong | ge5ru | Lee | 21 km | 9.10 | 38.70 |
| Kelly | ggsvq | Ng | 3 km | 3.02 | 3.02 |
| Chor Kheng | gh0vt | Goh | 5 km | 5.24 | 5.24 |
| Javier | glggo | Teo | 3 km | 2.94 | 4.74 |
| Joseph | glt7h | Chee | 21 km | 22.16 | 22.16 |
| Pei Shan | gms2k | Chan | 21 km | 21.33 | 21.33 |
| Mohamed Juraimi | gouzr | Abdul Muhin | 5 km | 5.00 | 5.00 |
| Cindy | gp483 | Chua | 3 km | 5.00 | 5.00 |
| Francis | gr38l | Lim | 5 km | 5.19 | 8.69 |
| Mohamed Faizal | guj2w | Syed Mohamed | 5 km | 9.85 | 9.85 |
| MUHAMMAD ZAKI | gvow6 | SOLIHID | 21 km | 5.00 | 11.00 |
| Ming Lee | gwb7a | Teng | 21 km | 5.00 | 23.00 |
| Dave | gzhl3 | Ong | 10 km | 16.95 | 82.01 |
| Chee Eng | h2e6y | Goh | 3 km | 3.01 | 3.01 |
| Ray | h7q33 | Villahermosa | 21 km | 5.00 | 97.93 |
| Eng Hwee Philip | h8uwl | Ong | 21 km | 6.15 | 94.39 |
| Mycel | h8yc9 | Belmonte | 21 km | 28.45 | 28.45 |
| Lin Eng | hbiec | Ong | 5 km | 2.50 | 2.50 |
| Tan | hhglm | Kwee Hoe | 5 km | 6.00 | 33.42 |
| Lim | hi4jg | Yenleng | 5 km | 3.87 | 8.48 |
| Quee Muay | hmvsq | Lee | 21 km | 5.76 | 34.75 |
| Lee | hoxb7 | Chee Wei | 3 km | 3.27 | 3.27 |
| PANG | hpp1 | Victor | 21 km | 33.32 | 72.33 |
| Susan | hr3h0 | kay | 10 km | 14.19 | 14.19 |
| Nithyananda | huqv7 | Hegde | 21 km | 21.00 | 21.00 |
| Aslindah | hw5uj | Yunus | 10 km | 10.00 | 10.00 |
| Adi | i2kg6 | Sazali | 5 km | 6.02 | 6.02 |
| Josella | i6zgy | Cheng | 21 km | 2.27 | 63.08 |
| Anjera | i7vcy | Katori | 21 km | 5.14 | 69.23 |
| Kevin | i98x | Ow Yong | 3 km | 11.23 | 11.23 |
| Vincent | i9rrh | Seet | 10 km | 41.00 | 41.00 |
| henry | ia0bz | tan | 21 km | 36.49 | 36.49 |
| Peng Leong | idyi8 | Lee | 5 km | 6.38 | 6.38 |
| Suat Yan | if2fi | Ang | 3 km | 2.37 | 2.37 |
| Woei Jiun | iflfe | Fong | 21 km | 16.74 | 16.74 |
| Siew Eng | igu4i | Ong | 3 km | 6.50 | 6.50 |
| Joshua Timothy | ij1pc | Ong | 21 km | 3.38 | 3.38 |
| Melvin | inl36 | Leyson | 10 km | 11.04 | 11.04 |
| Dictador | ipyec | Chavez | 21 km | 5.30 | 10.74 |
| Sim | iu5tj | Kah Wah | 21 km | 39.85 | 39.85 |
| Chan | izp4j | Chee Yoong | 3 km | 4.24 | 4.24 |
| Leng Seng | j6tjx | Ang | 21 km | 6.47 | 39.20 |
| Naw Ehe | j7cbw | Htoo | 21 km | 28.34 | 110.56 |
| Siew Khim | jal39 | Woo | 5 km | 5.00 | 5.00 |
| Koon Kok | jd4on | Khoo | 21 km | 22.00 | 22.00 |
| Vincent | joqag | Quek | 21 km | 6.07 | 24.21 |
| Rafert Ram | jozez | Dina | 10 km | 5.33 | 8.45 |
| Jane | jq8gl | Koh | 21 km | 7.19 | 22.49 |
| Jocelyn | jue59 | Ventenilla | 21 km | 21.76 | 21.76 |
| Srinivasulu | jv1m | Aitipamula | 10 km | 41.11 | 50.28 |
| Sonia | jx8rl | Khanna | 21 km | 6.91 | 18.57 |
| Foong | k2898 | Sharon | 21 km | 5.10 | 26.10 |
| Kwok Pheng | k29nm | Loh | 21 km | 5.07 | 15.61 |
| Chua | k4s9x | Hock Seng | 5 km | 3.10 | 10.31 |
| Wei Seng | kc6el | Chew | 21 km | 22.13 | 22.13 |
| Lee Kooi | kdfhp | TAN | 21 km | 32.33 | 32.33 |
| Mahalani | kgqcm | Huab | 21 km | 2.54 | 42.45 |
| Chengrong | khb74 | Yeo | 10 km | 1.70 | 1.70 |
| Hsi Min Amy | khnl7 | Huang | 21 km | 7.57 | 39.64 |
| Lee Teng | khxss | Tan | 10 km | 10.11 | 10.11 |
| LIZAWATI | kkmqr | MOHAMMAD | 3 km | 4.05 | 4.05 |
| Lai Gek | kppu0 | Yeo | 3 km | 4.29 | 4.29 |
| CHER KIANG | ktruf | POH | 21 km | 34.33 | 34.33 |
| Rahimah | l2hbf | Ismail | 3 km | 3.91 | 3.91 |
| Soon Teck | lbc9b | Tan | 21 km | 6.10 | 80.61 |
| Seow Beng | lc6jt | Lim | 21 km | 62.94 | 62.94 |
| Jun Kiat | lddrn | Yeo | 10 km | 16.44 | 16.44 |
| Krist | liw0t | Toh | 5 km | 5.50 | 5.50 |
| Jensen | ljaun | ang | 3 km | 3.35 | 3.35 |
| ROSE MILAHWATI | lk2iw | WANSI | 10 km | 10.00 | 10.00 |
| Hui En | lkjbo | Ng | 10 km | 3.02 | 10.89 |
| Sakktivel | lmndd | Elangovan | 21 km | 8.24 | 33.16 |
| Nelly | ln48h | Taharuddin | 21 km | 50.00 | 50.00 |
| Raymond Tay | lqck9 | Boon Cheng | 10 km | 10.04 | 10.04 |
| Irene | lquyj | Lee | 21 km | 7.12 | 46.52 |
| Wayne | ls835 | Tan | 3 km | 10.78 | 10.78 |
| Wendy | ltgqj | Neo | 21 km | 11.00 | 159.10 |
| Lily | m9nym | Yong | 21 km | 21.13 | 21.13 |
| Jonathan | mdhsb | Chin | 5 km | 7.31 | 7.31 |
| Siew Wei | mlwdb | Tay | 10 km | 3.57 | 10.65 |
| Chew | mnw4x | Eng lee | 3 km | 3.02 | 3.02 |
| Naveen Kumar | mo5h8 | Rajaharia | 3 km | 3.50 | 3.50 |
| Kay Miang | mpz9q | Vincent Teo | 5 km | 5.43 | 10.86 |
| Isaac Raymond | mqy6q | Yong | 21 km | 26.53 | 26.53 |
| Jaybee | mr64w | Bulanhagui | 21 km | 47.56 | 104.17 |
| Ben | mu4pj | yeo | 21 km | 9.10 | 54.21 |
| David | muhio | Seah | 21 km | 22.00 | 51.00 |
| Kok Ying | mut01 | Chung | 3 km | 3.01 | 3.01 |
| Soo Kwang | mw0jv | Lau | 21 km | 12.33 | 140.02 |
| Shiela Cory | mw6e3 | Sacayanan | 10 km | 23.44 | 23.44 |
| Kushala | mwttk | Hegde | 21 km | 22.00 | 22.00 |
| Carrie | mxc4s | Too | 21 km | 29.84 | 29.84 |
| Sim | mzg6q | Chor Khiang | 3 km | 3.73 | 3.73 |
| Yilin | n29g7 | Seah | 5 km | 2.50 | 2.50 |
| Jeffrey | n2lv0 | Lean | 21 km | 31.97 | 31.97 |
| Susan | n5zj | Lim | 5 km | 8.87 | 8.87 |
| wong | n8szd | shanntsair | 21 km | 11.02 | 22.02 |
| Jasper Liow | nbew3 | Yoon Foh | 21 km | 3.66 | 35.42 |
| Benedict | nbkns | Nasol | 5 km | 7.70 | 7.70 |
| Chaw | nd6me | Soon Heng | 5 km | 5.00 | 5.00 |
| Faiz | nemn0 | Aman | 21 km | 21.00 | 42.00 |
| Muhammad | nf5yw | Ridha | 21 km | 6.00 | 45.42 |
| Calin | nhoj1 | Tan | 21 km | 13.11 | 157.83 |
| Lai Fung | ni2cz | Looi | 21 km | 29.70 | 29.70 |
| Shujuan | nijhb | Zheng | 21 km | 27.57 | 27.57 |
| Emily | Nngcy | Foong | 21 km | 13.81 | 49.23 |
| KEVIN | nnwjq | LONG | 21 km | 1.28 | 23.28 |
| Jacqueline | nu246 | Tan | 10 km | 10.15 | 10.15 |
| SINGARAYAR | o2afn | CLEETRUSE GEETHAN | 5 km | 10.86 | 10.86 |
| Jenny Rose | o5ac | Dupaloc | 21 km | 17.71 | 17.71 |
| Jem | o5vat | Lim | 10 km | 10.50 | 10.50 |
| Serene | o8bn5 | Lee | 21 km | 14.98 | 14.98 |
| Kim Huay | o9ct1 | Toh | 3 km | 3.01 | 3.01 |
| Juwiana | oc8wh | Masnawi | 21 km | 5.14 | 25.72 |
| Rosa | ofa99 | rosa | 3 km | 4.86 | 4.86 |
| Kelver | oi2mm | choo | 21 km | 42.00 | 84.33 |
| Steven Neo | okh3a | Chye Hock | 21 km | 3.00 | 15.41 |
| Weiying | ondve | Lee | 3 km | 12.80 | 23.63 |
| Lim | oonq7 | Boon Keng | 21 km | 6.06 | 12.11 |
| Yah Lee | otpjf | Ng | 5 km | 6.87 | 16.72 |
| Hwee Leck | ox4jw | Tay | 3 km | 9.10 | 9.10 |
| Rene | oy9ma | Wong | 5 km | 12.80 | 12.80 |
| Jeffy | ozlrr | Soh | 21 km | 32.80 | 32.80 |
| Joyce | oztw | Chang | 3 km | 3.00 | 3.00 |
| Peiyi | p645r | Tang | 10 km | 6.00 | 15.21 |
| Jane | p7stx | Gabinete | 21 km | 25.00 | 50.00 |
| Siew Yoke | pgass | Tan | 3 km | 3.27 | 3.27 |
| Seng Poh | pjaro | Pang | 21 km | 25.27 | 25.27 |
| Pauline Ooi | plmqq | Poh Ling | 21 km | 21.38 | 21.38 |
| Cynthia | pm1i8 | Ngow | 10 km | 10.00 | 10.00 |
| wawan | pts8b | setiawan | 21 km | 53.75 | 57.70 |
| Ann | pvxke | Lee | 21 km | 63.02 | 211.90 |
| Susan | pycw2 | Chew | 3 km | 3.00 | 3.00 |
| Patsamatla | pze9m | Swapnamanju | 21 km | 2.30 | 44.20 |
| choon lee | q4ktt | liew | 21 km | 21.51 | 21.51 |
| Fey | q7jp6 | Yap | 5 km | 8.42 | 8.42 |
| Mohammad | qayky | Nazzron | 5 km | 5.56 | 5.56 |
| Mohamed Osman | qh2xy | Mohamed Noor | 5 km | 6.00 | 6.00 |
| Pauline | qk46s | Tan | 5 km | 5.40 | 5.40 |
| Pei Wei | qkvf9 | Tey | 5 km | 10.74 | 21.48 |
| David | qpnya | Goh | 21 km | 60.24 | 60.24 |
| Mani | qszev | Avvaru | 21 km | 20.17 | 90.74 |
| Jesudhanusamy | qvbf3 | Puthumai antonysamy | 21 km | 23.28 | 23.28 |
| Abdul | qwa3q | razak | 21 km | 7.15 | 33.24 |
| Kumutha | qx5av | Periasamy | 21 km | 27.61 | 27.61 |
| Ce Wei | qxp0w | Foo | 21 km | 5.90 | 35.45 |
| Leslie | qyfmz | Enriquez | 5 km | 5.50 | 5.50 |
| YUHAN | qyrqb | ONG | 21 km | 3.38 | 3.38 |
| Arshad | r5aka | Salleh | 10 km | 10.00 | 10.00 |
| Ai Kim | r615v | KHOO | 21 km | 3.52 | 31.66 |
| Jeffrey | rdc3c | Tay | 10 km | 3.08 | 11.15 |
| Geremie | rh4mo | Rubiano | 21 km | 2.75 | 154.89 |
| Hing | rk06f | Mei Cheng | 3 km | 14.15 | 14.15 |
| Junita | rldg5 | Wahid | 21 km | 5.23 | 21.90 |
| Hong Giap | rlflo | New | 21 km | 48.46 | 48.46 |
| Li Ping | rlofs | Pang | 10 km | 10.24 | 10.24 |
| Mohamed Haris | rosjy | Areekadan | 21 km | 12.14 | 22.33 |
| KIAN KIAT | rtffn | YEONG | 21 km | 6.00 | 6.00 |
| Martina Letha | rttee | D'Cruz Thomas | 21 km | 19.07 | 106.87 |
| Jesmine Ng | ryh3q | Thin Ee | 5 km | 5.00 | 5.00 |
| Yong Wah | s03v2 | Yap | 21 km | 33.60 | 33.60 |
| Johnny | s1v77 | Lu | 10 km | 10.01 | 10.01 |
| Nor Dilah | s8xjl | Jumaat | 5 km | 7.00 | 7.00 |
| Ling Ling | sacqw | KUET | 21 km | 69.37 | 69.37 |
| Norfazaliza | sbalc | Mohd Taib | 21 km | 6.60 | 6.60 |
| Chee Keong | sf4dm | Sng | 21 km | 21.93 | 32.46 |
| Bryan | sk678 | Bu | 21 km | 53.98 | 53.98 |
| Stanley, Yunn Sian | sl5fa | lee | 21 km | 14.01 | 28.02 |
| Swee Ling | soq5l | Fong | 21 km | 25.00 | 25.00 |
| Yow Shu | sqyi8 | Ng | 21 km | 5.00 | 21.00 |
| Stanlay | str9v | Irawan | 21 km | 109.88 | 295.86 |
| Rosie | stuf | Valeriano | 10 km | 10.00 | 10.00 |
| Tan | svep7 | Keng chuan | 3 km | 7.96 | 7.96 |
| Teo | sy3h | Lee Kiang | 21 km | 5.00 | 22.15 |
| Fadhil | syqho | Machdy | 5 km | 7.50 | 7.50 |
| Zhenxiong | t07a | Wang | 21 km | 22.12 | 72.24 |
| Janiz | t0hii | Hui | 3 km | 3.00 | 3.00 |
| Cindy | t5b37 | Ding | 3 km | 5.33 | 5.33 |
| Benilyn | t6q3h | Menor | 10 km | 10.00 | 10.00 |
| Lata | t8ya4 | Shrestha | 21 km | 3.20 | 13.50 |
| Kee Leng | t91th | Chua | 21 km | 5.00 | 21.40 |
| Saran | tb7sa | Saminathan | 21 km | 10.14 | 83.51 |
| Yan Shyong | td8yh | Lee | 10 km | 3.02 | 11.26 |
| Aziz | thtli | Bin Rahmat | 5 km | 5.23 | 5.23 |
| Mohammad | tn1ef | Jamaludin | 21 km | 13.46 | 90.00 |
| Diana Lynn | toa32 | Nasol | 5 km | 7.60 | 7.60 |
| May Chai | tooq8 | Chai | 21 km | 13.00 | 23.00 |
| Asha | tp6y6 | Ajai kumar | 21 km | 12.13 | 12.13 |
| ELIZALDE | u08bj | JACOBE | 21 km | 8.15 | 42.90 |
| Mee Jee | u0z2u | Foo | 5 km | 8.00 | 8.00 |
| Jeannylyn | u5jlq | Cumpa | 21 km | 7.54 | 27.27 |
| KALIANNAN | u7cvf | CHANDRAMOHAN | 5 km | 5.50 | 5.50 |
| Peggy | udz93 | Chew | 5 km | 5.00 | 5.00 |
| Nerissa | uetfb | Serrano | 21 km | 15.04 | 61.40 |
| Hwee Ngoh | uhn6m | Lim | 21 km | 23.25 | 23.25 |
| Ireneo Jr. | uhukl | Niebres | 5 km | 5.20 | 5.20 |
| Lim | unea6 | Yu Lee Steven | 5 km | 5.00 | 5.00 |
| Kim boon | uo7cz | tan | 10 km | 10.13 | 27.91 |
| Kok chew | upyh3 | Toh | 21 km | 25.28 | 124.50 |
| Yi Lei | uq3p | Ang | 5 km | 6.53 | 27.44 |
| Vaibhav | utawn | Kumar | 21 km | 15.09 | 105.14 |
| Lex | uw9pu | LIN | 21 km | 29.78 | 29.78 |
| Kiaan | uwftp | Rajaharia | 3 km | 3.58 | 3.58 |
| Kian Han | ux5ow | Ong | 10 km | 10.80 | 10.80 |
| Melchi Cloyd | v4b5g | Aballe | 10 km | 10.35 | 10.35 |
| HweeKok | v4di1 | Ong | 21 km | 16.00 | 266.60 |
| See Hong | vfmgz | Kua | 21 km | 14.19 | 25.08 |
| Jon Bryan | vgekr | Gusto | 21 km | 10.48 | 15.73 |
| Low | vklrc | Siang Bak | 21 km | 11.12 | 11.12 |
| TAN | vnkb8 | JANICE | 21 km | 2.64 | 24.66 |
| KEE KEE | vnme4 | LEE | 21 km | 23.69 | 23.69 |
| Pravin | vp1e7 | G | 21 km | 26.26 | 26.26 |
| Junhan | vphil | Ding | 5 km | 5.09 | 5.09 |
| Mui Geok | vq4lf | Puang | 10 km | 12.60 | 24.60 |
| Kyaw Kyaw | vq5j7 | Linn | 21 km | 20.94 | 111.94 |
| Zenny | vrv8k | Poh | 10 km | 13.00 | 13.00 |
| Kelly | vs55y | Lim | 5 km | 7.13 | 7.13 |
| Suzanne | vsd6b | Lim | 21 km | 6.00 | 40.58 |
| Avril | vuzb9 | L | 5 km | 6.60 | 6.60 |
| Soon huat | w659z | Wong | 5 km | 3.73 | 6.23 |
| Yong Quan | w8rkg | Yeo | 21 km | 21.48 | 21.48 |
| Sri | whfei | Nurhati | 21 km | 5.99 | 76.49 |
| Ronivic | wjkj3 | Contacto | 5 km | 5.51 | 5.51 |
| Poh choo | wkppf | lim | 21 km | 48.21 | 48.21 |
| Sundeep | wldtc | Khanna | 21 km | 38.00 | 83.43 |
| Joel | wpxvo | Teng | 21 km | 21.31 | 21.31 |
| Poh Tin | wsgi8 | Lee | 3 km | 3.01 | 3.01 |
| Michael | wviab | Villegas | 21 km | 5.10 | 17.70 |
| Iskandar | wxw8b | Mahmood | 5 km | 5.27 | 5.27 |
| KHIN | wyceg | MYINT | 21 km | 10.04 | 85.99 |
| Kai En Ariel | x8x9b | Yew | 3 km | 2.00 | 2.00 |
| Alice | x95pz | Tay | 21 km | 11.00 | 72.73 |
| Yong Hann | x9zun | Ong | 3 km | 3.55 | 3.55 |
| Justin | xbmzf | Buatis | 21 km | 79.64 | 176.91 |
| han ip | xdcne | kim | 10 km | 10.65 | 10.65 |
| Kelly | xe1ah | Hong | 21 km | 9.03 | 26.02 |
| Ang Geok Lian | xg70e | Annie | 5 km | 6.00 | 14.00 |
| Yee Ping | xoz6t | Teng | 21 km | 7.40 | 57.21 |
| Christopher | xqd44 | Marc | 5 km | 2.38 | 2.38 |
| Wee | xqs1o | Lee Sun | 10 km | 16.60 | 16.60 |
| Yubaraj | xtuy7 | Shrestha | 21 km | 14.70 | 22.15 |
| James | xxae1 | Boen | 21 km | 9.32 | 93.44 |
| Simon | y2k4h | Tam | 21 km | 15.67 | 117.78 |
| Josephine | y33jc | Lim | 5 km | 13.71 | 13.71 |
| Evangelin | y3gip | Tan | 5 km | 1.79 | 1.79 |
| Sin Sin | y70p0 | Seow | 3 km | 8.00 | 8.00 |
| Kevin | y8ruv | Kang | 21 km | 36.13 | 36.13 |
| Mandy | y9bxp | Tan | 21 km | 5.00 | 15.00 |
| Felicia | yliar | Choy | 21 km | 11.38 | 145.12 |
| eddy | yn38d | iskandar | 10 km | 12.32 | 12.32 |
| Lorena | yo0bm | Martin | 21 km | 27.30 | 27.30 |
| Tze Khang | yo0pu | Lim | 3 km | 3.94 | 3.94 |
| Darric | ypic3 | Tan | 21 km | 24.00 | 24.00 |
| Janice | ys9bu | Lim | 21 km | 29.42 | 29.42 |
| Katherine | z022j | Mah | 21 km | 44.14 | 106.55 |
| Yap | z3fyh | Song Ling | 10 km | 5.70 | 13.26 |
| Chin Ho | z5l9p | Lim | 21 km | 21.27 | 21.27 |
| Lim | z5sys | Soh San | 21 km | 41.78 | 41.78 |
| Xin Hui | zaohj | Khoo | 10 km | 10.39 | 10.39 |
| Tao | zawvl | Yan | 21 km | 22.28 | 22.28 |
| Low | zccp5 | Kim Joo Vincent | 21 km | 13.00 | 54.00 |
| Zhan Yang | zjzns | Lim | 5 km | 5.60 | 15.61 |
| Mariz | zl8ji | Alonzo | 21 km | 21.27 | 21.27 |
| Timothy | zmrlk | Chua | 21 km | 64.99 | 64.99 |
| Esther | znx0j | Trinidad | 10 km | 11.28 | 11.28 |
| Shufang | zp8ci | Ho | 10 km | 4.75 | 9.25 |
| Toni Rose | zpese | Cordero | 5 km | 5.23 | 5.23 |
| Cynthia | zroof | Tng | 5 km | 10.91 | 10.91 |
| Ling In | zrrix | Yap | 3 km | 8.20 | 8.20 |
| Mike | zugpd | Toh | 5 km | 7.43 | 7.43 |
| Joo Kim | zvb8n | Low | 3 km | 3.01 | 3.01 |
| Kyaw | zyo8z | Win Tun | 21 km | 1.30 | 24.70 |
| Wilfred | zyymg | Yiow | 3 km | 3.20 | 6.40 |
| Anthony | zz3ie | Png | 21 km | 21.10 | 94.00 |
| First Name | theregid | Last Name | Category | kmsupload | Total KM's Uploaded |
For questions regarding this event, please contact the organiser at: support@justrunlah.com / Majulahwalkrun@gmail.com