Move to Beat Parkinson Virtual Charity Run 2021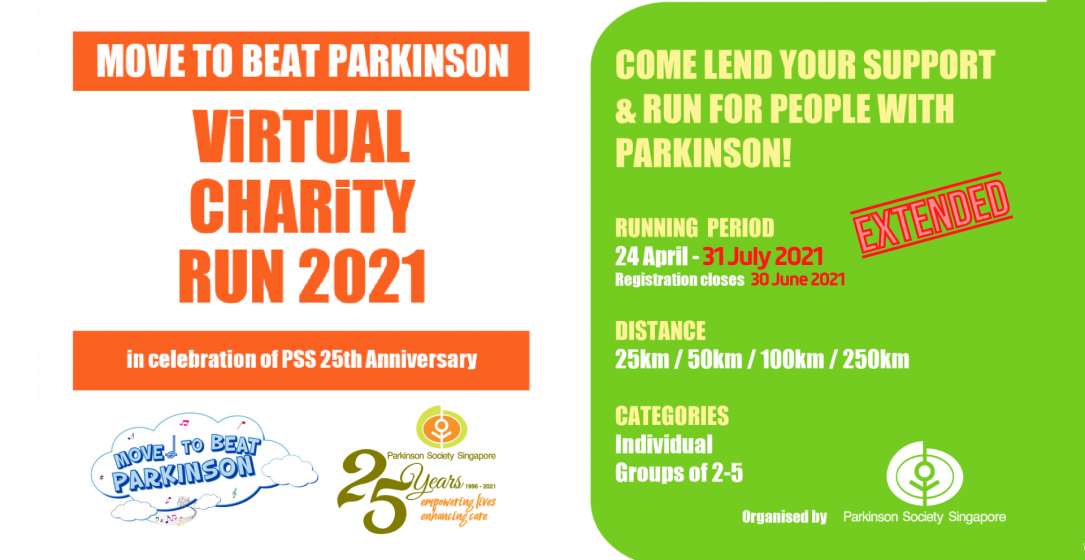 Register
Registration is no longer available. Thank you.
Event Info
General information
Parkinson Society Singapore (PSS)'s annual outreach event is back! "Move to Beat Parkinson" returns in PSS' inaugural virtual charity run in celebration of our 25th Anniversary!
Join us as an individual or gather your family and friends in groups of 2 to 5 to complete either 25km, 50km, 100km or 250km in support of People with Parkinson in Singapore.
Regular exercise is key for People with Parkinson (PwP) to help them maintain their balance, mobility, and ability to perform daily activities.  So come encourage PwP to stay active and positive!  Run, jog, or walk the distance at your own time, own pace, and remember to use the hashtag #PSS25for25 on social media to show your support for our local Parkinson community.
Cheer Them On!
Many of us easily take the blessing of being able to run, jog and walk for granted, whilst People with Parkinson (PwP) make a lot of effort to run, jog and walk.
The second most common neurodegenerative disorder in Singapore, Parkinson is long-term and causes difficulties in initiation, coordination and control of movements such as standing up and walking. Imbalance and falls are also common and may lead to injuries. As movement becomes difficult, PwP are therefore prone to become inactive, resulting in declining strength, joint flexibility and fitness levels.
There is currently no cure for Parkinson, but staying active and regular exercise on top of medication, healthy diets, staying hydrated and getting adequate sleep are ways People with Parkinson can improve their health and well-being, preserve physical function, ease symptoms and enhance the quality of life.
Join us in cheering PwP on as they face their daily challenges on their Parkinson journey.
Your generous donations will help us continue providing physiotherapy classes as well as other exercise classes such as adapted kickboxing, Tai Chi, yoga, and many more socio-recreational activities to better serve the local Parkinson community.
How You Can Run & Raise Funds in Support of People with Parkinson!
After you register for the Virtual Charity Run 2021, you can create your own fundraising campaign on Giving.sg platform.  Simply follow the instructions in our step by step guide here.
Be sure to share your fundraising page with your friends, family, or colleagues.
Tell everyone you're running for Move to Beat Parkinson – Virtual Charity Run 2021.
Run and share your progress of your runs with a message and link to help spread the word.
Alternatively, you can simply share this link on your social media each time you update your progress:  https://www.giving.sg/parkinson-society-singapore/mtbp_virtual_charity_run_2021
Questions? Do drop us an email at PSS25@parkinson.org.sg and we will get back to you as soon as we can.
Entitlements Collection Method
1) Free self-collection at Parkinson Society Singapore
Dates: 18-21 August 2021
Time: 4pm to 7pm (except 21 August Saturday, which is 11am to 2pm)
Address: Blk 191, Bishan Street 13, #01-415, Singapore 570191 (opposite Bishan Bus Interchange)
2) With shipping*
S$6 per team per address via postal mail
* Entitlements ready date is subject to change
Event available in:
Singapore
Entitlements ship from: Singapore
* Entitlements ready date is subject to change
Important dates
Registration has closed:
Event period: 24 April 2021 until 31 July 2021


You can upload any sessions done within this period, regardless the date of your registration.

Upload closes: 6 August 2021
Shipping starts on: 18 August 2021
Categories and Fees
Virtual
25 km
50 km
100 km
250 km
25km / 50km / 100km / 250km
- Can be completed cumulatively between 24 April and 31 July 2021
Individual: S$20*
Group (2-5pax): S$80*
* Price excludes payment and processing fee
Completion:
What is a Virtual Challenge?
A virtual challenge is a race that you can complete at your own pace and time.
Virtual challenge works exactly the same as any other type of sports events (e.g. running or cycling) but the difference is that the entered race can be completed at any location, either outdoors or indoors on a machine.
All you have to do is register for a race and provide evidence that you have done it. The evidence can be a screenshot of your running/fitness app, a photo of the machine screen etc. Do check out specific instructions of the event you join for more information.

Virtual races are a great way to stay fit and active all year round, run for good causes and get awesome medals and other entitlements for your participation!
Upload
Uploading has closed.
You can contact the organiser at: support@justrunlah.com / PSS25@parkinson.org.sg
Thank you.
Entitlements
For questions regarding this event, please contact the organiser at: support@justrunlah.com / PSS25@parkinson.org.sg