Qooline Run Challenge 2021 (Quarter 2)
Register
Event Info
General information
Event available in:
Singapore
Entitlements ship from: Singapore
Important dates
Registration closes: 27 June 2021
Event period: 24 April 2021 until 27 June 2021


You can upload any sessions done within this period, regardless the date of your registration.

Upload closes: 30 June 2021
Shipping starts on: 1 July 2021
Categories and Fees
Completion:
Routes
Three Singapore's Run Venues
Though this is a virtual run where our participants are free to choose to run at their own preferred venues. However, we will have our crew stationed at the three iconic run venues at Bedok Reservoir, Gardens by The Bay East and Punggol Waterway Park to give support and any assistance to our runners on the designed two race days of each month from 1700 hrs to 2000 hrs.  For ease of identification, our team will don the event tees and the event banners will be prominently displayed on site.
Prizes

Entitlements
Runner's entitlements
Finisher T-Shirt
Finisher Medal
Event apparel
(For Those Who Sign Up For 4 Quarters)

Finisher medals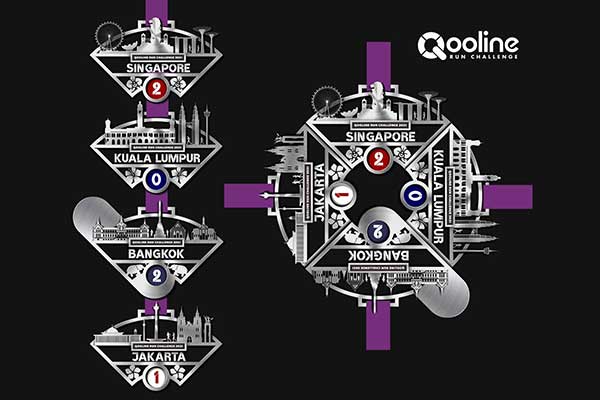 Upload
For questions regarding this event, please contact the organiser at: support@justrunlah.com / ask@qooline.com