Run-4-Asia Virtual Run Challenge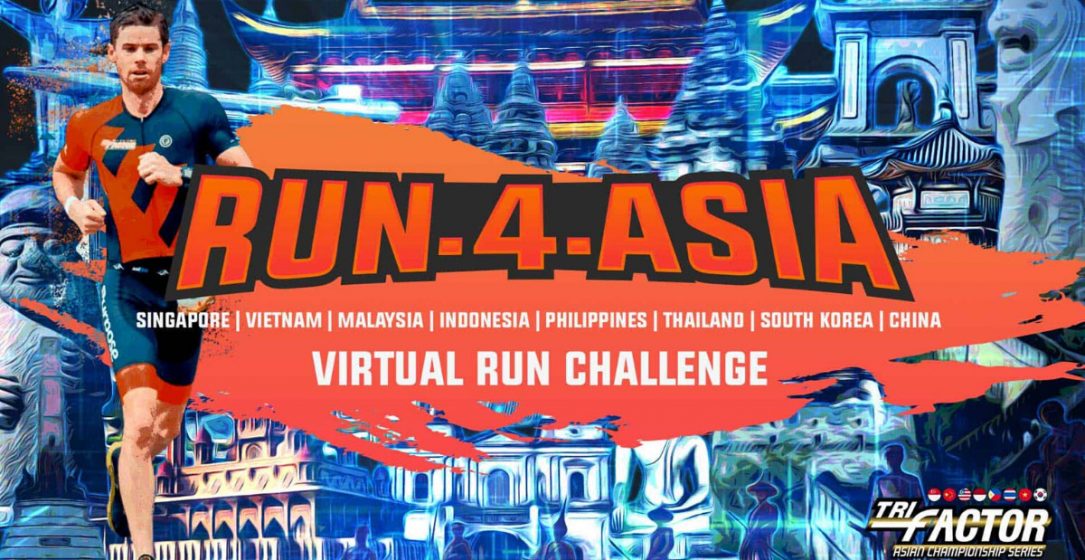 Register
Event Info
General information
Dear Athletes!
Times have changed! The New Normal is "Social Distancing, work from Home and Virtual-Conferencing".
The Asia TRIfactor Family has been affected tremendously by COVID-19 with many of their races being postponed or unable to launch. In these uncertain times, be united and show your solidarity as One TRIfactor Asia Family! Let's also not forget all the hardworking people at the frontline battling this crisis.
Take on the Trifactor Run-4-Asia Virtual Run Challenge and support the Trifactor Asia family in staying active and healthy during this difficult time! We will be cheering on our neighbours as we run across 8 countries in Asia starting in Singapore where Trifactor began. (A percentage of all proceeds will go into supporting our TRIFACTOR CARES Program)
Be an Inspiration!
Run for someone that inspires you or to be an inspiration for.
Just top up SGD$3 to get an additional Medal that you can give to someone you admire or want to encourage. We are all in this together!
Run periods
Run-4-Singapore: 15th April -14th May
Run-4-Vietnam: 1st May – 30th May
Run-4-Malaysia: 15th May – 14th June
Run-4-Indonesia: 1st June – 30th June
Run-4-Philippines: 15th June – 14th July
Run-4-Thailand: 1st July – 30th July
Run-4-South Korea: 15th July – 14th Aug
Run-4-China: 1st Aug – 30th Aug
Available in:
Singapore, Malaysia, Indonesia, Philippines, Vietnam, Thailand, Other
Entitlements ship from: Singapore
Different run dates apply for different runs. Please refer to event info.
Important dates
Registration closes: 31 August 2020
Run period: 15 April 2020 until 31 August 2020


You can upload any runs done within this period, regardless the date of your registration.

Upload closes: 31 August 2020
Shipping starts on: 15 September 2020
Categories and Fees
8 Countries Package: S$64.00*
1 Country: S$8.80*
Top up 1 Medal: S$3.00*
Top up 1 Finisher Tee: S$15.00*
* Exclusive of GST and payment gateway fees
Distance validation:
What is a Virtual Run?
A virtual run is a race that you can complete at your own pace and time.
Virtual running works exactly the same as any other type of running but the difference is that the entered race can be run at any location, either outside or inside on a treadmill.
All you have to do is register for a race and provide evidence that you have done it. The evidence can be a screenshot of your running app, a photo of the treadmill screen etc. Do check out specific instructions of the event you join for more information.

Virtual races are a great way to stay fit and active all year round, run for good causes and get awesome medals and other entitlements for your participation!
Entitlements
Runner's entitlements
Finisher T-Shirt
Finisher Medal
Event apparel
Finisher T-Shirt for add-on at S$15 per piece (Total of 8 designs for 8 countries)
SINGAPORE (EVENT HAS ENDED)
VIETNAM
MALAYSIA
* There is a different design for each of the 8 countries.
Finisher medals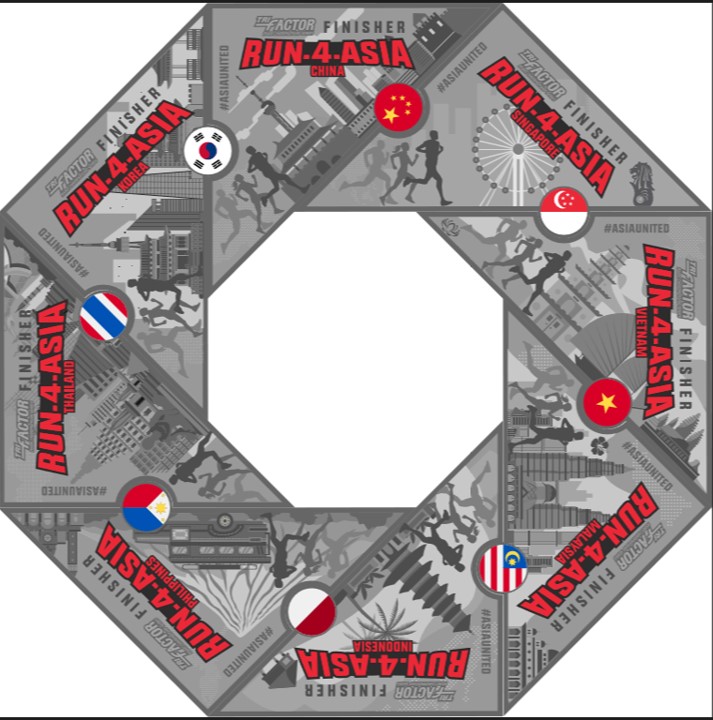 Upload
For questions regarding this event, please contact the organiser at: enquiry@trifactor.asia