Run For Inclusion 2021 – Virtual Edition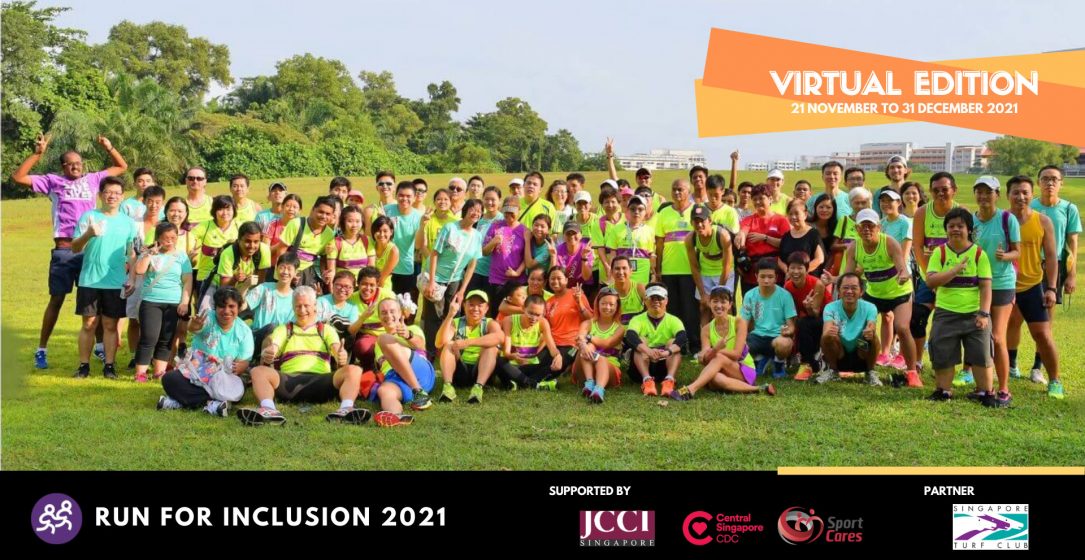 Register
Registration is no longer available. Thank you.
Event Info
General information
There will be no shipping of entitlements. It will be a physical collection for the entitlements. Collection details are as follows.
Date: Every Monday and Tuesday only, from 23 Nov to 14 Dec 2021
Time: 12pm – 6pm
Venue: Social Collider @ 26 Tai Seng Street #06-01 J'Forte (Singapore 534057)
About The Virtual Event:
Participants of the virtual event can attempt any distance of their choice between 21st November 2021 to 31st December 2021 All Virtual Event participants will receive an email with specific instructions on how and where to upload their attempt.
NOTE: Participants of this virtual event will not be covered under the event insurance. Participants are advised to purchase their own personal insurance.
More About The Event:
Run for Inclusion 2021 is a national event that aims to use mainstream sports as a platform to promote integration and nurture an inclusive Singapore. This is a race in Singapore where participants run alongside visually, intellectually, hearing, and physically challenged runners.
In support of the cause, Runninghour is offering free entries for all people with special needs and caregiver/guide on a 1:1 ratio. This is a Wheelchair Friendly event. Run for Inclusion will be a rallying call for Singaporeans to come together and show their support towards integrating people with special needs.
For any concerns and questions regarding the event, you may contact raceinfo@runninghour.com
Event available in:
Singapore
No shipping for this event. Refer to self-collection details above.
Important dates
Registration has closed:
Event period: 21 November 2021 until 31 December 2021


You can upload any sessions done within this period, regardless the date of your registration.

Upload closes: 31 December 2021
Categories and Fees
Virtual
0 - 10 km Run
0 - 20 km Cycle
S$35 per pax
Completion:
What is a Virtual Challenge?
A virtual challenge is a race that you can complete at your own pace and time.
Virtual challenge works exactly the same as any other type of sports events (e.g. running or cycling) but the difference is that the entered race can be completed at any location, either outdoors or indoors on a machine.
All you have to do is register for a race and provide evidence that you have done it. The evidence can be a screenshot of your running/fitness app, a photo of the machine screen etc. Do check out specific instructions of the event you join for more information.

Virtual races are a great way to stay fit and active all year round, run for good causes and get awesome medals and other entitlements for your participation!
Entitlements
Upload
Uploading has closed.
You can contact the organiser at: raceinfo@runninghour.com
Thank you.
For questions regarding this event, please contact the organiser at: raceinfo@runninghour.com