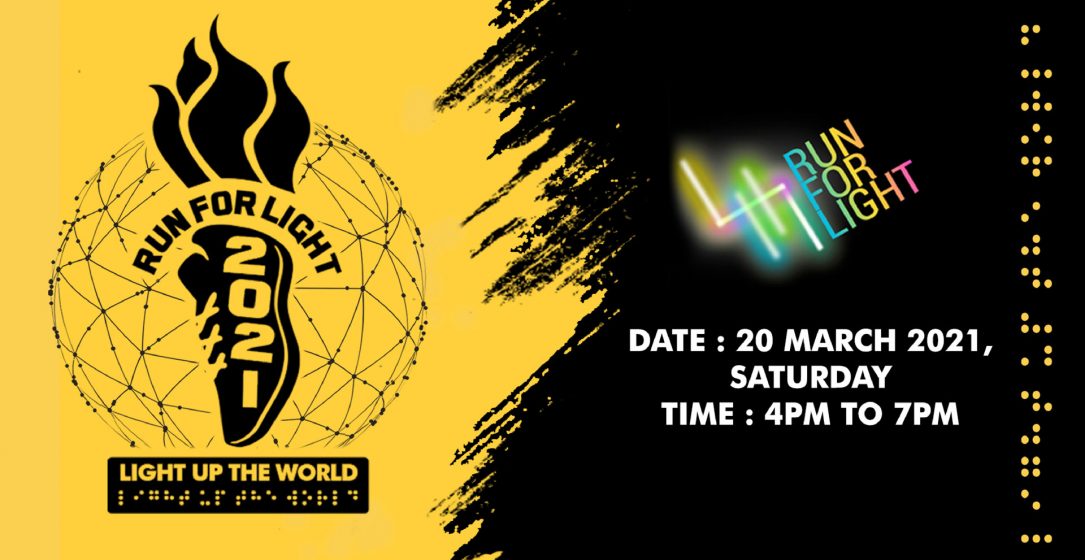 Register
Registration is no longer available. Thank you.
Event Info
General information
Since our inception, Run For Light has been collaborating with Guide Dogs Singapore Ltd (GDS) in helping the visually impaired enhance their quality of life through creating public awareness in the community as well as fund-raising campaigns leading up to the event.  Once again, Run For Light 2021 is pledging support to GDS for the 6th consecutive time.
Regrettably, the onslaught of COVID-19 has greatly disrupted the order of the day the world over.  The "LIGHT" that has always been illuminating the visually impaired ones with shining ray of hope has taken a broader dimension in the 2021 edition, thus the theme – "Light Up The World" (⠠⠇⠊⠣⠞⠀⠠⠥⠏⠀⠠⠮⠀⠠⠸⠺⠖ in braille).  It is our biggest wish to illuminate the world with the beckoning "LIGHT" of Run For Light and for lives to return to normalcy.  Without doubt, we will prevail!
It can't be helped that the pandemic is still looming large but our annual run event has to proceed albeit on a different concept with safety measures in place.  The 6th edition of Run For Light 2021 will go the 'hybrid way' on 20 March, Saturday @ 1700 hrs which will see decentralised on-site 1KM blindfold walk as well as virtual run.
How will the 1KM Blindfold Walk be conducted?
Participants who sign up for '1KM Blindfold Walk' category will make their way to the designated event venues to join the guide dog & the team from Guide Dogs Singapore Ltd (GDS) for the symbolic walk on event day. 1KM Blindfold Walk is a non-timed category. 
To keep our blindfold walk participants safe, the group size will be kept to 100 at each venue. A 'LIVE' streaming of the event will take place for everyone to feel the celebratory mood up close and personal.
Punggol Shore CSC (formerly known as Punggol North CSC), Sengkang Central CSC and Nee Soon CSC are Run For Light 2021 community partners which will see the symbolic 1KM blindfold walk taking place at the three venues:
Punggol Town Square (helmed by Punggol Shore CSC)
Sengkang Central CC (helmed by Sengkang Central CSC)
Lower Seletar Reservoir Park (helmed by Nee Soon South CSC)
How will the 5KM/10KM individual and team run be conducted?
All 5KM and 10KM participants will commence their virtual run at their own preferred venue. There is a 2-day or 48-hour window (from 0001 hrs on 20 March 2021 to 2359 hrs on 21 Mar 2021) to complete the run using the event official timekeeper app.
Runners who are participating in the 5KM and 10KM virtual run from wherever their start points are encouraged to join the 1KM blindfold walk contingent on 20 March, Saturday @ 1700 hrs for the flag-off via 'LIVE' streaming on Run For Light FB page.  However, runners can choose to run before or after the scheduled flag-off time on 20 March within the allotted 2-day window.
Event Official Run App
All runners in their 5KM and 10KM categories will be timed by the event official timekeeper, SportSplits. The run comprises of either individual basis or team of 5.  It is real time captured on SportSplits time app which will rank everyone upon their completion. SportSplits run app will commence on 20 March, Saturday at 0001 hours until 21 March, Sunday before 2359 hours. Runners are given the two days window to complete their run. Trophies are awarded to the top three fastest finishers and teams in 5KM and 10KM run. Only 1KM Blindfold Walk is a non-timed category.
Event available in:
Singapore
Entitlements ship from: Singapore
Thank you for your interest and support. The event is sold out.
Important dates
Registration has closed:
Event period: 20 March 2021 until 21 March 2021


You can upload any sessions done within this period, regardless the date of your registration.

Upload closes: 22 March 2021
Shipping starts on: 20 April 2021
Categories and Fees
Virtual
10 KM
5 KM
1 km Blindfold Walk (Physical Event)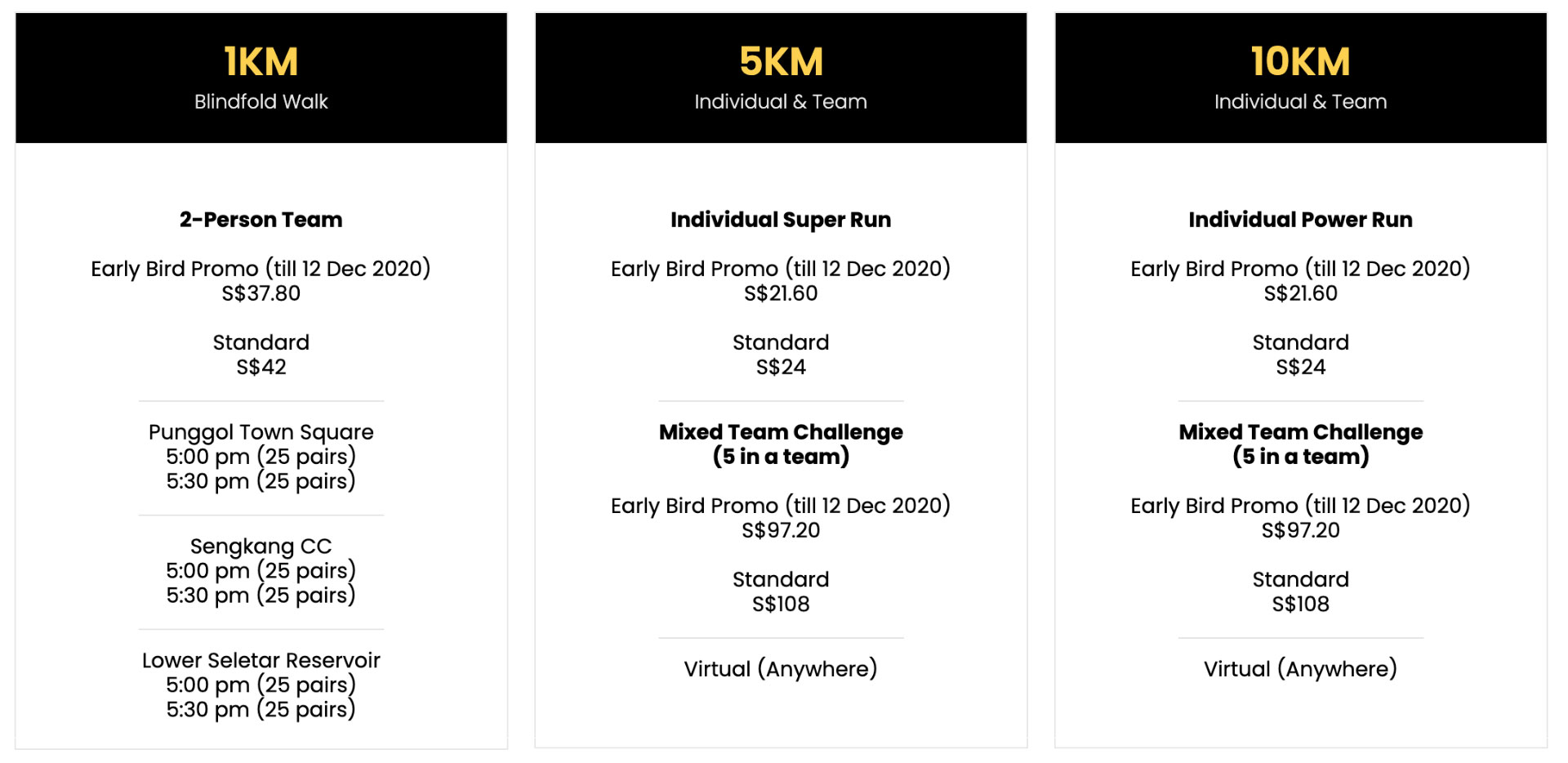 10% Early Bird Discount applies until 12 December 2020
Completion:
Prizes

Entitlements
Runner's entitlements
Race Apparel
Finisher Medal
e-Certificate
One SPINmatic Low Suds Laundry Liquid Detergent (Sports Freshness) 80 ml
One 0% Fat Shapetime™ Frozen Dessert
One sachet Banana Boat Sport Sunscreen Lotion
One sachet Banana Boat Ultra Protect Sunscreen Lotion
Enjoy exclusive 30% discount plus add on discount on BB shop @ Shopee & Lazada platforms (redemption period is 1st April to 31st May 2021 via promo code provided)
Free postage within Singapore only
Event apparel
Finisher medals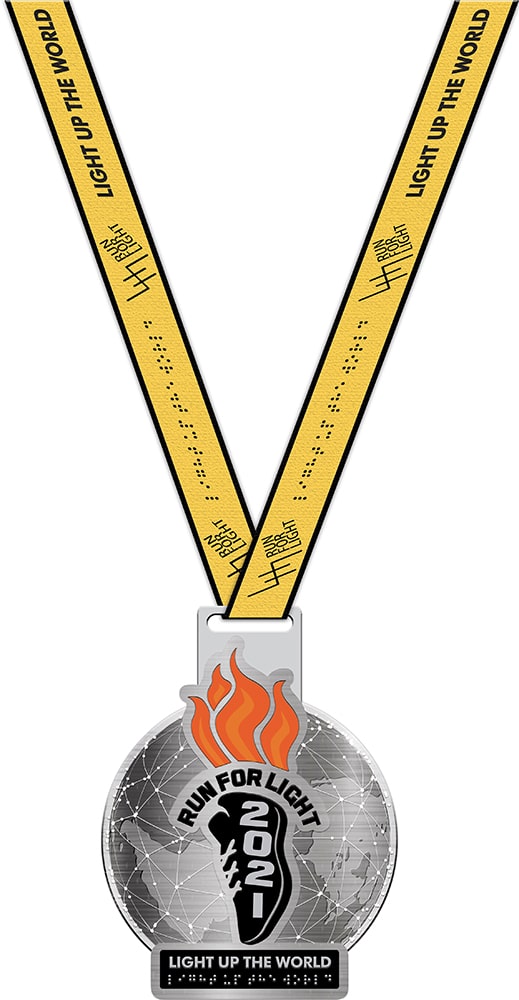 Other entitlements
Upload
Uploading has closed.
You can contact the organiser at: info@ideas-room.com
Thank you.
For questions regarding this event, please contact the organiser at: info@ideas-room.com