SGH Beyond 200 Ride 'n Run 2022 – Virtual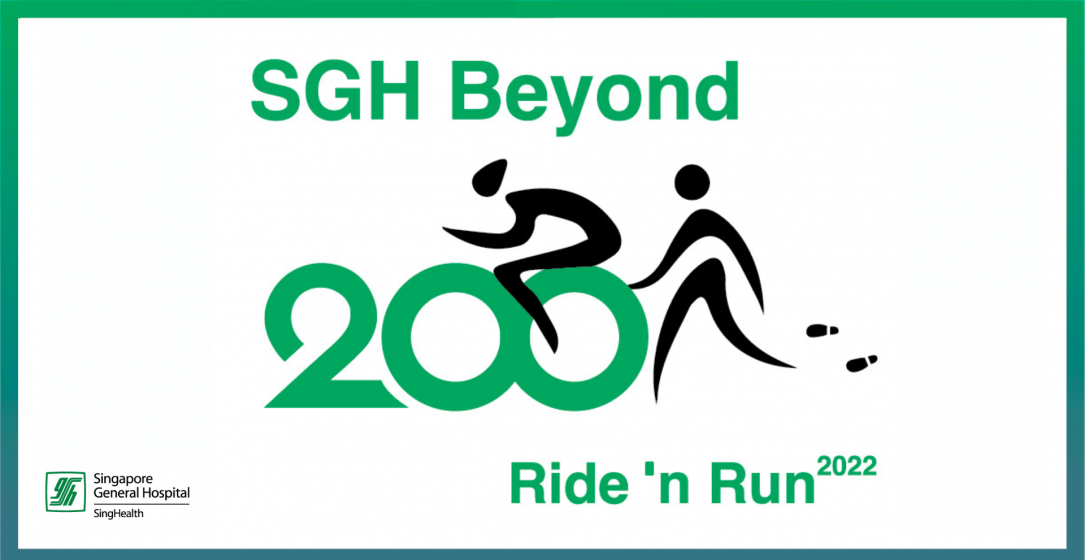 Register
Registration is no longer available. Thank you.
Event Info
General information
Lead by SGH CEO and CMB, a group of cyclists will kick-start the 201km ride around Singapore on 3 September 2022. They have chosen to support needy patients and their fundraising campaigns start from 1 August 2022.You can support their endeavour today by making a gift to SGH Needy Patients Fund.
Join our healthcare heroes fighting the pandemic in the forefront, and do good together with SGH this year to mark SGH serving our nation for 201 years. You can join us in this virtual ride and run from 10 September to 10 October, and fundraise for a good cause too.
From now till 31 October 2022, support SGH Beyond 200 Ride 'n Run and make a 250% tax-deductible gift towards advancing medicine in Singapore, finding cures or helping the less privileged among us. No amount is too small. Likewise, every small step can move us on to greater positive impact.
Event available in:
Singapore
No shipping for this event. Refer to self-collection details above.
Important dates
Registration has closed:
Event period: 10 September 2022 until 10 October 2022


You can upload any sessions done within this period, regardless the date of your registration.

Upload closes: 10 October 2022
Categories and Fees
Virtual
Run - 20 km (Indiv) / 100 km (Team)
Cycle - 50 km (Indiv) / 201 km (Team)
Virtual Run
Individual – 20km;
Team (Up to 4) – 100km
Virtual Cycle
Individual – 50km;
Team (Up to 4) – 201km
This event is free for all to participate.
Completion:
What is a Virtual Challenge?
A virtual challenge is a race that you can complete at your own pace and time.
Virtual challenge works exactly the same as any other type of sports events (e.g. running or cycling) but the difference is that the entered race can be completed at any location, either outdoors or indoors on a machine.
All you have to do is register for a race and provide evidence that you have done it. The evidence can be a screenshot of your running/fitness app, a photo of the machine screen etc. Do check out specific instructions of the event you join for more information.

Virtual races are a great way to stay fit and active all year round, run for good causes and get awesome medals and other entitlements for your participation!
Entitlements
Upload
Uploading has closed.
You can contact the organiser at: support@justrunlah.com
Thank you.
For questions regarding this event, please contact the organiser at: support@justrunlah.com