Singapore City Race 2021 – Virtual
Register
Registration is no longer available. Thank you.
Event Info
General information
About Race
Often, we overlook the beauty of our homeland.
Singapore City Race brings you a multi-sensory experience as you embark on an exciting exploration journey in our island. Rediscovering places of rich heritage to experience Singapore's ethnic, cultural, political and historical places.
Through this race, we hope to ignite the spirit of patriotism in our fellow countrymen, encouraging locals to take this time to appreciate our little red dot and contribute to the local communities. Together, we celebrate our island home Singapore's 56th birthday!
How Does Singapore City Race Work?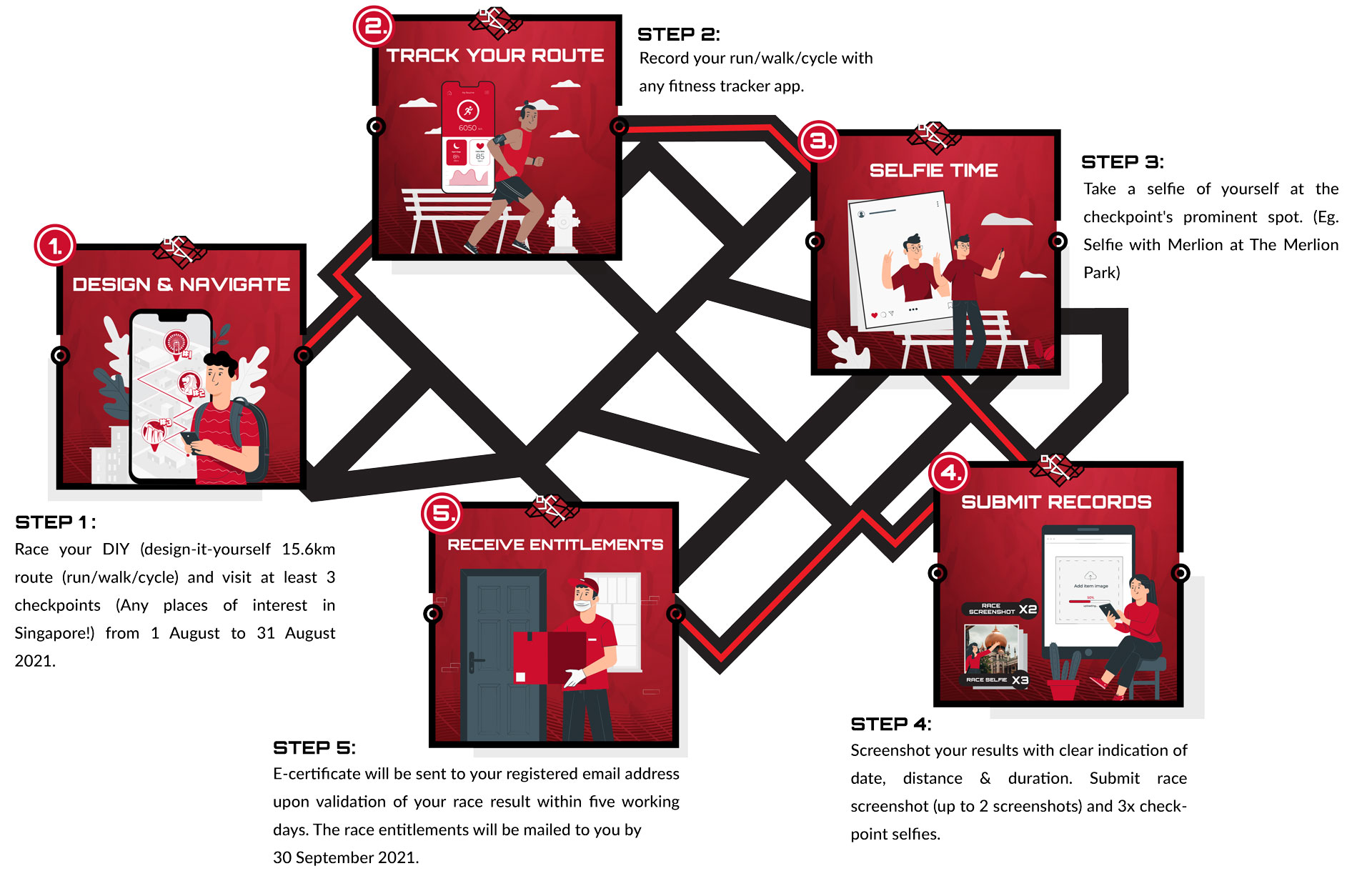 Checkpoints Maps
Explore any 3 places of interest in Singapore & take a selfie to complete the Singapore City Race. Here's what we recommend!
Your favourite place of interest not on the map? Tag #SCR2021 on FB or IG & tell us where and why that's your favourite place!
Event available in:
Singapore
Entitlements ship from: Singapore
Important dates
Registration has closed:
Event period: 1 August 2021 until 31 August 2021


You can upload any sessions done within this period, regardless the date of your registration.

Upload closes: 12 September 2021
Shipping starts on: 13 September 2021
Categories and Fees
Virtual
15.6 km
Run / Walk / Cycle
15.6 km - Virtual Race
Finisher Medal + E-Bib + E-Certificate
- S$8.00
Optional Add-ons
- Race Singlet: S$25.00
- Singlet Name Customisation: S$15.00
- Donations
- Alcogiene Alcohol Hand Sanitizer 500ml: S$12.00
* For every registration, SCR donates S$5 nett to Singapore Cancer Society. Donations above S$50 are tax deductible
Completion:
Upload
Uploading has closed.
You can contact the organiser at: support@justrunlah.com / hello@pinkapple.com.sg
Thank you.
Entitlements
For questions regarding this event, please contact the organiser at: support@justrunlah.com / hello@pinkapple.com.sg