The Limitless Run 2021 – Virtual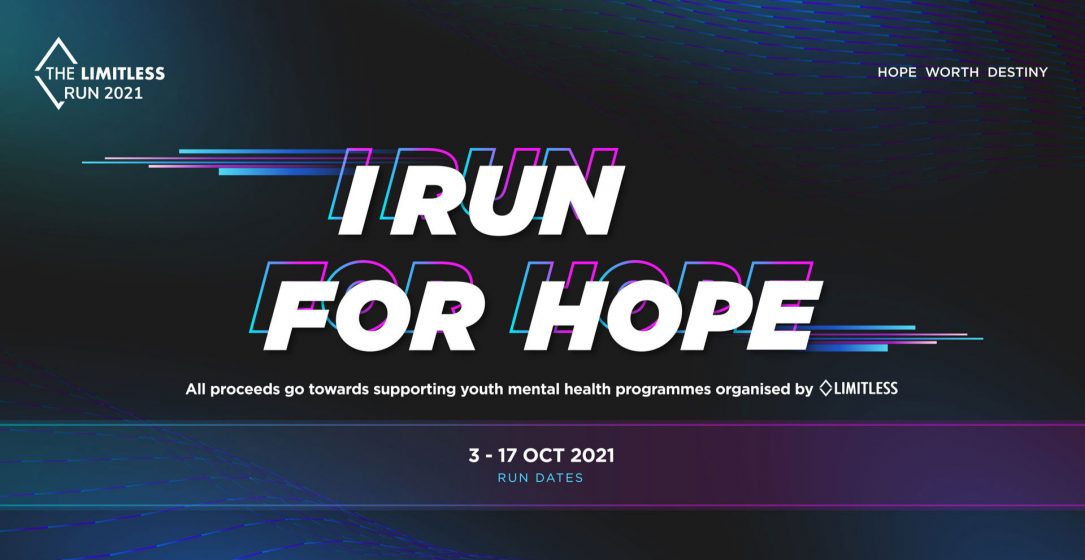 Register
Registration is no longer available. Thank you.
Event Info
General information
ABOUT LIMITLESS
Limitless is a nonprofit based in Singapore, that works with youths aged 12 – 25. Providing subsidised or pro bono counselling, therapy, and casework for youths who struggle with existing diagnosis, or pre-diagnosed mental health issues.
RUN DETAILS
SPONSORS

PARTNERS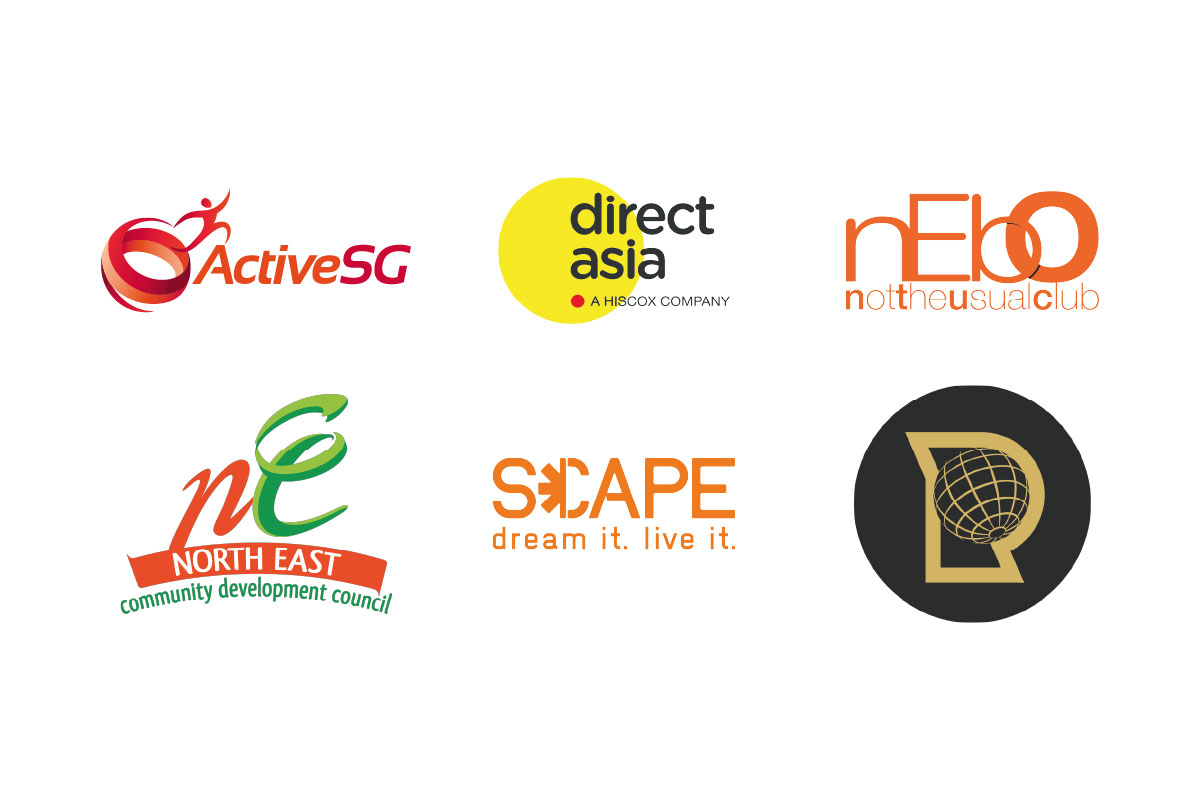 RACE PACK COLLECTION DETAILS
OPTION 1: FREE Self-Collection
Venue: *SCAPE Singapore, 2 Orchard Link, Singapore 237978 (HubQuarters, Level 4)
* The organiser will contact you nearer to collection date to confirm your collection details.
** Please be informed that the Finisher Medal will be delivered to you after the event ends.
OPTION 2: Shipping of Race Pack before/during event period
Date: Before or from 3 October 2021 onwards
Fee: S$5 per delivery address
* Please be informed that the Finisher Medal will be delivered to you separately after the event ends.
Event available in:
Singapore
No shipping for this event. Refer to self-collection details above.
Shipping option is available at a fee
Important dates
Registration has closed:
Event period: 3 October 2021 until 17 October 2021


You can upload any sessions done within this period, regardless the date of your registration.

Upload closes: 17 October 2021
Categories and Fees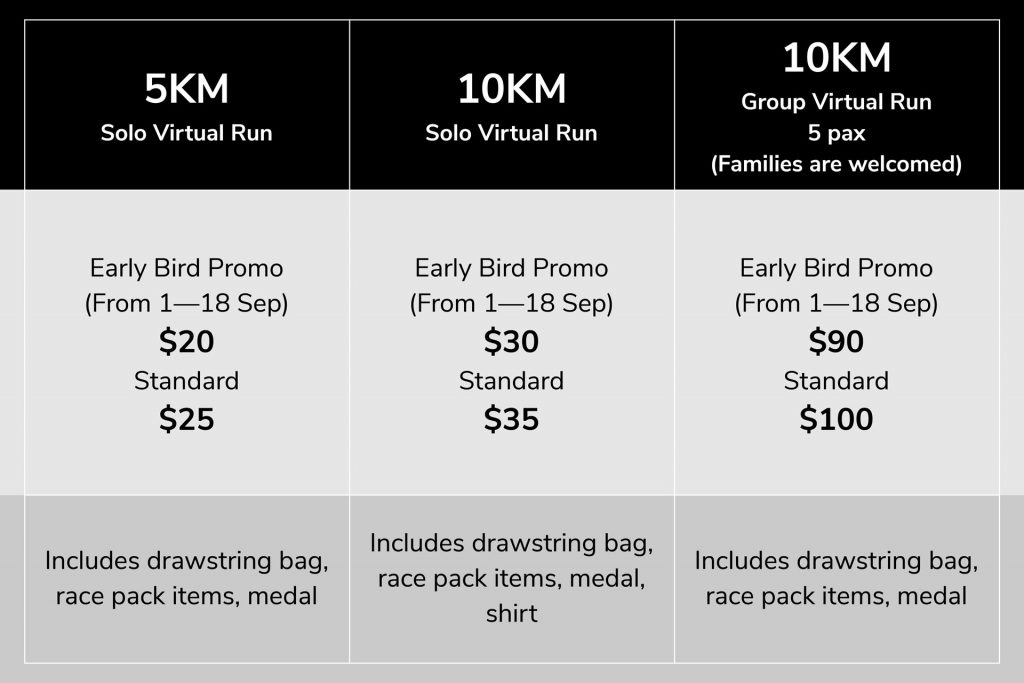 Completion:
What is a Virtual Challenge?
A virtual challenge is a race that you can complete at your own pace and time.
Virtual challenge works exactly the same as any other type of sports events (e.g. running or cycling) but the difference is that the entered race can be completed at any location, either outdoors or indoors on a machine.
All you have to do is register for a race and provide evidence that you have done it. The evidence can be a screenshot of your running/fitness app, a photo of the machine screen etc. Do check out specific instructions of the event you join for more information.

Virtual races are a great way to stay fit and active all year round, run for good causes and get awesome medals and other entitlements for your participation!
Entitlements
Runner's entitlements
Finisher Medal
Event T-Shirt (Free for 10 km Solo participants only)
Drawstring Bag
Rack Pack Items
Event apparel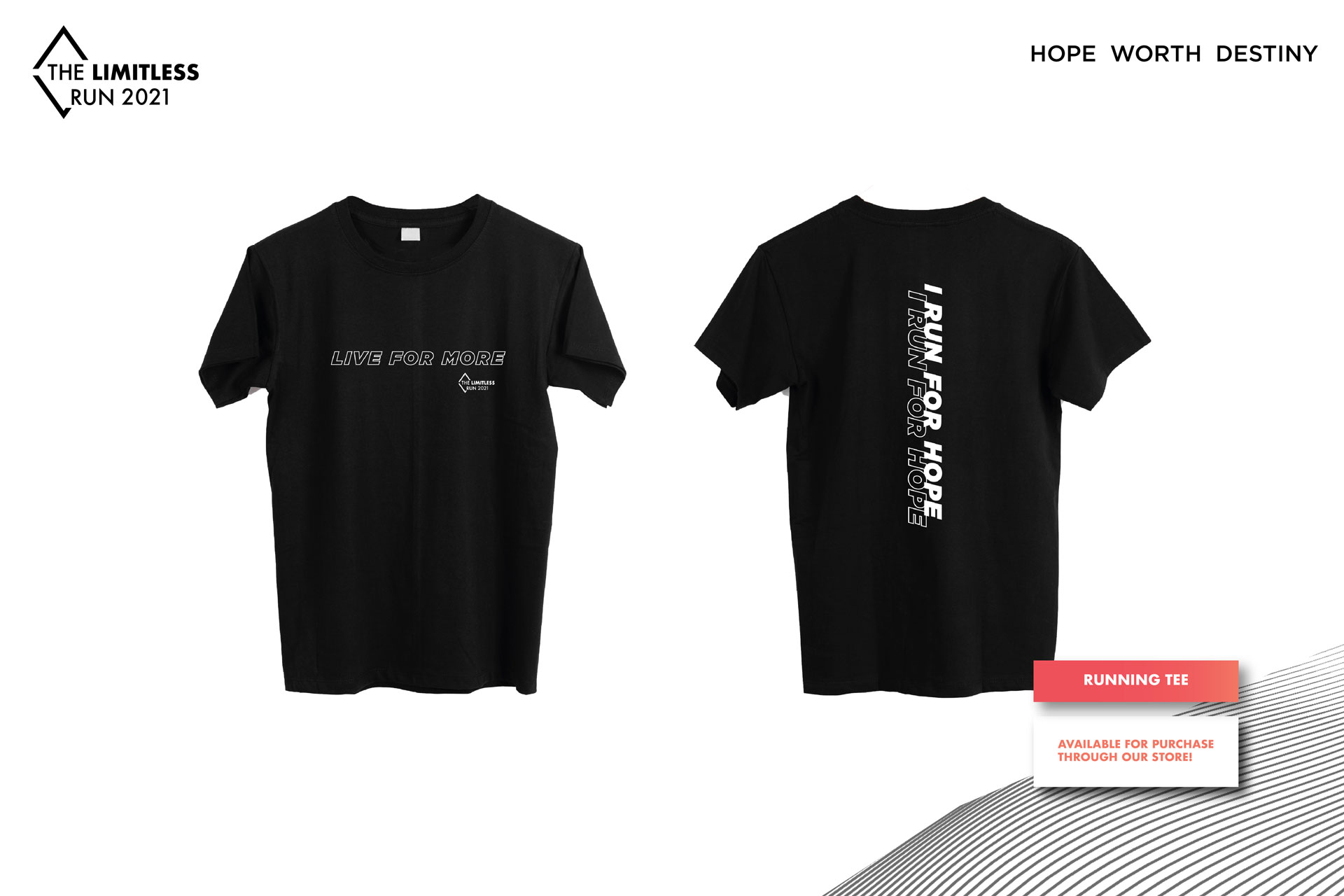 Dri-Fit Shirt Size Chart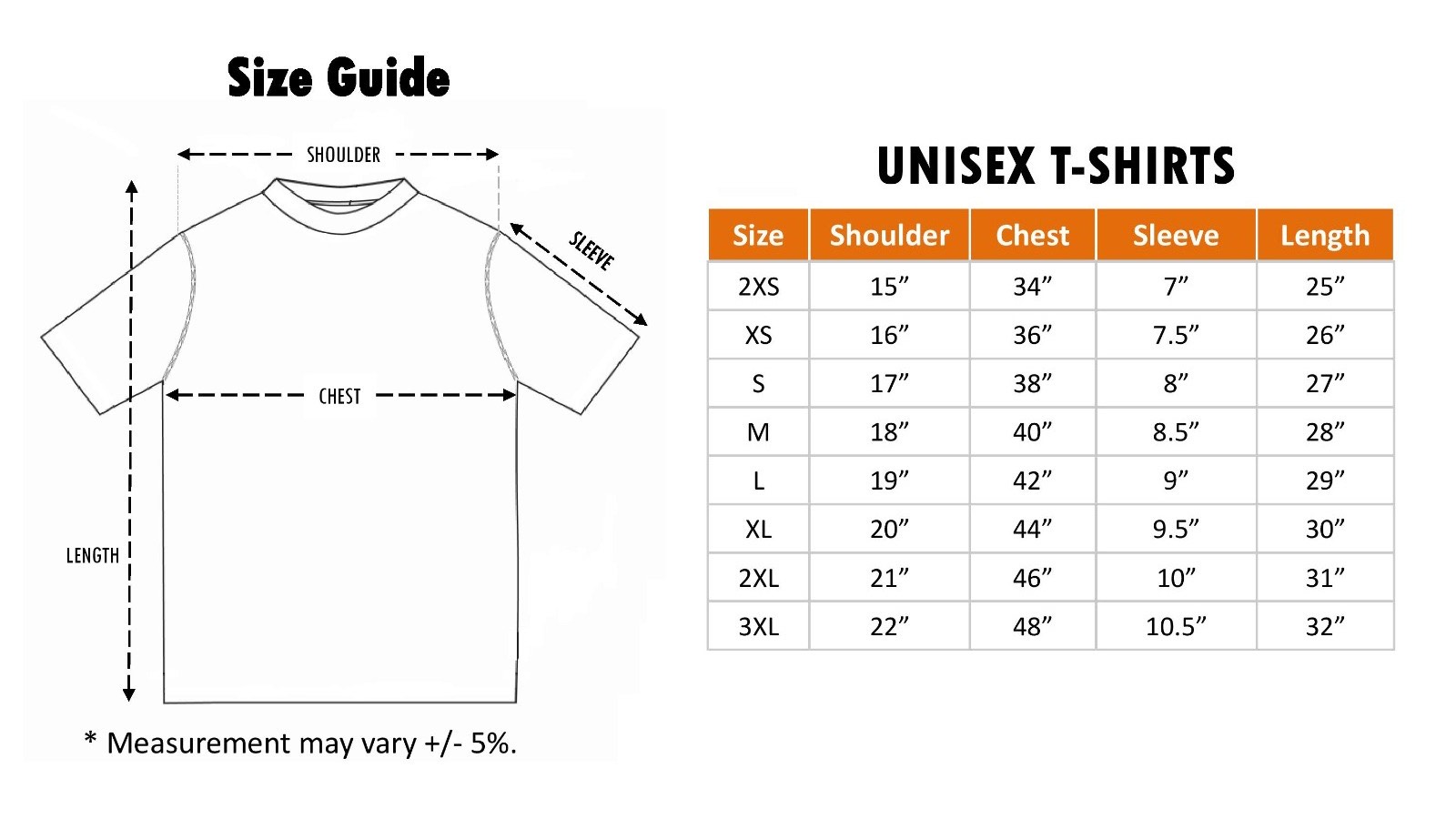 Finisher medals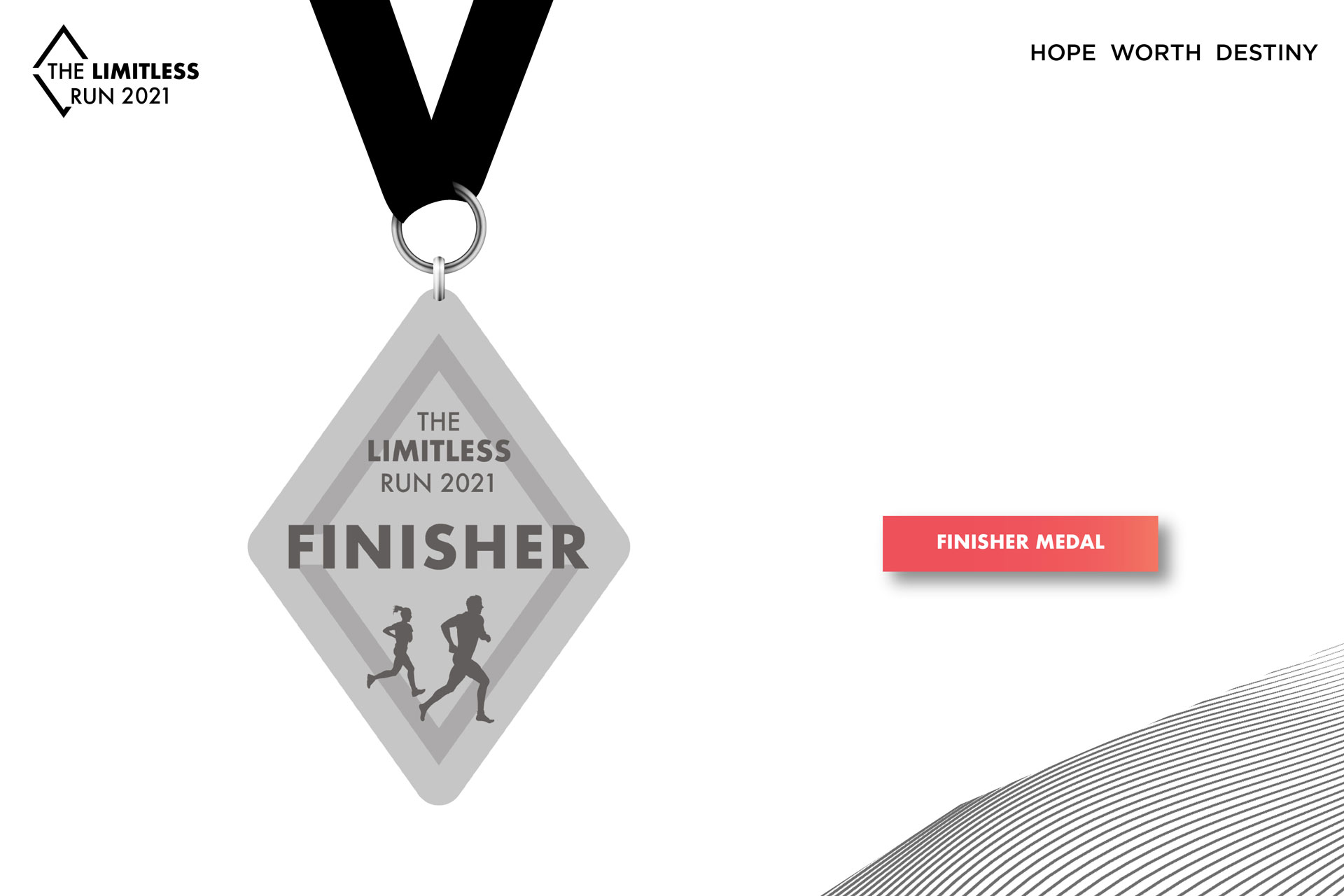 Other entitlements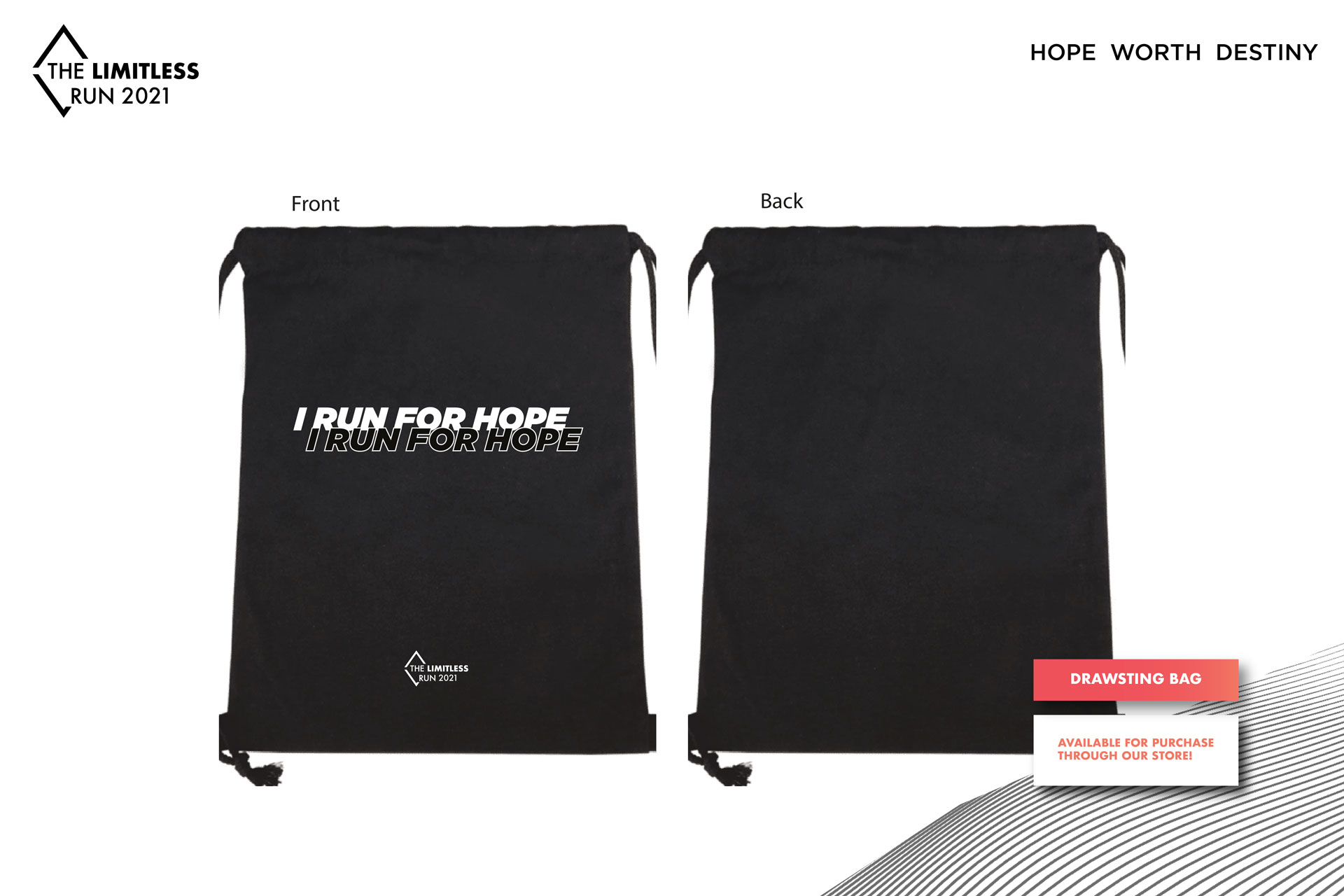 OPTIONAL ADD-ON MERCHANDISE
Upload
Uploading has closed.
You can contact the organiser at: run@limitless.sg
Thank you.
FAQs
Registration
1. How do I register?
Click on "Registeration" tab and follow the registration process. An email will be sent to you when your registration is successful.
2. What is the registration fee?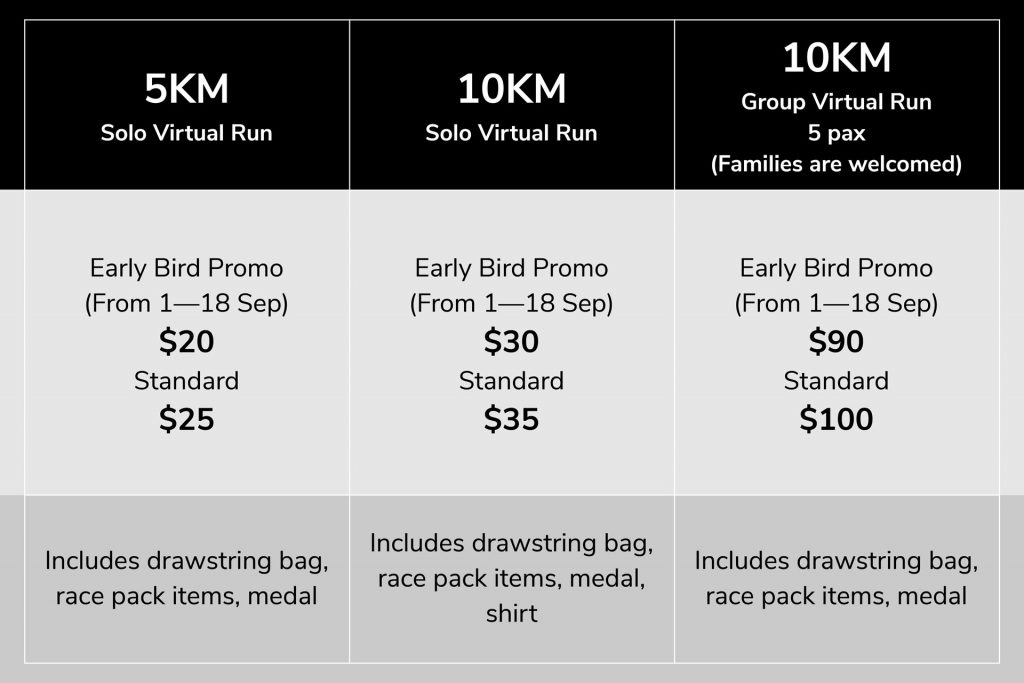 3. When is the registration period?
Registration is open until 9 October 2021.
4. Who can I contact if I have issues with my registration or other event-related information?
For all enquires regarding this event, you may contact support@justrunlah.com or run@limitless.sg.
Submission of results
5. When can I start to submit my Run/Walk results?
Run/Walk submissions can only be allowed to be uploaded from 3 – 10 October 2021.
Submissions received before or after these dates will not be accounted for.
6. What mobile application should I use to capture my run/walk session? Can I use a treadmill?
There are numerous GPS Running trackers such as:
• MapmyRun
• Strava
• Running
• Adidas Running
• Nike Running
For those using treadmills, please take a photo of your distance covered from the dashboard with a date and time reference of the activity. This can be done via a watch or another phone.
7. How do I submit my Activity record?
Step 1:
Use the recommended GPS Running Tracker Apps or Treadmill or personal step tracker to record your Run/Walk within the stipulated event period.
Step 2:
Take a screenshot of your finished activity, making sure that the date, distance, time and duration of the session are clearly visible. If you are using a treadmill, please take a photo of the dashboard with the distance and time, and a reference to the date, ie. from a watch or another phone.
Step 3:
Upload your screenshot or photo via the link of your confirmation email or the 'Upload' tab.
Please have your registration ID available and fill in the details accordingly.
For ease of uploading, please access via the link from your confirmation email.
Step 4:
Once submitted, you will receive a notification email. You can then repeat step 1 again for your next run and submission.
*Do note that any irrelevant or inaccurate submissions will be removed at the discretion of the organizers.
8. Is there a limit to how many results I am allowed to submit?
No, there is no limit to how many results you can submit. This is an accumulative challenge. You may take as many or as few submissions, to complete the minimum distance that you have selected.
9. How will I know if my submission is received?
An email notification will be sent to you after each submission of your activity. We will notify you if any of your submission is invalid or unclear. You can do a new submission within the stipulated duration.
Entitlements
10. When will I receive my entitlements?

You will be reminded via email nearer to the date.
11. What if for whatever reason I am unable to complete my minimum distance, do I still get my finisher entitlements?

No, please note that only participants that complete their required minimum distance will be provided with their Finisher entitlements.
For questions regarding this event, please contact the organiser at: run@limitless.sg