The Limitless Run 2022 – Virtual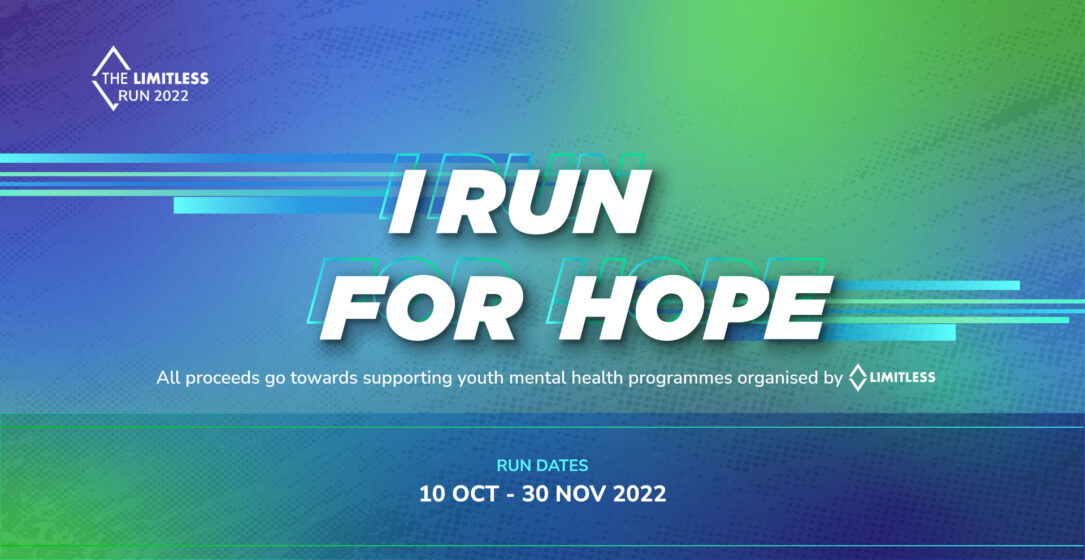 Register
Registration is no longer available. Thank you.
Event Info
General information
The Limitless Run is our annual virtual run, where we raise funds to support our work for the following year. Participants will need to clock distances ranging from 5km to 100km within the run period of three weeks, and will also be encouraged to help raise funds to support our work! Every dollar raised through donations will be matched by the Government! All participants and donors will also be given access to a week of Masterclasses, designed to empower them to better their own mental health, and support others around them.
Race Entitlements Collection
For self-collection option, the organiser will send you an email nearer to the collection date.
Event available in:
Singapore
No shipping for this event. Refer to self-collection details above.
Shipping option is available at a fee
Important dates
Registration has closed:
Event period: 10 October 2022 until 30 November 2022


You can upload any sessions done within this period, regardless the date of your registration.

Upload closes: 30 November 2022
Categories and Fees
Virtual
100 KM
10 KM
5 KM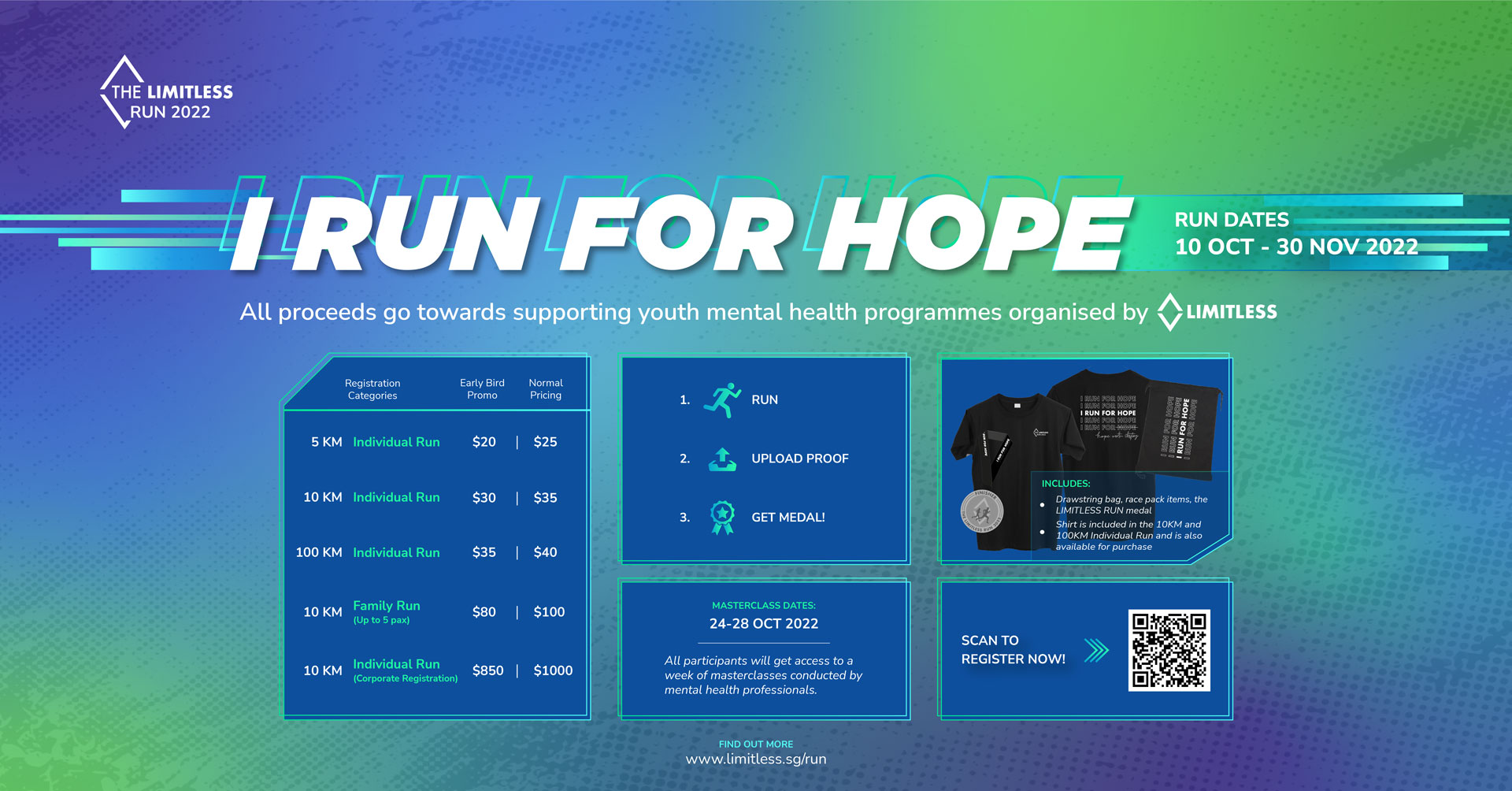 * Corporate Registration to contact connect@limitless.sg
** Early Bird discount ends on 9 September 2022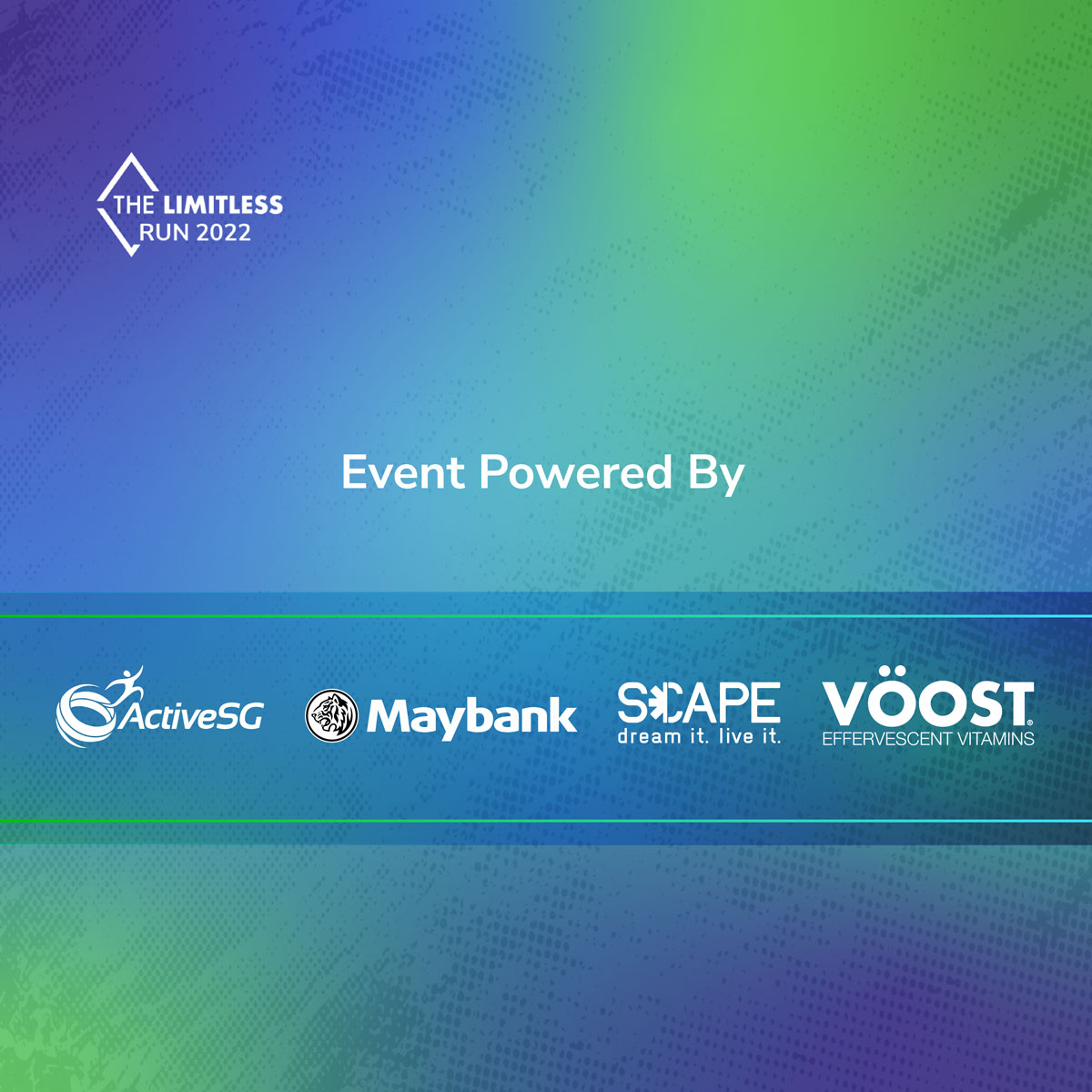 Completion:
What is a Virtual Challenge?
A virtual challenge is a race that you can complete at your own pace and time.
Virtual challenge works exactly the same as any other type of sports events (e.g. running or cycling) but the difference is that the entered race can be completed at any location, either outdoors or indoors on a machine.
All you have to do is register for a race and provide evidence that you have done it. The evidence can be a screenshot of your running/fitness app, a photo of the machine screen etc. Do check out specific instructions of the event you join for more information.

Virtual races are a great way to stay fit and active all year round, run for good causes and get awesome medals and other entitlements for your participation!
Entitlements
Runner's entitlements
Finisher Medal
Event T-Shirt (Free for 10 km and 100 km Solo participants only)
Drawstring Bag
Rack Pack Items
Event apparel
Event T-Shirt (Free for 10 km and 100 km Solo participants only)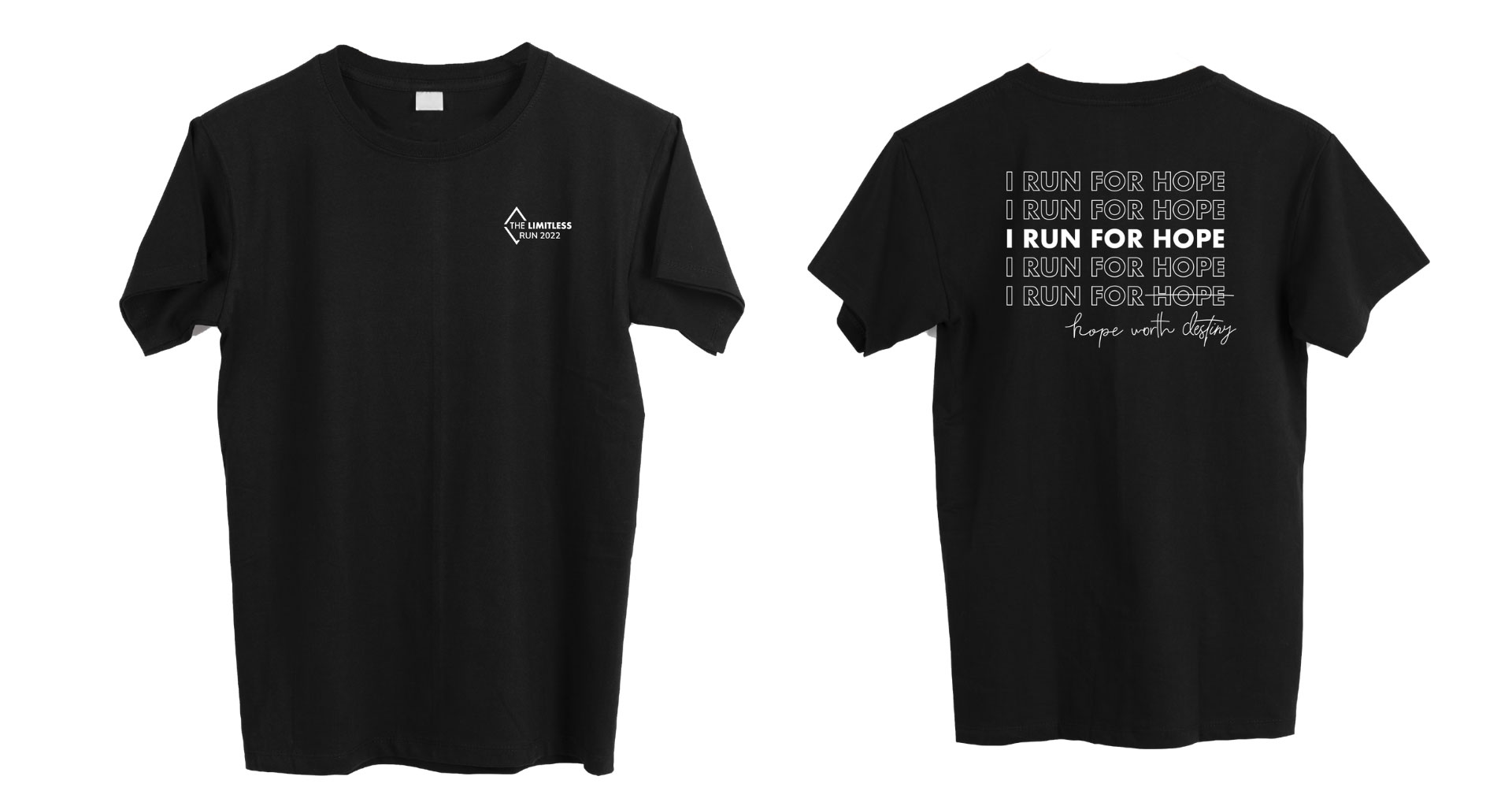 Dri-Fit Shirt Size Chart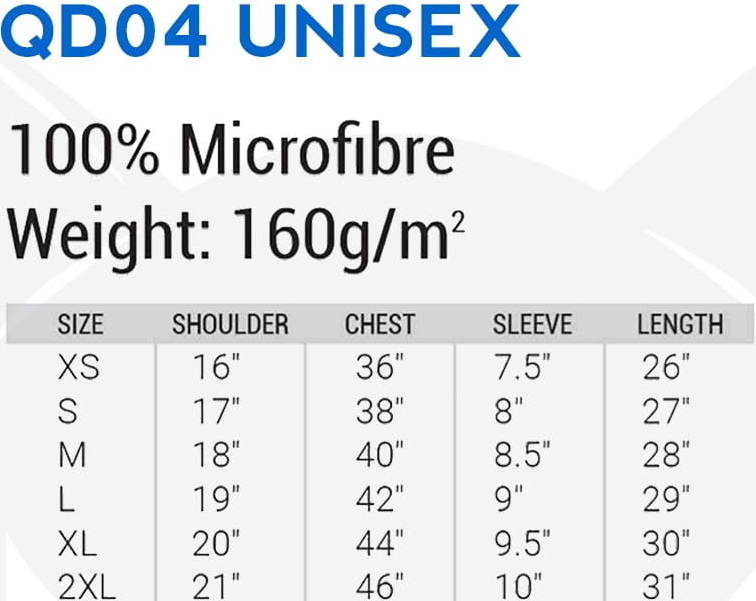 * All measurements are subjected to +/-0.5″ tolerance.
Finisher medals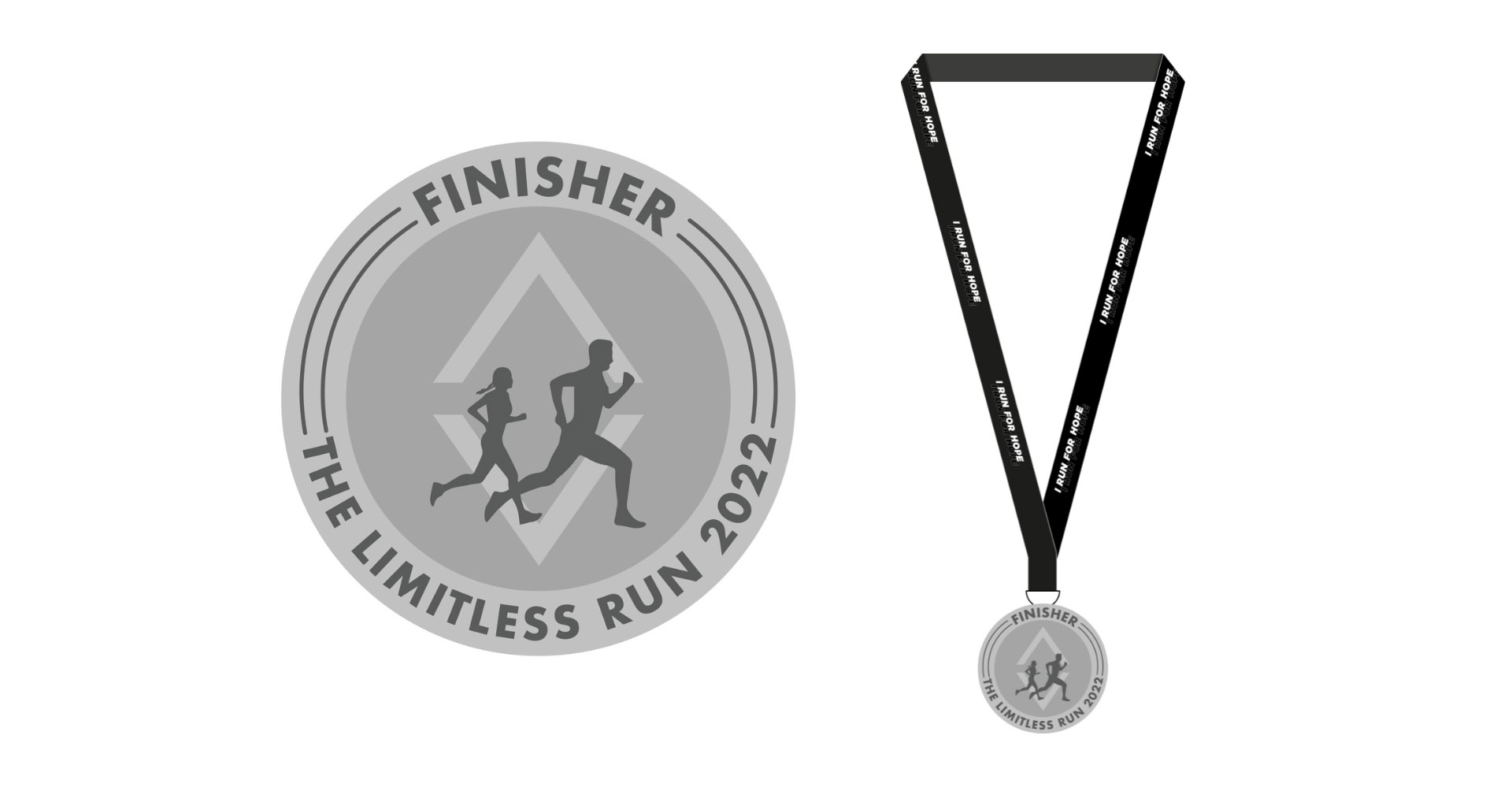 Other entitlements
OPTIONAL ADD-ON MERCHANDISE
Upload
Uploading has closed.
You can contact the organiser at: connect@limitless.sg
Thank you.
FAQs
Registration
1. How do I register?
Click on "Registration" tab and follow the registration process. An email will be sent to you when your registration is successful.
2. What is the registration fee?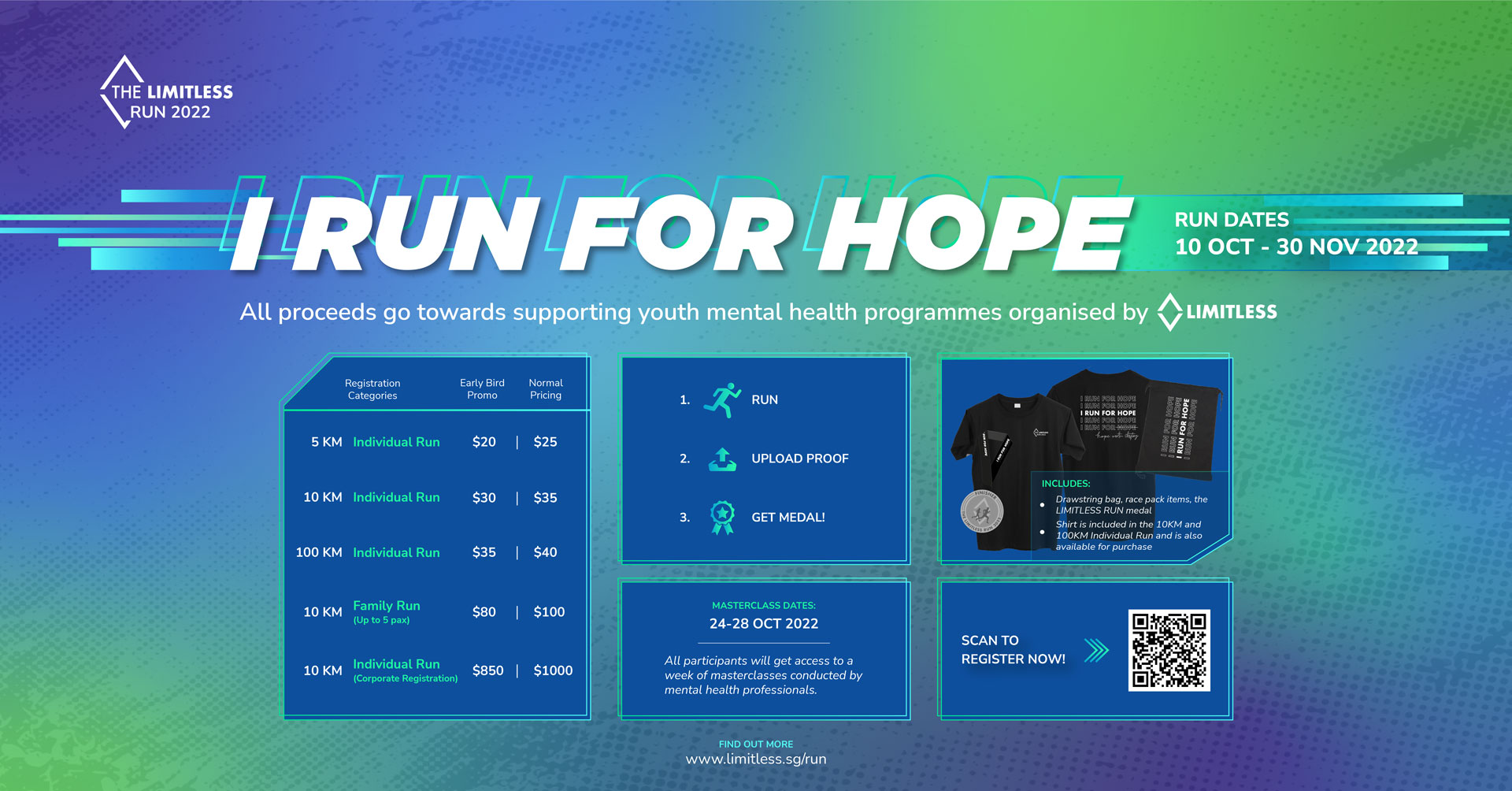 * Early bird discount ends on 9 September 2022
3. When is the registration period?
Registration is open until 29 November 2022, 11.59pm.
4. Who can I contact if I have issues with my registration or other event-related information?
For all inquiries regarding this event, you may contact support@justrunlah.com or connect@limitless.sg.
Submission of results
5. When can I start to submit my Run/Walk results?
Run/Walk submissions can only be allowed to be uploaded from 10 October – 30 November 2022.
Submissions received before or after these dates will not be accounted for.
6. What mobile application should I use to capture my run/walk session? Can I use a treadmill?
There are numerous GPS Running trackers such as:
• MapmyRun
• Strava
• Running
• Adidas Running
• Nike Running
For those using treadmills, please take a photo of your distance covered from the dashboard with a date and time reference of the activity. This can be done via a watch or another phone.
7. How do I submit my Activity record?
Step 1:
Use the recommended GPS Running Tracker Apps or Treadmill or personal step tracker to record your Run/Walk within the stipulated event period.
Step 2:
Take a screenshot of your finished activity, making sure that the date, distance, time and duration of the session are clearly visible. If you are using a treadmill, please take a photo of the dashboard with the distance and time, and a reference to the date, ie. from a watch or another phone.
Step 3:
Upload your screenshot or photo via the link of your confirmation email or the 'Upload' tab.
Please have your registration ID available and fill in the details accordingly.
For ease of uploading, please access via the link from your confirmation email.
Step 4:
Once submitted, you will receive a notification email. You can then repeat step 1 again for your next run and submission.
*Do note that any irrelevant or inaccurate submissions will be removed at the discretion of the organizers.
8. Is there a limit to how many results I am allowed to submit?
No, there is no limit to how many results you can submit. This is an accumulative challenge. You may take as many or as few submissions, to complete the minimum distance that you have selected.
9. How will I know if my submission is received?
An email notification will be sent to you after each submission of your activity. We will notify you if any of your submission is invalid or unclear. You can do a new submission within the stipulated duration.
Entitlements
10. When will I receive my medal?
Medals will be delivered after the event has officially ended to participants who have opted-in medals during the registration.
Leaderboard
100KM Individual Run
| First Name | theregid | Last Name | Category | kmsupload | Total KMs Uploaded |
| --- | --- | --- | --- | --- | --- |
| Kee Hing | 106q5 | KEW | hundred 40 | 5.01 | 100.37 |
| Sii Kiet | 1hg2t | Yong | hundred 40 | 9.53 | 25.59 |
| Sean | 1z9fo | Barry | hundred 40 | 8.24 | 1,120.49 |
| Jack | 28saw | Lai | hundred 40 | 5.60 | 108.87 |
| Jee Seng | 2aebv | Loh | hundred 40 | 3.45 | 251.00 |
| Jay | 35vg3 | Ko | hundred 40 | 4.05 | 108.38 |
| Kun Ming | 3fig3 | Soon | hundred 40 | 3.58 | 103.19 |
| Cassandra | 46zer | Rudge | hundred 40 | 4.20 | 238.20 |
| Wong | 4ddy | Kean Coong | hundred 40 | 53.74 | 67.54 |
| Wong | 4dyy | Kean Coong | hundred 40 | 48.77 | 48.77 |
| Ng | 4gkv7 | Chenhao Brandon | hundred 40 | 10.68 | 84.22 |
| Huiqian | 4lg8w | Chen | hundred 40 | 5.05 | 101.67 |
| Chua | 5jyjm | Michael | hundred 40 | 13.50 | 13.50 |
| Seng Kok | 5oidp | Chua | hundred 40 | 8.01 | 107.85 |
| Elinus | 5scov | Liga | hundred 40 | 3.34 | 112.01 |
| Steven | 6lvys | Chek | hundred 40 | 14.02 | 125.26 |
| Dineshkumar | 6qiw | Pitchai | hundred 40 | 104.00 | 104.00 |
| CT | 6qzew | LO | hundred 40 | 103.00 | 103.00 |
| Celine | 7r1xs | Chin | hundred 40 | 5.20 | 84.07 |
| Sufyan | 7xdpw | T | hundred 40 | 12.01 | 331.22 |
| Mary Rose | 8j2w1 | Pascual | hundred 40 | 7.17 | 104.15 |
| Joanne | 8yd0w | Chu | hundred 40 | 5.08 | 62.50 |
| Bee Leng | 99ki3 | Lee | hundred 40 | 6.10 | 101.65 |
| Michael | 9q3nv | Long | hundred 40 | 9.21 | 170.84 |
| Dennis | ab2h4 | Lau | hundred 40 | 10.10 | 103.10 |
| Yu sheng | afbpz | Lee | hundred 40 | 68.00 | 114.90 |
| Santhiya | bv60b | Kumanan | hundred 40 | 13.26 | 137.96 |
| Jo-Ann | cnuik | Chia | hundred 40 | 15.00 | 112.89 |
| Ang Fo | cxcuc | - | hundred 40 | 8.00 | 27.50 |
| Szetu Ru Min Felicia | cxyew | - | hundred 40 | 10.00 | 52.08 |
| Caroline | dde2c | Sim | hundred 40 | 38.04 | 186.00 |
| Angeline | df51n | Tan | hundred 40 | 3.75 | 470.05 |
| Desmond | dzezs | Leong | hundred 40 | 28.46 | 28.46 |
| YAP | e17de | CHER XI | hundred 40 | 5.00 | 14.90 |
| Yun Yun | Ffem1 | Koh | hundred 40 | 4.46 | 109.09 |
| Zhenchang | fme0p | Chen | hundred 40 | 4.00 | 100.00 |
| Wei Kiat | fp5b | Tan | hundred 40 | 8.01 | 202.07 |
| Denise | gamud | Tay | hundred 40 | 1.71 | 238.66 |
| Sabrina | ge03k | Ho | hundred 40 | 4.00 | 100.20 |
| Gong | gh2dj | Wai Choo | hundred 40 | 10.00 | 102.28 |
| Veronica | grh0y | Wei | hundred 40 | 378.85 | 447.25 |
| Soe Moe | h0azm | Swe | hundred 40 | 3.90 | 3.90 |
| Charles | h9cf7 | Wong | hundred 40 | 10.21 | 102.05 |
| GEE YANG | i9591 | CHIN | hundred 40 | 12.00 | 125.93 |
| Hon Wah | ifa0f | Chang | hundred 40 | 6.08 | 127.36 |
| Tan Sok Chin | j0psn | Yuko | hundred 40 | 6.65 | 33.46 |
| Odessa | j574c | Dacmay | hundred 40 | 3.02 | 335.23 |
| KIAN LIANG (JIANLIANG) | j81xy | TAN (CHEN) | hundred 40 | 87.88 | 101.25 |
| Charmaine | jo2cb | Tan | hundred 40 | 4.74 | 103.85 |
| Victor | jxosj | Nasaret | hundred 40 | 4.99 | 100.32 |
| Godwyn Ray | ldyu4 | Tabac | hundred 40 | 29.65 | 230.68 |
| Crystal | lo09t | Ang | hundred 40 | 4.88 | 100.45 |
| Mohamed | myudq | Faish | hundred 40 | 6.60 | 106.00 |
| Joe | n3s3t | Yap | hundred 40 | 5.20 | 132.94 |
| Calvin | nnpa8 | - | hundred 40 | 5.66 | 101.06 |
| Wai See | nwa0b | Soo | hundred 40 | 27.45 | 101.81 |
| Anthony | og9pk | Tan | hundred 40 | 267.75 | 482.82 |
| Ong | om6rg | Kee seong | hundred 40 | 8.35 | 301.29 |
| Hanaffia | p8n6o | Bin Hamzah | hundred 40 | 15.09 | 102.64 |
| Shiaw Wah | pxvl8 | Lim | hundred 40 | 5.00 | 100.10 |
| Rahim bin Rahmat | q3k6 | Rahmat | hundred 40 | 6.00 | 100.45 |
| Smitha | q5f37 | Sheshadri | hundred 40 | 4.15 | 100.05 |
| Sheela | qbtj2 | Eroyna | hundred 40 | 3.17 | 104.88 |
| Kimberly | ql1wq | Ong | hundred 40 | 6.65 | 295.21 |
| Haziq | qm4bu | Shafeeq | hundred 40 | 5.00 | 135.85 |
| Kee Hin | rdgxz | Chua | hundred 40 | 13.31 | 100.57 |
| Kee Hin | rgdxz | Chua | hundred 40 | 13.32 | 67.32 |
| Andri | sb8cm | Cheong | hundred 40 | 27.00 | 128.64 |
| Mohamed Ariffin | sv97y | Bin Mohamed Affandi | hundred 40 | 5.07 | 42.83 |
| CHEE MUN | t1hfz | NG | hundred 40 | 7.11 | 102.43 |
| Arthur | t6cm6 | Chee Keen Choy | hundred 40 | 5.06 | 115.49 |
| Anne Frances | tgcay | Buhay | hundred 40 | 7.71 | 111.76 |
| Miki | tqw9h | Fong | hundred 40 | 10.29 | 10.29 |
| Aaron | v1cj6 | Cheng | hundred 40 | 10.00 | 367.70 |
| Aizuddiin | w8jrx | Nasser | hundred 40 | 0.91 | 0.91 |
| Sajidah | wb8a7 | Banu | hundred 40 | 5.18 | 72.55 |
| Wai Thing | wwva | Law | hundred 40 | 102.32 | 334.13 |
| Chua | xzfrv | Wen jie | hundred 40 | 3.00 | 100.00 |
| Kevin | zhnwp | Yeo | hundred 40 | 4.00 | 118.49 |
| First Name | theregid | Last Name | Category | kmsupload | Total KMs Uploaded |
10KM Individual Run
| First Name | theregid | Last Name | Category | kmsupload | Total KMs Uploaded |
| --- | --- | --- | --- | --- | --- |
| Kyp | 1aldz | Lee | ten 35 | 2.41 | 11.55 |
| Jason | 1k3p7 | Sam | ten 35 | 6.10 | 27.58 |
| Cheewee | 1offy | Shu | ten 35 | 10.00 | 33.00 |
| Tan | 295ke | Kee Yao | ten 35 | 8.40 | 17.20 |
| Hui Bing | 29p8s | Lee | ten 35 | 2.60 | 10.42 |
| Kieran | 2flyx | Monteiro | ten 35 | 2.43 | 37.60 |
| Zenia | 2g0ao | Ong | ten 35 | 11.18 | 11.18 |
| Irwin | 2hzfd | See | ten 35 | 5.02 | 17.06 |
| Vignes | 2jpas | Ram | ten 35 | 5.56 | 10.76 |
| Ray | 2ssdo | Ho | ten 35 | 10.00 | 10.00 |
| Vinodhan | 34pzp | Jayaraman | ten 35 | 3.60 | 3.60 |
| Ting Hai | 3k3ck | Chua | ten 35 | 10.00 | 10.00 |
| Scott | 3lfih | Reichelt | ten 35 | 10.00 | 10.00 |
| Gina | 3vyi4 | Phua | ten 35 | 7.88 | 10.88 |
| Kenneth | 456608 | Low | ten 35 | 2.74 | 12.85 |
| Veronica | 47ihb | Chai | ten 35 | 8.18 | 15.86 |
| Eunice | 480px | Ong | ten 35 | 2.99 | 10.65 |
| Darren | 48c9t | Ther | ten 35 | 3.73 | 10.27 |
| JONATHAN | 4gpfr | CHNG | ten 35 | 5.44 | 90.94 |
| Becky | 4m08l | Chiu | ten 35 | 7.79 | 18.12 |
| lay see | 4m72n | lim | ten 35 | 2.74 | 10.51 |
| Geok Cheng | 4or7b | Low | ten 35 | 4.55 | 57.11 |
| Samuel | 4p2kd | Teh | ten 35 | 10.00 | 10.00 |
| Desmond | 4twg | Tan | ten 35 | 6.32 | 14.38 |
| Wen Yong | 5b0ws | Law | ten 35 | 10.43 | 68.19 |
| Florence | 5gpgr | Hioe | ten 35 | 5.52 | 11.30 |
| Yeap | 5h08y | Wan Ying | ten 35 | 5.92 | 20.35 |
| Corrinne | 5qzt0 | Chia | ten 35 | 5.45 | 62.83 |
| Arun | 5s8ht | Bhaskar | ten 35 | 18.60 | 18.60 |
| Syafiqah Lan | 5so6h | - | ten 35 | 11.00 | 11.00 |
| Sharon | 60m7z | Seah | ten 35 | 10.00 | 10.00 |
| Hong Xuan | 63kf4 | Lee | ten 35 | 6.99 | 16.55 |
| Nicole | 69e8v | Low | ten 35 | 11.29 | 22.58 |
| Yi Ling | 6mwsu | Sim | ten 35 | 2.42 | 10.05 |
| Jesseln | 6pzgv | Goh | ten 35 | 6.60 | 27.84 |
| Nicholas | 7bx0q | Koh | ten 35 | 6.00 | 10.00 |
| Lucas | 7kzfy | Lim | ten 35 | 5.04 | 15.34 |
| Belinda | 7mtor | Chan | ten 35 | 7.10 | 12.00 |
| LI-SAN | 7q5ip | NG | ten 35 | 11.00 | 11.00 |
| Jean Marie | 8bjhd | Ng | ten 35 | 10.07 | 10.07 |
| Jose | 8dify | Junarto | ten 35 | 10.00 | 10.00 |
| Jethro | 8ga1z | Wong | ten 35 | 6.08 | 12.13 |
| Joel | 8mosu | Cheang | ten 35 | 11.71 | 11.71 |
| James | 8q4i4 | Foo | ten 35 | 6.43 | 13.46 |
| Xuan Yu | 8u7n0 | Tay | ten 35 | 11.95 | 11.95 |
| Liok Lim | 8wv6b | Chew | ten 35 | 10.00 | 10.00 |
| Timothy | 90yvv | Choon | ten 35 | 11.16 | 11.16 |
| Henry | 98xey | Lim | ten 35 | 7.38 | 20.52 |
| Hui Shin | 9996w | Ong | ten 35 | 2.00 | 10.02 |
| Yin Fung | 99ru5 | Li | ten 35 | 10.00 | 10.00 |
| Areina | 9drkx | Wong | ten 35 | 3.00 | 33.50 |
| Wei Bing (Ryleigh) | 9fvwc | Ong | ten 35 | 5.83 | 10.16 |
| JAMUNA | 9j37f | NAIDU | ten 35 | 35.00 | 69.73 |
| William | 9m56j | Chin | ten 35 | 11.22 | 11.22 |
| Sarah | 9vf8z | Chan | ten 35 | 7.85 | 7.85 |
| Rachel | abu6e | Low | ten 35 | 14.00 | 14.00 |
| Josephine | afipp | Ho | ten 35 | 12.88 | 59.57 |
| Yue Min | agf0j | Lua | ten 35 | 10.00 | 20.90 |
| Kevin | ai29c | Chiang | ten 35 | 10.00 | 10.00 |
| Wei Ting | ajful | Wong | ten 35 | 10.01 | 10.01 |
| QT | ao8ig | Chan | ten 35 | 3.00 | 8.54 |
| Ariel | awza2 | Huang | ten 35 | 10.55 | 10.55 |
| Michelle | b5qsw | Ng | ten 35 | 5.37 | 16.88 |
| Jun Wei | b6yuv | Chan | ten 35 | 10.00 | 10.00 |
| Moe | blv39 | Ma Ma | ten 35 | 10.00 | 10.00 |
| Jane | bm6j3 | Chan | ten 35 | 3.56 | 18.62 |
| Gracia | buy0t | Lim | ten 35 | 2.02 | 10.49 |
| Siti | bz8a4 | Khatijah | ten 35 | 5.29 | 5.29 |
| Joyce | bzavp | Goh | ten 35 | 12.51 | 12.51 |
| Cassandra | c0qbu | Ooi | ten 35 | 10.00 | 10.00 |
| Geraldine | c5h52 | Pereira | ten 35 | 5.29 | 61.36 |
| Siti Namirah | c8oc | Mohamed Nasir | ten 35 | 6.05 | 29.50 |
| Chek Koon | cb1p5 | Teo | ten 35 | 10.00 | 10.00 |
| Melvin | cc44o | Loo | ten 35 | 3.00 | 32.04 |
| James | cctjr | Boey | ten 35 | 5.06 | 10.20 |
| Lewis | ckrm2 | Woo | ten 35 | 13.50 | 13.50 |
| Poh Leng | cmeoz | Teh | ten 35 | 17.00 | 17.00 |
| Si Yi | cv1kt | Lee | ten 35 | 10.00 | 20.00 |
| Kim Huat | d6s2l | Koon | ten 35 | 1.30 | 15.89 |
| H2 | d7owf | Chan | ten 35 | 10.13 | 10.13 |
| Wei Ting | d7q2 | Er | ten 35 | 10.00 | 10.00 |
| Mee pin | dclwd | Chong | ten 35 | 8.00 | 17.00 |
| Edward | dd9nj | Ng | ten 35 | 6.00 | 13.00 |
| Edlina | ditxf | Ahtarini | ten 35 | 2.04 | 10.55 |
| Shi Yan | dph8t | Wee | ten 35 | 6.37 | 12.61 |
| Clancie | ej595 | Ng | ten 35 | 10.00 | 10.00 |
| Lim | el4mp | Kym Suan Esther | ten 35 | 3.64 | 11.36 |
| Joan | enpn4 | Hamilton | ten 35 | 5.00 | 16.00 |
| Erik Sugiarto | epkqn | Soeryadji | ten 35 | 8.57 | 15.11 |
| Alfred | evne0 | Teo | ten 35 | 10.02 | 10.02 |
| Wenni | fem6 | Aw | ten 35 | 3.47 | 6.27 |
| Low | fiabk | Min Hui | ten 35 | 10.00 | 10.00 |
| Jema | fvul | Luna | ten 35 | 10.16 | 10.16 |
| Ru Jia | fwbx4 | Foo | ten 35 | 10.00 | 10.00 |
| Xin Hui | fzlla | Tan | ten 35 | 16.60 | 16.60 |
| Lukman Hakim | grngr | Riduan | ten 35 | 10.05 | 10.05 |
| Carine | gw582 | Lim | ten 35 | 4.04 | 80.73 |
| Mun Yoke | gxzy0 | Tam | ten 35 | 10.64 | 10.64 |
| Sarah Elessia | h8p7o | Ashika | ten 35 | 3.00 | 10.08 |
| Charles | h9cf7 | Wong | ten 35 | 10.21 | 10.21 |
| Yingjie | i3eyr | Liang | ten 35 | 1.60 | 1.60 |
| Eng Koon | iagdd | Khng | ten 35 | 12.00 | 12.00 |
| Yi-Xuan | if9ic | Khor | ten 35 | 7.58 | 20.46 |
| TIANG | jak2v | TONG EE | ten 35 | 10.00 | 10.00 |
| Paul | jfeme | Lim | ten 35 | 5.55 | 13.62 |
| chui lee | jrgcm | ting | ten 35 | 10.00 | 73.67 |
| Lin Dian Benyatip (Diana) | jusra | Foo | ten 35 | 10.00 | 10.00 |
| Victor | jxq7f | Nazaret | ten 35 | 5.00 | 105.33 |
| Eunice | k39hy | Boon | ten 35 | 12.40 | 12.40 |
| Sufi | k7rlq | Hidayat | ten 35 | 4.55 | 10.69 |
| Noah | k9rb4 | Seethor | ten 35 | 3.37 | 18.77 |
| Isabel | ke1i | Lee | ten 35 | 4.11 | 10.11 |
| GC | kndte | Low | ten 35 | 4.87 | 14.34 |
| Moritza | knyxd | Lim | ten 35 | 5.69 | 10.54 |
| Wendy | kop72 | Tan | ten 35 | 10.08 | 10.08 |
| Pei Koon | kq42j | Pek | ten 35 | 10.01 | 10.01 |
| Jia Ying | kveos | Siow | ten 35 | 10.86 | 10.86 |
| Angeline | l3hna | Ho | ten 35 | 6.10 | 68.72 |
| Jernej | la6x4 | Zidar | ten 35 | 10.00 | 10.00 |
| Yan Shan | lcnfv | Foo | ten 35 | 7.20 | 10.50 |
| Kai En | libcn | Gwee | ten 35 | 22.00 | 22.00 |
| Seok Yee | lm9p2 | Ng | ten 35 | 11.00 | 12.74 |
| Wen Jie | Logh3 | Lim | ten 35 | 10.46 | 10.46 |
| Wenqi | lsawn | Liu | ten 35 | 10.60 | 10.60 |
| Nurul Huda | lvocd | Hamidi | ten 35 | 6.00 | 6.00 |
| Thomas | m64vh | Goh | ten 35 | 11.02 | 11.02 |
| Hui Xin | m8abl | Lim | ten 35 | 7.25 | 12.89 |
| Teck Soon | mdxqj | Tan | ten 35 | 10.00 | 10.00 |
| Celia | mmj4c | Lim | ten 35 | 5.03 | 12.15 |
| Joanne | mopcb | Lua | ten 35 | 6.40 | 11.72 |
| Mohamed hirzi | mryrn | Mohamed hussain | ten 35 | 10.00 | 10.00 |
| Nikki | ms2yr | Beh | ten 35 | 5.21 | 16.89 |
| Jovin | n03e4 | Choong | ten 35 | 10.00 | 10.00 |
| Wei Yan | n8mjg | Chua | ten 35 | 10.41 | 20.82 |
| Johnson | nafmk | Auyong | ten 35 | 5.08 | 10.09 |
| Hui Li | nkcc4 | Chong | ten 35 | 3.41 | 10.35 |
| Kar Kin | nzzq3 | Yee | ten 35 | 3.54 | 11.56 |
| Nicholas | o1g0h | Guan | ten 35 | 10.30 | 10.30 |
| Mai | o52b3 | Tatoy | ten 35 | 11.42 | 11.42 |
| Jia yi | ocnr7 | Tan | ten 35 | 0.67 | 6.81 |
| zi yang | oh30x | tan | ten 35 | 5.21 | 45.86 |
| Watt | om6h6 | Yim Pheng | ten 35 | 10.44 | 83.72 |
| Jason | ospt3 | Poh | ten 35 | 10.60 | 10.60 |
| Shizuka | ot4y5 | Misaka | ten 35 | 6.63 | 158.56 |
| jake | p1wx4 | tan | ten 35 | 10.00 | 10.00 |
| Lorena | pcd5k | Ting | ten 35 | 10.25 | 10.25 |
| Cecilia | pygw9 | Jose | ten 35 | 11.00 | 11.00 |
| Gaby | q24zi | Lim | ten 35 | 4.53 | 12.41 |
| Wen Xin | q84pl | Sam | ten 35 | 10.00 | 10.00 |
| Ranice | qmacq | Moh | ten 35 | 1.40 | 10.19 |
| Ganesh | qqlr | Vechalapu | ten 35 | 10.06 | 10.06 |
| Siew Juan | rkj8c | Chung | ten 35 | 3.21 | 10.20 |
| Wong | rrk4h | Kai Foong | ten 35 | 3.13 | 10.13 |
| Angie | rsnaf | See | ten 35 | 15.87 | 15.87 |
| Mohamed Razali | rx5hf | Ismail | ten 35 | 3.32 | 77.53 |
| Stanley | s3fol | Lim | ten 35 | 7.52 | 19.60 |
| Shannon | s6eem | Chin | ten 35 | 2.02 | 11.41 |
| Yi Lin | sfbmc | Quek | ten 35 | 13.20 | 13.20 |
| Kendy | sjdf4 | Loke | ten 35 | 10.20 | 10.20 |
| Angela Carol | sqzj0 | Merciar | ten 35 | 5.00 | 24.75 |
| Khairani | sygdu | Jemaat | ten 35 | 10.00 | 20.00 |
| Molly | sysv1 | Tay | ten 35 | 10.45 | 423.47 |
| Christopher | t05s5 | Ong | ten 35 | 4.01 | 26.98 |
| Ng | t6xat | Yun | ten 35 | 7.03 | 12.24 |
| Lai Sun | u1gs1 | Choo | ten 35 | 5.11 | 16.87 |
| Hui Lin | uccmu | Tan | ten 35 | 6.43 | 193.12 |
| Fiona | ufclv | Choong | ten 35 | 3.49 | 10.63 |
| Amala | uqo8q | Tavabalan | ten 35 | 4.46 | 9.14 |
| Chee Kwang | uscjw | Koh | ten 35 | 5.00 | 10.04 |
| Sarah | uvh35 | Wang | ten 35 | 10.45 | 10.45 |
| Joey | vidmr | Cho | ten 35 | 15.00 | 15.00 |
| Kim keong | vk03q | Tan | ten 35 | 9.10 | 16.20 |
| Robert | vp8pk | Saputra | ten 35 | 8.00 | 17.00 |
| Yi Jing | vq6vb | Huang | ten 35 | 3.00 | 11.00 |
| Teresa | vyuki | Xiao | ten 35 | 10.61 | 10.61 |
| WAI CHUN | wckoo@maybank.com | KOO | ten 35 | 10.00 | 10.00 |
| Tiffany | wjva1 | Koh | ten 35 | 5.21 | 10.39 |
| Yong Xuan | wmwxs | Pua | ten 35 | 10.00 | 10.00 |
| Linda | wtxoz | Zhong | ten 35 | 1.00 | 4.00 |
| Ulrich | wz3pt | Antoni | ten 35 | 10.21 | 10.21 |
| Linda | x6jmm | Teo | ten 35 | 12.40 | 12.40 |
| Lorna | x8jof | Koh | ten 35 | 11.25 | 61.50 |
| Eric | xcnri | Sng | ten 35 | 5.00 | 140.90 |
| Shu-Yi | xlagn | Lim | ten 35 | 3.76 | 12.32 |
| Jason | xp3q4 | Lim | ten 35 | 7.00 | 10.00 |
| Peggy | xqhas | Chua | ten 35 | 8.15 | 10.14 |
| Darren | xua1f | Png | ten 35 | 10.52 | 10.52 |
| Natalie | yabbj | Teo | ten 35 | 10.00 | 10.00 |
| Kazimah | ycsew | Sazali | ten 35 | 10.29 | 10.29 |
| Khairani | yinib | Jemaat | ten 35 | 10.00 | 10.00 |
| Muhammad Haiqel | yrmw0 | Bin Nawi | ten 35 | 10.00 | 10.00 |
| Daniel | yvtir | Goh | ten 35 | 3.65 | 7.22 |
| Ramil | z2nc7 | Alburo | ten 35 | 11.00 | 11.00 |
| Ma Victoria | znukh | Quiatchon | ten 35 | 8.78 | 16.01 |
| Nuratiqah | zyej1 | Binte Mohd Chik | ten 35 | 10.20 | 10.20 |
| First Name | theregid | Last Name | Category | kmsupload | Total KMs Uploaded |
5KM Individual Run
| First Name | theregid | Last Name | Category | kmsupload | Total KMs Uploaded |
| --- | --- | --- | --- | --- | --- |
| CHEE LEONG | 17w36 | LEE | five 25 | 5.00 | 5.00 |
| Jarieul | 1app | Wong | five 25 | 3.88 | 3.88 |
| Wai Hoong | 1qg3k | Leong | five 25 | 5.00 | 5.00 |
| Hieu | 3dijo | Nguyen | five 25 | 5.00 | 5.00 |
| Wai Yip | 44a7r | Fong | five 25 | 5.39 | 5.39 |
| Fiona | 5842j | Ip | five 25 | 4.58 | 5.14 |
| Nadiah | 7cqdo | Yusof | five 25 | 5.71 | 5.71 |
| Grace | 7requ | Yan | five 25 | 5.43 | 5.43 |
| Xue Ying | 8d51w | Lee | five 25 | 5.00 | 5.00 |
| Uwais | 8fd42 | Fawzi | five 25 | 5.43 | 5.43 |
| Kamarulzaman | 9pkag | Osman | five 25 | 3.64 | 7.98 |
| Lena | 9scxm | Wan | five 25 | 3.64 | 7.19 |
| Lin Wei | ap06w | Soh | five 25 | 5.00 | 5.00 |
| shirley | b4eky | woo | five 25 | 5.11 | 5.11 |
| Lim | bu4cb | Tse Min | five 25 | 3.61 | 6.96 |
| Chris | c54vy | Seah | five 25 | 8.87 | 8.87 |
| Nur Zaidah | d8zgm | Samsudin | five 25 | 5.01 | 5.01 |
| Malinda | e9z6s | Lim | five 25 | 5.01 | 5.01 |
| Janice | gi4v5 | Wong | five 25 | 5.00 | 5.00 |
| Maggie | gpcyk | Lee | five 25 | 5.00 | 10.00 |
| Jinny | h03it | Ho | five 25 | 3.07 | 31.91 |
| Herdawati | hawu6 | Johari | five 25 | 5.05 | 5.05 |
| Aisyah | hga5K | AbdulRahman | five 25 | 5.20 | 15.88 |
| Sinead | hm26j | Sng | five 25 | 5.80 | 5.80 |
| Nataliw | hpbwp | Tan | five 25 | 8.87 | 17.74 |
| Mark | jeiak | Resurreccion | five 25 | 5.05 | 5.05 |
| Muhammad | jpu2h | Ridwan Sarmidi Putra | five 25 | 5.00 | 5.00 |
| kumaran | k6wwe | arumugam | five 25 | 5.20 | 5.20 |
| Li Peng | k9brz | Tan | five 25 | 7.20 | 7.20 |
| Siew Khim | l06uv | Ng | five 25 | 8.60 | 8.60 |
| Ai Lynn | l95zc | Song | five 25 | 6.00 | 6.00 |
| Li Peng | lipeng.tan@maybank.com | Tan | five 25 | 7.20 | 7.20 |
| Kathy | msv0d | Ng | five 25 | 5.01 | 5.01 |
| Jonathan | oyob5 | Yan | five 25 | 6.78 | 6.78 |
| Adilah | p8hk3 | Hamid | five 25 | 6.70 | 6.70 |
| Alicia Lee Hwee | pkj34 | Lim | five 25 | 2.66 | 5.68 |
| Yvonne | q9evo | Aw | five 25 | 7.40 | 7.40 |
| Amy | rp49b | Chung | five 25 | 5.37 | 5.37 |
| Bethany | s5qrw | Tan | five 25 | 5.01 | 5.01 |
| Karen | st1dc | Wu | five 25 | 5.20 | 5.20 |
| Jun Wei | todjv | Kwen | five 25 | 3.07 | 9.77 |
| Vinol | u7skm | Joy Dsouza | five 25 | 11.00 | 22.00 |
| Ziana | ucgcw | Azman | five 25 | 5.00 | 5.00 |
| William Wei Liang | uee2o | Poon | five 25 | 8.58 | 8.58 |
| Eddie | ugidq | Chua | five 25 | 5.00 | 5.00 |
| John | ukolj | Thng | five 25 | 5.02 | 5.02 |
| Wai Yip | uozza | Fong | five 25 | 6.42 | 6.42 |
| Jwee Chye | uuplv | Tan | five 25 | 5.69 | 5.69 |
| Sarah | wbke | Tan | five 25 | 5.02 | 5.02 |
| Emily | wbn87 | Yee | five 25 | 9.23 | 9.23 |
| Jocelyn | wy2xs | Yan | five 25 | 5.16 | 10.32 |
| Aidah | xftv6 | Sukor | five 25 | 5.18 | 5.18 |
| Victoria | xfyzj | Ng | five 25 | 7.78 | 7.78 |
| Yi Hui | zg8x6 | Tan | five 25 | 2.40 | 7.51 |
| First Name | theregid | Last Name | Category | kmsupload | Total KMs Uploaded |
10KM Family Run (up to 5 pax)
| First Name | theregid | Team Name | Category | kmsupload | Total KMs Uploaded |
| --- | --- | --- | --- | --- | --- |
| Vera | 6zv95 | Goh-Wong-Grenehammar | family 100 | 5.06 | 22.09 |
| Seriati Amin | awb7w | Team Boleh | family 100 | 2.60 | 13.60 |
| Melanie | dbdy3 | Low-Tan | family 100 | 3.84 | 24.24 |
| Shao Xinting | nxtoy | Team Shiny Angels | family 100 | 2.40 | 42.71 |
| First Name | theregid | Team Name | Category | kmsupload | Total KMs Uploaded |
For questions regarding this event, please contact the organiser at: connect@limitless.sg