Walk Challenge @ South West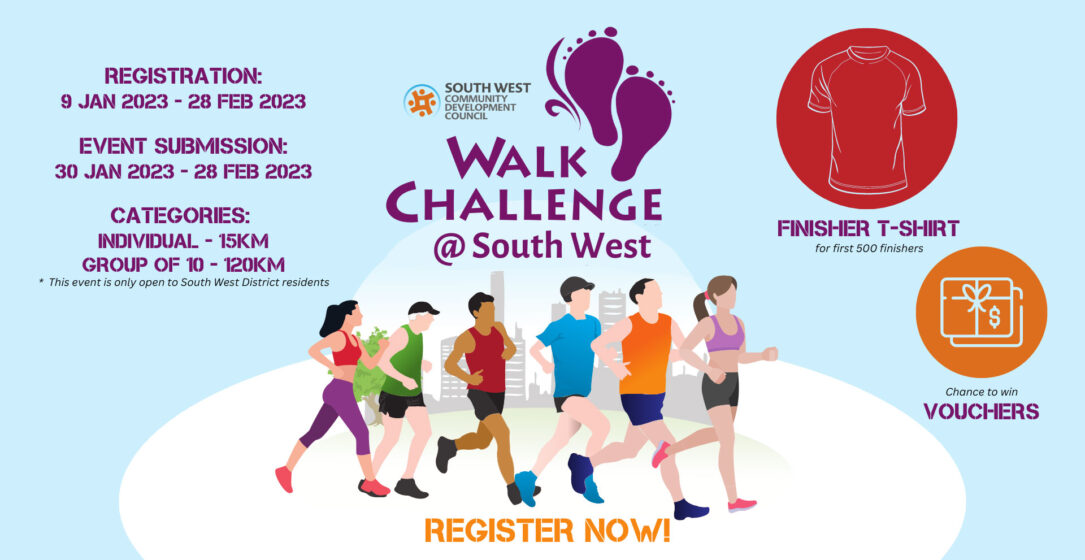 Register
Registration is no longer available. Thank you.
Event Info
General information
Eligible participants will be notified nearer to the date via email with the details for the collection of Finisher T-Shirt and vouchers.
Event available in:
Singapore
No shipping for this event. Refer to self-collection details above.
This event is FREE and for all South West District Residents ONLY. Each participant is only allowed to participate in ONE category.
Important dates
Registration has closed:
Event period: 30 January 2023 until 28 February 2023


You can upload any sessions done within this period, regardless the date of your registration.

Upload closes: 28 February 2023
Categories and Fees
Virtual
Walk
Individual - 15km
Group of 10 - 120km
This event is FREE for all South West District Residents ONLY.
Completion:
What is a Virtual Challenge?
A virtual challenge is a race that you can complete at your own pace and time.
Virtual challenge works exactly the same as any other type of sports events (e.g. running or cycling) but the difference is that the entered race can be completed at any location, either outdoors or indoors on a machine.
All you have to do is register for a race and provide evidence that you have done it. The evidence can be a screenshot of your running/fitness app, a photo of the machine screen etc. Do check out specific instructions of the event you join for more information.

Virtual races are a great way to stay fit and active all year round, run for good causes and get awesome medals and other entitlements for your participation!
Entitlements
Runner's entitlements
e-Certificate
Finisher T-Shirt (For first 500 finishers from the Individual & Group categories)
5 lucky groups under the group category will stand a chance to win $200 NTUC vouchers each (10 members x $20) if they complete at least 120km as a group, with each member contributing at least 2km
5 lucky individuals under individual category will stand a chance to win $20 NTUC vouchers each if they complete at least 15km
Event apparel
Design to be availed soon.
Size Chart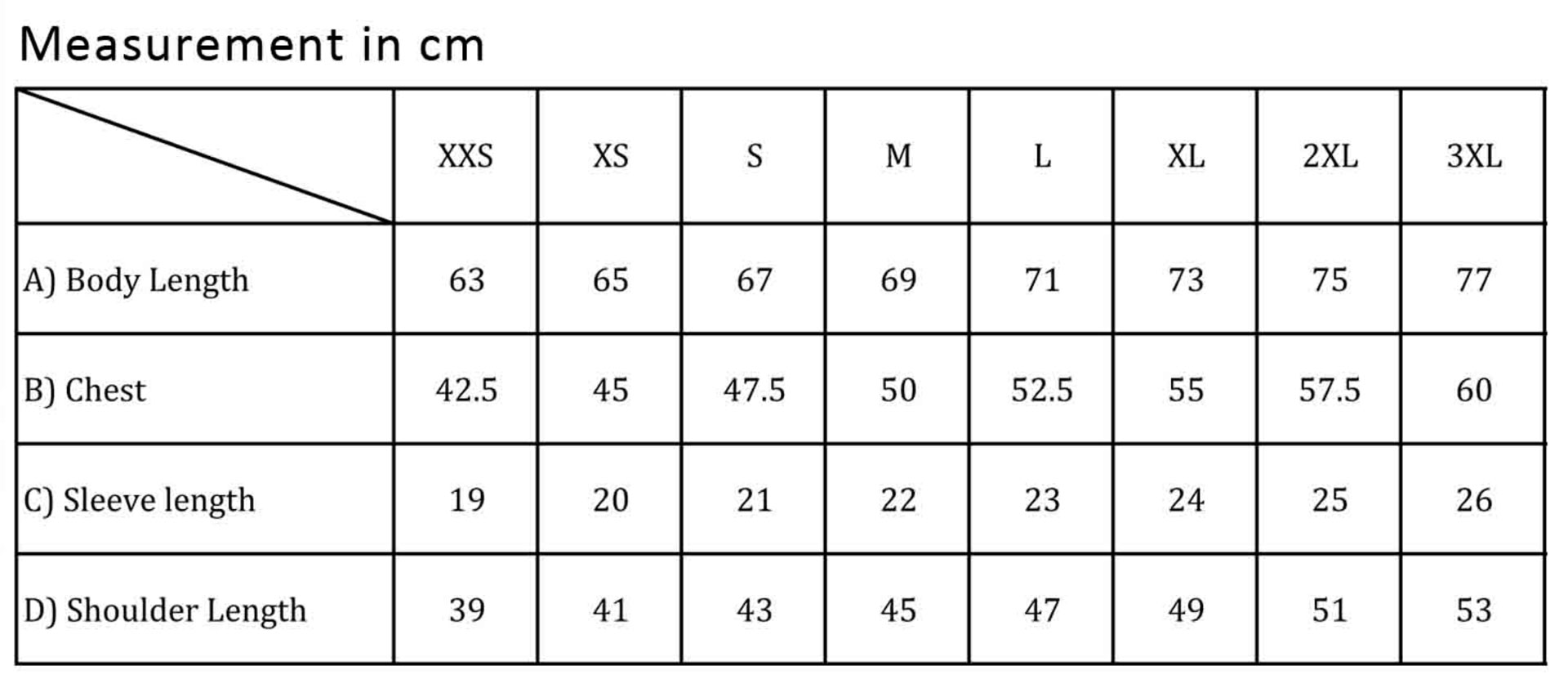 Upload
Uploading has closed.
You can contact the organiser at: support@justrunlah.com
Thank you.
Leaderboard
Individual – 15 km
| First Name | theregid | Last Name | Category | kmsupload | Total KMs Uploaded |
| --- | --- | --- | --- | --- | --- |
| Yen Li | 13e4e | Yeo | fifteenind 0 | 14.35 | 47.37 |
| Tashi | 1c2fo | Sherpa | fifteenind 0 | 4.09 | 15.92 |
| Sona | 1dha5 | Muthu | fifteenind 0 | 15.00 | 15.00 |
| pei xuan | 1mtr2 | toh | fifteenind 0 | 3.23 | 15.26 |
| Koh | 1q8ha | Mee Fah | fifteenind 0 | 18.00 | 61.66 |
| Wang Jze | 2205g | Qu | fifteenind 0 | 21.50 | 21.50 |
| Yen Leng | 253te | Lim | fifteenind 0 | 4.35 | 23.81 |
| Teck Leng | 267e | Tan | fifteenind 0 | 15.00 | 15.00 |
| Sirisha | 29ze0 | V | fifteenind 0 | 5.01 | 126.63 |
| Priyadharshini | 380eg | Muthukannan | fifteenind 0 | 16.26 | 16.26 |
| Zoel | 38cb6 | Lau | fifteenind 0 | 22.25 | 136.39 |
| Niam | 38t3j | Kei | fifteenind 0 | 7.11 | 77.84 |
| Ellison | 3g695 | Wang | fifteenind 0 | 58.00 | 116.00 |
| Thomas | 3h0jg | Goh | fifteenind 0 | 7.67 | 7.67 |
| Kangwei | 3nu3f | Lai | fifteenind 0 | 7.36 | 15.71 |
| David | 3oi8w | Choo | fifteenind 0 | 15.30 | 15.30 |
| gowthami | 3p22q | Gowtham | fifteenind 0 | 15.33 | 15.33 |
| Irene | 3tsas | Soh | fifteenind 0 | 145.28 | 208.68 |
| Siew Eng | 3vcqr | Yap | fifteenind 0 | 16.80 | 16.80 |
| Leong Hee | 410jk | Lim | fifteenind 0 | 8.94 | 16.34 |
| Bill | 434w9 | Moh | fifteenind 0 | 8.27 | 16.39 |
| Tiong Guan | 43p3x | Chua | fifteenind 0 | 15.00 | 16.00 |
| Lim | 45pmj | Ka Lai | fifteenind 0 | 7.07 | 299.28 |
| Kong Ann | 49d2l | Lim | fifteenind 0 | 10.35 | 22.05 |
| Benjamin | 4bm66 | Yeong | fifteenind 0 | 4.00 | 20.00 |
| Sivasekaran | 4efon | Jeevanandam | fifteenind 0 | 8.10 | 22.54 |
| Hong Hong | 4ngpu | Tan | fifteenind 0 | 15.02 | 58.64 |
| Jimmy | 4o4mf | Ang | fifteenind 0 | 8.62 | 87.33 |
| Hung Moi | 4qtzg | Hoo | fifteenind 0 | 3.00 | 18.00 |
| Chai Lian | 4rt2k | Lim | fifteenind 0 | 15.04 | 15.04 |
| Felix | 4t7g9 | Toh | fifteenind 0 | 6.28 | 21.73 |
| Tan Ee Kim | 4u5eu | Tan | fifteenind 0 | 8.30 | 120.00 |
| Chua | 51vs2 | Sze Peng | fifteenind 0 | 16.56 | 16.56 |
| Christiana | 53jul | Tandiono | fifteenind 0 | 15.01 | 197.29 |
| Bee Eng | 57e1l | Dang | fifteenind 0 | 15.40 | 15.40 |
| Jing En Victoria | 59qkn | Yong | fifteenind 0 | 4.87 | 177.31 |
| Allyson | 5cba6 | Soon | fifteenind 0 | 9.70 | 15.60 |
| Yun Chong | 5j4e8 | Lai | fifteenind 0 | 5.77 | 154.96 |
| Chye, Charlie | 5nbre | Ho | fifteenind 0 | 11.00 | 21.00 |
| Xiaoyu | 5tcff | Wang | fifteenind 0 | 12.56 | 12.56 |
| Wai Sum | 66997a | Lee | fifteenind 0 | 6.00 | 22.95 |
| Lau | 6du9j | Mei Fong | fifteenind 0 | 5.15 | 27.15 |
| Kwai Pee | 6v81v | Koong | fifteenind 0 | 7.75 | 24.41 |
| Lucas | 7ik7d | Chan | fifteenind 0 | 9.32 | 16.57 |
| Edy | 7jlzu | Susanto | fifteenind 0 | 16.00 | 55.51 |
| Paul | 7mv8j2 | Neo | fifteenind 0 | 3.82 | 156.58 |
| Siew Hui | 81ocz | CHUA | fifteenind 0 | 6.71 | 17.71 |
| Lay Nah | 88eqp | Yeo | fifteenind 0 | 11.30 | 364.61 |
| Francene | 8gfar | Fong | fifteenind 0 | 15.00 | 68.83 |
| Wei Siang | 8v03p | Chan | fifteenind 0 | 7.25 | 20.70 |
| Tan | 8z17x | Hwee Yan | fifteenind 0 | 8.00 | 147.60 |
| Siew Kheng | 91ec2 | Eng | fifteenind 0 | 5.00 | 121.00 |
| Anita | 93dye | Choong | fifteenind 0 | 10.62 | 16.47 |
| Siok Hiang | 973dp | Tan | fifteenind 0 | 7.16 | 281.72 |
| AJAY | 97yi2 | S/O ANIL KUMAR | fifteenind 0 | 4.56 | 175.31 |
| Misty | 9fk26 | Flores | fifteenind 0 | 1.00 | 15.21 |
| ng | 9kue7 | wai Tuck | fifteenind 0 | 21.00 | 21.00 |
| Chiew Meng Johnny | 9ueox | Wong | fifteenind 0 | 10.44 | 199.76 |
| Yong Hong | a8wxl | Tan | fifteenind 0 | 12.48 | 131.74 |
| Chan | ag87c | Hong | fifteenind 0 | 10.22 | 31.66 |
| Ed | akfez | Ah | fifteenind 0 | 4.70 | 18.30 |
| Angel | am2u4 | Tay | fifteenind 0 | 17.51 | 35.02 |
| Meng Hooi | ap0fw | Teo | fifteenind 0 | 7.79 | 214.69 |
| Hamed | ar5jk | Jumaat | fifteenind 0 | 21.00 | 124.45 |
| Danilyn | at1qz | Dina | fifteenind 0 | 7.76 | 17.57 |
| Teng | b2emt | Esmond | fifteenind 0 | 5.07 | 24.24 |
| Kheng Cheong | b4ugs | See | fifteenind 0 | 10.24 | 19.44 |
| Siok Hong Dorothy | ba62h | Tanp | fifteenind 0 | 18.00 | 710.90 |
| Gaik Hooi | bie01 | Liang | fifteenind 0 | 32.12 | 32.12 |
| Dennis | bn8kv | Chan | fifteenind 0 | 6.01 | 28.77 |
| Siew Yee | brar1 | Chan | fifteenind 0 | 6.77 | 96.02 |
| Amrita | btimw | Paul | fifteenind 0 | 16.78 | 16.78 |
| YOKE SIAM | btky5 | YONG | fifteenind 0 | 7.44 | 82.35 |
| Kim Seng | bwmvs | Lim | fifteenind 0 | 15.00 | 596.10 |
| Hoon Kang | c02xq | Tan | fifteenind 0 | 13.60 | 105.00 |
| Vanessa | c1w1k | Chow | fifteenind 0 | 10.53 | 17.24 |
| Tzyy Rong | cjarm | Goh | fifteenind 0 | 3.21 | 15.00 |
| Xin Ling | cji8a | Law | fifteenind 0 | 7.53 | 15.51 |
| Jenet | ckbd | Gomez | fifteenind 0 | 2.42 | 69.31 |
| Yeo Tee | cxif0 | Chua | fifteenind 0 | 13.32 | 369.52 |
| Aung | cxnj7 | Thaw Lwin | fifteenind 0 | 1.90 | 28.75 |
| Mun Heng | d9fi2 | Fong | fifteenind 0 | 9.87 | 294.18 |
| Alvin | dcrg3 | Ng | fifteenind 0 | 5.42 | 23.46 |
| Wai Chun | dgv3m | Ho | fifteenind 0 | 5.04 | 16.35 |
| Trevor | dnhlr | Tan | fifteenind 0 | 13.21 | 25.91 |
| Kai Xiang | dtqgg | Khor | fifteenind 0 | 15.79 | 15.79 |
| WEE BOON | dy723 | KOH | fifteenind 0 | 5.20 | 32.20 |
| Li San | dzyo7 | Heng | fifteenind 0 | 10.25 | 26.74 |
| Wei Lan | e4ni6 | Chua | fifteenind 0 | 6.95 | 78.31 |
| Yan Ming Louis | e6iff | Chan | fifteenind 0 | 7.25 | 16.50 |
| Koh | ec93o | Wee Boo | fifteenind 0 | 18.09 | 18.09 |
| Bonnie | edqmo | Yap | fifteenind 0 | 5.00 | 18.50 |
| Fremi | eoupw | Tan | fifteenind 0 | 11.45 | 148.67 |
| POH GEIK | f0vy3 | TOH | fifteenind 0 | 15.90 | 453.10 |
| Goh | g19wu | Lim Guan | fifteenind 0 | 18.00 | 39.00 |
| Lai Hua helen | g21fu | yong | fifteenind 0 | 9.12 | 52.65 |
| Yvonne | gcd0a | Tan | fifteenind 0 | 697.00 | 740.05 |
| Min Hui | gebve | Ong | fifteenind 0 | 10.29 | 17.65 |
| Becky | gnrpk | Chiu | fifteenind 0 | 1.44 | 21.00 |
| KAINAN | gq1of | MEGANATHAN | fifteenind 0 | 19.22 | 19.22 |
| Sng Chee Keong | h04zb | . | fifteenind 0 | 5.05 | 26.30 |
| Mong Chew | h19ob | Teng | fifteenind 0 | 16.98 | 16.98 |
| Chern Hua | hdt0c | Hoo | fifteenind 0 | 4.86 | 20.02 |
| Jian Lin | hfxte | Chong | fifteenind 0 | 8.00 | 8.00 |
| Yuan Ting | i01e2 | Koh | fifteenind 0 | 5.52 | 22.19 |
| Chin Chuan | i3p9k | Tan | fifteenind 0 | 5.00 | 78.25 |
| Kweechoo | i8xmv | Goh | fifteenind 0 | 12.12 | 351.39 |
| Chengrong | ib57a | Yeo | fifteenind 0 | 2.01 | 5.02 |
| Jie | ipe1x | Loh | fifteenind 0 | 33.41 | 33.41 |
| Hennie | ivq5w | Frick | fifteenind 0 | 5.02 | 17.36 |
| Wan Xin | jd4vg | Tong | fifteenind 0 | 10.00 | 21.00 |
| Lim | jdpsw | Mui Yee | fifteenind 0 | 15.16 | 15.16 |
| Meng Chew | jfoaj | Lee | fifteenind 0 | 300.00 | 300.00 |
| Kapil Narayan | jqpc2 | Kharangate | fifteenind 0 | 8.12 | 18.47 |
| Jocelyn | jvj4i | Goi | fifteenind 0 | 3.70 | 18.23 |
| Jasmine | k9j8u | Ng | fifteenind 0 | 4.35 | 21.26 |
| KIAN SENG | kbttz | TAN | fifteenind 0 | 15.85 | 237.80 |
| SIEW MUN | kmz59 | FOO | fifteenind 0 | 11.36 | 16.42 |
| Hong Mui | kn2vj | Teo | fifteenind 0 | 7.80 | 221.83 |
| Wan | Ko3lh | Amir | fifteenind 0 | 5.00 | 20.00 |
| Janet | kxx1w | Lim | fifteenind 0 | 5.93 | 16.25 |
| Jasper | ky3my | Chua | fifteenind 0 | 16.50 | 16.50 |
| Murugesan | l48g3 | Dinesh | fifteenind 0 | 15.25 | 15.25 |
| Hoh | Lapt4 | Sook lan | fifteenind 0 | 5.00 | 28.42 |
| Weiying | lbth3 | Lee | fifteenind 0 | 15.00 | 15.00 |
| Chiew Ping | leefq | Law | fifteenind 0 | 4.59 | 52.34 |
| Max | lgc1y | Lim | fifteenind 0 | 1.85 | 41.41 |
| Chuan Shin | lnp80 | Tan | fifteenind 0 | 8.80 | 18.07 |
| Chee Wah | lsms7 | Chan | fifteenind 0 | 32.00 | 225.30 |
| Norsiah | lu9vp | Mohamed | fifteenind 0 | 8.68 | 121.33 |
| Li | m51pg | Peng | fifteenind 0 | 31.20 | 924.70 |
| JOHNY | ml6zm | LIM | fifteenind 0 | 16.02 | 16.02 |
| Evelyn | mol80 | Tan | fifteenind 0 | 10.41 | 23.06 |
| Jesmine | mz8zf | Ng | fifteenind 0 | 4.11 | 21.43 |
| Alvin | n38xb | TANG | fifteenind 0 | 15.02 | 15.02 |
| May | n8skq | Yap | fifteenind 0 | 15.31 | 15.31 |
| Alexander | nd176 | Yew | fifteenind 0 | 7.75 | 16.25 |
| Chiew Hai | njv2w | Ng | fifteenind 0 | 10.52 | 26.77 |
| Jimmy | nkdz8 | Lim | fifteenind 0 | 14.14 | 427.37 |
| Yingqi | nymmt | Frick | fifteenind 0 | 6.27 | 15.29 |
| Joseph | nzrqq | Teo | fifteenind 0 | 4.37 | 20.34 |
| Hock Soon | o3k7s | Kwek | fifteenind 0 | 15.83 | 364.97 |
| Lai Hua helen | o4we8 | Yong | fifteenind 0 | 4.75 | 34.37 |
| Lee | oa1im | Constance | fifteenind 0 | 6.10 | 128.96 |
| Benedict | obl2x | Chua | fifteenind 0 | 5.00 | 33.78 |
| Fong | of4cb | Foo Hoong | fifteenind 0 | 10.28 | 46.89 |
| Mohamed | oj2rc | Abdullah | fifteenind 0 | 7.15 | 114.85 |
| Shiru | op2d1 | Xiao | fifteenind 0 | 8.06 | 21.05 |
| Tan | otrex | Keng Chuan | fifteenind 0 | 16.65 | 16.65 |
| Raghu | ou4h | Ramamoorthi | fifteenind 0 | 15.40 | 15.40 |
| Rafert Ram | oysdl | Dina | fifteenind 0 | 7.30 | 15.71 |
| Frederick | p0tae | Gomez | fifteenind 0 | 38.73 | 38.73 |
| Neza | p8cok | Amada | fifteenind 0 | 6.58 | 99.08 |
| Sylvia | p8o7q | Wee | fifteenind 0 | 7.10 | 27.10 |
| Irene | pc2ul | Goh | fifteenind 0 | 14.26 | 23.16 |
| Benjamin Koh | pk763 | Koh | fifteenind 0 | 10.17 | 16.22 |
| Vincent | pnw66 | He | fifteenind 0 | 6.01 | 291.03 |
| Cindy | puhp1 | lee | fifteenind 0 | 19.80 | 19.80 |
| GUO LONG | pvbc8 | LOW | fifteenind 0 | 5.70 | 17.98 |
| Sie Sie | pzci1 | Lee | fifteenind 0 | 6.11 | 16.44 |
| Keng chi | q7ki1 | Yoong | fifteenind 0 | 6.50 | 28.15 |
| Naoko | q7zpq | Fukuda | fifteenind 0 | 2.00 | 92.54 |
| Harrick | qam3i | Wui | fifteenind 0 | 15.13 | 15.13 |
| Desmond | qcknw | Chua | fifteenind 0 | 5.24 | 16.10 |
| MOHANKUMAR | qh7xd | NATESAN | fifteenind 0 | 15.55 | 15.55 |
| Michelle | qoccx | Tan | fifteenind 0 | 8.22 | 53.39 |
| Yong Siang | qwk5s | Lee | fifteenind 0 | 2.82 | 18.95 |
| Chee Keong | r1wnf | Wong | fifteenind 0 | 5.20 | 36.22 |
| Choon Yee | r3gdn | Lai | fifteenind 0 | 15.15 | 86.95 |
| Yong | rergq | Lily | fifteenind 0 | 15.20 | 15.20 |
| Victoria | rkplu | Wong | fifteenind 0 | 1.73 | 195.09 |
| Abdulmajeeth | rm261 | Sithik Babu | fifteenind 0 | 16.02 | 16.02 |
| Wai Hing | rqvow | Chen | fifteenind 0 | 6.18 | 21.51 |
| Ritchell | rv24p | Magpugay | fifteenind 0 | 5.12 | 20.93 |
| Gerald | rxkzb | Tan | fifteenind 0 | 17.08 | 17.08 |
| IRENE | s03yc | SOH | fifteenind 0 | 5.97 | 51.27 |
| Hwee Keng | s3y2m | Lim | fifteenind 0 | 5.81 | 23.27 |
| Tay | skcyy | Kim Buay | fifteenind 0 | 9.19 | 18.52 |
| Shu Jun | smuor | Cheong | fifteenind 0 | 6.78 | 16.10 |
| JRL | sqggt | 1 | fifteenind 0 | 12.00 | 12.00 |
| Chin | tdlm1 | Kok Kai | fifteenind 0 | 4.19 | 54.72 |
| Kheng Cheong | tkkem | See | fifteenind 0 | 11.27 | 47.74 |
| Kang | trwip | Xi Cai | fifteenind 0 | 5.05 | 375.28 |
| Wai Meng | tuczx | Cheow | fifteenind 0 | 23.45 | 23.45 |
| Kok Wai | u034x | Chang | fifteenind 0 | 10.81 | 37.62 |
| Choon Yee | u8n1j | Lai | fifteenind 0 | 10.01 | 50.69 |
| Jie | uelxo | Kang | fifteenind 0 | 3.49 | 19.21 |
| Tan | ughkb | Tai Hong | fifteenind 0 | 8.00 | 120.00 |
| Nielsen | urtzt | Ho | fifteenind 0 | 30.00 | 54.33 |
| Teo | v2aah | Bee choo | fifteenind 0 | 5.20 | 15.90 |
| Zhi Zheng | v2dd6 | Lee | fifteenind 0 | 25.60 | 25.60 |
| Janice | v326d | Chua | fifteenind 0 | 15.02 | 15.02 |
| Qingxian | v4956 | Kim | fifteenind 0 | 56.00 | 56.00 |
| Stanley | v5rnn | Kuan | fifteenind 0 | 15.06 | 30.12 |
| Pei Yu | vbtz1 | Tan | fifteenind 0 | 4.19 | 28.48 |
| Kathleen Kay | vlv1l | Araja | fifteenind 0 | 1.86 | 19.78 |
| Weng yew | vobbv | Wong | fifteenind 0 | 18.00 | 18.00 |
| Qiu | vojir | Gui Ying | fifteenind 0 | 11.40 | 336.67 |
| Katherine | w848f | Lim | fifteenind 0 | 5.04 | 136.48 |
| Boon Yi | w96rb | Soon | fifteenind 0 | 16.80 | 16.80 |
| Chie Teng | w9qbr | Liau | fifteenind 0 | 5.90 | 16.93 |
| Keng Wee | wbslz | Yong | fifteenind 0 | 3.03 | 145.45 |
| Nick | x2nt | Chua | fifteenind 0 | 5.32 | 17.35 |
| Horn Kwong | xg9zd | Koh | fifteenind 0 | 10.00 | 17.23 |
| Chin Chye | xnbmh | Tan | fifteenind 0 | 9.39 | 391.07 |
| Rui Feng | xnm41 | Tan | fifteenind 0 | 8.10 | 394.25 |
| Bonn | xof8r | Skywalker | fifteenind 0 | 15.00 | 52.23 |
| Licheng | xu7h4 | Ng | fifteenind 0 | 8.27 | 137.63 |
| Mei hua | xxs0q | Yes | fifteenind 0 | 5.50 | 12.00 |
| Xiao | xyyyz | Jianbei | fifteenind 0 | 8.60 | 15.86 |
| Louise | xzbwa | Kohl | fifteenind 0 | 14.00 | 18.00 |
| Fang Chung | y02tl | Hew | fifteenind 0 | 5.02 | 29.17 |
| Xiao | y2rr1 | Jiannan | fifteenind 0 | 7.46 | 23.81 |
| Ying Jia | yeomb | Tan | fifteenind 0 | 5.20 | 21.20 |
| Ryan | ygwhz | Lim | fifteenind 0 | 0.90 | 23.27 |
| Lim | yt9qx | Ciu Fung | fifteenind 0 | 5.29 | 44.77 |
| First Name | theregid | Last Name | Category | kmsupload | Total KMs Uploaded |
Group of 10 – 120 km
Pending
For questions regarding this event, please contact the organiser at: support@justrunlah.com